The Raffles brand, has been around for more than a hundred years and has established itself as a legend among hotels and a purveyor of luxury, prestige and exceptional guest service. But what makes Raffles Jakarta even more special than other 5 star hotels in the city? We share with you our top 9 reasons!
1. One of a Kind Raffles in The World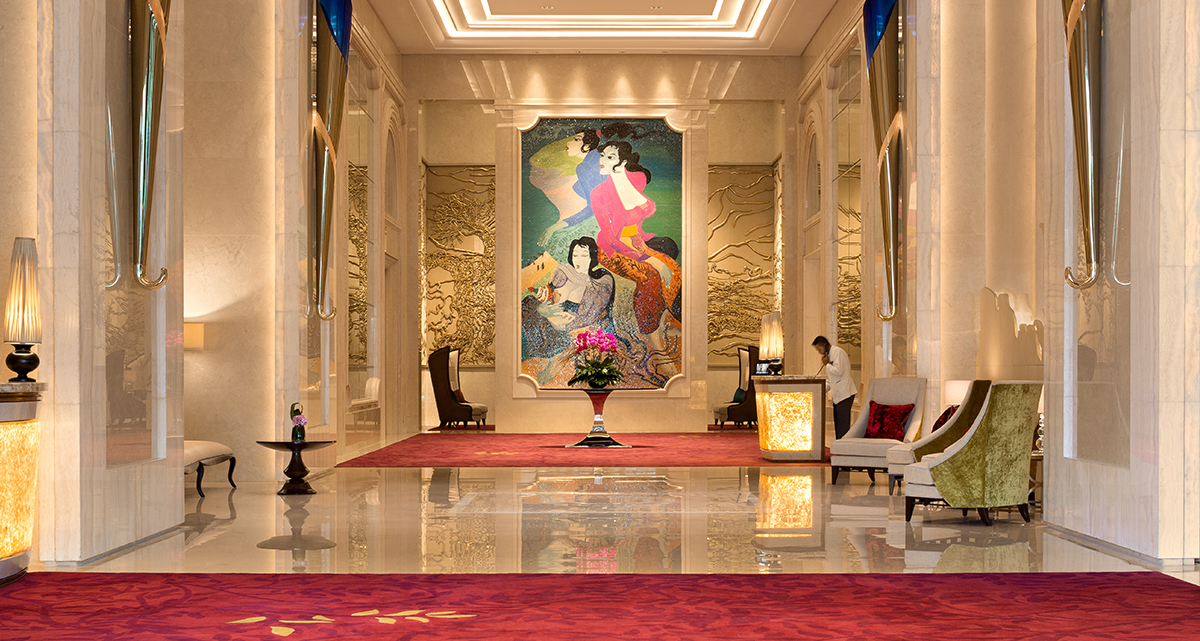 Each Raffles hotel has a unique story to tell and its own individual personality. But even compared to other Raffles hotels around the world, Raffles Jakarta has its very own unique artistic identity.  The hotel actually features art installations and draws design inspiration from celebrated Indonesian artist Hendra Gunawan, whose work was rarely seen until after his death in 1983. The fluidity of movement and use of colors which Hendra Gunawan is famous for can be found in the daring palettes and design used throughout all areas of hotel including guest rooms, spa, outdoor gardens, restaurants, lobby and public areas..
The most apparent and noticeable would be the floor-to-ceiling painting that fills the backdrop of the hotel lobby depicting three women, one nursing a child, wearing Malay traditional blouses in bright fuchsia, blue and purple.
Tip: Ask the concierge for an Art Tour through the hotel and get a unique look into the life and works of Hendra Gunawan.
2. The Raffles Suites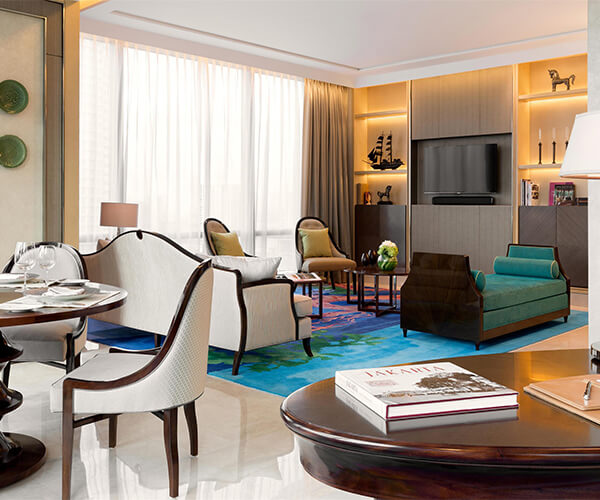 In addition to the Raffles Room and Signature room which all already provide the feel of a junior suite, with sliding panels concealing the bedroom for extra privacy, Raffles Jakarta has 3 different types of suites; The Artist Suite, luxury one-bedroom suites with separate living room, bedroom, en-suite bathroom and walk-in wardrobe, working area and guest washroom located on the corner of each floor with panoramic views of the city; The Gallery Suite, a 136 sqm Hendra Gunawan inspired suite with spacious living and dining areas, and a separate master bedroom; and the ultimate Raffles Suite, with its own private gym, private spa room, steam room, unique shower experience feature, a grand piano and a private den, and is one of the largest in the city at 390 square meters. But even if you don't get to stay at this ultimate suite, not to worry because each room has its own butler to attend to every need.
3. 24-hour Raffles Butler Service

With its roots embedded in colonial Singapore, Raffles Singapore would be incomplete without its team of butlers. Discreet, attentive and intuitive, the service they render comes straight from the heart. Check-in to the hotel and a butler will be on hand to assist with the unpacking. Thirsty? Coffee, tea and refreshments are but just a phone call away.  Did a button came off? Let your butler fix it. Recommendations for a night out, there is nothing the butler wouldn't do to make sure you are as compatible as can be. The legendary Raffles butler service is at the core Raffles service culture, and is what it is most known for throughout all the years.
4. Raffles Spa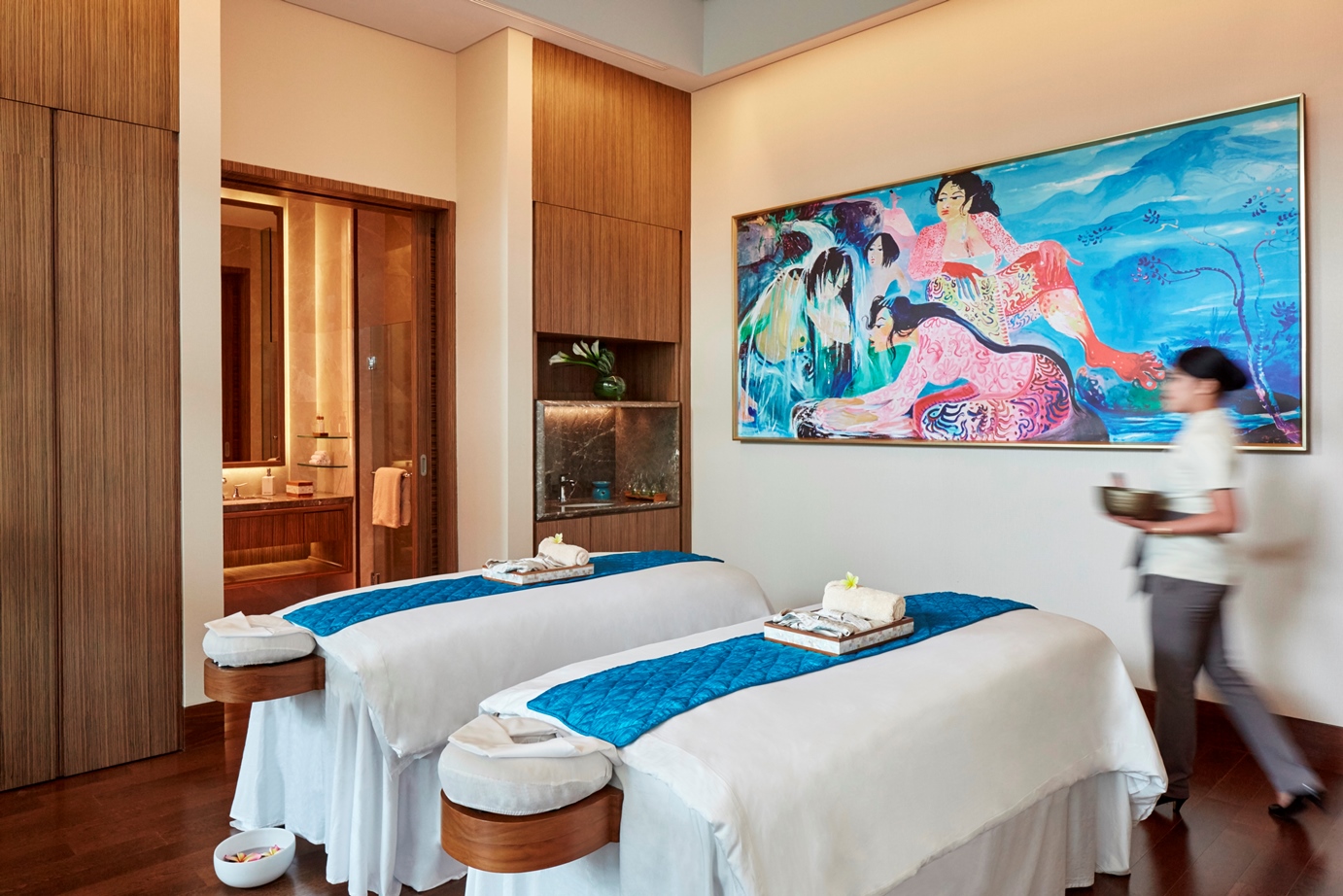 Inspired by the daily transformation of the lotus flower, the spa blends the best of both worlds; the tested traditional and local methods and the most cutting edge technologies in beauty therapy and rejuvenation. On the menu are a variety of personalized treatments with authentic Indonesian touches. Among its signatures is the Indonesian Heritage Experience.
Another signature massage is the Tibetan Vibration Relaxation massage, an ancient Tibetan technique, using a singing bowl that produced sound vibrations and harmonics of different intensities to relax your body.
There are also separate male and female relaxation areas, each with its own steam room with aromatic heat, ice fountain, and unique rainforest experience shower, where you get to shower with all your senses flooded with soothing stimuli as if showering in the middle of a thick jungle.
Another thing that you will not find elsewhere is their skincare range of product. The spa has selected Galylia Kristensen, a new Australian cosmetic company, which products can only be found in this spa in Indonesia.
5. The Weekend Oasis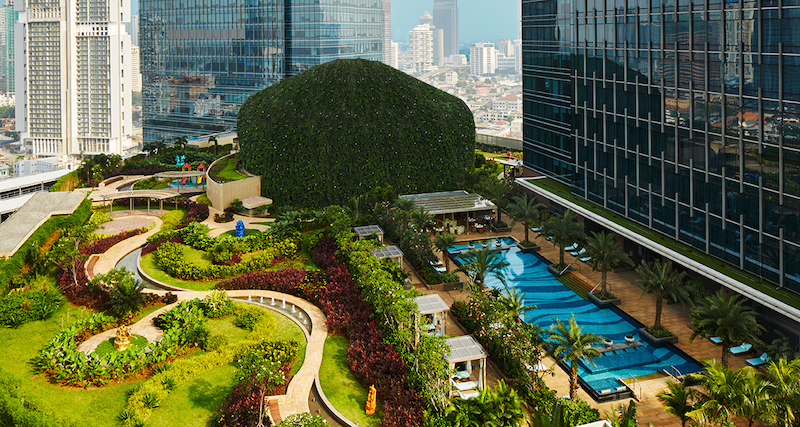 If relaxing in the spa is still not enough for you or maybe you need a to work that tan, step out and have a dip at the hotel's outdoor swimming pool that will make you think you've stepped into a different city, with its palm trees quiet resort–like feel. Particularly breathtaking at night! After a few refreshing laps, what better way to retire to the pool's very own Navina Poolside Bar where you can enjoy a light meal, cocktail, mocktails, or aperitif with the view of the hotel's tropical garden. The Hendra Gunawan gardens, the 300 meter jogging track, the gym facilities, the kids club, the pool, the tennis courts and the spa truly make Raffles a one-of-a-kind weekend oasis in the heart of the city.
6. The Writers Bar and the 'Jakarta Sling'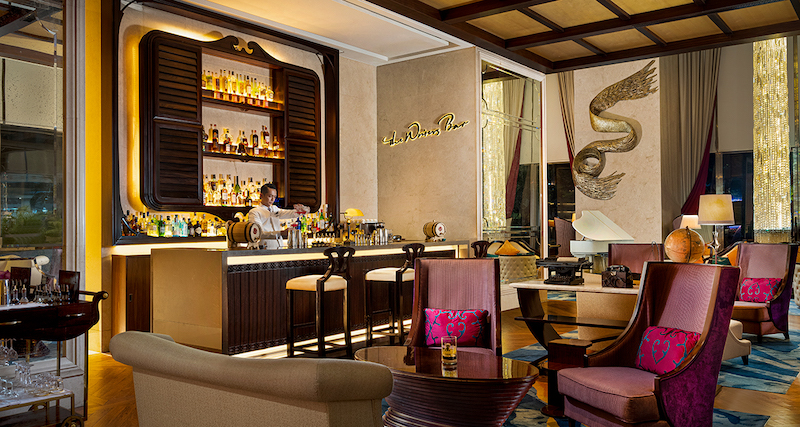 The Writers Bar in Raffles Jakarta is the only 'copy' of its original one in Singapore that is already a revered institution, where the famed 'Singapore Sling' was born. It is named for the literary luminaries who have written about or resided at the hotel, the likes of Noel Coward, Somerset Maugham and Rudyard Kipling.
The Writers Bar is reinterpreted in Jakarta as an oasis of art, Indonesian history, literature and artefacts in this modern metropolis. Away from the bustle of the city, the bar is a haven to enjoy a mid-afternoon repast or your favourite drink. This would be the most legit place around to get your 'Singapore Sling' second best to flying to Singapore! Don't forget to also try the the Jakarta Sling, a twist of the original that you'll have to try yourself.
7. Arts Cafe and its Sunday Brunch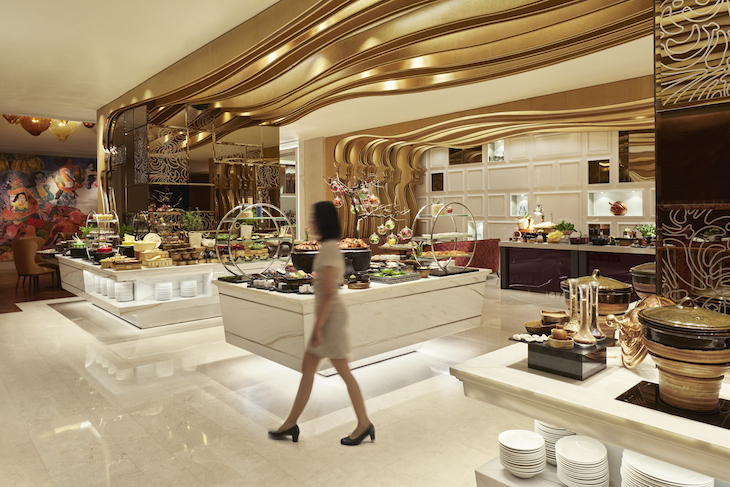 As the main dining venue of the hotel, Arts Cafe serves superb Continental and Asian specialties in a refined buffet experience. A delightful twist: the day's signature entrees are done a la minute and offered to the guest table. This is also where you can sample their legendary Singapore Chili Crab bun, a fluffy charcoal bun filled with savory crab meat filling, served with sweet & spicy Chili Crab sauce. This dish is an homage to the Hotel's roots in Singapore, where Chili Crab has celebrity status.
Arts Cafe is also open on Sunday where their bespoke gourmet brunch focuses on the finest of quality product along with skilled cooking techniques and freshness featuring Raffles signature dishes, luscious meats and seafood, fresh lobster, oysters, foie gras, among a delectable list of many more mouthwatering creations.
The cafe is also where you can find their Chocolate Gallery, where local premium chocolates, freshly made cakes, and cookies, can be purchased.
8. Easy access to Lotte Shopping Avenue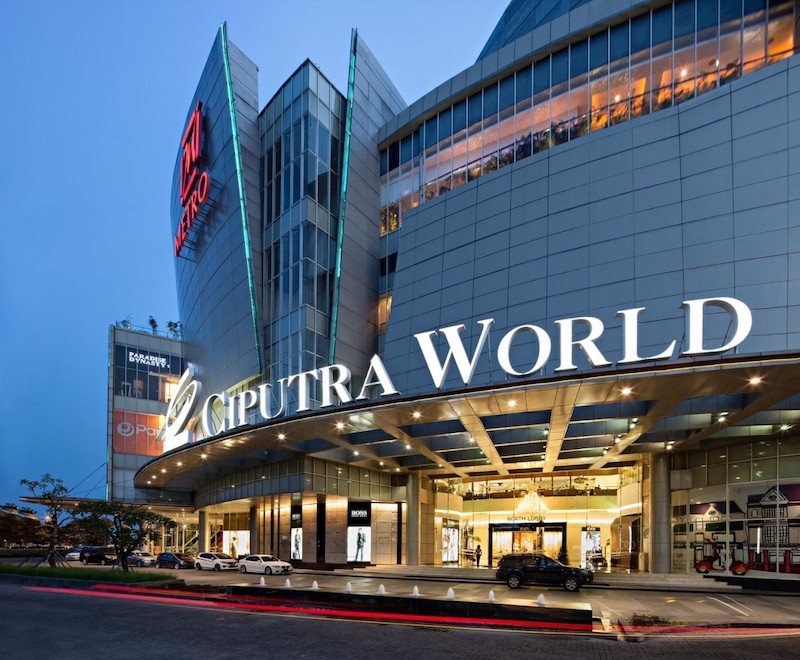 Raffles Jakarta is set in Ciputra World 1, a landmark development with office tower the Artpreneur complex and has a designated access to Lotte Shopping Avenue which offers great shopping options with a list of shops (including the most legit Duty Free Shop in town, Lotte DFS Indonesia) kids play area, a cinema, and many dining options such as Bacco, Gonzo's Tex Mex & Grill, Revolution Vodka & Party Bar, and many more. You pretty much don't need to go anywhere else!
9. Ciputra Artpreneur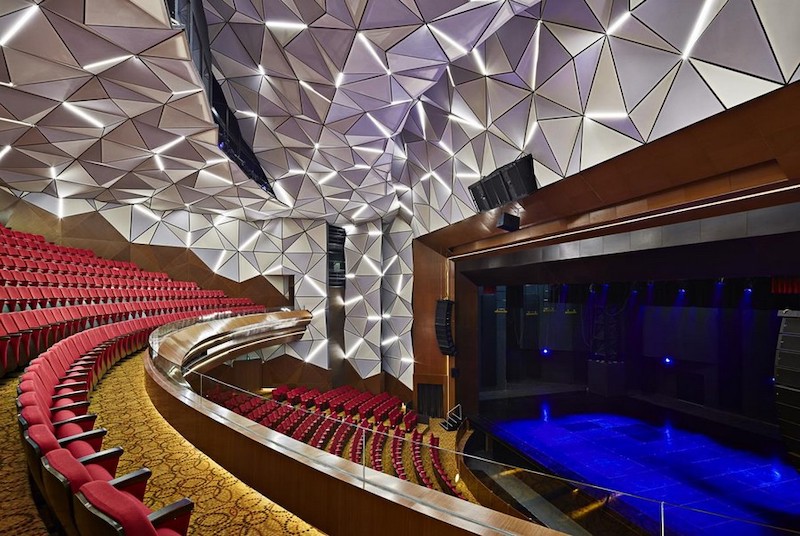 Staying in Raffles means you are steps away from Ciputra Artpreneur, the place dedicated to art & comprises of an art Gallery, Museum and the first International Standard theatre/venue in Indonesia. The scheme delivers 14,000m2 of performance and art facilities including a 1,200 seat theatre, flexible and permanent exhibition galleries, a museum, and multifunctional rooms. It routinely holds art exhibitions in one of their 3 galleries, and public is free to see Ir. Ciputra's art collection that spans over 30 years. The musical theatre is always putting on major Broadway productions and has already been home to some exhilarating musicals including the sound of music, Beauty and The Beast, Shrek, Annie, and many more. Open Tuesday to Sunday, 12.00-18.00.
Raffles Jakarta
Ciputra World 1, Jl Prof. Dr. Satrio, Jakarta 12940 – Indonesia
Tel: +62 21 2988 8080 | Email: [email protected]| www.raffles.com/jakarta