Traveling to Jakarta for a short period, there are hundreds of hotels waiting for you. But what if you need to stay longer yet you don't want to let go of the decent bed, the facilities, and on-demand service? then get a  service apartment is probably the best choice for you.
As with other big metropolitan cities all over the world that attract hoards of business travelers, Jakarta also offers serviced apartments that give you the opportunity to settle in, even if you are only in town for a week. These apartments provide all the hotel-like amenities with rates that are inclusive of utility bills and all the hotel-like amenities such as maid service and reception or 24 hour customer service. It gives you more space (separate areas for cooking, dining, living and sleeping) and rates that are relatively low compared to hotel rates.
Serviced apartments are usually available for both short-term as well as long-term stays, starting from five nights up to years.
1. The Ascott Jakarta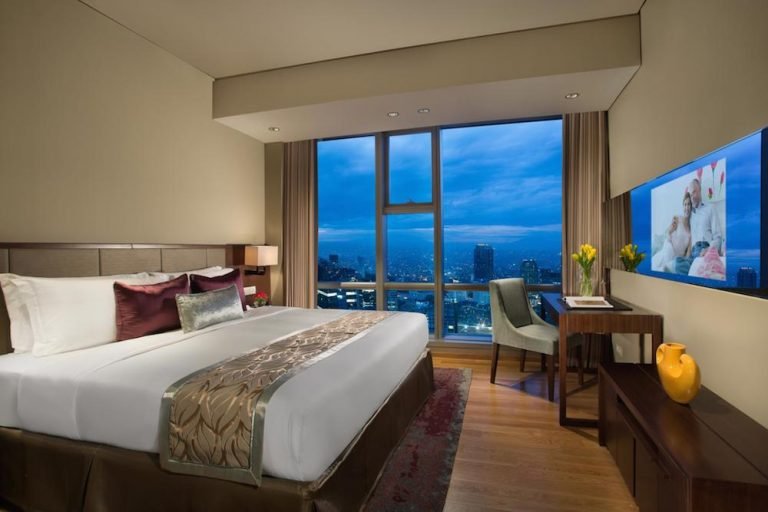 A trusted brand of serviced apartments, The Ascott Jakarta offers elegant rooms with Dutch Colonial interior design elements into each of its 204 apartments varying in size from the spacious studio to the 3-bedroom penthouse. Each of the Ascott Jakarta's serviced apartments are self-contained with a fully-equipped kitchen, home entertainment system and telephone with IDD facility.
Facilities: 24-hour reception, 24-hour security and closed-circuit TV surveillance, Aerobics room, Doctor on call, gym, Laundry & dry cleaning services, Restaurant, Sauna room, Swimming pool, Tennis court, Wireless internet connectivity (WiFi).
Jl. Kebon Kacang Raya No 2, Jakarta
Phone Reservations:+62 21 391 6868
Website
2. InterContinental Residence Jakarta Pondok Indah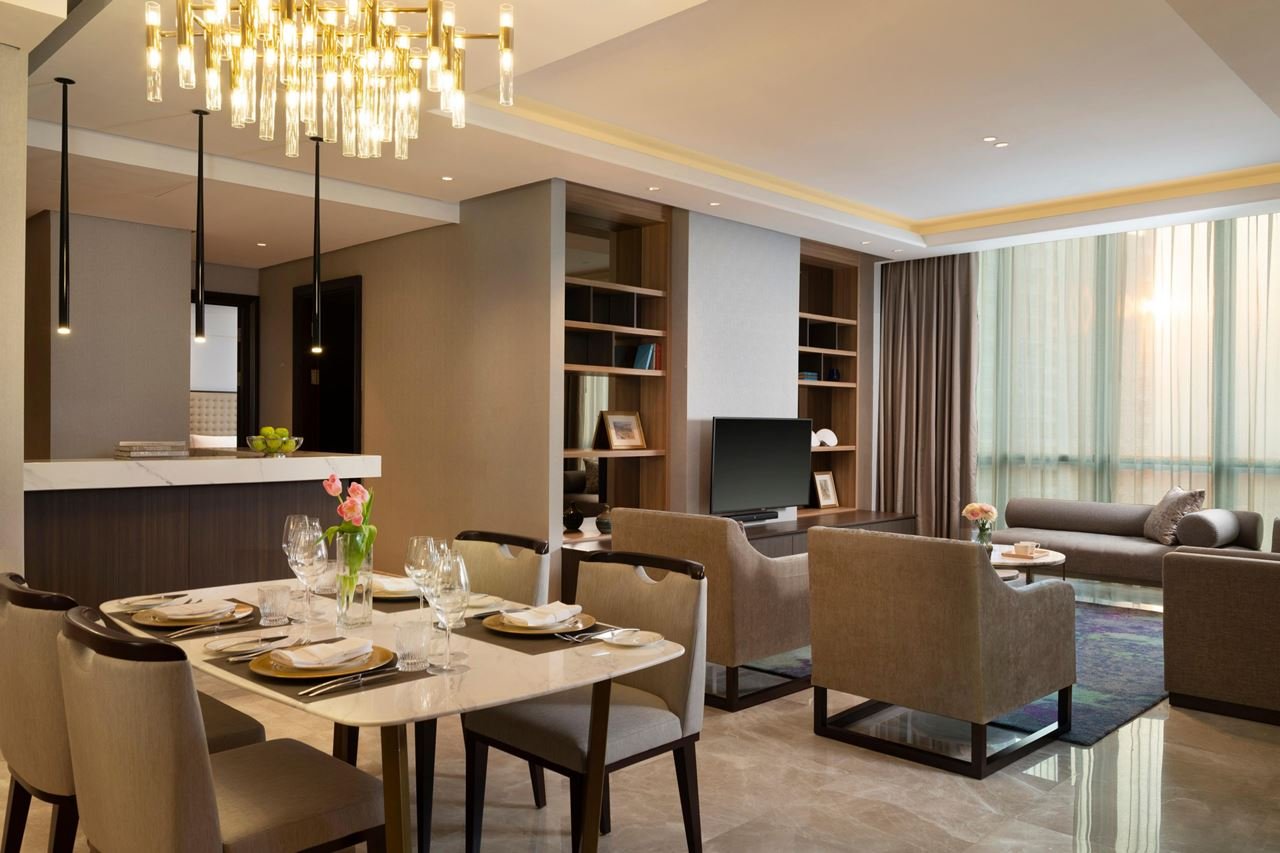 As the first InterContinental Residences in Indonesia, the prestige residence is located in the affluent neighbourhood of South Jakarta. The luxurious serviced residences consist of 1 to 3-bedroom apartments and 4-bedroom penthouses which are elegantly furnished with a fully equipped kitchen. It is strategically integrated within an upscale complex, adjoining to the hotel and the prominent Pondok Indah Shopping Malls, Pondok Indah Office Towers, leisure facilities including Water Park and Houbii Trampoline Park, and the world-class Pondok Indah Golf Course.
Jalan Metro Pondok Indah Jakarta 12310 Indonesia
Phone: +62 21 39507356
Email: [email protected]
Website
3. The Mayflower, Jakarta (Marriott Executive Apartments)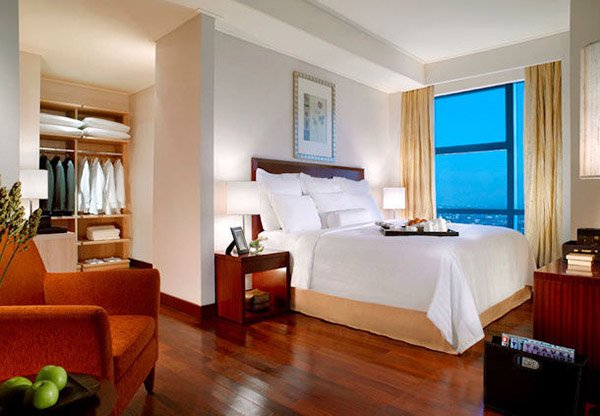 All of the Mayflower's one-, two- and three bedroom apartments are fully-equipped with full kitchens, laundry room, walk-in wardrobe, large LED TV in living room and Marriott's signature Revive bedding and separate areas for living and working. With apartments starting on the 29th floor all rooms have city views.
Facilities: Access to Health Club with Sauna/Steam, Jacuzzi and 25 meters length indoor swimming pool, spa, restaurant.
Address: Jl. Jenderal Sudirman Kav 76-78 Jakarta 12910
Phone: 021-5789 7888
www.marriott.com/hotels/travel/jkter-the-mayflower-jakarta-marriott-executive-apartments/
4. Fraser Place Setiabudi Jakarta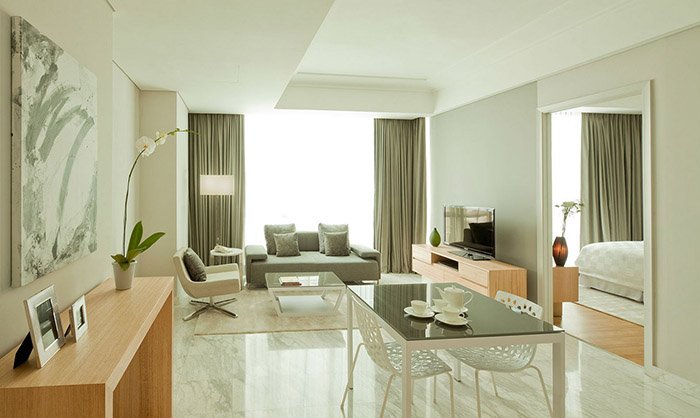 Fraser Residence Sudirman Jakarta offers 108 Gold Standard fully furnished serviced hotel apartments with separate living, dining, kitchen and bedroom areas, modern and well-equipped kitchen, home entertainment system, and complimentary Wi-Fi access ideally situated within Jakarta's Golden Triangle.
Facilities: fully-equipped gym, indoor courts, swimming pool, steam and sauna facilities, residents' lounge, complimentary Wi-Fi access.
Jl. Setiabudi Raya No. 9, Sudirman Jakarta 12910
Phone: +62 21 2927 2888
Email: [email protected]
5. Oakwood Premier Cozmo Jakarta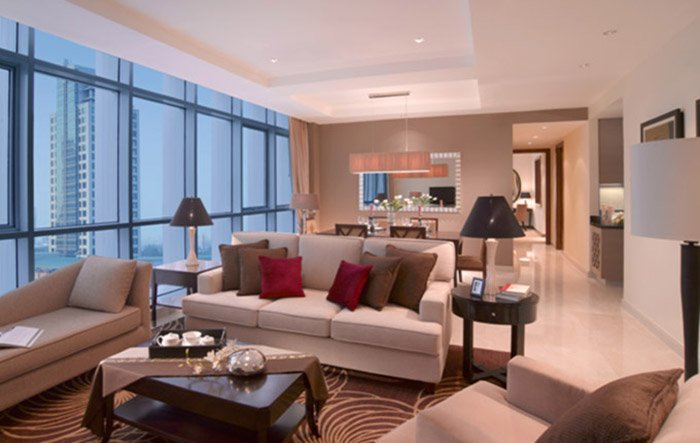 Oakwood Premier Cozmo Jakarta is a luxury serviced apartment that resembles a 5-Star hotel and is located in the central business district of Mega Kuningan, the newest commercial development in Jakarta's golden triangle district. Oakwood Premier Cozmo Jakarta boasts of 197 fully-furnished luxury serviced apartments that combine hotel-like amenities and the conveniences of a home in elegant environment design.
Facilities: Car park, Children's play area, Convenience store (onsite), The Fitness Center by Oakwood, Oakroom restaurant and bar, Residents' lounge, Swimming pool (outdoor), Wi-Fi in public areas, Business Services, On-site retail shops (pharmacy, florist, banks, international ATMs) and restaurants.
Jl. Dr. Ide Anak Agung Gde Agung, Blok E4.2 No 1, Mega Kuningan,Jakarta 12950, Indonesia
Phone: (62-21) 2554 2300
Website
6. Oakwood Apartments PIK Jakarta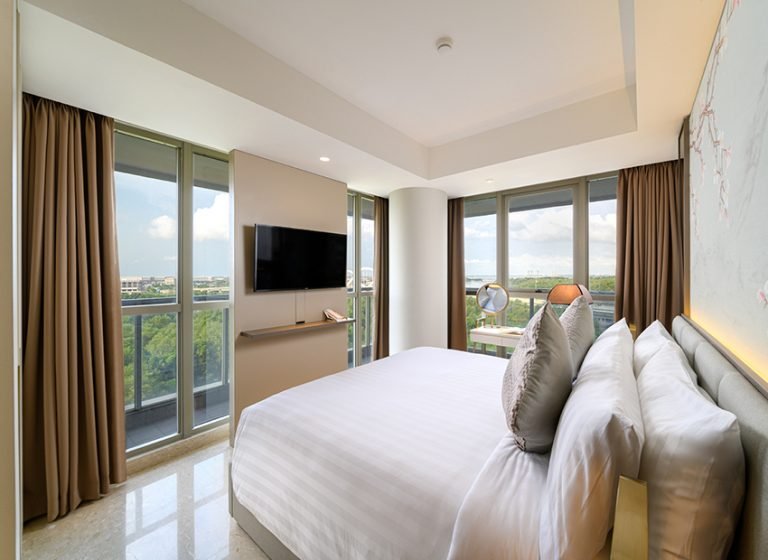 With 151 fully-furnished serviced apartments that boast unobstructed city and sea views, the property is well located with direct access to the Central Business District and is a quick 15 minutes' drive from the Soekarno-Hatta International Airport. Available in 5 room types from Studio to 3 bedrooms, our complete residential facilities also include both an indoor and outdoor swimming pools, fitness center, and restaurant. Thoughtful amenities such as a kids' swimming pool and playground appeal to young families.
Apart from its reputation as a trendy culinary hub, PIK is a well-connected neighborhood with unmatched convenience. PIK Avenue, a lifestyle mall, is just a short drive away; and within walking distance is the prestigious Tzu Chi school offering early childhood, primary and secondary education, as well as Fresh Market PIK with four levels of food stalls and vendors selling fresh produce. Furthermore, Oakwood Apartments PIK Jakarta is conveniently situated near Indonesia's charming Thousand Islands, adding vitality to guest experiences with options of fishing and water sports. Avid golfers would be delighted with the two international championship courses at Damai Indah Golf.
With the interesting hotel's facilities and surroundings, Oakwood Apartments PIK Jakarta can be a great option for a family stay or a business trip. Enjoy the special opening rate from April to May 2020 start from IDR 1,000,000 nett including breakfast for two. For further information and reservation, please contact to 021-5023 3333 or [email protected] or check our Instagram account at @oakwoodapartmentspikjakarta. Please visit our website HERE.
Oakwood Apartments PIK Jakarta
Pantai Indah Kapuk
Kamal Muara, Penjaringan
North Jakarta
P: 021-5023 3333
7. Shangri-la Residence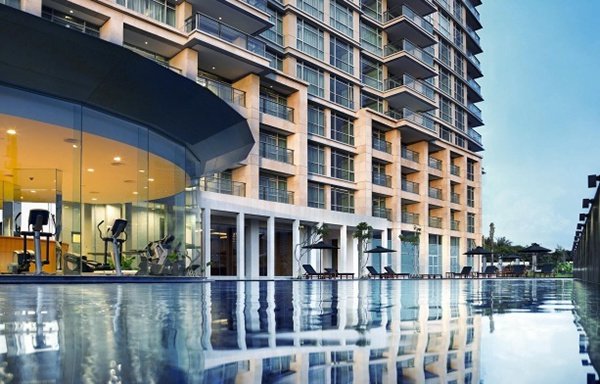 Shangri-la offers 168 high-quality fully furnished and un-furnished luxurious residences in a 31-storey development varying from 2-Bedroom (175 sqm), 3-Bedroom (230 sqm), 3-Bedroom + 1 Study Room, 320 sqm, Garden Residences (350 sqm), 4 Penthouses (private swimming pool and garden) 778-938 sqm, all with en-suite bathrooms for every bedroom, a living room and a kitchen.
Facilities: 24-hour reception, security and concierge services, Biometric finger print identification, video and intercom systems, 32-metre outdoor swimming pool and access to the hotel's pool, Children's indoor playroom & outdoor playground, gym, Sauna and steam rooms (separate for male and female), many more.
Minimum lease: two months, with full advanced rental and security deposit are required prior to check-in.
Jl. Jend. Sudirman Kav. 1, Kota BNI, Daerah Khusus Ibukota Jakarta
Phone: (021) 2511888
[email protected]
Website
8. Pondok Indah Golf Apartment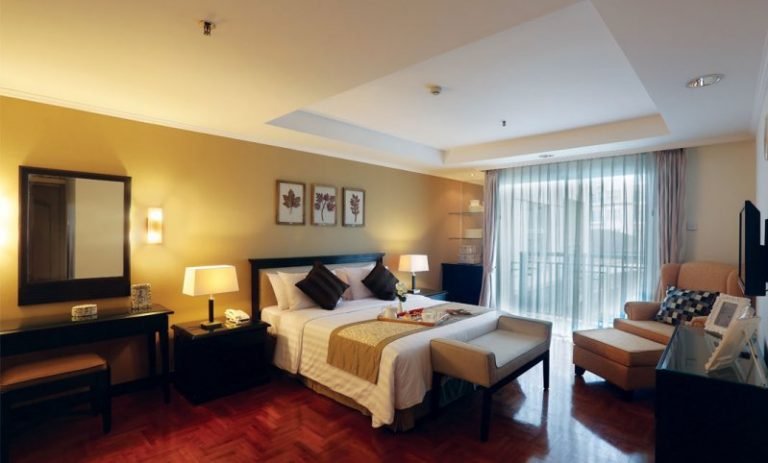 A new sanctuary offering the ultimate tranquility can actually be enjoyed in the middle of Pondok Indah. It is the towers of luxury residences facing the newly-refurbished golf course and surrounded by lush green landscape only for the lucky few. The place equipped with superb facilities, friendly living space, premium living, safety & privacy.
Jl. Metro Kencana IV No.9, Pd. Pinang, Kby. Lama, Jakarta Selatan
Phone: (021) 7661122
Email: [email protected]
Website
9. Somerset Berlian Jakarta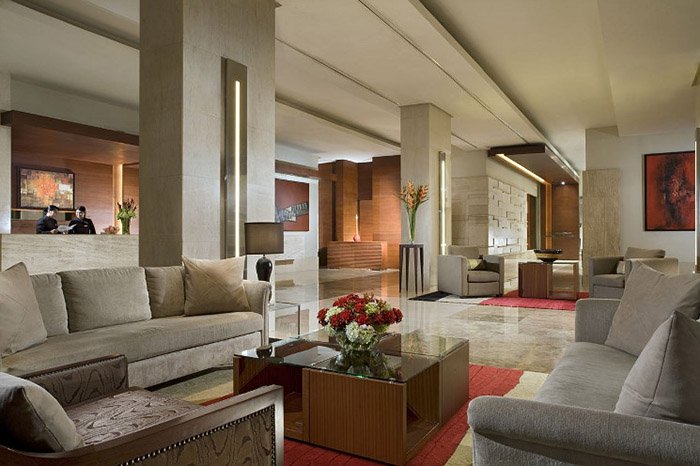 Located in the Permata Hijau residential area, Somerset Berlian offers 147 spacious serviced residences with a choice of two and three-bedroom layouts. Each with a fully-equipped modern kitchen and modern amenities.
Facilities: 24 hour reception, security & closed-circuit TV surveillance, BBQ terrace, business Corner, daily housekeeping service (except Sundays), Fully-equipped gymnasium & sauna, Jogging track, Laundry & dry cleaning, Meeting room, Outdoor jacuzzi, Outdoor swimming pool, Tennis court, Wireless internet connectivity (WiFi).
Jalan Permata Berlian V, Permata Hijau, Jakarta 12210, Indonesia
Phone: +62 21 5366 8888
Website
10. Puri Casablanca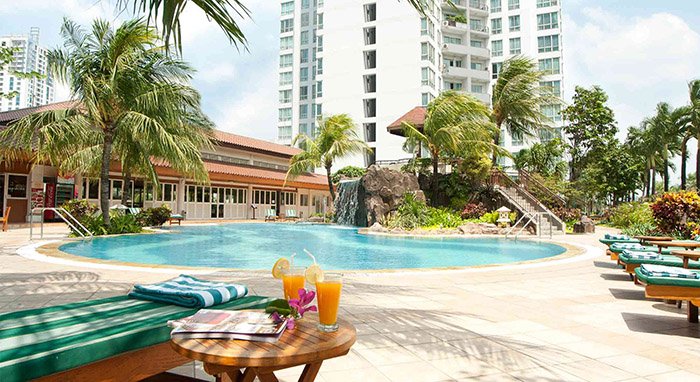 Puri Casablanca offers 4 towers of serviced apartments for long term lease or short term lease (monthly or daily) with each unit equipped with luxurious furniture, washing machine, kitchen set, cable TV, safe deposit box, and free internet.
Facilities: Tropical Lagoon Swimming pool with slide, children pool, 3 International Standard Children's play area, Tennis courts, Golf putting green, Mini golf ranges , 800 meter jogging track, Sauna & Whirlpool, Fitness center, International Pre-school, 4(four) meeting rooms.
Jl. Puri Casablanca No.1 Kuningan, 12870 Jakarta | Indonesia
Phone (021) 3003 8888
Fax: (021) 3003 8999
E-mail : [email protected]
http://www.puricasablanca.com/
11. Ascott Sudirman Jakarta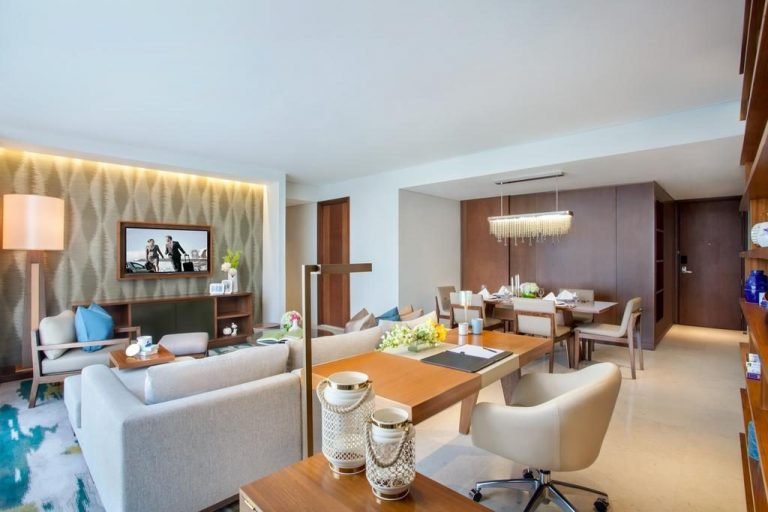 Ascott Sudirman Jakarta's relaxing ambiance and lavish interior await discerning corporate travelers, relocating executives on extended stay and holidaymakers. Featuring stylish and elegant decor with luxury fittings, each of these 192 Jakarta serviced apartments ranging from studio, one-, two-, and three-bedroom apartments are tastefully furnished with a fully equipped kitchen, separate living and dining areas, LED TV, and other modern amenities. A collection of expressionist styled art pieces by Hendra Gunawan, a famous Indonesian artist, adorns the public areas including the lobby.
Whether it is for business or leisure, our swimming pool with a view of the city skyline, games room with a variety of entertainment facilities, a fully equipped gym that comes with steam and sauna facilities, outdoor tennis court and various sized meeting rooms will cater to your every need. At Ascott Sudirman Jakarta you can always be assured of having an enjoyable and relaxing stay.
Ciputra World 2, Jl. Prof. DR. Satrio KAV. 11, Karet Semanggi, Jakarta Selatan 12930
Phone: (021) 50837878
Website
12. Wang Residence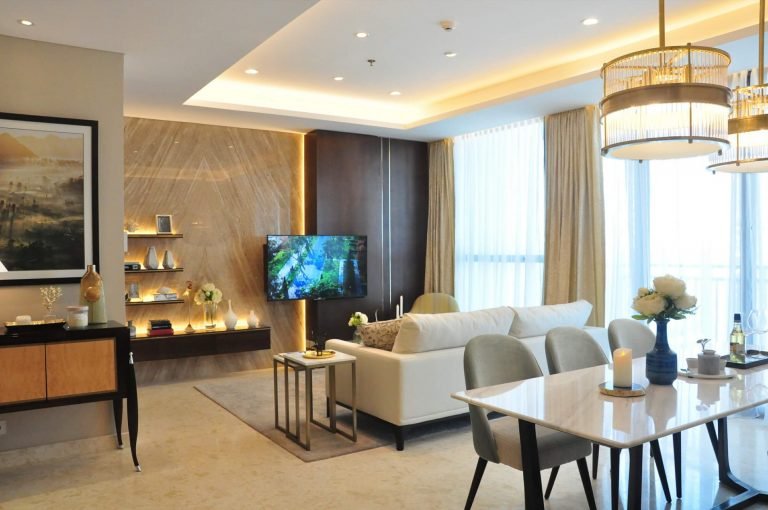 Wang Residence is a luxurious resort residence limited to 230 units in 10.000 sqm of garden and facilities. The residence enjoys private facilities such as restaurant, heated indoor pool, spa & salon, health clinic, and many more. Services provided here are equal to a luxurious resort including cleaning, engineering, and concierge services. The premium block includes a boutique lifestyle plaza filled with your daily needs, ranging from supermarket, F&B, Salon, and Kids Education.
Jl. Panjang Kav. 18 Kedoya, Kebon Jeruk, Jakarta Barat
Phone: (+6221) 29508788
Website