The Thousand Islands can be your short getaway destination while in Jakarta. In fact, tourism in this archipelago has increased in recent years. Various supporting facilities and tourist attractions are developed, making it easier for tourists to enjoy the beauty of these islands.
Getting to the Thousand Islands is quite easy, just cross by boat from Muara Angke Harbor or Marina Ancol Harbor. The length of the trip on the boat depends on the destined island.
Here are a number of islands that are worth visiting in the Thousand Islands for your short vacation.
The Beautiful and Exotic Thousand Islands Tourism Spots for Short Getaway
Pulau Ayer (Ayer Island)
This island became the place where the first President of the Republic of Indonesia solitude and rest. Many important decisions emerged after President Soekarno's visit to Ayer Island. Currently, on Ayer Island there are eco-friendly resorts in the form of Honai which adopt the traditional Papuan houses made of straw and wood floating on clear sea waters.
Pulau Bidadari (Bidadari Island)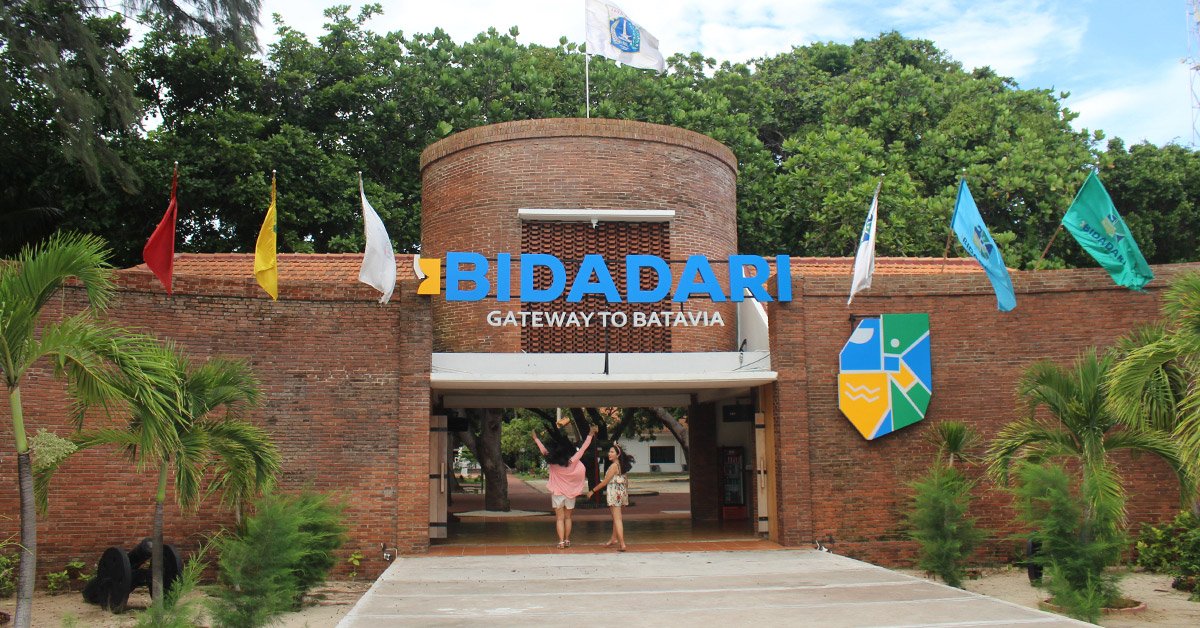 There is a modern resort built on the sea right in front of Bidadari Island which can be used as a place to stay that is made to resemble a unique Minahasa fishing village. Apart from that, tourists who visit here can also share their watersport hobbies such as playing jetski, canoeing to banana boats.
Pulau Harapan (Harapan Island)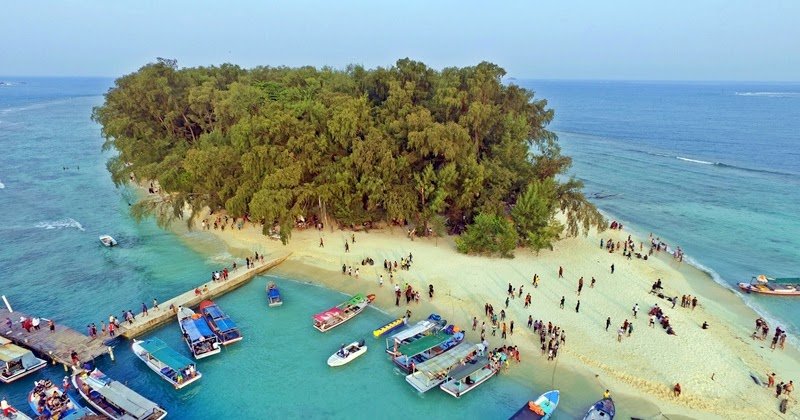 For a more secluded and off-the-beaten-path experience, head to Pulau Harapan. This island is known for its untouched natural beauty, crystal-clear waters, and vibrant marine life. This island has amazing natural and underwater charm. Tourists can fish, snorkel, dive, do watersports, or go around on a fishing boat enjoying the beautiful seas in the city of Jakarta. Not only that, sunset and sunrise hunting activities can also be enjoyed from this island, especially around the mangrove forests.
Pulau Macan (Macan Island)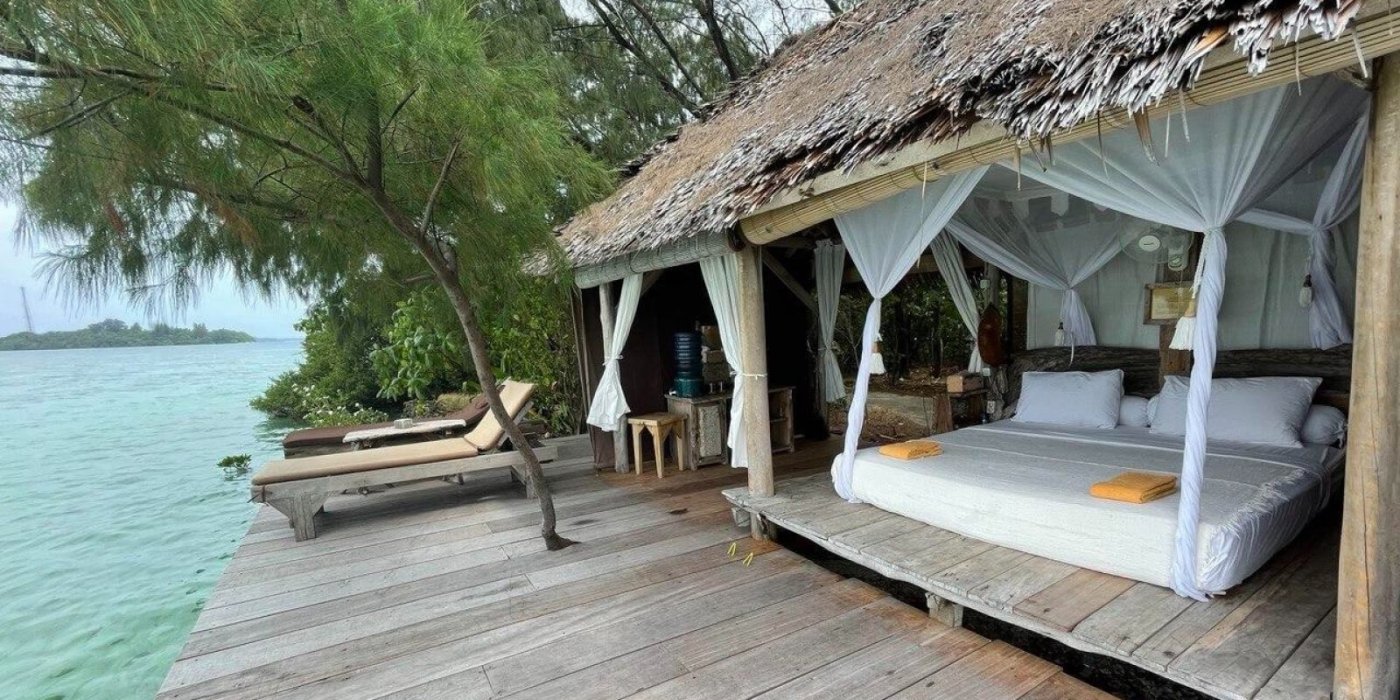 Pulau Macan is a pristine little island that is a privately-owned island like most of the islands in this area. Known for its eco-friendly resorts and beautiful coral reefs, Pulau Macan offers a serene and sustainable island experience. Enjoy snorkeling, kayaking, and lounging on pristine beach. For tourists who like to play on this island, the island provides resorts with a simple eco-resort concept with friendly service and beautiful views overlooking the open sea.
Reserve here
https://www.pulaumacan.id/
https://www.pulaumacan.com/
Pulau Onrust (Onrust Island)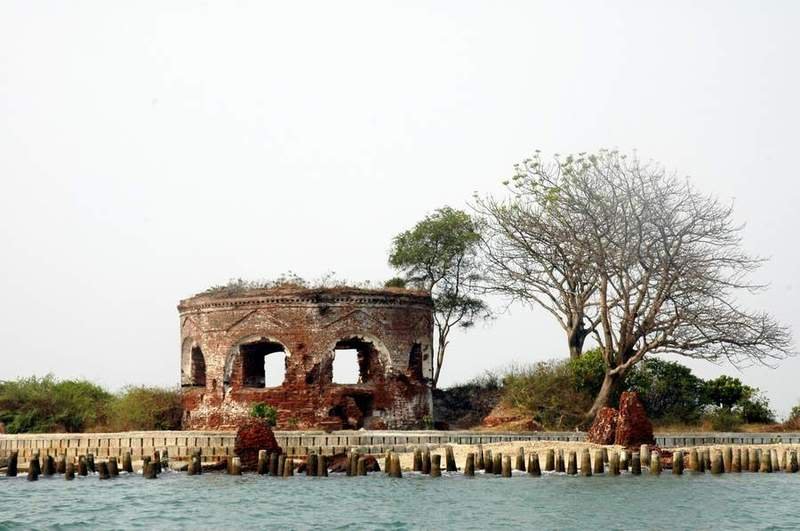 The name of this island comes from the Dutch word 'Onrust' which means 'never rests', because during the Dutch colonial era, this was a center for warehousing and a place for going back and forth for Dutch navy ships which were always busy every day. If you are interested in exploring it, you can take a peek at the other side of the remains of the fortifications belonging to the Dutch navy around the coast of Onrust Island.
Pulau Pari (Pari Island)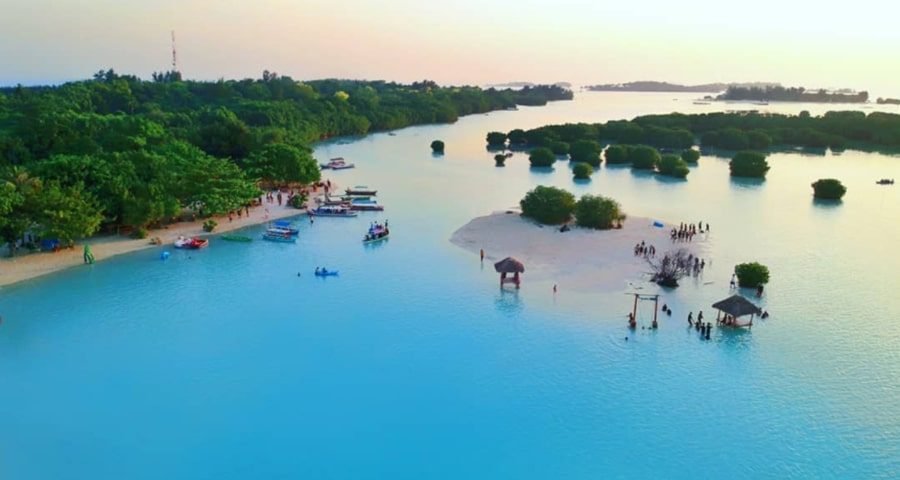 Pulau Pari is known for its virgin sand beaches and charming coral reefs. Apart from Pasir Perawan Beach, here you can also enjoy views of the sunset and sunrise which spoil your eyes. Other tourist attractions on this island include water sports, planting mangroves, cycling around the island, snorkeling, diving, and visiting the LIPI marine biota research institute.
Pulau Payung (Payung Island)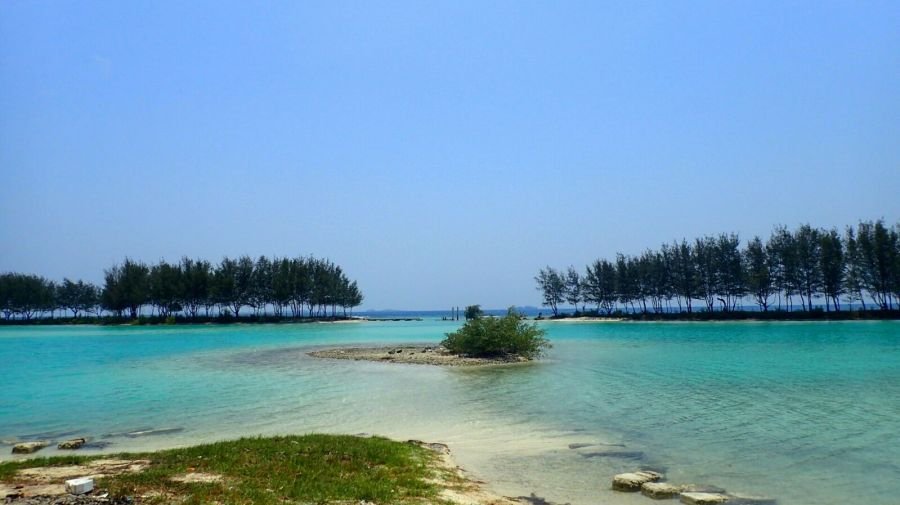 This island is the most favorite place, especially for tourists who are still teenagers or couples, including couples who are on their honeymoon. On this island, there is a beautiful lake that local residents call Asmara Lake which is believed to be a spot to tie the path of love for each couple so that it will last longer. The clear water is complemented by a flock of beautiful sea fish.
Pulau Pelangi (Pelangi Island)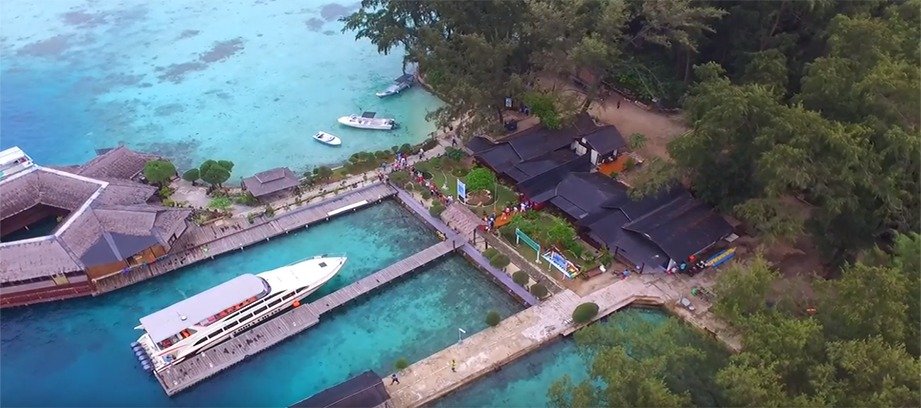 Pulau Pelangi is located at the northern end of the Thousand Islands. This island has crystal clear water with stunning white sand beaches. Pulau Pelangi is an island that is friendly for tourists and children, because of its sloping beach, there are breakwaters in several parts of the island, as well as a safe depth marker for diving.
Pulau Pramuka (Pramuka Island)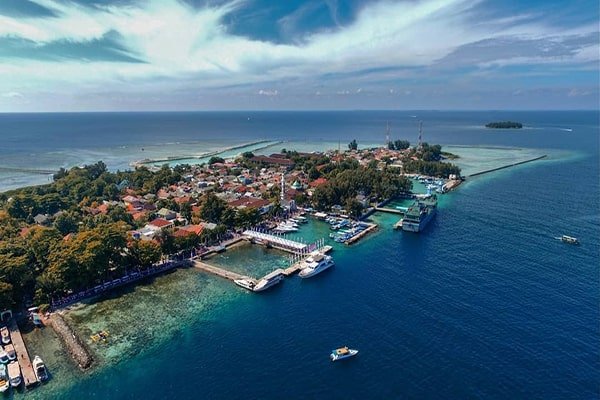 This island is the capital of the Thousand Islands Administrative District, this island is also the island with the most populous population compared to other islands in the Thousand Islands. Many facilities and accommodations are available on this island. The panoramic beauty of the underwater world around Pramuka Island is used as the most ideal spot by tourists for snorkeling and diving activities. Coral reefs and various ornamental fish are a refreshing sight.
Pulau Putri (Putri Island)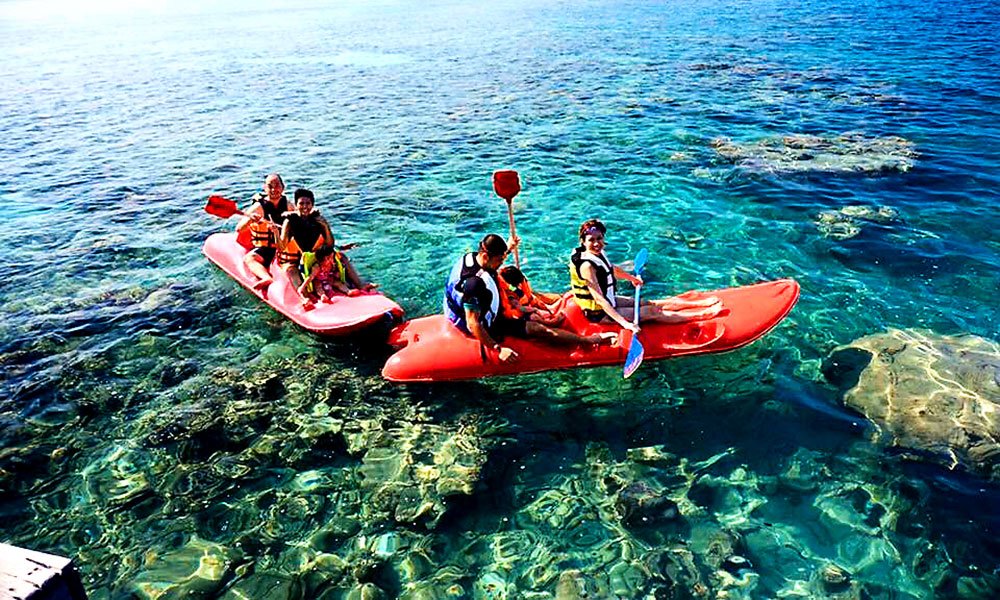 This is the only island in the Thousand Islands which is an underwater aquarium for tourists who want to witness the amazing diversity of underwater ecosystems. This island has clean waters so that the underwater panorama can be seen only with the bare eyes.
Pulau Sepa (Sepa Island)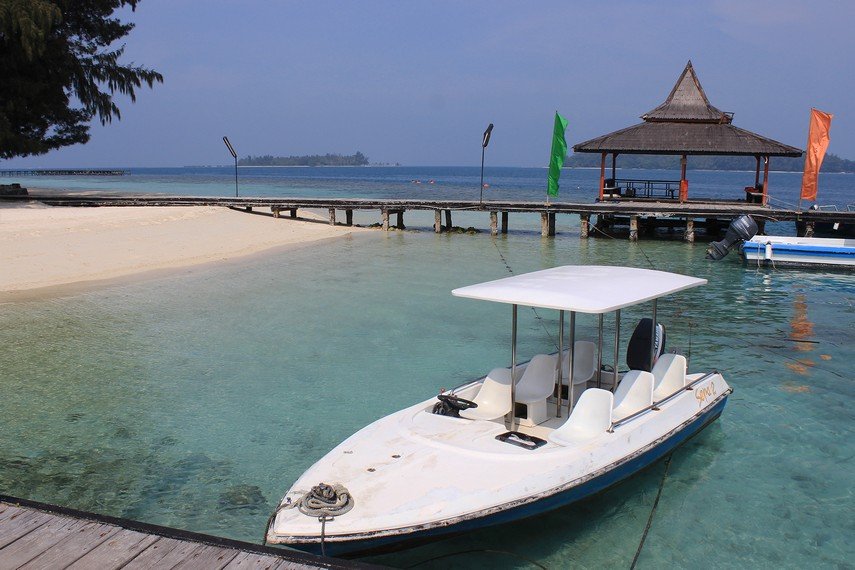 For lovers or couples on their honeymoon or family groups who want to travel without having their privacy disturbed by other tourists, Sepa Island is the right choice. The island, which is located a bit far from other islands, is indeed like a private island for tourists who want to enjoy a vacation without having to be disturbed by the activities of other tourists while enjoying the beauty and crystal clear beaches where you can even see the fish swimming directly.
Pulau Tidung (Tidung Island)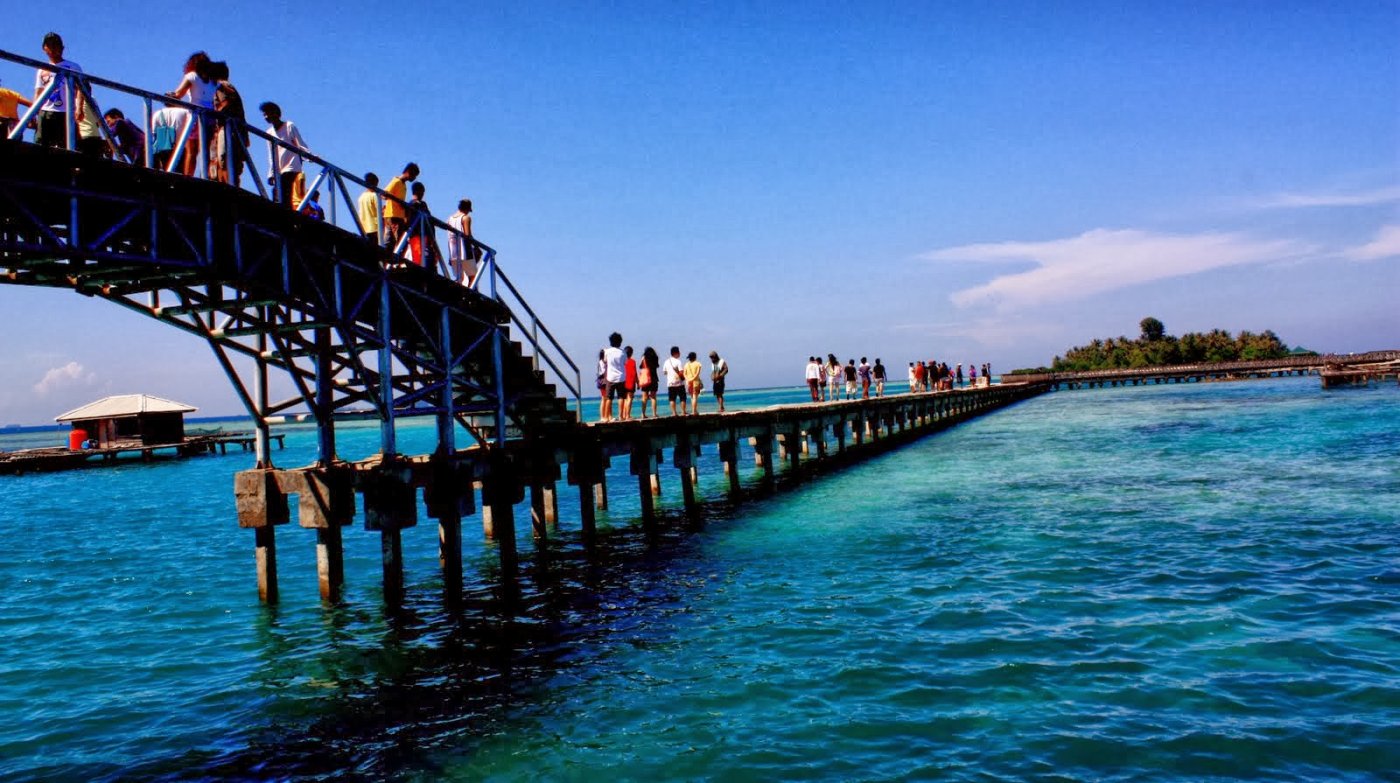 Tidung Island is the most visited island. Here, there are various tourist objects that can be visited. Likewise, the facilities and accommodation are among the most complete, even when compared to Pramuka Island, which is used as the capital of the Thousand Islands administrative district. Apart from that, on Pulau Tidung there is an icon that has even become the icon of the Thousand Islands, namely; Love Bridge.