If parents are too busy doing a long day of work, taking the kiddies for a staycation is ideal for a quick-short getaway within the city. When it's time to get the kiddies to the pool for some splashy fun, parents will always look up to the kids-friendly swimming pools in the hotel they're staying. Thankfully, we are spoiled for choice with some hotels' kids-friendly swimming pools in Jakarta. So here they are...
Best Kid-Friendly Hotel Swimming Pools in Jakarta
InterContinental Jakarta Pondok Indah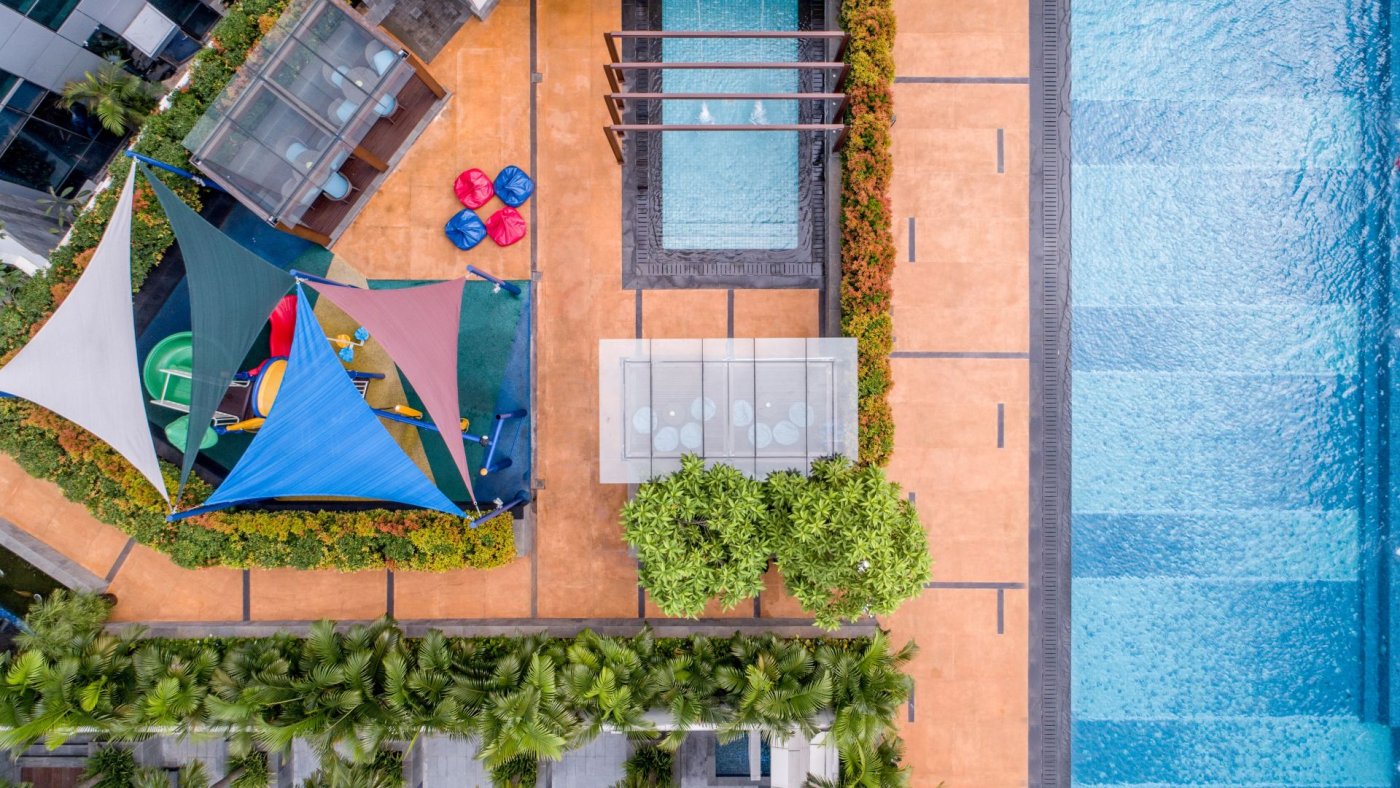 InterContinental Jakarta Pondok Indah features an exclusive children's pool and play area for the little VIPs to indulge. The outdoor swimming pool is set amongst an intricately designed and lush garden area. With views over Pondok Indah, the pool area is the perfect place to relax and unwind. A special brunch in an exclusive play area behind Sugar & Spice is available for the small kings and queens. Planet Trekkers and other fun entertainment are also available.
Jalan Metro Pondok Indah Kav. IV A, South Jakarta, Jakarta 12310, Indonesia
Phone: +62-21-39507355
Website
DoubleTree by Hilton Hotel Jakarta – Diponegoro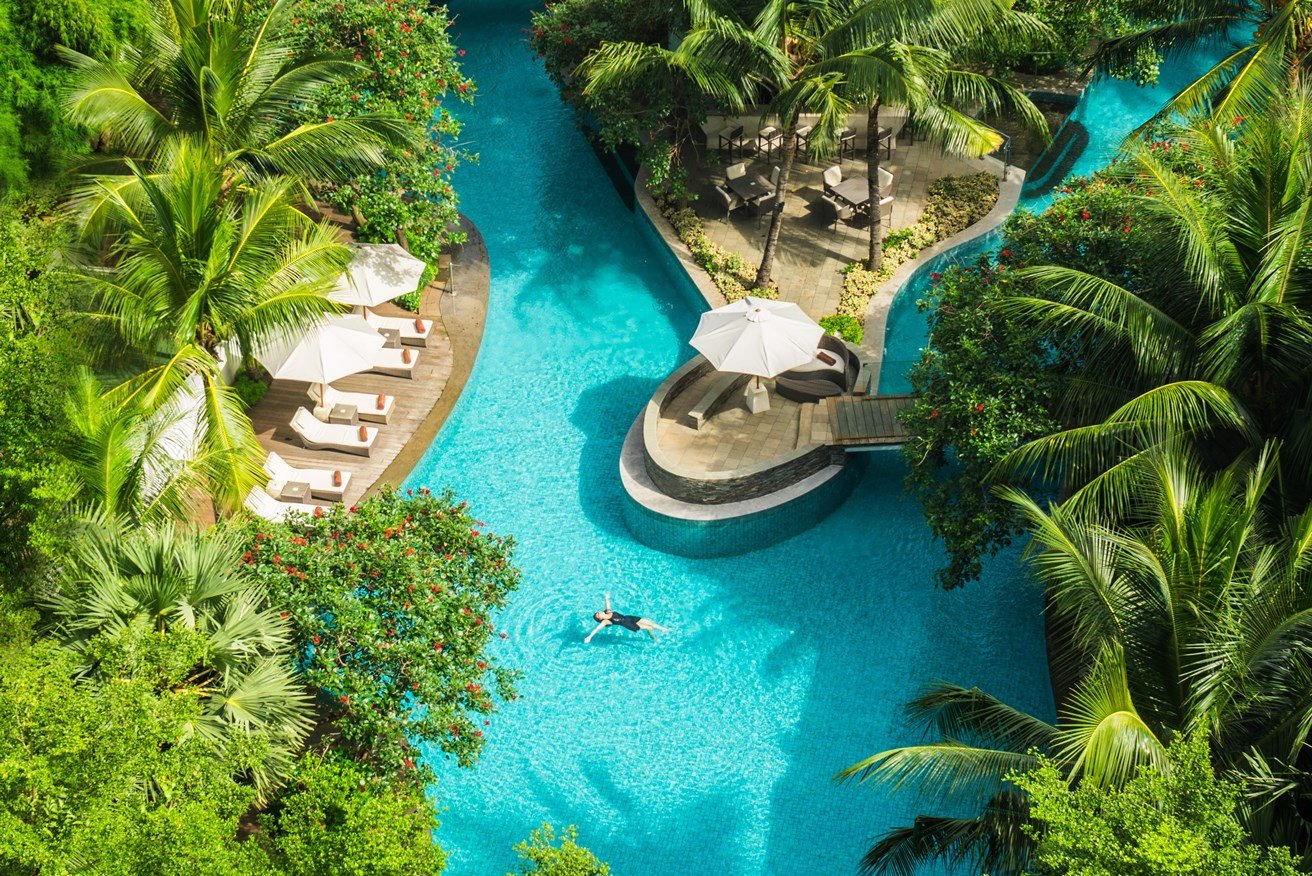 Here you will find an outdoor lagoon-style pool. A unique and stylish tropical pool surrounded by a lovely green corner where to relax and escape the busy schedules. On top of that, your little ones can access the big kids' playground nearby the kids' pool. The playground is splendidly and modernly decorated with a colorful setting.
Jl. Pegangsaan Timur No.17, Cikini, Jakarta 10310, Indonesia
Phone: +62 21 29857000
Website
Gran Melia Jakarta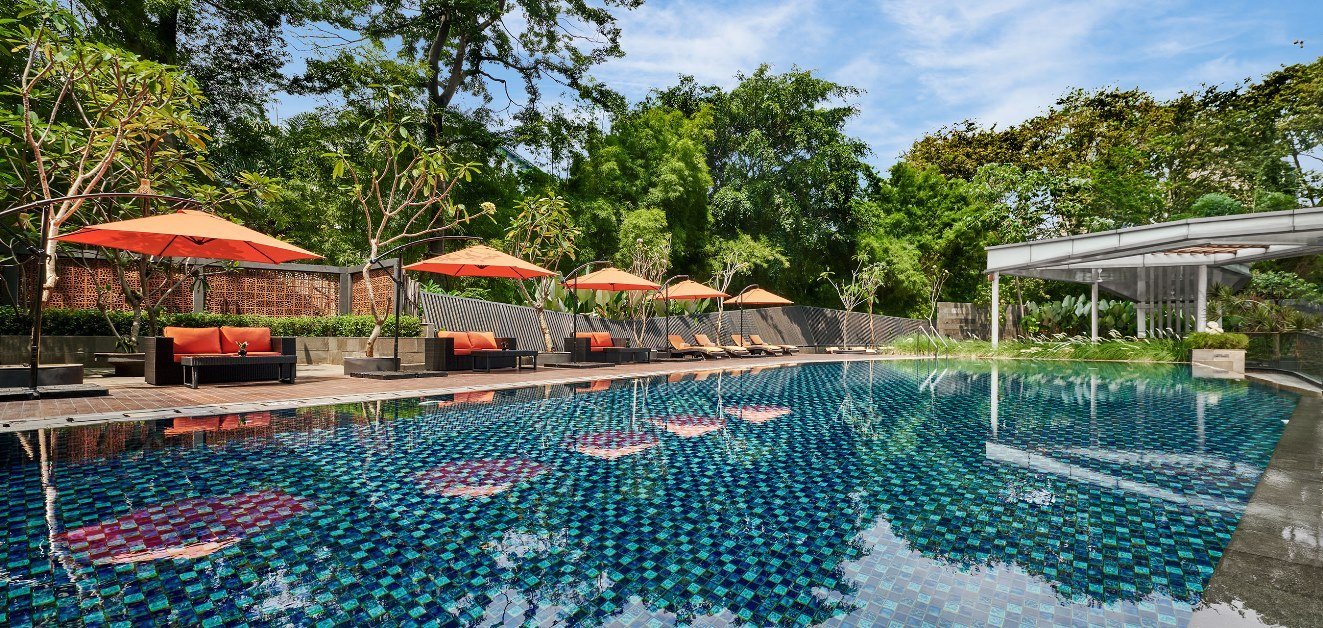 Located on the Ground Floor of Gran Melia Jakarta, Chillin Pool Bar captures the vibrant and artistic spirit of the surrounding area. The relaxed setting, which overlooks the sparkling waters of the outdoor pool and is surrounded by lush greenery, makes it the perfect place to relax with friends and family. Chillin Pool Bar features comfortable seating areas where guests can relax and socialize with friends. Guests can also choose to spend the day relaxing in one of the sofas and padded lounge chairs, shaded by oversized umbrellas.
Jalan H.R. Rasuna Said Kav X-0 - Kuningan, Jakarta
Phone: +62 21 526 8080
Website
Shangri-La Jakarta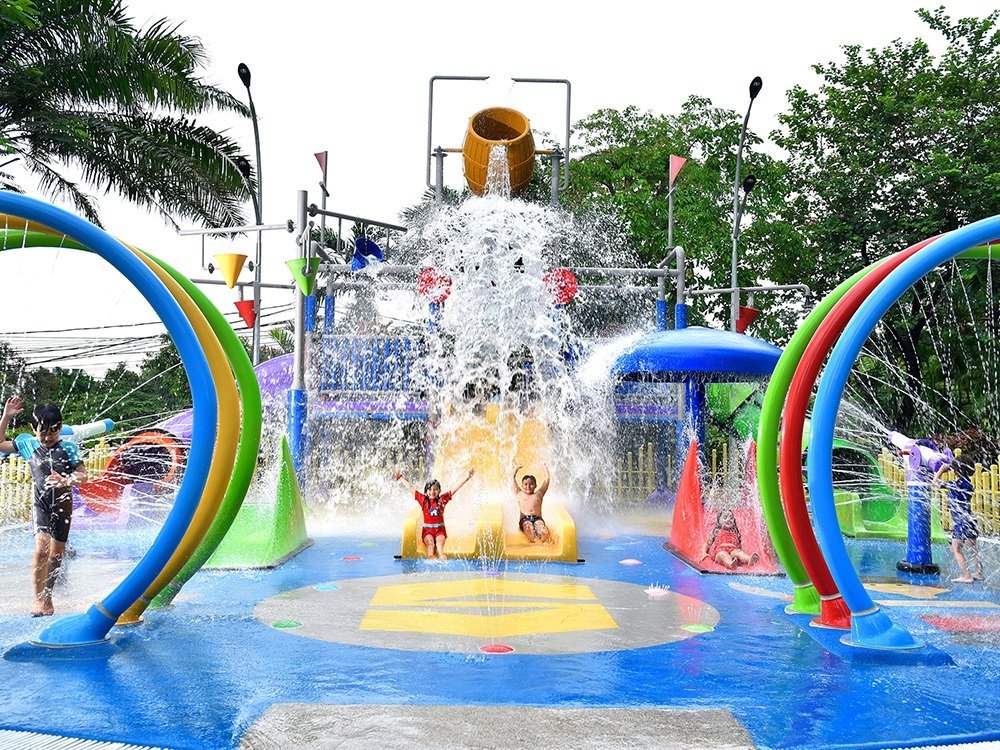 If the lagoon-type swimming pool surrounded by the lush garden isn't enough, Shangri-La Jakarta is equipped with Aqua Playground where water slides of different sizes, rainbow tunnels, and water cannons are found. This ensures the young guests get as much fun as the adult ones.
Kota BNI 
JL. Jend. Sudirman Kav. 1, Jakarta 10220 Indonesia
Phone: (62 21) 2922 9999
Website
The Sultan Hotel and Residence Jakarta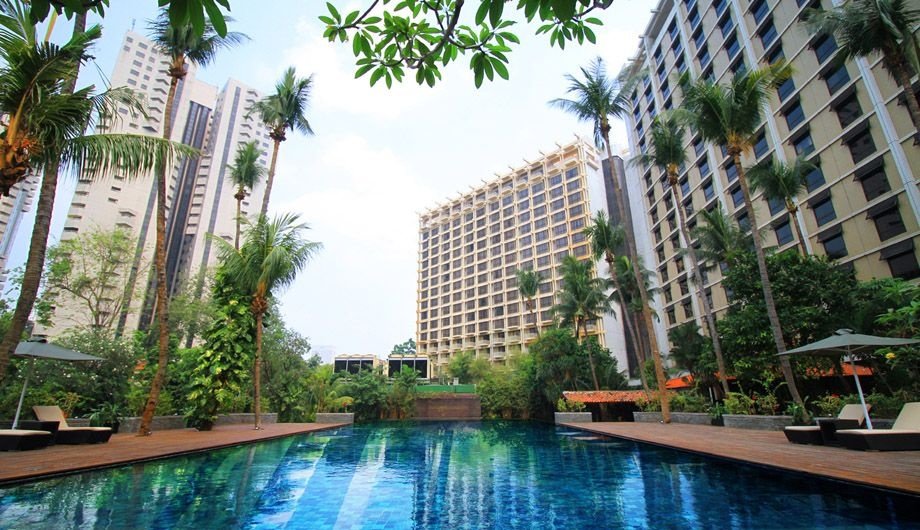 Although the tropical outdoor swimming pool is designed for adult guests, kids can also take a splash with bordered pool area adjacent to the Kudus Hall. The pool operates from 6:00 AM - 9:00 PM daily and comes complete with comfortable chairs and patio umbrellas to maximize the experience while enjoying the facility. The kids' playground is nearby so the little ones can easily hop in to play.
Jl. Gatot Subroto, Jakarta 10270, Indonesia
Phone: +62 21 5703600
Website
Grand Hyatt Jakarta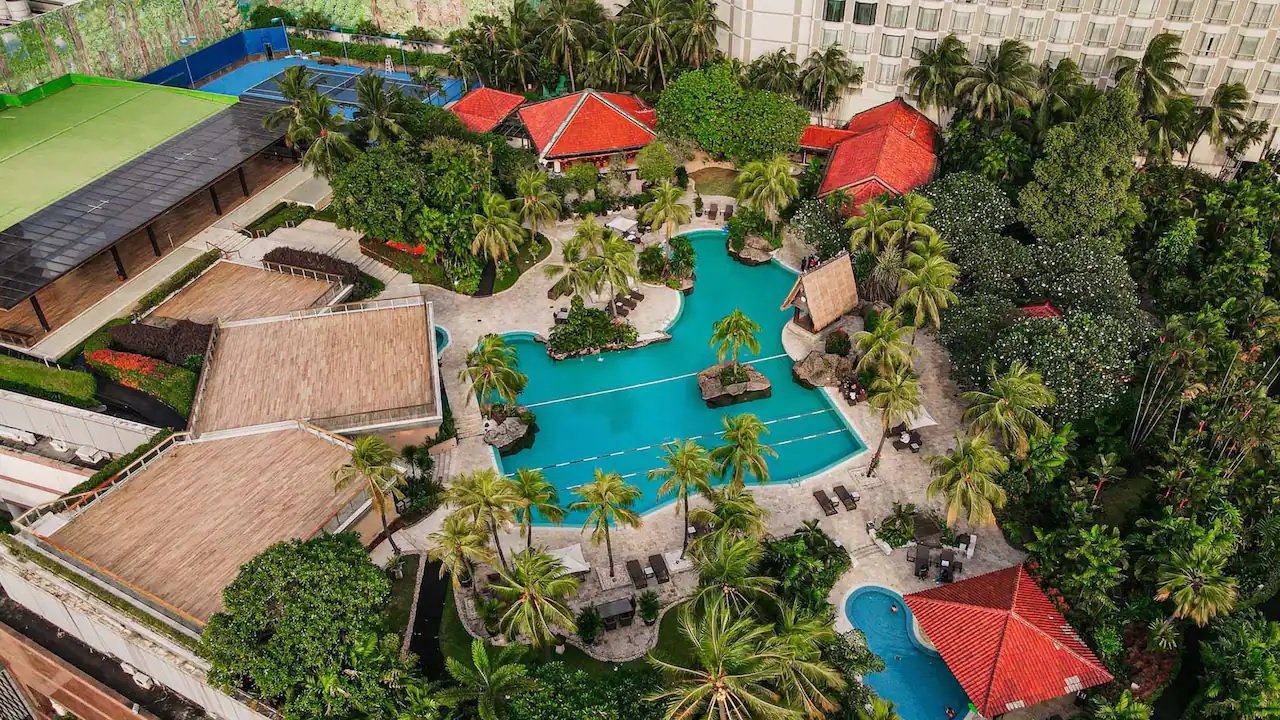 The 43-m (141 ft) lagoon-shaped swimming pool is located on the fifth floor surrounded by a lush Balinese-style garden. The salt-chlorination technology is hypoallergenic, sustainable, and environmentally friendly. There is also a separate children's pool and Poolside Restaurant for alfresco dining situated next to the outdoor pool.
Jalan M. H. Thamrin Kav. 28-30, Jakarta, Indonesia
Phone: +62 21 2992 1234
Website