The Ascott Limited has appointed luxury hospitality leader, Charles Lee Abbott, as Ascott's Regional General Manager for Indonesia, Thailand, Malaysia, and Philippines. His role is to helm the next phase of the growth and development of the renowned portfolio of ultra-luxury serviced apartments in respective cities.

Graduated from Michigan State University with a hospitality degree, and over 40 years of experience in the industry, Charles Lee Abbott unveils his expertise in working in the hospitality industry, his leadership style, and his future plan for Ascott in Indonesia.
Tell us about yourself – what inspired you to work in the hotel industry?
I've worked in the hospitality industry for over 40 years. And I've worked in the United States for about 24 years, and I've worked in Asia for 18 years at this point. What inspires me is the great opportunity to work with people. And it's also given me the opportunity to travel around the world, to see a lot of different things, a lot of different cultures. So I think that's the great thing about hospitality, it's a global industry and you get to meet a lot of people, which is fantastic.
What would you say about your role as Ascott's Regional General Manager in Indonesia, Malaysia, Thailand, and Philippines?
Well, basically, I work with the teams in all those different countries. So, I work from a standpoint of development, human resources, sales and marketing revenue operations. So basically, I'm there to give support to all the different countries. Also, I work with the owners. I'm there to just support all of our team to make sure that we deliver good results for Ascott as well as for the owners of each of the properties.
Tell us more about the distinct features of Ascott Jakarta as the best serviced apartment in Jakarta?
I think if you look at the Ascot properties that we have, they're all very high-end as far as the facilities. And of course, service is always a key component of that to make sure that we stand out when the customers stay with us, whether they're staying for a short period of time or a long period of time. The idea is to try to personalize that service and make sure that they feel like this is their home away from home.
What do you think about the current state of Jakarta's high-end hospitality industry?
Um, I think obviously, coming out of the pandemic, there are a lot of very good, high-end properties, options, and so forth. I think right now. We just need more travelers coming back and doing business. And I think it's just starting to really ramp up and I think it's going to ramp up very quickly. The biggest challenge right now is the airlines, limited seats, and limited flights. And I think that's holding back I people that are willing to travel, people want to get back to visit their country, family, friends, or for business and, you know, both from a business and leisure standpoints.
What about your own experience in Jakarta? How do you find the city so far?
Well, I've actually lived here for less than three months. Yeah. However, prior, I was based in Malaysia, and I used to travel to Indonesia about every three weeks for six years. So I'm familiar with Jakarta. I'm still getting used to living in Jakarta. But you know, right now, you know, it's a dynamic city that has a lot to offer, obviously, great food. Well, I don't know about the great nightlife yet, but I think shopping is good. There are a lot of good malls to explore and enjoy. But yeah, I think it's equal to many of the Asian cities. I think it competes very well from, from a person to live here and enjoy for sure.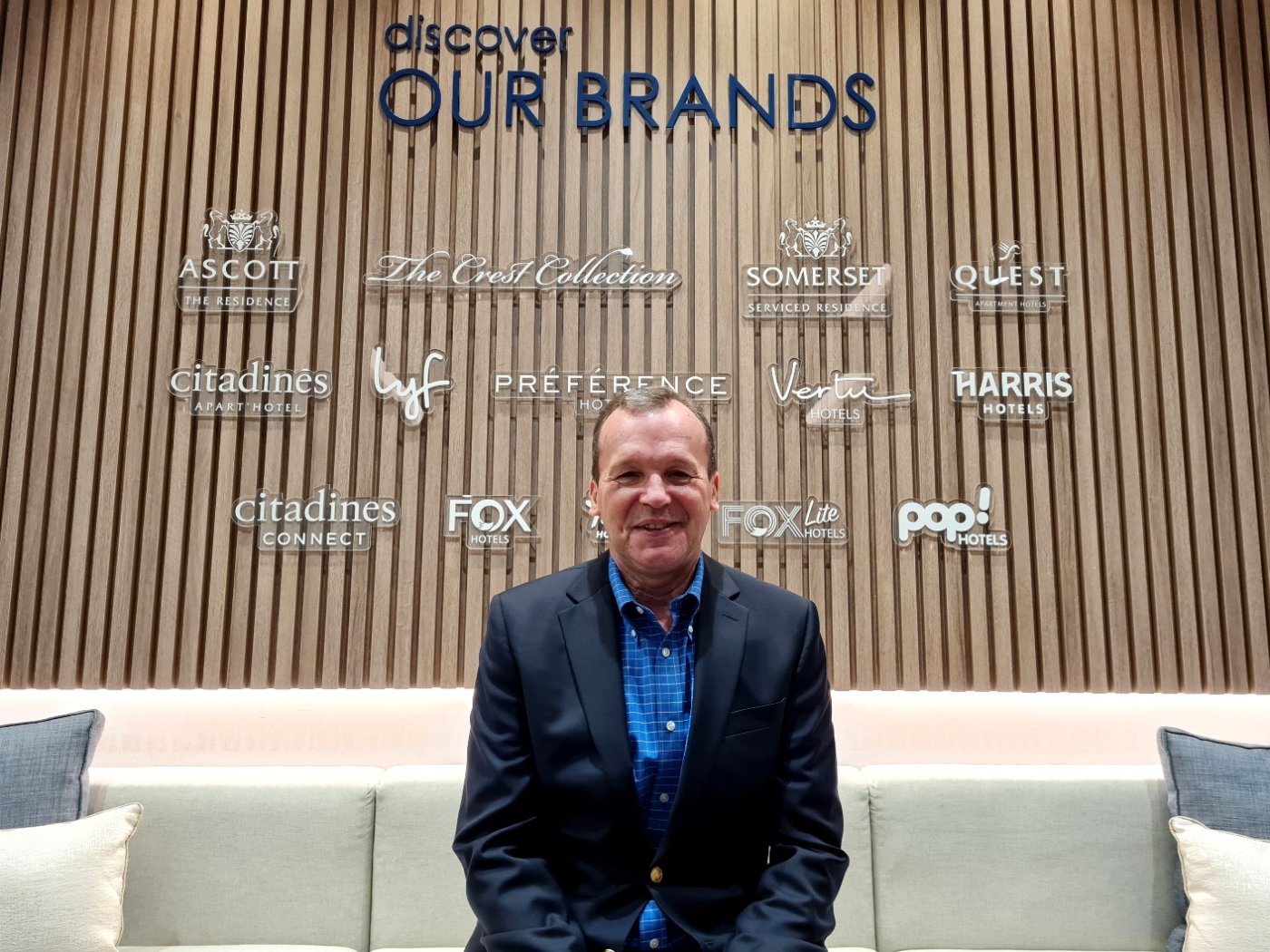 Can you tell us some of the most challenging and rewarding aspects of your job right now?
I think the challenge is still the uncertainty of what's happening with the pandemic now endemic, and what's going to happen. I think it's just changed the way that we do business. And I think, we as any business have to change with it, and we're learning from that I think staffing is probably one of the biggest ones. But I think that's a global issue. So it's not just for hospitality. For the rewarding aspects, being in a very dynamic environment in Indonesia, in Jakarta, and also the other countries that I'm responsible for, I often do meeting all the team, and learning more about our properties, and those are very rewarding when we see new properties being developed, meaning our new team, new staff, working with them.

One of the things that I like to do is we like to coach and develop our talent so they can grow from within. That's always a key component for me, as a leader to make sure that we take care of our people, and they feel good about our company and can grow with our company.
For many years you have worked in the hospitality industry, what makes you enjoy working in the industry?
I think, like I said, one, it gives me an opportunity to work with so many different people and cultures, meeting new people, you know, engaging with our staff is always great. And you get to learn a lot about our team and their cultures. And, now I'm working with four different countries. So I get to learn a little bit about four different cultures, which is really fun and interesting. I think, I like hospitality because you're dealing with people. It's always exciting and passionate. And most of us are enjoyed that formula.
Can you describe in 3 words about your leadership style?
Collaborative. I think passion, and also fun. I like to develop people. I think it's one of my responsibilities as a leader to grow the next generation. Give them hopefully some guidance, and opportunity. Because I've been in the industry, I've seen different things, I can share some of those experiences, and they can learn what they think is best for the future. Some good and some bad, right? So I think, you know, I really enjoy working with people and developing and growing in a fun way. Always got to have fun, you got to enjoy. If you don't enjoy your work, why are you here? Right? You have to enjoy what you do.
What advice can you give to young hoteliers trying to make a break in the industry?
I think is to try different things. Don't be afraid to do something out of your comfort zone and learn something new. I think sometimes the younger generations want to move too quickly. Maybe even in their own stays in the same company want to move. And I think, you know, when I look back at my career, yeah, when I was young, I wanted to move fast too. But I think in some cases, you can be more successful if you move a little slower and you have a fuller understanding. So the next role you get, you're better prepared and have more knowledge. Because you know, everyone says, oh, I want to be a general manager. Well, there's a lot more than just being you know, just saying I'm a General Manager. There's a lot to learn and develop. The more experience you get is good. And so it's okay to change jobs. I think loyalty is a little bit more important, I think at times. But I also say, don't be afraid to change the job If the right opportunity presents itself. I think sometimes people make emotional decisions, as opposed to not with their head. So I think, really think about that role and why you want to go into the next position, as opposed to just say, I want to change I want to do I'm tired with this job.
How do you balance your professional and personal life?
How do I balance, I'm pretty good at it, I always say I have to focus, there are three things, I have to focus on myself. So I have to do things that I enjoy. And I do things like play golf, I exercise, I do different types of activities, then you have to focus on your family. And you have to make sure that you spend quality time with your spouse, or your children or your parents, whatever, you know, your family sources. And then you have to make sure you spend enough time at work. And all three of those have to be in balance, and you have to work those and if one of them falls out of balance, that it usually affects the other to also
I've worked overseas, my children actually grew up overseas. And but I would say as we were, as they were growing up all the way from, you know, infants to now they're graduating from university, we would have dinner together as a family every almost every single night. And I would either walk them to school, or I would drive them to school, or I would walk them to the car that's driving them to school in the morning also. So I think you really need to have that balance. And even it's even if you only can spend 15 or 20 minutes with your family at times, do that as a routine because it means so much in the long run.
So you mentioned golf and exercise. So any other things you do during your free time?
I like to read novels. I like fiction. Yeah, and I like to read mysteries and investigations and things like that. Yeah.
Finally, what is the future plan for Ascott in Indonesia?
We have a couple of residents in Surabaya, we also have one in Bali, but we also have hotels. So we have we own you know the Harris hotels, the POP! Hotels, Kimaya hotels, and the Yello hotels. So we are definitely growing our hotels and we're taking some of those hotels to other countries also. We actually just recently in the acquisition of Oakwood so now we're growing really big with another brand. So I think yet we will continue to look at how we can grow strategically as both a service residence and a hotel property.
Yep. So yeah, it's so it's it adds quite a bit to our organization and as I said, it gives us more brands, which will allow us to grow into different markets so Ascott may be strong in one market. Oakwood may be strong in another market now we can actually have more brands expanding in the service residence and then also from a hotel side we still have opportunities to grow in almost many almost any city.