In the midst of a period of revival of the Indonesian economy which had collapsed due to the Covid-19 Pandemic, the National Electronic Catalog Association or AKEN together with PT Keren Indonesia held the first Indonesia Sustainable Procurement Expo (ISPE) event in Bali. In its first year, ISPE was successfully held at the Westin , Bali Convention Center and was attended by more than 600 visitors, the majority of whom were government officials related to government procurement and spending. This year ISPE 2023 will be held again nationally, on 15-16 March 2023 at the Jakarta International Expo (JIEXPO) Kemayoran which carries the theme "Sustainable Procurement through E-Catalog Transactions and Global Product Synergy in the Context of Strengthening Domestic and Environmentally Friendly Product Industries".
Being the first and the largest sustainable procurement exhibition in Indonesia, ISPE never stops innovating and opening opportunities for collaboration. One of the collaborations that ISPE has done is with IFPI or the Indonesian Procurement Functional Association. IFPI is a professional organization for the functional position of managing government procurement of goods and services in Indonesia, which has more than 3,000 PPK (Commitment Making Officials) members throughout Indonesia who are important stakeholders in managing government procurement of goods and services. This year's ISPE will be held in splendor in conjunction with the 7th Anniversary of IFPI which is planned to be attended by more than 1,000 IFPI members.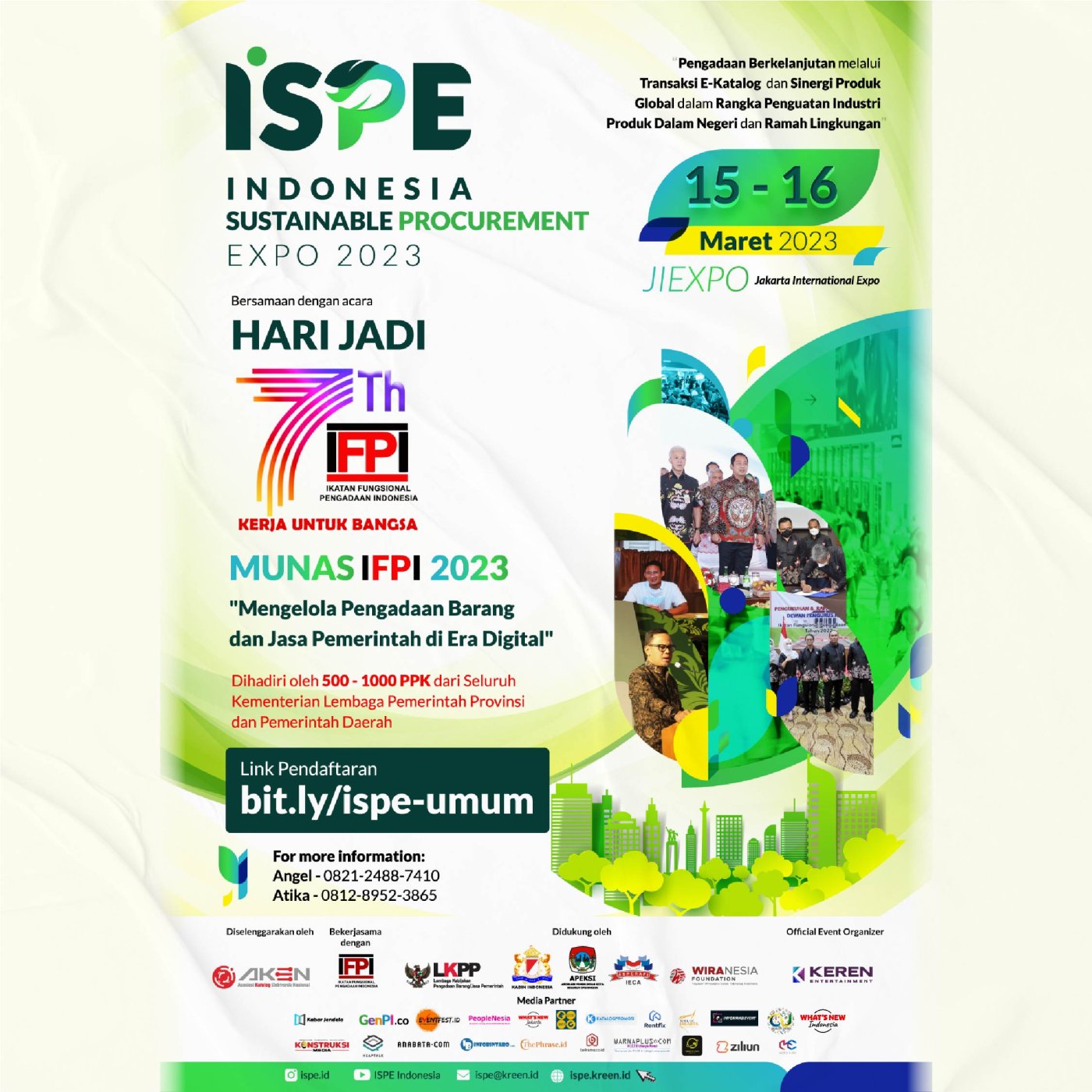 ISPE aims to support the Indonesian government's program in realizing transparent spending through e-catalogs and to become a vehicle for and liaison for domestic, global, MSME business actors, and all National, Local and Sectoral e-catalog stakeholders. With the concept of continuous digitalization, AKEN as the host of ISPE seeks to participate in developing the potential of the domestic industry, synergy of global products and micro, small and medium enterprises to be able to compete in national and international markets. So, this year, ISPE is also collaborating with various government procurement stakeholders such as LKPP, KADIN, APEKSI, IAPI, APTIKNAS, WIRANESIA. ISPE this year has also begun to expand into various industries such as medical devices, motorized vehicles, office equipment providers, IT and so on.
The Indonesia Sustainable Procurement Expo 2023 event can be attended free of charge by accessing the link: https://bit.ly/ispe-umum. Further information can be obtained through the ispe.kreen.id website or via our Instagram at @ispe.id. See you at ISPE 2023!