The annual Art Moments Jakarta returned to its original venue at Sheraton Grand Jakarta Gandaria City Hotel, The Grand Ballroom and Gandaria City Hall from 4 - 6 November 2022. 40 art galleries from Southeast Asia and beyond display their art collections and highlight several artists, such as Miwa Komatsu, Andrey Ostashov, Made Wianta, Handrio, and Nyoman Nuarta and more than a thousand artworks, from paintings to sculptures to NFTs.
Art Moments Jakarta 2022 was officially opened on 4 November 2022. The opening ceremony was inaugurated with the attendees singing Indonesia Raya national anthem led by a Jakarta Philharmonic Orchestra Children Choir conductor. The day continued with an opening address from Sendy Widjaja, the Co-Founder & Fair Director of Art Moments Jakarta. Joining Sendy on stage as keynote speakers are Khai Hori, I Ketut Alam Wangsawijaya, Executive Vice President Transaction Business Development BCA; Jivan Tulsiani, Head of Marketing TZ - APAC, and Munwar Basha, General Manager Sheraton Grand Jakarta Gandaria City Hotel.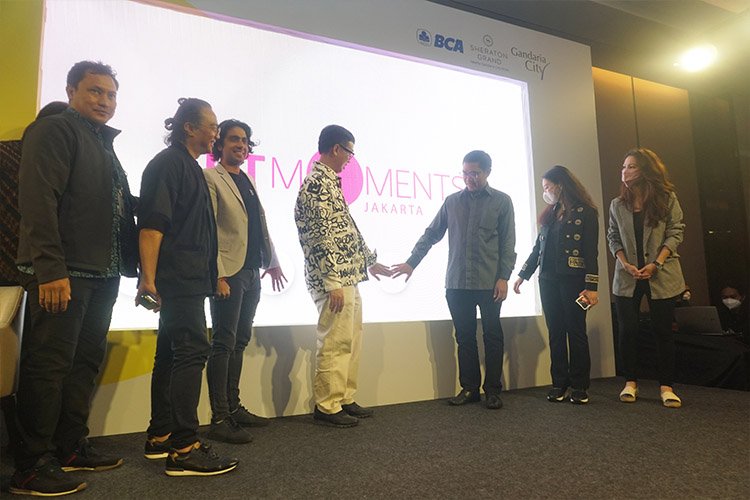 "After a long wait, we are back as one of the leading art fairs in Indonesia. Art Moments Jakarta 2022 thrives to be the best in providing fresh concepts on programs as well as creating strong opportunities for networking platforms amongst galleries, artists, collectors and art enthusiasts. This year, we will feature Fine Art, Modern Art, Traditional Art and Contemporary Art from Indonesian and international artists and galleries, also Digital Art and NFTs," said Sendy.
Commenting on the exhibition, TZ APAC Head of Marketing Jivan Tulsiani said, "Southeast Asian and Indonesian artists are actively embracing digital artworks in the form of NFTs, which have enabled them to reach new audiences, be fairly compensated for their artwork and be positive changemakers for their communities. We look forward to celebrating the spirit of innovation in today's art space at Art Moments Jakarta. TheTezos exhibition welcomes everyone keen on enjoying the creations of some of the region's top artists in the Tezos ecosystem, collecting a memorable NFT and understanding more about the medium."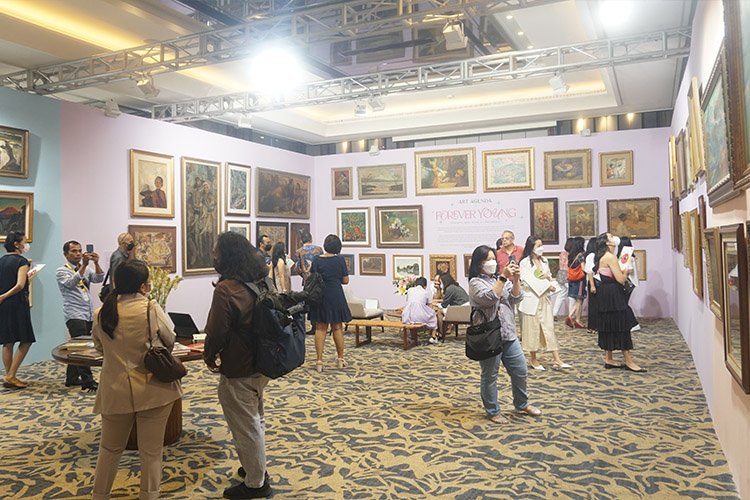 This year, NFT Art Prized Moments II was rolling under the theme of "Continuance", in line with this year's theme of Art Moments Jakarta as a collaborative event between Art Moments Meta and akaSwap marketplace on Tezos blockchain. More than 180 digital artworks from all over Indonesia submitted and only 10 will be presented in the final. The 10 digital artworks, including the finalists, will be shown at Tezos booth at Art Moments Jakarta. There were also 6,000 NFT artworks giveaways from Tezos to the visitors of one of the most significant art fairs in the country.
Jakarta Philharmonic Orchestra Children Choir took part in the Opening Ceremony and performed three mesmerizing songs for guests. Jakarta Philharmonic Orchestra Children Choir consists of children aged 6-15 years, and it is part of the Jakarta Philharmonic Orchestra, the oldest orchestra group in Indonesia, under the care of Neneng Rahardja and Aminoto Kosin. Later that day, Sendy together with all notable key speakers symbolically officiated the opening of the Art Moments Jakarta 2022 by pushing the touch screen button on the stage.