In the thick and bustling food scene of South Jakarta, Kenjiro stands out for its quiet elegance and exceptional Japanese food. Renowned for the yakiniku house and sake bar, Kenjiro offers the authentic taste of Japanese cuisine with a quintessential traditional scene from weekdays to the weekends. 
Immerse in the True Authentic Japanese Dishes in the Peaceful Zen Setting at Kenjiro
Located down an immense lane on Adityawarman Street, this yet warm and intimate Japanese grill house under the supervision of TAN Group belongs to those who yearn for the flavor of authentic Japan without having to leave Jakarta. Built with the perfect backdrop to create unforgettable conversations and memories for the epicures of casual lunch to lively evening galore, Kenjiro sprinkles your time here with a fanciful dash of Japanese bona fides.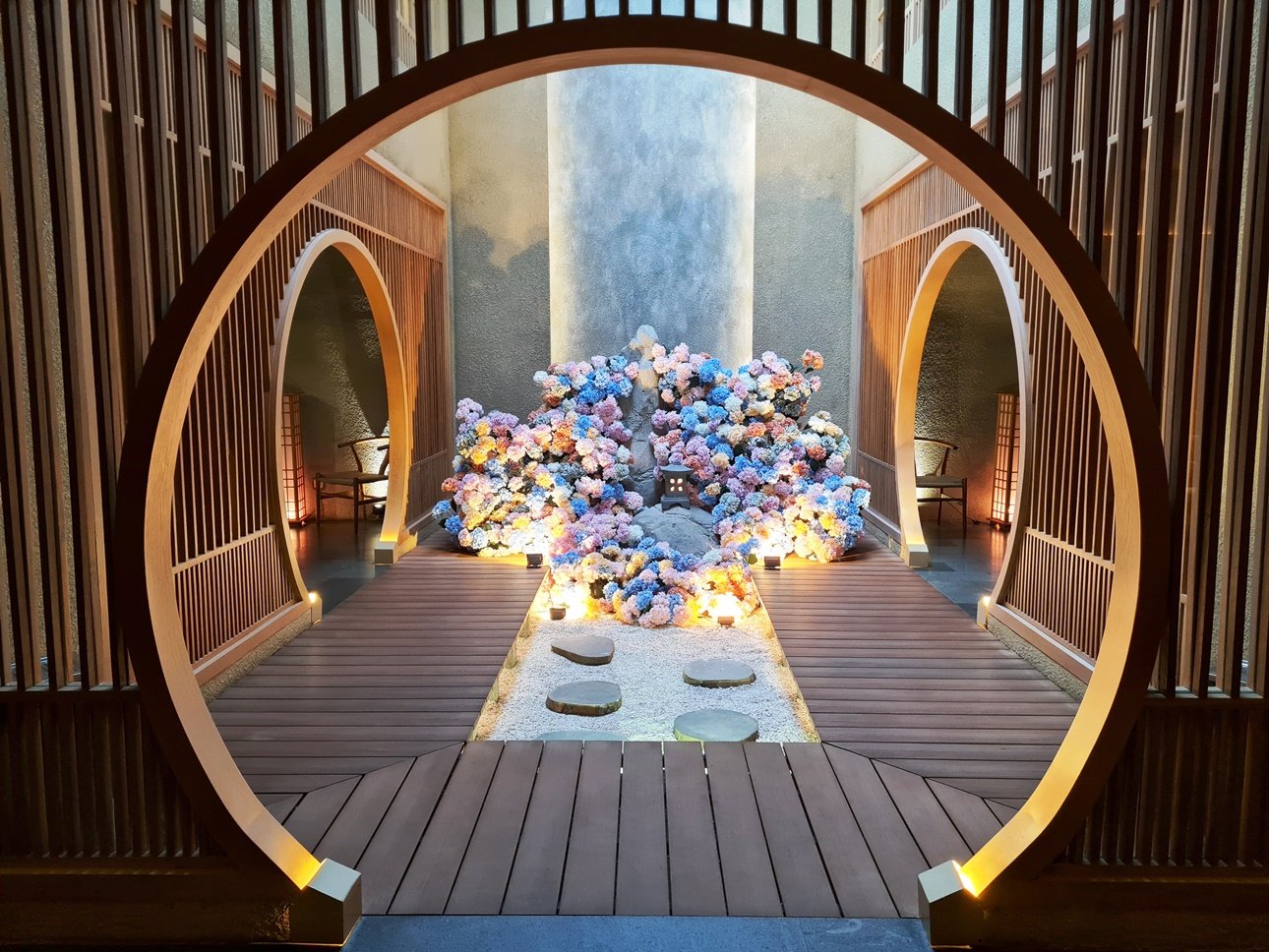 As a one-way ticket to Japan, you will feel the traditional vibes that take the mind and palate to the land of the sunrise. Kenjiro embodies a zen and peaceful setting taking inspiration from the Edo era. The dining room and sake bar is naturally illuminated by shimmery light windows paralleled by outside winding bamboo plants and some fixtures to exude intimacy.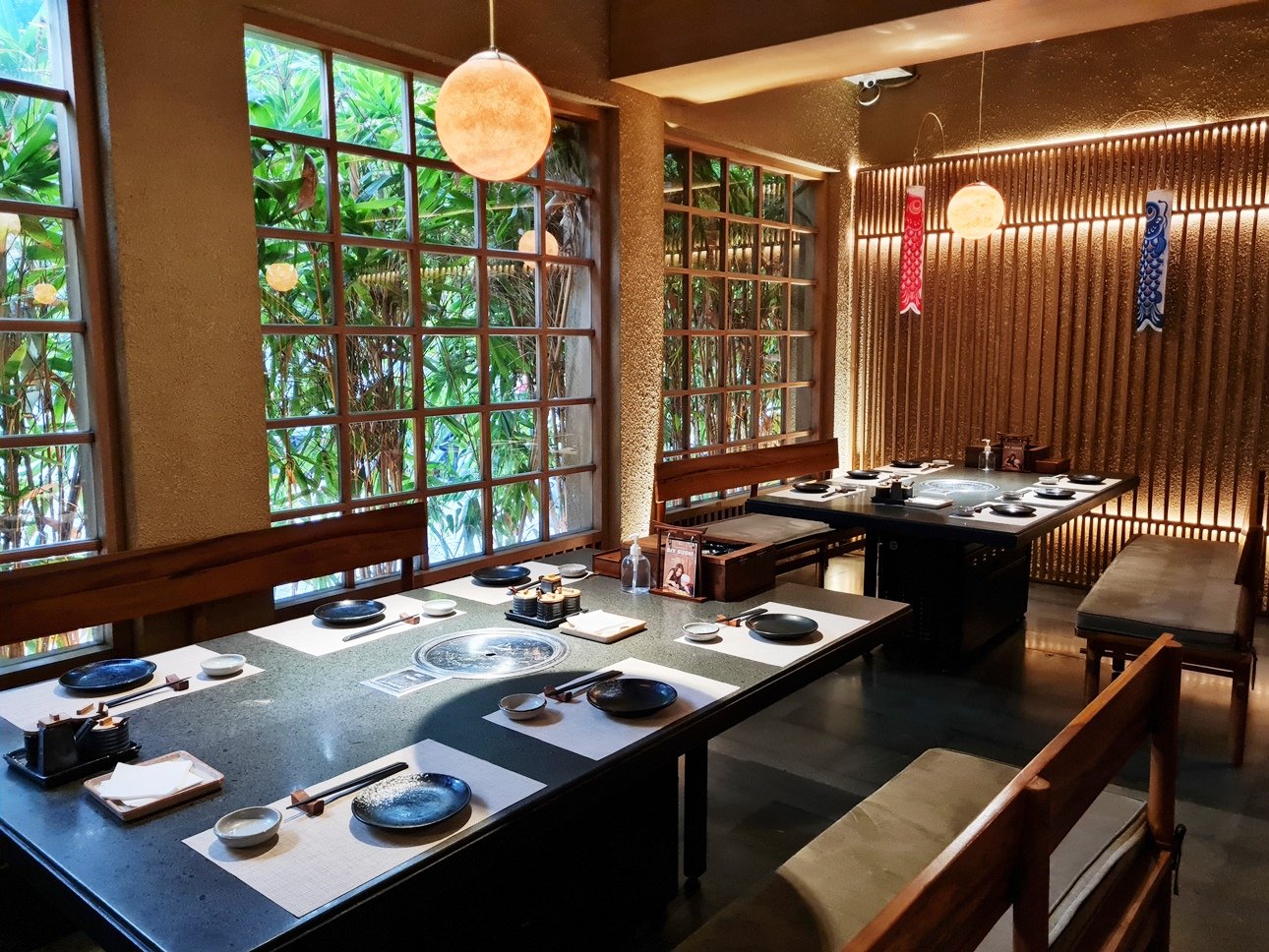 The dining experience will both stretch out and fly by, leaving you wondering if time works differently here. The whole space, including the second floor, can accommodate several private functions in well-designed private rooms. Each private room is both calm and convivial, mostly filled in with natural Japanese elements like rock, sand, bamboo, crane, and seasonal ornaments imbued for pleasing the eyes. During this time, when the summer season is on the go, there are whimsical flower arrangements in one of the zen gardens plus carp banners and wind chimes dangling inside and outside the settlement hinting the Golden Week festivity that includes Bon Odori.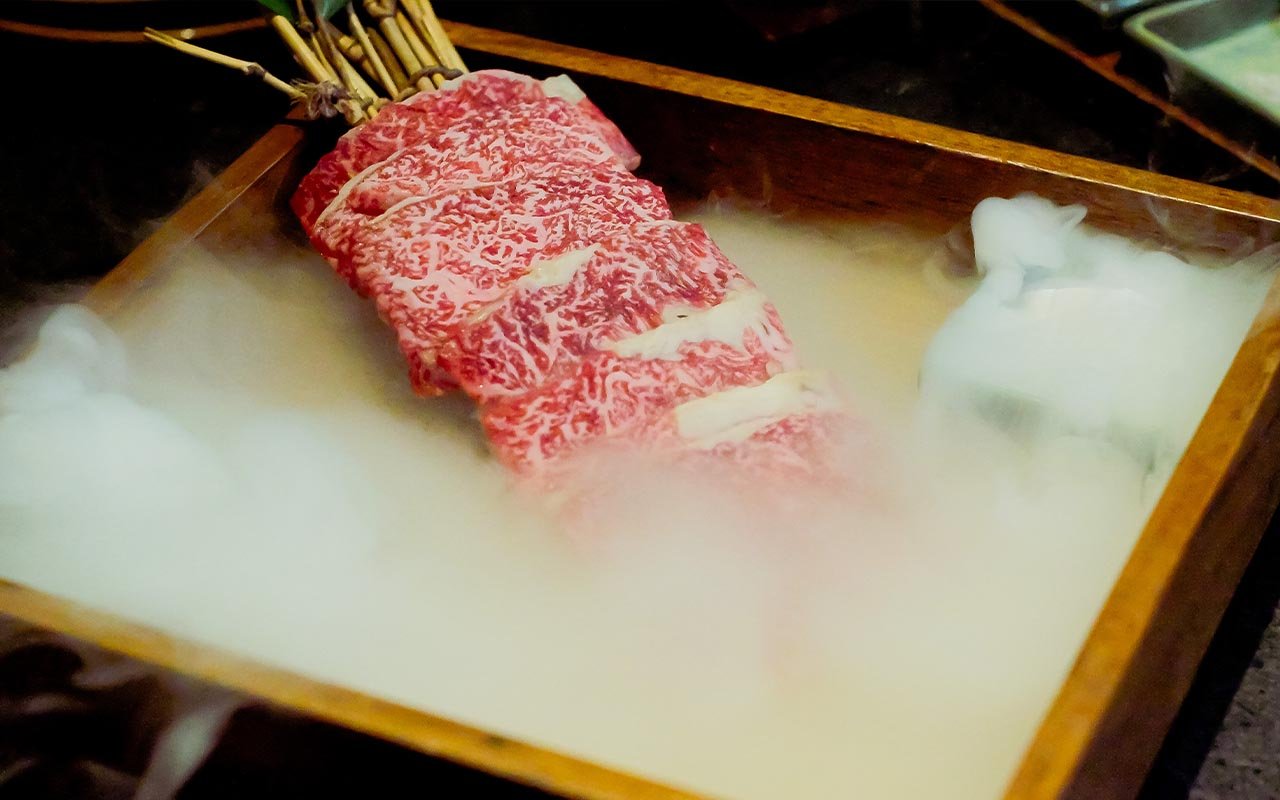 With attentive services and meat quality to die for, Kenjiro elevates the yakiniku experience to previously exclusive heights. Believe them when they say they fly their beef in from Japan because the marble passes the eye test and the marbling textures don't lie. Prove it on the Wagyu A5 Tokushima (Kainomi) which is a limited portion that found between the juicy rib cuts and delicate fillet (tenderloin). Its wonderfully marbled, tender Wagyu is presently sliced and beautifully arranged with dried ice for a dramatic effect. Once, it's perfectly grilled, it has an excellent flavor balance between lean meat and fat which is best for grilling to medium rare to conserve its tenderness.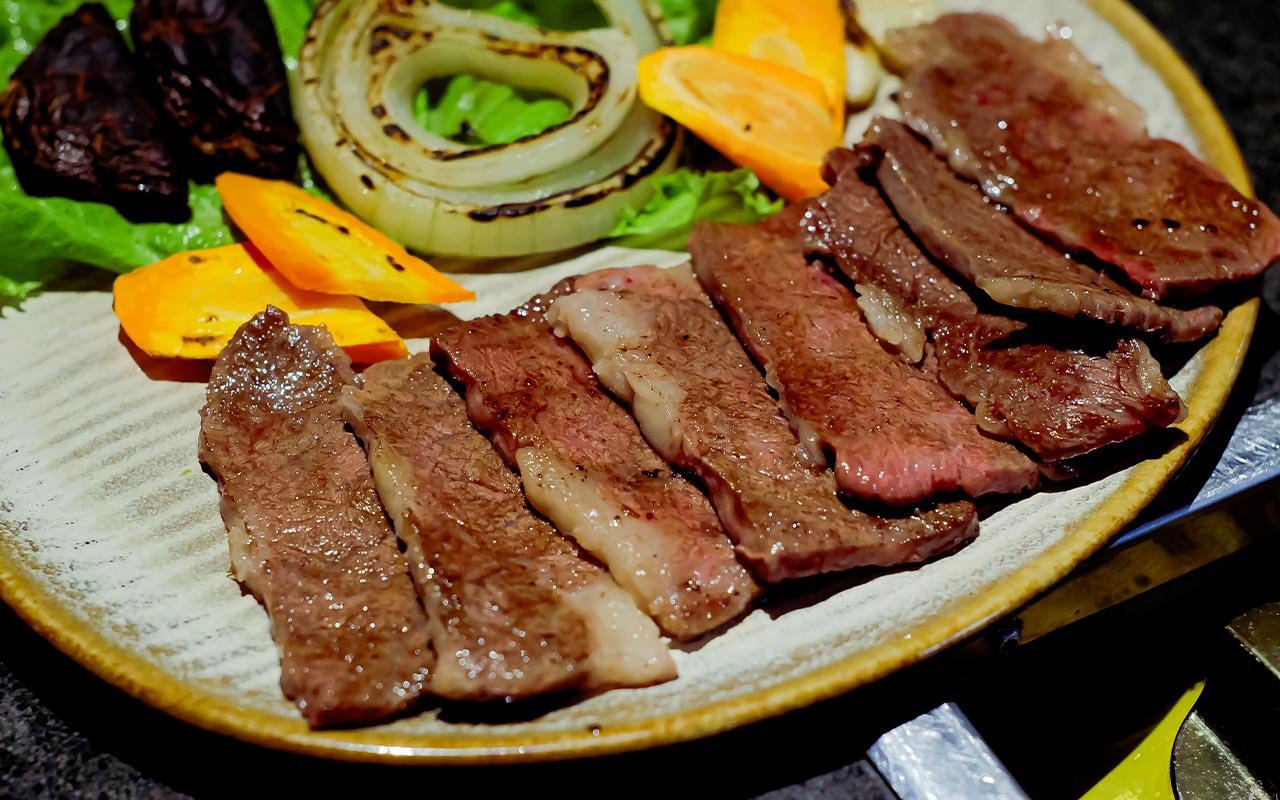 For a subtle option, AUS Wagyu Rib Eye has an abundantly buttery flavor and texture in a few slices. It will please your Wagyu devotee. When it's done right at a medium level, it can come off as effortless, tender, and juicy that leaves a satisfying finish. All the yakiniku dishes are marvelously paired with their exceptional condiments such as the sweet-savory yakiniku sauce, salt and pepper, and yuzu kosho made from orange and fresh chili.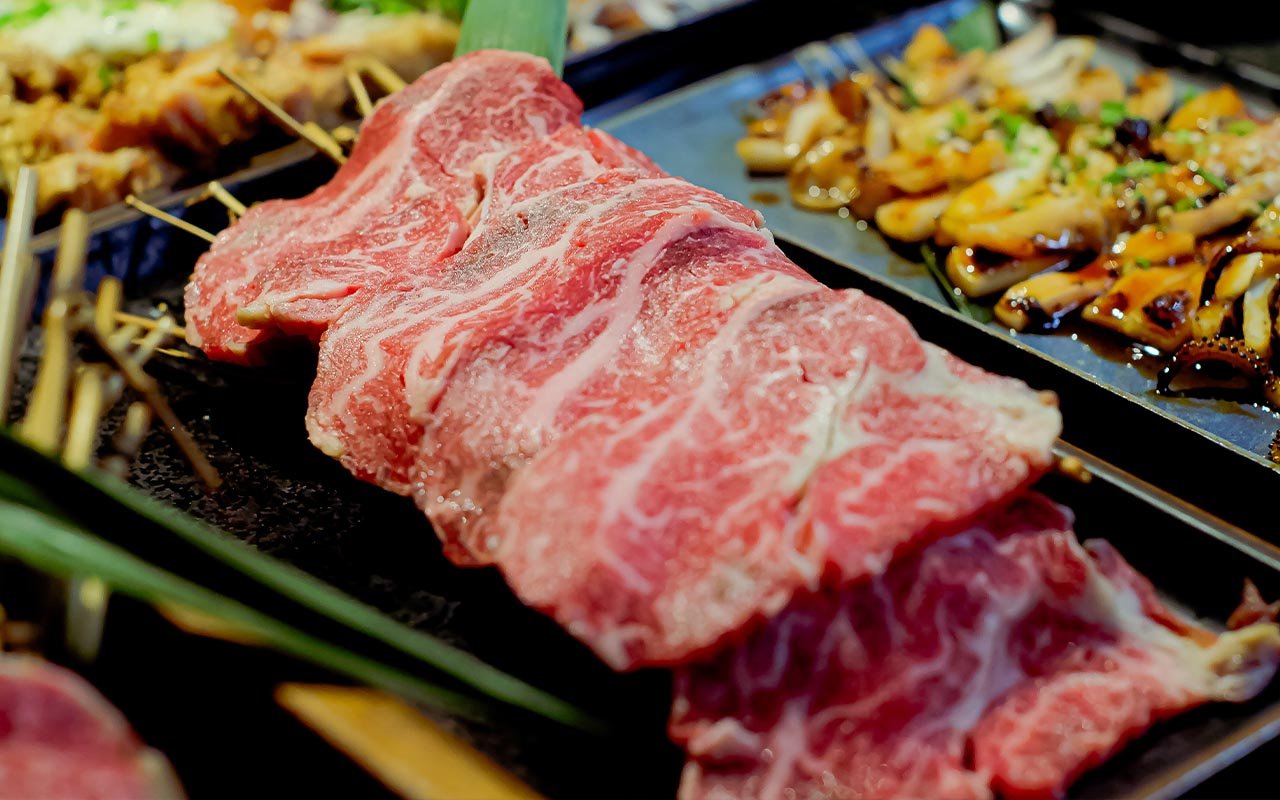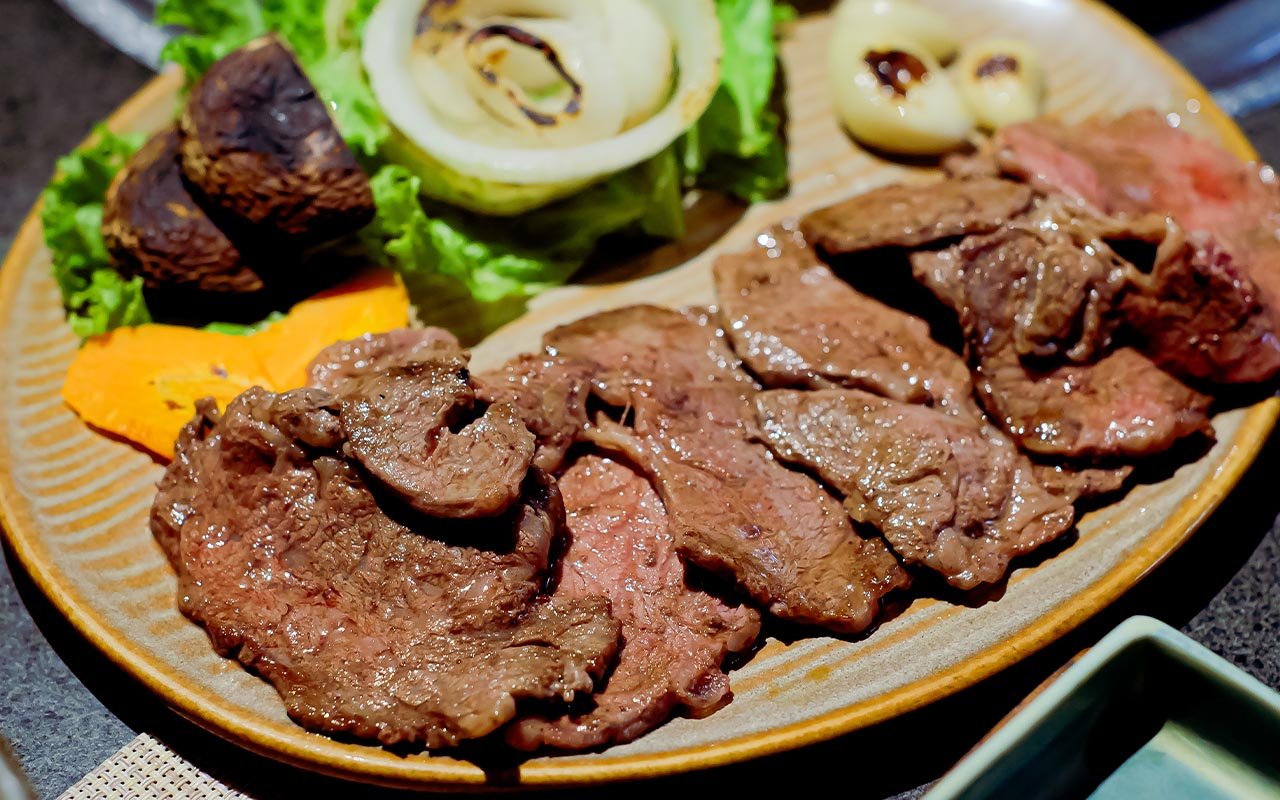 While waiting for the grilling process, you may want to start rising your appetite level with the one and only A5 Truffle Chawanmushi. The silky chawanmushi is nothing like others you find anywhere else. This savory temptation is imbued with special sauce and the precious wagyu A5, and foie gras in a small detailed porcelain cup. We guarantee it will quiver your appetite and taste rich in all aspects of the flavour as expected.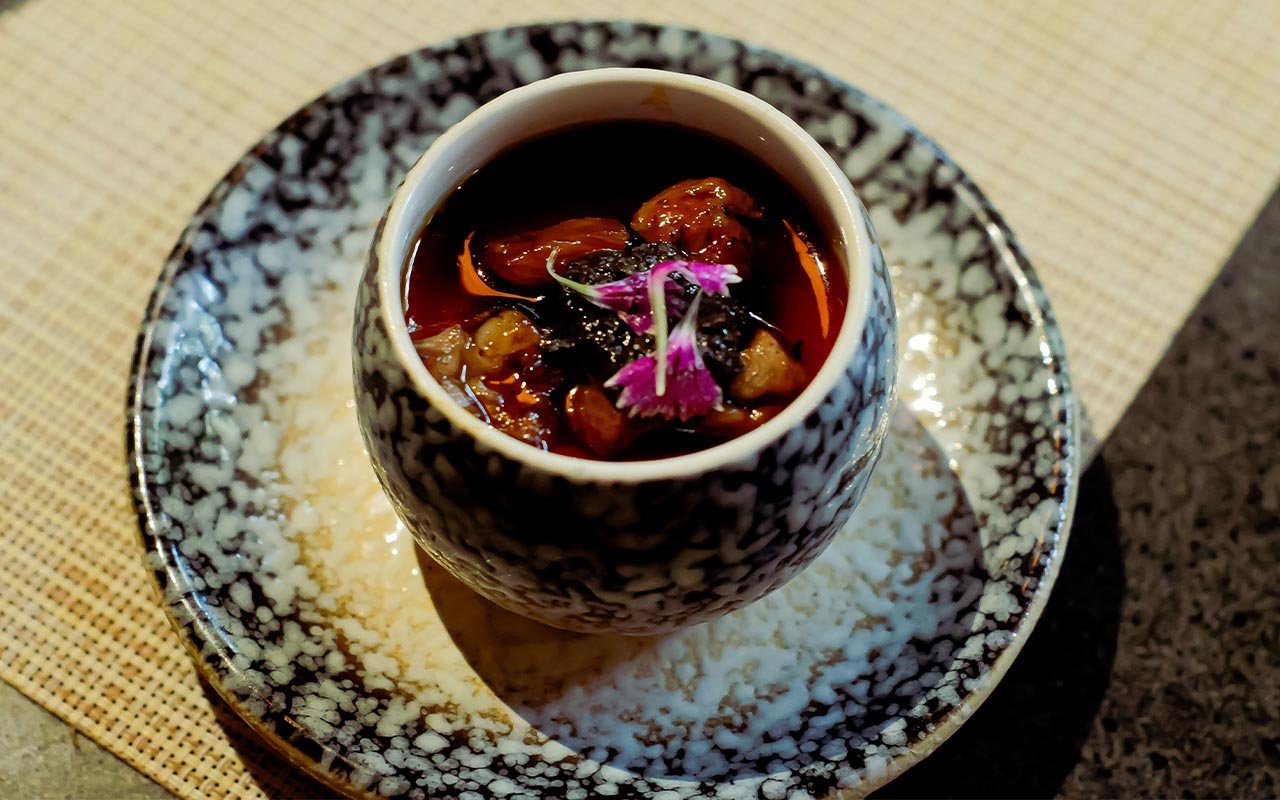 Likewise, the sushi option here is pretty massive. Crazy Roll Uramaki for instance, each piece is stuffed with kani kama, fresh avocado, kyuri and topped with unagi that tastes equally savory and umami coming through from the first bite until the last piece.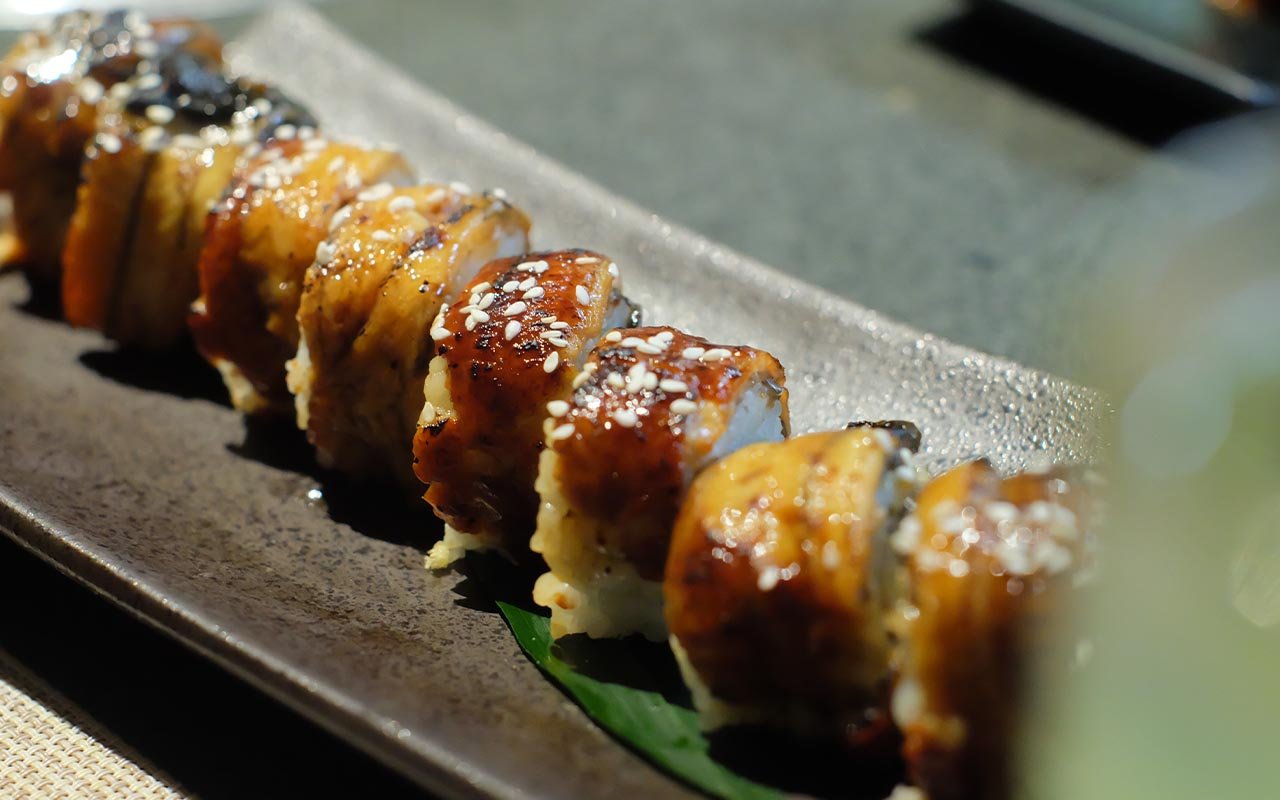 If anything, you may find some extraordinary sushi creations here. There's usually nothing fiercer than Sirloin Hana Roll. The sushi wrapped with a thin juicy slice of sirloin really bursting with flavour that you will be longing for more.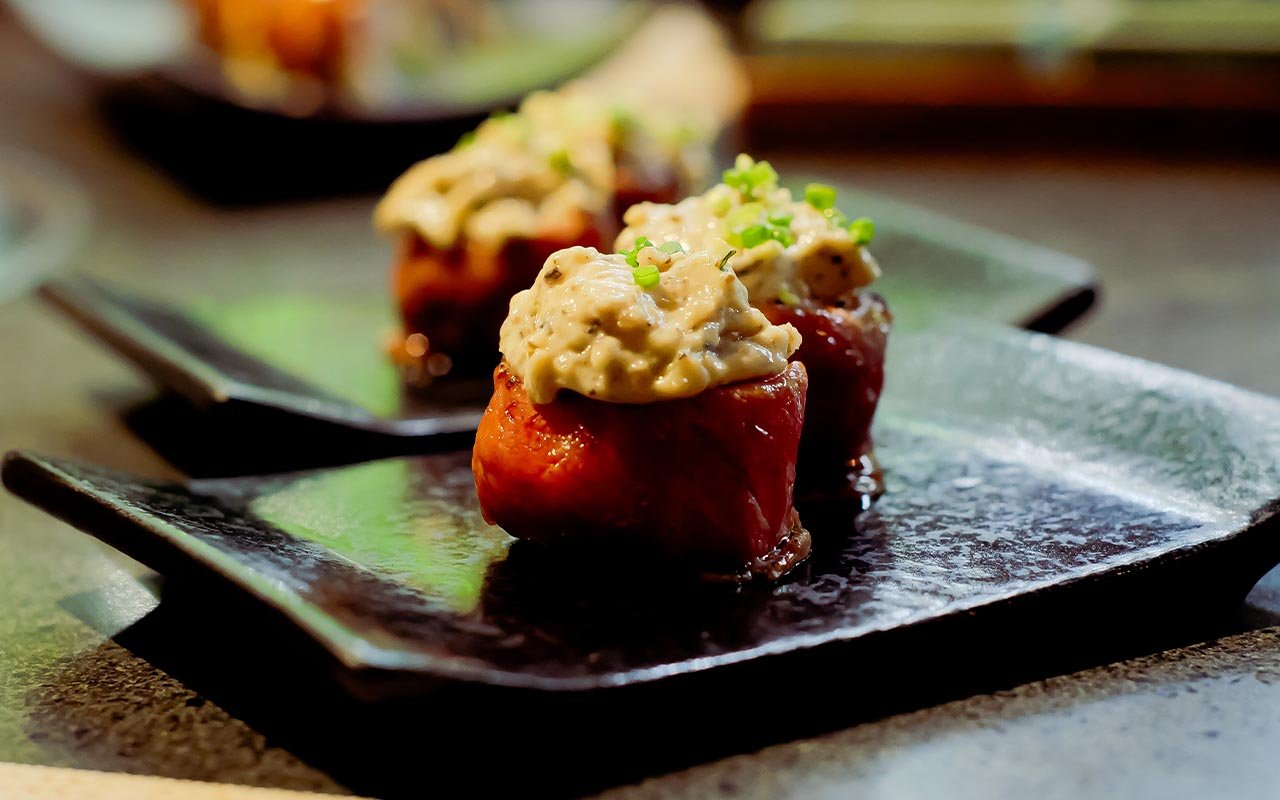 A heartier option, Wakame Salad is daintily arranged with mixed dry seaweed and fresh cucumbers glazed in delicately roasted sesame dressing. A modest salad that mixes its snappy and refreshing flavours to share.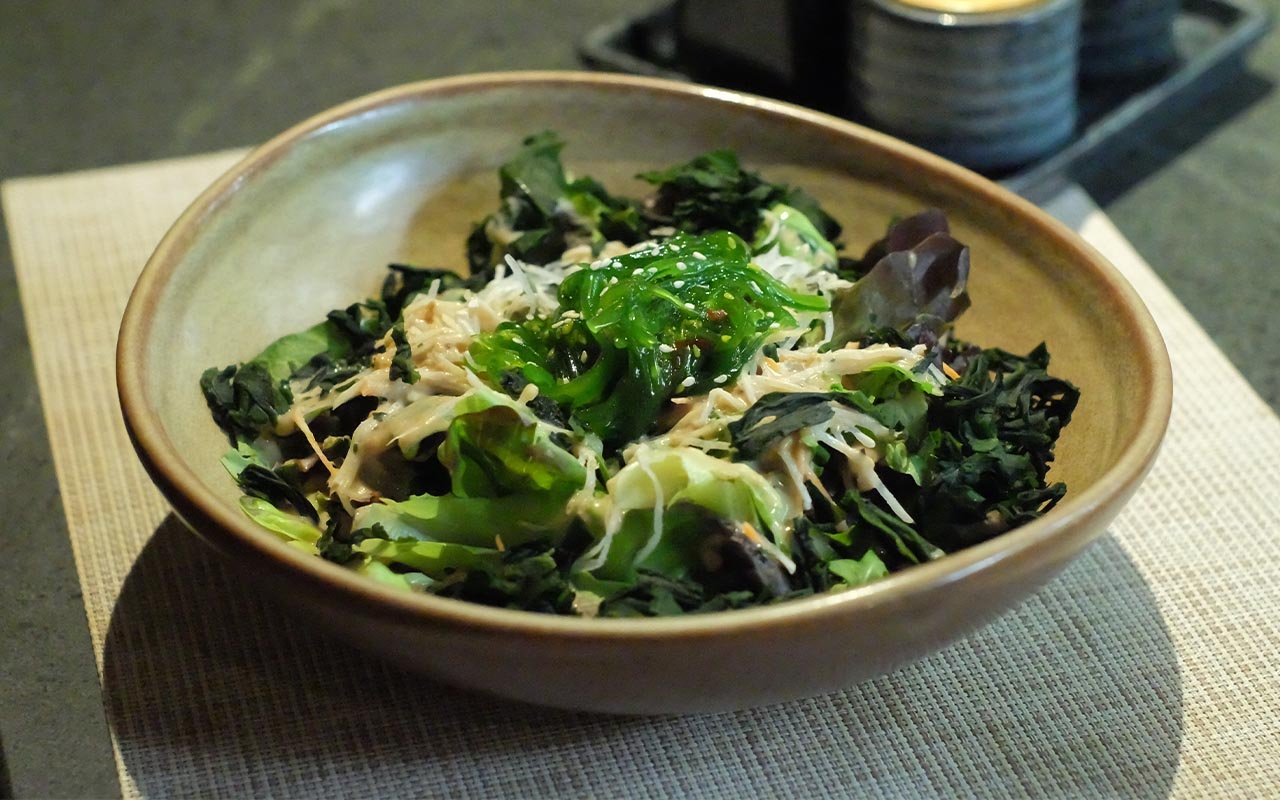 Despite the entire yakiniku and sushi menu, don't overlook the side dishes to accompany your feast. There's Chicken Nanban, a rightly crispy deep fried chicken glazed in sweet sour sauce and served with Japanese tartare dipping sauce. This surely is everybody's favorite that makes your eyebrow raise in happiness.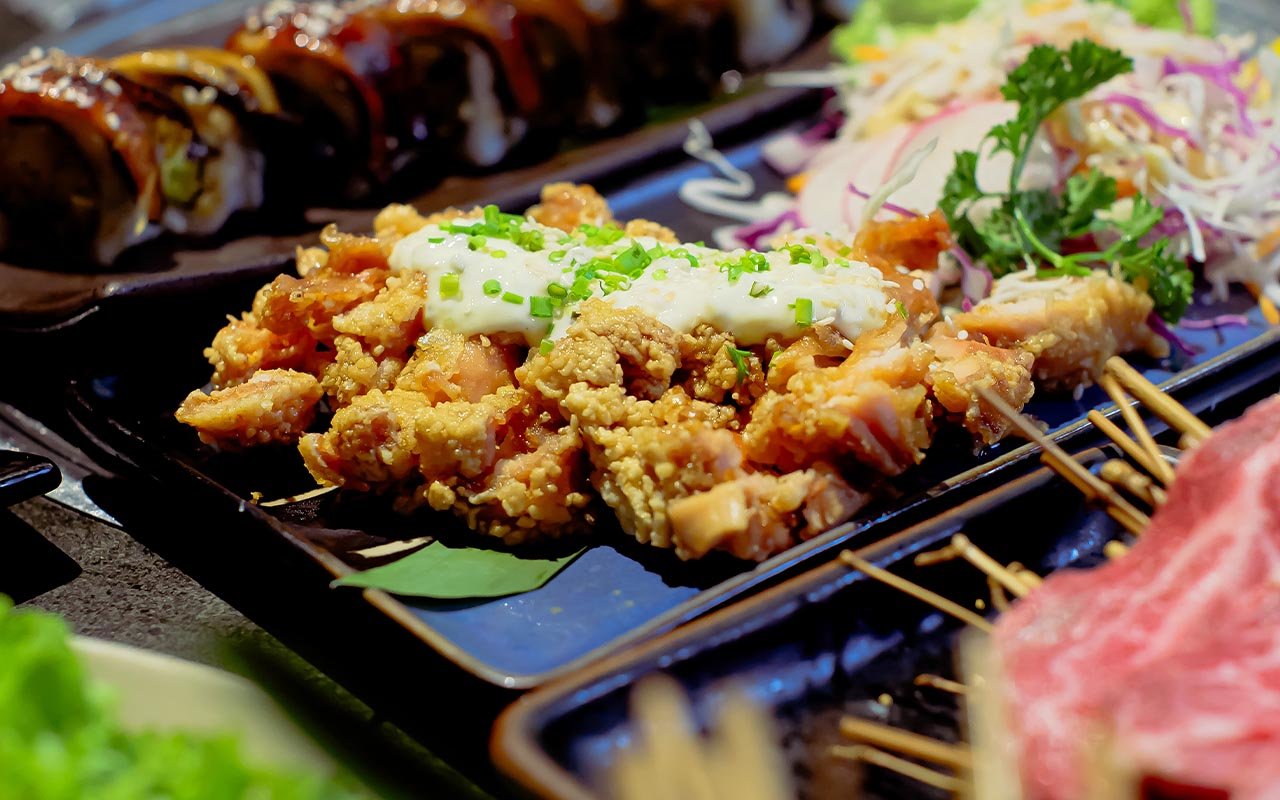 Even a simple seafood menu like Ika Maruyaki is conveying something delectable between meals. The fresh grilled squid has the right level of chewiness, smoky aroma, and showered glaze teriyaki sauce creating an understated sweet taste.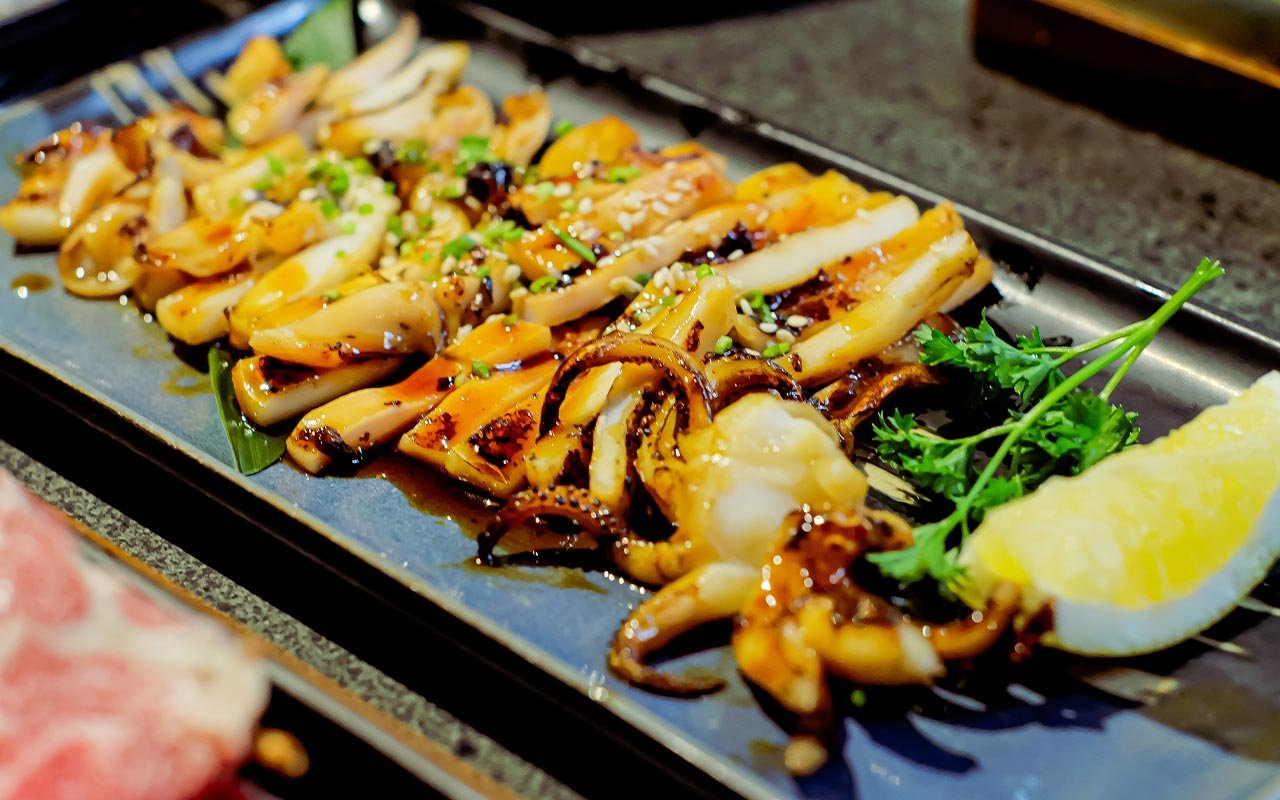 Among the yakiniku and sushi dishes on the table, if you still need some carbohydrate intake, why not order Kenjiro's signature Garlic Rice that goes along with any occasion? Chow down as it is or mix it with the yakiniku sauce and the beef in one go.
Of course, you still can close the meal with a sweet bang. The seasonal dessert menu Lucky Taiyaki is a rising favourite amongst customers. The big fulfilling Japanese fish-shaped cake is served with sublime matcha or ogura ice cream, choco chips, and crumble. The excitement doesn't stop there, the taiyaki is generously filled with light cream and strawberry Pocky making the dessert session worthwhile without having worried it's too sweet.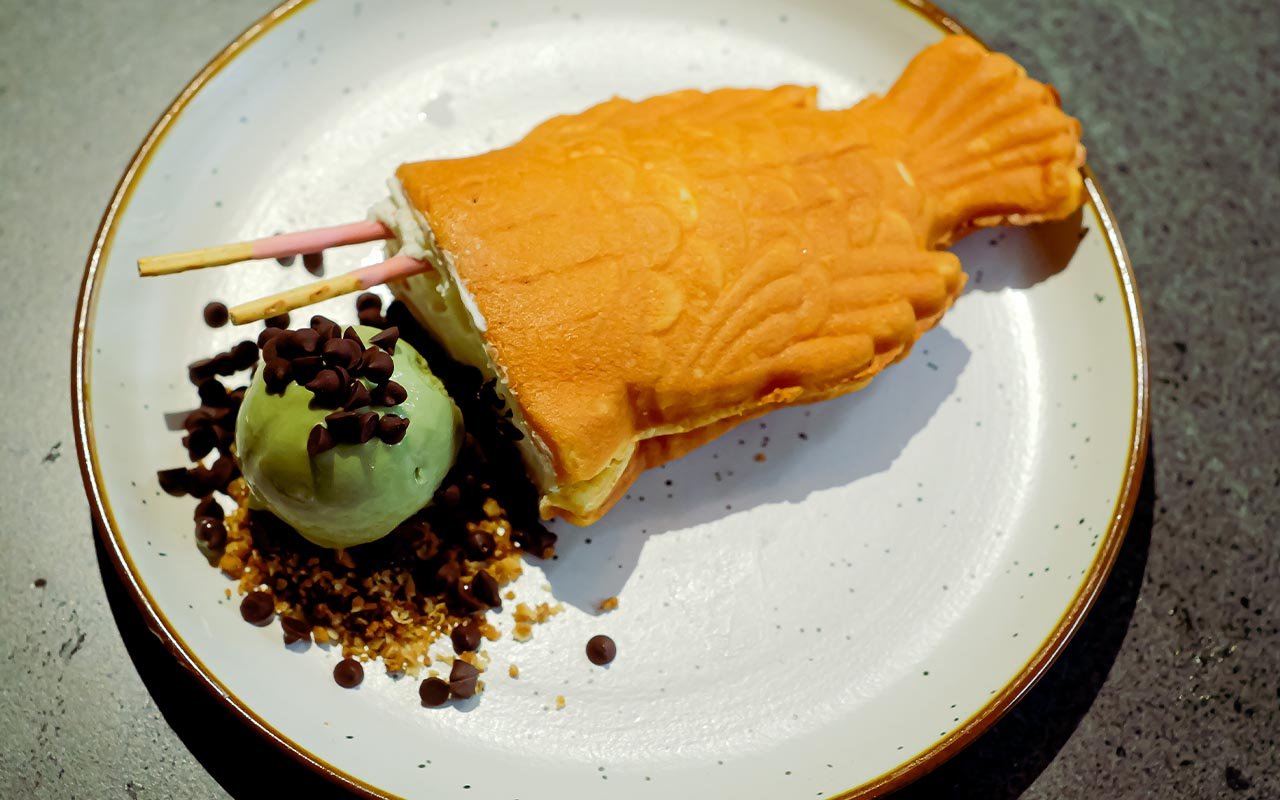 If you happen to visit Kenjiro on weekends, Kenjiro's "Rolling Waves of Joy: Sushi DIY" provides the perfect escape for families and friends seeking a fun-filled day of creativity and gastronomy. Available during the Koinobori summer festival and to celebrate International Sushi Day, Sushi DIY at Kenjiro is a sensory activity that allows children, teens, and adults to learn about Japanese food ingredients and bond with one another. Price per menu includes DIY TEMARI at IDR 120,000, DIY TEMAKI salmon & kani at IDR 120,000, and DIY SUSHI Roll at IDR 100,000.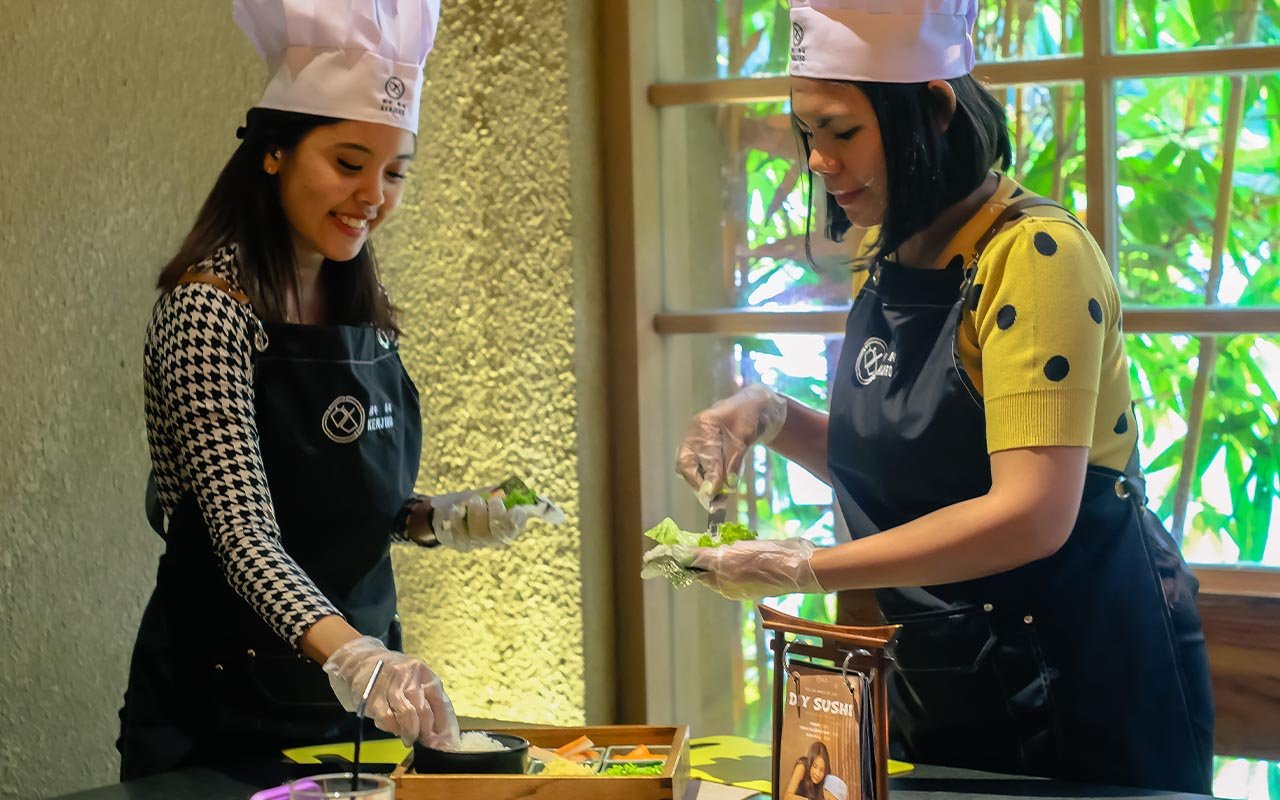 Kenjiro
Jl. Aditiyawarman No.63, Jakarta 12160
Open: 11:00 am to 22:00 pm (Daily)
Phone: +62 811-9209-003
Instagram