In order to complement the taste of the Indonesian palate, which favors spicy and savory flavors, Genki Sushi also launch its new menu, The Faiyahhh Series.
In order to provide sushi dining experience to the larger community, the conveyor belt sushi restaurant brand, Genki Sushi, will be celebrating another milestone in Indonesia. Genki Sushi Indonesia announces that the sushi restaurant brand founded in 1990 in Japan has obtained a Halal Decree from The Assessment Institute for Foods, Drugs, and Cosmetics Majelis Ulama Indonesia (Lembaga Pengkajian Pangan Obat-obatan dan Kosmetika Majelis Ulama Indonesia - LPPOM MUI) on October 12, 2022, and the Halal Product Assurance Agency (Badan Penyelenggara Jaminan Produk Halal - BPJPH) issued a Halal Certificate on October 13, 2022.
"So many businesses have acknowledged the growing demand for halal, whereby the brand ensures that the food they serve meet the requirements of the Muslim community, and Genki Sushi understands that Indonesian consumers are concerned about the food they consume. Nothing makes us happier than surprising and impressing our customers with every plate we serve that cater their need. So as a response, we are pleased to inform that Genki Sushi in Indonesia was granted halal decree and halal certificate in mid-October. The fact that Genki Sushi in Indonesia is the first Genki Sushi restaurant to obtain a halal certificate is also a proud moment for us," said Anthony Cottan, President Director of PT Map Boga Adiperkasa Tbk.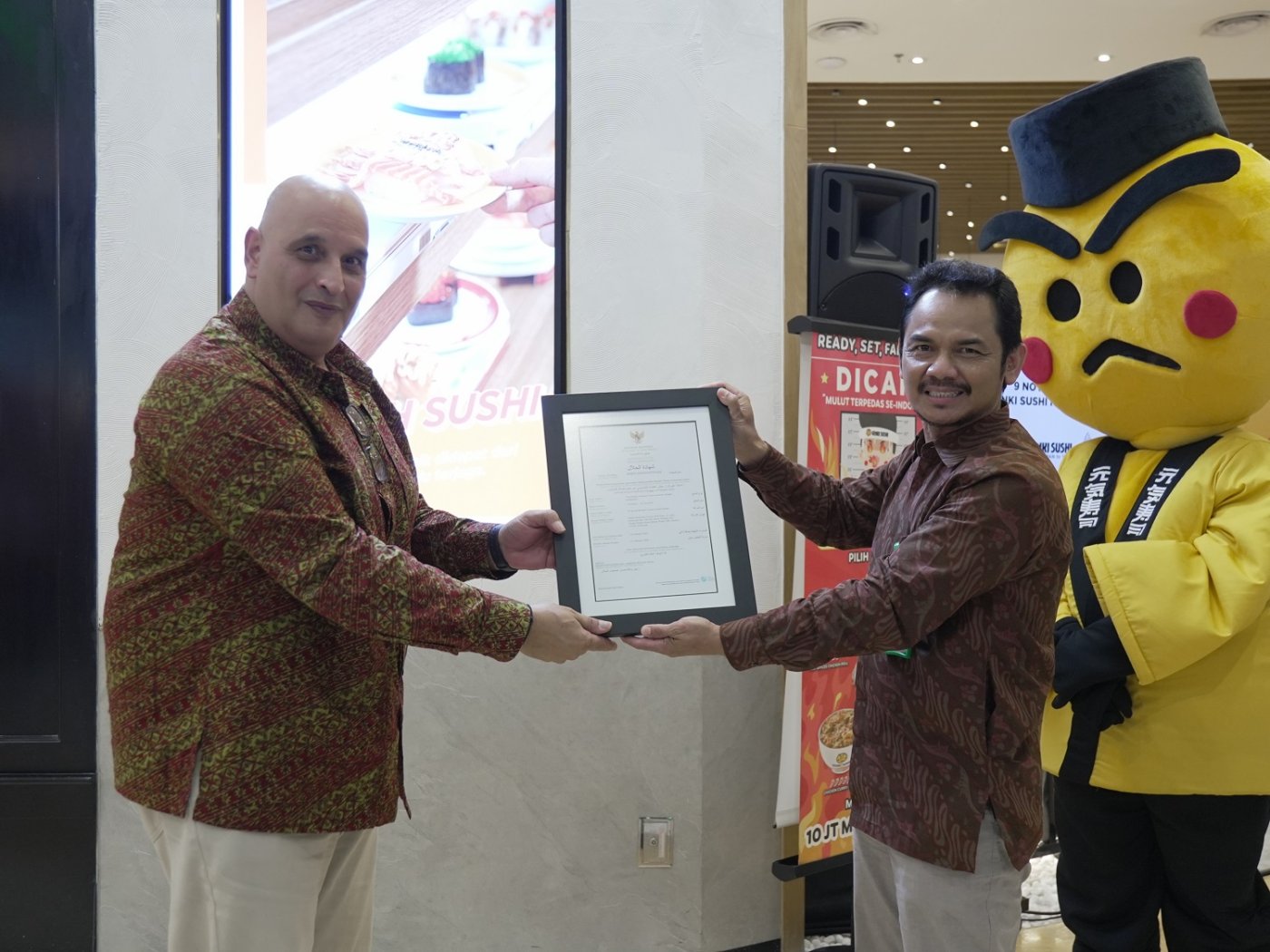 Genki Sushi is committed to provide a wide variety of value for money sushi without sacrificing quality. This is what motivates Genki Sushi to continually explore for high-quality halal ingredients that are expected to preserve the flavour and comply with Genki Sushi standards. Halal Decree by LPPOM MUI was released on October 12, 2022 and valid until October 13, 2026. While for BPJPH Halal Certificate was release on October 13, 2022 and valid until October 13, 2026. Genki Sushi is currently available in a several countries, including Hong Kong, Singapore, Malaysia, Australia, the United States, and many more, yet Genki Sushi in Indonesia is the first country to obtain halal certification.
"The purpose of halal certification is to protect consumers, yet also to increase added value for products. As consumer confidence rises, there will undoubtedly be an increase in consumer demand for the product. So, we express our appreciation and gratitude to Genki Sushi for the initiative to undergo the halal certification, in line with in line with Law Number 33 of 2014 about Halal Product Assurance, which states that all goods enter, circulated, and being traded on Indonesian territory must be certified halal. It demonstrates the company's commitment to providing assurance to its consumers that the food they consume is safe," said Dr. H. Khotibul Umam MH, Acting Head of the Center for Guidance and Supervision of the Halal Product Assurance Organizing Agency.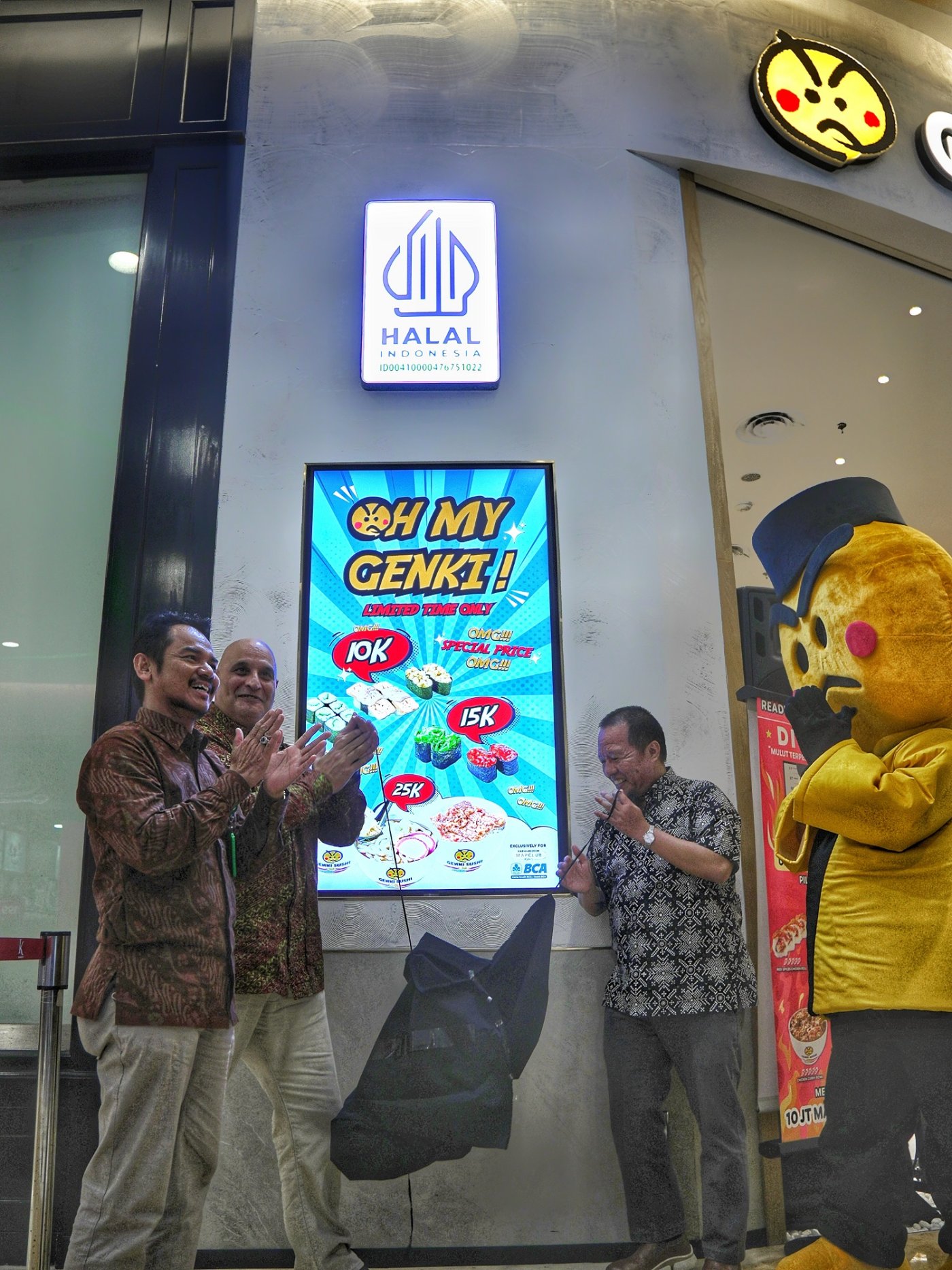 Genki Sushi also brings a new menu that is culturally relevant to Indonesians' fondness of spicy and tasty food in addition to obtaining halal decree and halal certificates. "As one of the original Japanese sushi restaurants in Indonesia, we are constantly innovating and adapting to the preferences of Indonesian customers. Genki Sushi offers a variety of spicy menu items, from ramen to sushi, because we are aware of the close-knit nature and enthusiasm of spicy food among Indonesians. We have 6 menus to offer, all of them are made entirely from freshly chopped chilies. We are very optimistic that the spicy menu at Genki Sushi would be well received by Indonesians," said Jane Kurniawan, General Manager of Genki Sushi.
The following six new menus are expected to become popular choices among Indonesians: FAIYAHHH Crunchy Nori Roll, FAIYAHHH Red Spices Chicken Roll, FAIYAHHH Chicken Curry Bowl, FAIYAHHH Hot & Spicy Ramen, FAIYAHHH Spicy Salmon Gunkan, and FAIYAHHH Crispy Spicy Salmon Roll. They are only available for dine-in at Genki Sushi restaurants nationwide.