The first and Comprehensive event at ICE BSD
Easy and Comforting solution to all mom and baby needs
For the first time, an exhibition of mom and baby products "Forever Mom & Baby Expo (FOMBEX), will be organized by PT Debindo-ITE at Indonesia Convention Exhibition (ICE) BSD-City Tangerang Banten. To be running for 5 days, or in longer duration to any other similar exhibition that normally running for only 3 days, FOMBEX offers bigger opportunity for visitors and exhibitors  to have onsite interactions for the best solution to the produces in need during pregnancy, maternity and breastfeeding period s through to infants and toddlers.
Purposefully designed as a comforting event destination for moms and babies to meet their needs, FOMBEX is "A Comforting Place for Mom and Baby to Every Needs". Moms, who always know best what the baby as well as toddler needs and wants in making the decision about what to drink, to eat, to wear through to toys and equipments will be able to find the best solution at FOMBEX.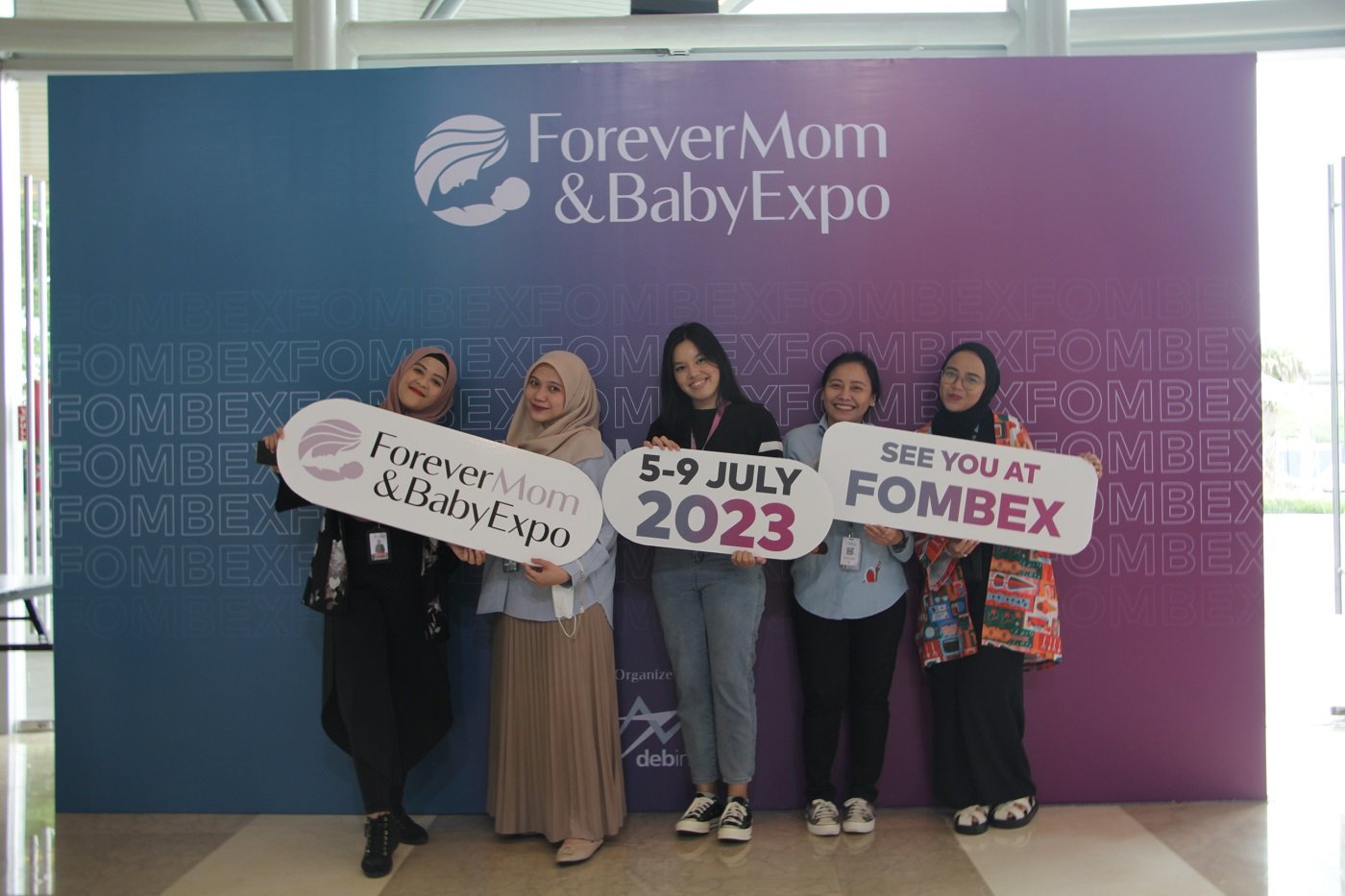 Why FOMBEX?
Forever Mom and Baby Expo 2023 has been preared and developed form the besic concept that mother is forever whose status and role is irreplaceable for anyone since the pregnancy up to the kid raising period. All products needed by the mother along with the baby are solely required for the sake of happiness, pride and the benefits for the whole family. FOMBEX is accordingly offering the best solution to those needs by creating a direct interaction platform that bring advantages and enjoyment.
In addition,  FOMBEX 2023 is considering the the high rate of population growth of 5% per annum in the greater areas of  ICE BSD, Tangerang Regency and Tangerang City as well as the high birth rate of 200 babies per day, (Data Disdukcapil – South Tangerang August 2022) that altogether encourage the rising demand for pregnanc, maternity and baby products  in line with the dynamics of urban population.  The population census  2020 also shows that 71.18% of total population of productive age category (aged 15-64), while the key to optimal productivity depends on pregnancy and breast feeding quality, of which the products in need are presented by FOMBEX 2023.
One-Stop Solution
Bintang Novita, on capacity as the organizer disclosed that so many young and productive families living with hectic daily schedules  always expect to get the products in need fast and easy to get in a single place  which is comfortable and enjoyable  so as to save time, energy and cost. Such expectation will be easily realized in the upcoming  FOMBEX 2023.
"With the coming up of  FOMBEX, everyone will find it unnecessary to come to multiple paces only for finding a single product item. Instead, everyone will be able to show attention and love for mom and baby as the pride of the family.  With a one-stop at the event, all needs are well met.  So, FOMBEX is the first maternity exhibition at ICE and is the fastest in responding to the growing trend of mom, baby and  toddler needs especially  in Tangerang City, South Tangerang and the greater regions of Jabodetabek  as well as the general public" Bintang Novita said.
The comprehensive product coverage by FOMBEX 2023  will make all visitors easy and enjoyable to make the right choice. FOMBEX 2023 presents 9 product categories  consisting of (1) Baby Essentials & Bedding, (2) Baby gear, Travel Equipment & Toys, (3) Nursing & Growth Supplies, (4) Hygiene & Healthcare Supplies, (5) Baby & Kids Wear, (6) Maternity Wear, (7) Early Learning & Education, (8) Maternity Photography & Videography, and (9) Pregnancy Technologies.  All-inclusive product show  makes FOMBEX  2023 the right  event destination for pregnant mothers, breast-feeding mothers and young families.  Shopping multiple products in a single place will also be more cost saving  with Flash Sale & Discount Day sessions  by the exhibitors of well-known products during the exhibition days.
 Further to discounted prices and special promo benefits, many other opportunities are also offered to the visitors who will be able to get engaged in a series of "Activation, Bazaar and Attractions" during the exhibition,  each of which is bearing  a specific theme which is highlighting modern needs and parenting lifestyles. All the activities are made possible by partnership of  PT Debindo-ITE with various top parenting communities, powered by expert consultants in parenting, nutrition and medical doctors who will be ready for sharing times and sharing info, ideas and insights with the visitors