The first of its kind in Indonesia, Fairmont Jakarta welcomes  families to enjoy the family-friendly themed dining and staycation experience featuring the global kid's  sensation, CoComelon. From 14 October 2022 to 14 January 2023, families will be able to engage  with CoComelon beyond the screen, in a fully interactive stay-and-dine concept that invites guests to  journey through an experience of a lifetime.  
This brand-new experience, inspired by the #1 most-watched kids entertainment program on  YouTube with over 3.6 billion monthly views and has over 144M subscriber, has been exclusively  created by the Fairmont Jakarta team. General Manager of Fairmont Jakarta, Carlos Monterde, shared "Our guests have always been at the core of our work, and we are delighted to present this  first-of-a-kind experience in Jakarta for all children and parents to enjoy. Bringing the CoComelon  experience to life is not an easy task, but the team has worked very hard to deliver unique experiences  that will be very special for kids. We hope the program brings a fresh new adventure and an  opportunity for families to create a memorable bonding time with their children."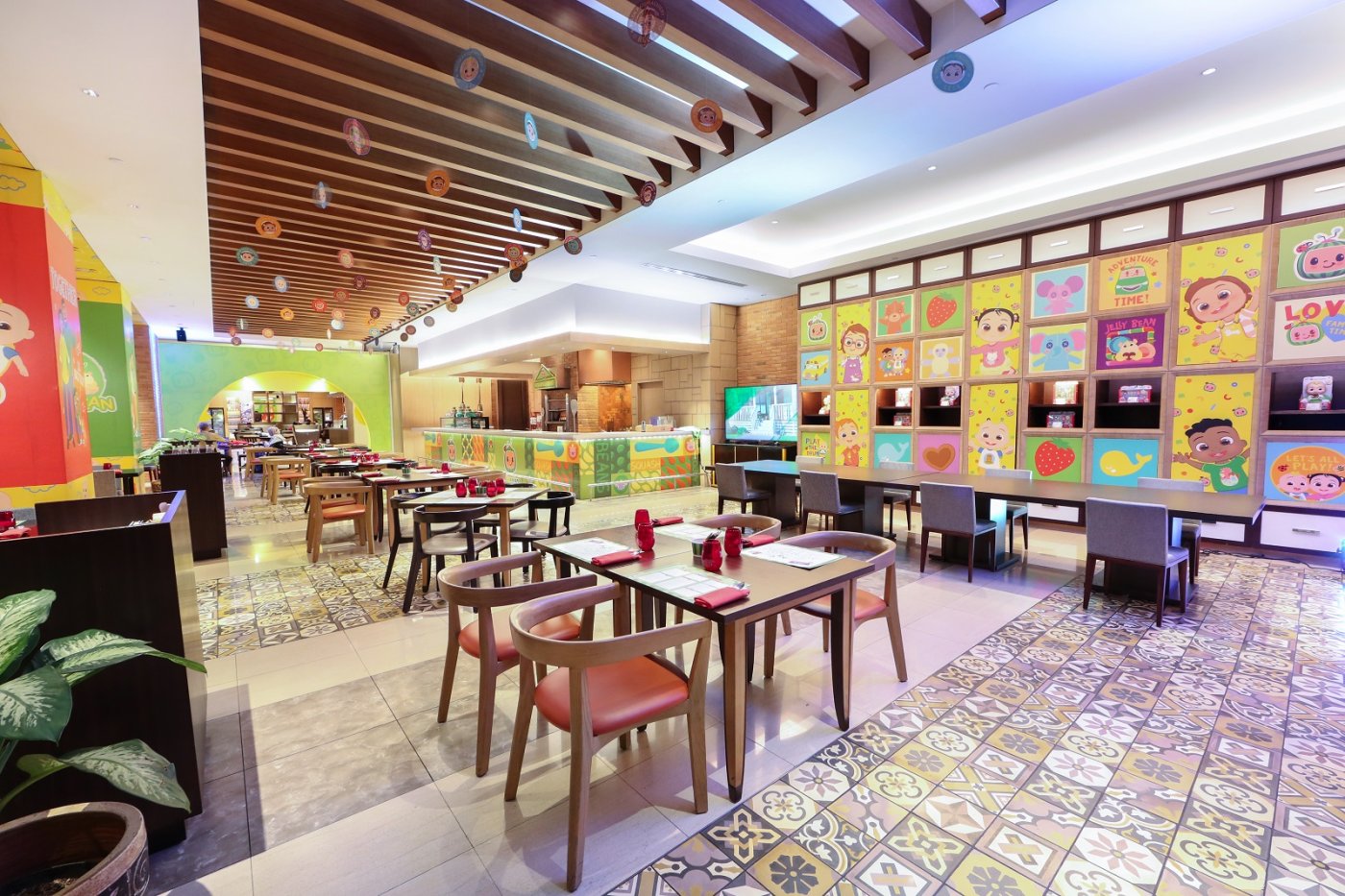 Dine, Play, Explore and Learn at CoComelon Café  
Designed as the exclusive F&B venue, the themed-café welcomes family and children to enjoy fun filled dining and learning experiences in the colorful and fun world of CoComelon. Located on the 3rd floor, CoComelon Café will present an immersive dining experience serving a deliciously CoComelon inspired menu that is not only nutritious and delicious but also pictures perfect.  
Children will be thrilled to enjoy treats such as JJ's Cheeseburger, served with a side of French fries  and fresh salad; and Tom Tom Bolognese with Chef's special sauce served with parmesan cheese.  CoComelon-inspired beverages and desserts such as Ladybug Chocolate Dome, Ms. Appleberry Pie with strawberry ice cream, and YoYo's Smores Ice Cream will satisfy any sweet tooth. Not forgetting the grownups who can enjoy dishes such as Mom's Favorite Salmon served with zucchini roulade,  herbs, and garlic potato, or Dad's Spicy Rendang Pizza.  
Parents who are planning to make their kid's dream-come-true CoComelon-themed party can arrange  an all-inclusive package featuring a choice of one or two-tier cake, an exclusive CoComelon party  pack, emcee, piñata, and fun activities for the kids at the café.  
After meal time, children can have fun while learning and playing in the Melon Patch Play Area. Set  on a placemat, the play area features a ball pit with slides, arts & crafts activities, and a range of toys.  They can also participate in several activities such as Pizza Making and cupcake decorating with the  guidance of a professional chef. Exclusive CoComelon merchandise is also available at the café. The  CoComelon Café will be open daily from 11 am to 9 pm.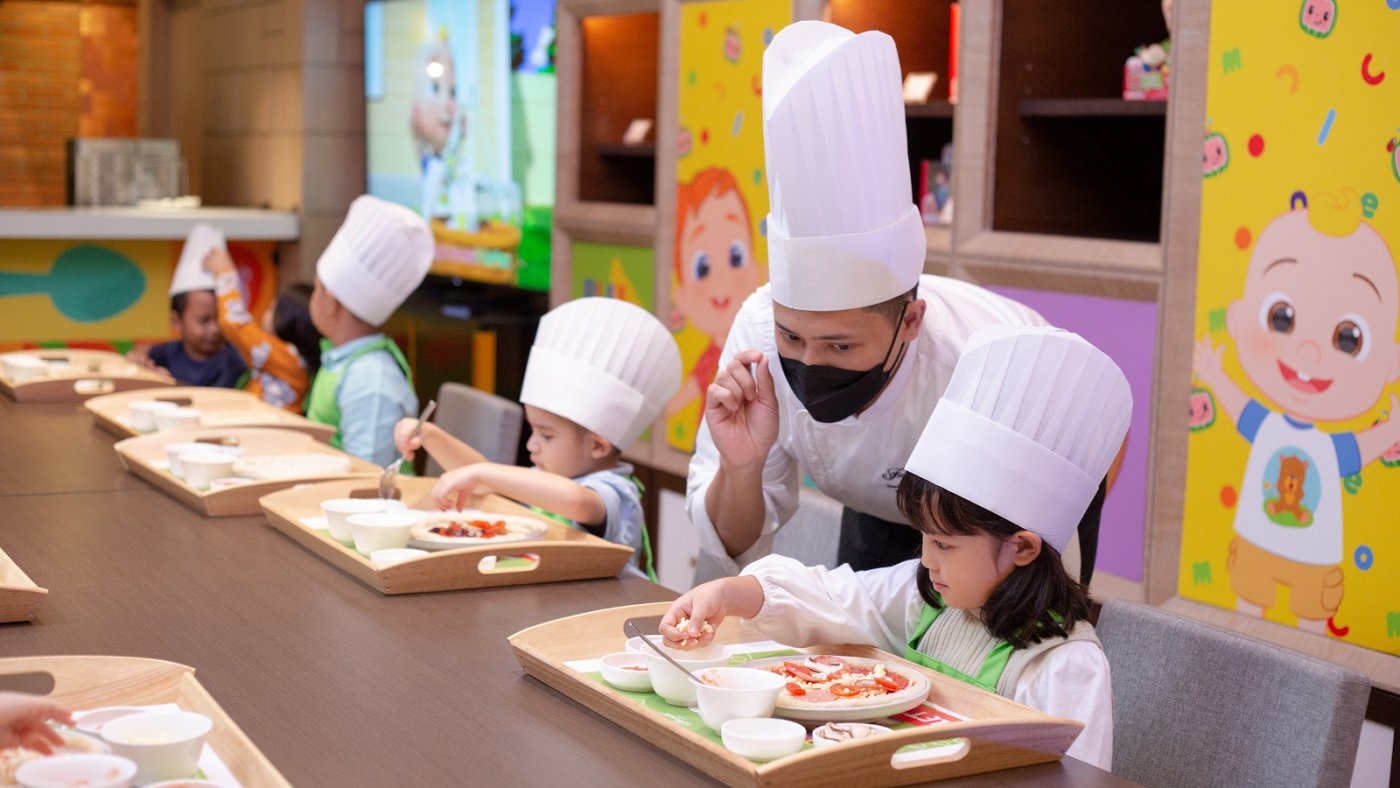 The Ultimate Family Staycation 
With a total of 12 themed rooms, families can enjoy an unforgettable staycation experience in a fully  transformed space representing the world of CoComelon. Every room overlooking Jakarta's skyline  will be uniquely decorated with inspiration from the nursery rhymes sung in CoComelon, including I  Love My Family, Dinosaur Song, and the Beach Song.  
Guests who stay in the CoComelon room will enjoy a range of privileges, including up to IDR 500,000  dining credits in the CoComelon Café, access to the Melon Patch Playground, and there's also plenty  of photo opportunities around the café featuring a 3D yellow bus along with JJ and friends characters.  The room package also includes a CoComelon toy to take home.  
Room Package Highlights: 
- Overnight stay in selected accommodation 
- IDR 500,000 (Suite Room) and IDR 250,000 (Fairmont Room) dining credits at CoComelon  Café per stay 
- Breakfast for 2 adults and 2 children 
- Exclusive CoComelon toy to bring home 
- 30% discount on the second room for stays on weekdays 
- Unlimited high-speed Wi-Fi for multiple devices 
- Complimentary parking and access to the hotel's facilities (outdoor swimming pool, fitness  center, and spa facilities) 
Room rates are available from IDR 3,500,000++ per night in the Fairmont Room. Members of Accor  Plus and ALL Accor Live Limitless members can enjoy special discount of up to 20% for both room  and F&B bookings. Click here for more info.  
For further information or reservations, visit our website www.cocomelonatfairmont.com, or contact  +62 (21) 2970 3333 or email [email protected] for the staycation program, or  [email protected] for CoComelon Café. 
Fairmont Jakarta
Jl. Asia Afrika No. 8, Jakarta Pusat
Indonesia 10270
T + 62 21 2970 3333
fairmont.com