Puncak is a popular tourist destination in West Java, known for its scenic beauty, fresh air, and cool weather. With Puncak as one of the most sought-after destinations especially during weekends and long holiday periods, making it a perfect escape from the hustle and bustle of Jakarta city. 
Additionally, Puncak is only around 2 hours away from Jakarta. It is easily accessible by car or bus. As a result, many people choose to travel from Jakarta to Puncak for a short weekend getaway or a day trip to enjoy the beautiful scenery, outdoor activities, and cool weather. We can see the development of hotels and resorts in the area is blooming. Here are a few popular hotels and resorts options to make the most of your vacation in Puncak.
Pullman Ciawi Vimala Hills Resort Spa & Convention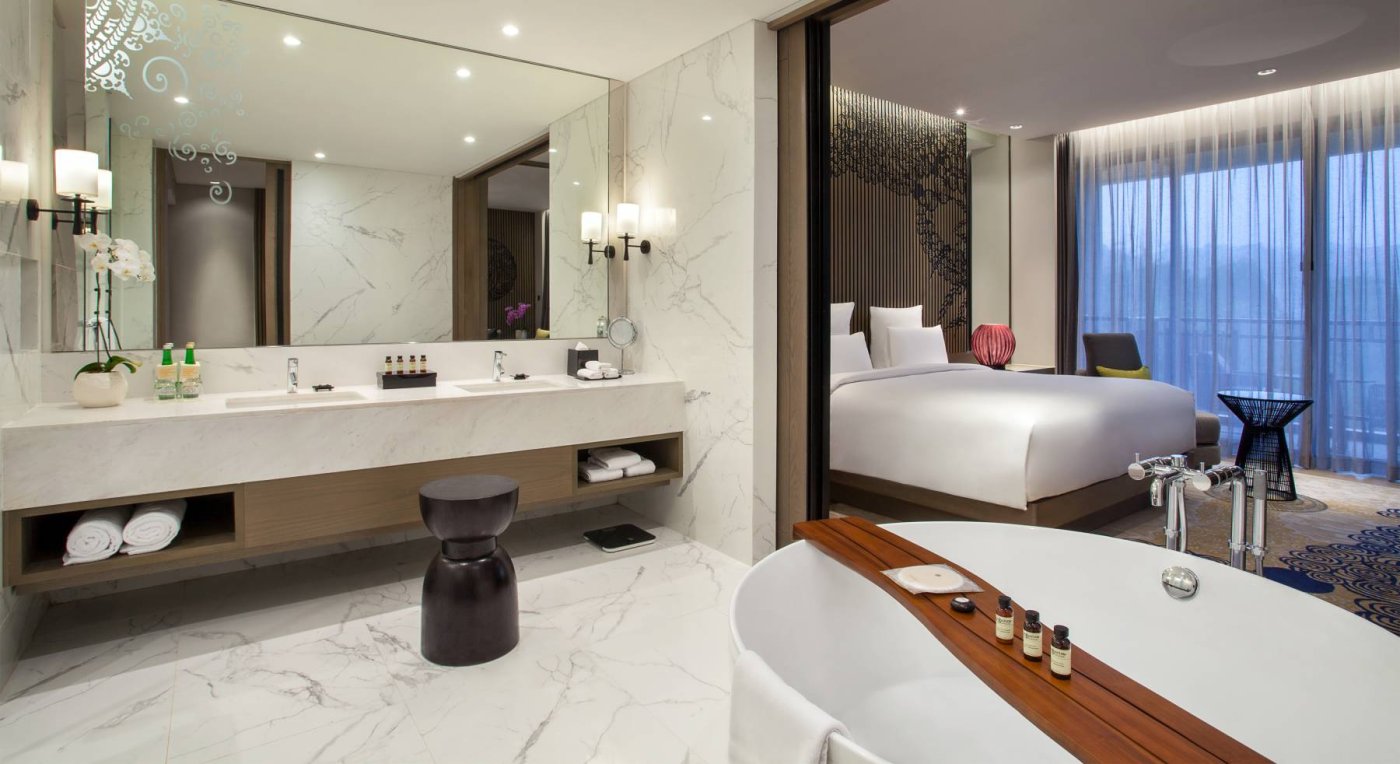 Seemingly far from the urban bustle, yet close to Bogor and Puncak and only an hour's drive from Jakarta, Pullman Ciawi Vimala Hills Resort Spa & Convention was designed with serenity in mind. Beyond sweeping vistas of the lush resort garden and Indonesia's rolling landscape, Mount Salak graces the horizon – a view that can be contemplated anywhere in the resort, from the all-day restaurant and friendly steakhouse to the bars, pools, meeting rooms, fitness center, spa and, of course, every room, suite and luxurious villa. For an evening meal, a weekend break, a family holiday or a team-building trip in an environment that puts minds at ease.
Jl. Raya Puncak, Gadog, Megamendung, 16770 Bogor, Indonesia
Phone: + 62 (251) 830 6888
Website
Amaryllis Boutique Resort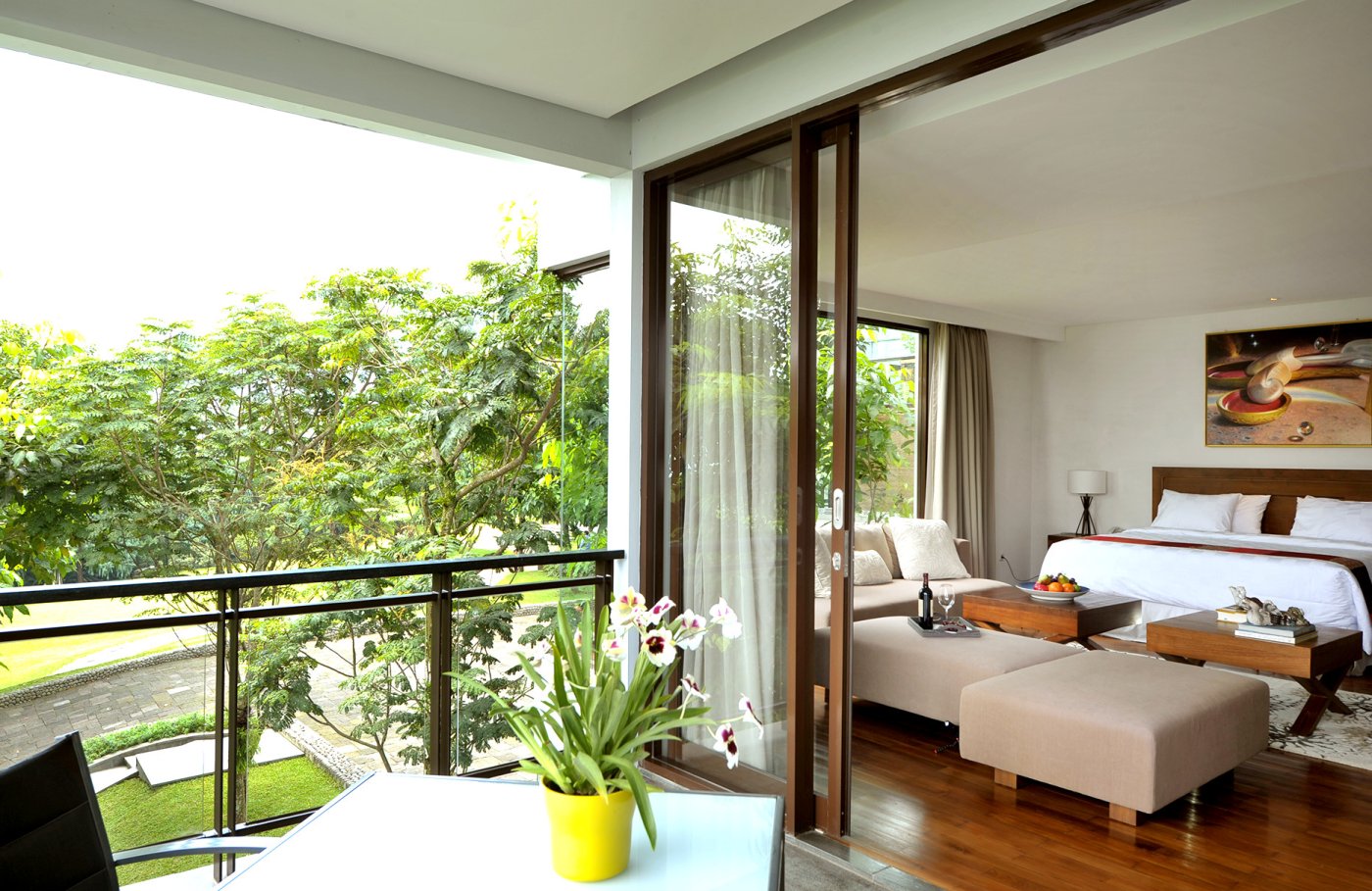 Amaryllis Boutique Resort features views of Mount Pangrango. The airy, relaxed rooms offer furnished terraces with mountain views, plus flat-screen TVs, safes, and tea and coffee-making facilities. Amenities include 2 restaurants, including an outdoor eatery overlooking the garden, plus a glass pavilion, koi ponds, and a pergola with BBQ grills. There's also a music room and a lounge with a TV and karaoke.
Jl. Raya Taman Safari, Cisarua, Tugu Selatan, Cisarua, Bogor, Jawa Barat 16750
Phone: (+62251) 8250326
Website
Grand Aston Puncak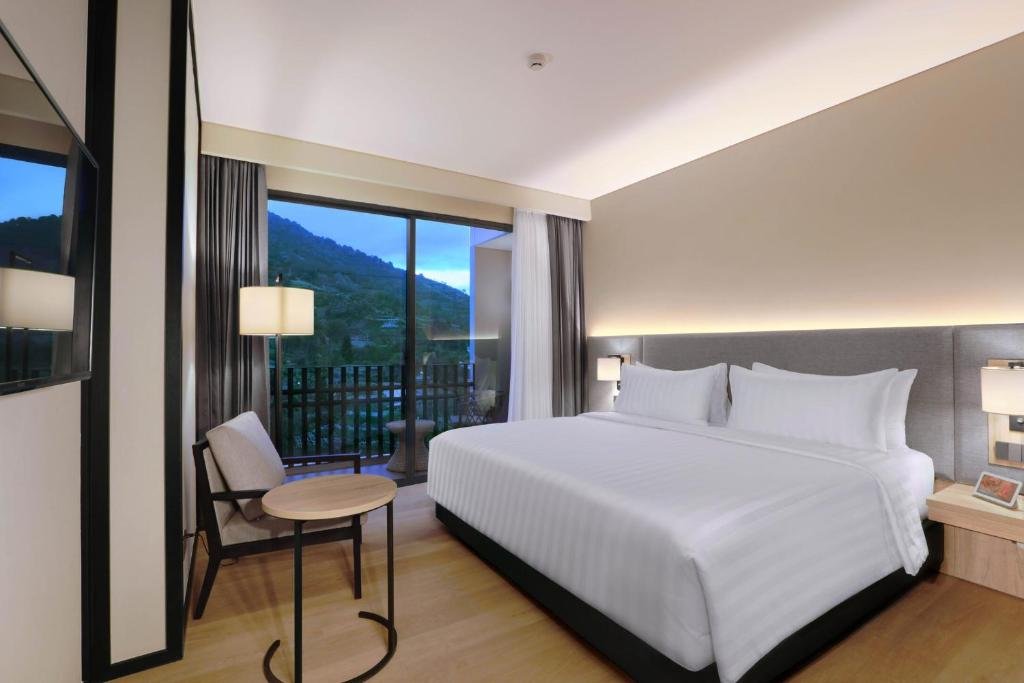 Grand Aston Puncak is located at the breeze of Puncak mountain pass in Bogor Regency, surrounded by nature at the height of 1,171 m above sea level, making it one of the highest hotels in West Java. Managed by Archipelago International, and designed by award-winning architect Aboday, Grand Aston Puncak ensures quality and elegance are archived in every little detail.
Jl. Raya Puncak - Gadog No.54, Jawa Barat 43253
Phone: +62263 2957999
Website
Le Eminence Hotel Convention & Resort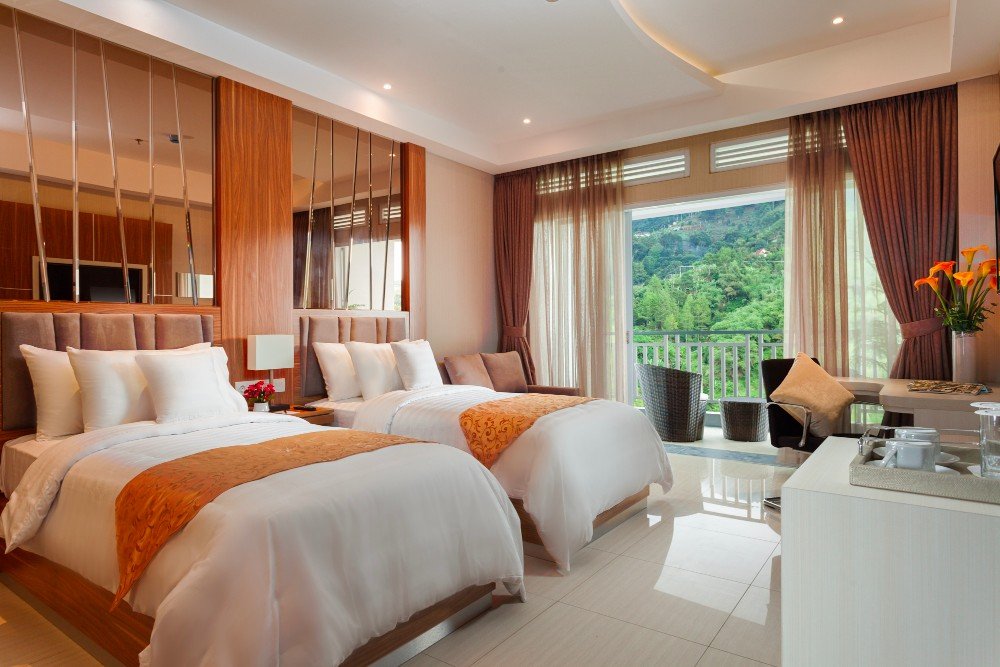 Le Eminence Hotel Convention & Resort the 5 stars hotel located in Ciloto - Puncak, around 150 meters from the main road toward Kota Bunga. With 379 rooms, Le Eminence Hotel Convention & Resort provides facilities such as a restaurant, lounge & bar, rooftop restaurant, warm swimming pool on the 5th floor and swimming pool with water temperature on the ground floor, fitness center, spa, private jacuzzi, children playground, and 14 meeting rooms including a ballroom with capacity until 1000 persons. Le Eminence Hotel also completed a jogging track facility with a beautiful nature view.
Hanjawar Street No. 19 Ciloto Puncak Indonesia 43253
Phone: (+62) 263 512 000 
Website
Novus Giri Hotel Resort & Spa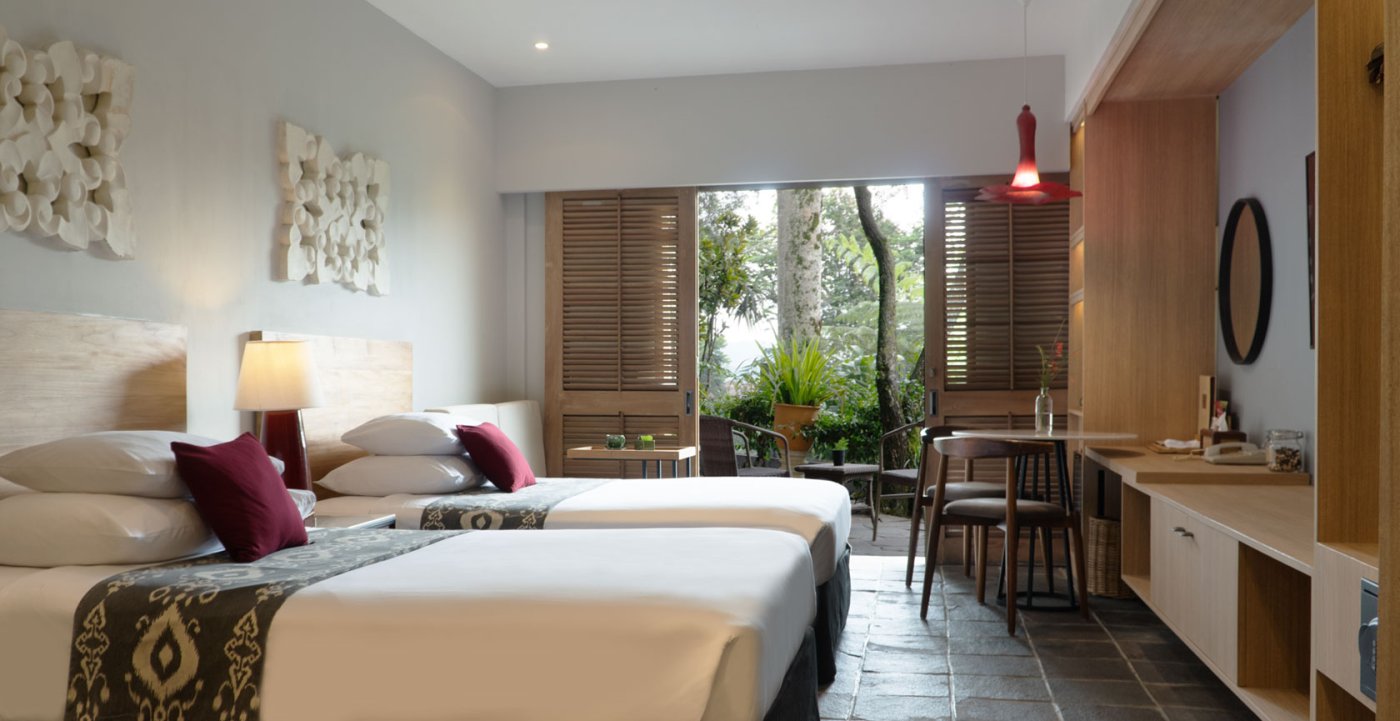 Located in the misty highlands of Puncak Cipanas, West Java, Novus Giri Hotel Resort & Spa is the ideal nature retreat yet a comfortable escape from the busy hustle of Jakarta. Enjoy the relaxation and immerse yourself in the fresh mountain air with breathtaking scenery. Discover a calm sense of nature during your stay with an array of facilities catering to guests' leisure, family fun and wellness pursuits.
Jalan Sindanglaya Raya 180, 43253 Puncak, Indonesia
Phone: +62 263 511 511
Website
Pesona Alam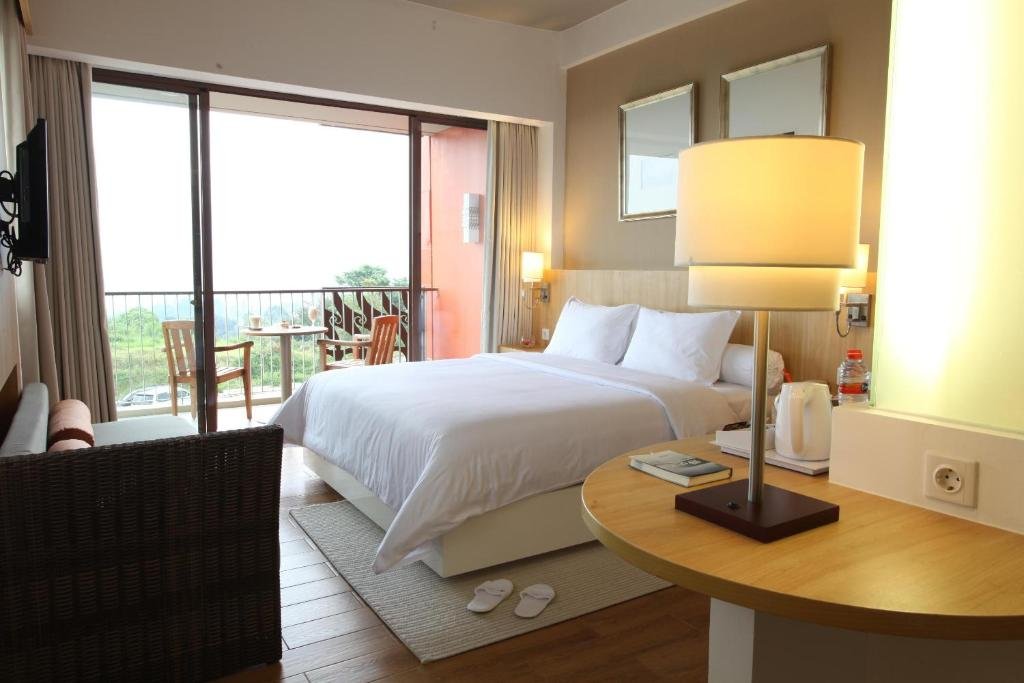 Inspired by European Architecture and Puncak Atmosphere, Pesona Alam is settled on top of a hill in Cisarua. Pesona Alam is a Resort dedicated to showcase the beauty of nature. There are 138 hotel rooms with natural influences featuring a minimalist contemporary design to allow the guests to reconnect with nature.
Jalan Taman Safari No. 101
Desa Cibeureum, Cisarua, Bogor, Indonesia
Phone: +62251 821 7111
Website
The Botanica - Pesona Alam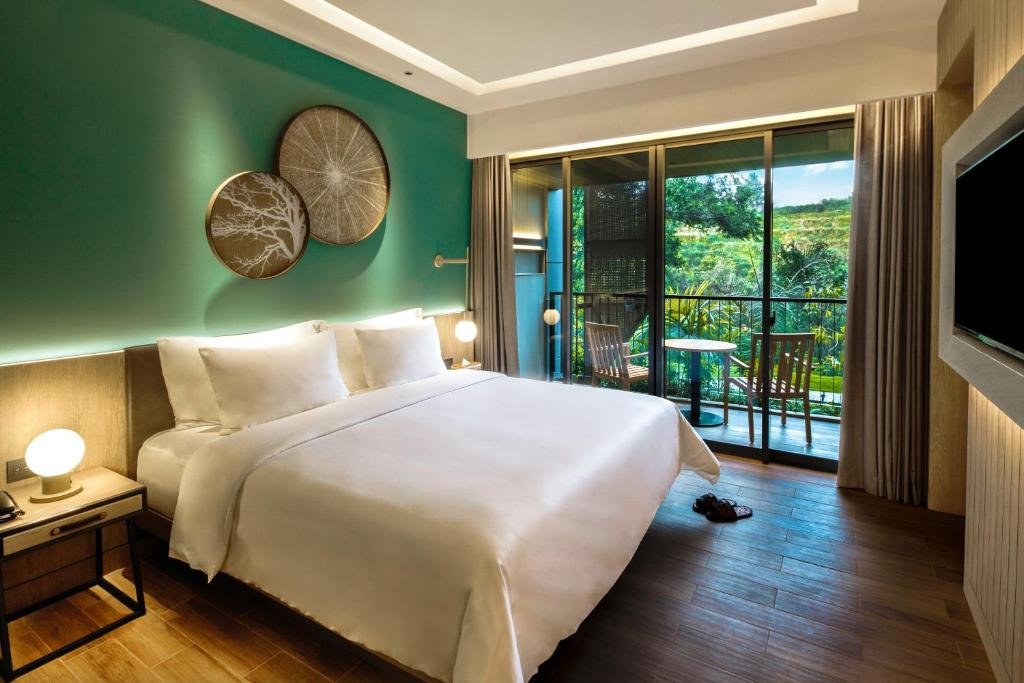 Surrounded by the beauty of virgin pine forest, The Botanica is the gateway to the mystical mountain world. Being ideally situated in the heart of the Puncak, the hotel affords breathtaking views of Mount Pangrango and the virgin pine forest. It is only 5 minutes away from the Taman Safari Indonesia, a world-class zoo and titled the best conservation site by the Indonesian Ministry of Forestry.
Taman Safari Street No 101 Cibereum Cisarua, Bogor, Indonesia
Phone: +62 251 8217111
Website