Anyer is a popular beach destination located on the western coast of Java. It's known for its beautiful white sand beaches, crystal-clear waters, and stunning sunsets. The destination can be reached within a 2-3 hour drive from Jakarta, that's why Anyer becomes an alternative holiday destination among Jakartans.
There are many things to do in Anyer, including swimming, snorkeling, and diving. You can also go fishing, boating, or take a relaxing walk along the beach. Some popular attractions in the area include Karang Bolong Beach, Cikoneng Lighthouse, and Krakatau Nature Reserve.
To make the most of your holiday in Anyer, it's best to plan ahead and book your accommodation in advance, especially during peak seasons. Here are some the best hotels, resorts, and even villas in Anyer for your next trip.
ASTON Anyer Beach Hotel
No need to travel far for a heavenly holiday! A two-hour drive from Jakarta, a sandy beach, breathtaking views of Greater Krakatoa, and the newly launched overwater Aquavillas are just a few reasons why ASTON Anyer Beach Hotel is the favorite hideaway in Banten. Enjoy contemporarily designed rooms with spectacular views of Mount Karang.
Jl. Raya Karang Bolong No.KM.139, Serang, Banten 42167, Indonesia
Phone: + 62 254 849 5060
Website
Hawaii Resort Family Suites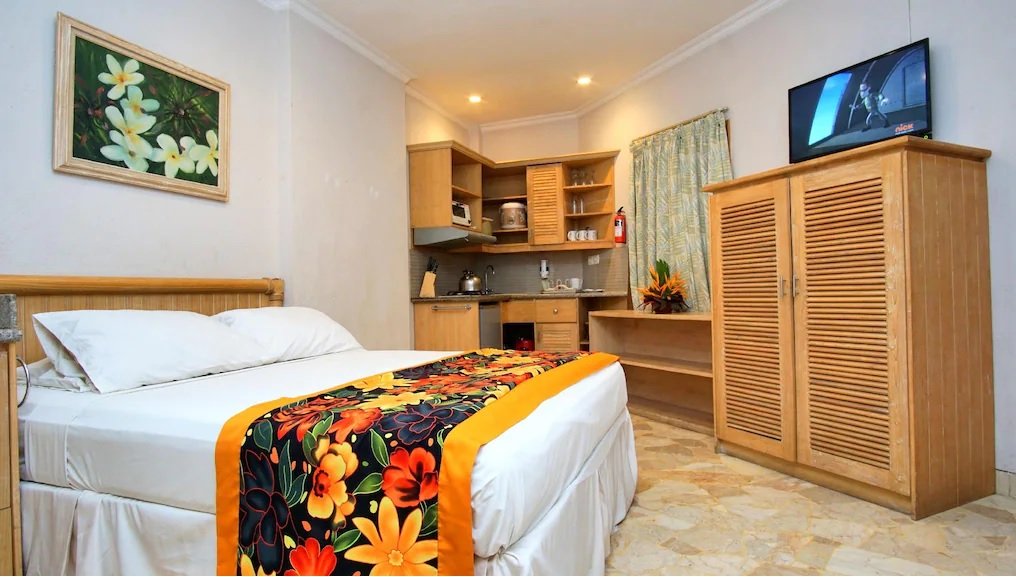 Surrounded by forest and overlooking the ocean, this relaxed all-suite resort is 6 km from the Bintang Laut Marina, 49 km from Karang Mountain, and 58 km from the Serang Central Business District. The subdued 1, 2, and 4-bedroom suites feature marble floors and come with kitchens and cable TV. Room service is provided. In addition to a relaxed bar and an ocean-view restaurant, the resort has a spa and an outdoor pool with water slides. Other amenities include karaoke rooms, hula and cooking classes, and a private beach with BBQs. Event rooms are also available.
Jl. Raya Labuan KM. 146, Kampung Pondok Waru, Desa Bulakan, Kecamatang Cinangka, Serang, Banten 42167, Indonesia
Phone: +62 254 650242
Website
Hotel Nuansa Bali Anyer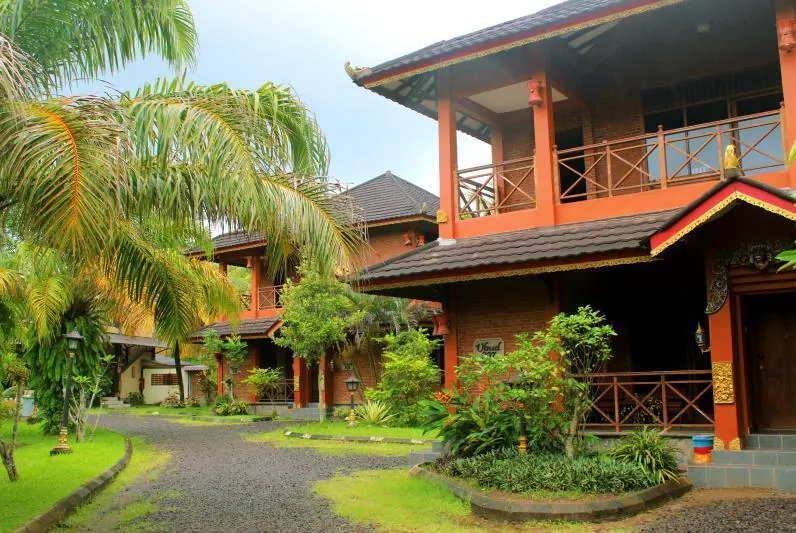 Sense the gentle sea breeze while relaxing, the direct access to the beach allows you to melt with the white sand and the blue ocean. All bungalows and cottages of Hotel Nuansa Bali Anyer are inspired by the Balinese architecture that offers a gorgeous view of the sea near Anyer.
Jl. Raya Karang Bolong No.km.133.5, Serang, Banten 42166, Indonesia
Phone: +62 254 602236
Website
Mambruk Hotel & Convention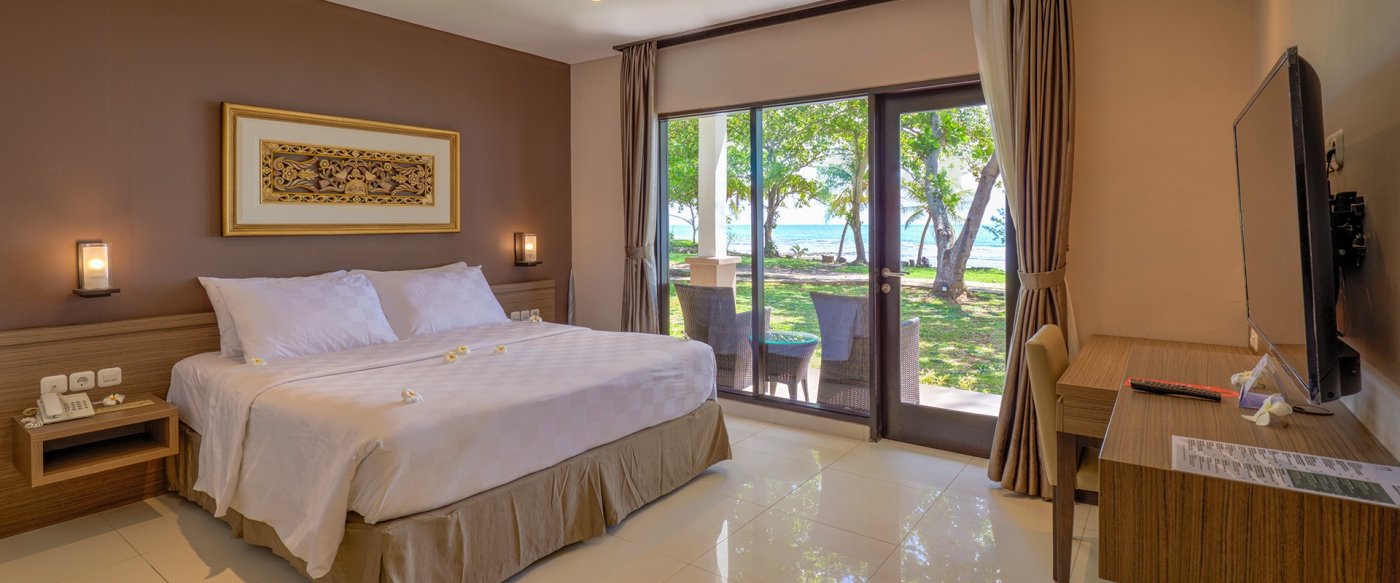 Mambruk Hotel & Convention is located less than two hours away from Jakarta, and its complete modern facilities make it ideal for leisure and business guests. Be ready to get captivated by the beauty of the private beach's sunset along with several hectares of exquisitely landscaped gardens, and the largest infinity pool in Anyer. Staying at Mambruk Hotel & Convention, you will experience a memorable stay in the natural ambiance with the sound of the wave and the melodious birds, accompanied by their culinary course, appetizing at its best.
Jl. Raya Karang Bolong, Anyer, Banten
Phone: +62 254 601602
Website
Marbella Hotel Convention & Spa Anyer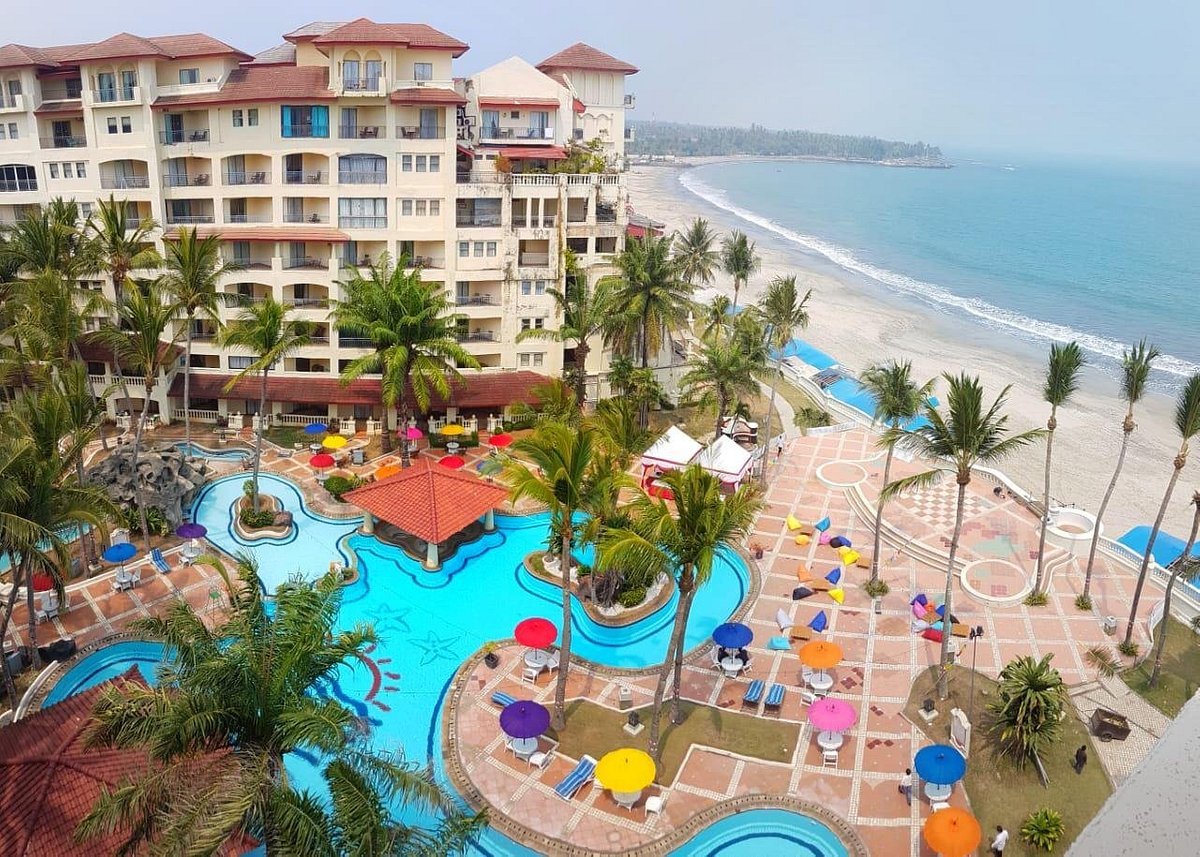 Set in a Spanish-style building overlooking the Java Sea, this legendary upscale hotel is 3 km from Anyer Beach and 47 km from the Gunung Karang volcano. Featuring understated decor and teak furnishings, the warm rooms and suites come with flat-screen TVs and private balconies with pool or countryside views. Amenities include restaurants, bars, and an outdoor pool, as well as tennis courts and a jogging track. There's also a spa and beach access, plus conference facilities.
Jl. Raya Karang Bolong No.KM, Bandulu, Kec. Anyar, Kabupaten Serang, Banten 42466
Phone: +62 254 602345
Website
MaxOne Hotel Anyer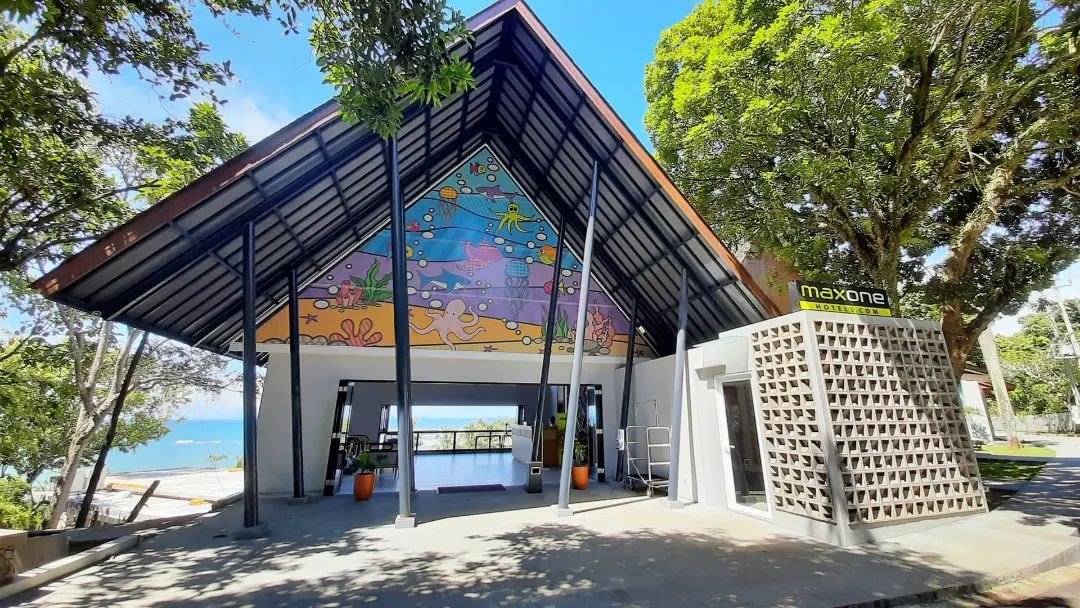 MaxOne Hotel Anyer is a brand-new hotel with 80 comfortable rooms. It slowly becomes a popular choice amongst travelers because it is close to the entertainment and tourism area in Anyer. MaxOne Hotel Anyert is the ideal place for tourists and business people. The impressive lobby combines warm hospitality with a lovely ambiance to make your stay in Anyer unforgettable.
Jl Raya Pantai Anyer KM 145 Desa Bulakan, Cinangka, Serang, Banten 42167, Indonesia
Phone: +62 819-0177-0889
Website 
Novus Jiva Anyer - Villa, Resort & Spa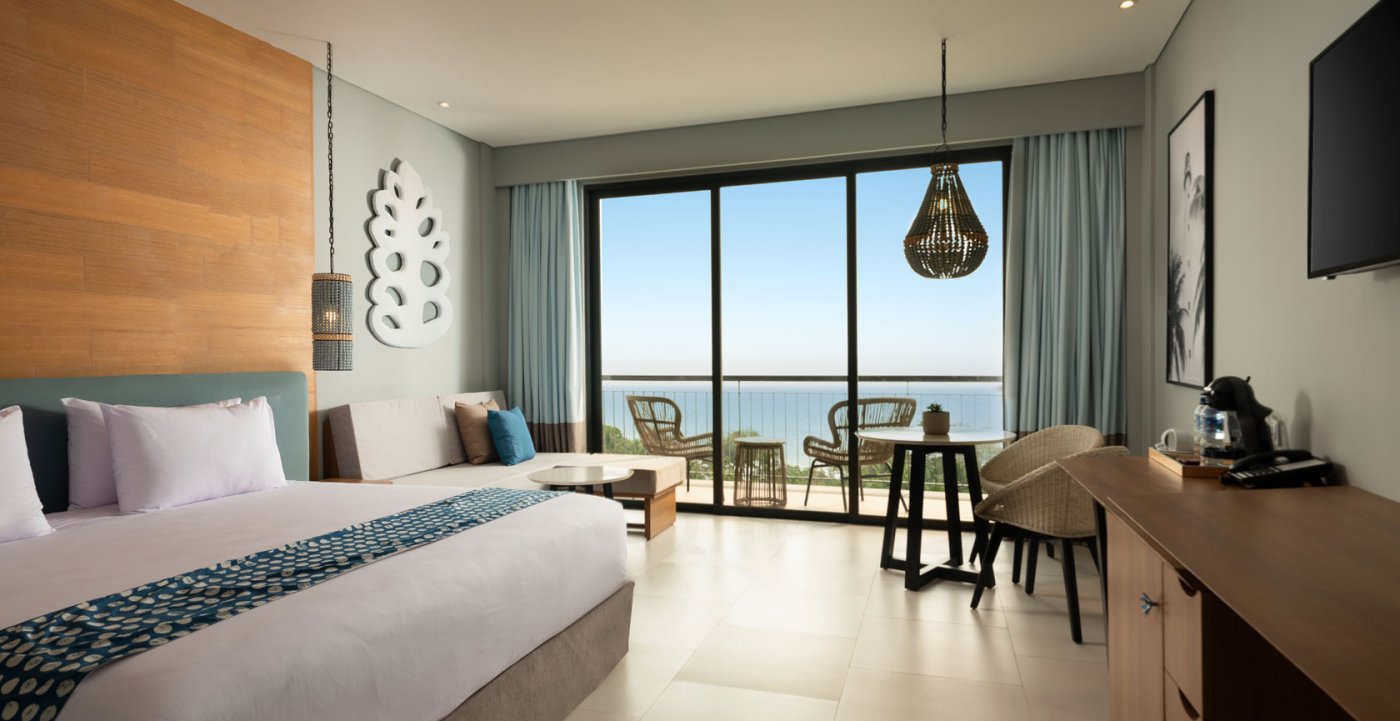 Located in the lovely area of Anyer, Novus Jiva Anyer - Villa, Resort & Spa perched 32m stands above the ocean with stunning views of the Java Sea and surrounding mountains. A place where relaxation meets excitement, wrapped in sophistication and elegance. Enjoy your relaxation in the hidden gem of Anyer, amidst the lush tropical garden and the ocean breeze. Discover a deeper sense of nature during your stay with an array of facilities catering to guests' leisure, family fun and wellness pursuits to Revive Your Inner Jiva.
Jl. Raya Anyer Carita, Km. 140 Pasauran, Serang, Banten 42167
Phone: +62 254 6530 888
Website
Sanghyang Indah Spa Resort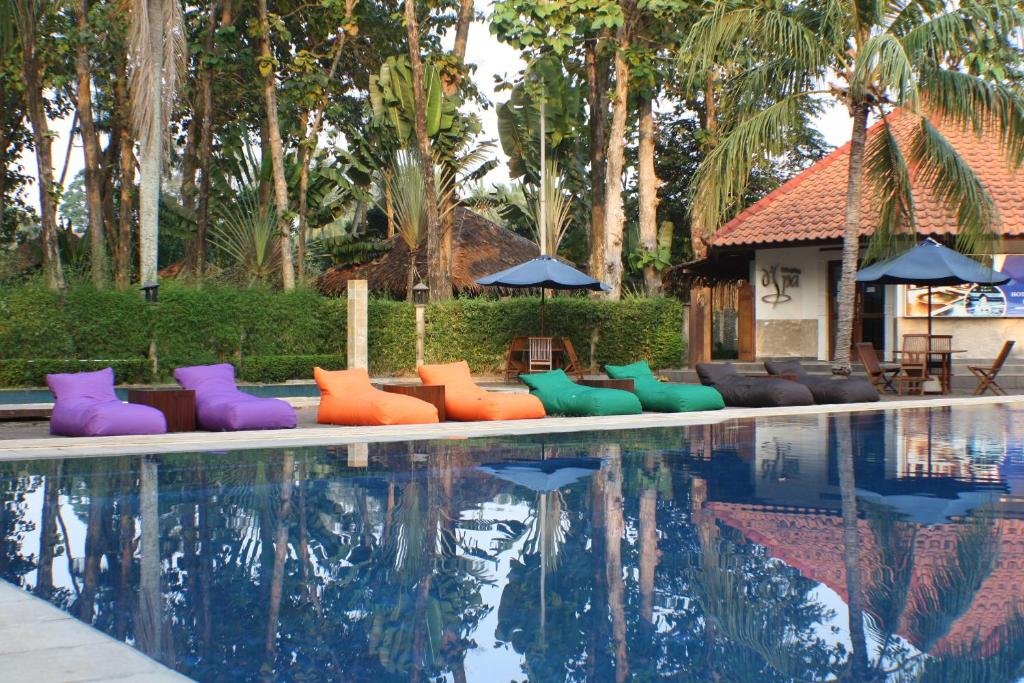 Sanghyang Indah Spa Resort is the only resort with Onsen Spa facility in Banten. Only 120 Minutes away from Jakarta, the resort is built on 9.7 Ha of land by the sea, and filled with hundreds of evergreen teakwood and coconut trees. It is the perfect setting for those looking for a lush and cozy seaside retreat. For the adventurous, there is a wide range of water sports available.
Jl. Raya Sirih KM. 128, Cikoneng, Kec. Anyar, Kabupaten Serang, Banten 42166
Phone: +62254600888
Website