It's not just about square meters, chandeliers and tall ceilings. For your special day, be it weddings, conferences, parties, or a gala, everything needs to be perfect. Here are our some of Jakarta's most impressive hotel ballrooms
Grand Ballroom of Four Seasons Hotel Jakarta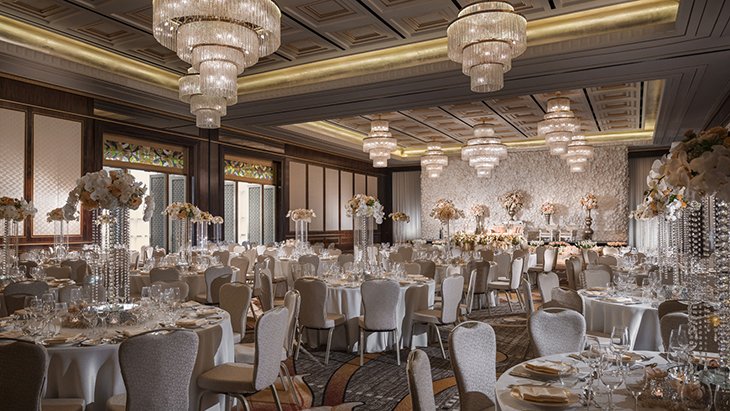 The Four Seasons Ballroom is grand, luxurious and exquisitely detailed, with natural light from wall-to-wall windows and space for up to 350 guests for a banquet or 1,250 guests for a cocktail reception. Step from there to the private Garden Terrace for fresh breezes and a wonderful city view.
Capital Place
Jl. Jend. Gatot Subroto Kav 18, Kuningan Barat, Jakarta, Indonesia
Phone: +62 (21) 2277-1888,
www.fourseasons.com/jakarta
Grand Ballroom of InterContinental Jakarta Pondok Indah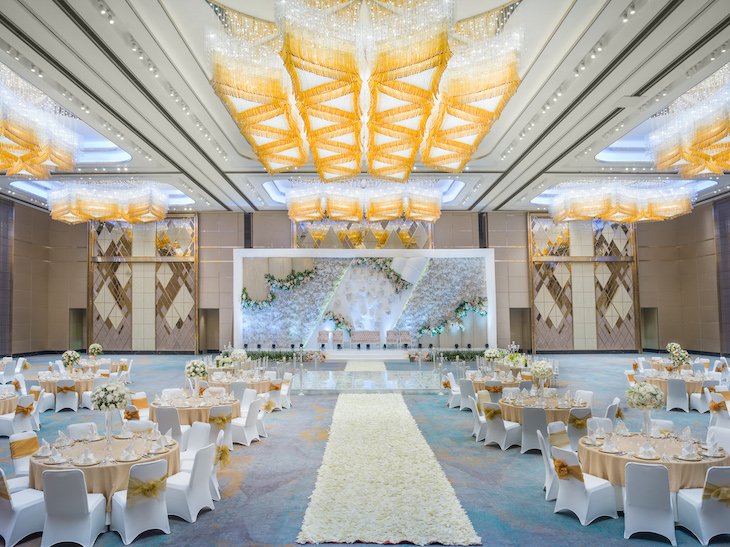 Envisioned to be the most coveted event venue in Jakarta, InterContinental Jakarta Pondok Indah is fully equipped with suitable event spaces such as an elegant Grand Ballroom that can accommodate up to 3,500 guests, a tropical-themed Outdoor Terrace for an intimate event or ceremony, and a Sky Box, an unprecedented venue situated above the ballroom that is designed for guests to gather privately, away from the crowd. Backed by over 70 years of delivering world-class luxurious experiences to guests, the InterContinental Meetings team of dedicated specialists ensure to provide stress-free planning with their expertise.
Jl. Metro Pondok Indah Kav. IV TA, Jakarta 12310 Indonesia
Phone: +62 21 3950 7355
https://www.jakartapondokindah.intercontinental.com/
Grand Ballroom of Hotel Indonesia Kempinski Jakarta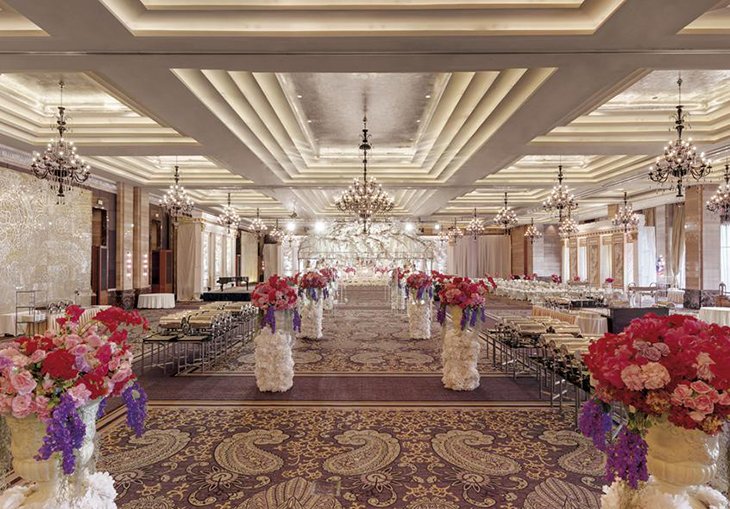 The ballroom offers a spacious 2,700 sqm of breathtaking set up, with easy access from either Grand Indonesia or the separate ballroom lobby. Perfect for a lavish reception for up to 3000 persons for cocktail setting and 1000 persons for banquet. For more intimate wedding, the Bali Room, will be the perfect venue for to 1,000 VIP guests. You don't want to miss checking out the garden area which asks to be magically transformed into a fairy-tale wedding ambiance.
Jl. MH. Thamrin No. 1 Jakarta 10310, Indonesia
Phone: +62 21 2358 3800
https://www.kempinski.com/en/jakarta/hotel-indonesia/
The Ritz-Carlton Grand Ballroom of The Ritz-Carlton Jakarta, Pacific Place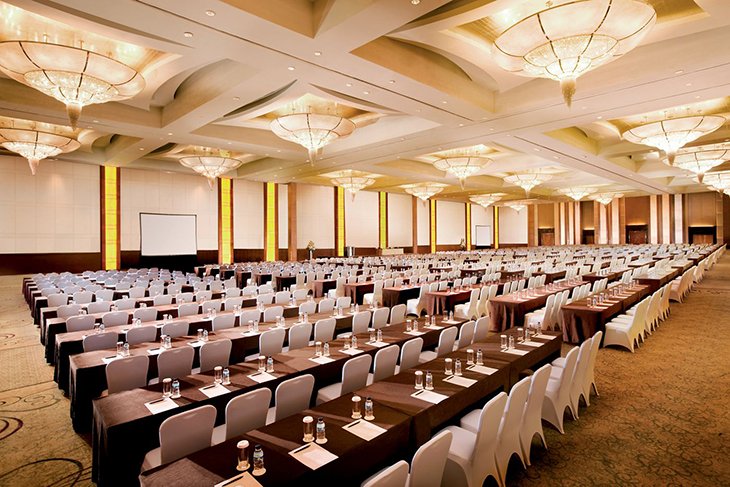 At The Ritz-Carlton Jakarta, Pacific Place, couples will find the perfect venue for their wedding, whether they desire a large celebration or a more intimate affair. The Grand Ballroom, the largest in Asia, can host up to 7,000 guests for a wedding reception in a pillar-less space that features nine-meter-high ceilings, touches of gold and sparkling chandeliers. Glamour and greenery combine in the Level 8 Glass House, where our lush garden offers a beautiful backdrop for your wedding ceremony or reception.
Sudirman Central Business District (SCBD)
Jl. Jend. Sudirman Kav. 52 – 53, Jakarta 12190
Phone: +6221 2550 1993
https://www.ritzcarlton.com/en/hotels/indonesia/jakarta-pacific-place
Dua Mutiara Ballroom of JW Marriott Hotel Jakarta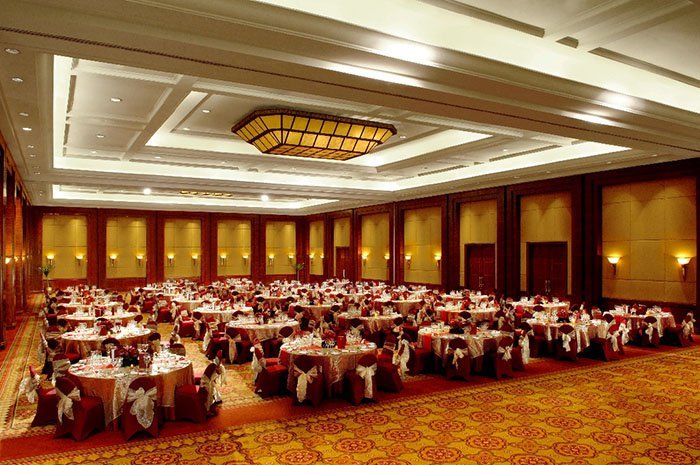 The hotel's main ballroom, Dua Mutiara Ballroom, approximately 900 square meters in size, accommodates a maximum of 1,500 standing receptions. The JW Meeting Center is a 316 square meters is available as alternative ballrooms, and the JW Marriot terrace is perfect for outdoor party venue. The Sailendra Restaurant, known for having the best buffet in town, caters the receptions for up to a maximum of 300 persons. While the Pearl Chinese Restaurant, offers a taste of exquisite and genuine Cantonese fare, and is available for a more intimate reception up to a maximum of 250 persons.
Jalan DR Ide Anak Agung Gde Agung Kav E.1.2 No 1&2, Kawasan Mega Kuningan, Jakarta  12950 Indonesia
Phone: +62 21 57988888
https://www.marriott.com/hotels/travel/jktjw-jw-marriott-hotel-jakarta/
The Golden Ballroom of The Sultan Hotel & Residence Jakarta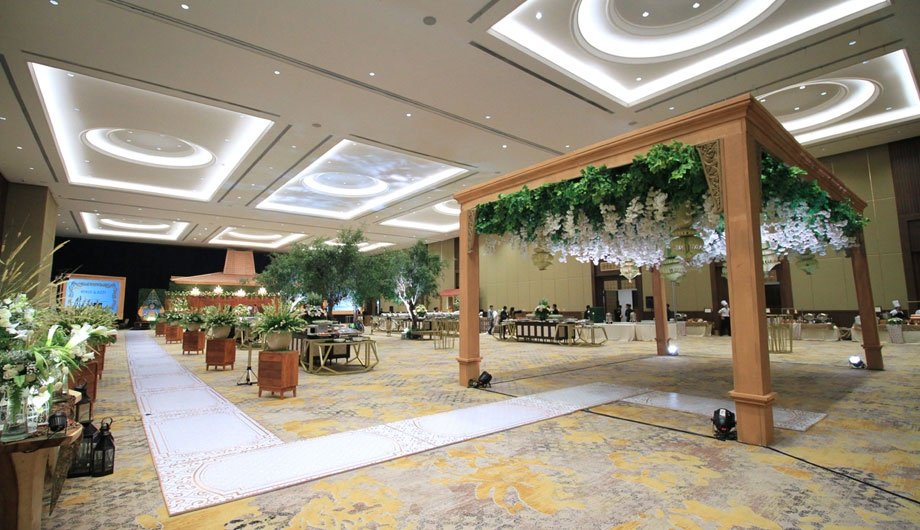 The Sultan Hotel & Residence Jakarta just recently renovated their ballroom into The Golden Ballroom, a whopping 1600sqm ballroom that can accommodate up to 2500 guests for a cocktail party/wedding with the possibility to also divide in to three separate rooms. In addition seven new adjoining conference suites – the largest which can accommodate 250 pax theatre style. 
Jl. Gatot Subroto, Jakarta 10270, Indonesia
Phone: +6221 57891065
https://www.sultanjakarta.com
Grand on Thamrin Ballroom of Pullman Jakarta Indonesia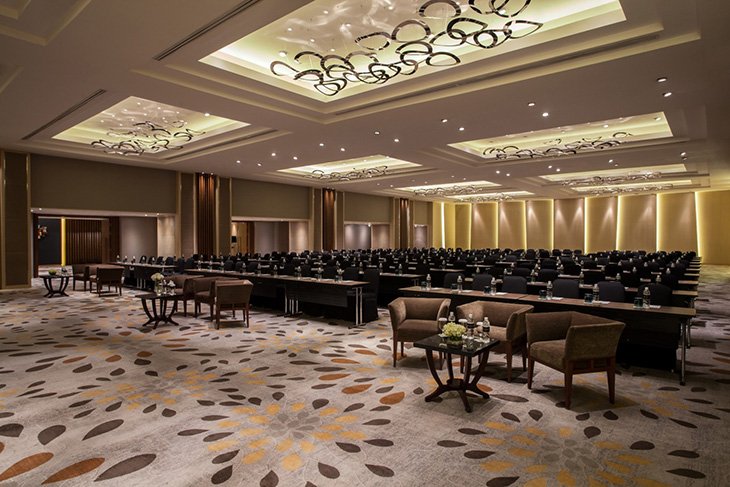 Pullman Jakarta Indonesia's Grand on Thamrin Ballroom fits up to 1000 guests for weddings family celebrations, VIP events, or any private events with their 5-star flair. The hotel also hides another secret on the roof top terrace. UNA is a chic rooftop event venue with an outdoor terrace and beautifully decorated indoor dining hall and bar area. With stunning views of Jakarta's skyline, this is the place to be for totally exclusive events.
Jalan M.H. Thamrin Kav. 59, 10350 Jakarta Pusat, Indonesia
Phone: +62 21 3192 1111
https://www.pullmanjakartaindonesia.com/
Vertu Ballroom of HARRIS Vertu Harmoni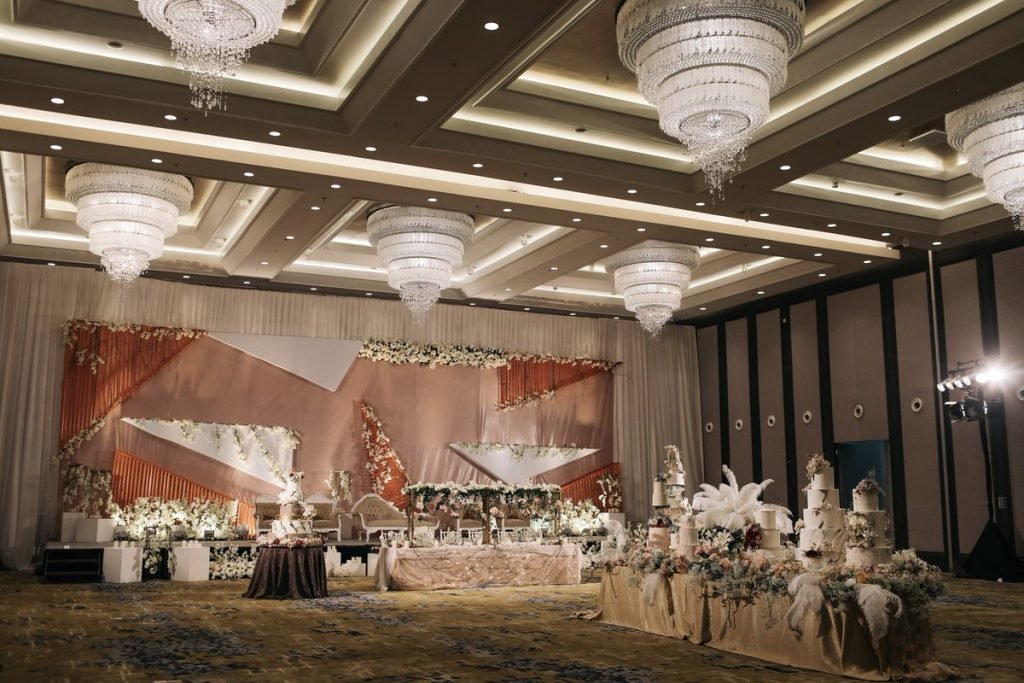 The heart of the hotel is Vertu Ballroom. It is an impressive and spacious hall with beautiful interior and stunning chandeliers, perfect for your big celebration. It gives a luxurious atmosphere right on your first step entering this grand ballroom. The 7.5-meter-high ceiling holds 12 impressive chandeliers to give grandeur to this beautiful venue. This 760 m2 ballroom has no pillars, allowing more space to accommodate your guests, up to 1000 guests. A pre-function room will be great adjacent to the ballroom, with additional space for pre-event gatherings. 
Jl. Hayam Wuruk No. 6, Central Jakarta, 10120 Indonesia
Phone: +62 21 2203 6000
https://www.discoverasr.com/en/vertu/indonesia/harris-vertu-hotel-harmoni-jakarta
The Grand Ballroom of The Ritz-Carlton Jakarta, Mega Kuningan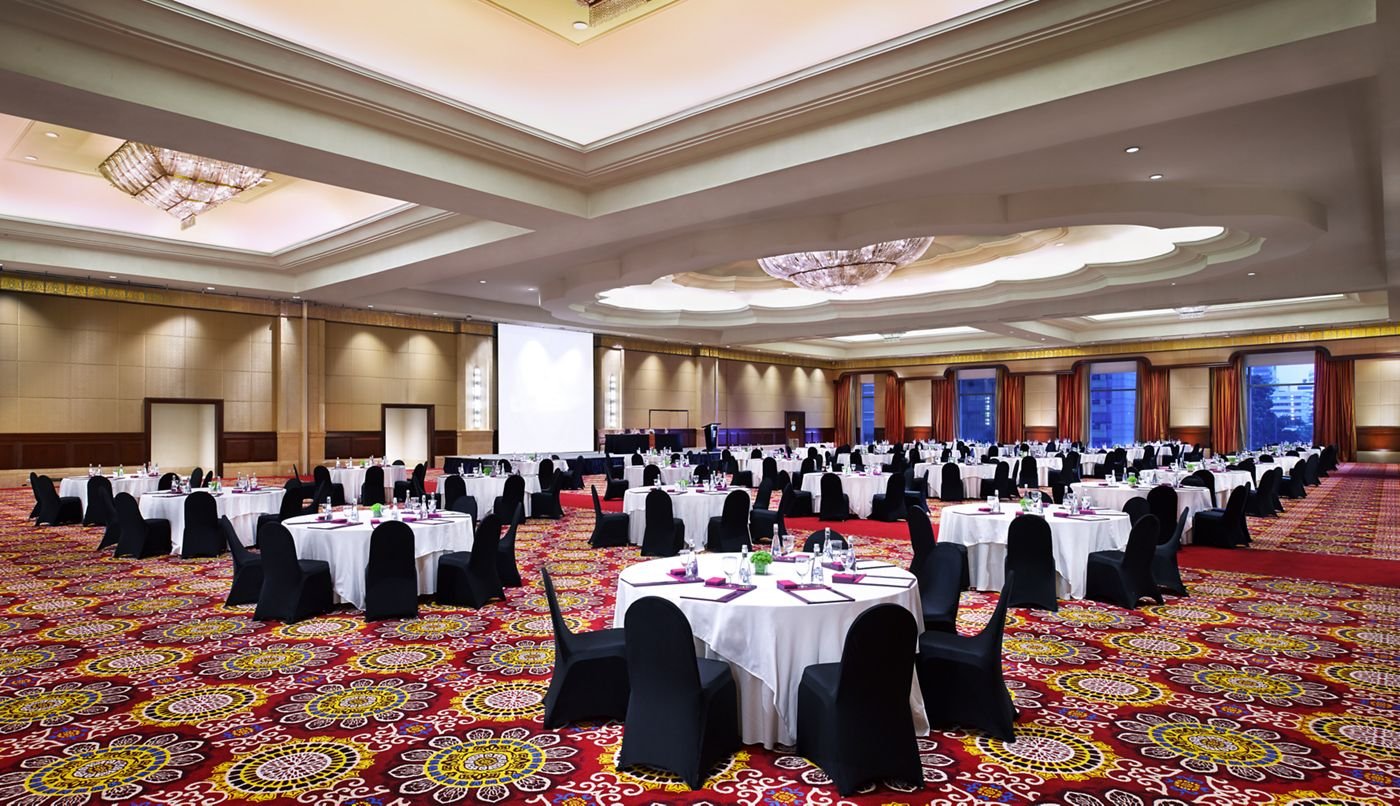 Set amidst the contemporary office towers and storied international embassies of Jakarta's thriving business district, just a few moments from the city center, The Ritz-Carlton Jakarta, Mega Kuningan provides unmatched experience and expertise in hosting high-profile meetings and corporate gatherings. The hotel offers several flexible event venues and spaces, as well as customizable banquet menus and the careful attention of a dedicated meeting staff. The Grand Ballroom is the hotel's most magnificent venue and can accommodate as many as 900 guests in banquet format. Smaller, more intimate rooms are also available for break-out meetings and conferences.
Jl. DR. Ide Anak Agung Gde Agung Kav.E.1.1 no.1, Mega Kuningan
Jakarta, 12950 Indonesia
Phone: +62 21 2551 8888
https://www.ritzcarlton.com/en/hotels/indonesia/jakarta
The Grand Ballroom of Sheraton Grand Jakarta Gandaria City Hotel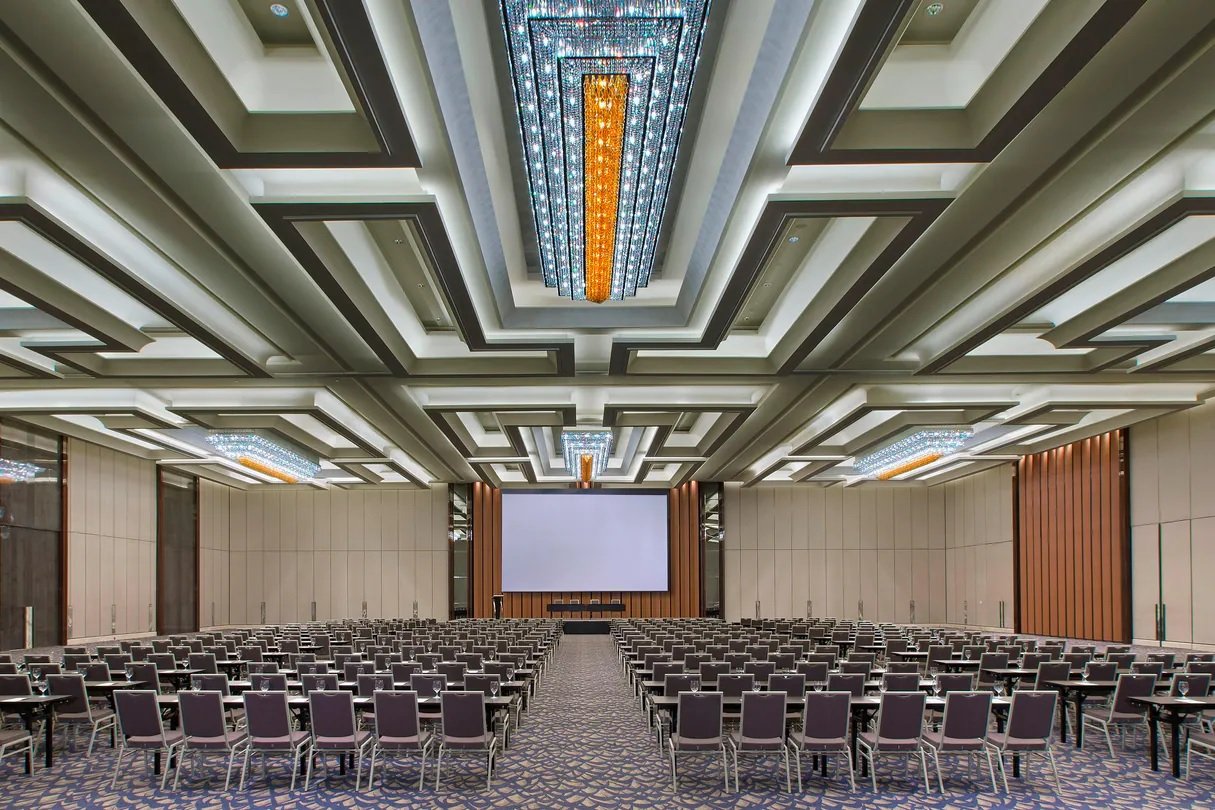 At Sheraton Grand Jakarta Gandaria City Hotel, rely on their experienced staff for an effortless celebration that combines panache with peace of mind. Host a lavish celebration in the Grand Ballroom with space for 2,500, a private pillarless hall with poolside venue space. Add a personal touch to your event when you consult with their executive chef on an exquisite menu tailored to your tastes. 
Jl. Sultan Iskandar Muda, Jakarta 12240, Indonesia
Phone: +6221 8063 0888
www.sheratongrandjakarta.com
Makara Grand Ballroom of DoubleTree by Hilton Hotel Jakarta - Diponegoro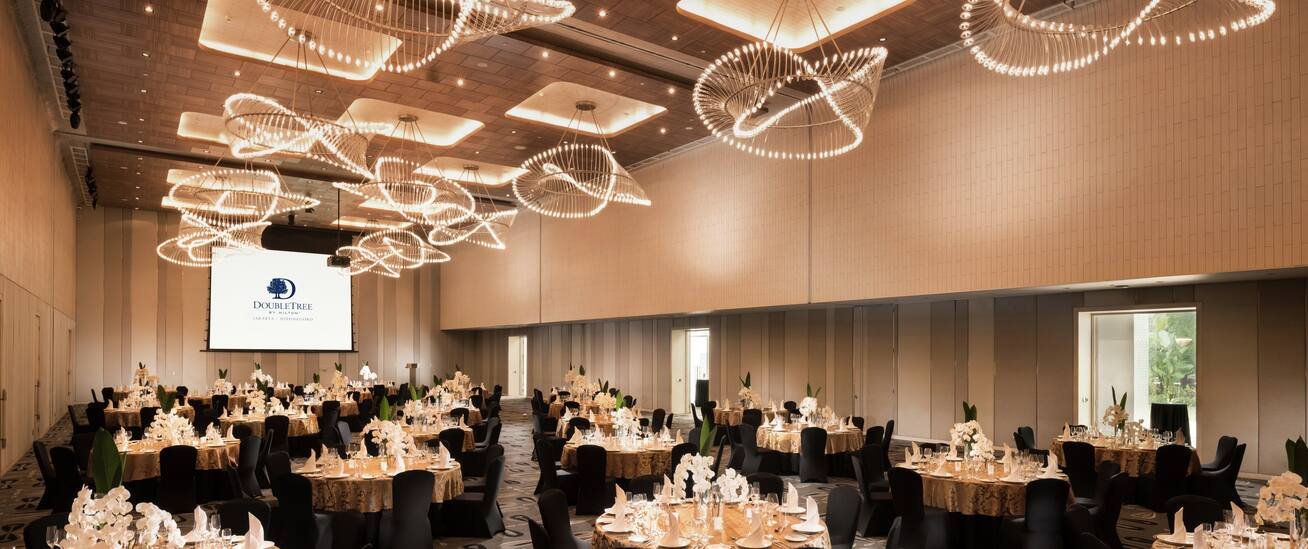 Nestled near Jakarta's golden triangle, DoubleTree by Hilton Hotel Jakarta - Diponegoro features a pillar-less Makara Grand Ballroom and other naturally-lit meeting rooms that can accommodate a reception with up to 1,000 guests, featuring a chandelier and eight-meter ceilings. The Makara Square and Makara Garden are available for outdoor events. A/V equipment and a dedicated meeting team are on hand. 
Jl Pegangsaan Timur No.17, Jakarta, 10310, Indonesia
Phone: +62 21 29857000
https://www.hilton.com/en/hotels/jktdidi-doubletree-jakarta-diponegoro/
 
The Grand Ballroom of Shangri-La Jakarta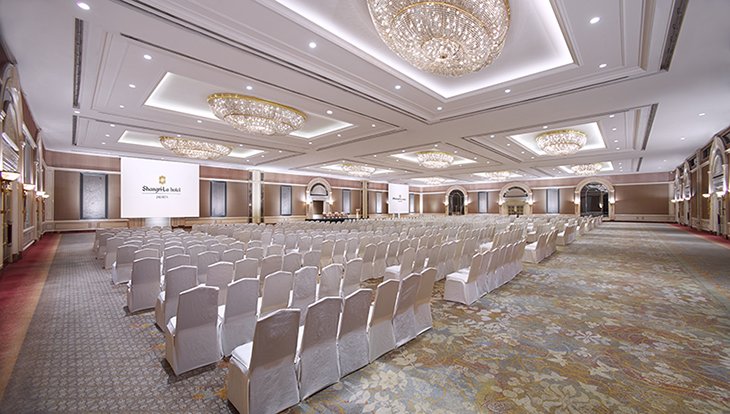 Shangri-La Jakarta's Grand Ballroom is one of the city's most sought-after venues for the grandest of weddings in the city with a capacity of up to 3,000 people and an area of 1,800 sqm. Its luxurious crystal chandeliers hung from the pillar-free six meters high ceilings and the foyer area of 709 square meters creates a majestic and romantic impression perfect for classic style occasions. For more intimate gatherings, their chic Ceria Room is suitable for 200-500 guests, Indonesia Room for 350 to 750 guests and the stylish outdoor Poolside Garden are enchanting settings and can accommodate up to 750 guests. For more oriental-themed weddings, The Lotus Ballroom is your choice.
Kota BNI 
Jl. Jend. Sudirman Kav. 1, Jakarta 10220 Indonesia
Phone: +6221 2939 9587
http://www.shangrila.com/jakarta/
The Grand Ballroom of AYANA Midplaza Jakarta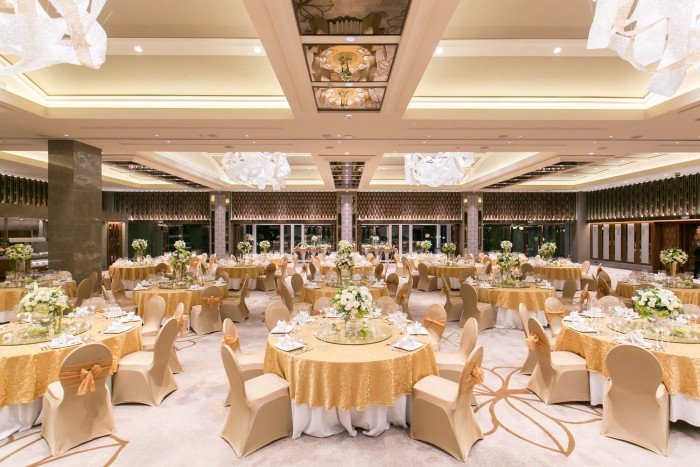 AYANA Midplaza Jakarta's Grand Ballroom can host up to 1500 guests for business events and private celebrations, exceptionally designed with a mesmerizing open kitchen and an exquisite glass house for truly unique celebrations that promise to make a lasting impression. The ballroom's extraordinary private garden looks out across an exhilarating cityscape.
Jl. Jenderal Sudirman Kav. 10-11, Jakarta Pusat, Jakarta 10220, Indonesia
Phone: (+6221) 251 0888
https://www.ayana.com/jakarta/ayana-midplaza-jakarta/
Dian Ballroom of Raffles Jakarta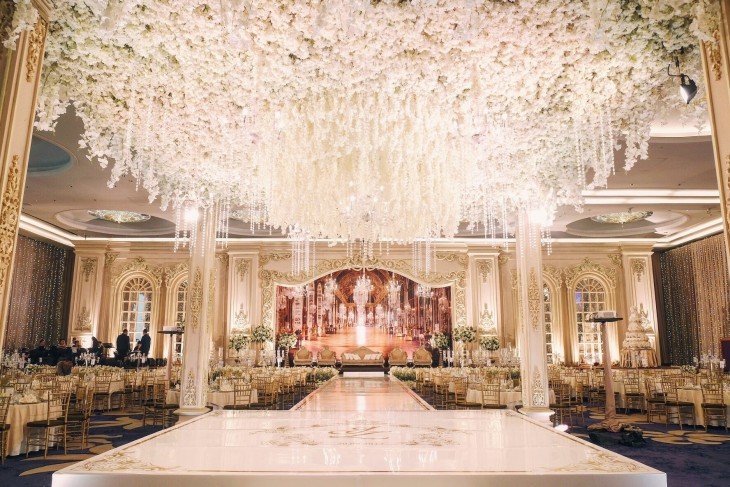 The Raffles Jakarta claims to be the meeting point of art and ideas, business and leisure, glamour and fashion. For weddings and celebrations, all venues are located level 11 with direct access from the lobby level via dedicated elevators or through car park lifts from Ciputra World. The sublime Dian Ballroom offers a 2,500 square meters of stunning uninterrupted space and ceiling as high as 9 meters and a 675 sqm foyer area which can hold up to 3,500 persons and is divisible into 3 sections.  For smaller events, venues range from Singapore, Paris, and Dubai rooms aptly named after gateway cities where Raffles hotels are found.
Ciputra World 1 Jl. Prof. Dr. Satrio Kav 3 – 5, Jakarta Selatan
Phone: +62 21 29880888
www.raffles.com/jakarta
The Grand Ballroom of Grand Hyatt Jakarta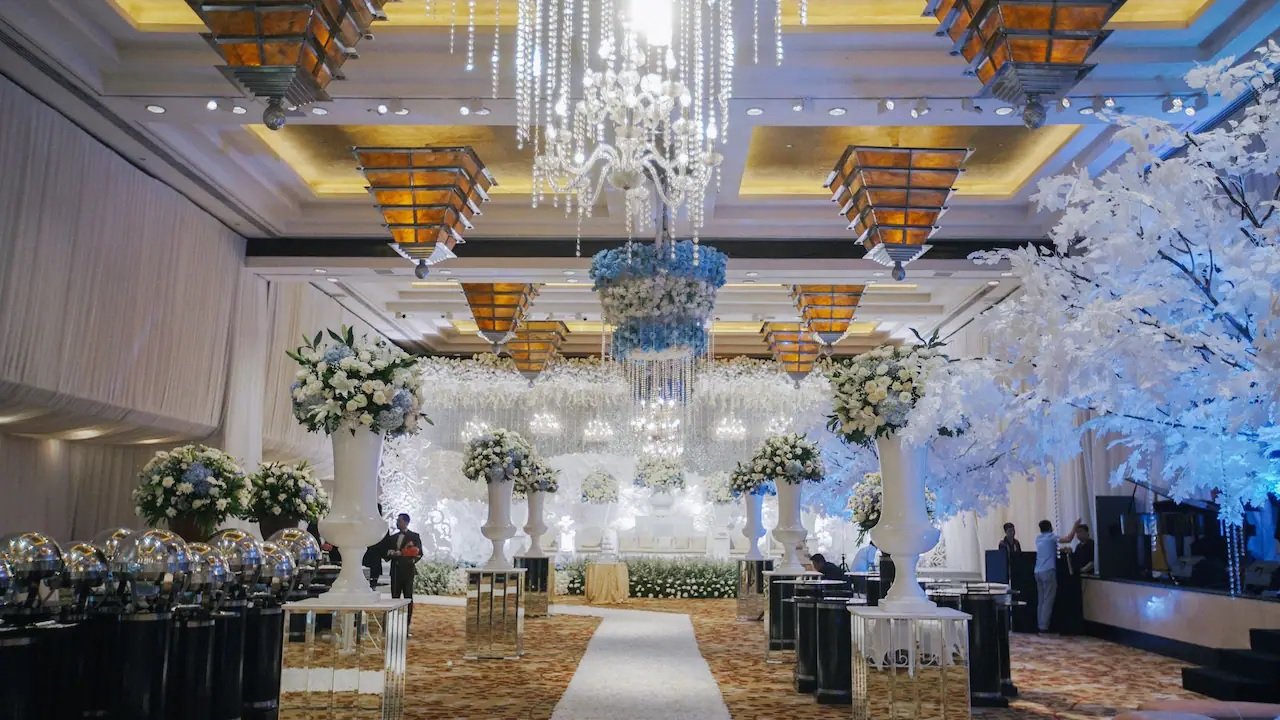 The Grand Ballroom is located on the Lobby level. It consists of 3 rooms (each measuring 234 sq meters), which can be combined together, creating one unique spacious room (702 sq meters) that will accommodate the biggest celebrations. The Prefunction (640 sq meters) in front of the Grand Ballroom can host up to 400 standing guests. They also offer The Penthouse located at 26th floor that can accommodate up to 100 guests for a stand-up reception, suggested for those who seek to create a more intimate and astonishing atmosphere. The glass terrace can seat up to 50 guests for dinner, overlooking Jakarta's skyline.
Jl. MH Thamrin Kav 28-30, Jakarta 10350, Indonesia
Phone: (62-21) 2992 1234
www.grandhyattjakarta.com
Java Ballroom of The Westin Jakarta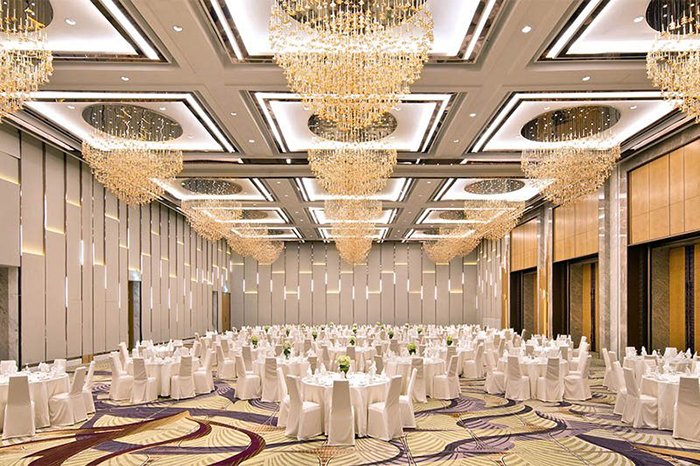 The Westin Jakarta is famous for its position; the hotel perches on the last 20 floors of the 69 floors Gama Tower in Kuningan. But you don't need to go up too high to get into the ballroom. Located on the ground floor, their Java Ballroom is a pillar-less grand ballroom with 1,094 sqm in space, plus 338 sqm of pre-function area. It has a maximum capacity of 1,500 guests that has a beautiful foyer area that can extend your event space further.
Jl. H.R. Rasuna Said Kav.C-22 A, Jakarta 12940
Phone: +62 21-27887788
https://www.marriott.com/en-us/hotels/jktwi-the-westin-jakarta/overview/
Sasono Mulyo Ballroom of Le Meridien Jakarta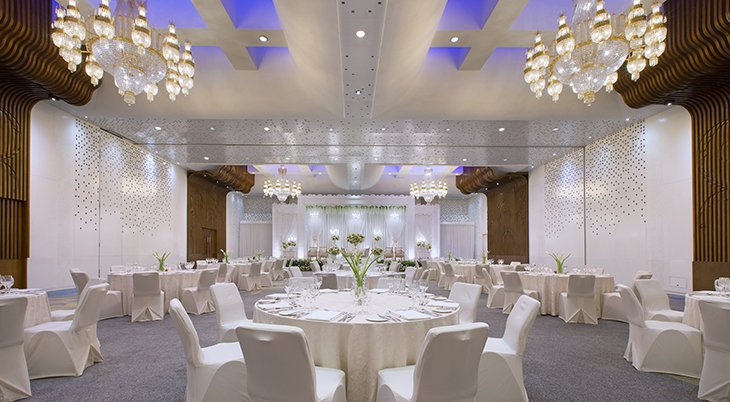 Sasono Mulyo Ballroom might only accommodate between 300 – 800 guests, but its banquet option and great location in Sudirman definitely will become the top choice for MICE and wedding events.
Jl. Jend. Sudirman No.Kav. 18-20, Jakarta Pusat 10220
Phone: (021) 2513131
https://lemeridien.com-jakarta.com/
Pullman Grand Ballroom of Pullman Jakarta Central Park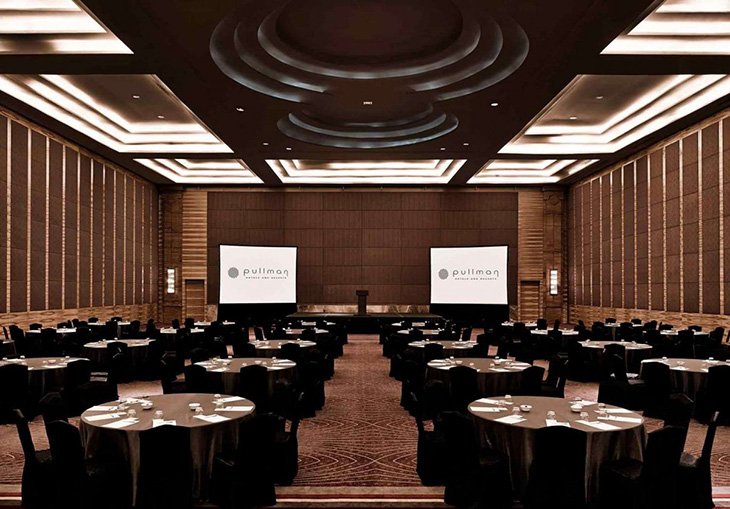 Pullman Jakarta Central Park offers indoor wedding venue setting. Pullman Grand Ballroom comes with a modern, state-of-the-art, and elegant facilities. It is dashingly pillarless and caters comfortably up to 5,000 invitees in Wedding setting.
Podomoro City Jl. Let. Jend. S. Parman Kav. 28, 11470 Jakarta
Phone: + 62 (21) 29 20 00 88
http://www.pullmanjakartacentralpark.com
Nusantara Ballroom of The Dharmawangsa Jakarta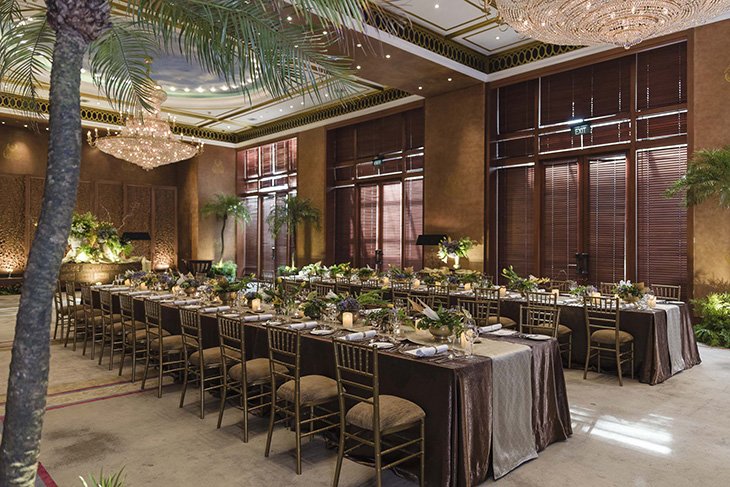 The Dharmawangsa hotel exudes both prestige and elegance with grand flowing architecture that calls to mind an Indonesian mansion. The Nusantara Ballroom extends to the Nusantara Garden, and combined, can fit up to 800 people for standing reception.  It features an enchanting design that reflects the traditional batik patterns of the 18th century, with two large chandeliers influenced by Classical Rome style to raise the prestige of your wedding.
Jl. Brawijaya Raya No. 26, Kebayoran Baru, Jakarta 12160 Indonesia.
Phone: (62-21) 7258181
www.the-dharmawangsa.com
Grand Ballroom of Fairmont Jakarta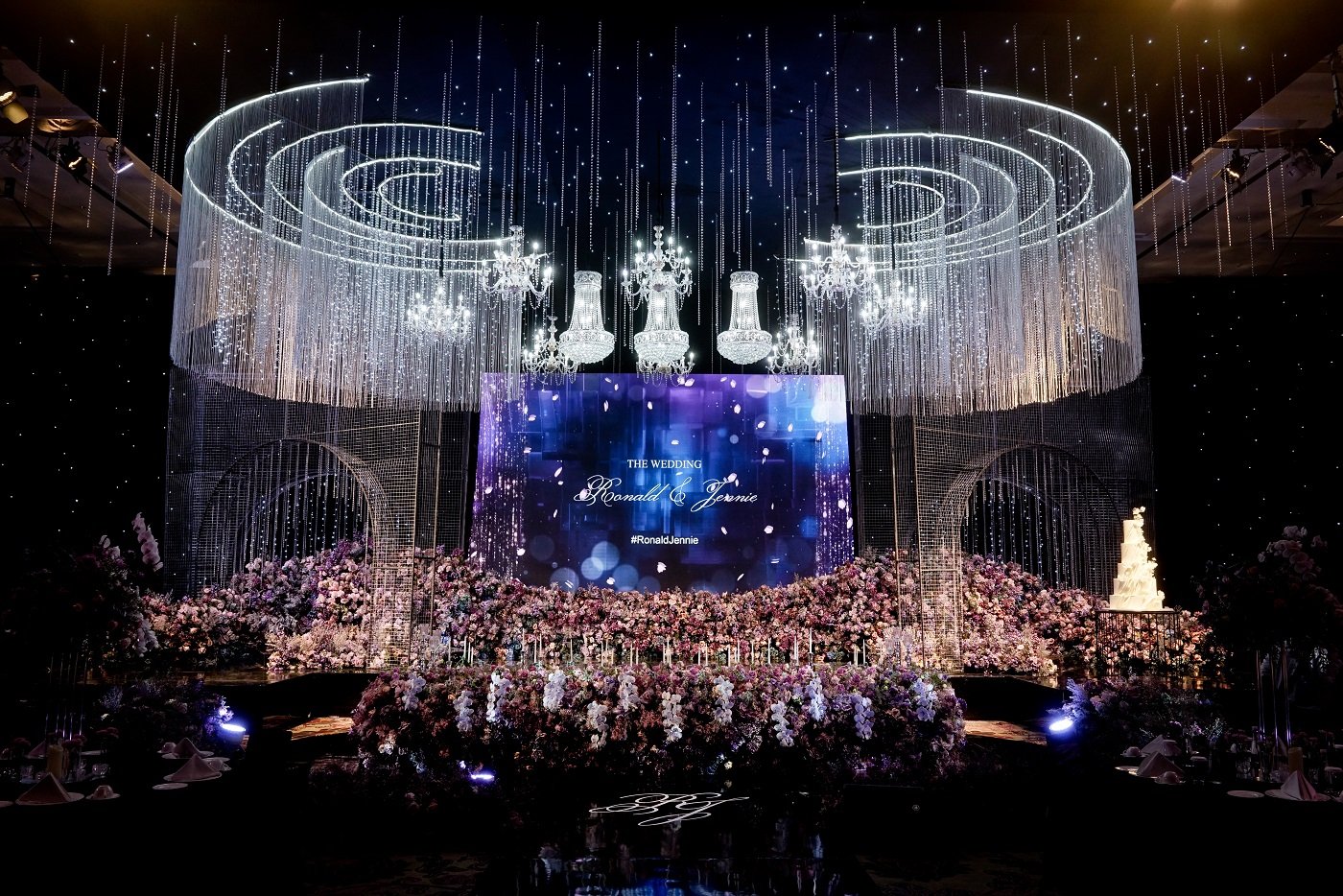 Fairmont Jakarta offers a total of 3,500 square meters of dedicated function space, from various size of meeting rooms, some with natural light and city view, to a Grand Ballroom that is equipped with features such as energy-efficient multi-color LED ceiling lights that guests can choose their preferred color ambience of white, blue, purple, pink or green; as well as spacious foyer of over 500 square meters in size. Function venues in Fairmont Jakarta are ideal to cater events in many conceivable kinds.
Jl. Asia Afrika No.8  Gelora Bung Karno  Jakarta, Indonesia
Phone:  + 62 21 2970 3333
https://www.fairmont.com/jakarta
The Grand Ballroom of Hotel Borobudur Jakarta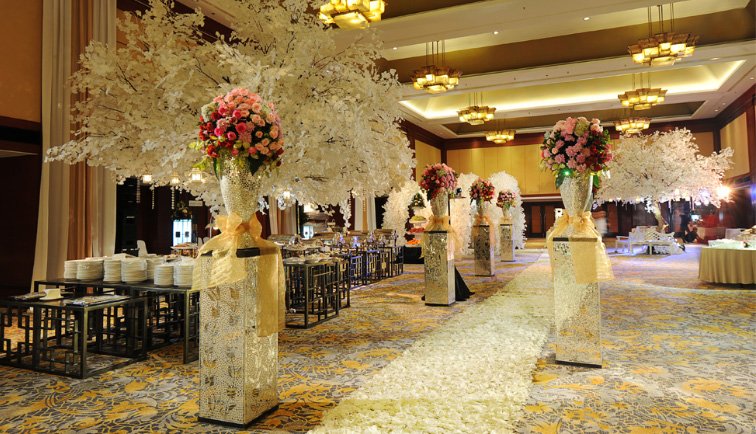 Hotel Borobudur Jakarta has the perfect venue to celebrate. Its Grand Ballroom can fit up to 3000 people and its 18 function rooms can host various events, Offering state-of-the-art equipment, efficient and detailed catering service, as well as exceptional menus.
Jalan Lapangan Banteng Selatan
P.O.Box 1329, Jakarta 10710, Indonesia
Phone: (62-21) 380 5555
https://www.hotelborobudur.com/
Grand Ballroom of Pullman Ciawi Vimala Hills Resort Spa & Convention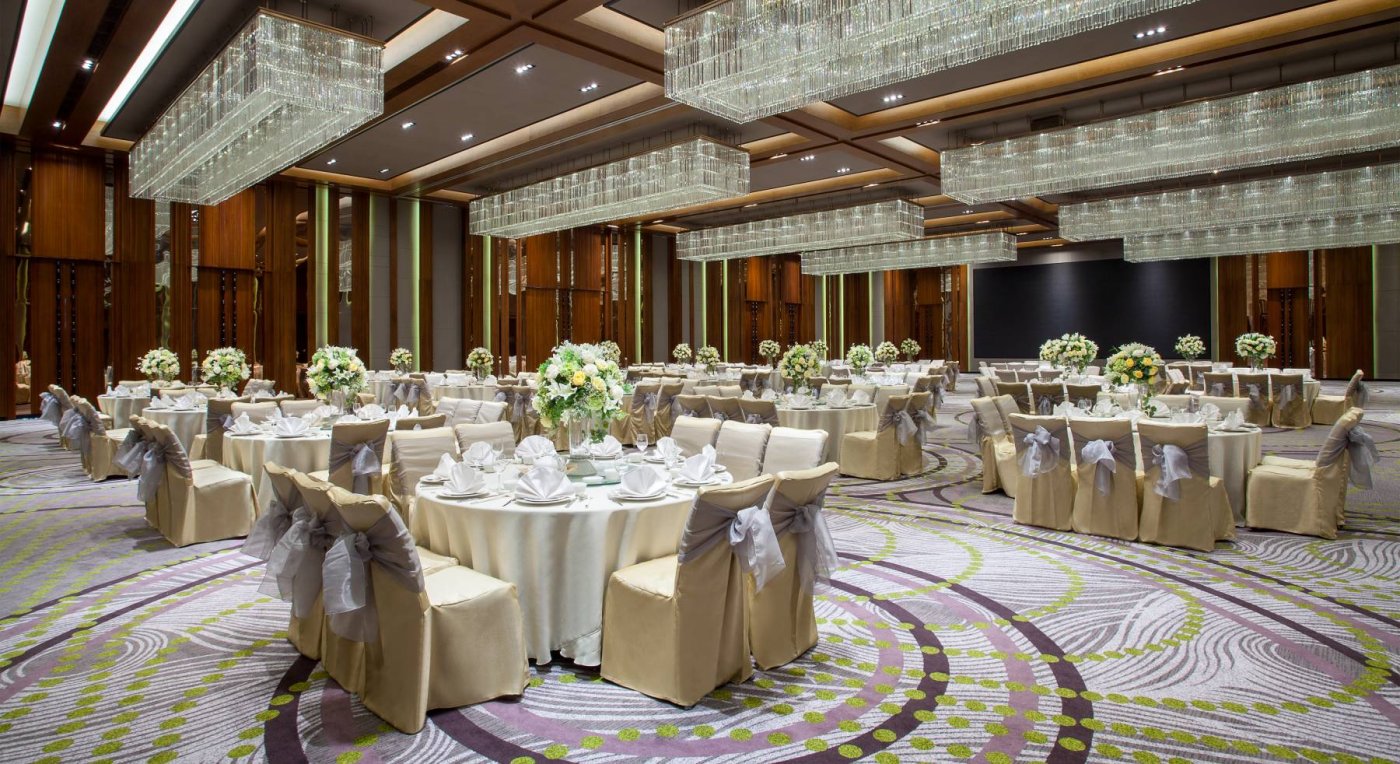 Let's shift slightly towards Puncak area, Pullman Ciawi Vimala Hills Resort Spa & Convention features beautiful meeting and special event venues in a stunning natural setting. Add to that Pullman's brand of planning expertise and creative catering options. For outstanding events in an exceptional destination. Pullman excels at business and events. So much so that the Meet/Play by Pullman concept has become synonymous with successful meetings worldwide. For conferences, seminars, workshops, and of course your dream designated weddings.
Jl. Raya Puncak, Gadog, Megamendung, 16770 Bogor, Indonesia
Phone: + 62 (251) 830 6888
https://pullman-ciawi-vimalahills.com/