Say hello again to music concerts and festivals. We can feel how much music fans missed the experience of going to see shows. Fortunately, many concerts and festivals are slowly announced to boom the stage once again. Below, we're rounding up the most anticipated music concerts and festivals that will be held this year in Indonesia.
We give you information on their dates, lineups, and other information so you know what to look out for this season. We'll also keep this story updated as more information and different events get announced.
Upcoming Music Concerts and Festivals in Jakarta
Jakarta International Java Jazz Festival 2023 - June 2, 2023 - June 4, 2023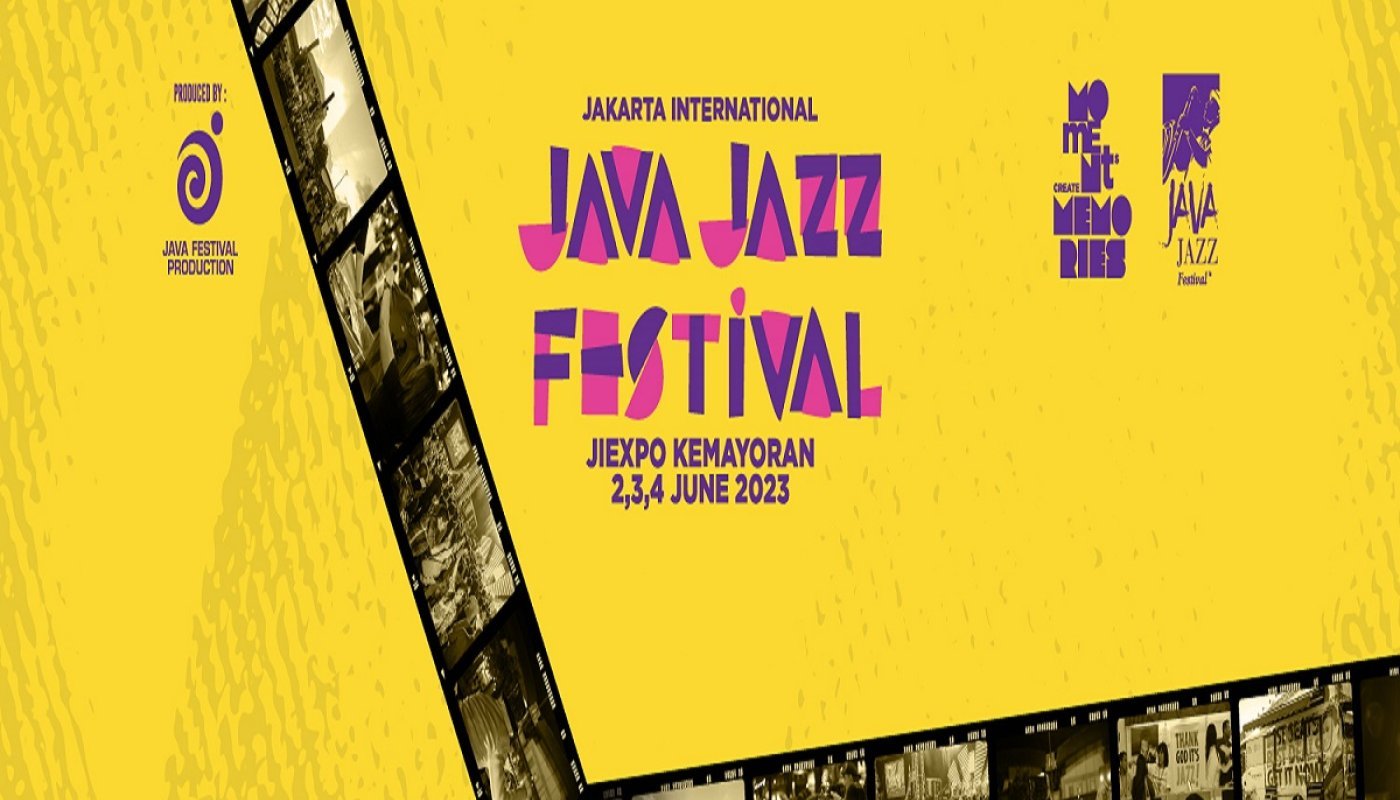 This year, the Jakarta International Java Jazz Festival will once again be ready to welcome us honorably before our eyes. 2, 3 and 4 June were set as a monumental revival of the festival. Over its 17-year run, world-class musicians from Indonesia and International, as well as festival attendees, have witnessed the historic milestones in Festival's achievements. As we celebrate its 18th anniversary this year, the convenience and safety of all festival attendees remains as our top priority. 
Tickets info and the lineup will be revealed in the coming time. For the most news updates, follow Java Jazz Festival`s official social media accounts on Instagram, Facebook, Twitter, and TikTok at @JavaJazzFest.
Get ready and mark 2, 3, and 4 June 2023 in your calendar for the Java Jazz Festival at JiExpo, Kemayoran, Jakarta - Indonesia.
Festival Melankolia - June 10, 2023 - June 11, 2023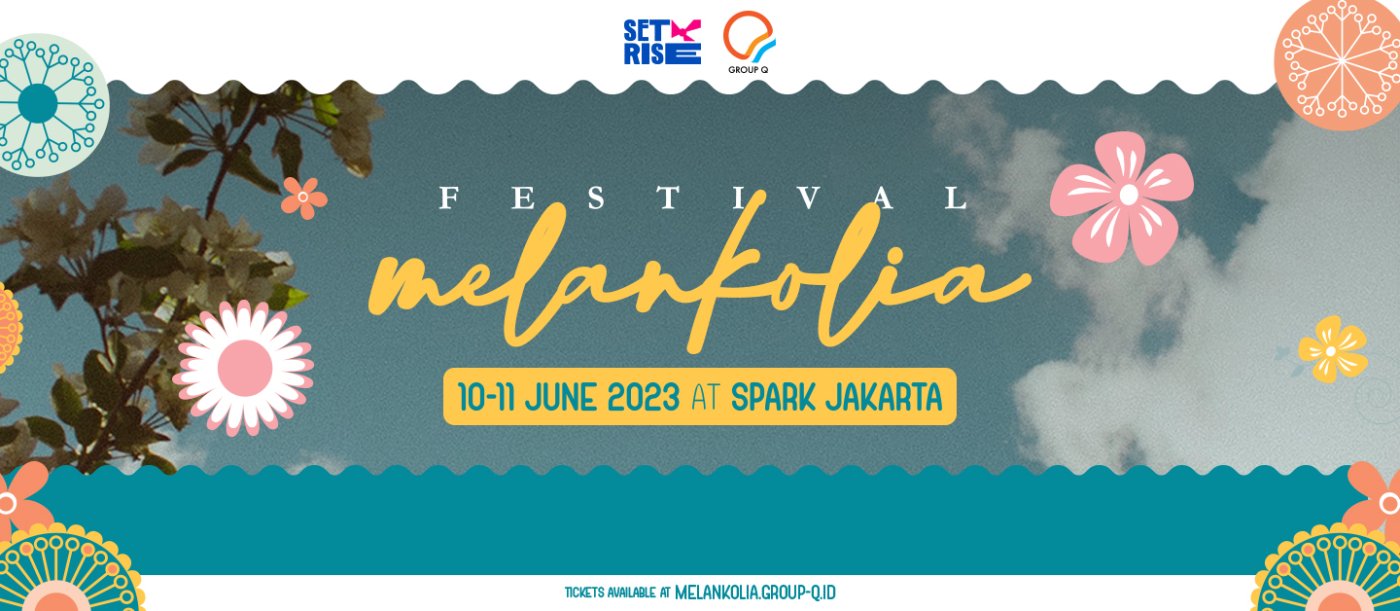 Festival Melankolia
Who do you often listen to the song when you're in the blues? Prepare tissues for Festial Melankolia!
10 - 11 June, 2023
at Senayan Park Jakarta
Yura Yunita Presents Pertunjukan Tutur Batin Live Concert in Jakarta - June 16, 2023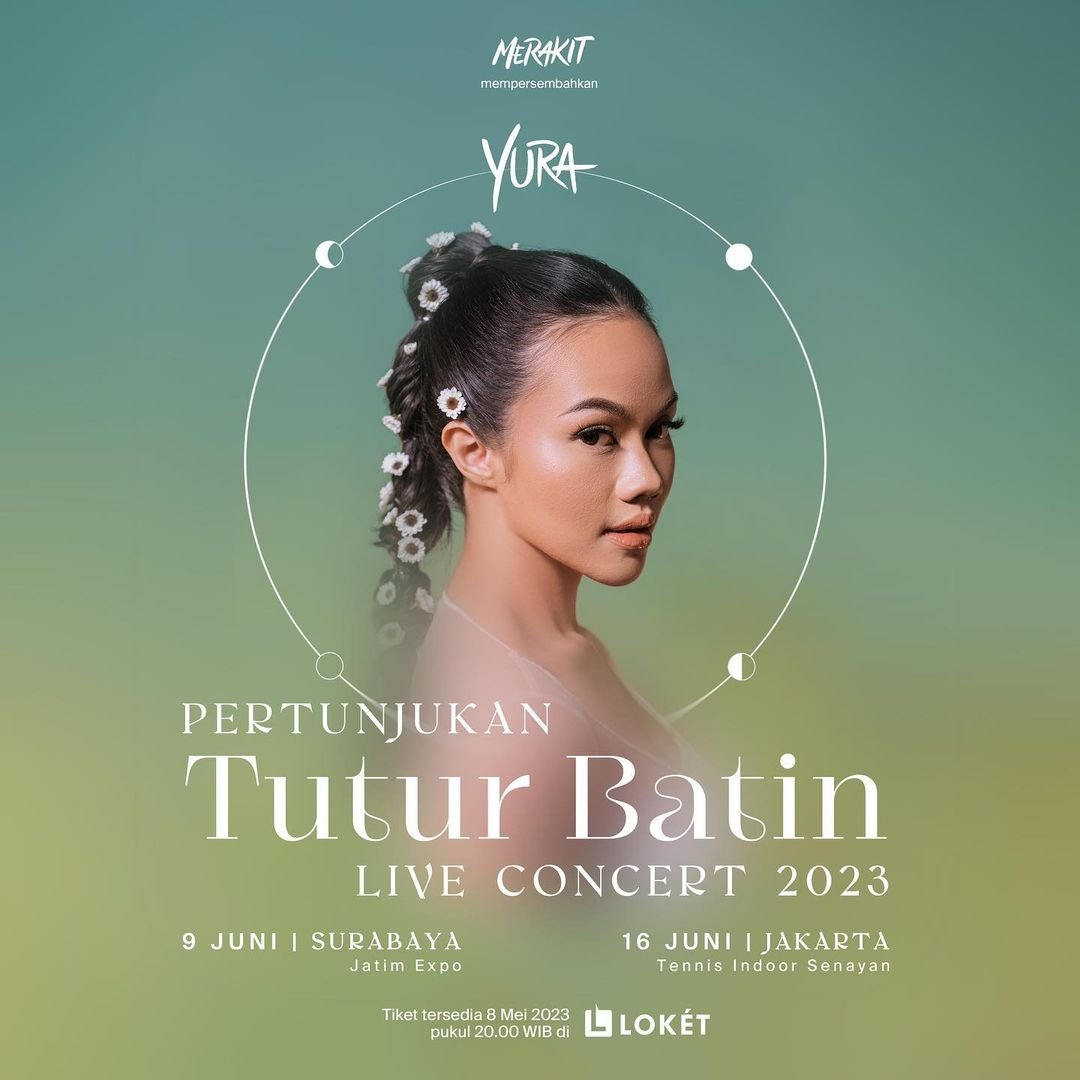 June 16 2023, Tennis Indoor Senayan Jakarta
Yura Yunita presents a solo concert - Pertunjukan Tutur Batin Live Concert. Yura will take you to dive deeper to get to know the songs one by one from the #TuturBatin Album and other Yura's works.
Ticket sales starts on May 8, 2023 at loket.com
Glenn Fredly: 25 Years of Music - June 24, 2023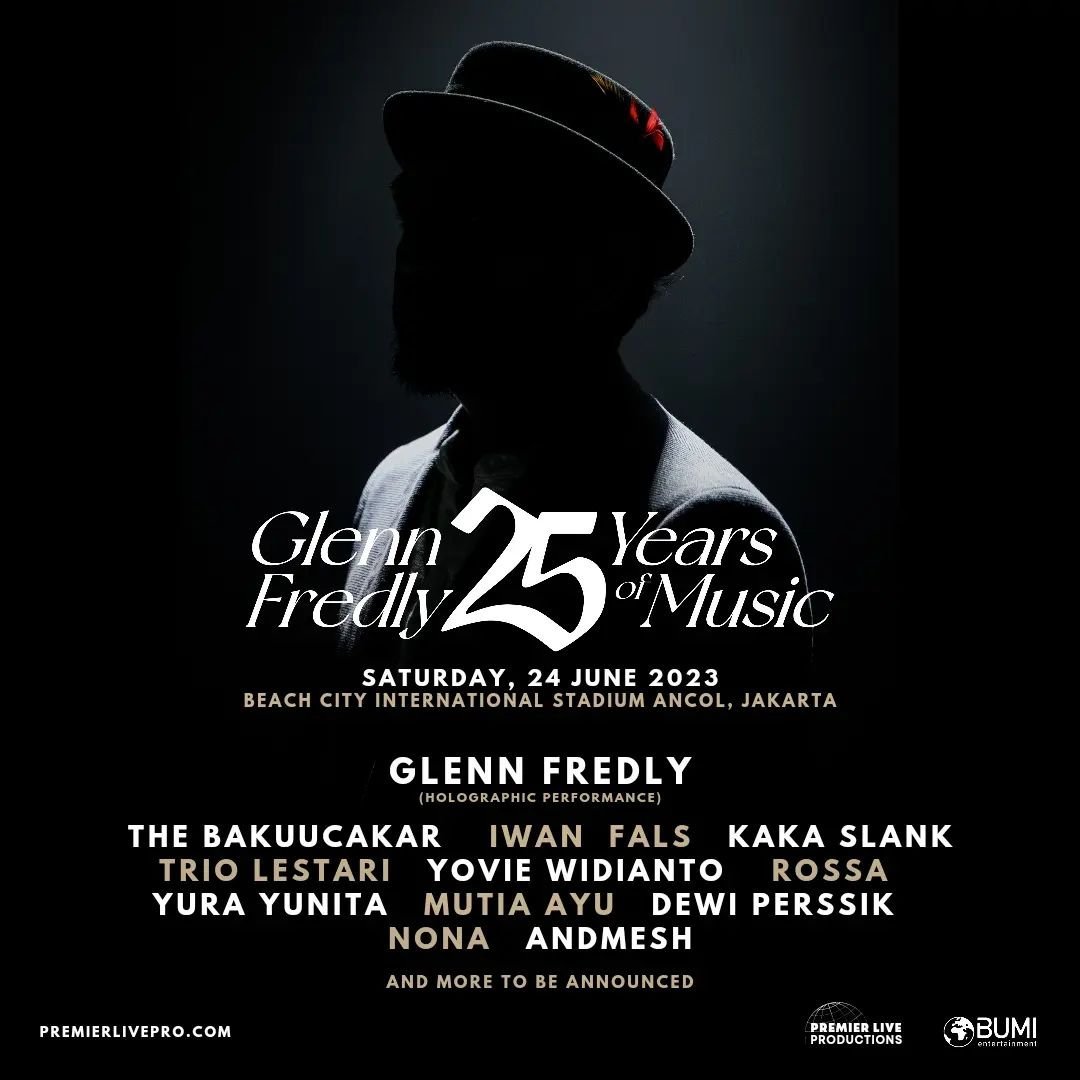 Premier Live Productions and Bumi Entertainment announced the celebration of "Glenn Fredly: 25 Years of Music", a grand celebration of 25 years of the legendary work and life of Glenn Fredly in the Indonesian music scene.
A celebration involving musicians across generations and Glenn Fredly's "return" to the stage in the form of a holographic performance.
WE THE FEST 2023 - July 21, 2023 - July 23, 2023

Heads up, WTF fam!
It's time to jot it down in your calendars — #WTF23 is happening on 21, 22 & 23 July 2023! Which artists are you tipping for this year? 
Get ready for three days of sunshine and smiles, featuring your favorite artists and festivities at GBK Sports Complex, Jakarta, Indonesia.
Guarantee your spot at #WTF23 today!
David Foster & Friends "HITMAN Asia Tour 2023" - August 12, 2023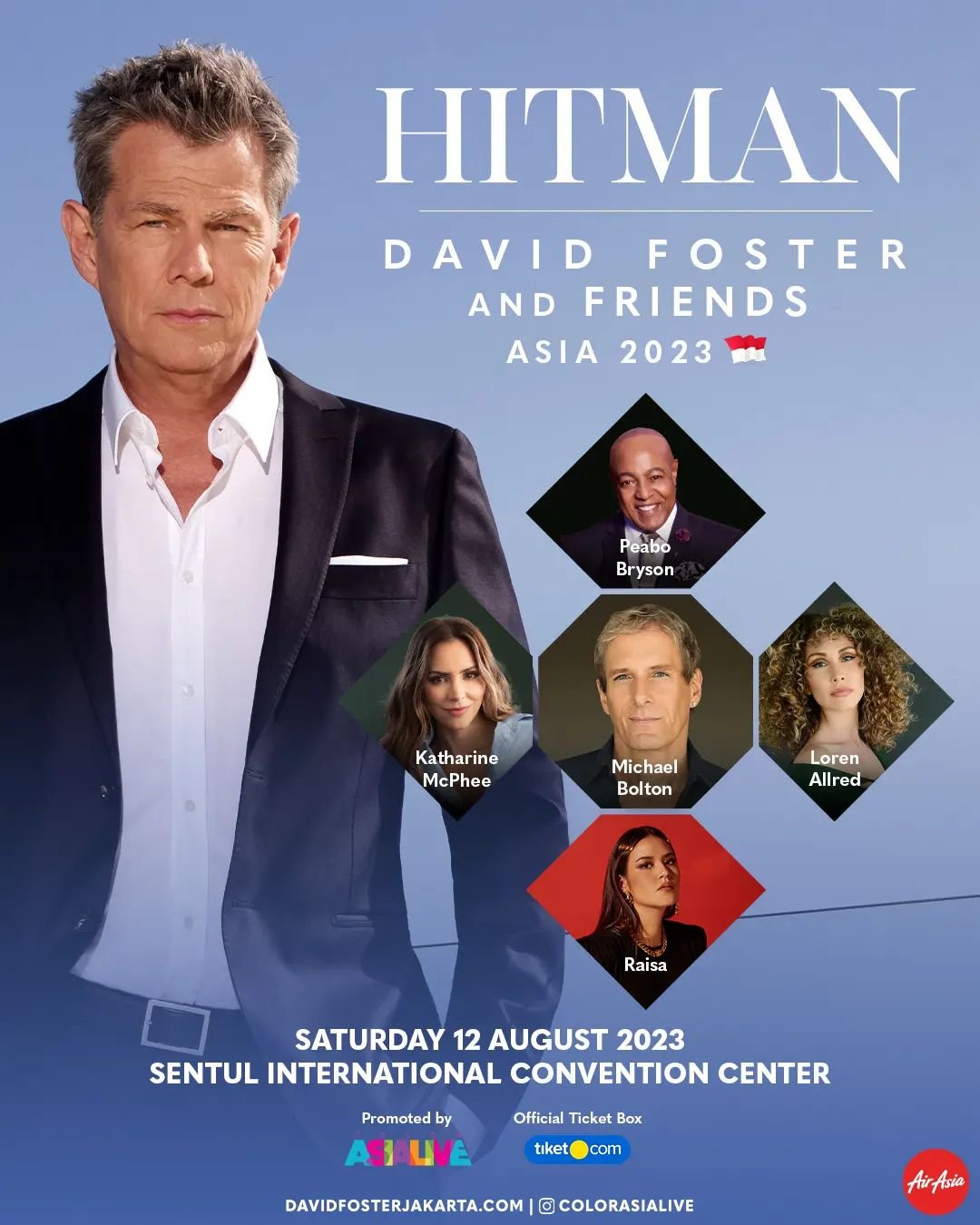 Have you ever dreamed of having one intimate night watching your all-time favorite artists with your loved ones?
Color Asia Live presents,
David Foster & Friends "HITMAN Asia Tour 2023" featuring Michael Bolton, Peabo Bryson, Loren Allred, Katharine McPhee and Raisa
Mark your date :
Saturday, 12 August 2023 at Sentul International Convention Center (SICC)
The show starts at 20:00
This superb collaboration will be a one-of-a-kind concert experience for you!
Tickets will be starting on sale tomorrow:
Friday, 12 May 2023 at 13.00 WIB exclusively at tiket.com @tiketcom
For more info: davidfosterjakarta.com
Offline ticketing:
0815 1187 3767
0812 1800 5278
The 90's Festival - August 12, 2023 - August 13, 2023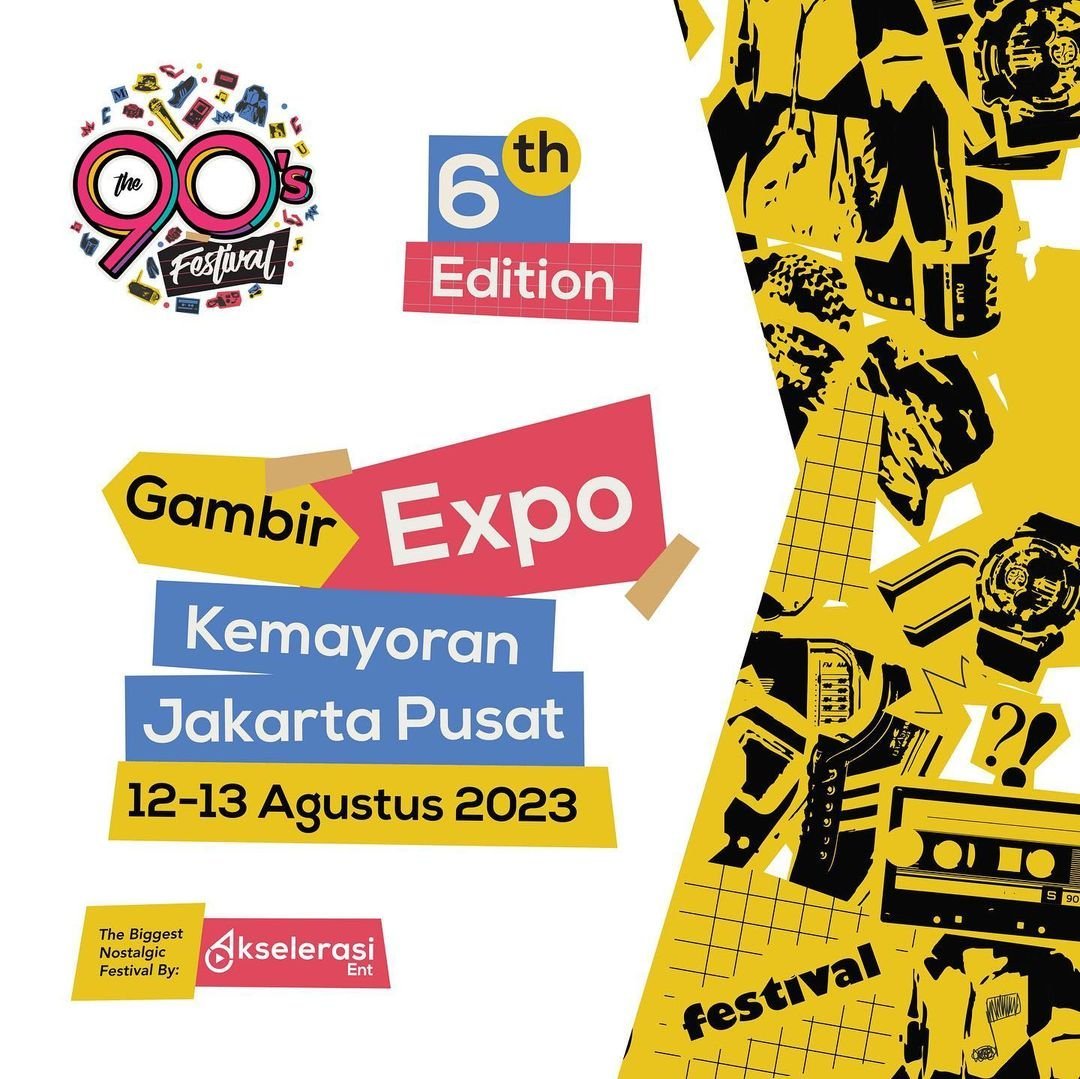 Who's been waiting for The 90s Festival's comeback? Do you really miss singing 90s songs with old friends?
Don't worry, we'll be back in August this year!
Wait for it!
 
Tickets here
Asian Sound Syndicate Vol. 2 - August 26, 2023 - August 27, 2023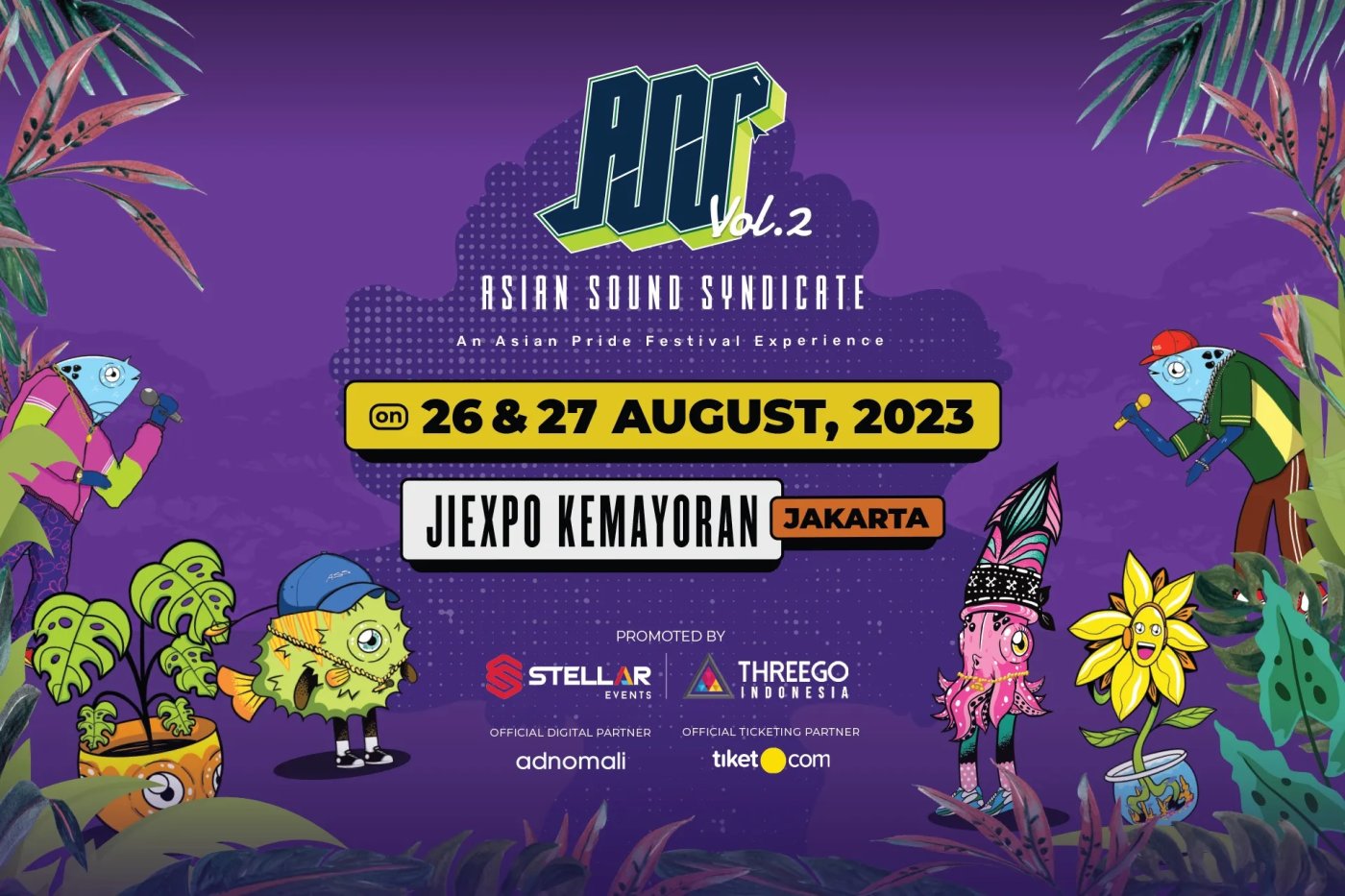 Asian Sound Syndicate Vol.2 
it's a mix of music, art, food and fashion. A platform for people to enjoy, create and inspire. Asian Sound Syndicate Vol. 2 presented 'International Syndicate' dan 'Local Syndicate'. 
Ticket start from 575.000 IDR
Synchronize Festival 2023 - September 1, 2023 - September 3, 2023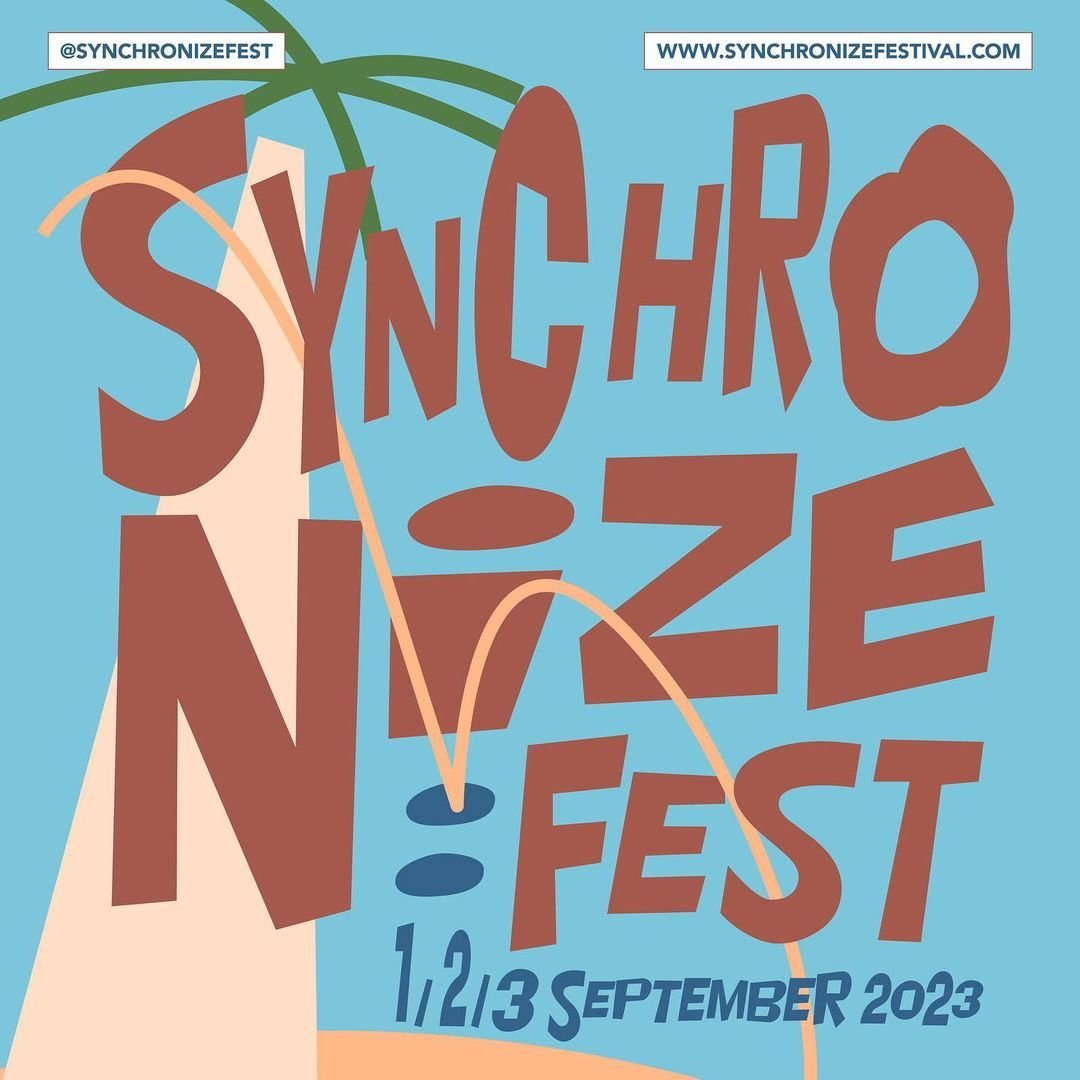 Save the date! Synchronize Festival 2023 will be back on 1, 2, 3 September 2023 in Jakarta.
Prepare your time and pocket to get the tickets through the website www.synchronizefestival.com
Nicole World Tour 2023 - September 26, 2023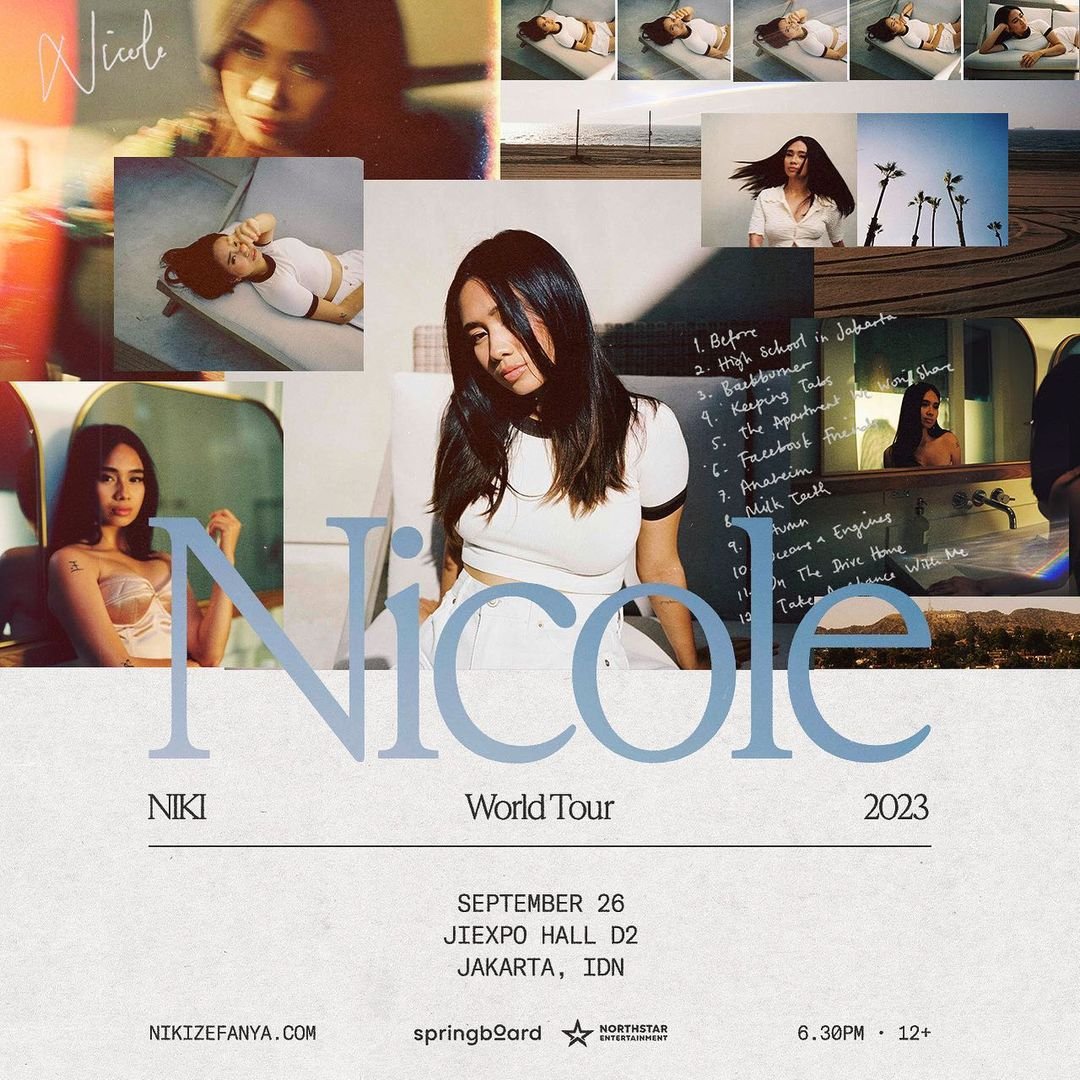 September 26
JIExpo Hall D2
Jakarta Indonesia
Coldplay Music of the Spheres World Tour Jakarta - November 15, 2023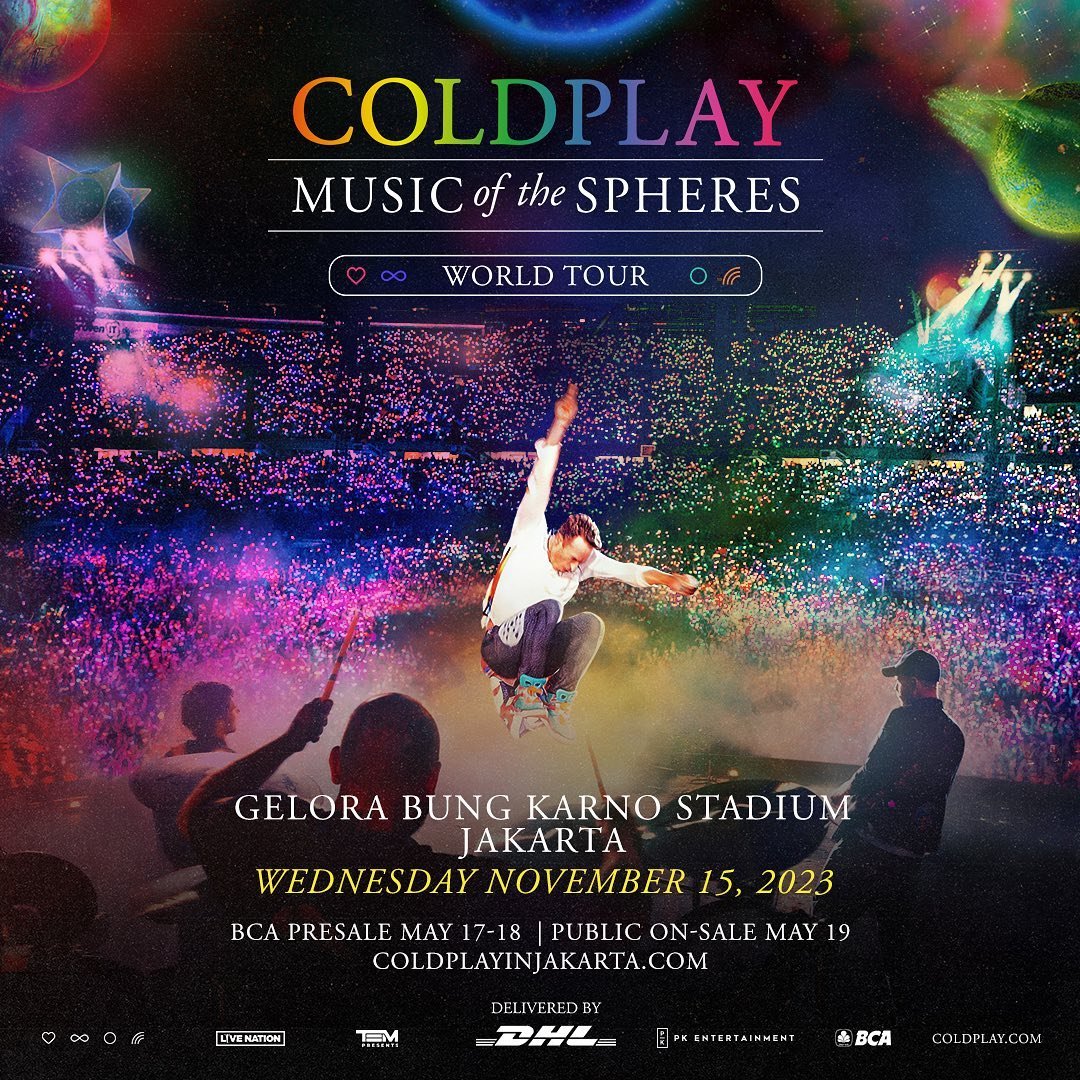 Gelora Bung Karno Stadium
Wednesday November 15th 2023
Tickets will be on sale exclusively at coldplayinjakarta.com.
BCA Presale 17-18 May 2023, starting 10AM (GMT+7 / Jakarta Local Time)
Public On-Sale 19 May 2023, starting 10AM (GMT+7 / Jakarta Local Time)
More information on ticket categories, layout, and prices will be available soon.