Where are the best rooftop bars & sky lounges in Jakarta? These sky-high venues make for the perfect spot to watch the city's official firework shows and the countless residential displays. But you're not the only one in town who wants to be among the clouds;  some of the places on this list also happen to be the hippest and the 'it' place to see and be seen in the town; so best come with a reservation!
NEW! KITA BAR $$$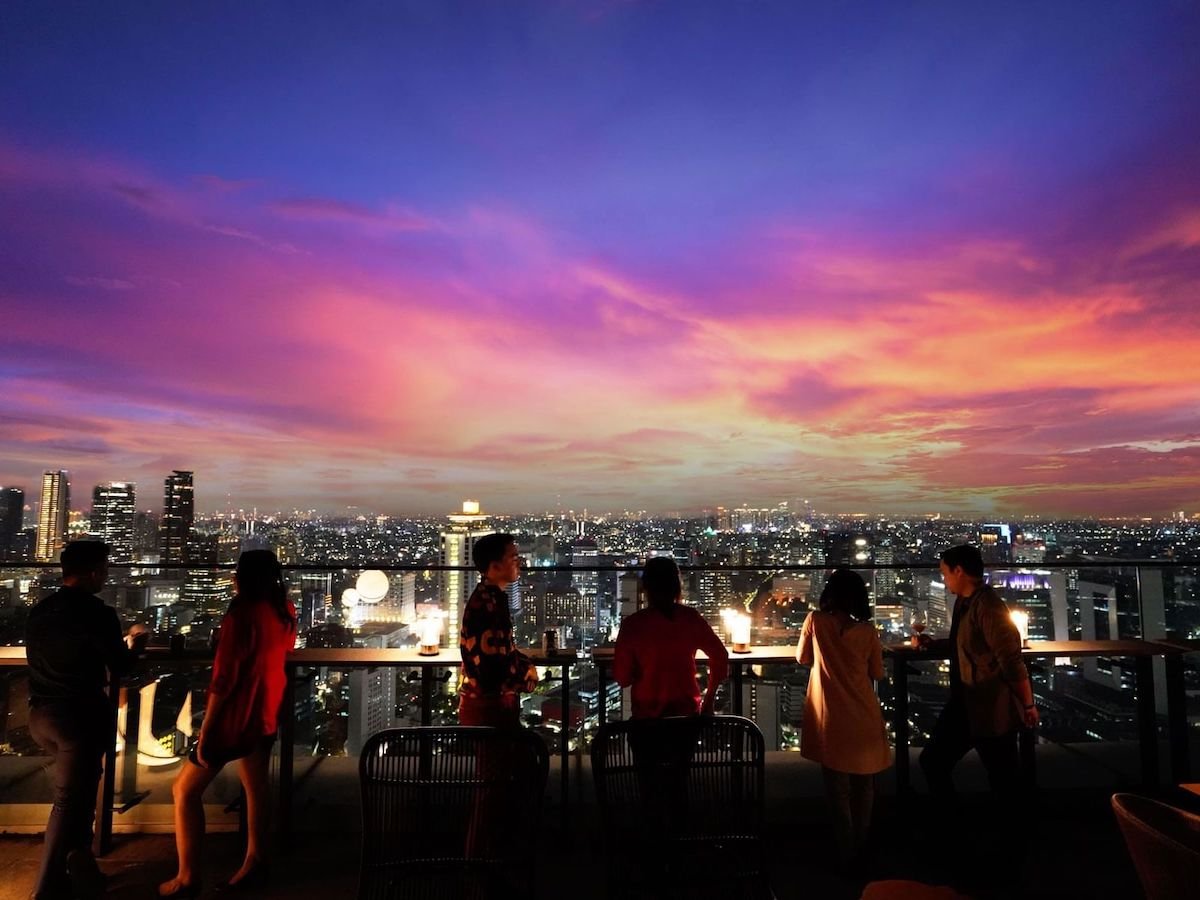 One of the highest rooftop bars in the city, KITA Bar is a stylish sanctuary from the hustle and bustle of Jakarta. With unapparelled views from level 36, this is the ideal venue for those who want to revel and unwind in a comfortable environment with exciting music. Perfect for some sunset drinks or a late-night gateway, KITA Bar serves light and refreshing cocktails created with premium ingredients. Enhance your enjoyment with a selection of Izakaya-inspired small bites. With its personalized service, KITA Bar is the ultimate place to hang out for a remarkably elevated drinking experience.
Dress Code:
Please dress in smart casual attire and avoid wearing singlets and slippers
Live DJ entertainment from Tuesday – Saturday from 8.00 p.m. – Midnight
Operational Hours: Monday - Sunday 5 p.m. to 1 a.m. Monday - Sunday 5 p.m. to 1 a.m.
Park Hyatt Jakarta on level 36 CALL +62 858 2468-6263
Jalan Kebon Sirih 17-19, Jakarta, Indonesia, 10340
Phone: +62 21 3111 1234
NEW! Cafe Cali $$$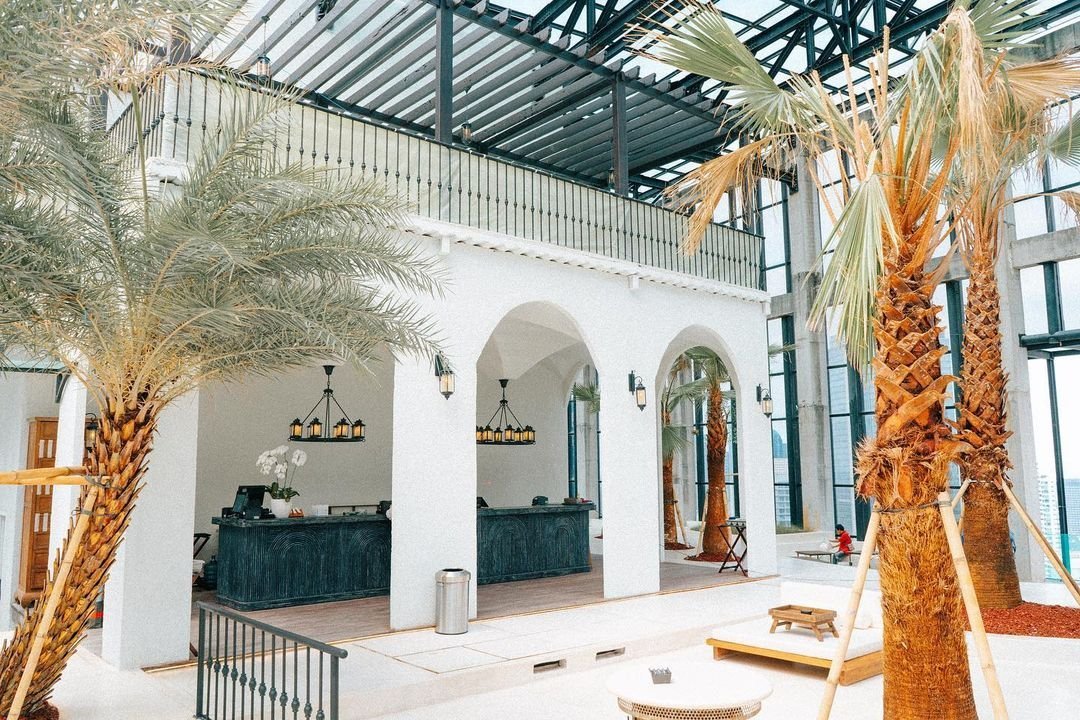 Music, cocktails, food, poolside bed, what could be better than that? Cafe Cali that sets on the 32nd floor of The Orient Hotel is the perfect place to enjoy the bright, sunset, and the city lights of Jakarta. Get a glimpse of what Tinseltown looks like from above Jakarta. Cafe Cali is just a stone's throw away from Sudirman Business District and a short stroll from hip watering holes, culinary scenes, and shopping centers.
The Orient Hotel, 32nd Floor
Jalan Jendral Sudirman No. 36 Jakarta, Indonesia – 10210
Phone: +62 877-7654-5223
Instagram: @cafecali.jkt
HENSHIN $$$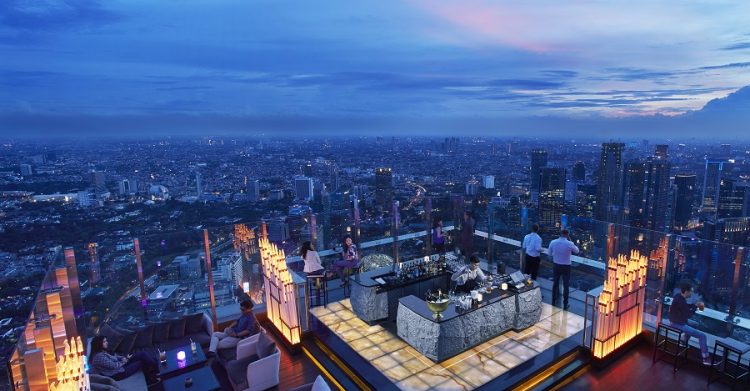 Perched on the 67th to the 69th floor of Westin Jakarta, Henshin is a a multi-level, multi-dimensional, food and beverage with one of the most spectacular city views you could possibly find in the city. With signature music from Henshin's house DJs in the background, guests can enjoy special Ceviches or Tiraditos and the freshest sushi and sashimi prepared in the lounge's mini sushi bar, perfectly paired with unique Nikkei-inspired cocktails made by their mixologists. It is the hottest hangout in the city right now!
Henshin at The Westin Jakarta
Jl. H.R Rasuna Said Kav C-22A Jakarta 12940
www.westinjakarta.com/henshin
Chāo Cháo $$$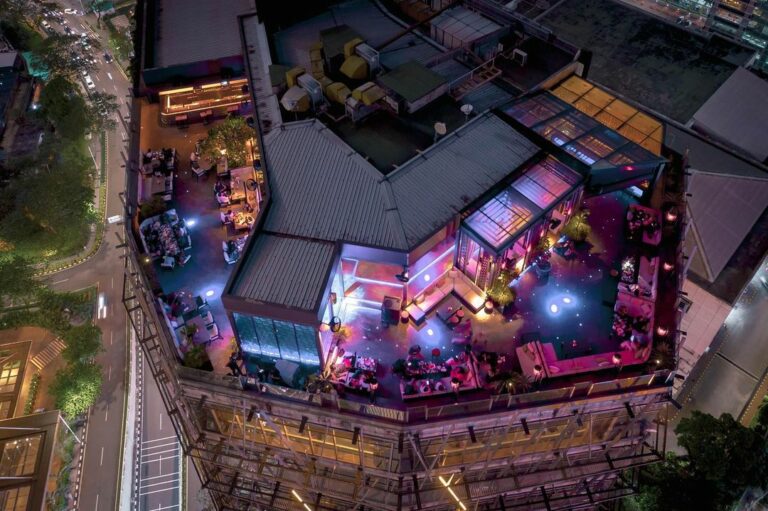 Photo credit by Instagram @chaochaojkt
With unparalleled views of Jakarta's SCBD unique skyline and an array of areas to dance and drink the evening away, Chāo Cháo's Rooftop experience is the ultimate destination for post-work cocktails and late-night rendezvous alike. At the heart of Chāo Cháo's philosophy is a playful attitude to the luxury experience. The Rooftop transitions from daytime dining to sunset cocktails and all the way to bottle popping late night revelry soundtracked by the finest DJs and live bands creating a unique vibe with an epic city skyline backdrop.
Opening hours:
Monday – Sunday: 12:00 pm – late
25th & 26th floor, Alila SCBD
Lot 11 Jl. Jend Sudirman, Jakarta
Phone: +62 811 9628 001
Cloud Lounge $$$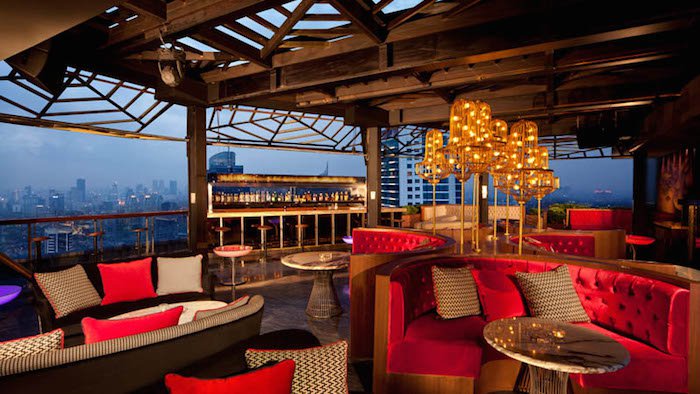 Cloud Lounge & Living Room, a part of the Altitude dining and lifestyle concept, dazzling and sophisticated rooftop lounge and fully enclosed elegant and stunning living rooms. Cloud Lounge & Living Room, a part of the Altitude dining and lifestyle concept, occupies the 46th and 49th floor of the distinctive The Plaza building in the heart of Central Jakarta revealing a magnificent 360 degree view of the city's skyline and front row seats to spectacular sunset.
The Plaza, 46th floor, Plaza Indonesia Jl. M.H. Thamrin, Kav. 28 – 30, Central Jakarta
Phone: +62-21 2992 2448
VIEW Steak Bar & K22, Fairmont Jakarta $$$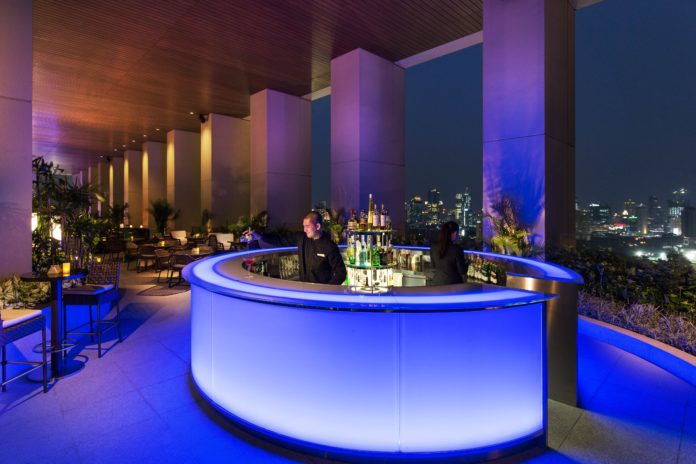 Two of the hottest rooftop venues in one spot, VIEW Steak Bar serves creative fine dining marvels while K22 has their own mix of cocktails that bring all the essence of the kitchen to the glass; with house-made infusions, fresh juices, muddled fruit, infused syrups, earthy spices and savory herbs, all to be enjoyed while marveling the superb view of Jakarta city skyline through its floor-to-ceiling windows. Reservation is recommended.
Fairmont Jakarta
Jl. Asia Afrika No.8 Gelora Bung Karno, Jakarta 10270, Indonesia 
Phone: +62 21 2970 3333
https://www.fairmont.com/jakarta/
Sky Pool Bar Cafe, Hotel Indonesia Kempinski $$$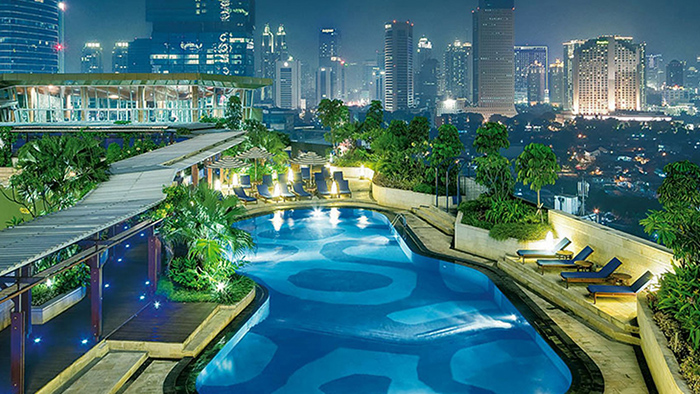 A rooftop bar located on top of the historic Hotel Indonesia Kempinski, boasting a breathtaking  360 degrees views of the bustling Jakarta. Amidst the lush botanical garden, intensify the taste of the bar's delicious concoctions. Or simply have a refreshing glass of fresh fruit juice to ease your strenuous day. For the perfect evening, look no further than Sunset Urban – a classy rooftop bar located at Sky Pool, Bar, & Cafe here. Enjoy the view of the city lights, free flow Sangria, and all-you-can-eat BBQ from 6-9 PM also including shisha by request. This is a must-visit spot for you to relax after the hectic office hour
Hotel Indonesia Kempinski, 17th Floor, Jalan M.H. Thamrin No. 1, Jakarta Pusat, DKI Jakarta 10310
Phone:(021) 23583800
Karumba! Rooftop Bar  $$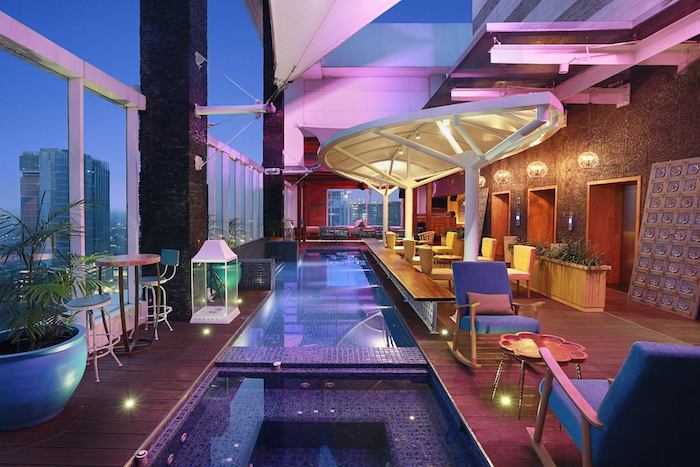 KARUMBA showcases the vibrant spirit of the West Indies by housing over 100 varieties of rum which they turn into insanely delicious rum cocktails and daiquiris. An extensive champagne selection is available for guests who prefer bubblier beverages. For music, expect everything from Reggae to Modern RnB & Soul to Latin & Calypso to Afro-funk.
Mercure Jakarta Simatupang, Jl. R.A Kartini No. 18 Lebak Bulus, South Jakarta
Reservation : (62-21) 75 999 789
karumbajakarta.com
La Vue, The Hermitage Jakarta $$$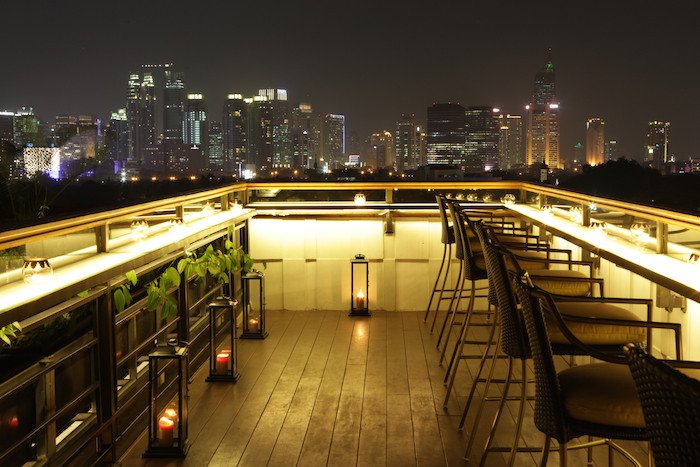 Located on the ninth floor of The Hermitage Jakarta, a neo-classical style hotel that occupies the once aging building in Menteng, La Vue offers a cozy and resort-like venue for taking in the low-lying Menteng views. Whitewashed wooden panels, sea glass, glistening tiles, and nuanced fabrics lend beachside touches to this casually chic space.
The Hermitage, 9th floor, Jl. Cilacap, Menteng Central Jakarta
Phone: 021-31926888
33 Degree Sky Bridge $$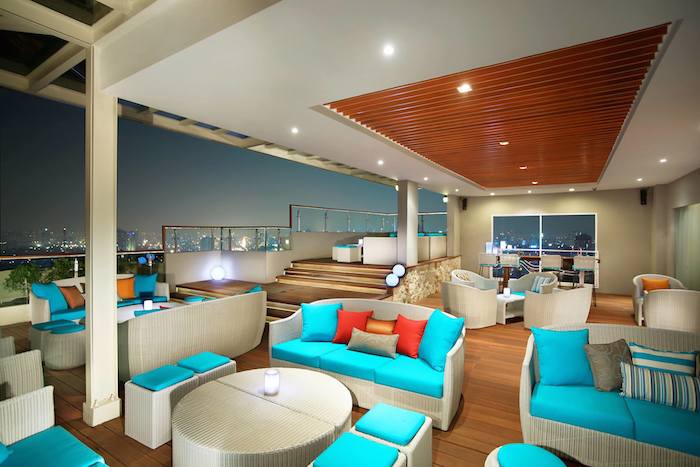 One of the few rooftop bar in Jakarta that not only offers a sweeping city view, but of the beach also. 33 Degrees is divided into two zones: the bar and the dining area, connected by a bridge.The food offered is is dominated by Spanish-style tapas dish ranging from imported Wagyu beef, to fresh seafood. For the drink menu, 33 Degree offers cocktails, mocktails, and premium beer. Open from Tuesday to Sunday from 15:00 until midnight.
Grand Dafam Ancol Jakarta
Jl. Lodan Raya No.2A, Jakarta 141430
Phone: 021- 69837120
Sky Loft at All Seasons Hotel $$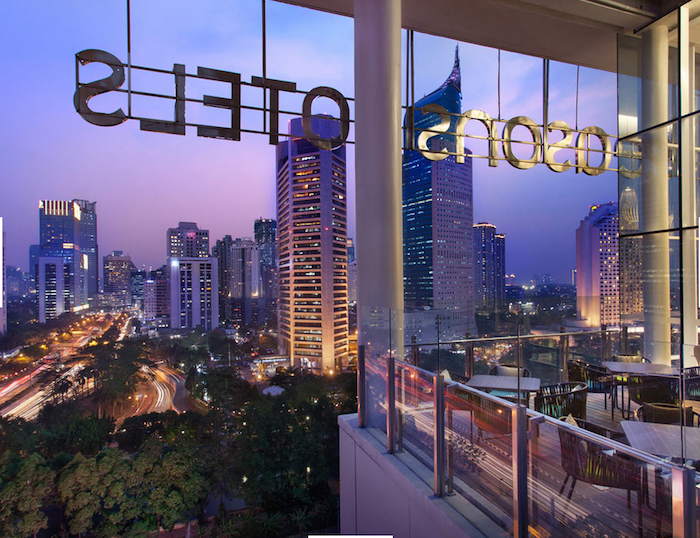 All-day dining offers Local and Western cuisines. Located on the 14th floor, provides daily buffet breakfast, lunch, and dinner. Authentic food and beautiful rooftop view is an amazing combination.
All Seasons Hotel
Jl Talang Betutu No 2, Thamrin, Jakarta,
p. +6221 3042 2222.
Open daily 6am-12am.
BART (Bar at The Rooftop) $$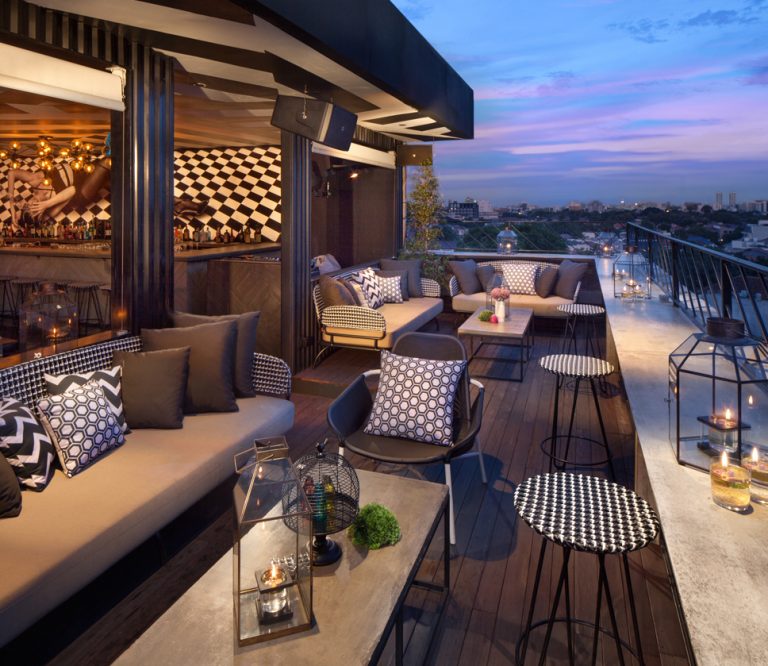 Situated on the 7th floor of Artotel Jakarta, BART at a Saturday night is usually full of youngsters and the hip crowd. The decor is minimalist industrial with a touch of black and white patterns.  Serves the most unique and fun cocktails, mocktails and finger food, that most definitely will make your night feels so young.
Artotel, 7th Floor, Jalan Sunda No.3, Thamrin – Central Jakarta 10350
Phone: +62 21 31925888
BART Kuningan $$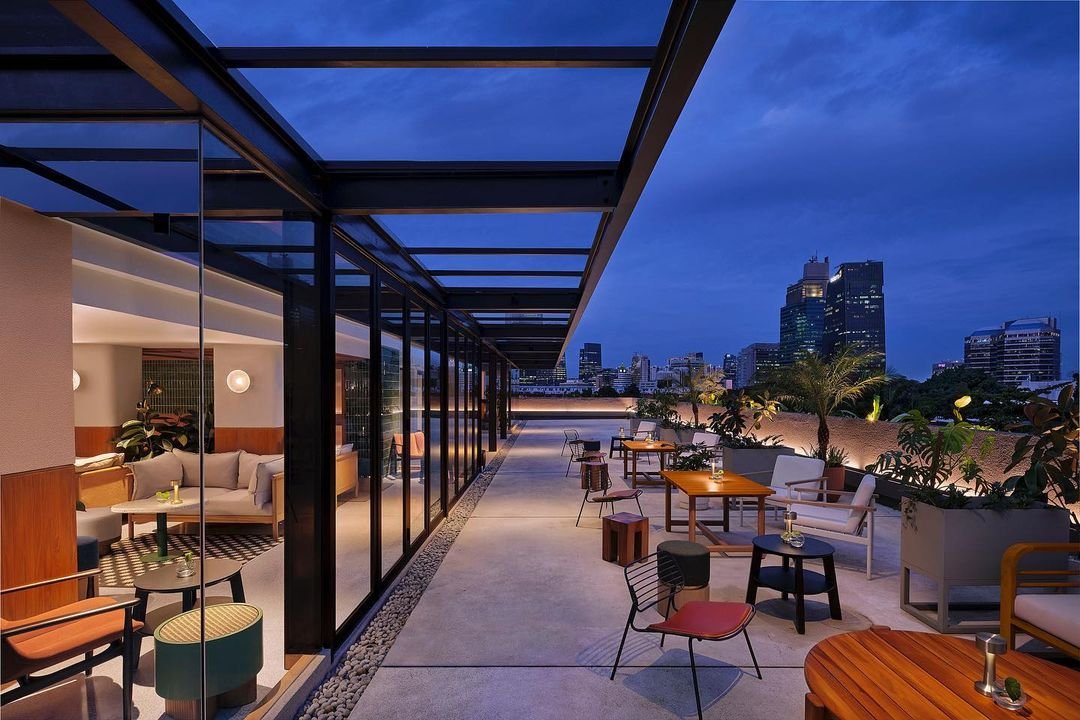 After the success of BART Thamrin in the center of the city, now BART Kuningan is open in the southern part of Jakarta. By carrying out the concept of Batch & Match on the cocktail menu. Hop on today at BART in the middle of town with beautiful city lights.
Jl. Denpasar Raya Blok A/13, Kav 02.
Operating Hours :
Mon-Fri : 4pm - 1am
Sat-Sun : 4pm - 2am
Phone: +62 811-9217-997
Instagram 
Awan Lounge $$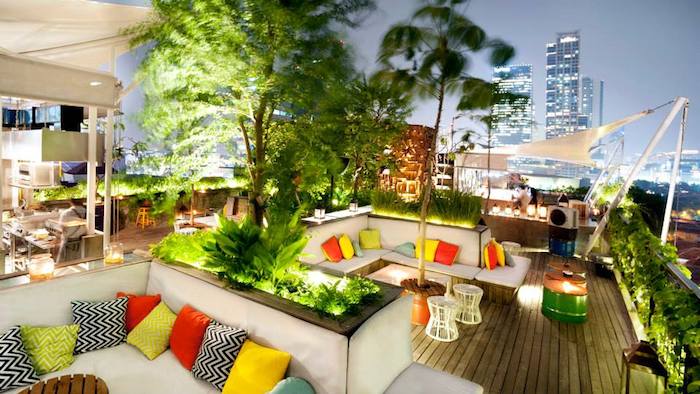 In the heart of vibrant Jakarta, Kosenda hotel stands as a beacon of design and originality. Part 21st century architectural landmark, part mid-century 1950's modern aesthetics, Kosenda Hotel is the city's newest design hotel. Offering a fun and funky escape with 60 individually tailored rooms, a stunning rooftop lounge, café, and restaurant. Awan Lounge placed at the top of Kosenda Hotel, delivers a beautiful view of the city's skyline and one of Jakarta's leading cocktail lists.
Kosenda Hotel, Jl. Wahid Hasyim No.127,Jakarta Pusat
021-31936868
The Edge $$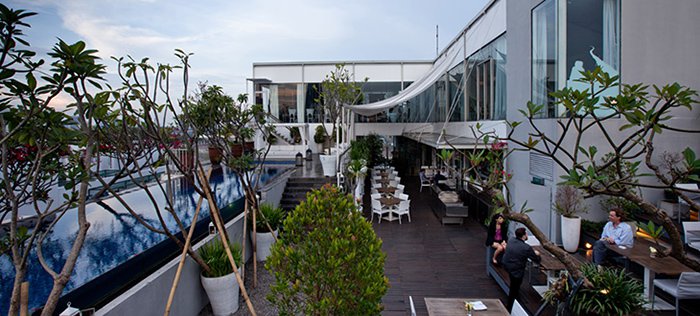 The Edge at Kemang Icon is the hotel's rooftop eatery overlooking the city's trendiest neighborhood. Their poolside menu includes a wide variety of casual dishes for a lazy lounging by the pool.
Kemang Icon, Jl. Kemang Raya 1, Jakarta Selatan
021- 7197989
Hause Rooftop, Kuningan ($$)
Serving a good selection of snacks, main course, and alcoholic or non-alcoholic beverages. Try their Hause Sangria or the 'Southern Comfort, a cocktail made from spices, fruit, and whiskey.
MD Place Tower 2, 6th Floor, Jl. Setiabudi Selatan No. 7, Kuningan, Kota Jakarta Selatan
Phone: (021) 29529852
SKYE $$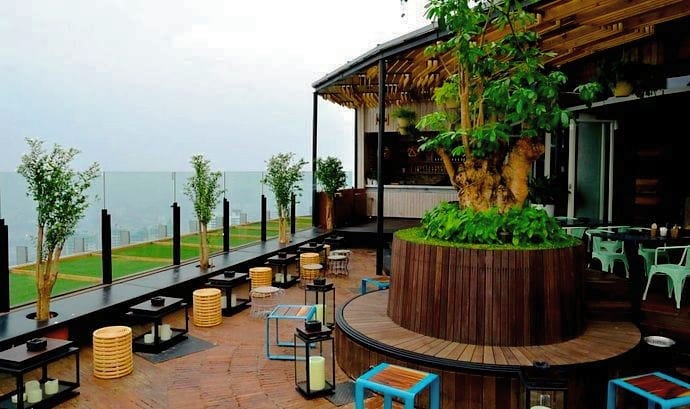 Located in the heart of the city, on the 56th-floor rooftop of BCA Tower – Grand Indonesia, Thamrin, SKYE is established to be a "Lifestyle Resort in The Sky" and an iconic landmark for the city, providing a unique atmosphere for a quick getaway for Jakartans from their daily hectic lives.
With its unique Southern-American influence on its architecture and interior design, SKYE comprises of spacious indoor and outdoor areas where it offers its patrons a one-of-a-kind panoramic view of the city's horizons as they are invited to indulge in a sumptuous selection of signature dishes and drinks. SKYE's outdoor area is a "bistro by day, lounge by night", while the indoor area is an "all-day dining" restaurant.
BCA Tower Level 56, Jl. M.H Thamrin No.1, Central Jakarta
021-23586996
Costéss Cafe & Bar $$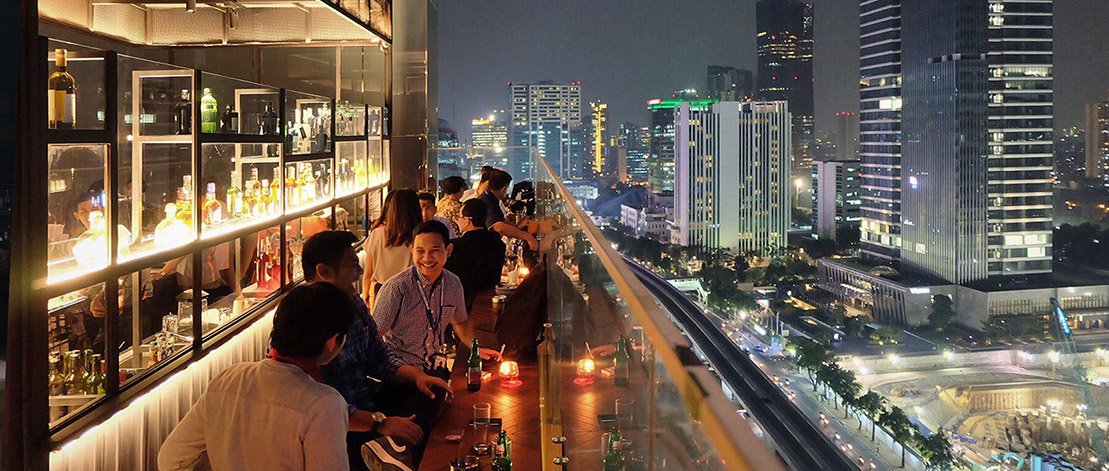 Set in the prestigious area of South Jakarta, Costéss Cafe & Bar offers you a place to escape your busy daily routines. Wrapped up with exquisite music and a cozy atmosphere, Costéss Cafe & Bar invites you to unwind, enjoy and entertain yourself in an alfresco bar accompanied by a spectacular view of Jakarta's daily bustle. As the sun sets, alongside a breathtaking skyline, Costéss Cafe & Bar induces a captivating vibe for you to socialize, or even to sit back and relax. While you mingle and have fun, let them amuse your taste buds, with their delicate coffee aromas, contemporary signature drinks, an array of liquors and other flavourful beverages.
Cyber2 Tower, 17th Floor
H. R. Rasuna Said Blok X-5, Kav. 13, Jakarta 12950
Phone: +6221 5799 8268, +62811 9700 8068
Lucy In The Sky $$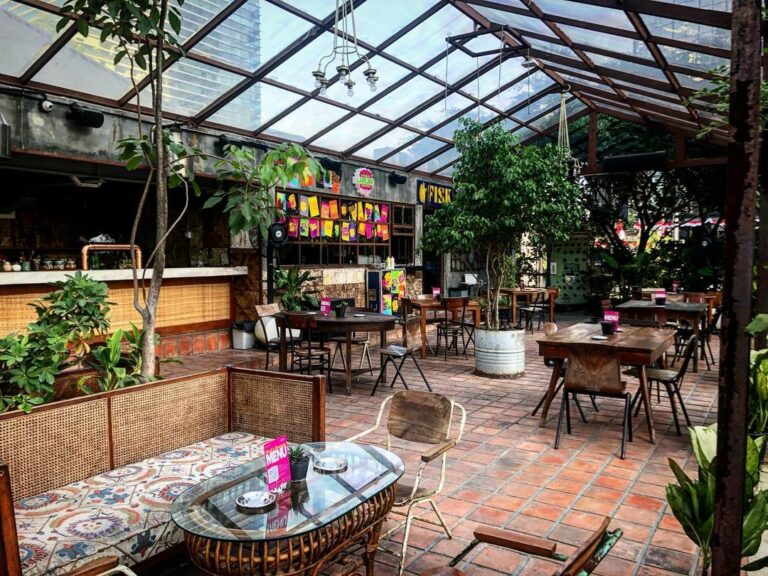 Photo credit by Instagram @lucyintheskyjakarta
Lucy In The Sky immediately set the trend for rooftop bars and restaurants in Jakarta and is still a hot spot today. They also set an emotional and aspirational notion that captures the heart & experience of the guests. Guests can expect the signature tropical cocktails crafted by their award-winning mixologists, and also wide selections of spirits and liquors. Serving ultimate comfort foods with a twist. Expect fun vibes, irresistible dancy, and sing-along tunes all night long.
Rooftop Floor, Senayan Park, Jl. Gerbang Pemuda No.3, Jakarta 10270, Indonesia
Phone: +6281288985253
NORU Rooftop Lounge Jakarta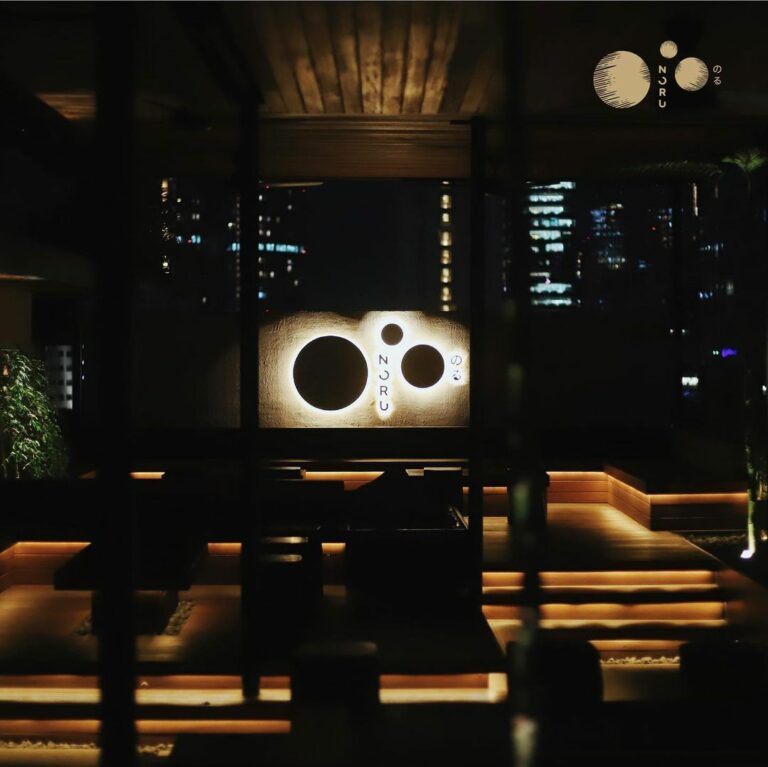 Photo credit by Instagram @noru.jkt
Quite hidden in the residential area, NORU Rooftop Lounge Jakarta becomes an easy-going destination with dramatic city views offering cocktails & light meals. Enjoy the cityscape with your significant others and make it memorable with the best view in town, delicious foods, refreshing drinks, and definitely good vibes
Nostoi, Rooftop
Jl. Karet Belakang Barat No. 4, Setiabudi, Jakarta Selatan
Opening hours: 12:00 pm – 12:00 am
Phone: +6287888027556
Roosevelt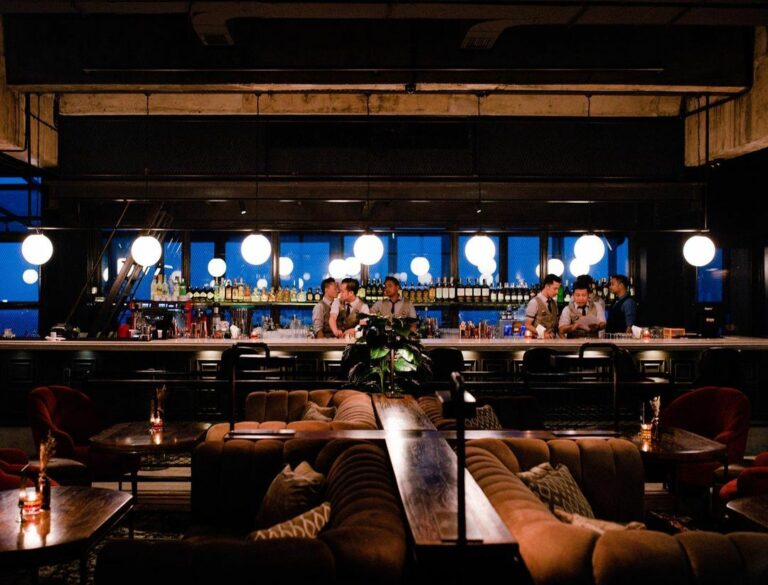 Photo credit by Instagram @roosevelt_jakarta
Situated on the top floor of Goodrich Suites hotel, Roosevelt offers urban dwellers a fresh perspective of the capital city. With ample natural lighting basking on sharp clean angles over the eclectic colorful interior, Roosevelt is the balance between work and play. The lineup of signature cocktails as mainstays on the menu cements Roosevelt on the Jakarta guidebook for years to come.
Goodrich Suites – 8th Floor
Opening hours: 05:00 pm to 01:00 am
Jl. Pangeran Antasari No. 60, Jakarta Selatan 12150
Phone: +62811 8466 068, +6221 2793 7122
FJ on 7 $$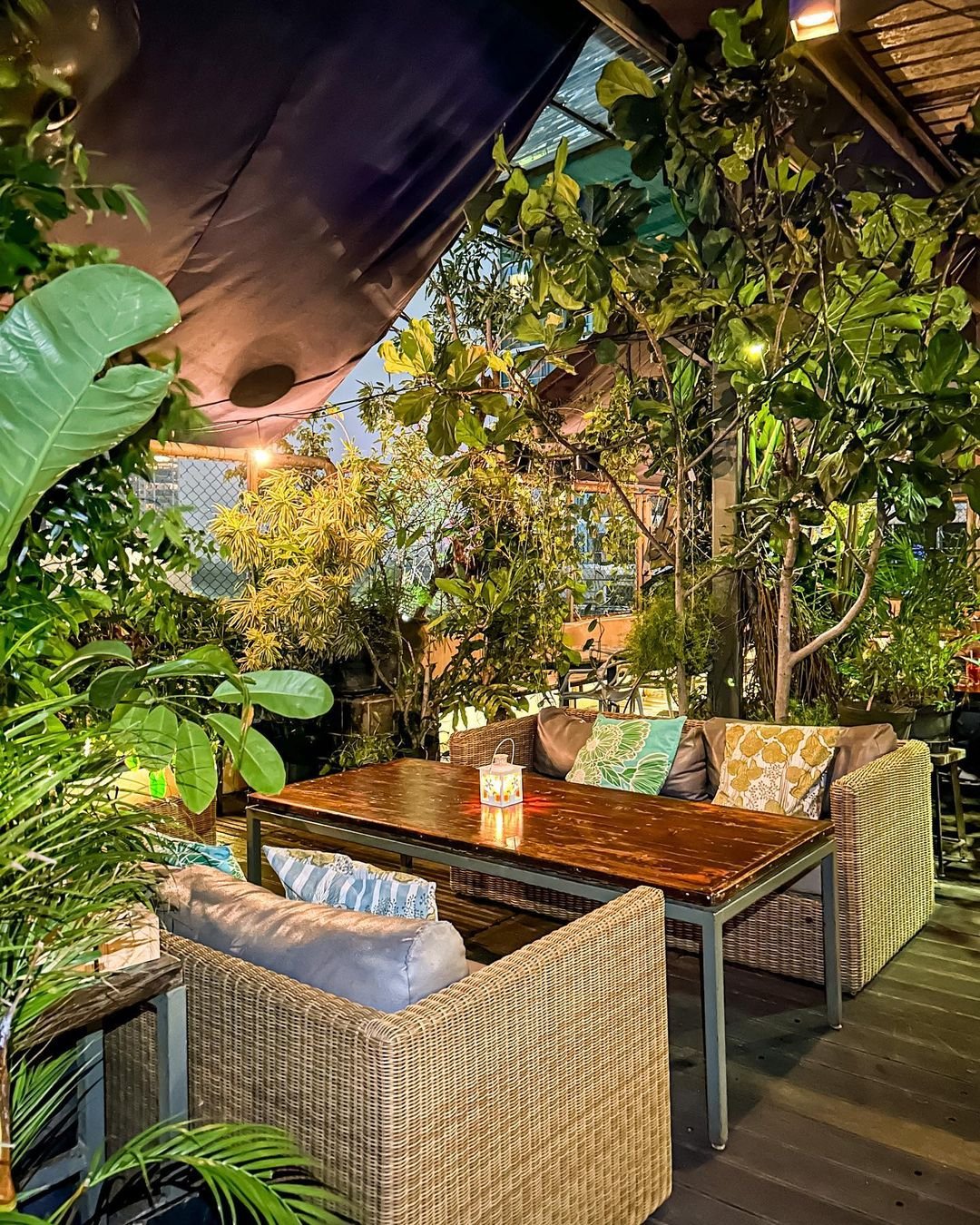 One tropical haven in Kemang. FJ on 7 is a stylish hangout rooftop bar offering creative Indonesian fare, cocktails & hookah pipes on a lush rooftop.
Colony 6 Kemang
Jl. Kemang Raya No.6, Jakarta 12720
Phone: +6221 29529912 / +62812-8136-2223
Instagram
Chand Rooftop Lounge $$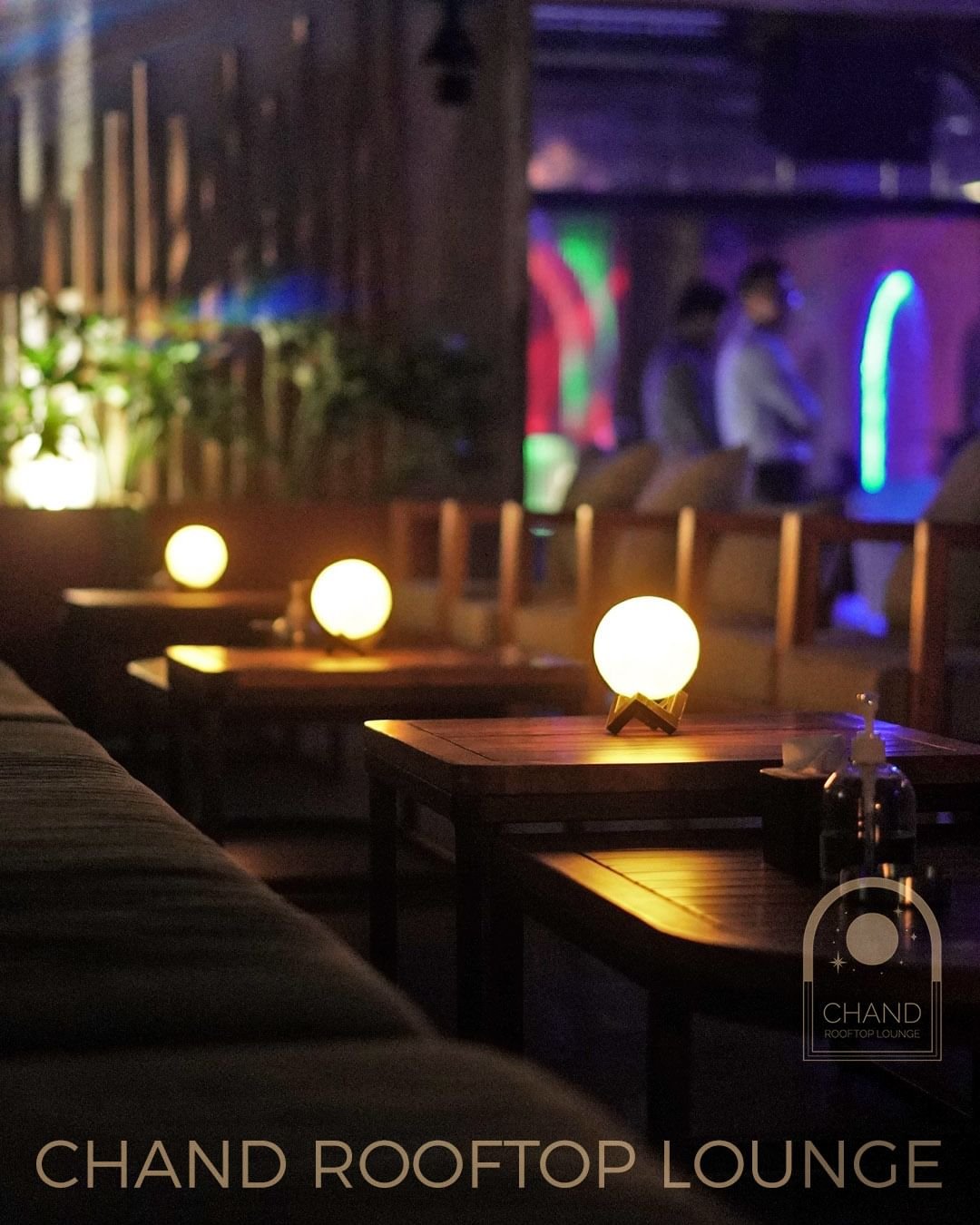 Situated on top of Fez Kinara, Kemang, Chand Rooftop Lounge is a perfect venue to end the night with some glasses of cocktails and wine plus live entertainment. What a great way to relax and unwind.
Jalan Kemang Raya.78B, Jakarta 12730, Indonesia
Phone: +628111739159
Instagram
Southside Rooftop Bar & Lounge

BarA snazzy rooftop pool & bar, with refined industrial lounge overlooking a dazzling view of the city.
Opens at 3 pm everyday.
📍@aloftsouthjakarta
RSVP: marriottbonvoyasia.com/restaurants-bars/aloft-south-jakarta-southside
Pain De Mie Rooftop Lounge $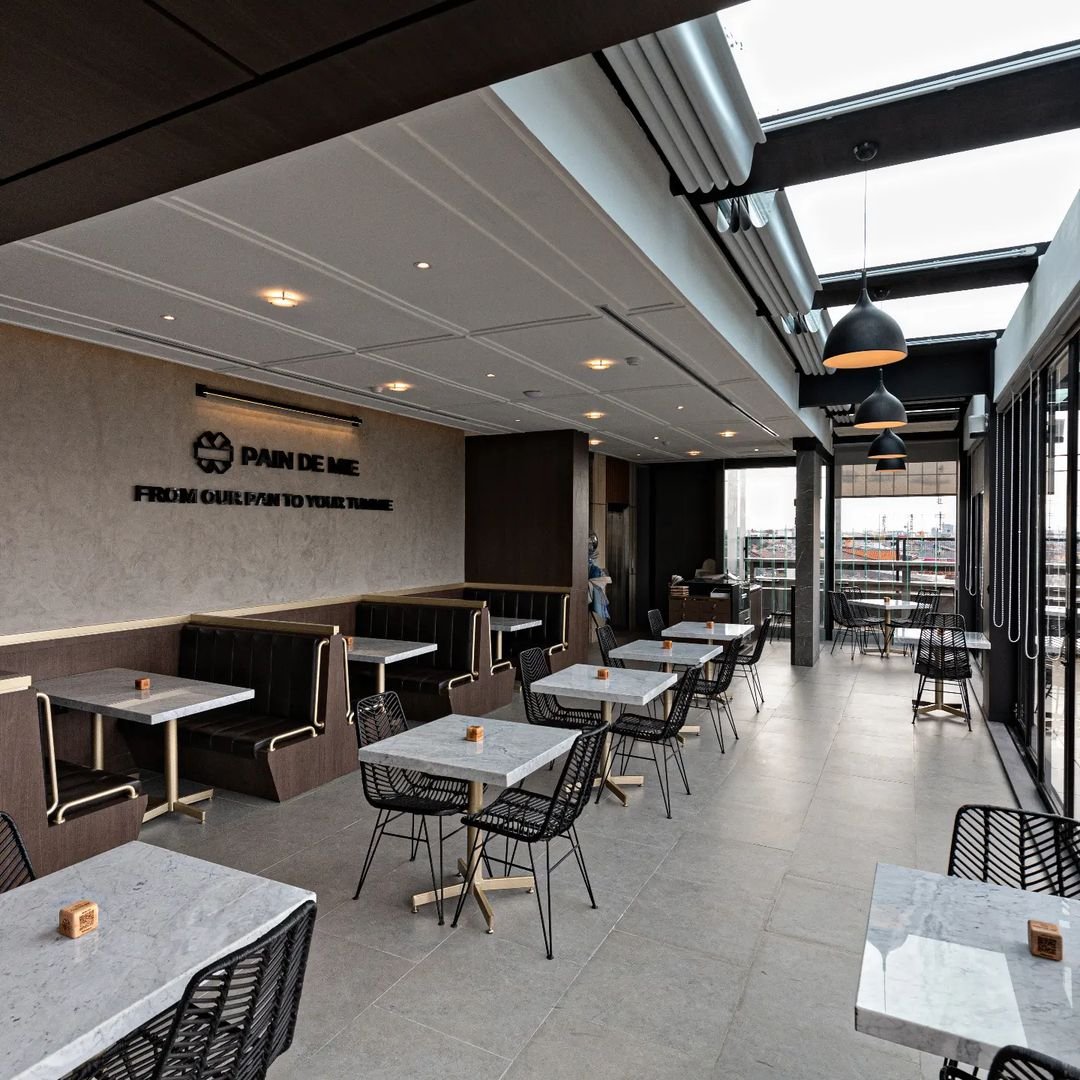 A rooftop lounge that is close to the MRT station. Pain De Mie emphasizes combining exquisite techniques of French cuisine with the complex and sophisticated flavor of modern Asian cuisine to fill up your tummy. The atmosphere is clean, modern, and pleasing to the eyes.
Panglima Polim No.125A, Jakarta 12160
Phone: +6281214292023
Instagram