One of the best offers and things to do in Jakarta on the weekend is brunching leisurely in the city's most popular brunch spots.  Be it a lavish buffet or a special a la carte bruch menu, you can enjoy either one of the choices with your friends and family, usually starts from 11 to 3pm. Here are 20+ of our top picks for Best Weekend Brunches in Jakarta;
1. Bel Etage Brunch at The St. Regis Jakarta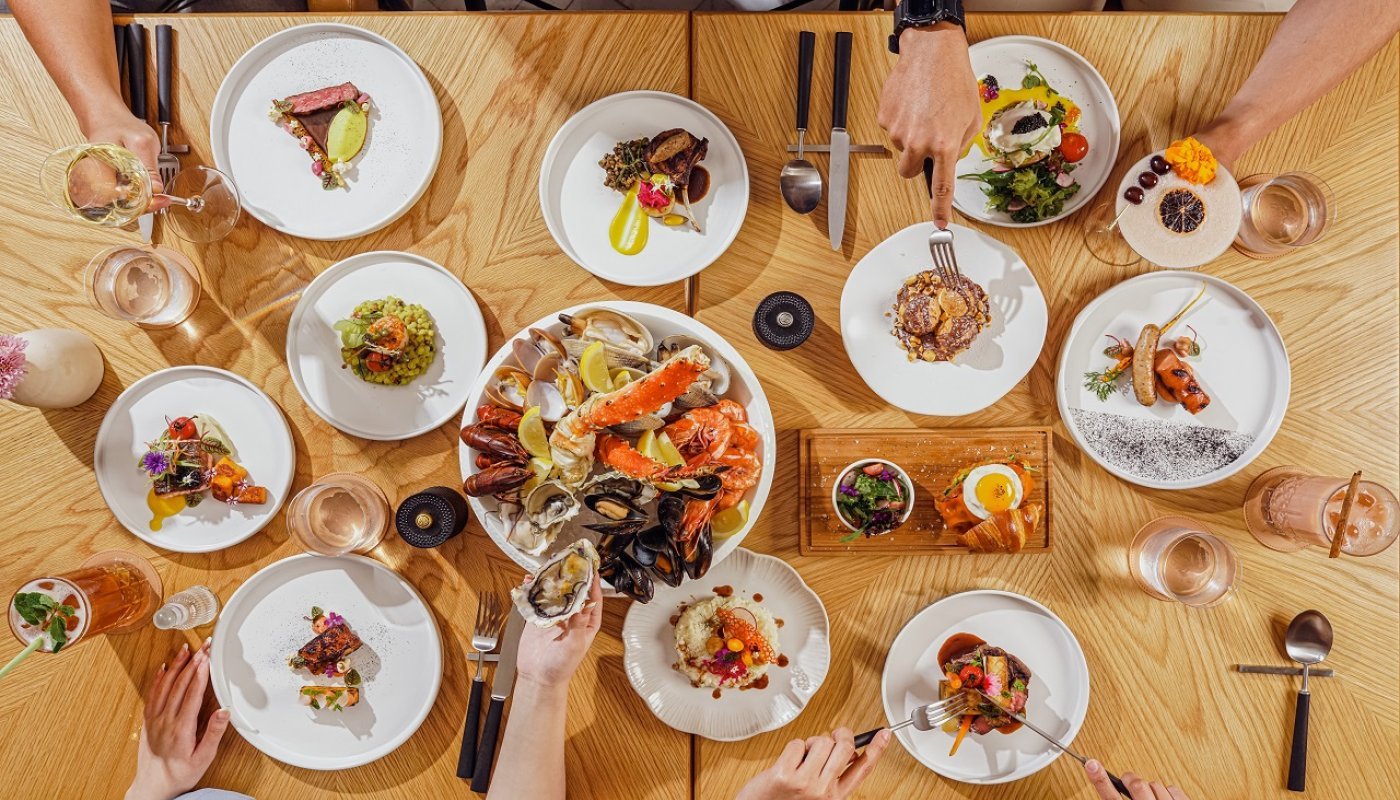 The St. Regis Jakarta introduces the weekly Sunday Brunch at Bel Étage. From 26th February 2023, guests are invited to indulge in a lavish spread with an endless flow of a-la-minute signature mains and luscious desserts. The curated brunch selection includes a Crab Royal served with Crushed Avocado, Poach Egg, Crab Meat and Kaffir Lime Hollandaise, Scallops À La Meunière served with tantalizing Green Peas Fregola and Fresh Herbs, and Red Wine Risotto.
Elevate the experience with an unlimited selection of cocktails, wines, brews and champagne as well as mouth-watering sweets such as Warm Apple Tart, Strawberry Vacherin and Chocolate Profiteroles for a tasteful brunch affair. 
The St. Regis Jakarta
Rajawali Place, Jalan HR Rasuna Said Kav. B/4, Setiabudi, Jakarta Selatan, 12910 Indonesia
Phone: +62 21 5094 8888
www.stregisjakarta.com
2. Signatures Brunch at Hotel Indonesia Kempinski Jakarta $$$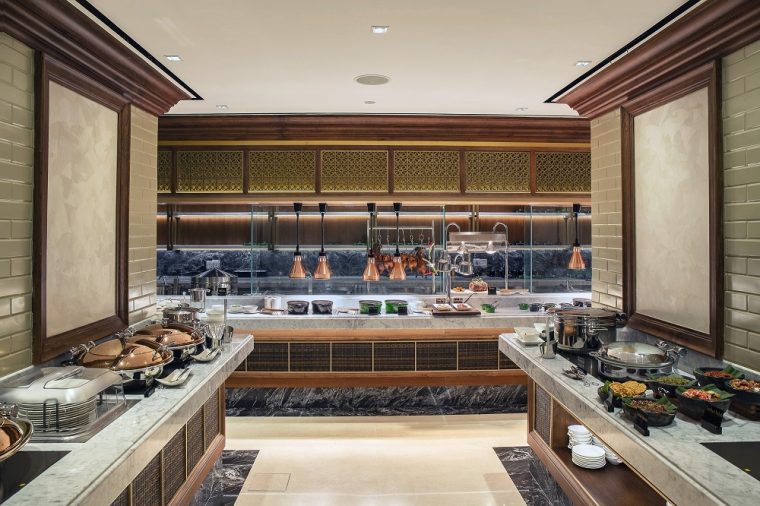 Have yourself a sumptuous International buffet spread ranging from Fresh seafood, Japanese delicacies, Italian, Finest Asian choices to Western favorites such as roasted beef and Salmon en croute available every Saturday and Sunday at IDR 598,000++ per person. Expect to be wowed by an extravagant spread of the finest dishes, including Nusantara delicacies, an appetizer, and a dessert. A selection of Western and Italian delights is also available, along with healthy salad options. Do not miss our mouth-watering sweets and desserts corner, which is complete with a full range of bread and pastries, as well as six flavors of ice cream and sorbet, offered to complete your culinary journey. Under the new normal, the seating capacity has been reduced to a maximum of 142, including two private dining rooms and outdoor seats.
For Reservation: 021 2358 3898. WhatsApp: 0877 7503 7507.
Hotel Indonesia Kempinski Jakarta
Phone : +62212358 3898
Website: https://www.kempinski.com/en/jakarta/hotel-indonesia/dining/signatures-restaurant/
3. Sunday Brunch at Pullman Jakarta Indonesia $$$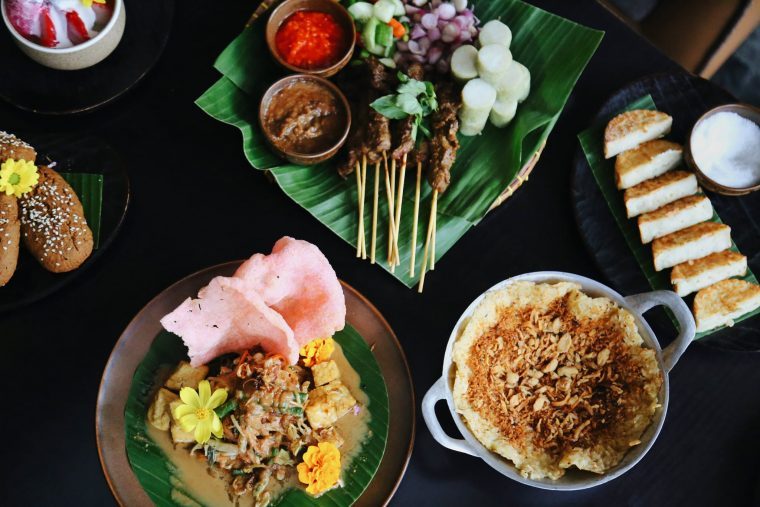 Begin your culinary journey every Sunday at the award-winning restaurant Sana Sini Pullman to witness where cultures and cuisine mingle. Relish in an outstanding variety of finest selections of premium seafood from Lombok, which you can request live-cooking according to your liking. Some delicious items are always made fresh to order in the restaurant.
With IDR 520,000++ per person, you can savor a diverse cuisine selection from around the world, including Western, Chinese, Japanese and Indonesian favorites. Always leave enough room for desserts and a sophisticated dessert section that will delight sweet food enthusiasts.
Elevate your brunch experience with IDR 910,000++ per person and you can enjoy a full buffet experience with additional alcoholic drinks such as wine, sparkling wines, and beer. For more information and reservation, please contact (+62 21) 3192 1111 or [email protected]
Pullman Jakarta Indonesia
Jalan M.H. Thamrin 59, Jakarta 10350, Indonesia
Phone: +(62) 21 3192 1111
www.pullmanjakartaindonesia.com
4. Sunday Brunch at Arts Café by Raffles Jakarta $$$$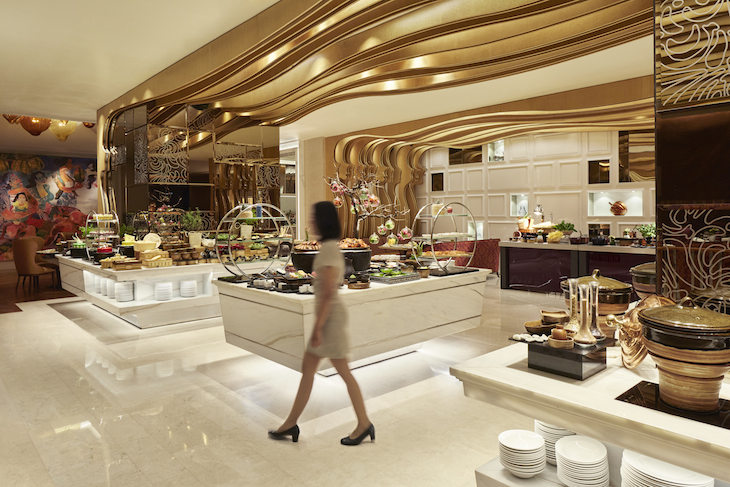 Brunch at Arts Cafe
A long-time brunch favourite, #BrunchAtArts is one of the most popular option in the city. An Ideal choice for any celebration, the new showcase features Seafood towers, foie gras plated tableside and the best Arts' contemporary Japanese fare. Make your way to Raffles Patisserie for some sweet treats and signature cakes.
IDR 832.480 net per person
IDR 121.000 net / glass
mimosas for a boozy touch to your brunch experience
IDR 468.480 net free flow beer & wine /pax
IDR 1.558.480 net free flow beer, wine, cocktail & champagne/ pax
Schedule
at Arts Cafe
Sunday Brunch (every sunday)
12.00 – 15.00
For more information and reservations, T +62 21 2988 0888 or email [email protected]
5. 1928 at The Hermitage, a Tribute Portfolio Hotel, Jakarta $$$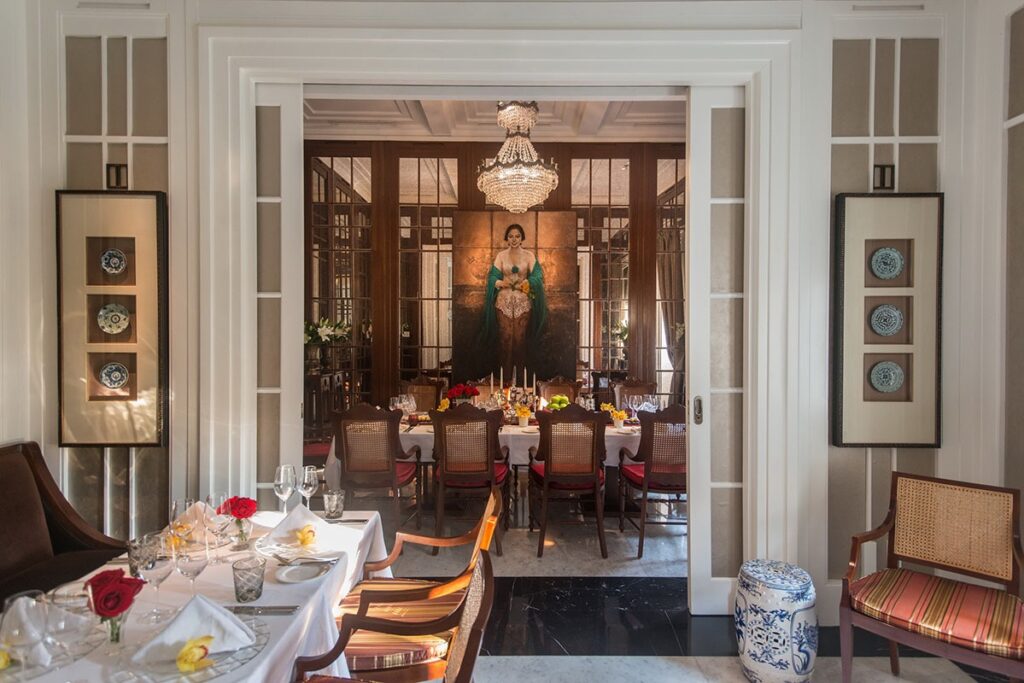 1928 Sunday Brunch happen every Sunday between 12 pm to 3 pm. The brunch will feature an array of all-you-can-eat colonial, Peranakan, and Indonesian/Pan Asian cuisine with delicious entrees, mains, desserts as well as a la minute delights prepared by Executive Chef. The brunch will also feature a drink trolley with a bartender roaming the restaurant to concoct mocktails.
For booking and more information, WhatsApp to 0822 8983 6888
The Hermitage, a Tribute Portfolio Hotel, Jakarta
Jl. Cilacap 1, Menteng, Jakarta 10310
Phone: +6221 3192 6888
Instagram: @1928_restaurant
6. Saturday Brunch at Lyon at Mandarin Oriental, Jakarta $$$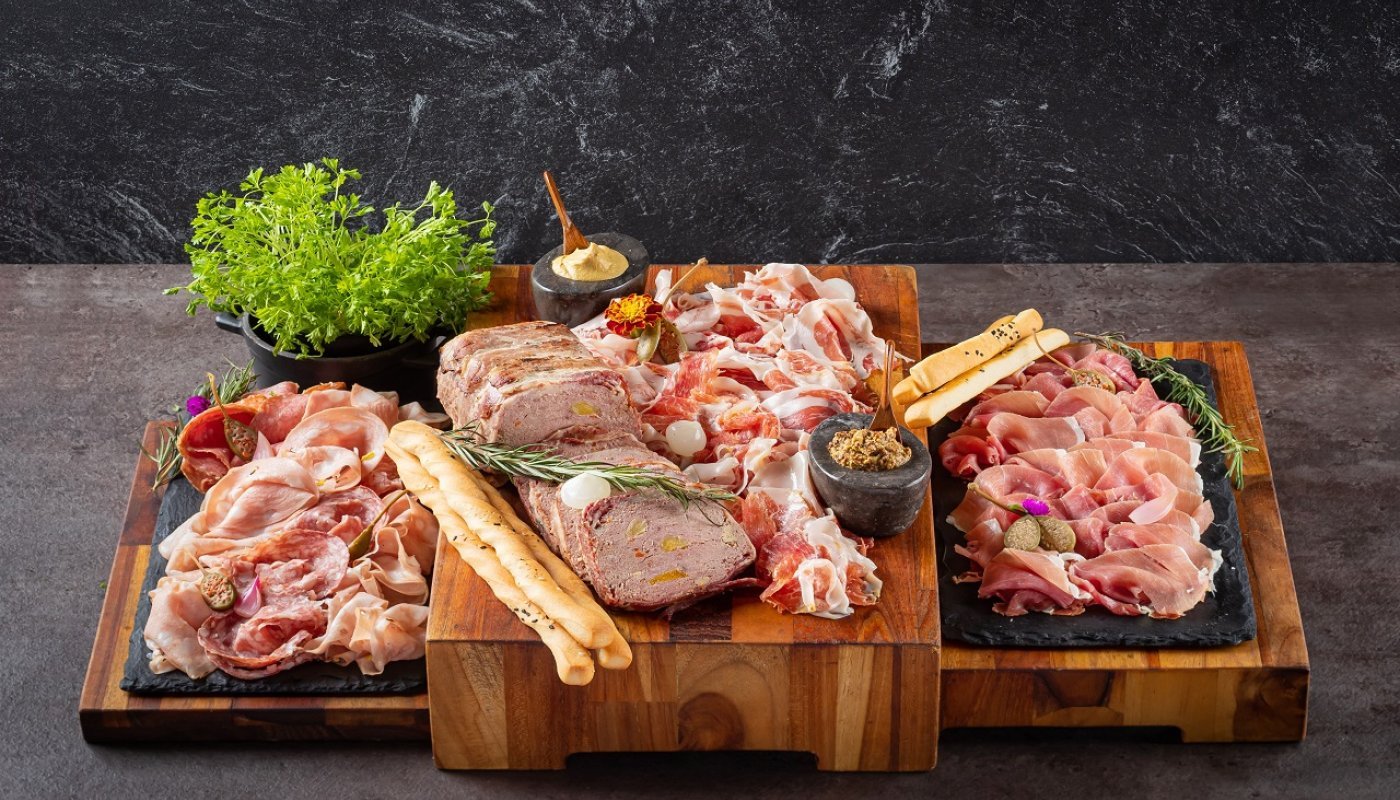 Delivering only the very best of French cuisine in a casual and chic,  yet sophisticated environment, Lyon offers familiar classics and modern takes on traditional food. Guests can expect an eclectic menu of scrumptious dishes from Southern France and the French Riviera made with locally sourced seasonal ingredients and prepared with traditional techniques. 
Available at IDR 739,000++ per person, Saturday Brunch at Lyon is a "must" try for diners in town. Offering a semi-buffet concept, Lyon invites guests to enjoy as many dishes as they wish from the a la carte menu to tantalizing desserts.
Venue : Lyon at Mandarin Oriental, Jakarta
Operational Hours : Saturday, 11:30 am to 03:00 pm
Price :IDR 739,000++ per person
Mandarin Oriental, Jakarta
Jalan M H Thamrin, PO Box 3392
Jakarta 10310, Indonesia
Phone: + 62 (21) 2993 8888
Email: [email protected]
7. Alto at Four Seasons Hotel Jakarta $$$$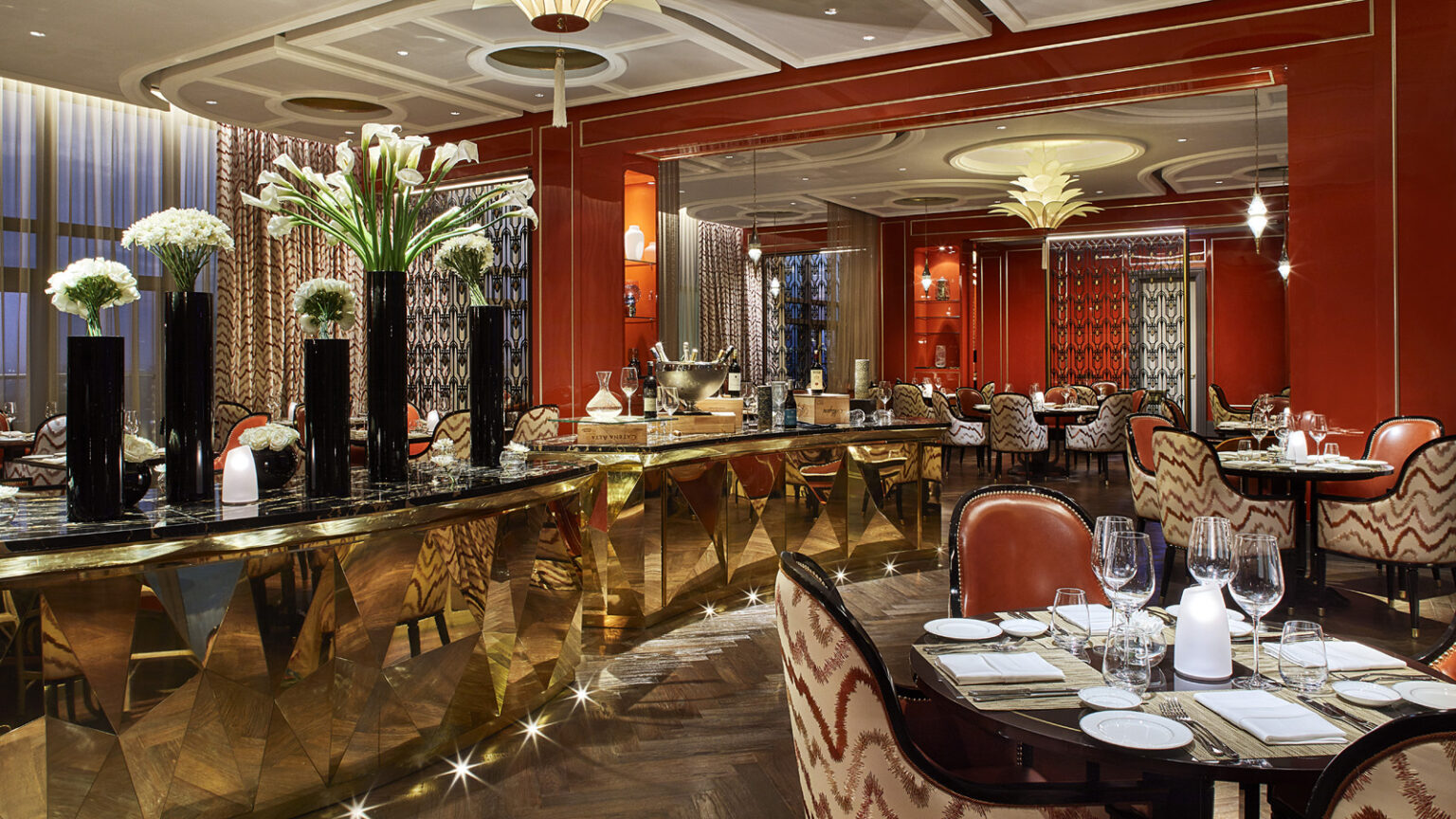 Alto Restaurant & Bar at Four Seasons Hotel Jakarta is once again hosting its legendary Sunday Brunch. Sweeping views of Jakarta provide the backdrop for this culinary extravaganza, inviting families and friends to reclaim their favorite weekend experience once again.
The new Sunday Brunch embraces this idea whole-heartedly, elevating authentic recipes with fine ingredients imported directly from Italy. The fabulous buffet includes a gourmet salad station and a seafood bar featuring fresh-caught mussels, prawns, shrimp, baby lobster, blue crab, and mignonettes.
The highlight of the afternoon is definitely the magnificent selection of Italian antipasti, cold cuts and fine European cheeses. Savor such regional delicacies as salami from Milan and Rome, along with specialties such as salmon gravlax, vitello tonnato (veal with tuna sauce) and panzanella (Tuscan tomato salad). Also on the menu: all-time crowd favourites such as Alto's authentic pizzas and freshly baked quiches.
Meat lovers are sure to enjoy the live carving stations, with Javanese peppercorn-encrusted US prime ribs and a leg of lamb with aromatic herbs. Each table can also share unlimited pass-around pasta, soup, and the Chef's signature salmon papillote (salmon cooked in parchment with asparagus and lemon butter sauce).
Alto's Italian Sunday Brunch is available every Sunday. It is priced at IDR 895,000 plus taxes per person. To reserve a table at Alto Restaurant & Bar, call or FS Chat via Whatsapp on +62 21 2277 1888.
Four Seasons Hotel Jakarta
Jalan Jendral Gatot Subroto Kav 18 Jakarta 12710
Phone: +6221 2277 1888
Web: www.fourseasons.com/jakarta
8. Sailendra Restaurant, JW Marriott Hotel $$$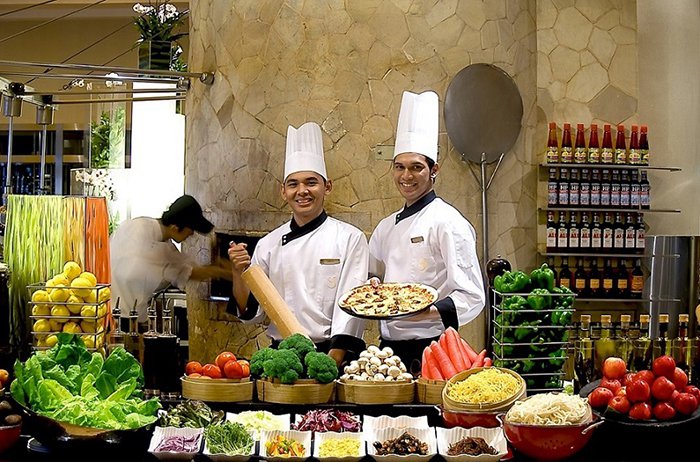 Colorful and fun weekend is now made accessible for food lovers who want to pamper their palates at the elevated Weekend Brunch at Sailendra with theme 'A Haven for Foodies'.
Upon entering the restaurant's recently revamped entrance, guests are welcomed by the lavish ambience that is complemented by the Associates' warm smiles and hospitality. Showcasing an extensive all-you-can-eat Buffet displays, Sailendra's Weekend Brunch is now back with its renowned versatile culinary delights and more. From Asian live stations, which range from Indonesian favorites, Indian delights, Sushi Sashimi, Peking duck, dimsum to Western delicacies.
For those who prefer Western delicacies, they can explore an array of aromatic steak cuts, lobster, delectable cheese and cold cuts, various salad and dessert including gourmet cake selection featuring Sailendra's most sought-after Strawberry Cheesecake, chocolate fountain, jajanan pasar, ice cream and many more.
Add some color to your weekend with the new brunch concept, complete with live music performance, the new 'Family by JW' kids playground, kids entertainment, whilst enjoying the good food and weekend mood with free-flow beer. 'A Haven for Foodies' Weekend Brunch is available every Saturday and Sunday Brunch, from 12.00 PM to 3.00 PM, priced at IDR 688,000 net per person. Meanwhile, Friday to Saturday Dinner is also available at IDR 688,000 net per person from 6.00 PM to 10.00 PM.
For more information and/or reservation, please contact JW Marriott Hotel Jakarta at 021 5798 8888 or WhatsApp 0811 96100137.
JW Marriott Hotel Jakarta
Jalan DR Ide Anak Agung Gde Agung Kav E.1.2 No 1&2, Kawasan Mega Kuningan, Jakarta 12950 Indonesia
Tel +62 21 57988888
9. Anigré Restaurant at Sheraton Grand Jakarta Gandaria City Hotel $$$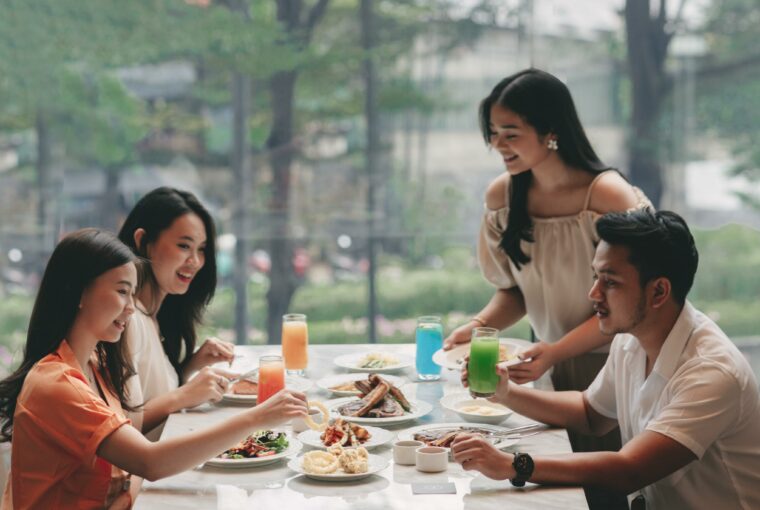 An award-winning all-day dining restaurant, Anigré Restaurant, welcomes guests for a festive weekend brunch buffet featuring a wide selection of bespoke Indonesian cuisine and all-time favorite International cuisine from Western, Asian, Japanese, Indian to Korean cuisine, as well as ocean-fresh seafood, grilled steak and seafood, live cooking stations, enticing desserts, and many more. The weekend brunch comes is priced at IDR 555,000++ per person from 12 PM to 3 PM and guests can take advantage of the pay 1 for 2 offer with bank partners. Ideal for celebrations such as birthdays, anniversaries, family dining and social gathering.
For further information and reservation, please contact us at +6221 8063 0888 or through WhatsApp at +62811 1095 983.
Sheraton Grand Jakarta Gandaria City Hotel
Jl. Sultan Iskandar Muda, Jakarta 12240, Indonesia
Phone: 62 21 8063 0888, +62811 1095 983
Website
10.  Pasola Restaurant at The Ritz-Carlton Jakarta, Pacific Place $$$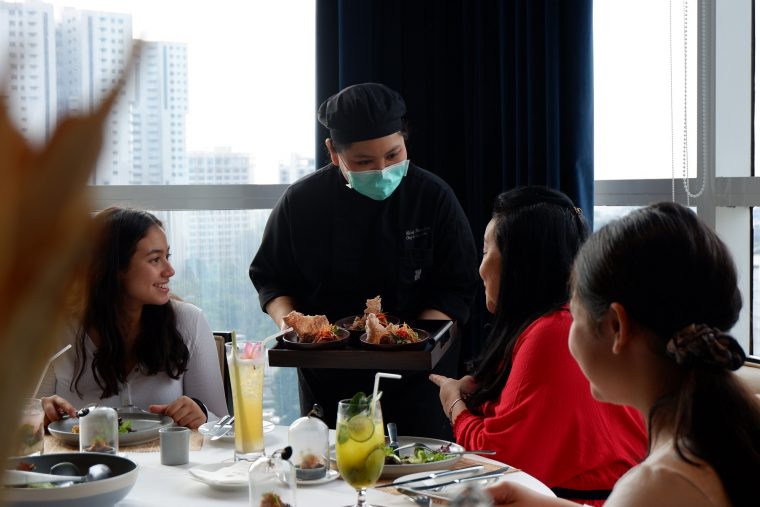 The TripAdvisor's Number #1 Restaurant in Jakarta, PA.SO.LA proudly presents "Re.Connect Weekend Brunch", an upscale twist on the weekend favorite. The dining experience includes an extensive buffet, a pass around of chef's specials, and curated children's activities. Also available are dessert garidon experiences, single-origins coffees, and an extensive menu of appetizers, Chinese, Indonesian, and International cuisines, noodles, and pasta. 
Brunch is ready to brighten up the weekend on Saturday and Sunday, priced at Rp458.000++ per person, Rp818.000++ per person with alcoholic beverages, and a special price for children (6 – 12 years old) at Rp188.000++.
For more information and booking, guests may contact (021) 2550 1993, visit www.pasolajakarta.com, or email to [email protected].
The Ritz-Carlton Jakarta, Pacific Place
Sudirman Central Business District (SCBD)
Jl. Jend. Sudirman Kav. 52 – 53
Jakarta 12190
Telephone: +62 21 2550 1888
Facsimile: +62 21 2550 1996
www.ritzcarlton.com/jakartapacificplace
11.  Le Gran Cafe, Hotel Gran Mahakam $$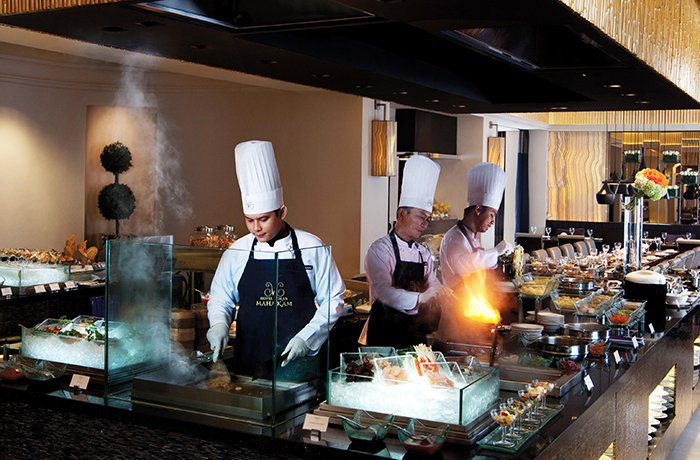 Le Gran Cafe's chefs have revisited the values of vibrant dishes cooked on occasions of memorable family gatherings. Try their signature dishes from Western to Asian specialties, all cooked to perfection.
Location: Jl. Mahakam I No 6 Kebayoran Baru
Phone: +6221 7209966
Website: www.granmahakam.com
E-mail: [email protected]
12. Mercure Jakarta Batavia $$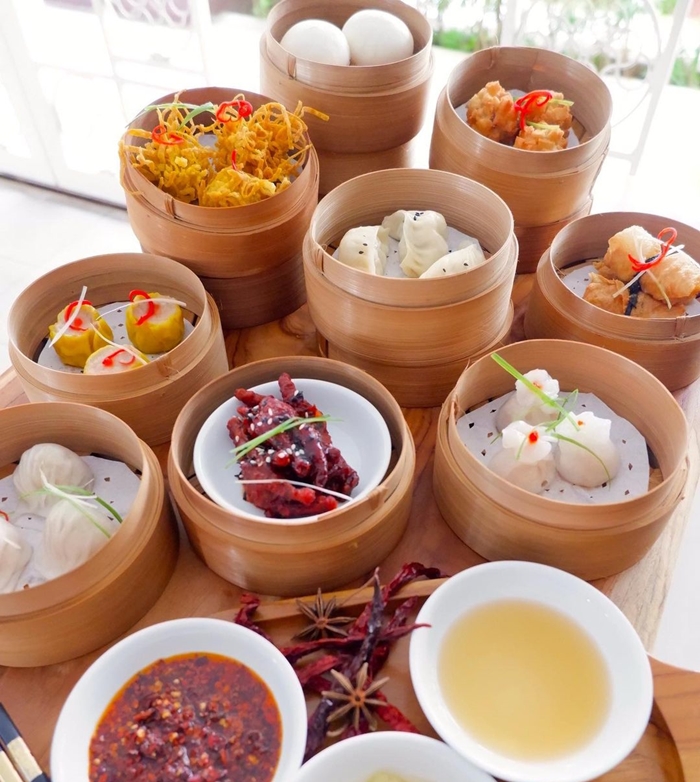 The hotel offers Oriental Sunday Brunch to help your weekend brunch dates with family and friends revive after a busy weekend and help you prepare for the week ahead. These occasions nourish our bodies and souls and let us share joyfully moment with our besties on a Sunday afternoon.
Jl. Kali Besar Tim. No.44-46, Roa Malaka, Jakarta Barat
P: (+6221) 50830100
IG: mercurejakartabatavia
13. Le Brasserie, Le Meridien $$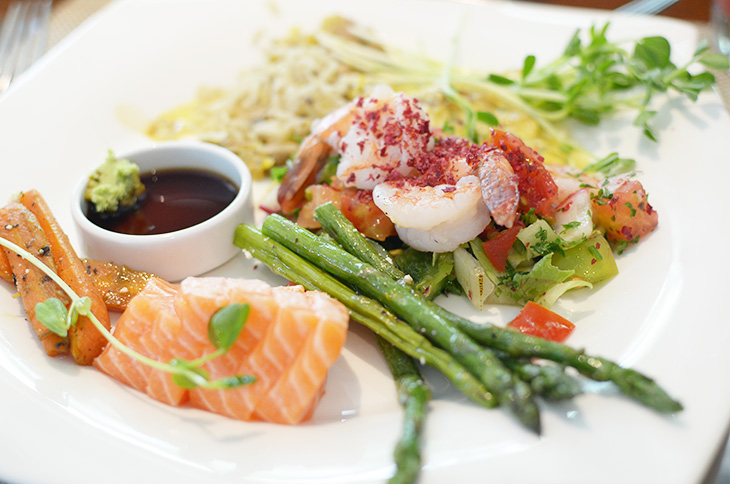 Sunday Brunch at Le Meridien Jakarta  available this Sunday from 11.30 am – 3 pm, we know you don't wanna miss another chance to try our Western, Lebanese, Arabic, Indian, Indonesian food.
Book your table now
Jl. Jend. Sudirman Kav. 18 – 20, Daerah Khusus Ibukota Jakarta
Phone:(021) 2513131
14. OPEN} at Doubletree Jakarta $$$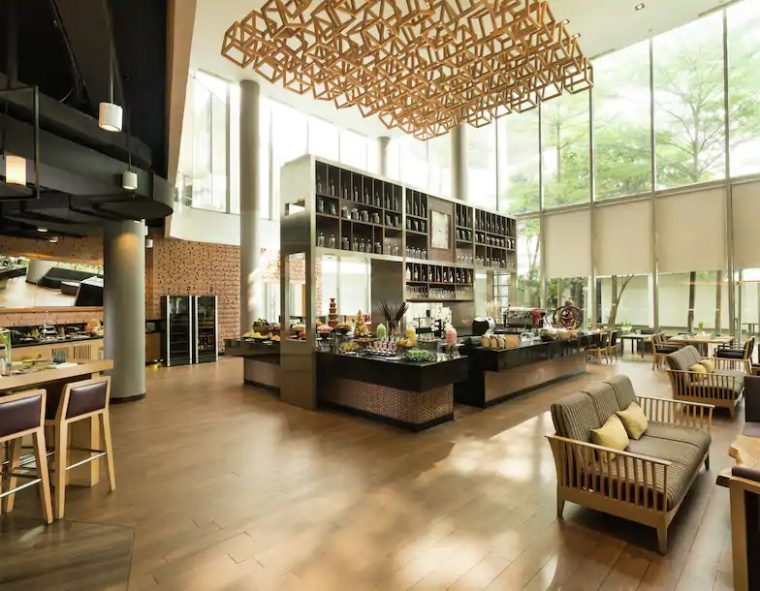 Enjoy special promotion Buy 1 Get 1 for Bites & Brunch with all-you-can-eat selection of delicious foods cooked a la minute. Sit back and will serve to you at your table. Bites & Brunch is available every Saturday dinner and Sunday lunch priced at IDR 328,000++ per adult
DoubleTree By Hilton Hotel Jakarta – Diponegoro
Jl Pegangsaan Timur No.17 Cikini, Jakarta
Phone: +62-21-3190 4433
15. Collage All Day Dining, Pullman Jakarta Central Park $$$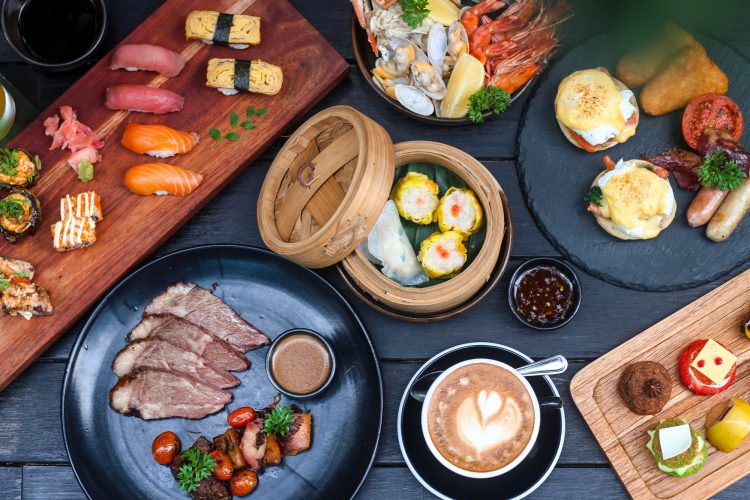 Every Sunday
12.00 – 22.00
Experience a buffet feast with exquisite International, local and fusion cuisine. The themed buffet brunch and dinner can be enjoyed, offering diners a different culinary experience. And certainly, You can delight in the variety of flavors with your family or friends.
Hotel Pullman Jakarta Central Park, Podomoro City, Jl. Let. Jend. S. Parman, Kav. 28, West Jakarta
Phone:(021) 29200088
16. Cafe Gran Via, Gran Melia $$$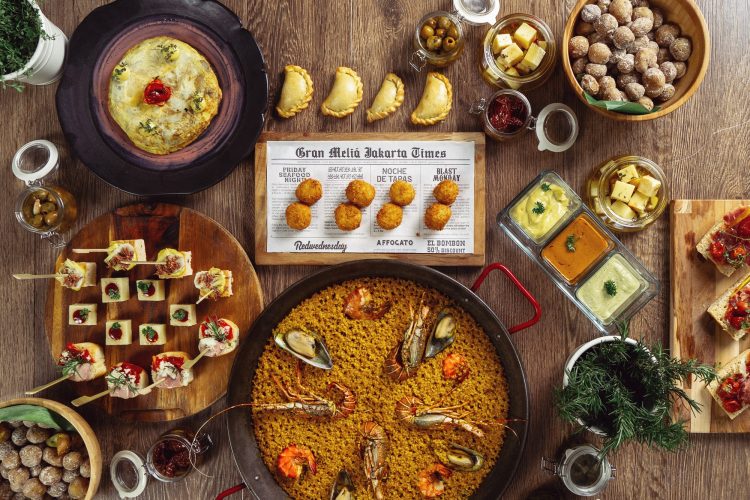 BUY 1 GET 1 FREE AT FOLKZ BRUNCH
Café Gran Via is inviting you to take a culinary adventure at FOLKZ BRUNCH, where the best that our globe has to offer will thrill and delight even the most discerning palate. Savour the array of various dishes ranging from authentic Indonesian cuisine, fresh Japanese Sushi, flavourful Indian Curry and a wide range of tantalizing pasta, to delicious fresh Seafood!
Take advantage of our special offer BUY 1 GET 1 FREE with all payments until 31 August 2022.
FOLKZ BRUNCH
Available every Sunday
12.00 PM – 03.00 PM
IDR 520,000 ++ / Person
*Free activities for kids are available
*The offer cannot be combined with any vouchers and promotions
Place your bookings now via Whatsapp at https://wa.me/628118890712
Gran Melia Jakarta
Jalan H.R. Rasuna Said Kav. X-0 Kuningan Jakarta 12950 Indonesia
www. granmeliajakarta.com
17. Bogor Cafe, Hotel Borobudur Jakarta $$$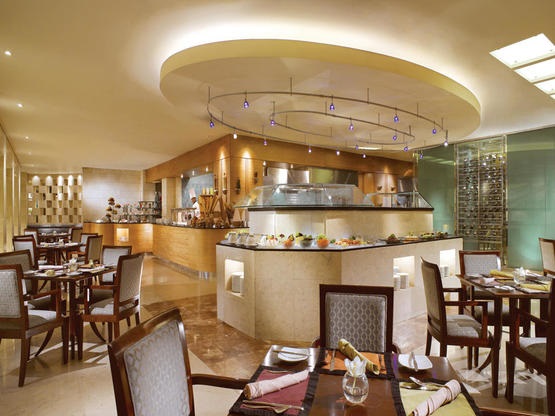 With live cooking station and an extensive buffet of guest's favorites, look forward to a journey of endless flavors. While indulging in the Sunday Brunch, little kids under 10 years will be entertained by magician and puppet show. In front of Bogor Cafe, also prepared a very nice cupcakes decoration session, drawing, face painting and various kids activities throughout the afternoon.
Every Sunday: 11.30 a.m. – 14.30 p.m
For more information and reservations, please call 021 3805555 ext 73400
18. AYANA Midplaza, JAKARTA $$$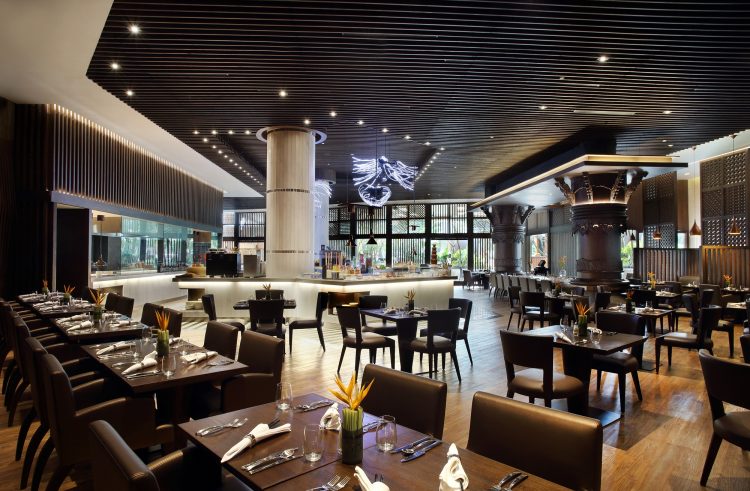 A favorite weekend destination amongst local residents and visitors alike, Sunday Brunch at Rasa Restaurant is available from 11:30 a.m. to 03:00 p.m., allowing plenty of time for guests to unwind, catch up with friends, and enjoy the city's freshest seafood, signature Asian dishes, and classic Western fare.
Families with kids encounter no stress as homemade pasta station, chocolate fountain and dessert buffet lavishly spoil the little ones before having fun around the kids' corner. Rasa Restaurant's new Sunday Brunch is inclusive of free flow iced tea, chilled juices, and water.
AYANA Midplaza, JAKARTA |
Jl. Jendral Sudirman Kav. 10-11
Jakarta 10220, Indonesia
Tel: +(62) 21-2510888      Fax: +(62) 21-2511777
ayanajakarta.com
19. Sari Pacific Jakarta $$$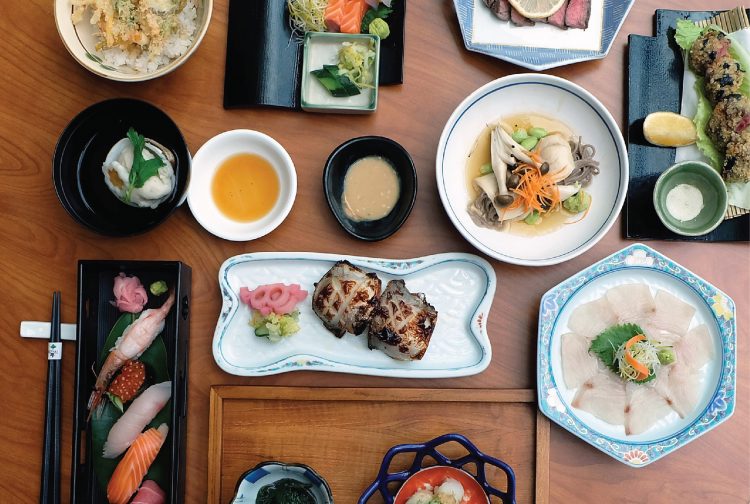 IDR 448,000++ per person
On Weekends & Public Holidays
11:00 – 14:30
Delight your taste bud and savor an exquisite All-You-Can-Eat Weekend Brunch, featuring a vast choice of delish Japanese delicacies, such as Teppanyaki, Sukiyaki, Yakiniku, Ramen, Seafood Robatayaki, Sushi and many more
Free flow sparkling wine, red/white wine local beer, sake, soft drink and juice are also available with additional IDR 150,000++ per person.
Enjoy the best brunch in Jakarta!
*) Prices are subject to 21% government tax and service charge
For further information, please contact +6221 2993 2889
For reservation, please contact:
Tel: +62 21 2993 2752
Email: [email protected]
Website: www.saripacificjakarta.com
20. Asia Restaurant The Ritz-Carlton Jakarta, Mega Kuningan $$$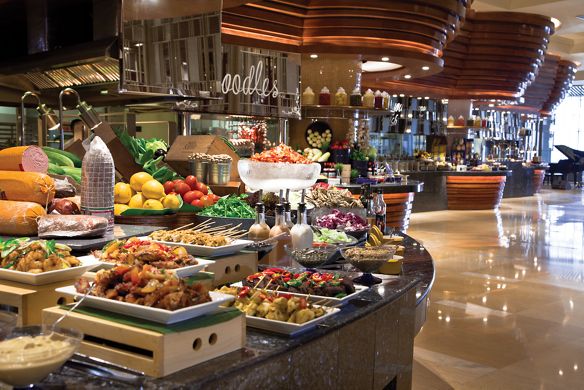 The newly reopened daily, the all-day-dining Asia Restaurant has been famed for providing lavish and elaborate weekend brunches. Literally a magnet for families, groups and anyone who is a food connoisseur in general, Asia's Saturday & Sunday Brunch is regarded by many as 'value for money'.
Offered for IDR 688,000 net per person, Asia's Weekend Brunch is presented exclusively by the culinary team of The Ritz-Carlton Jakarta, Mega Kuningan, under the close supervision of Executive Chef Rudolph Blattler who prepares a vast array of cuisines ranging from local classics, Asian favorites to Western delicacies. Together with his team of culinary artisans, Chef Rudolph are set to take every dining guest on a memorable culinary journey on every visit.
Available from 12 PM to 3 PM on both days, Asia's diners are in for the ultimate all-you-can-eat ride, which highlights fresh salad station, local favorites such as Nasi Keraton, Beef Rawon and moving on to teppanyaki station, noodle station, then on to western favorites such as salmon en croute, roast beef, roast pork and many more on offer.
Conveniently located at the lobby of The Ritz-Carlton Jakarta, Mega Kuningan, Asia Restaurant offers a dining and event space for birthdays, anniversaries, intimate weddings or any social occasions alike.
For more information and/or reservation, please call: 021 2551 8888, or WhatsApp to F&B Reservation at +62 811-1683-926, or email to [email protected]
The Ritz-Carlton Jakarta, Mega Kuningan
Jl. DR. Ide Anak Agung Gde Agung Kav.E.1.1 no.1, Mega Kuningan
Jakarta, 12950 Indonesia
Ph. +62 21 2551 8888
Website: www.ritzcarlton.com
21. Spectrum, Fairmont Jakarta $$$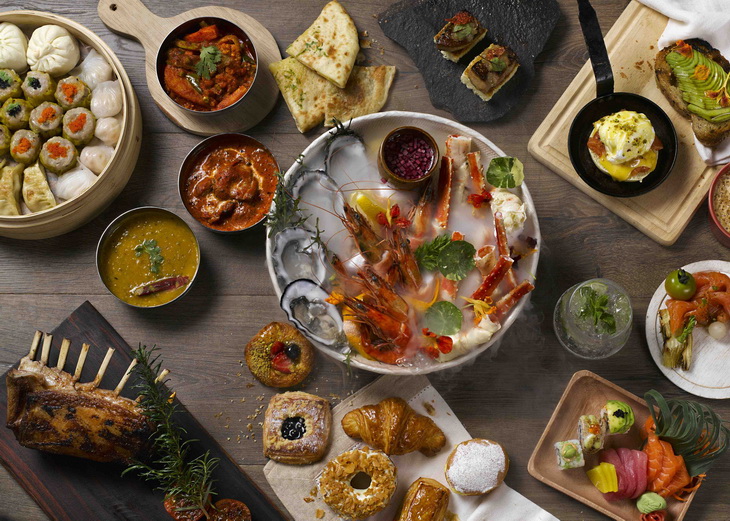 A brunch like no other, we offer the perfect way to spend a Sunday afternoon with loved ones where you and your families can indulge in an international buffet spread.
Indulge in a bountiful menu from premium meat galore to fresh seafood indulgence, as well as heavenly dessert – all served on the buffet and several cooking stations.
Every Sunday I 12 PM – 3 PM
IDR 628,000++ per person
For reservations, chat with us on WhatsApp at 0815-9159-247.
22. Seasonal Tastes at The Westin Jakarta $$$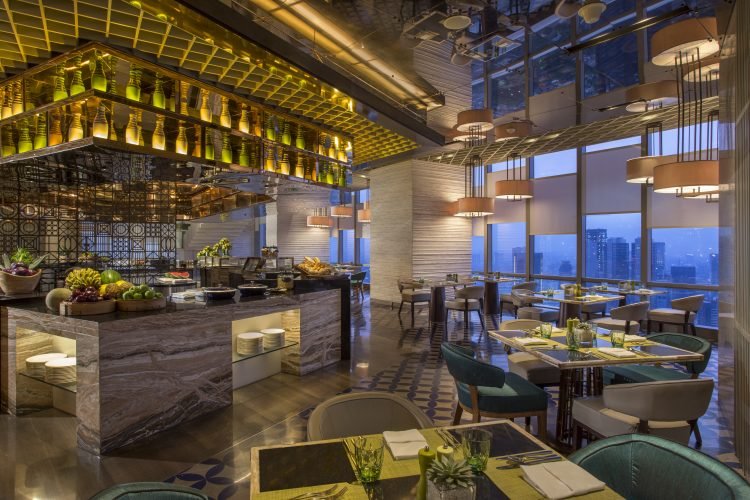 Perched on the 51st floor, our signature all-day dining restaurant Seasonal Tastes welcomes you with a vibrant and inviting atmosphere. Wall-to-wall, floor-to-ceiling windows overlook dramatic city views while an open kitchen sets the stage for a dynamic dining experience. Our culinary team presents enticing buffets throughout the day. Market fresh selections are prepared to order at seven different live cooking stations, which draw influence from Western, Indian, and Asian cuisines.
Venue : The Westin Jakarta, Level 51st
Operational Hours : Saturday and Sunday, 12:00 – 21:00
The Westin Jakarta
Jl. HR Rasuna Said Kav C-22
Jakarta, 12940
Indonesia
westin.com/jakarta
T  +62 21.2788.7788
23. Sugar & Spice at InterContinental Jakarta $$$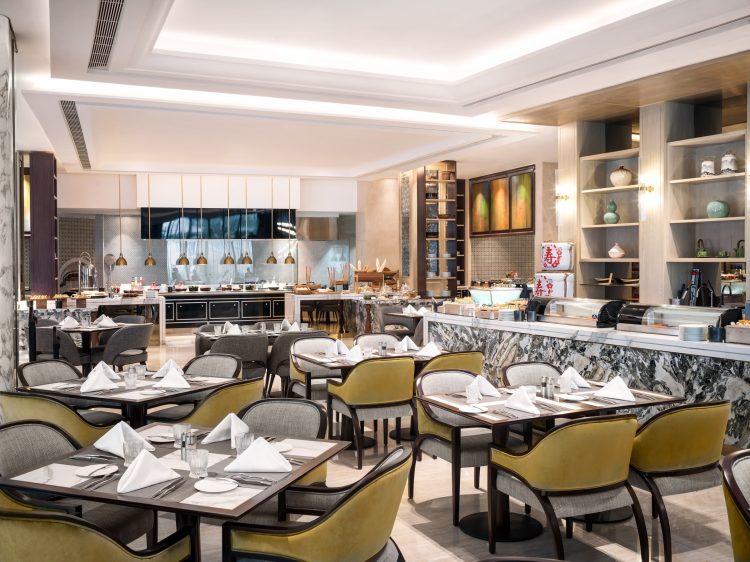 Brunch is an essential component of a great weekend; it's a hangover cure, a pick-me-up, and the best way to fuel up for a busy Saturday or Sunday. Sugar & Spice at the InterContinental Jakarta Pondok Indah presents the newly revamped weekend brunch concept to the guests. Sugar & Spice offers a buffet dining experience in a friendly and vivacious atmosphere designed with the most comfortable, and safe buffet to appeal to your senses.
 Available every Saturday & Sunday; from 12 noon at Sugar & Spice with price starts from IDR 488,000 ++ per person.
The restaurant can be contacted at +62 21 3950 7355 or WhatsApp 081 1103 7355 and reservations can be made through the email [email protected].
InterContinental Jakarta Pondok Indah
Jl. Metro Pondok Indah Kav. IV TA, Jakarta 12310, Indonesia
Phone: +62 21 3950 7355
Fax: +62 21 3950 7366