What's a dinner without excellent food, delicious cocktails and wine in a refined atmosphere? Jakarta in particular, has an abundant option of fine dining restaurants. We have compiled a selection of the best fine dining restaurants in Jakarta for that special occasion or just to create pleasant memories.
1. Amuz at SCBD $$$$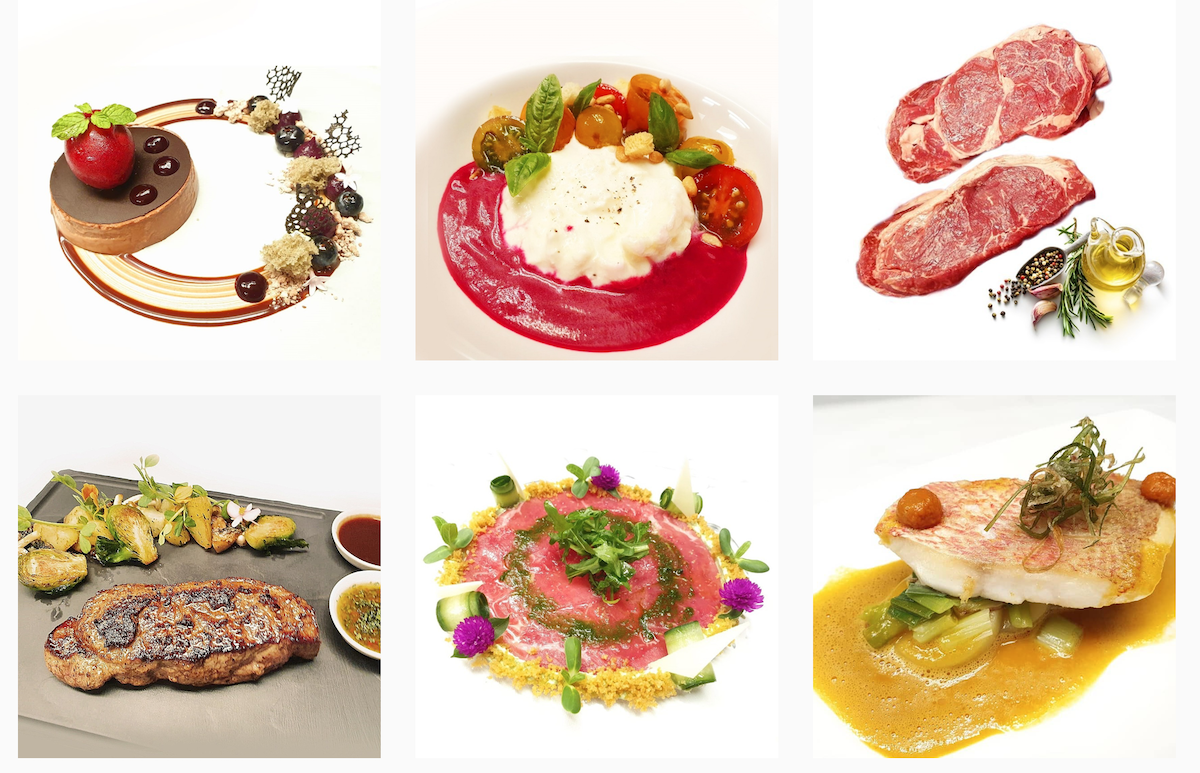 Offering a luxurious fine-dining experience, Amuz Gourmet Restaurant amuses our senses from the very moment we step into this fine-dining restaurant. Strategically located at Sudirman Central Business District (SCBD), the restaurant is cozily nestled in a corner of the second floor of the Energy Building, which makes this fine-dining venue a perfect getaway from the crowded and busy streets of Jakarta.
Dine with the serenade of the contemporary romantic, surrounded by the chic Parisian interior, featuring Eiffel Tower-inspired ironwork, unique teardrop-like chandeliers and original paintings by some of Indonesia's most renowned artists. The exclusive interior at Amuz, designed by Idris Samad, is ideal setting for a perfect romantic dinner.
The Energy Building, 2nd Floor SCBD Lot 11A
Jl. Jend. Sudirman Kav. 52-53, Jakarta, 12190
Phone: +62 21 250 506 or +62 21 250 5064
https://www.instagram.com/amuz_gourmet/
2. Henshin at The Westin Jakarta $$$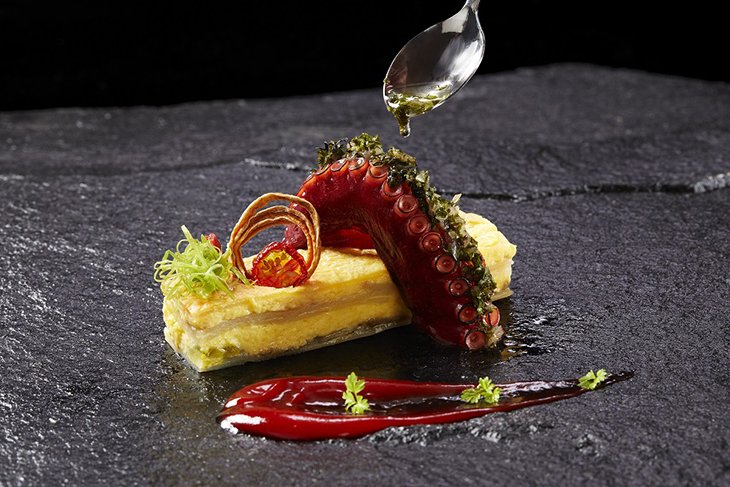 Henshin is a multi-level, multi-dimensional, food and beverage with one of the most spectacular city views you could possibly find in the city. The food is authentic Nikkei cuisine, a delicate mix of Japanese and Peruvian cuisine that took the world by storm for its freshness and exciting mix of flavors. Although it is a fine-dining venue, the cooking concept is still open kitchen so you can always peer and converse with the chefs with the exotic world of Nikkei cuisine.
Henshin at The Westin Jakarta
Jl. H.R Rasuna Said Kav C-22A Jakarta 12940
www.westinjakarta.com/henshin
https://www.instagram.com/henshinjakarta/
3. OKU at Hotel Indonesia Kempinski Jakarta $$$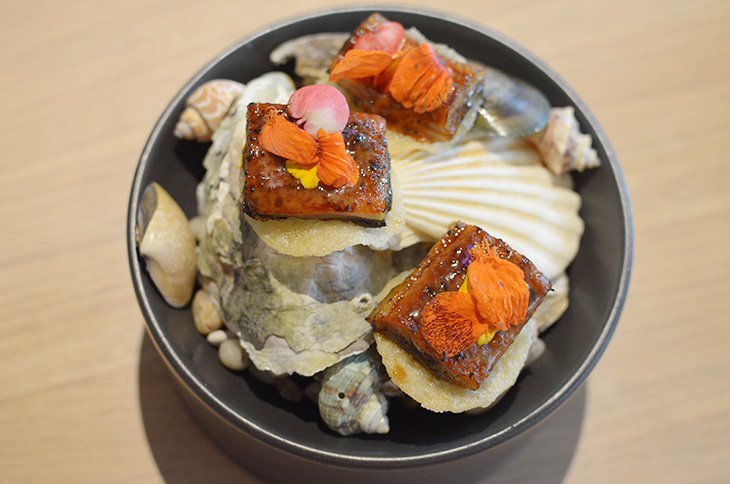 OKU Jakarta helmed by Chef Kazumasa Yazawa (or Chef Kaz for short), you will not find the regular Japanese omakase dishes that you might expect in a premium Japanese restaurant. Instead, you will experience a modern take on Japanese dishes with traditional flair. A celebration of texture, finest ingredients, and years of perfected techniques.
Location: Hotel Indonesia Kempinski Jakarta
Email: [email protected] | Phone: (+62) 21 2358 3896
Facebook, Twitter, Instagram: @OKUJakarta
Opening Hours:
Lunch: 12:00 – 15:00 (Monday to Sunday)
Dinner: 18:00 – 22:30 (Monday to Sunday)
Bar: 12:00 – 00:00 (Sunday to Thursday); 12:00-01:00 (Friday to Saturday)
3. Alto at Four Seasons Hotel Jakarta $$$$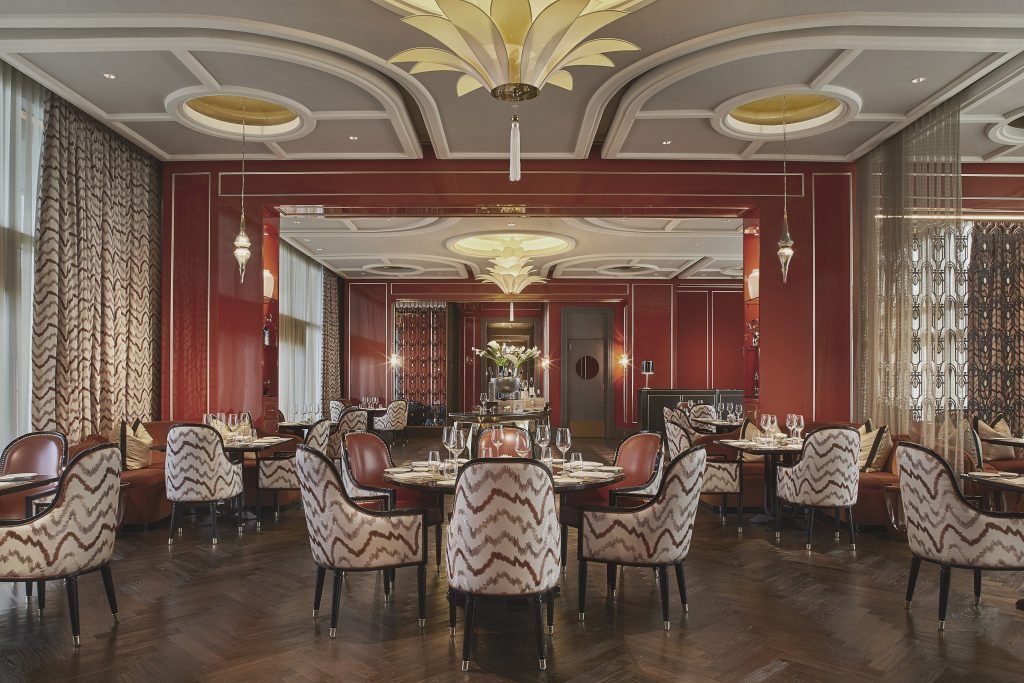 We think Four Seasons Hotel's Alto has one of the most delicately sensuous space ever; with an exotic feel and rich, layered textures enveloping deep tones of red and soft ochres complemented with polished woods. Alto Restaurant and Bar will surely dazzle your date with its panoramic views from the restaurant's 20th floor terrace.
Four Seasons Hotel Jakarta
Jalan Jendral Gatot Subroto Kav 18 Jakarta 12710
Phone: +6221 2277 1888
www.fourseasons.com/jakarta
4. Turkuaz at Gunawarman $$$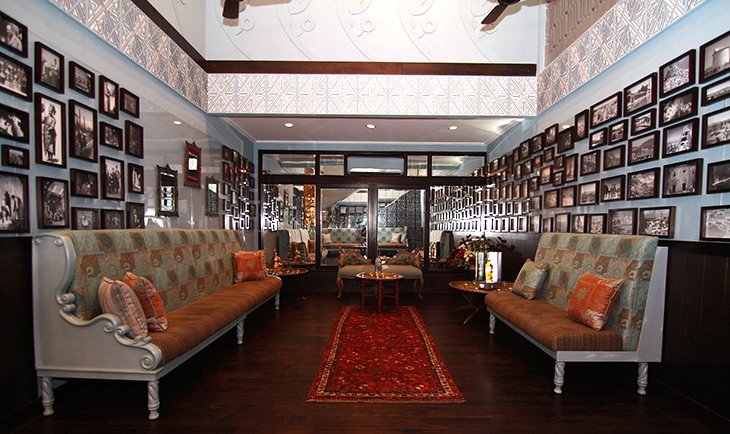 A true enjoyment of Turkish dining experience by Head Chef Sezai Zorlu, Turkish cuisine ambassador to Indonesia serving people of Jakarta for the past 10 years, will showcase his culinary skills as he transforms fresh ingredients, herbs and spices into tasty, healthy and sumptuous dishes. Now Turkuaz has expanded its wings by opening Turkuaz Authentic Baklava House located next to the existing restaurant.
Jl. Gunawarman no. 32 Kebayoran Baru 021 – 72795853
Everyday 10am-10pm
http://turkuazrst.com/
5. C'S at Grand Hyatt Jakarta $$$$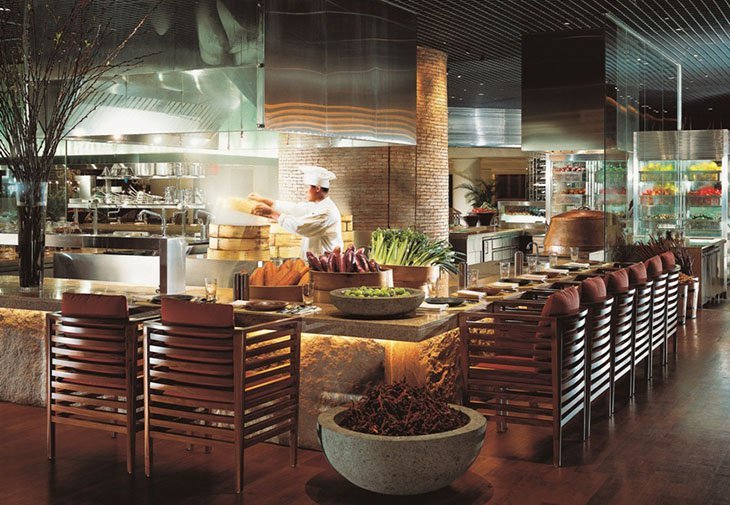 C's has long been Grand Hyatt Jakarta's favorite restaurant, serving the freshest selection of seafood, the finest choice of Australian and US Prime Beef. It is also a haven for wine connoisseurs with a 3,000-bottle walk-through cellar providing a great escape from even the toughest day.
This restaurant features a fully open kitchen, four private rooms and a sweeping view of the lobby. Located on Level 4, C's is a collage of sights, sounds and smells that will guarantee an unforgettable experience.
Grand Hyatt Jakarta – Jalan M. H. Thamrin Kav 28-30, Jakarta 10350
Phone: +62 21 390 1234
6. ARTS Cafe at Raffles Jakarta $$$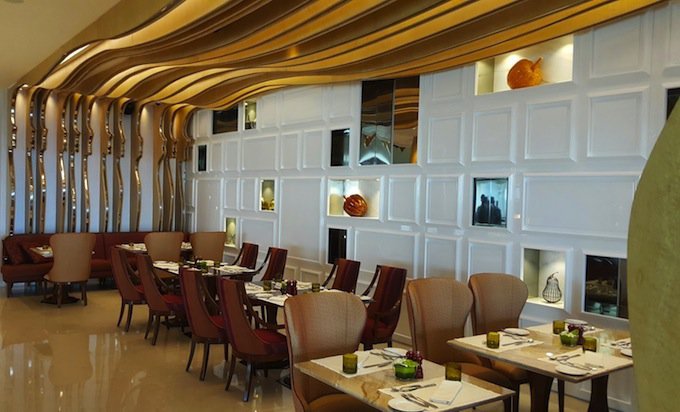 As the main dining venue of the hotel, Arts Cafe serves superb Continental and Asian specialties in a refined buffet experience. A delightful twist: the day's signature entrees are done a la minute and offered to the guest table. This is also where you can sample their legendary Singapore Chili Crab bun, a fluffy charcoal bun filled with savory crab meat filling, served with sweet & spicy Chili Crab sauce. This dish is an homage to the Hotel's roots in Singapore, where Chili Crab has celebrity status.
Arts Cafe is also open on Sunday where their bespoke gourmet brunch focuses on the finest of quality product along with skilled cooking techniques and freshness featuring Raffles signature dishes, luscious meats and seafood, fresh lobster, oysters, foie gras, among a delectable list of many more mouthwatering creations.
ARTS Cafe at Raffles Jakarta
Ciputra World 1, Jl Prof. Dr. Satrio, Jakarta 12940 – Indonesia
Tel: +62 21 2988 8080 | Email: [email protected]| www.raffles.com/jakarta
7. Pasola at Ritz Carlton Pacific Place $$$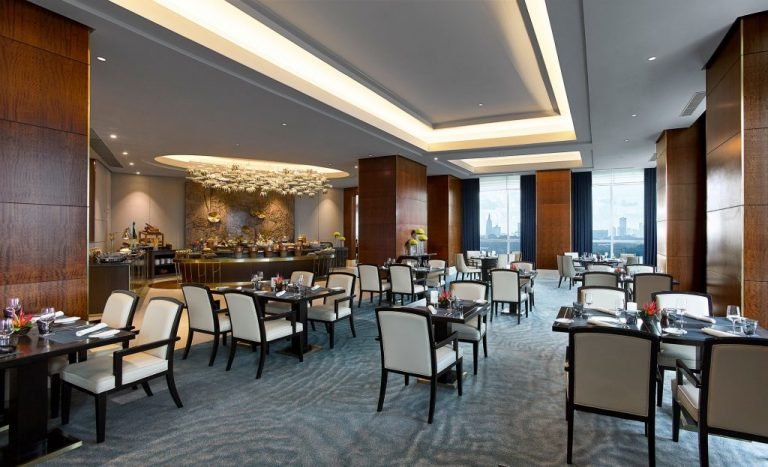 PASOLA is The Ritz-Carlton Jakarta, Pacific Place's all day dining restaurant that celebrates farmers and food artisans of Indonesia, helmed by the creative Executive Chef Sean Macdougall. To name a few of recommended dishes in the restaurant are Rendang Arancini, Barramundi dabu-dabu, Sop Buntut and Bali Chocolate Ganache Kecombrang infused. With new outstanding features, PASOLA during the day has dynamic, vibrant and refined ambiance that turns to subtle and relaxing after the dusk.
Ritz Carlton Pacific Place
Sudirman Central Business District (SCBD), Jl. Jendral Sudirman Kav. 52-53, RT.5/RW.3, Senayan, Kebayoran Baru, South Jakarta City 12190
Reservations: +62 21 2550 1993
8. RIVA Bar & Grill at Wyndham Hotel $$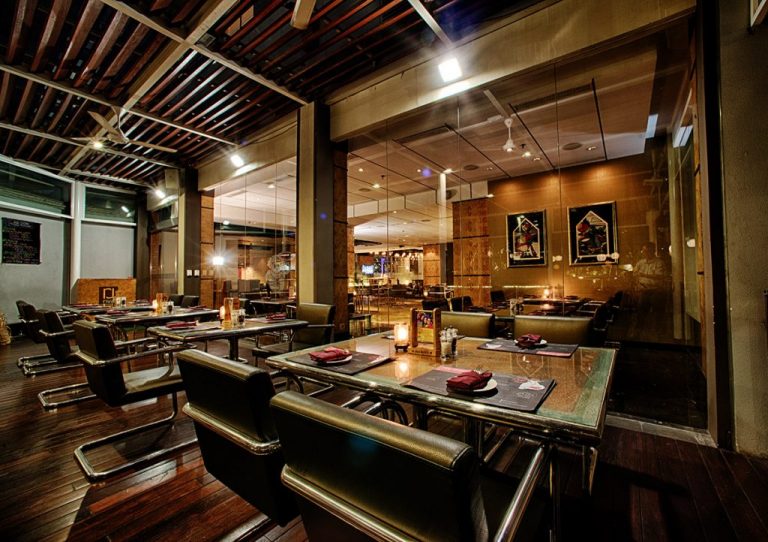 Executive Chef Deden Gumilar leads a kitchen brigade who have all trained under previous Michelin Star experienced French Chefs de cuisine. The menu features Riva's famous steaks from the grill; perfectly crisp wood-fired oven pizzas, as well as some well-loved RIVA favorites, including pan-seared foie gras and the delicately decadent soufflés. The restaurant seats 34 guests inside the restaurant & 14 guests at alfresco dining. A private room is available for 10 guests.
Wyndham Hotel – Jalan Casablanca Kav. 18 Jakarta 12870, Indonesia
(62-21) 828 2000 ext. 2067
rivagrillnbar.com/home
9. Animale at MD Place $$$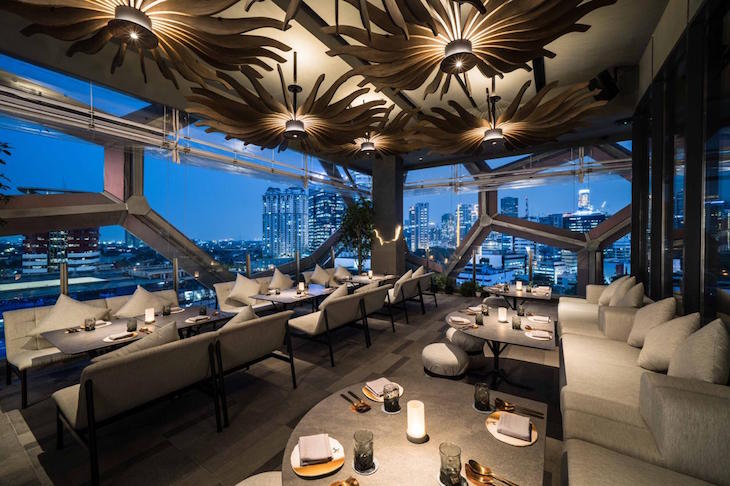 This 2020, we were welcomed by this new lifestyle dining concept: Animale bar and restaurant offering progressive American cuisine with flavors from the Mediterranean. Committed to providing a world class dining experience with unique ambiance and atmosphere, the objective is to enable the guests to use all their senses for a nostalgic and unforgettable dining experience, not only from their food & beverage and overall feel of the space transformed.
Opening Hours
17.30 – 22.30 (Last Order 22.00)
Address
Jl. Setiabudi Selatan no 7
MD Place 11th Floor, Kuningan 12910
Reservations
+62 8777 ANIMALE / +62 87772646253
[email protected]
Instagram @animalerestaurant
www.facebook.com/animalerestaurant
10. Altitude at The Plaza $$$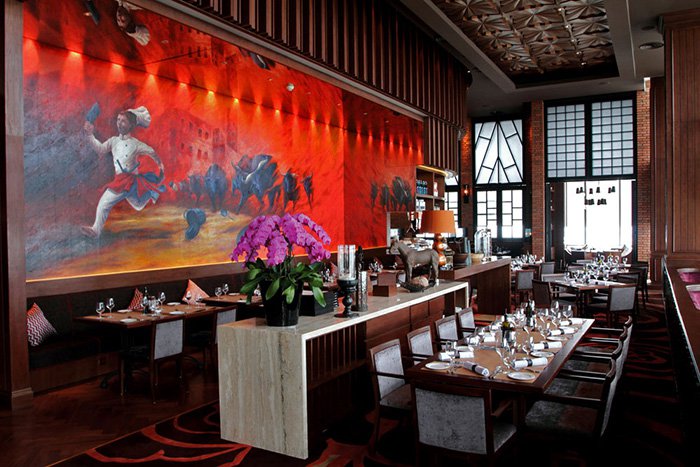 Altitude has their own style in creating a fine dining concept by dividing the 46th level of The Plaza in to 3 areas; Salt Grill offers celebrity chef Luke Mangan's signature menus of fine meat and seafood and Australian Wines; Gaia for Italian cuisine; and Enmaru for fine Japanese fare.
Open: Everyday 11:00 AM – 11:00 PM (to 02:00 on Saturdays)
Phone: 021-29922448
Altitude at The Plaza, Level 46th, The Plaza Office Tower, Jl. MH. Thamrin Central Jakarta
11. Bistecca at Sudirman $$$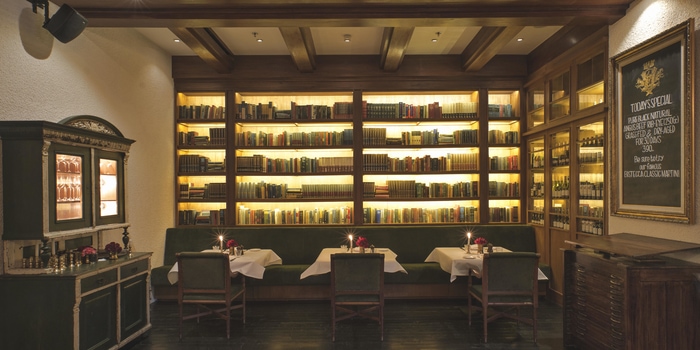 The newest on the list, Bistecca is a pedigreed Italian-American Steakhouse and classic Martini Bar by The Union Group and Chef Luca Pezzera An iconic establishment inspired by great New York steakhouses and classic Florence ristoranti, serving spectacular cuts of charcoal-grilled prime meats and the best martinis in town. Must try: their signature 1kg 45-day aged Bistecca Fiorentina.
18 Parc Place Tower C, GF.
Jl. Jend. Sudirman Kav 52-53. Jakarta 12190
Phone: 021 5151 660
www.bisteccajkt.com
IG: @bisteccajkt
12. Namaaz Dining at Gunawarman $$$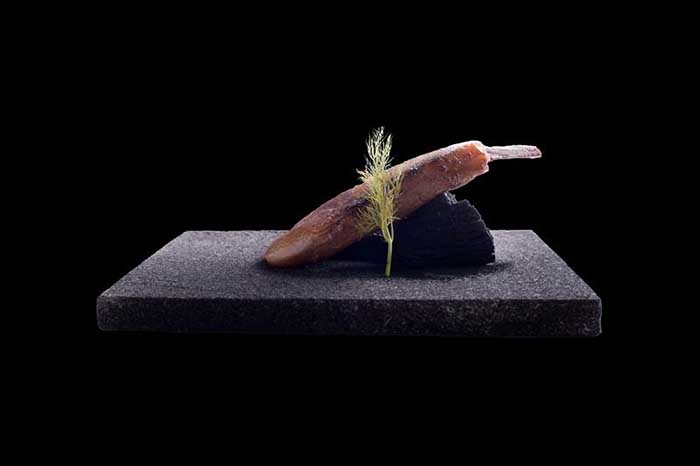 For a more playful and adventurous selection of fine dining head to Namaaz is the first molecular gastronomy restaurant in Indonesia which serves Indonesian food as its signature dishes. Each night, Tuesday to Saturday, you can experience their set of 17-course creations, which changes every "season" and each season lasts for 6 – 8 months. They only serve 4 tables (8 guests) every night, so privacy and serene ambiance is a guaranteed here. Reserve your seat through their official website only.
Jl. Gunawarman No.42 Kebayoran Baru
Phone 021 – 33061000
E-mail [email protected]
namaazdining.com
13. Tugu Kuntskring Paleis at Menteng $$$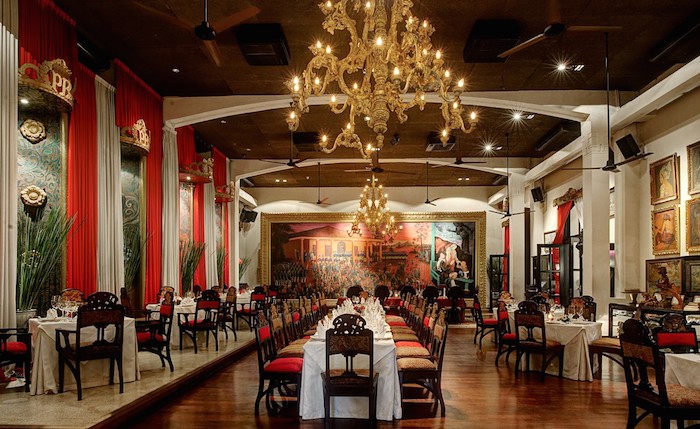 Travel back to the times of ancient kingdoms and thousand-year-old legends. Blending a private collection of hundreds of priceless antiques and artworks with majestic landscapes, dining at Tugu is like dining in a middle of beautiful museum. Taking place in the legendary building of Bataviasche Kunstkring, savor authentic Indonesian cuisine and the iconic Traditional Grand Rijsttafel (translated as the Rice Table) that portrays the sumptuous social feast that used to be celebrated by the Dutch plantation lords when they hosted their honorable guests, starting from around the 1910s.
Jalan Teuku Umar No. 1, Menteng, Jakarta Pusat, 10350, Indonesia
Tel +62213900899 Fax +62213900898
www.tuguhotels.com
14. Sea Grain Restaurant at Cikini $$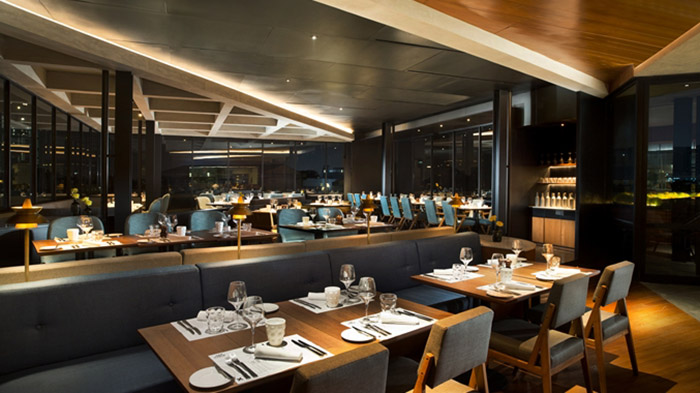 Sea Grain Restaurant & Bar combines views over Jakarta with hearty, down-to-earth Italian & Spanish flare, offering simple yet nuanced interpretations of authentic regional recipes as well as prime cuts of beef, poultry and fresh seafood with an emphasis on fresh ingredients, simple yet exquisitely executed cooking methods – grilling, broiling and baking.
This stylish restaurant featuring floor to ceiling windows, adorned with designer lighting, a traditional pizza oven, and antipasti counter set the tone for a casual mingle in both indoor and outdoor settings.
DoubleTree by Hilton Jakarta Diponegoro
Jl Pegangsaan Timur No.17 Cikini,Jakarta 10310, Indonesia
Phone: +62-21-3190 4433
15. Sofia at The Gunawarman $$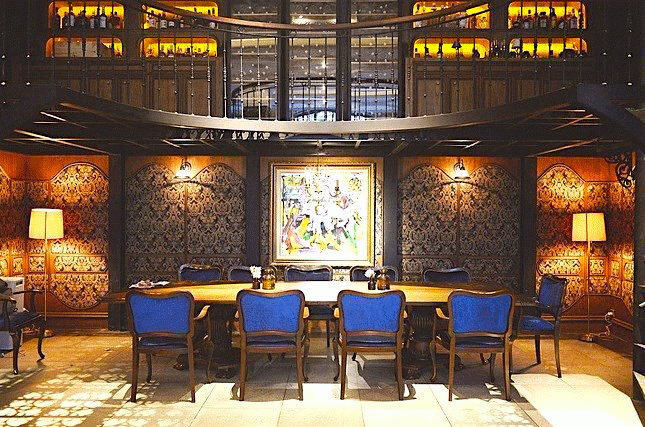 A fancy spot in the premium neighborhoods of Gunawarman/Senopati area, where many of Jakarta's hottest restaurants are located. This place boasts a 21st century neo-classical inspired design with high ceilings, liberal use of wood and leather furniture, mixed with modern pattern and definitely a unmistakable luxurious air. Expect to sit next to who's who in Jakarta, from celebrities, socialites to politicians when you dine here.
Phone: 021-22770007
Jl. Gunawarman No. 3, Daerah Khusus Ibukota Jakarta 12110
www.thegunawarman.com
16. Ruth's Chris Steak House at Somerset Residence Kuningan $$$$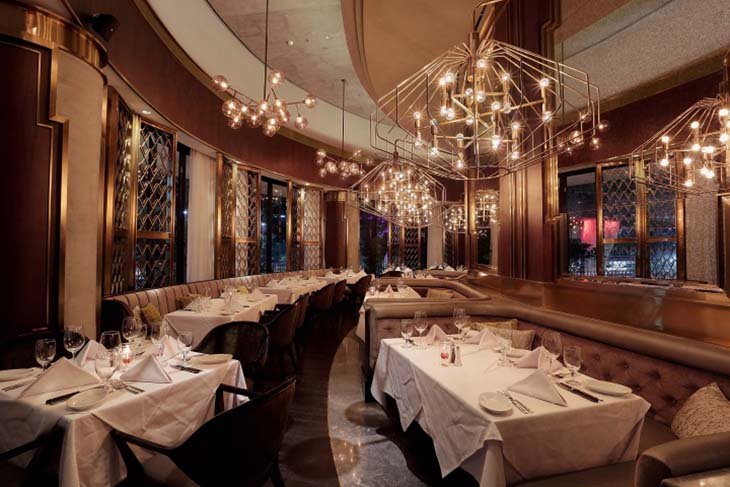 Ruth's Chris Steak House is famous for its exceptional food and wine, serving the finest custom-aged U.S. Prime beef which is famous for its exceptional meat quality and excellent marbling. Ruth's Chris takes pride in proprietary cooking methods, for example, the trademarked 982-degree Celsius oven that the founder, Ruth Fertel, helped to develop 50 years ago.
Ruth's Chris Steakhouse 
Somerset Residence Lobby Level
Jalan Prof. Dr. Satrio Kav. 3-5 Kuningan, Jakarta Selatan
Phone: 021 – 5221 178
Lunch: 12 PM-3 PM
Dinner: 5:30 PM-11 PM
www.ruthschris.com
17. 1945 at Fairmont Hotel $$$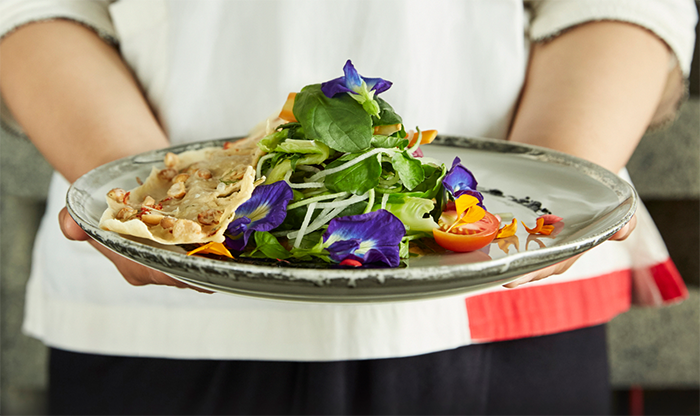 1945 is an innovative re-imagining of traditional Indonesian food as gourmet cuisine. Using precision modern cooking techniques and fresh, premium quality natural ingredients, 1945 strives to create a fine dining experience that is recognizably and authentically Indonesian.
Hours of Operation:
12:00 – 22:00 (Lounge), 12:00 – 15:30 (Lunch), 18:30 – 22:00 (Dinner)
Dress Code: Smart casual
Reservations call +62 21 2903 9179 or email [email protected]
18. Wolfgang's Steakhouse Jakarta $$$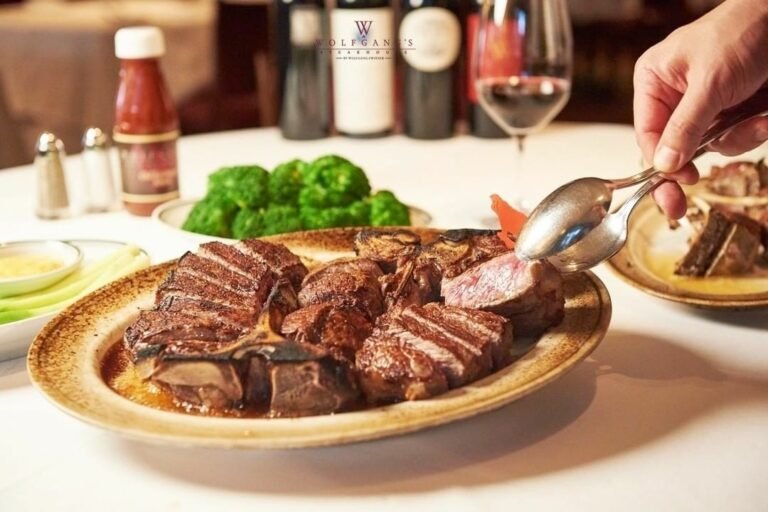 Wolfgang's Steakhouse is a classic American Steakhouse founded by Mr. Wolfgang Zwiener after dedicating over 4 decades as headwaiter in the Peter Lugers steakhouse. Wolfgang's Steakhouse features the most authentic and original flavor of dry-aged steak using only USDA Prime beef to every steak lover and epicureans.
Elysee, Unit 06-01,
Jl. Jenderal Sudirman, Kav 52-53, SCBD Lot 21, Jakarta Selatan 12190
Phone: +622150110955, +62811150955
Opening hours: 11:00 am – 00:00 am
Instagram: @wolfgangssteakhouseindonesia
Website
19. The Neighbourhood $$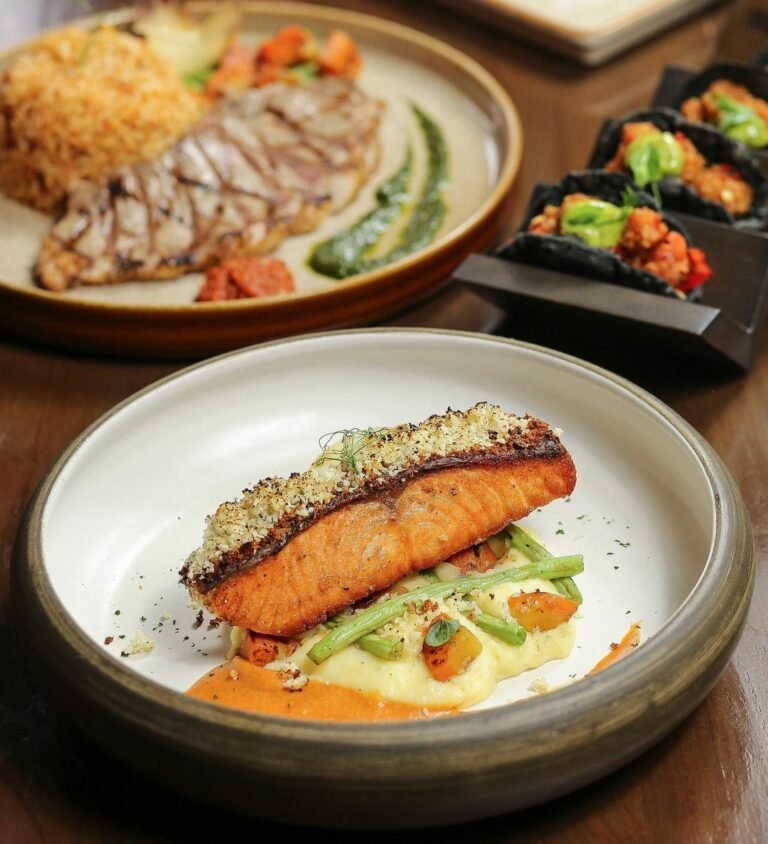 Located in the beating heart of Wijaya, this new face of Tan Group evokes a sense of solace and leisure. With its hospitality, lively choices of cocktails and dishes that deliver on style and flavor with both bespoke plates and comfort indulgence, The Neighbourhood offers you the lively choices of good sips and dishes that deliver on style and flavour with comfort indulgence.
Jl. Cipaku I No.85 1 4, Petogogan, Kebayoran Baru, Jakarta Selatan
P: +62 822-9980-9828
Instagram: @neighbourhood.jkt
20. Patio at Wijaya $$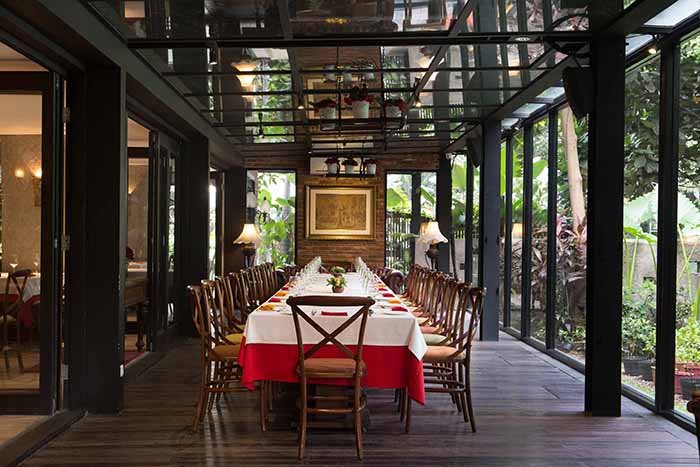 Patio Venue is home to an oasis that offers an exquisite selection of authentic Italian homecooking. Tastefully designed in a unique homey setting and equipped with a stylish bar, a spacious lounge with a baby grand piano, and three elegant private rooms with rustic interior, this little piece of Italy is definitely your perfect dining destination
Jalan Wijaya 13 No. 45, Kebayoran Baru, Jakarta
Phone:(021) 7241362
Hours: 11AM–11PM
https://www.plataran.com/patio-venue/
21. Roma Osteria & Bar $$$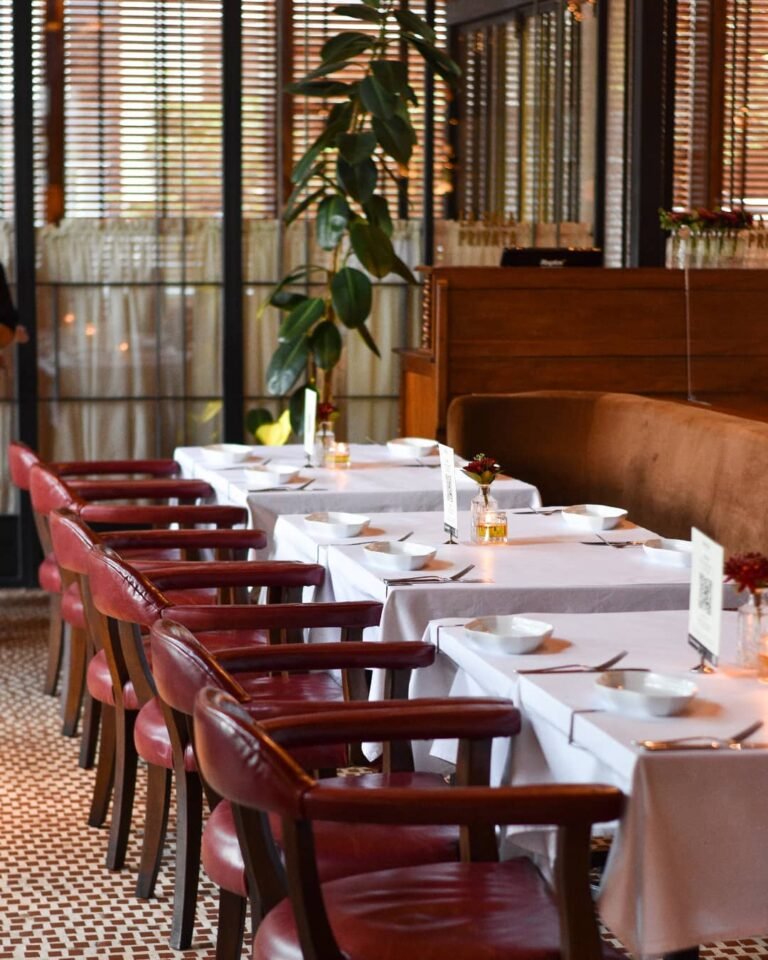 Dedicated to life's simple pleasures of eating and drinking well, Roma is a nod to regional Italian home cooking by Chef Luca Pezzera, served in a grand yet inviting space in the heart of Jakarta's SCBD. Drop by for an al fresco lunch with the most authentic Neapolitan pizza in town, made by world champion pizzaiolo Pasqualino Barbasso. A leisurely dinner should involve at least one of our many iterations of Cacio e Pepe, the sublime spaghetti carbonara or the Trippa all Romana, accompanied by fantastic Italian wines. The bar is perfect for a spot of aperitivo as well as late night revelries: try the excellent Garibaldi, any of the classic and innovative Negronis, or any cocktails highlighting amaro and bitters.
Sequis Tower, Ground Floor #03-01
Jl. Jend. Sudirman Kav. 71, Jakarta 12190
Opening hours: 11:00 am – 10:00 pm
Phone: +62 21 2709 1888, +6281388308688
Instagram: @romaosteriabar
Website
22. Nusa Gastronomy at Kemang $$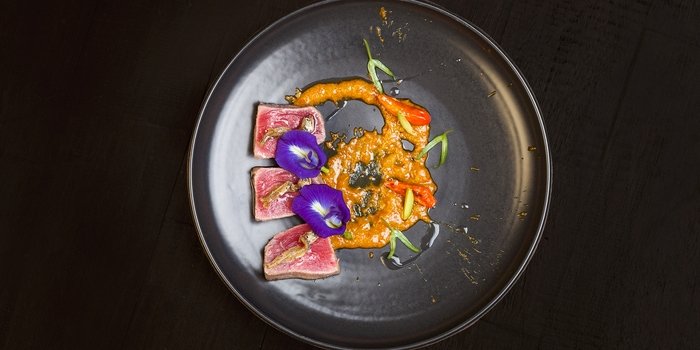 Nusa comes from the word Nusantara, which means The Archipelago. Just like its name, Nusa Gastronomy tried to represent each region in Indonesia through its cooking and excellent presentation. Using best Indoensian harvests from the region and authentic cooking processes, menus from Nusa tells deeper stories that what your eyes can see. You need to reserve a table before visiting and choose between 5 or 7 set courses.
Nusa Gastronomy
Jl. Kemang Raya No.81
+62 21 719 3954
[email protected]
23. Pierre $$$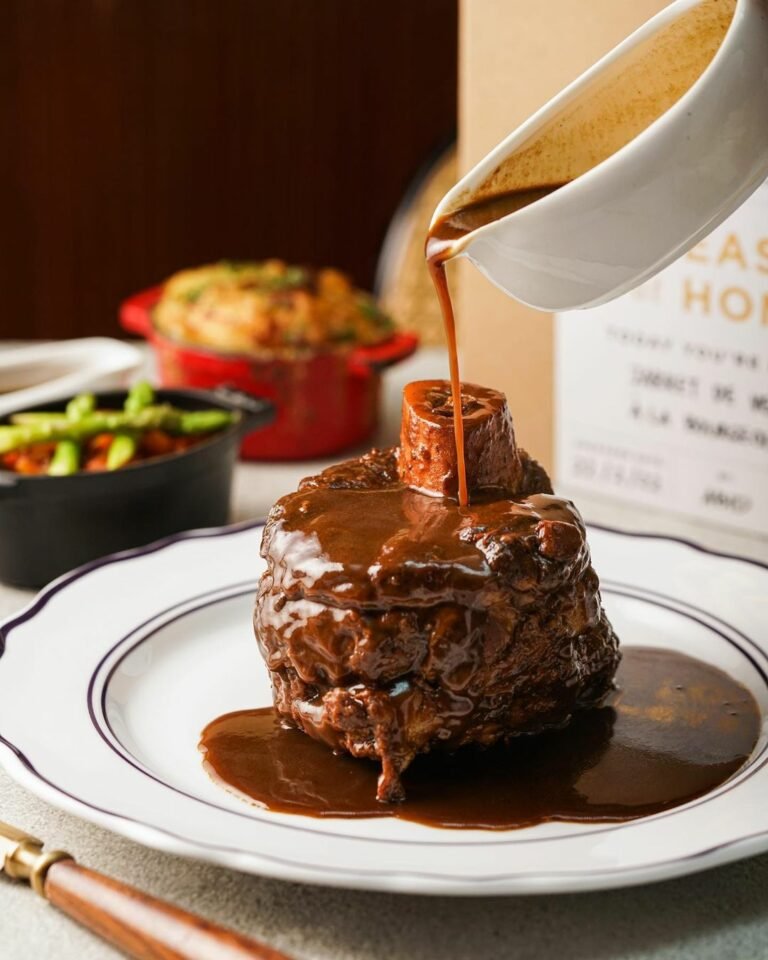 Taking over the space previously occupied by Emilie, the restaurant is a tranquil refuge from the mayhem of Senopati. Just as intimate as the Jaya Ibrahim-designed space is the food – traditional French cuisine that will warm the cockles of your heart and transport you to Paris in a spoonful of pomme purée. Brandon's years of experience in Michelin-starred kitchens of France, Australia and Switzerland gave him mastery of French techniques, but his passion in rustic fare and seasonal ingredients reign supreme. Like dining at the home of a sophisticated French friend, who just happens to be amazing in the kitchen. À bientôt!
Jl. Senopati No. 39, Jakarta 12190
Opening hours: 11:00 am – 10:00 pm
Phone: +6221 521 3626, +6281286886807
Instagram: @pierre.jkt
Website