Teppanyaki, is a style of Japanese cuisine that uses an iron griddle to cook food. It focuses not just on the food itself, but also the showmanship and the skills of the chefs. This style of cooking went back all the way to the 1940s Japan when a Japanese chain restaurant Misono wanted to introduce western-influenced food such as steak to the Japanese food scene.  They soon found the cuisine was less popular with the Japanese than it was with foreigners, who enjoyed both watching the skilled maneuvers of the chefs preparing the food as well as the cuisine itself.
Back in the 90s, only a small number of teppanyaki restaurants can be found in Jakarta, and in them you can only find Japanese teppanyaki chefs showing off their skills. But now you can find the signature griddles everywhere, even in food courts where a more affordable and instant type of teppanyaki can be found. In this list, you can find some of the best and even legendary teppanyaki tables in Jakarta:
1. Kahyangan Restaurant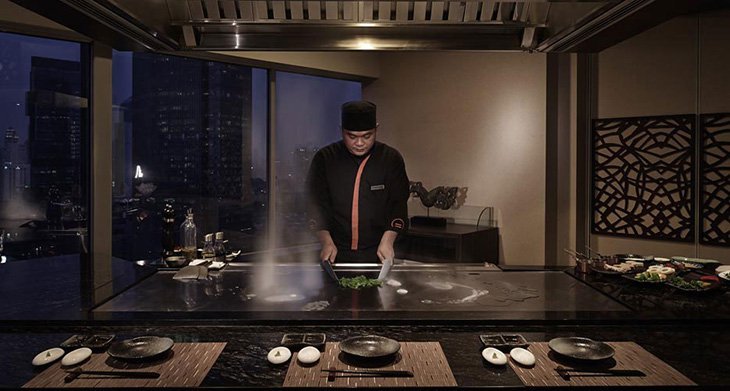 After the success of their Shabu – Shabu Restaurant, Kahyangan finally opens a Teppanyaki restaurant in April 2012. This legendary Japanese restaurant provides an intimate dining experience with superb views of Jakarta, where their chefs show off their teppanyaki skills, using only the finest and freshest ingredients. Smoking area is available.
Pullman Jakarta Indonesia
Jl. M.H. Thamrin 59 Jakarta 10350
For more information and reservation, please call: (+62) 21 3190 7012
http://www.pullmanjakartaindonesia.com/
2. Sumire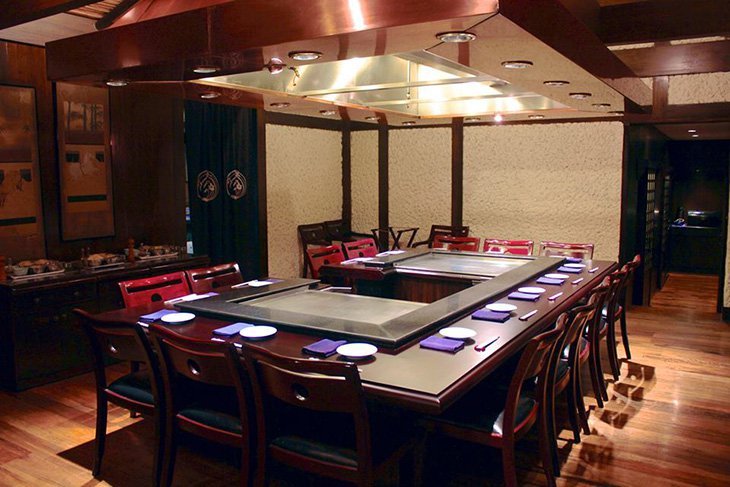 Sumire serves a full range of Japanese food – however, their Chirashi (a big bowl of rice mixed with fish, vegetables) and the Teppanyaki sets are among the best. At the Teppanyaki station look for the chefs, some of which have worked there for over 12 years, and be prepared for a delightful show for both your mouth and eyes with the artful cooking over the flat teppan surface.
Grand Hyatt Hotel, Jl. MH. Thamrin Kav.28-30, Thamrin, Jakarta
021- 3150433
http://www.jakarta.grand.hyatt.com/en/hotel/dining/Sumire.html
3. Nishimura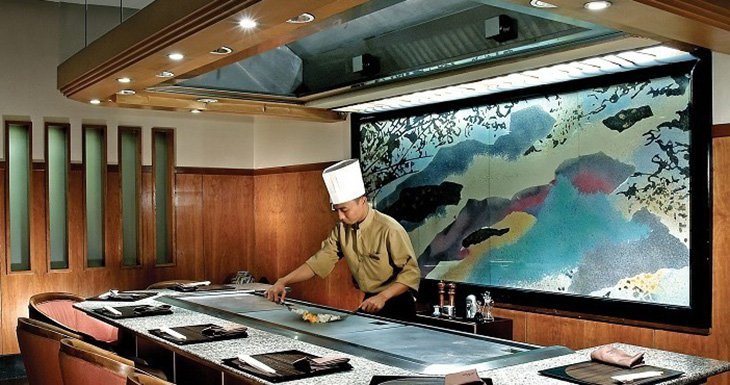 A popular Japanese restaurant, Nishimura features traditional Teppanyaki dishes and a tempting set lunch menu. The restaurant is a perfect example of how cuisine, art and service come together to create an exquisite dining experience. You can choose from 5 different teppanyaki set courses with US meat and premium seafood selection. Starting from Rp. 558,000++/person.
Shangri-La Hotel Jl. Jend. Sudirman Kav. 1 Karet Tengsin Tanah Abang Jakarta
021- 5707440
http://www.shangri-la.com/surabaya/shangrila/dining/restaurants/nishimura/
4. Shima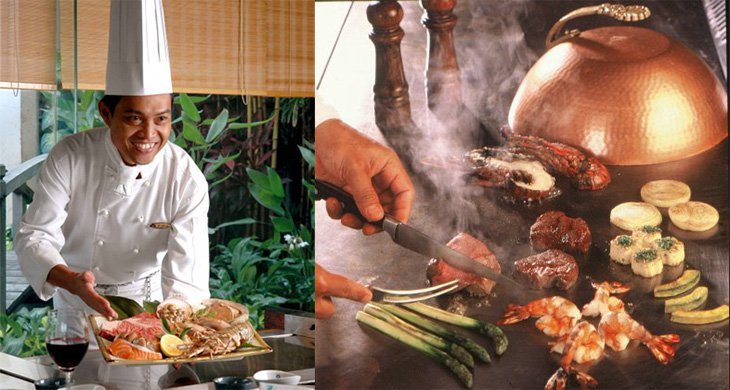 This restaurant is one of the oldest fine Japanese restaurants in Jakarta for a long time, was considered the best Japanese restaurant in the city too. It offers authentic Japanese dining, focusing in Teppanyaki dishes and some a la carte menu. For dessert, don't skip the teppanyaki banana & ice cream flambé. Must try for teppanyaki hunters.
Opening Hours: 11.30 a.m. – 2.30 p.m (lunch) 6.30 p.m. – 10.00 p.m (dinner)
Hotel Aryaduta Jakarta, Jl. Prapatan No. 44 – 48, Senen, Jakarta
http://www.aryaduta.com/jakarta_dining_entertainment_h.php
5. Edogin

The sleek, contemporary interior of Edogin restaurant offers the perfect backdrop to indulge in delectable cuisine from an extensive à la carte menu or our sushi, Teppanyaki, Robatayaki and tempura bar both ala carte and All You Can Eat.
Jl. Asia Afrika Senayan, Jakarta Selatan, DKI Jakarta Jakarta, Indonesia 10270
Phone: +62 21 5747777
6. The Japanese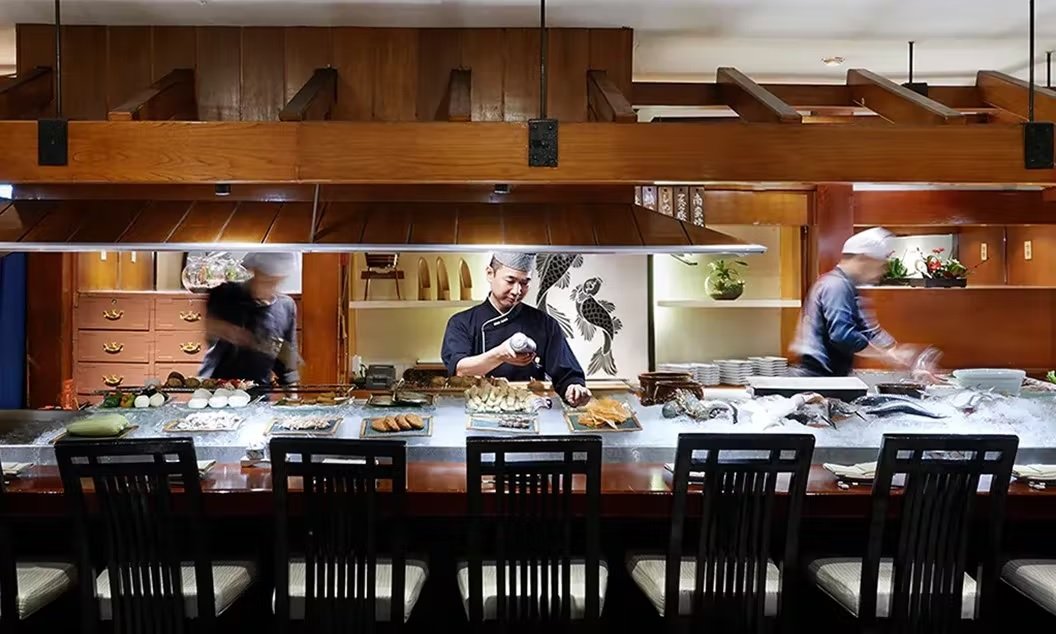 This restaurant is famous for its robatayaki, but with its incredible fresh and wide selection of ingredients, their teppanyaki course is definitely a feast for the eye and taste buds.
Sari Pacific Jakarta
Jalan M.H.Thamrin 6, Jakarta 10340,
Phone: +62 21 2993 2888
7. Yoshi Izakaya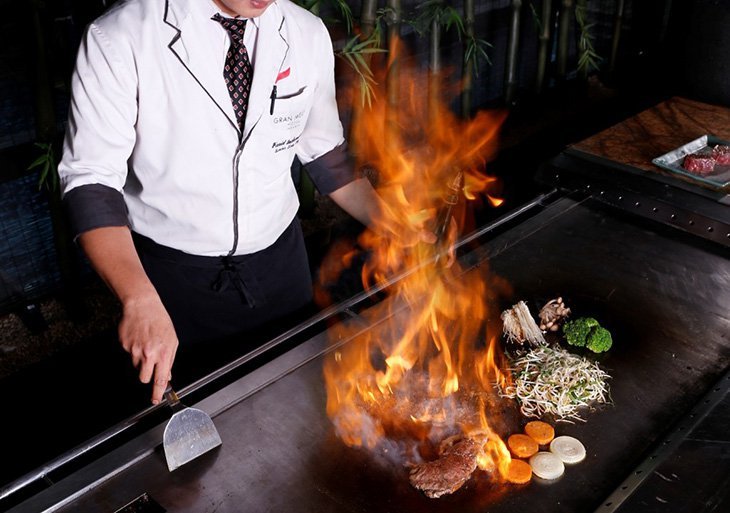 Yoshi Izakaya's menu highlights the incredible depth of knowledge of Executive Chef Ito Tomoaki and his culinary team. Their teppanyaki is famous for its quality, with the freshest and finest ingredients flown in from Japan and the region.The menu is complimented by a long sake list that surely will top off your teppanyaki feast.
Gran Melia Jakarta
Jalan H. R. Rasuna Said Kav X-0, Hotel Gran Melia, Daerah Khusus Ibukota Jakarta
Phone:(021) 5268080
http://www.melia.com/en/hotels/indonesia/java/gran-melia-jakarta/restaurants-and-bars.html
8. Miyama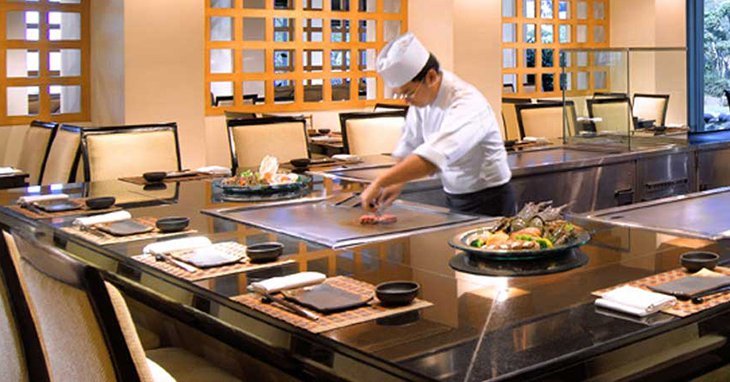 Borobudur Hote's Miyama Japanese Restaurant features a sushi counter, a spacious teppanyaki area and also 4 tatami rooms for private dining area, and a private teppanyaki room. The menu ranges from authentic to modern Japanese cuisine, specially created by their Japanese Chef.
Borobudur Jakarta Hotel
JL. Lapangan Banteng Selatan, Pasar Baru, 10710 Jakarta Pusat
Phone:(021) 3805555 ext. 73100
Opening Hours: 11:30AM–2:30PM, 6:30–10:30PM
9. Fujin Teppanyaki & Japanese Whisky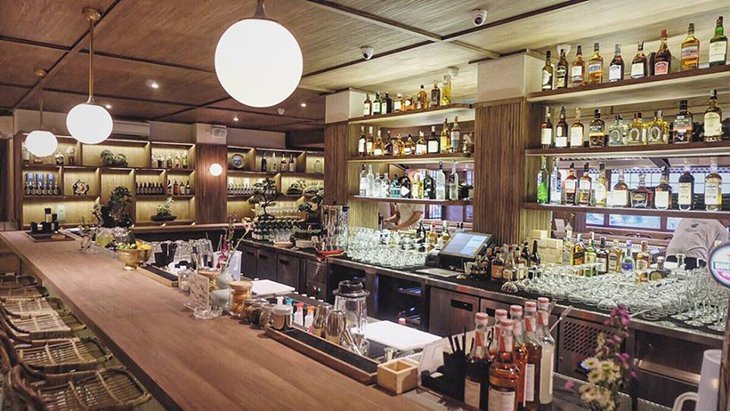 Brought to you by the people behind Bali's Rayjin Teppanyaki Dining, Beer Garden and Pao Pao in Jakarta, Fujin serves  unpretentious Hiroshima-style Teppanyaki with premium ingredients and in an appealing presentation. They also have a wide range of Japanese whisky and individually prepared cocktails to accompany your savory dishes. Recommended item: their famous Pork Belly Sogayaki.
Jl. Gunawarman No. 21, Senopati, South Jakarta
Phone: +6221 2751 3838 / 3030
http://fujin-id.com/
10. Maison Tatsuya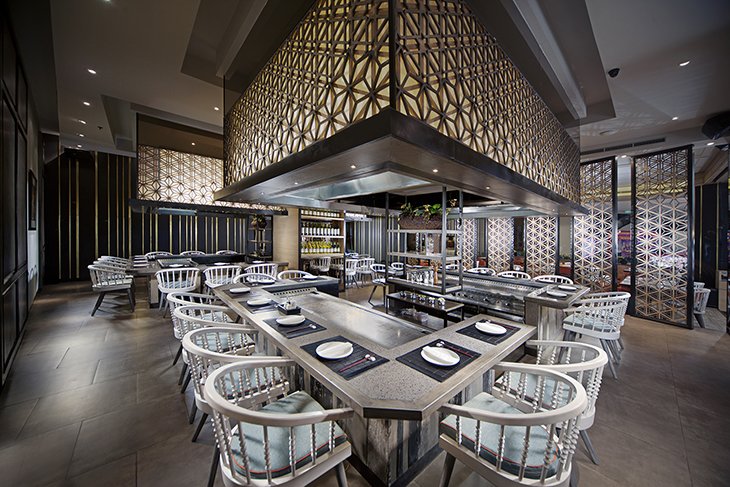 Maison Tatsuya serves a tempting array of premium quality teppanyaki to spoil your palate in a Japanese casual dining setting. In a warm and friendly atmosphere, our chefs will serve freshly hot cooked dish upon showcasing a live teppanyaki cooking on a hot flat griddle in front of the diners, combining the art of dining and entertainment.
Central Park Mall
1st floor, unit L1 - 112B
Jl. Let. Jend. S. Parman Kav. 28 Jakarta Barat
Phone: +622156985557
Jalan Jend. Gatot Subroto Kavling 70 (Penang Bistro Gatot Subroto 4th Floor)
Menteng Dalam, Tebet, Jakarta Selatan
Phone: +622182850884
Jl. Kebon Sirih Raya no. 59 (Penang Bistro Kebon Sirih 4th Floor)
Menteng, Jakarta Pusat 10340
Phone: +62213153250
Jalan Pakubuwono VI No. 2 (beside Penang Bistro Pakubuwono)
Kebayoran Baru, Jakarta Selatan
Phone: +62217268179
Aeon Mall BSD
Ground floor #G-10
Jl. BSD Raya Utama, BSD City, Tangerang, Banten 15345
Phone: +62212916 8228