These are a few highlighted bars to celebrate Negroni Week in Jakarta
As Negroni Week approaches, we celebrate the 10th anniversary of the classic Italian drink on September 12–18, 2022. Raise your glass as bars across the globe will be serving the classic Negroni which includes a perfect concoction of Campari, vermouth, and gin. And of course, you can find other Negroni unique creations. To help you find the right bars to celebrate, these are some highlighted bars to celebrate Negroni Week in Jakarta.
Alba Ristorante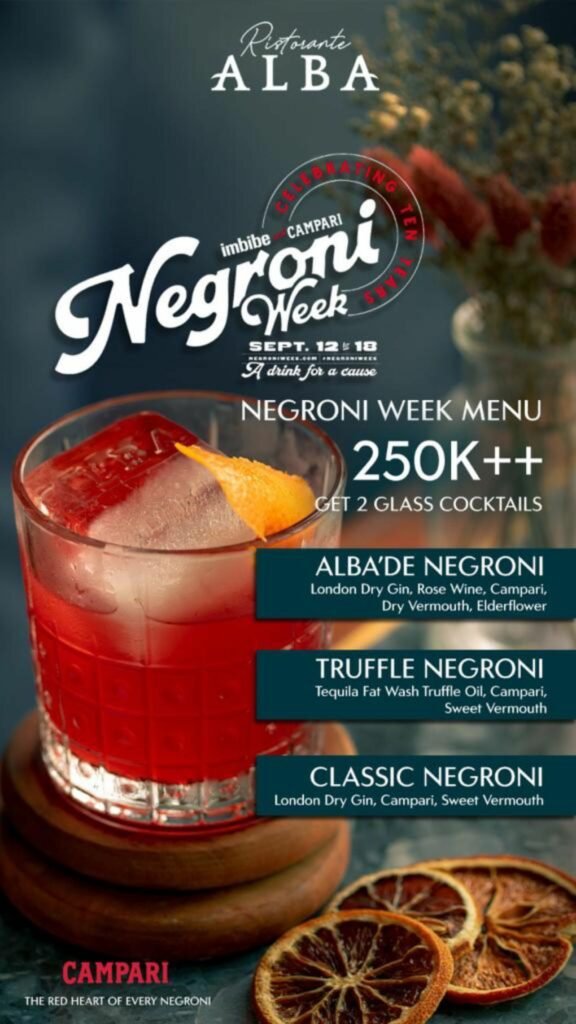 This whole week, Alba Ristorante hosts Negroni Week Menu. Enjoy the special Alba'de Negroni, Truffle Negroni, and Classic Negroni. Get 2 cocktails for only IDR 250,000++.
Alba Ristorante
Ruko Beach View, Blok C No. 12 – 15
Jl. Pantai Indah Kapuk, Penjaringan, Jakarta Utara
Phone: +62 858-9371-3016
Casa Alba Ristorante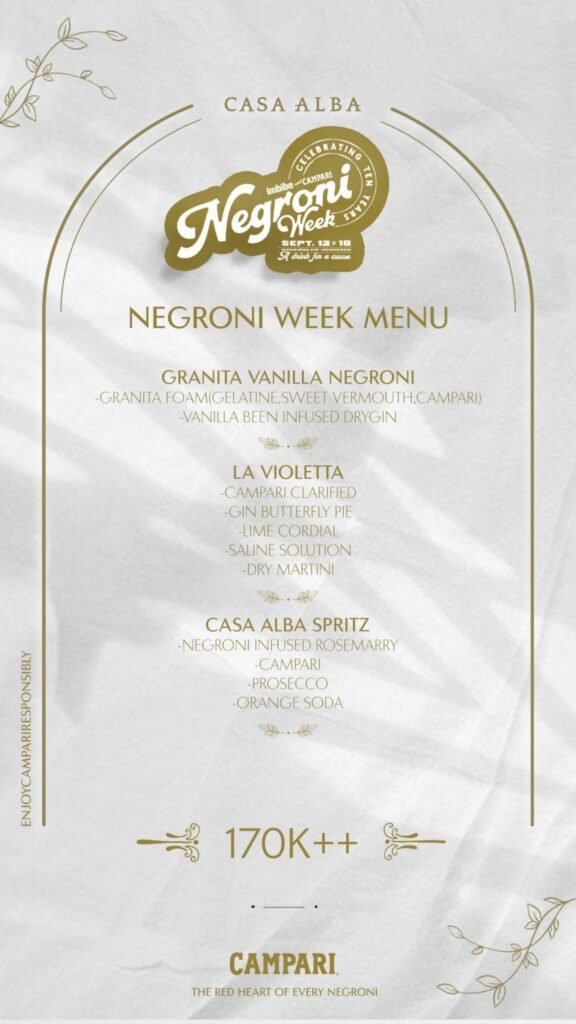 Located in the most prominent area of Menteng, Casa Alba Ristorante holds a Negroni Week Menu with the finest concoctions. Enjoy the special Granita Vanilla Negroni, La Violetta, and Casa Alba Spritz for IDR 170,000++ per glass.
Casa Alba Ristorante
Jl. Surabaya No. 38, Menteng, Jakarta Pusat
Phone: +6281295162561
Four Seasons Hotel Jakarta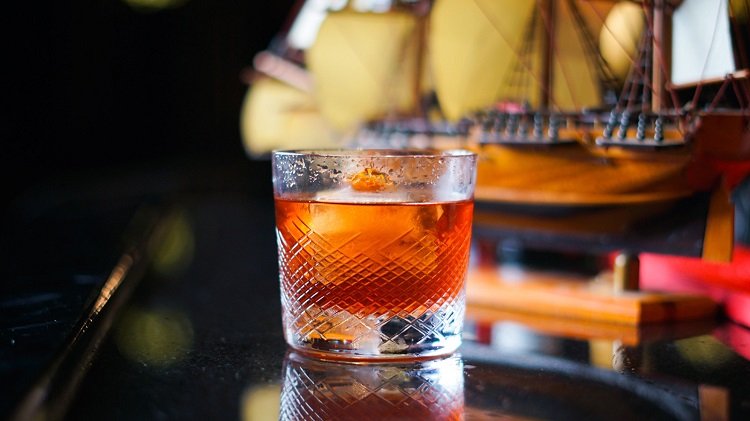 This September, the spotlight is on Negronis at Nautilus, the destination bar at Four Seasons Hotel Jakarta. As part of "POURED by Four Seasons," Nautilus will celebrate Negroni Week from September 12 to 18, followed by another week of Negroni-inspired festivities until September 25, 2022.
As an homage to the #1 classic cocktail, resident storyteller and head bartender Henry "Ale" Maraben Siktimu presents two fascinating cocktails that tip their hat to the 1919 Italian original, while adding his very own Nusantara touch. The Coco Pandan Negroni uses fat-washed coconut oil Bulldog gin and homemade pandan liqueur along with Cinzano Rosso vermouth and Campari. The Nutmeg Negroni gives a new twist to the classic cocktail, replacing gin with nutmeg-infused Wild Turkey bourbon whiskey along with homemade shiraz reduction, Cinzano Rosso vermouth and, of course, Campari. Giving Ale's creations company on the limited-period special Negroni menu are two cocktails curated by Argo Bar, Four Seasons Hong Kong (Black Pearl) and Charles H., Four Seasons Seoul (Café Negroni).
The Negronis at Nautilus menu will be available from September 12 to 25, 2022. To reserve a spot at the bar, call +62 21 2277-1888 or contact the Hotel via FS Chat.
Four Seasons Hotel Jakarta
Capital Place
Jl. Jend. Gatot Subroto Kav 18, Kuningan Barat, Jakarta, Indonesia
Phone: +62 (21) 2277-1888
InterContinental Jakarta Pondok Indah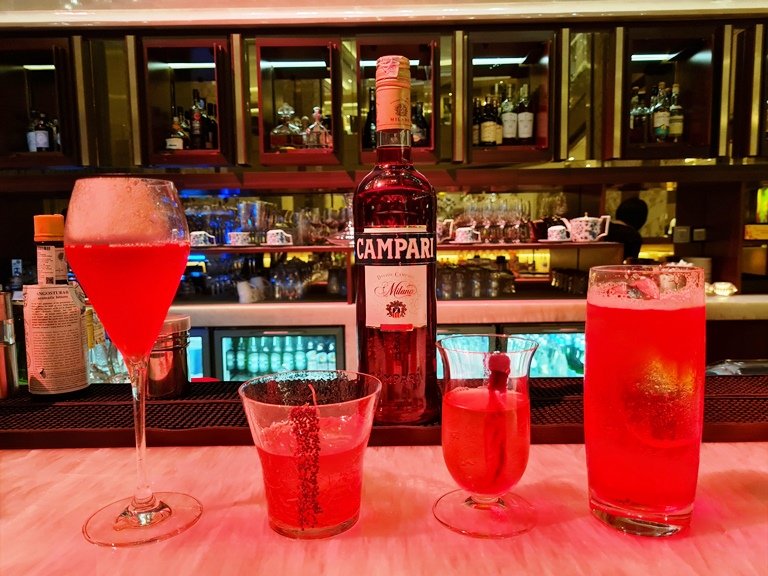 Celebrate the 10th Negroni Week "Raise Toast to An Icon" at the Lobby Lounge, InterContinental Jakarta Pondok Indah.
The Negroni Week starts from Monday, 12 September until Friday, 16 September 2022. Treat yourself and your loved ones to the best creations by the talented mixologist Bill Wismoyo.
InterContinental Jakarta Pondok Indah
Jl. Metro Pondok Indah Kav. IV TA, Jakarta 12310 Indonesia
Phone: +62 21 3950 7355
Park Hyatt Jakarta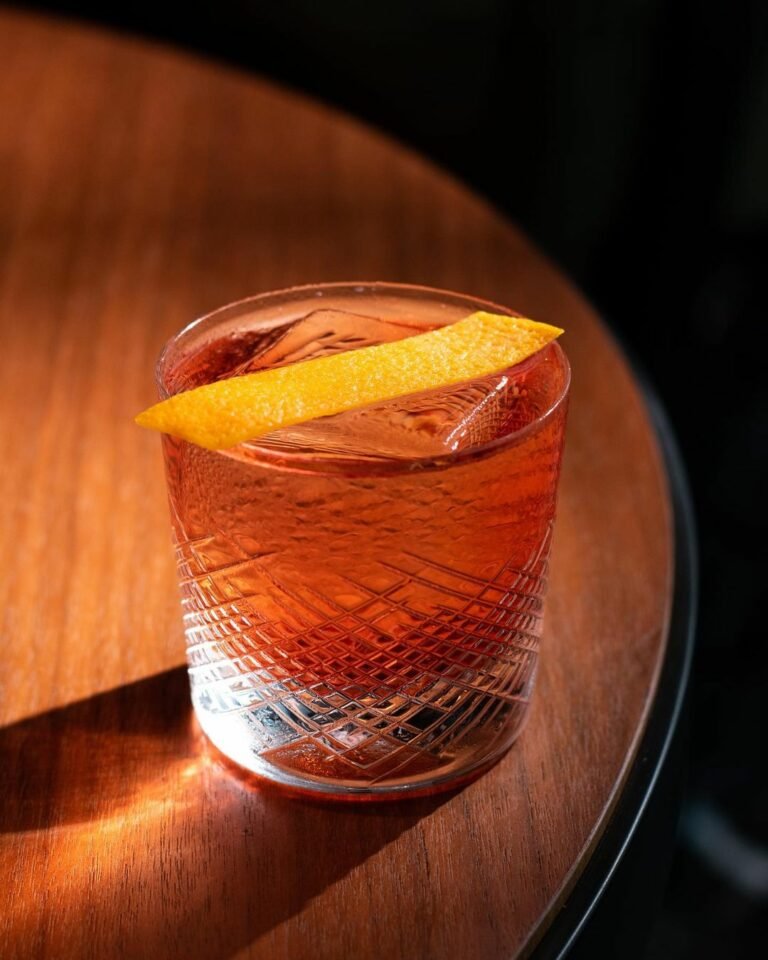 On the occasion of the 10th anniversary of Negroni Week, The Bar at Park Hyatt Jakarta has curated 3 all-time classic favorites and 4 specially crafted Negronis to celebrate one of the world's most iconic cocktails while also raising money for a good cause.
Happening from September 12–18, presented by Park Hyatt Jakarta, you can enjoy the classics like The Classic, Americano, and Boulevardier, meanwhile the specially crafted Negronis include The Bar Negroni, Parmigiano Negroni, Maguey Negroni, and Negroni Flight.
Park Hyatt Jakarta
Jalan Kebon Sirih 17-19, Jakarta, Indonesia, 10340
Phone: +62 21 3111 1234
The Hermitage Jakarta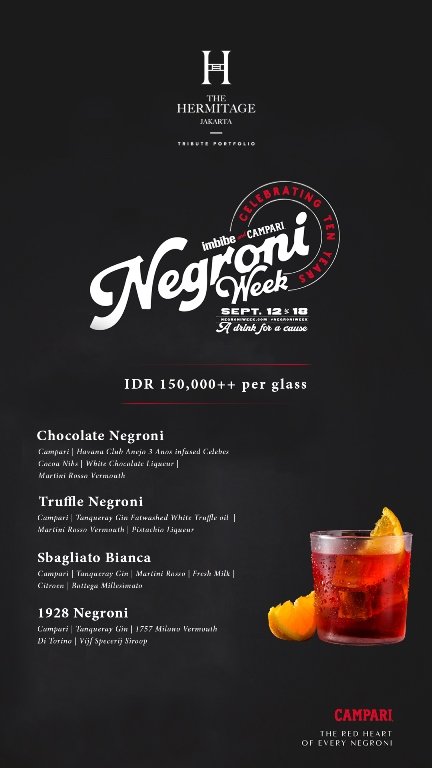 Bring on the celebrations because The Hermitage Jakarta has curated four delightful Negroni twists you don't want to miss. They are Chocolate Negroni, Truffle Negroni, Sbagliato Bianca, and 1928 Negroni. IDR 150,000++ per glass.
The Hermitage, a Tribute Portfolio Hotel
Jl. Cilacap No. 1, Jakarta Pusat 10310, Indonesia
Phone: +6221 3192 6888, +62822 8983 6888
The Ritz-Carlton Jakarta, Mega Kuningan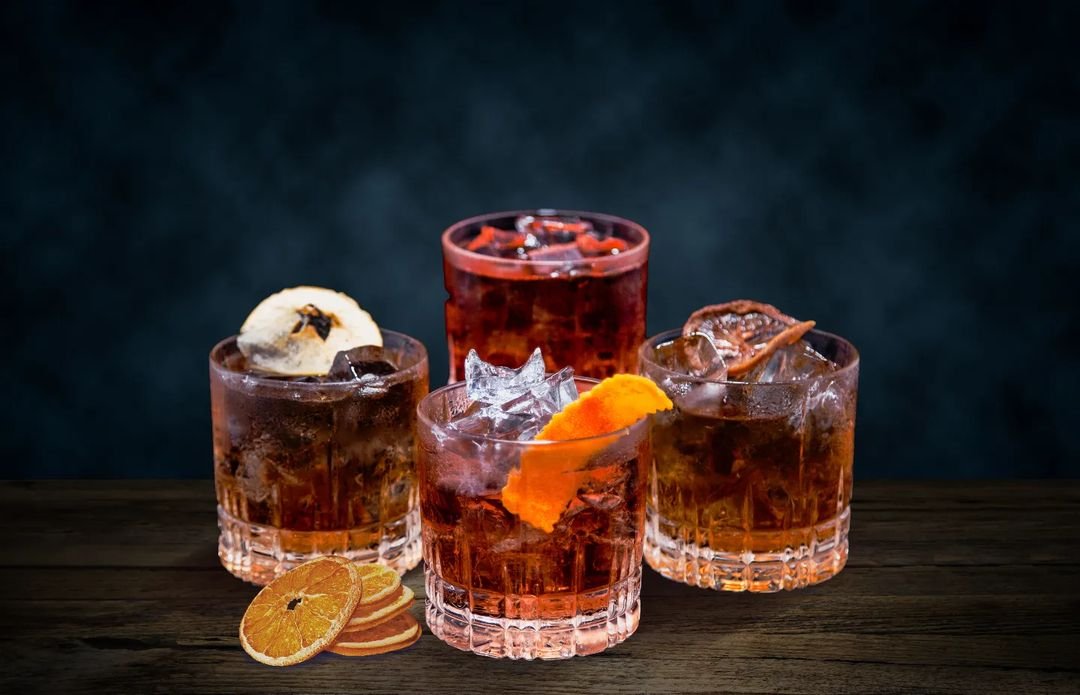 Calling all cocktail lovers to have a sip (or two) of the signature Negroni concoctions!
Celebrate the global Negroni week for a month at Lobo. Bring your loved ones and enjoy Lobo's 4 signature Negronis with BUY 1 GET 2 promo, daily throughout September!
Reserve today while it lasts. For further information and reservations, contact at 08111683926.
The Ritz-Carlton Jakarta, Mega Kuningan
Jl. DR.Ide Anak Agung Gde Agung Kav.E.1.1  Mega Kuningan, Jakarta 12950 
Phone: +62 21 2551 884, +628111683926
Grand Hyatt Jakarta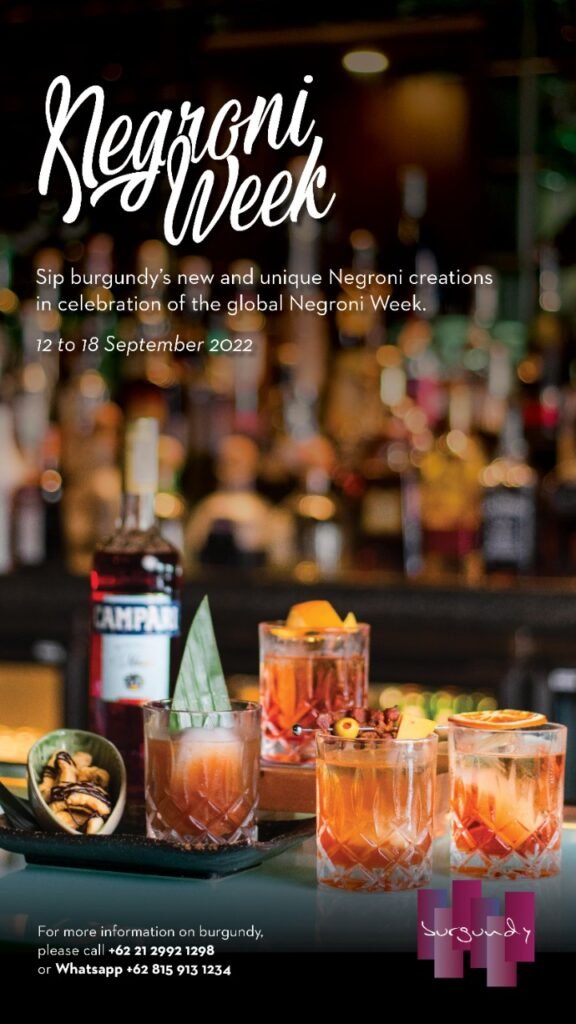 Sip burgundy's new and unique Negroni creations in celebration of global Negroni Week. For more information on burgundy, please call +6221 2992 1298 or WhatsApp +62 815 913 1234
Grand Hyatt Jakarta
Jl. MH Thamrin Kav 28-30, Jakarta 10350, Indonesia
Phone: +6221 2992 1298
The Langham, Jakarta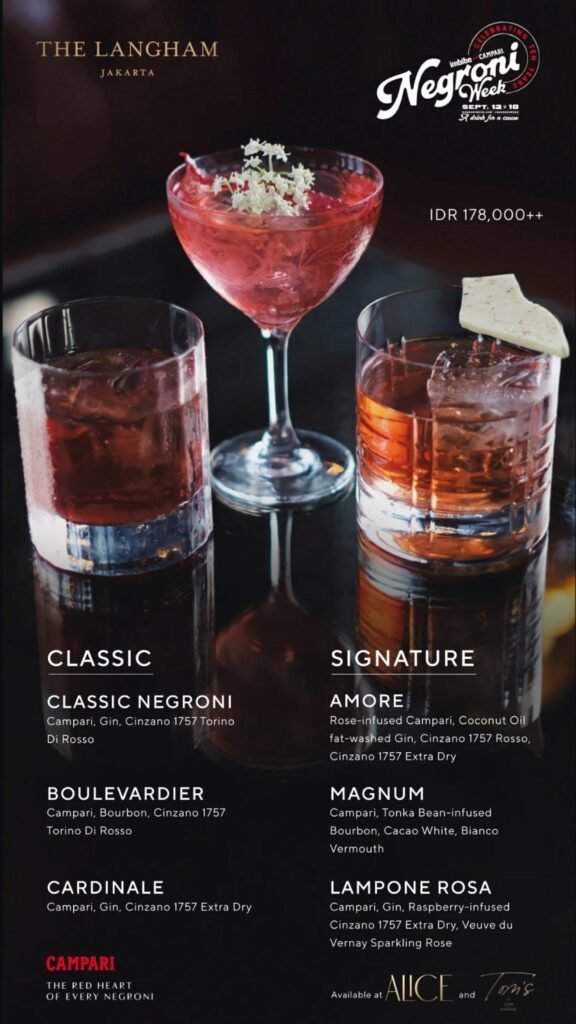 The Langham, Jakarta celebrates Negroni Week at their prominent Alice and Tom's. Loyal patrons can sip the classic concoctions that include Classic Negroni, Boulevardier, and Cardinale. Meanwhile, they also offer the most beloved signature creations like Amore, Magnum, and Lampone Rosa. IDR 178,000++ per glass.
The Langham, Jakarta
District 8, SCBD, Lot 28 Jakarta 12190, Indonesia
Phone: (+62) 21 2708 7888
Vong Kitchen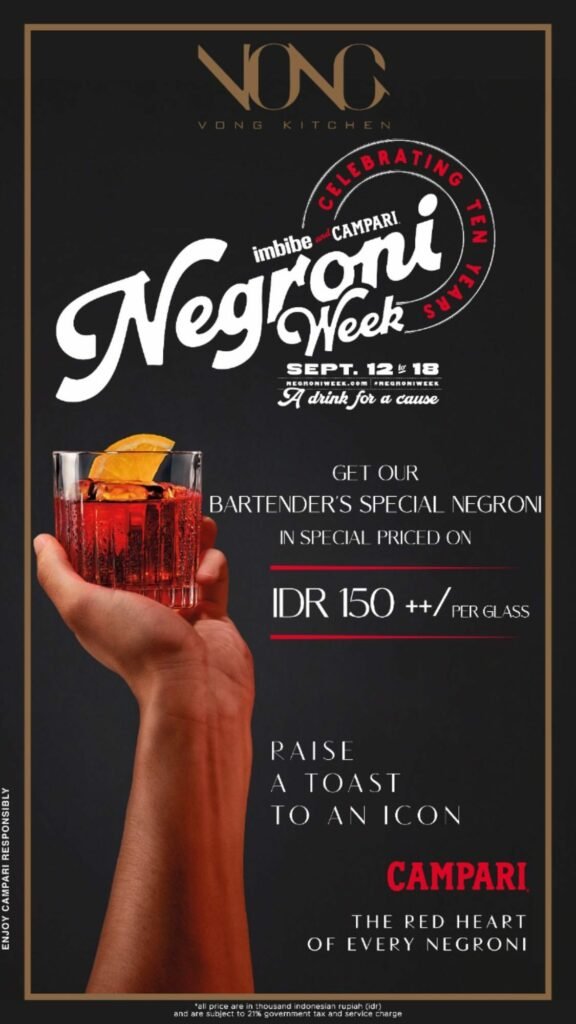 Vong Kitchen joins the occasion by offering their bartender's special negronis. With IDR 150,000++ per glass, you can get a choice of the unique Rengginang Negroni, Coconut Negroni, White Negroni, and of course the ever classic Negroni.
Vong Kitchen
Alila SCBD Jakarta
SCBD Lot 11, Jl. Jenderal Sudirman Kav 52-53, Jakarta 12190
Phone: +6221 5080 8787
Pantja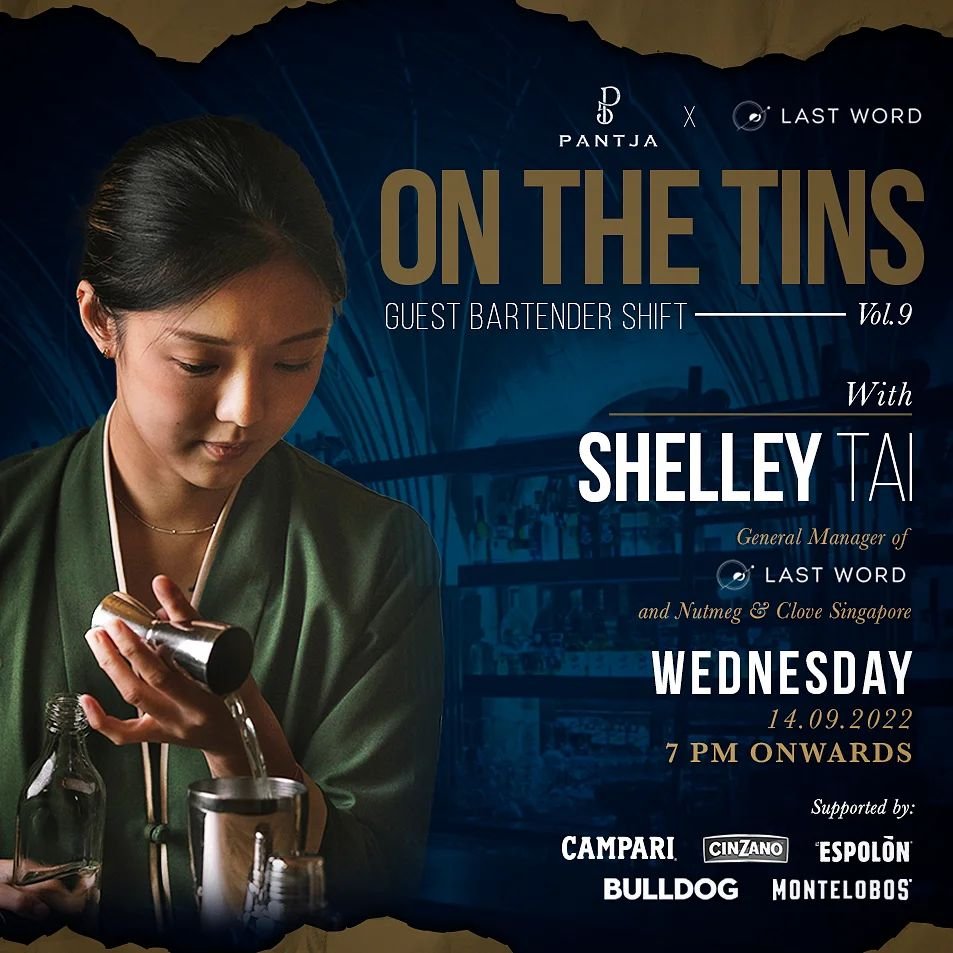 Celebrate Negroni Week with Pantja as they invite Shelley Tai from the newly opened Japanese-inspired cocktail bar Last Word to the 9th volume of On The Tins at Pantja. Shelley brings with her a wealth of experience, currently as General Manager of Last Word and Nutmeg & Clove in Singapore and notably representing Hong Kong in the Global Finals of the prestigious World Class cocktail competition.
Enjoy Shelley's cocktails for one evening only on Wednesday 14th September – advanced reservations are highly recommended as seats are limited.
Pantja
Jl. Senopati No.37, Senayan, Jakarta Selatan, 12190
Phone: +6221 5213010, +628111273010
Black Pond Tavern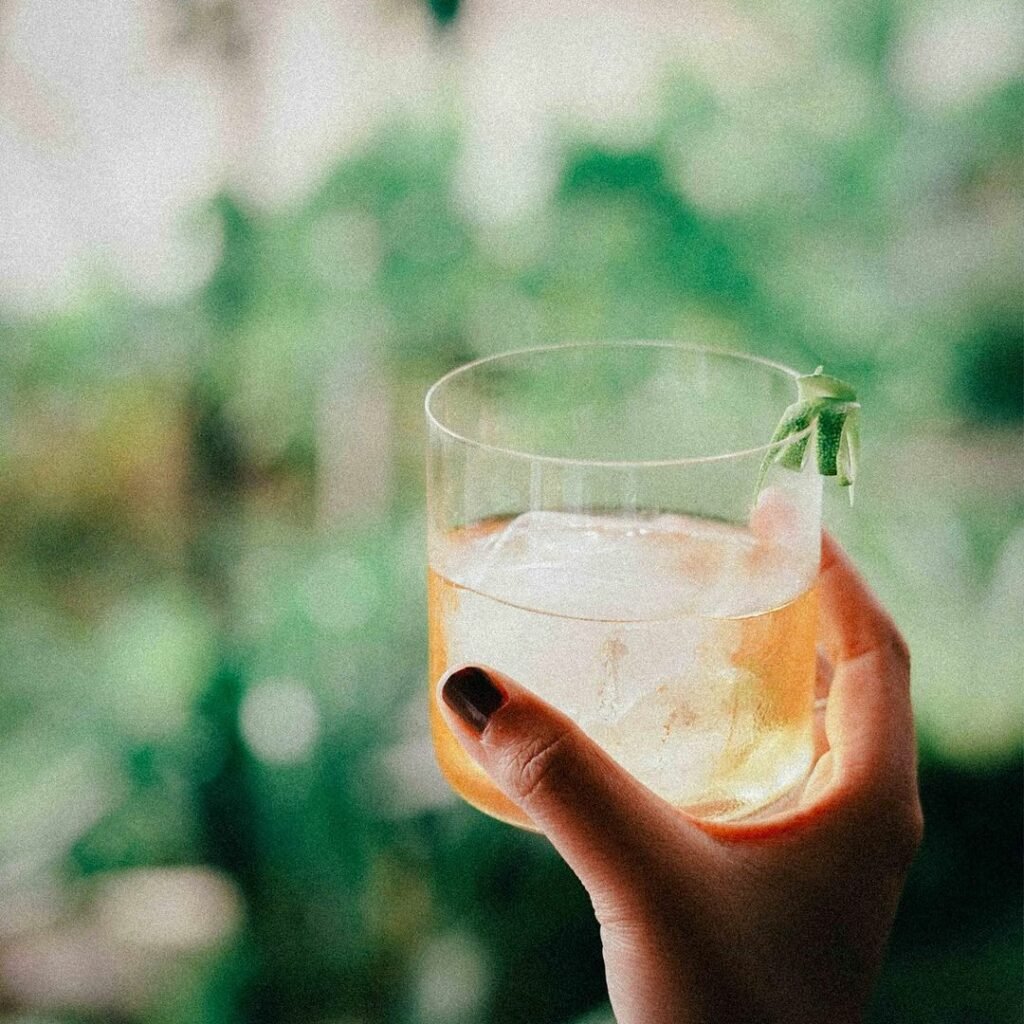 This year, Black Pond Tavern will also be joining forces with hundreds of bars worldwide in raising awareness about this movement by crafting special Negroni menu to be showcased throughout the week! Come visit and try them out. Available daily from 12 to 18 September 2022, all day long.
Black Pond Tavern
The MAJ, Senayan, Jl. Asia Afrika, Pintu IX, Jakarta Pusat
Phone: +62811169721
Caspar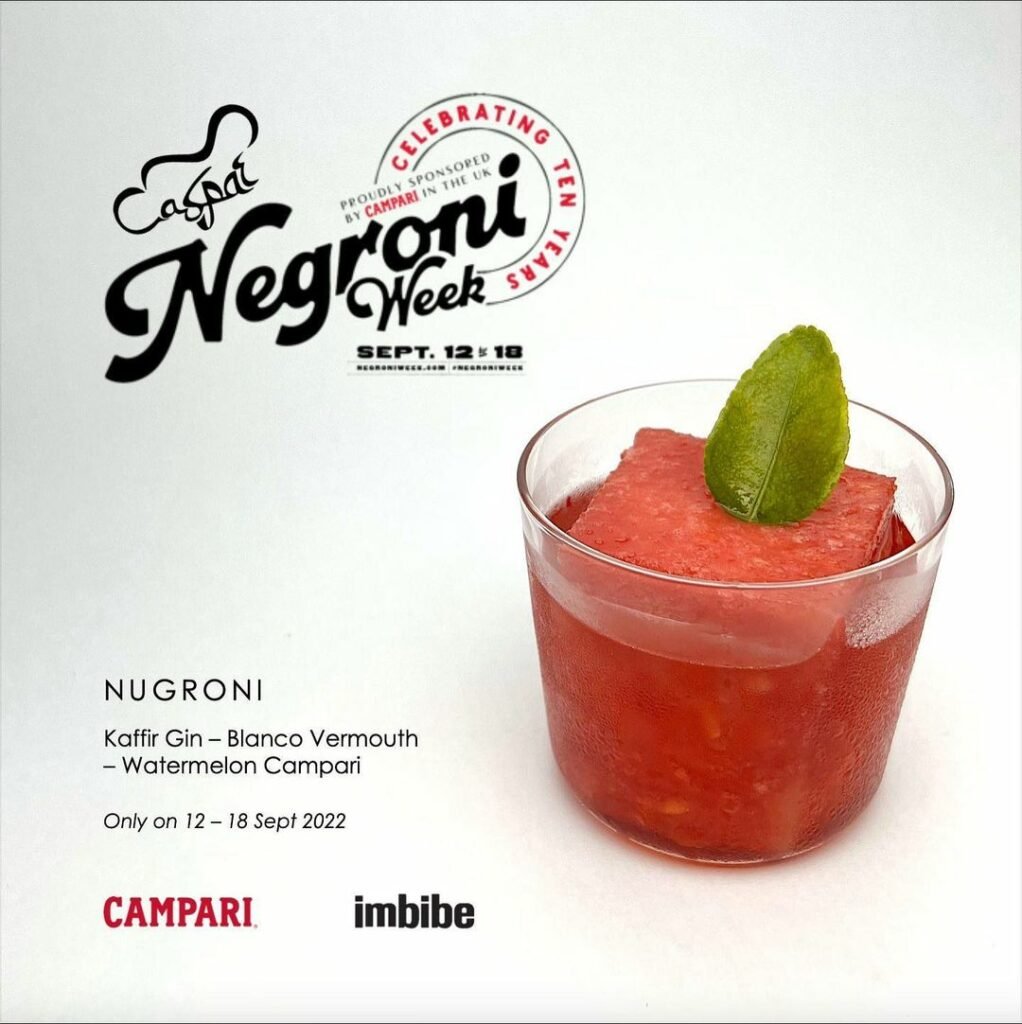 This week Caspar is celebrating Negroni Week with special concoctions. Ask the bartender as much as you could for Kaffir Gin, Bianco Vermouth, and Watermelon Campari. It only lasts for a week.
Caspar
Sudirman Suites Apartment
Jl. Jendral Sudirman Kav. 36, Central Jakarta, Indonesia
Phone: +62 822 178 178 80