The spookiest day is slowly approaching and we feel that we need some good tricks and treats to celebrate it. Here are some of the places where you can indulge an array of gross-looking tempting food and drinks to make your Halloween Day more festive and eerie-sistible.
Where to Celebrate Halloween Day in Jakarta
BARRA Jakarta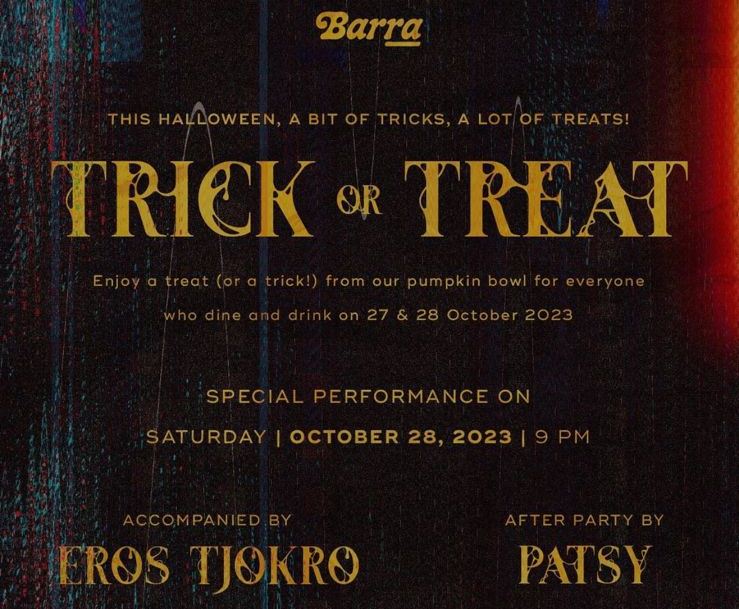 TRICK OR TREAT ? well, it's BARRA's TREAT this halloween !! Saturday, 28 October 2023, first treat is a special performance by Eros Tjokro to liven up your halloween party. Get another treat from our pumpkin bowl, which situated at our Bar Barra on level 3 for you who dine and drink on October 27 and 28!
Stay till late because PATSY is playng her set on the DJ deck ! Special halloween coctails and bottle promos are on the loose. Bottoms UP!! More information and registration +62 817 0520 230
BARRA Jakarta
Jl. KH. Ahmad Dahlan 2 Blok D.I Pesil No. 8, Kramat Pela, Kby. Baru, Jakarta.
Reservation : +62 817 0520 230
Instagram
HARRIS Hotel & Conventions Kelapa Gading Jakarta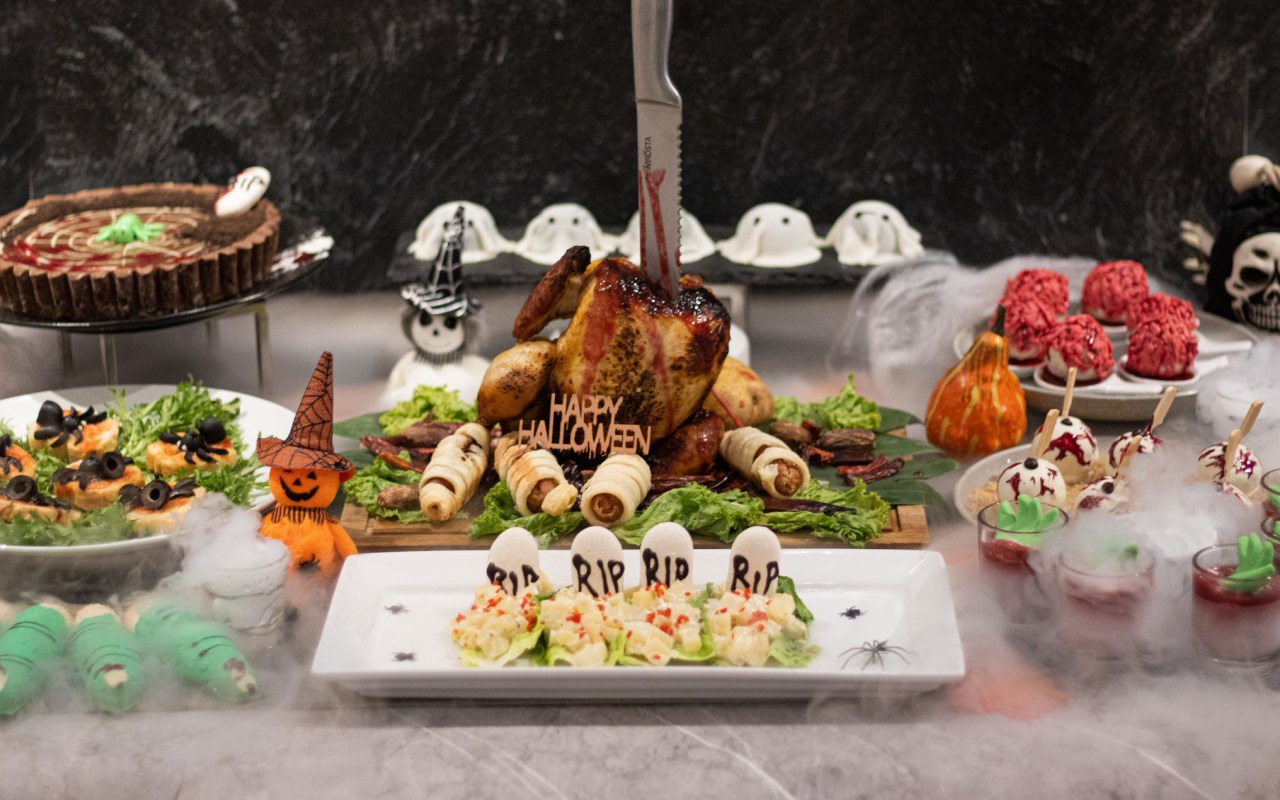 HARRIS Hotel & Conventions Kelapa Gading, Jakarta is ready to welcome you with plenty of fun activities, spooky dishes, drinks and entertainment. HARRIS Hotel & Conventions Kelapa Gading, Jakarta is offering "Annabelle Haunted Feast" with a collection of bewitching Halloween dinner delights and special spooky drinks at Perfectly Imperfect - Cocktails, Wines & Tapas Bar are coming to HARRIS Cafe at HARRIS Hotel & Conventions Kelapa Gading, available on Sunday, 29th October 2023 at 18.00 hrs.
Let's reserve your Halloween dinner IDR 358.000 / person including Face painting, Buffet all-you-can-eat, Monster Cake decoration, Best Costume accompanied by Live Music performance, and don't miss a chance to win the door prizes. 
HARRIS Hotel & Conventions Kelapa Gading Jakarta
Jl. Boulevard Barat Raya Kelapa Gading, Jakarta, Indonesia
Phone: +62 21 458 78 200
Henshin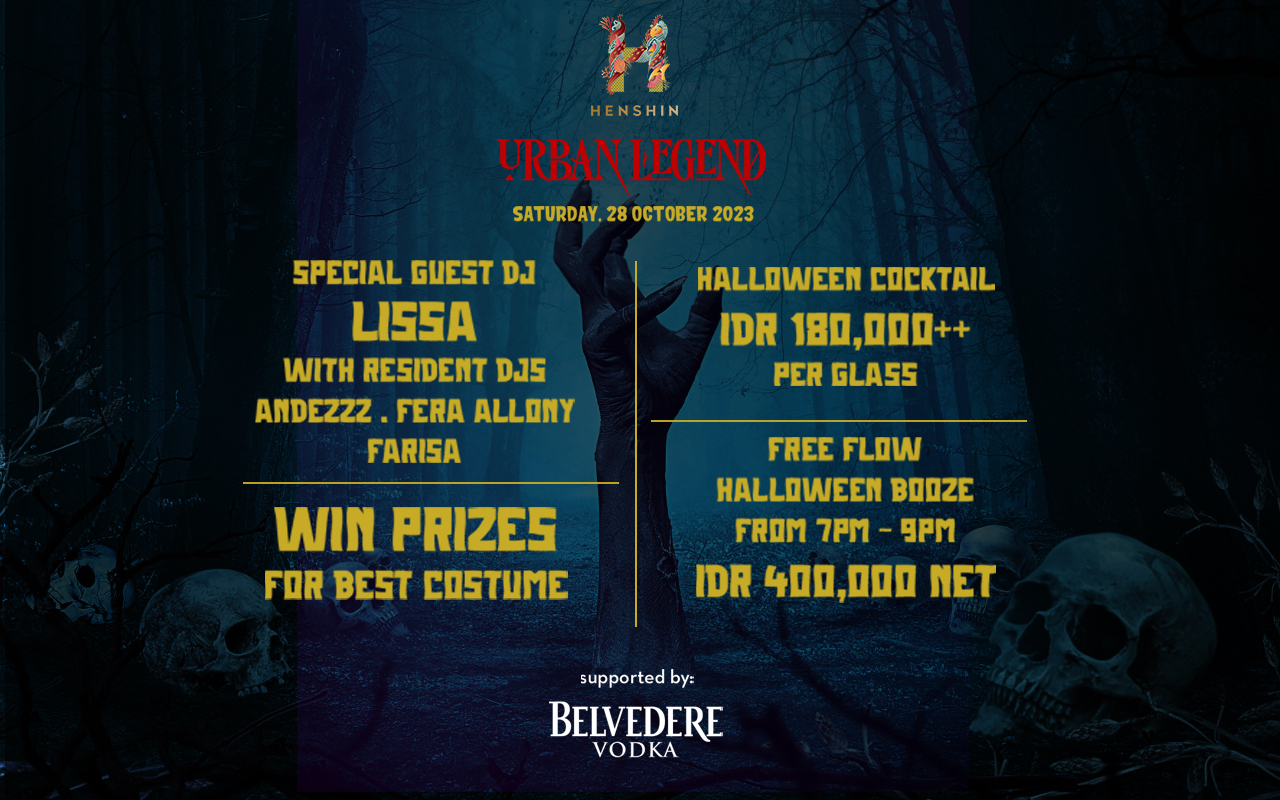 Celebrate the spookiest night at Henshin with special Halloween cocktails, free-flow booze, special performance by DJ LISSA and resident DJs Andezzz, Fera Allony and Farisa.
Henshin at The Westin Jakarta
Jalan H. R. Rasuna Said Kav. C-22A
Jakarta 12940 Indonesia
Phone  +62 21 2788 7788
HOME by Moonshine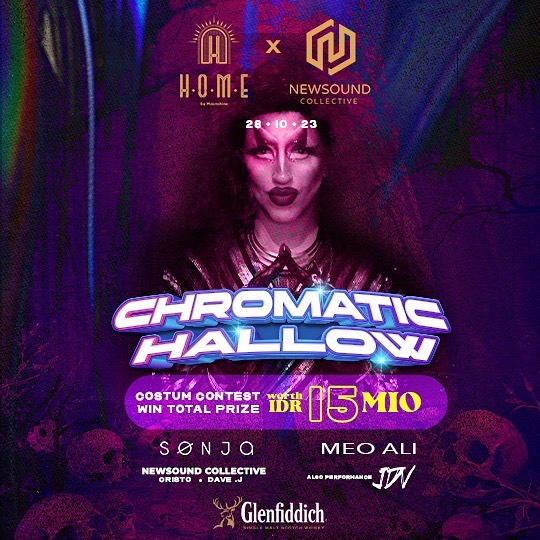 Chromatic Hallow hauntingly good time at H.O.M.E
Celebrate bewitching Halloween night at H.O.M.E with live music by @jazzydonvitto, DJ @meo18ali, @sonja.musik also in collaborating with @newsound.collective by DJ @cristo_alexander07, @itsdave.j
Dress to impress in your most enchanting costume, as we'll be hosting an epic Costume Contest with a total prize worth "IDR 15 MIO". Don't miss the spooktacular fun! 
—
28 OCTOBER 2023
RSVP + 62 811 8286 691
Ground Floor - South Tower
Sampoerna Strategic Square, Sudirman
JW Mariott Hotel Jakarta
JW Marriott Hotel Jakarta has set up a series of Halloween-themed events just for you.
No Trick, Just Treat' Halloween Dinner at Sailendra Restaurant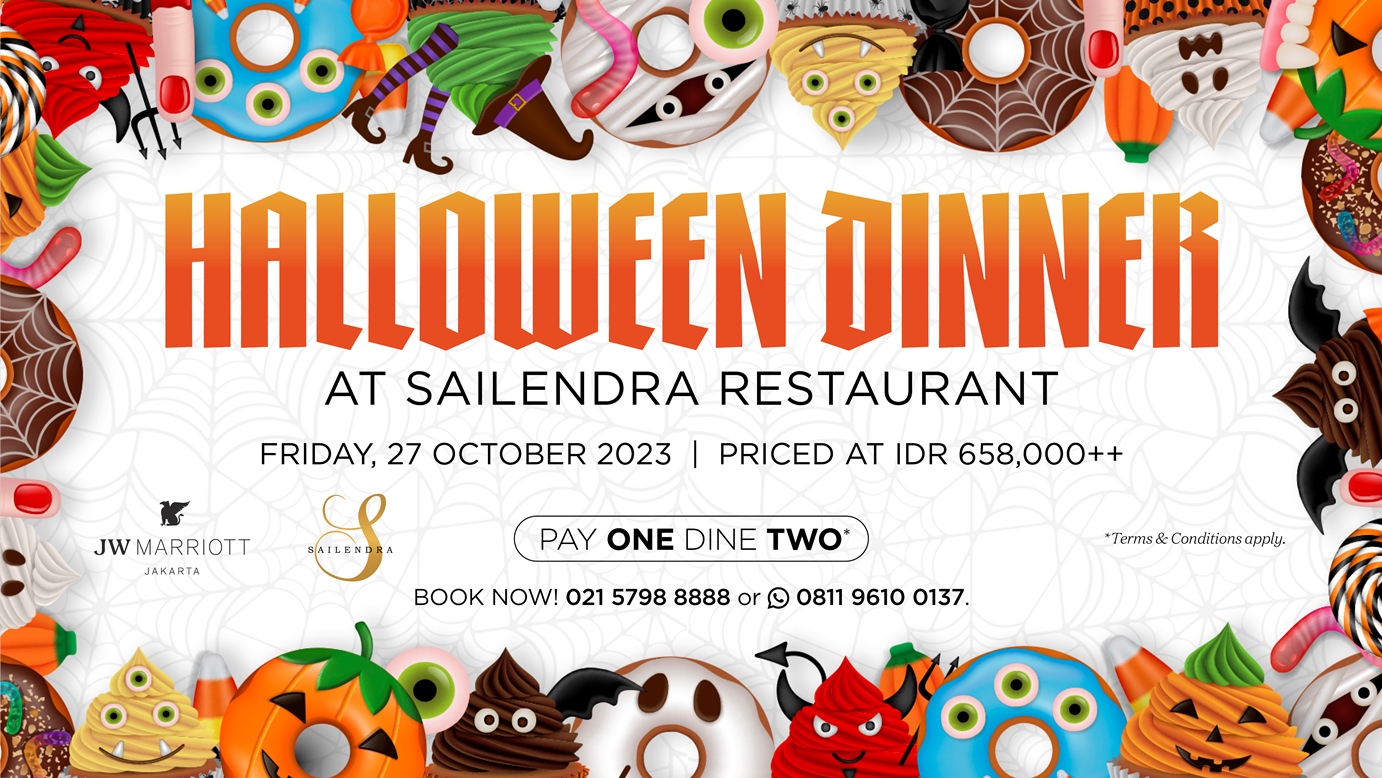 Enjoy a 'Pay One, Dine Two' promotion at the Halloween-themed buffet dinner at the award-winnning Sailendra Restaurant! Get ready for a scary-adorable evening of delicious treats, and spooktastic memories with loved ones.
Immerse in the eerie atmosphere, while enjoying the live band performance. Plus, don't miss a chance to win some hauntingly grand prizes!
Save the Date: Friday, October 27, 2023
Time: 6:00 PM - 9.30 PM
at Sailendra Restaurant (JW Marriott Hotel Jakarta's lobby level)
Book now via call +6221 5798 8888
or WhatsApp to +628118588075
The Halloween Bash at Blu Martini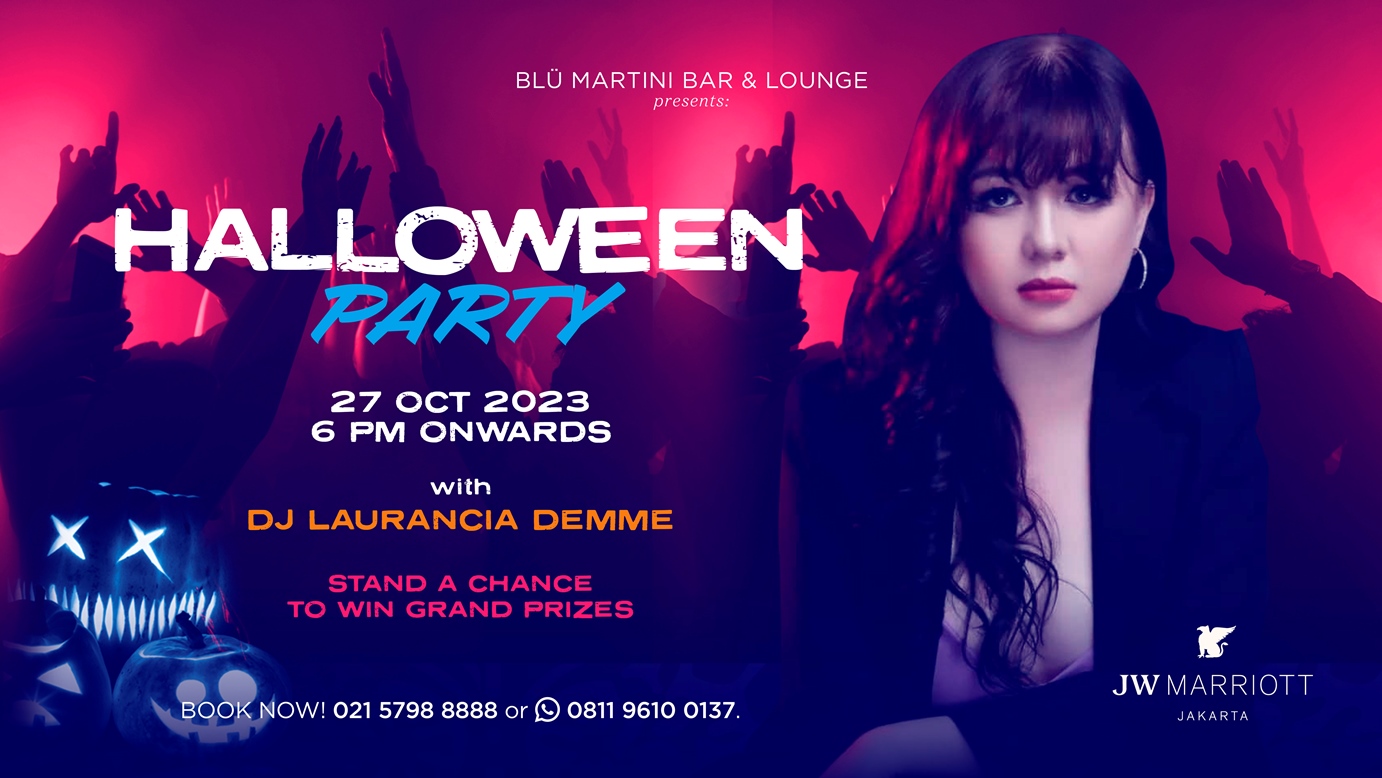 Join a Spooktacular Halloween Party at JW Marriott Hotel Jakarta's Blu Martini!
Save the Date: Friday, October 27, 2023
Time: 7:00 PM
at Blu Martini (JW Marriott Hotel Jakarta's lobby level)
Time to dance to the thrilling music by DJ performance, and wear your scariest or most creative Halloween costume and get ready for a night of thrills and chills!
RSVP now to secure your spot:
Call: +6221 5798 8888
WhatsApp: +628118588075
It's going to be a wickedly good time, and we can't wait to see you there! 
JW Marriott Hotel Jakarta
Jalan DR Ide Anak Agung Gde Agung Kav E.1.2 No 1&2, Kawasan Mega Kuningan, Jakarta, 12950, Indonesia
Phone: +62 21 57988888
Kita Bar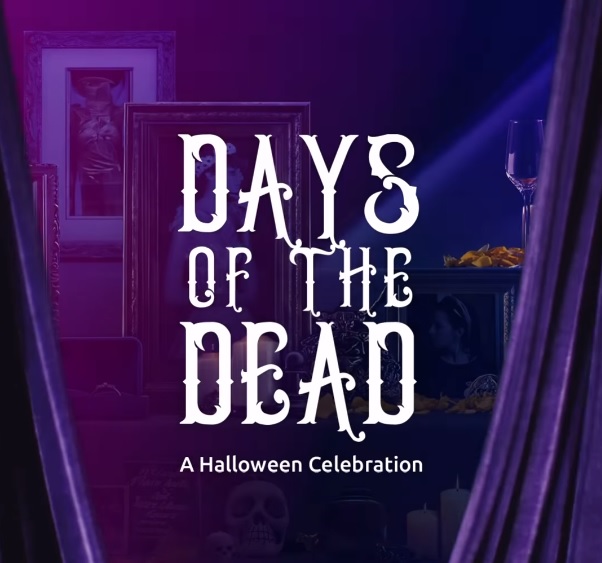 For two nights only, KITA Bar opens a portal to the timeless realm of spirits. Escape into an enchanted space as the spirits awaken for two haunting nights of music, magic and mayhem at KITA Bar's Days of the Dead. Dress up in spooky colorful and post pictures of your Halloween moments on Instagram for a chance to win a staycation and dining credits at the Park Hyatt Jakarta.
See you on October 27 & 28!
Reservation: 0888 8000 006
Park Hyatt Jakarta
Jl Kebon Sirih No. 17-19, Jakarta 10340 Indonesia
Phone: +62 21 3111 1234
Scream or Dance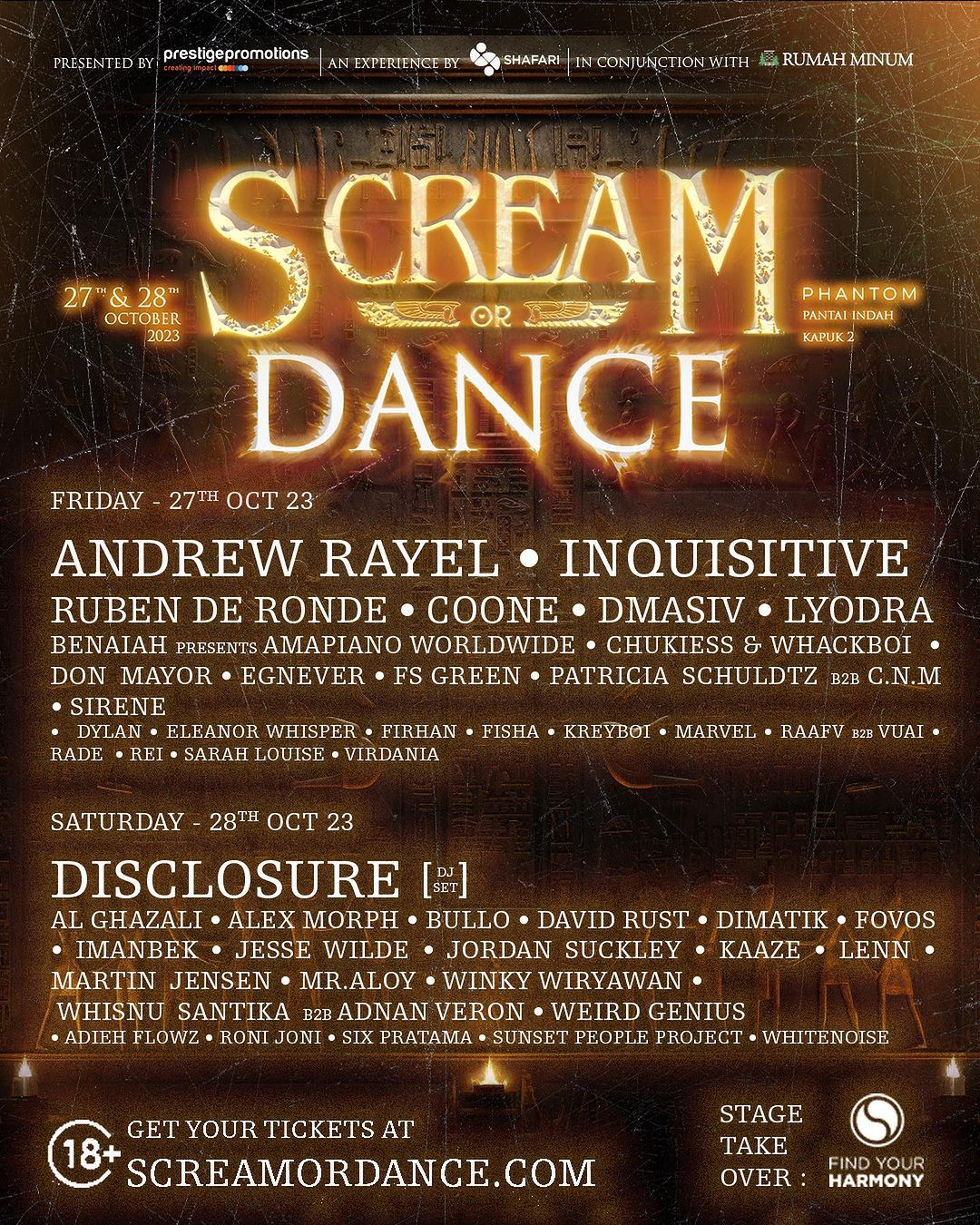 The biggest Halloween music festival is coming!
Get ready for the chills! Dont forget to join Scream Or Dance on October 27th & 28th, 2023 at PIK 2.
Which day are you looking forward to the most? Secure your spots at screamordance.com. Let's celebrate this spooky season together!
See you there!
The American Club Jakarta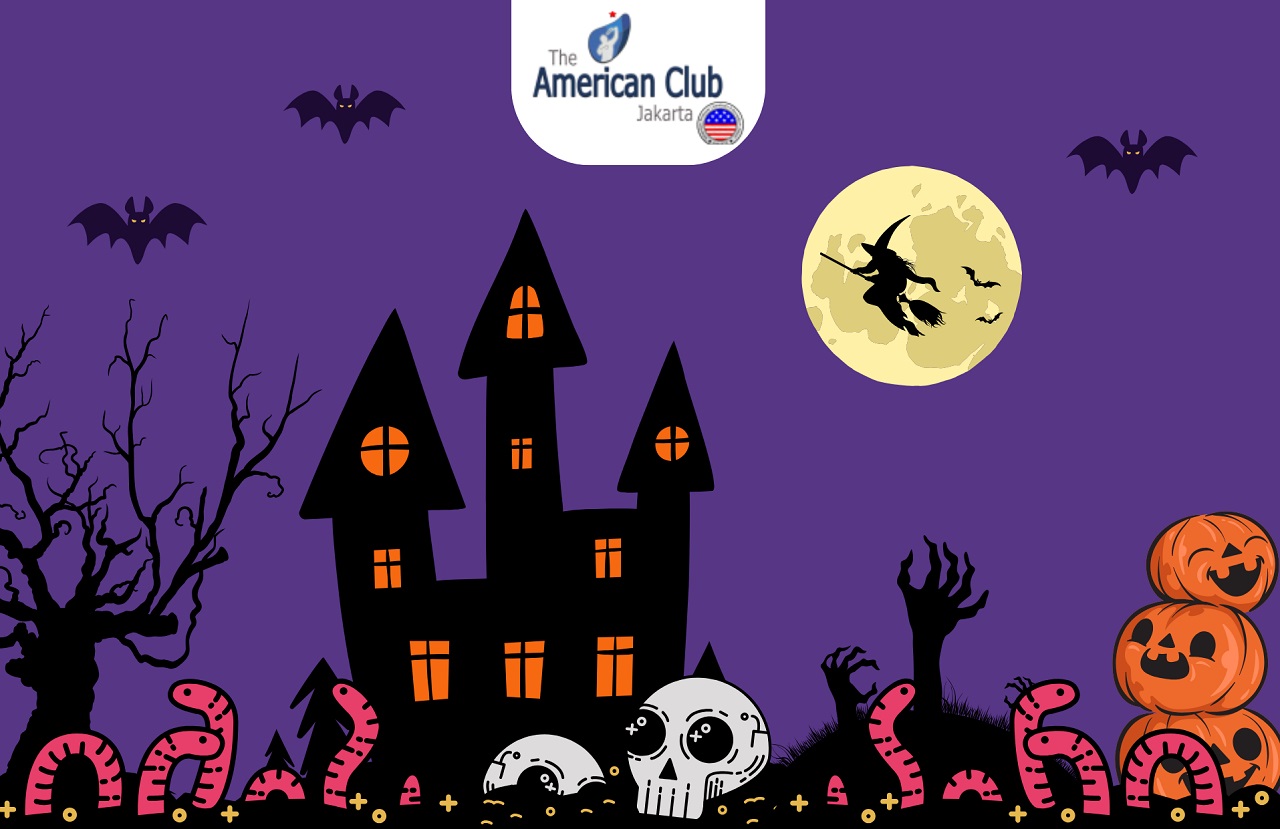 The American Club Jakarta as a part of US Embassy also celebrates America's holidays. The Halloween Party will be held on November 4th, 2023. 650 participants with mostly expat participated last year and with a target this year can reach 800 participants, join us and enjoy our series of events, signature Halloween American all-you-can-eat buffet and choices of drinks!
Date: Saturday, November 4th 2023
Time: 3 - 8 PM
Location: The American Club Jakarta (Jl. Brawijaya IV No. 20, Kebayoran Baru, South Jakarta)
LIMITED TICKETS!! get your ticket now by the QR Code or simply click the link here: Bit.ly/ACHalloweenTickets
The Langham, Jakarta
ALICE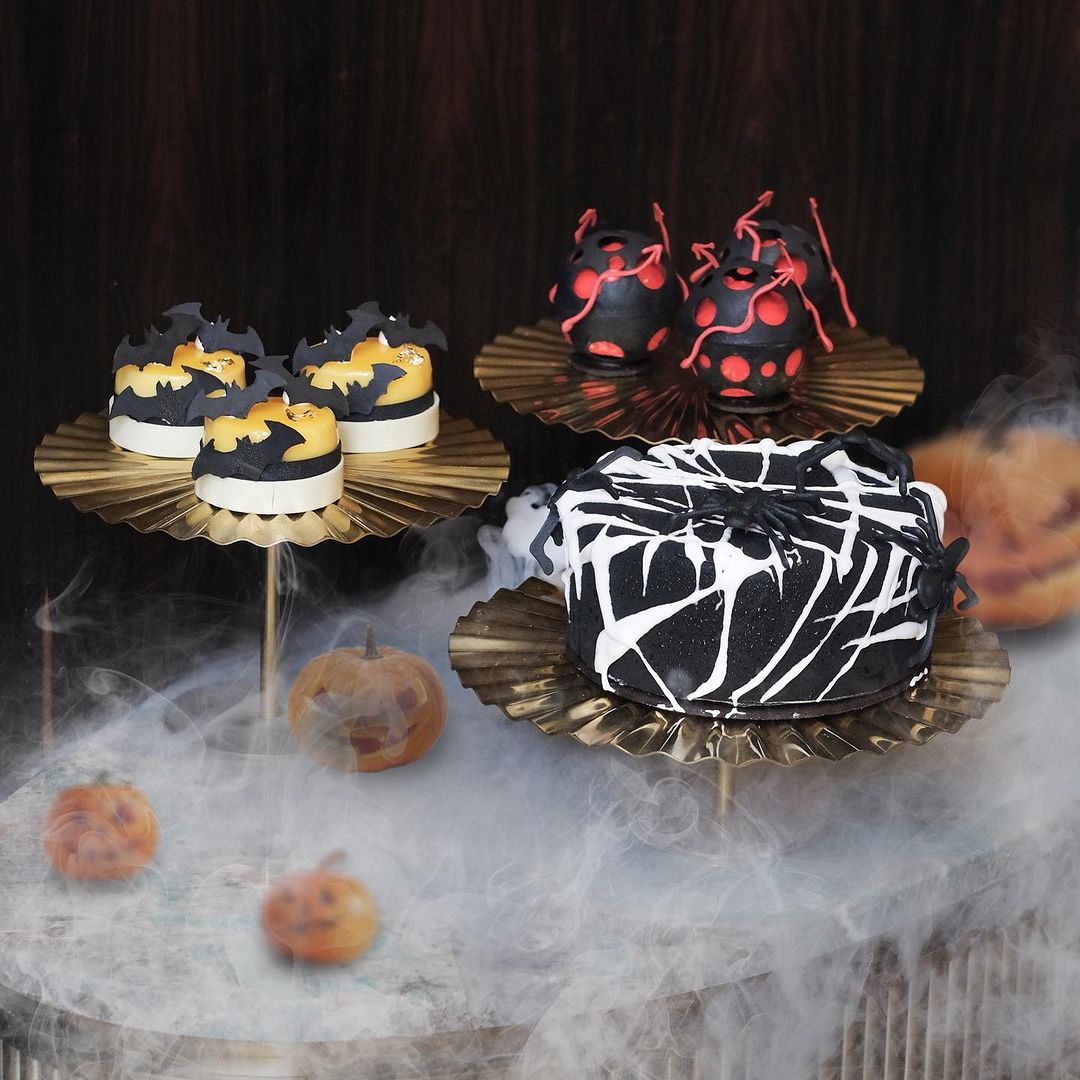 ALICE showcases Halloween-themed delightful cakes for your sweet and spooky treats. Available from 24-31 October 2023.
Bloody Sphere
Raspberry Cremeux, Raspberry Jelly, White Chocolate Mousse
Pumpkin Cheese Cake
Pumpkin, Cream Cheese, Hazelnut Crunch
Black Velvet
Black Sesame Praline, Black Sesame Mousse, Raspberry Jelly
Tom's by Tom Aikens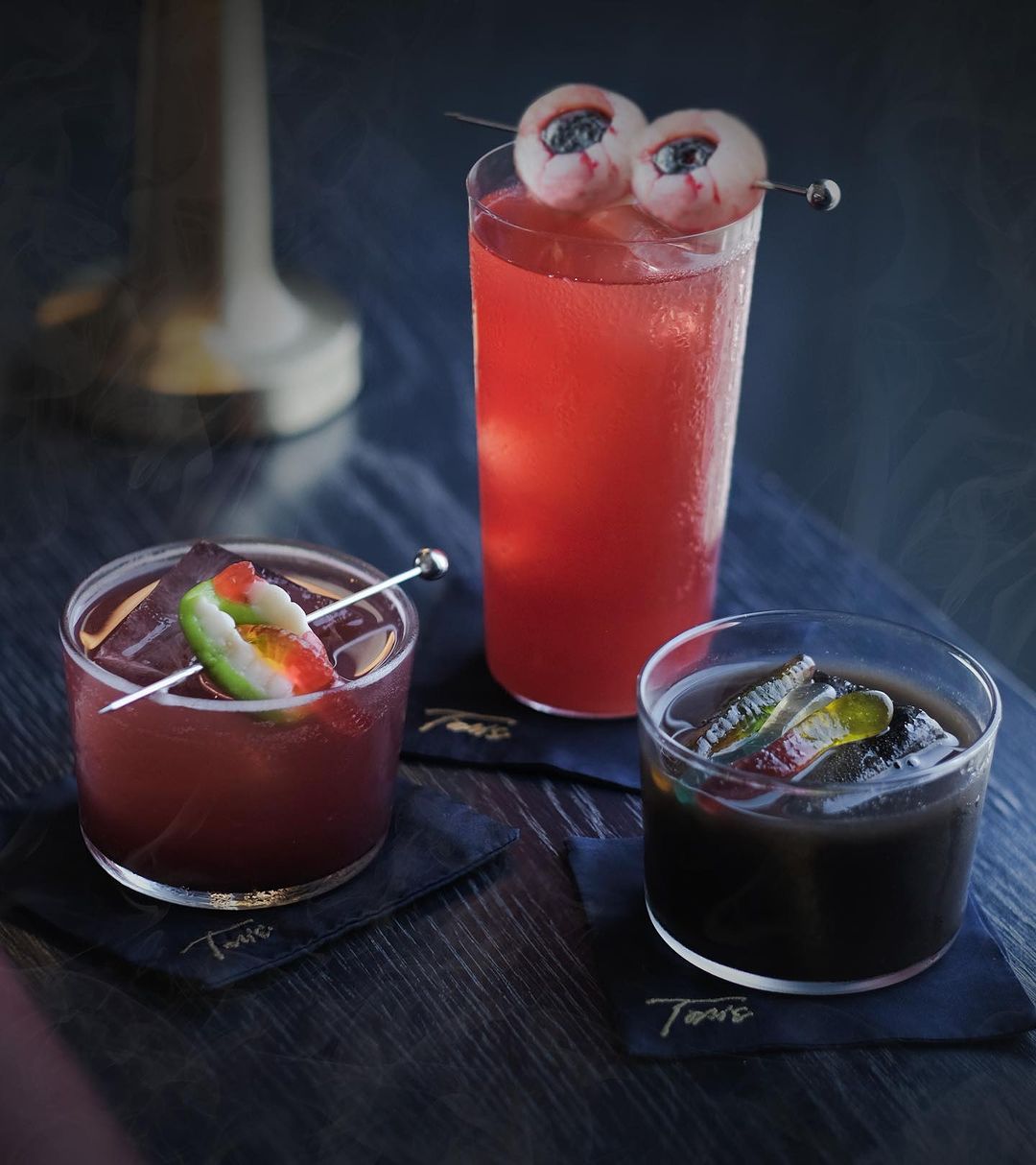 It's a spooktacular October at Tom's by Tom Aikens. Head to the bespoke bar and try the special Halloween cocktail creations, available from 24-31 October 2023.
Ghouloma
Espolon Blanco Tequila, Pink Grapefruit, Mix Berries, Lime
Vampire Slayer
Espolon Blanco Tequila, Crème de Cassis, Lime Ginger Marmalade, Lime
The Darkest Nightmare
Espolon Blanco Tequila, Mango, Agave, Lime, Tabasco, Activated Charcoal
The Langham, Jakarta
District 8, SCBD
Lot 28, Jakarta 12190, Indonesia
Phone: +62 21 2708 7888
The Ritz-Carlton Jakarta, Mega Kuningan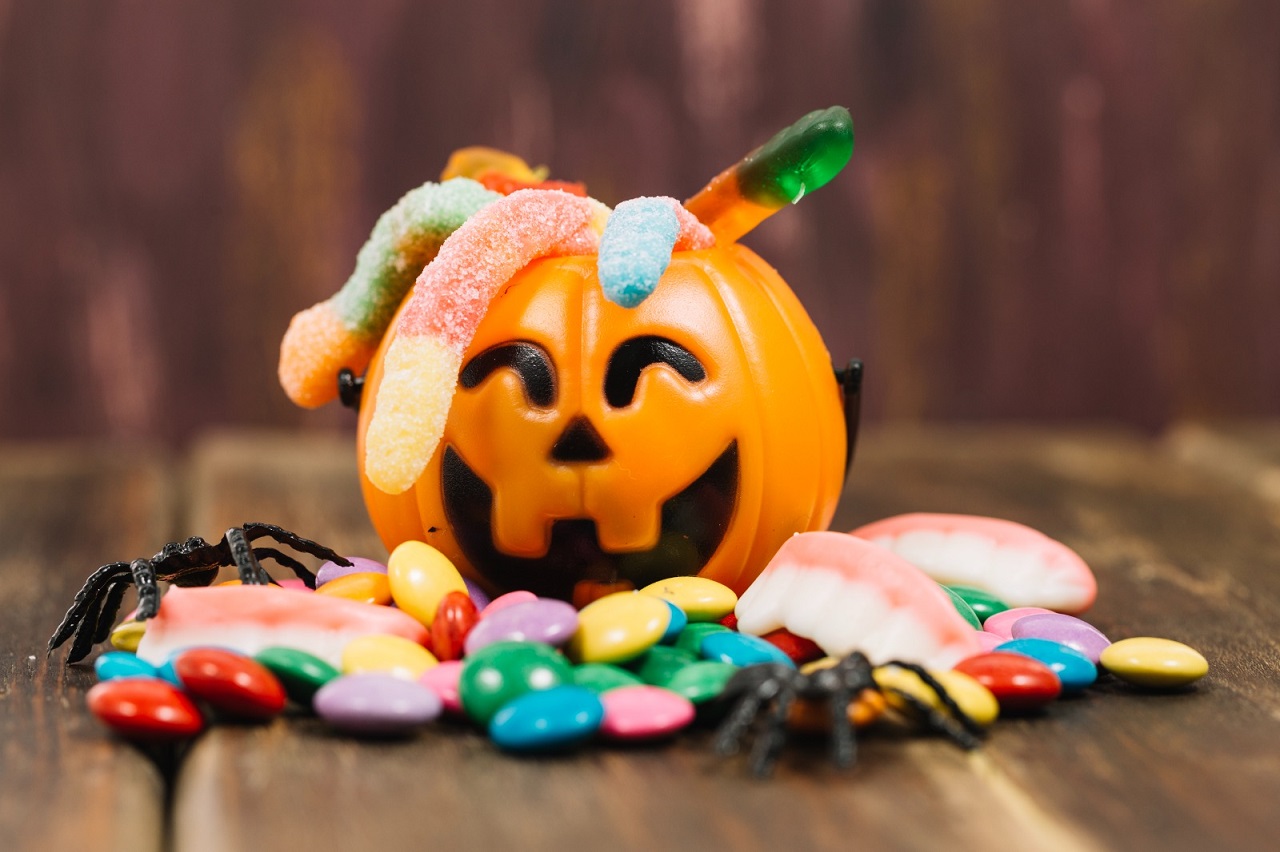 Join in the Family-friendly Halloween Dinner at The Ritz-Carlton Jakarta, Mega Kuningan. Hosted by Asia Restaurant, at The Ritz-Carlton Jakarta, Mega Kuningan, it's time to gather the family for a hauntingly good time, for a family-friendly Halloween buffet dinner.
Saturday, October 28, 2023, from 06.00 PM to midnight.
Guests are in for a treat with live band performances, Tarot readings, and a thrilling best-dressed competition. Plus, there's a chance to win fantastic vouchers!
What's more? Don't miss out the exclusive 'Vamparita' cocktail, a wickedly delightful blend of eerie flavors and a spine-tingling garnish, available at Asia Restaurant and Lobo & Juno world bistro.
With IDR 698,000++ per person, enjoy a 'Pay 1 Dine 2' promotion by direct booking via call +6221 +6221 25518800 or WhatsApp at +628111683926.
The Ritz-Carlton Jakarta, Mega Kuningan
Jl. DR.Ide Anak Agung Gde Agung Kav.E.1.1
Mega Kuningan, Jakarta 12950
Phone: 62 21 2551 8847 
Basque Bar de Tapas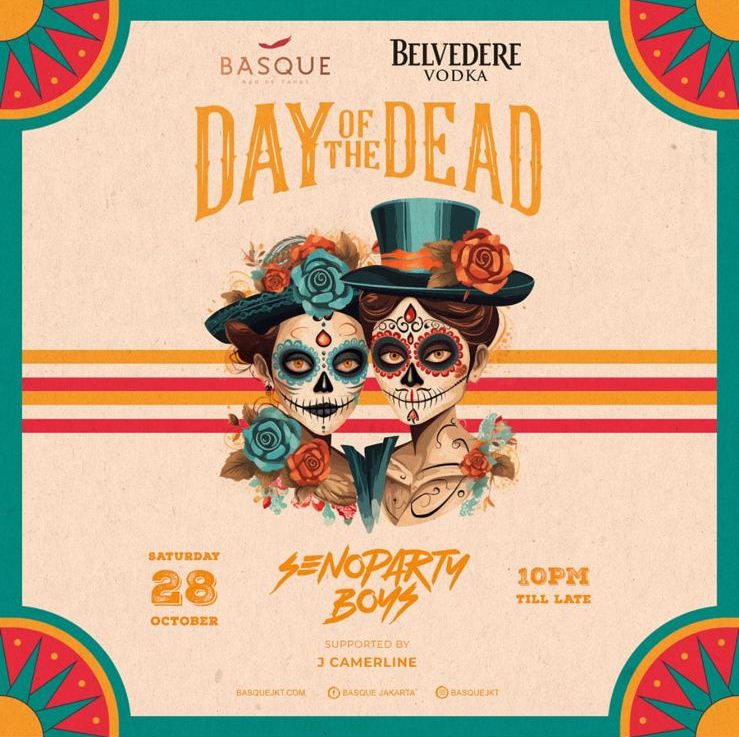 Day of The Dead feat Senoparty Boyz on Saturday, 28 October 2023 at Basque starts at 10 PM. Come and dress in your finest "La Calavera Catrina" and get a chance to win prizes! Limited space, for reservations and more information: +62 878 2978 3111
Noble House 8th Floor
Jl. DR. Ide Anak Agung Gde Agung No.2, Jakarta 12950
Phone: 0878-2978-3111
Boca Rica Jakarta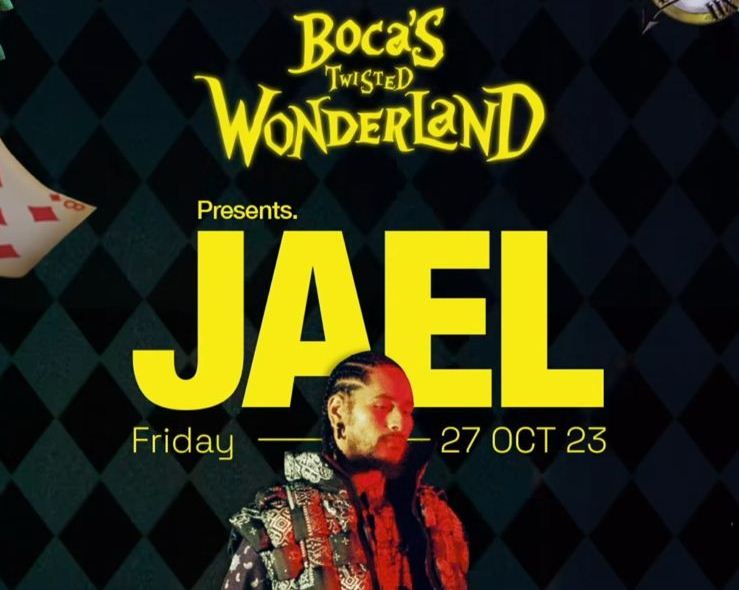 Hennessy Artistry x Boca Rica present: BOCA'S TWISTED WONDERLAND on Friday, 27 October 2023. This Halloween, feel the twisted rhythm and experience the forsaken Wonderland with JAEL and Paticia Schuldtz and C.N.M. Join The Mad Hatter's final ritual, claim the treasure, and find your escape to a foreign land!!
*Dresscode: Twisted Fantasy
Artotel Suites Mangkuluhur
Jl. Gatot Subroto No. Kav 2-3, Karet Semanggi, Kec Setiabudi, Jakarta.
Phone: +62 811 9728 808
Chāo Cháo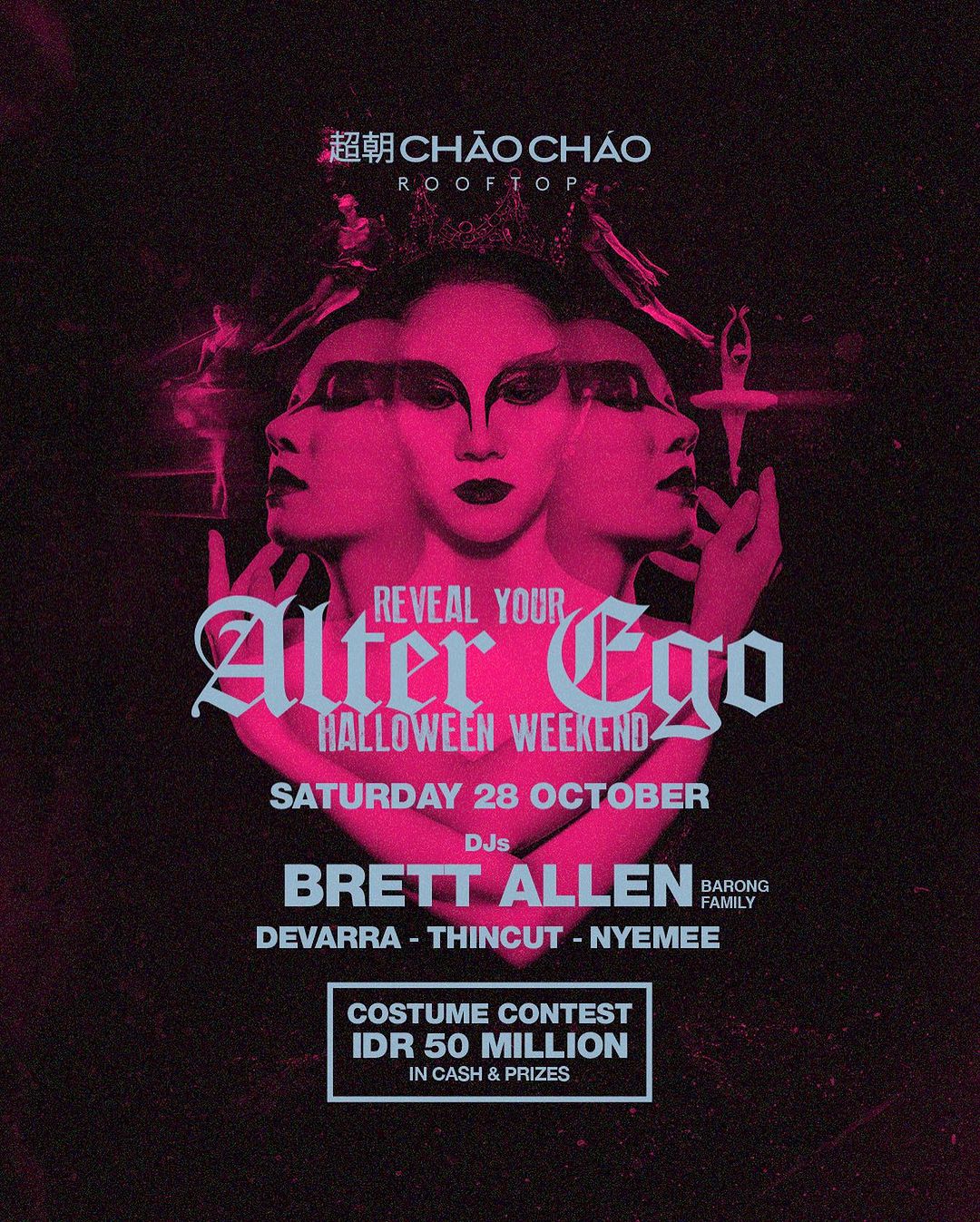 Halloween Weekend at Chāo Cháo Rooftop. Reveal Your ALTER EGO in the ethereal realm between reality and fantasy, where the sky meets the concrete jungle.
Saturday, October 28th.
IDR 50 million in cash and prizes for best costumes.
Reservations & inquiries: 0811 9628 001
Alila SCBD, 25th & 26th floor, 
Lot 11 Jl. Jend Sudirman, Jakarta
Phone: +628119628001
The Lost Nutcracker at Phoenix Gastro Bar Indonesia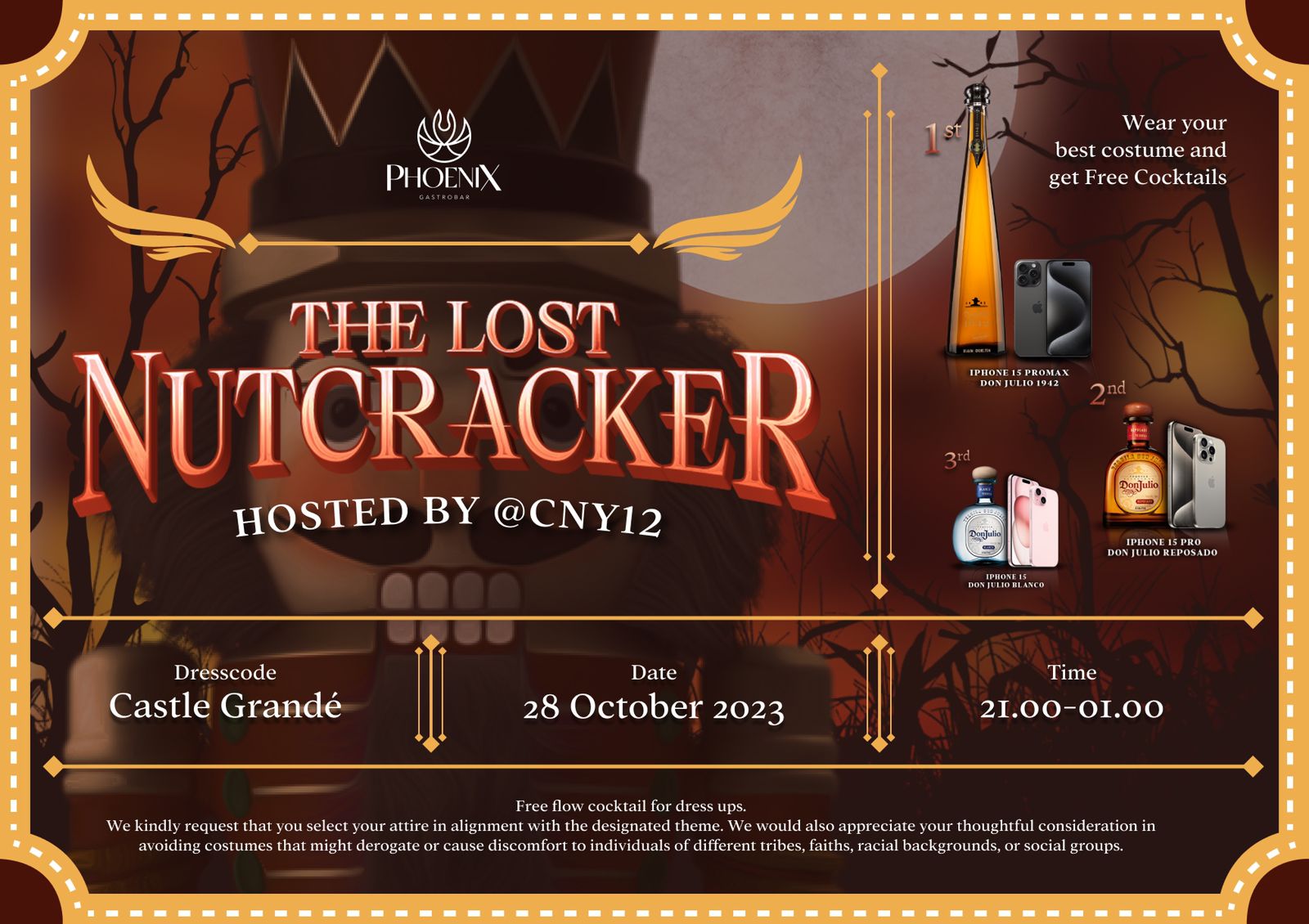 Step into the Lost Nutcracker Castle with Phoenix Gastro Bar Indonesia and HWGroup! Celebrating the most festive and extravagant Halloween this year, we cordially invite you to join us on Saturday, 28th October 2023. Starts from 9 PM til Late at Phoenix Gastro Bar PIK, Jakarta. Dress Code: Castle Grande.
An open private party on the first floor for invitation only. Endless in-house cocktails and snacks for dress-ups. And get the chance to win 3 iPhone 15 and Don Julio for 3 amazing winners.
Hosted by Chrisnawan Yusnandar
HW Phoenix Bar PIK
Rukan Golf Island Boulevard, Jl. Pantai Indah Kapuk No. 01, Jakarta.
Reservations : +62 811 1922 5168