Thanksgiving is not a widely celebrated holiday in Jakarta, Indonesia, as it is primarily an American holiday. However, there are some expatriate communities and restaurants in Jakarta that may offer Thanksgiving dinners or events for those who wish to celebrate it. 
The best way to celebrate Thanksgiving is to have a wonderful dinner or simply gather around with your family, friends, or loved ones. Here we give you the list of best places in Jakarta to have Thanksgiving feast and events with great deals. 
Best Thanksgiving Deals and Events in Jakarta
DEALS
Four Seasons Hotel Jakarta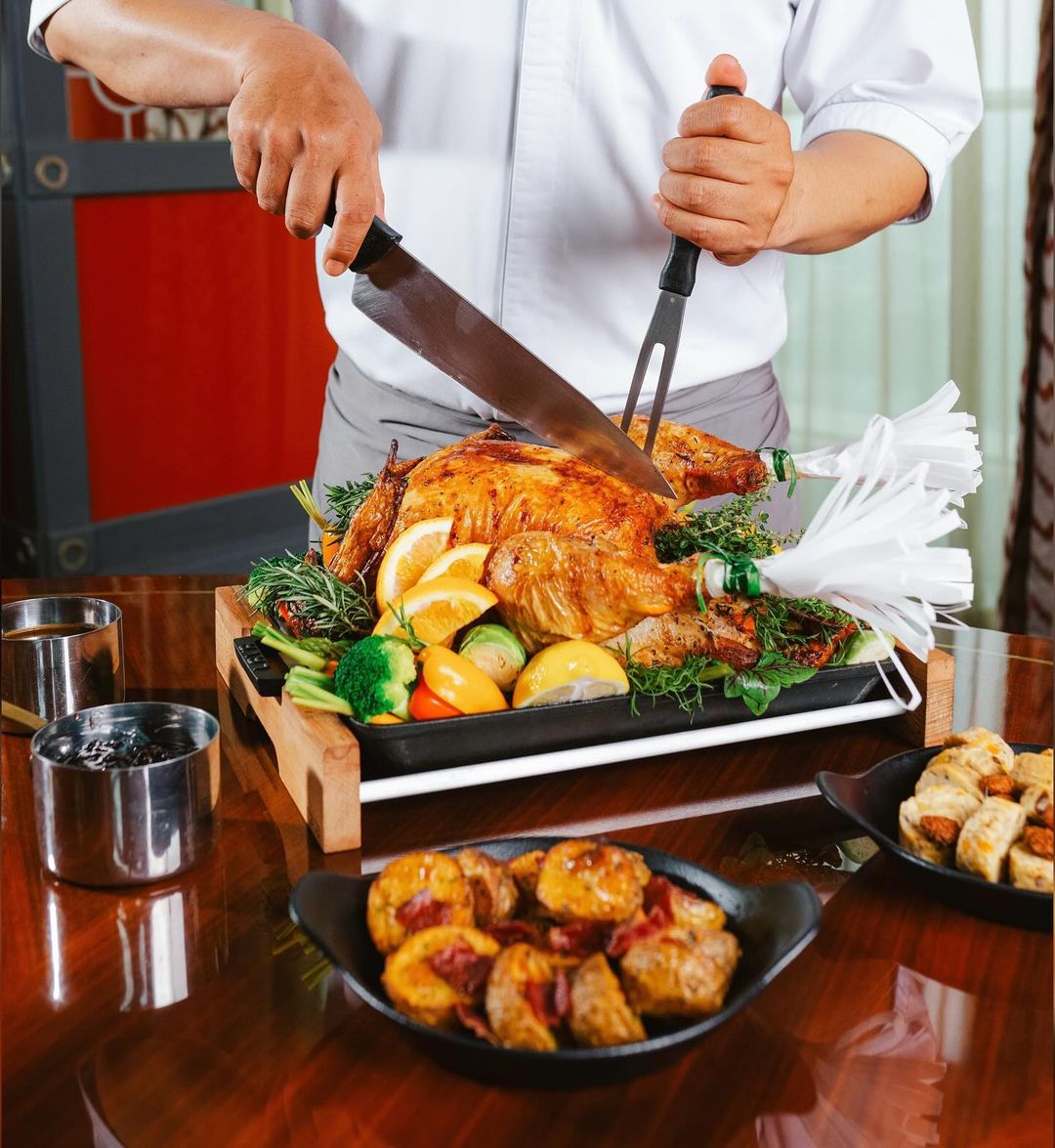 Thanksgiving at home, elevated. Four Seasons Hotel Jakarta has prepared signature festive treats, from succulent lamb roast to perfectly roasted turkey, which will enhance your at-home celebration and make it an unforgettable gathering.
To place an order, simply WhatsApp us at +62878 0007 8880.
Four Seasons Hotel Jakarta
Jl. Gatot Subroto Kav 18
Phone: +622122771888
JW Marriott Hotel Jakarta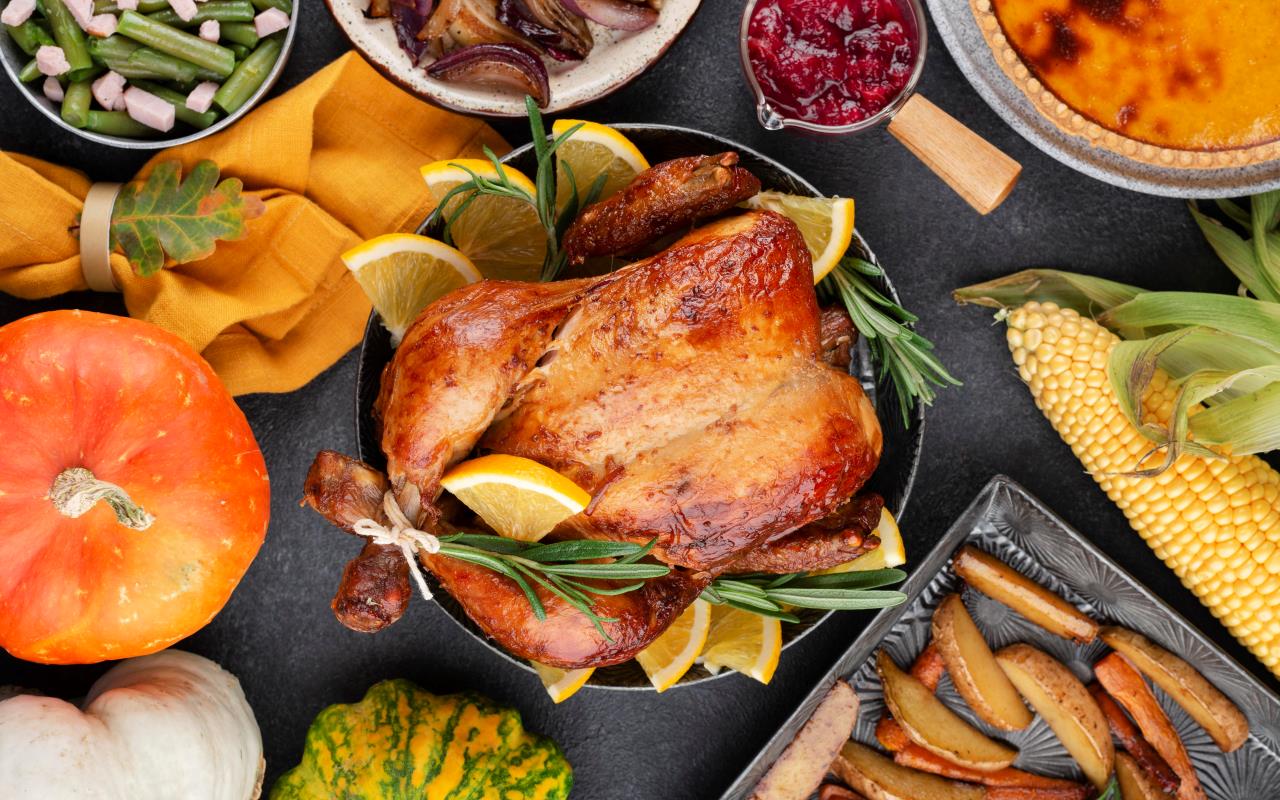 This Thanksgiving, treat the whole family to a feast of gratitude in the heart of Jakarta, where the award-winning Sailendra restaurant promises an exquisite dining experience.
Priced at IDR 658,000++ per guest, enjoy the Special promotion 'Pay 1, Dine 2' on Thursday, 23 November 2023 from 06.00 PM – 09.30 PM at Sailendra Restaurant, JW Marriott Hotel Jakarta.
JW Marriott Hotel Jakarta also offers seamless and hassle-free Thanksgiving get-together moments while relishing the sumptuous Turkey takeaway, expertly crafted by the JW culinary team. At IDR 3,680,000 net, the package includes all the holiday essentials that will impress your guests and loved ones:
For table reservations, please call us at +6221 5798 888 or WhatsApp at +62811 5886 111.
JW Marriott Hotel Jakarta
Jalan DR Ide Anak Agung Gde Agung Kav E.1.2 No 1&2, Kawasan Mega Kuningan, Jakarta  12950 Indonesia
Phone: +62 21 57988888
Pullman Jakarta Indonesia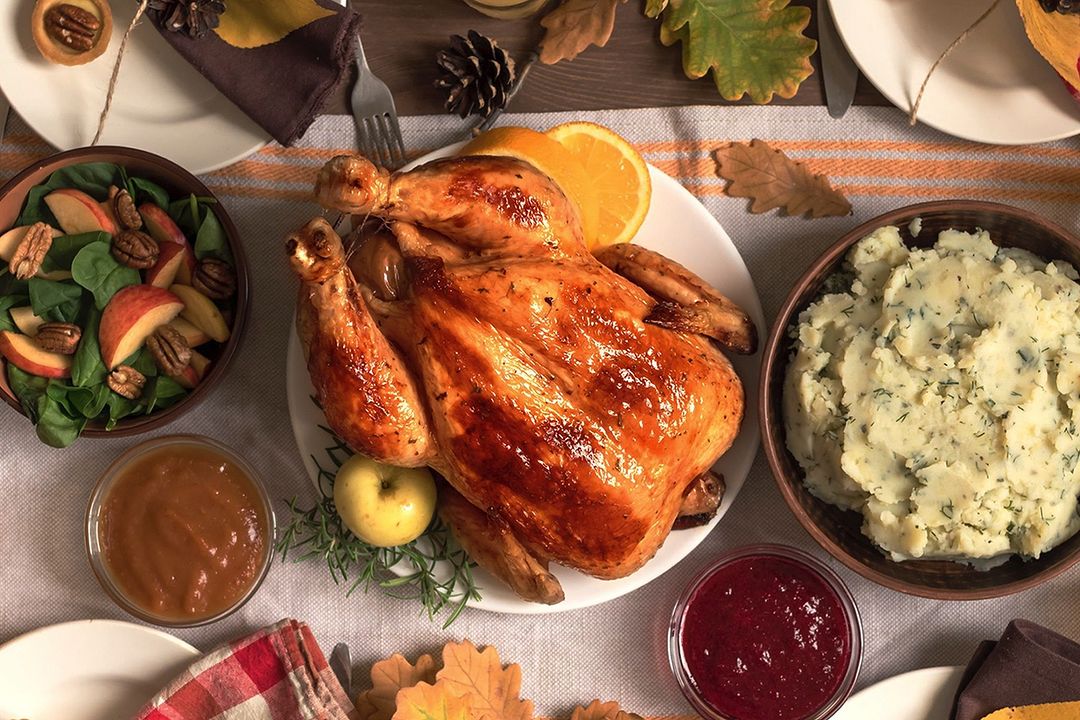 Gather with your loved ones and celebrate Thanksgiving Day at Sana Sini Restaurant, Pullman Jakarta Indonesia. The culinary team has curated an exquisite menu, highlighting delectable dishes including the iconic Roast Turkey and an array of delightful specialties.
Thanksgiving Dinner
November 23rd, 2023 I 6 to 10 pm
IDR 450,000++ per person
Pullman Jakarta Indonesia
Jalan M.H. Thamrin Kav. 59, 10350 Jakarta Pusat
Indonesia
Phone: +62 21 3906 444,  +62 815 8532 4614
Raffles Jakarta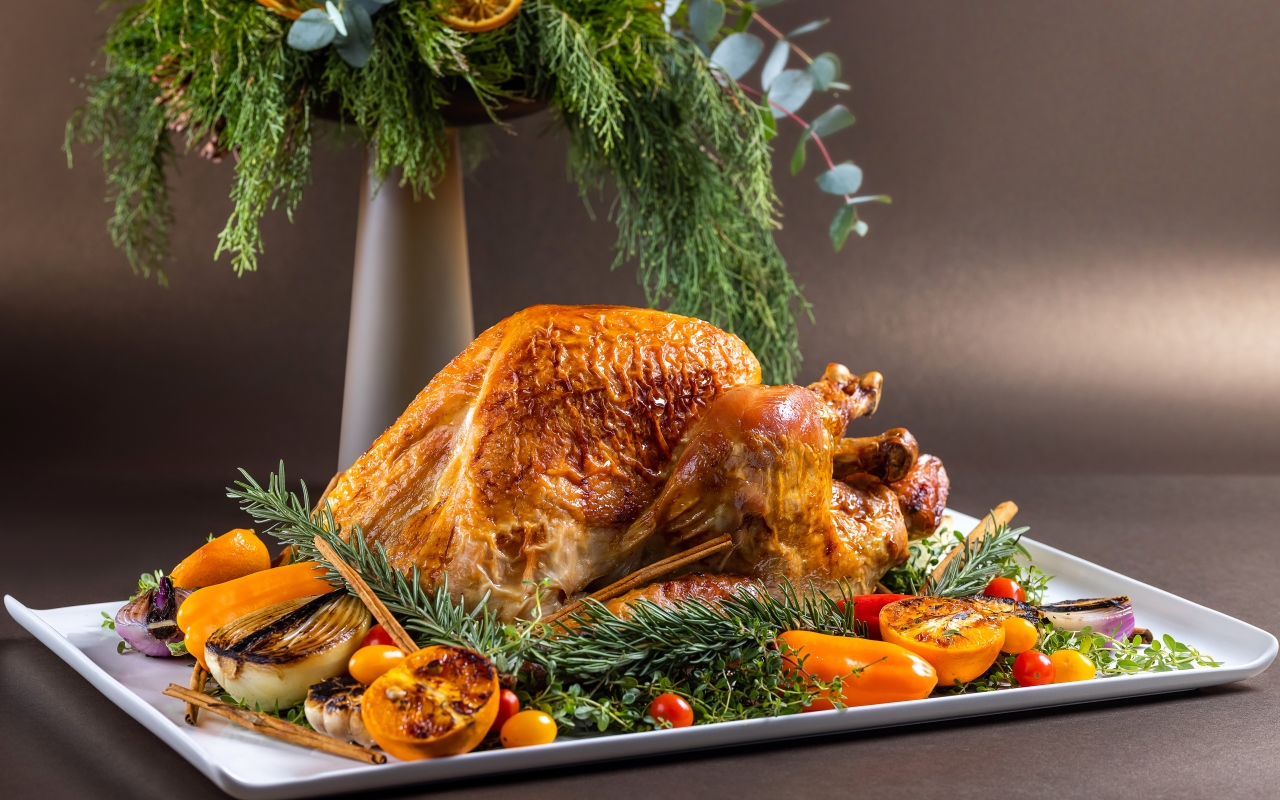 A time to gather, celebrate and give thanks for all our blessings. Join Raffles Jakarta for Thanksgiving celebrations at Arts Cafe. Enjoy the festivities with your loved ones accompanied by exclusive menu by Chef Lukman.
Thanksgiving Dinner
Thursday, 23 November 2023
IDR 688,000++ per person
Thanksgiving Brunch
Sunday, 26 November 2023
IDR 688,000++ per person
Phone +62 855 8155 888 or email [email protected]
Raffles Jakarta
Ciputra World 1 
Jl. Prof. Dr. Satrio Kav. 3-5 12940 Jakarta Indonesia
Phone: +(62) 21 2988 0888
Shangri-La Jakarta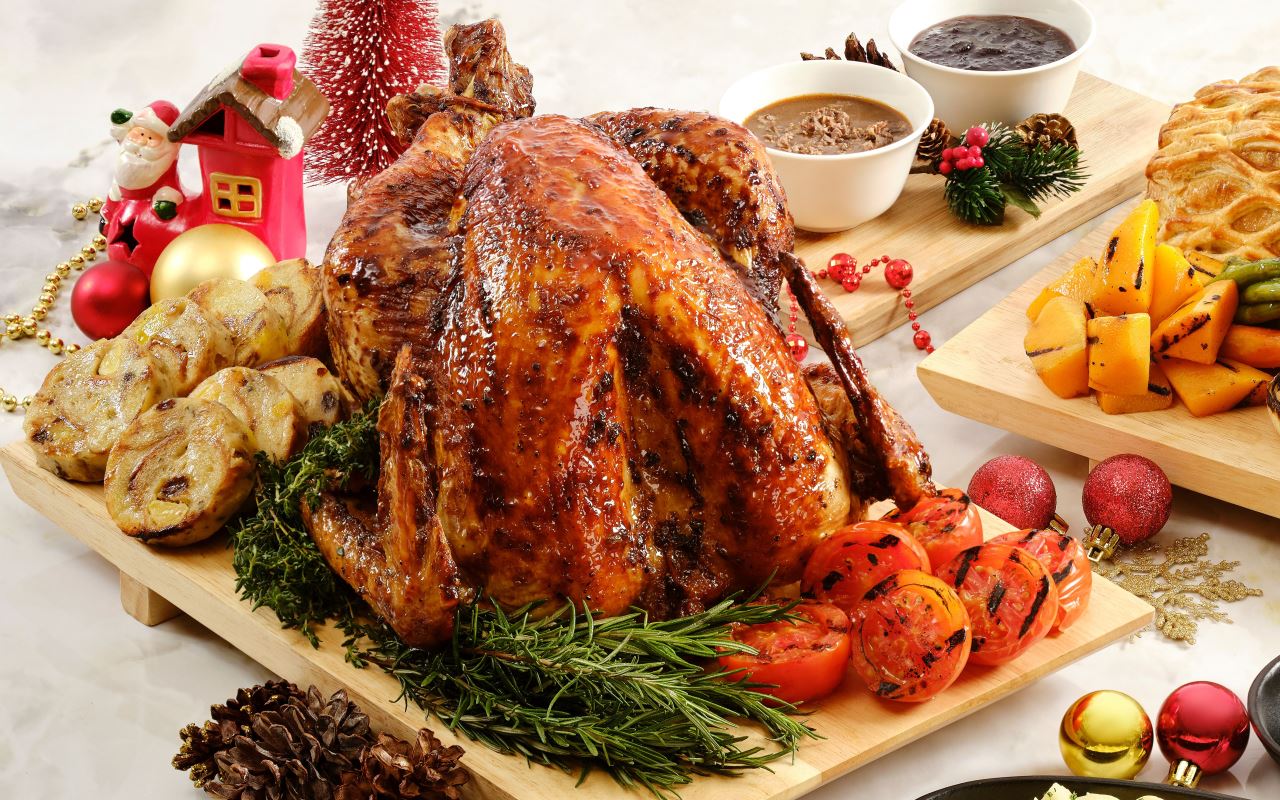 Join SATOO for an extravagant Thanksgiving celebration featuring a delectable spread of turkey delights. Indulge in a feast that includes succulent Roasted Norbest Turkey, flavourful Kalkun Maranggi Satay, aromatic Turkey Biryani and the freshest Turkey Aeroponic Microgreens, among other mouth-watering options. Relish the classic Roasted Norbest Turkey accompanied by Grandma's Bread Stuffing, Buttered Brussels Sprouts, Caramelised Red Cabbage, Cranberry Sauce and Morel Sauce for an unforgettable experience.
Join on 23 November 2023, at SATOO, for a Thanksgiving celebration like no other.
Prices start at IDR 398,000++ per person. Make your reservation now for a feast that will leave you satisfied after every bite.
For more information and to make reservations, guests can call +6221 2922 9999, visit https://linktr.ee/shangrilajkt or access our website at http://www.shangri-la.com/jakarta/.
Shangri-La Jakarta
Kota BNI. 
Jl. Jend. Sudirman Kav. 1, Jakarta 10220, Indonesia
Phone: +6221 2922 9999
The Ritz-Carlton Jakarta, Mega Kuningan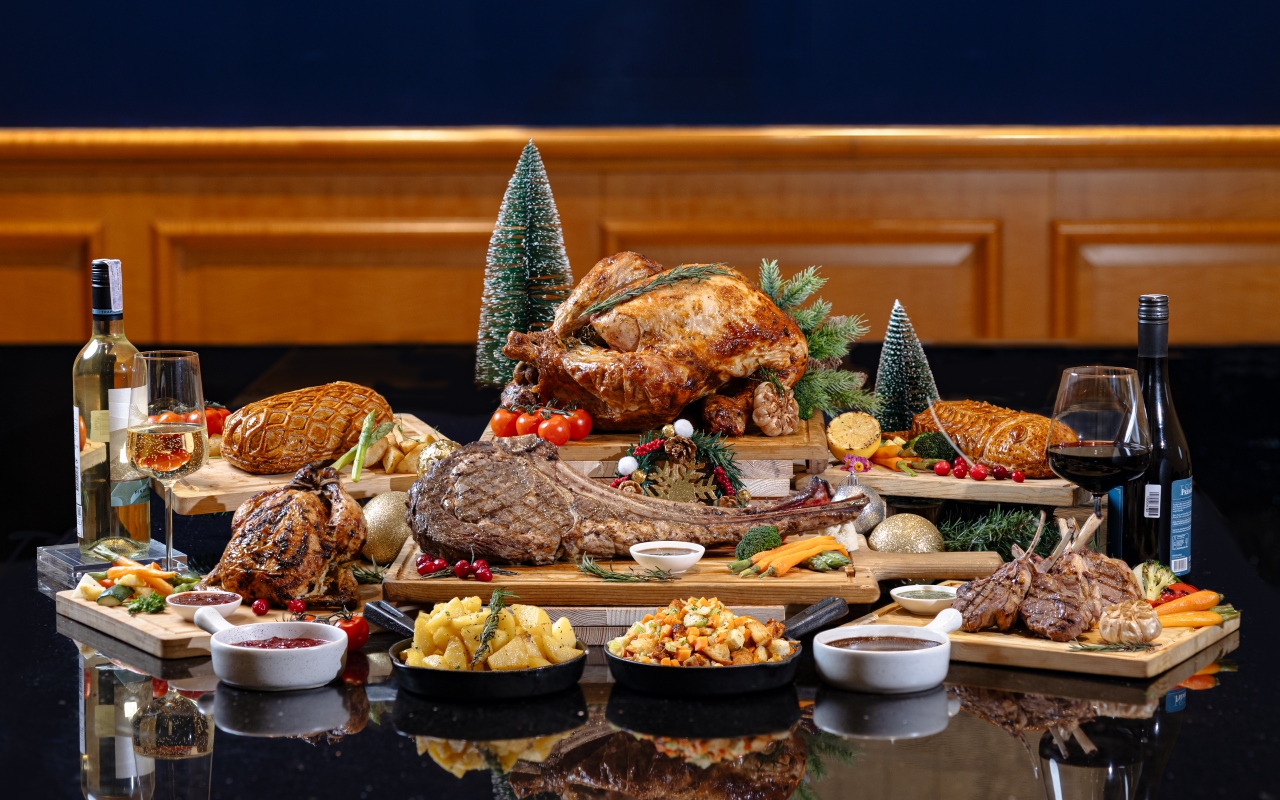 This Thanksgiving, embrace the spirit of gratitude with a dinner feast that goes beyond the ordinary. Asia Restaurant awaits you for a celebration of flavors, togetherness, and gratitude with the whole family on November 23, 2023, from 06.00 pm to 09.30 pm.
With IDR 658,000++ per person, don't miss out a 'Pay 1 Dine 2' promotion, enjoy a lavish array of buffet spread features a symphony of flavors, from traditional Thanksgiving classics to international delights, including succulent roasted turkey, flavorful stuffing, an assortment of mouthwatering desserts, and many more.
Welcome the festive season with takeaway sets of Thanksgiving Turkey indulgence by The Ritz-Carlton Jakarta, Mega Kuningan.
Bring the "Turkey to Go" indulgence to your table and immerse in the delights with the whole family as you celebrate one of most special season in gratitude in the comfort of your home. The set specially crafted in the Ritz-Carlton way by the chefs, comprises a feast of delectable flavors, from a succulent turkey accompanied by all the holiday favorites – the perfectly roasted potatoes and chestnut butter to braised vegetables, rich gravy, and the perfect touch of cranberry sauce.
Call to +6221 2551 8888 or WhatsApp to +628111683926. Call now to reserve your table or for more information.
Jl. DR. Ide Anak Agung Gde Agung Kav.E.1.1 no.1, Mega Kuningan
Jakarta, 12950 Indonesia
Phone: +62 21 2551 8888
The Ritz-Carlton Jakarta, Pacific Place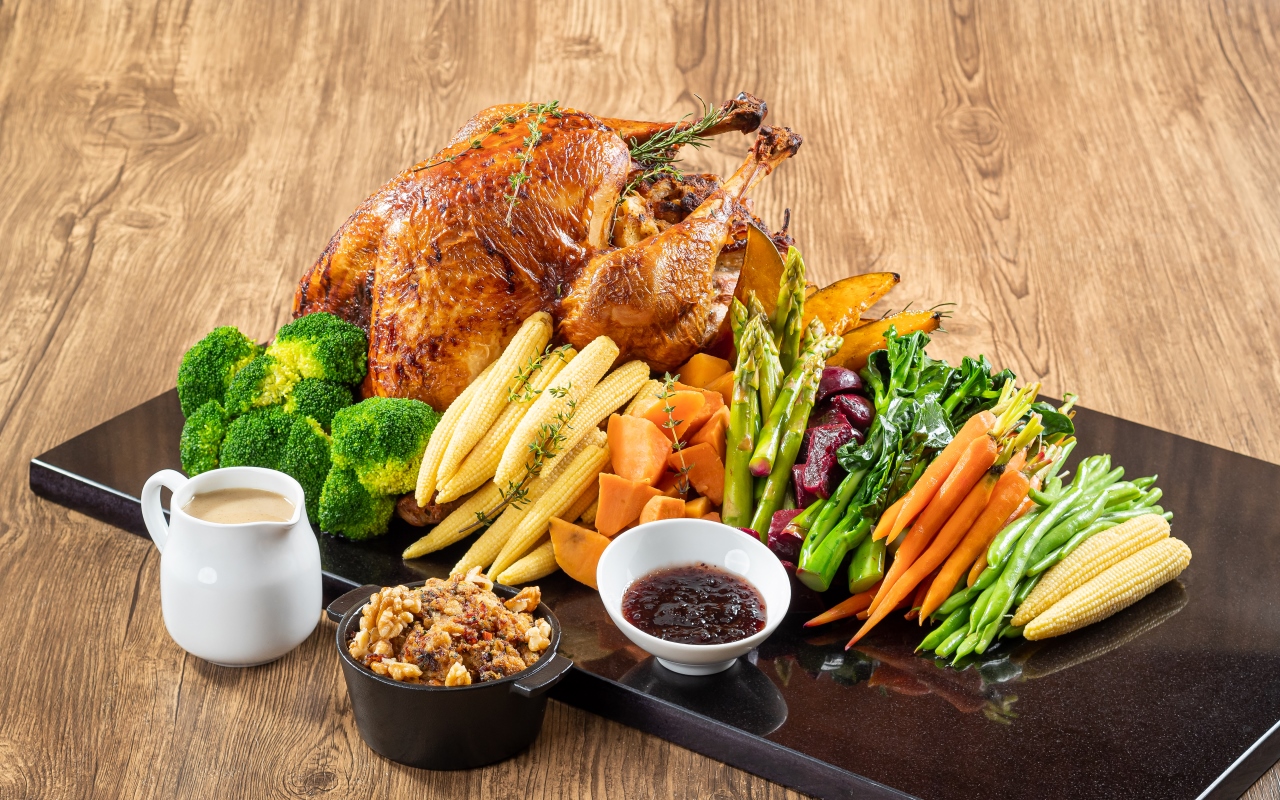 Create unforgettable Thanksgiving memories at PA.SO.LA Restaurant and Lounge, The Ritz-Carlton Jakarta, Pacific Place.
Savor the exquisite flavors of the meticulously crafted turkey, served with a touch of refinement and sophistication.
THANKSGIVING DINNER
Price: IDR 548,000++ per person
IDR 948,000++ per person (includes alcoholic beverage of free-flow wine, beer and cocktail)
IDR 258,000++ per child between 6 to 12 years old.
For further details and reservations, please reach out to (021) 2551 1993, WhatsApp +62 811-8061-850, or send a direct message to @pasolajakarta on Instagram.
The Ritz-Carlton Jakarta, Pacific Place 
Sudirman Central Business District (SCBD)
Jl. Jend. Sudirman Kav. 52 – 53, Jakarta 12190
Phone: +62 21 2550 1888
The St. Regis Jakarta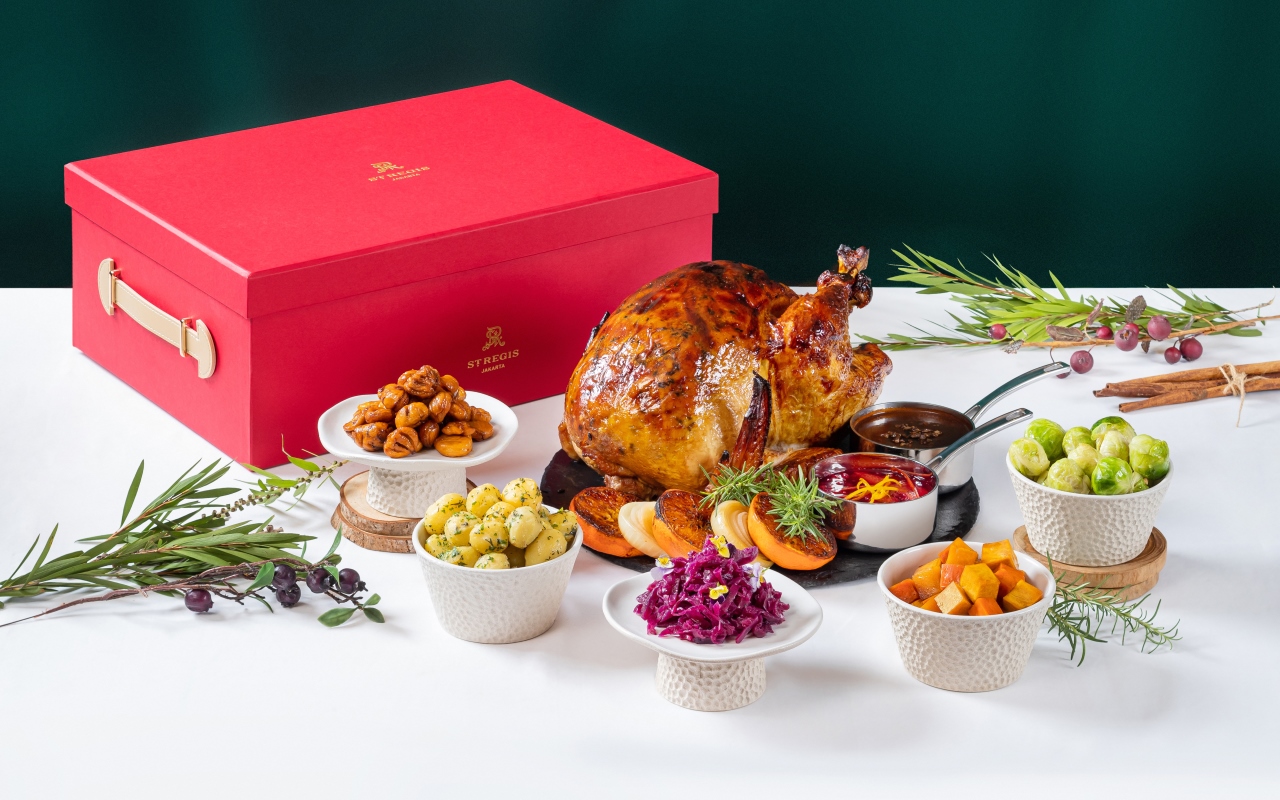 Embrace the feeling of gratitude with loved ones through a memorable Thanksgiving Turkey feast and celebrate the blessings from one another.
IDR 3,500,000 Net
For more information and reservations,
please contact:
Whatsapp: +62 811 1922 2262
Email: [email protected]
The St. Regis Jakarta
Rajawali Place
Jalan HR Rasuna Said Kav. B/4, Setiabudi, Jakarta Selatan 12190 Indonesia
Phone: +62 21 5094 8888
EVENTS
AmCham Thanksgiving Day Golf Tournament 2023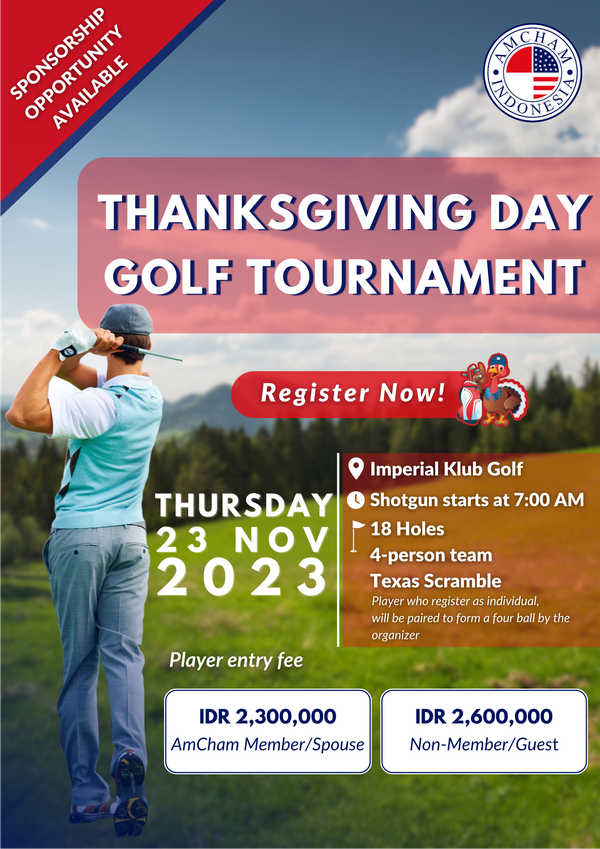 You are all invited to play in the AmCham Thanksgiving Day Golf Tournament 2023!
In addition to a great day of golf with your colleagues and the AmCham community, our annual event features a traditional roast turkey lunch with all the fixings, a host of lucky draw prizes, goody bags for everyone and hole-in-one prizes for the truly talented.
The Registration Form for AmCham Members and Non-Members can be downloaded here!
Venue : Lippo Village, Jl. Pulau Golf No.2700, Bencongan, Kec. Klp. Dua, Kabupaten Tangerang, Banten.
Breakfast opens 06:00 to 06:45
Shotgun starts 07:00
Full Thanksgiving Luncheon 12:30

Players are limited, so register now!
AmCham Thanksgiving Networking Evening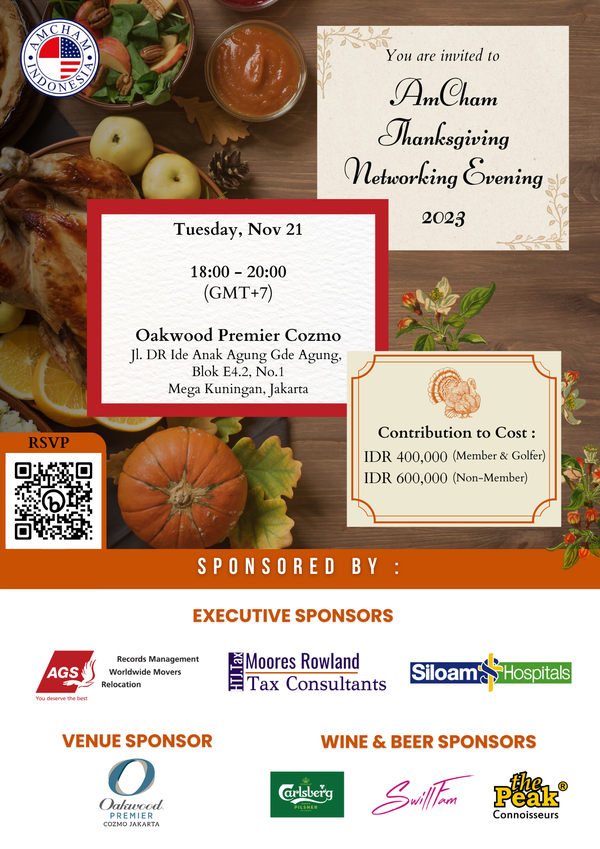 It's almost Turkey Day!! AmCham Indonesia will be back for another warm celebration. Please be our guest(s) on Thanksgiving Day for feasting, reminiscing, and of course, business networking. Make new connections while enjoying delicious food and good conversation at the AmCham Indonesia Thanksgiving Networking Evening on November 21, 2023.
All 2023 AmCham Thanksgiving Day Tournament golfers are also invited to meet with their teams in an informal setting. We'll supply the turkey, beer, and wine. You bring the fun! See you there!!
For more information and registrations please click here
The American Club Jakarta Presents Thanksgiving Dinner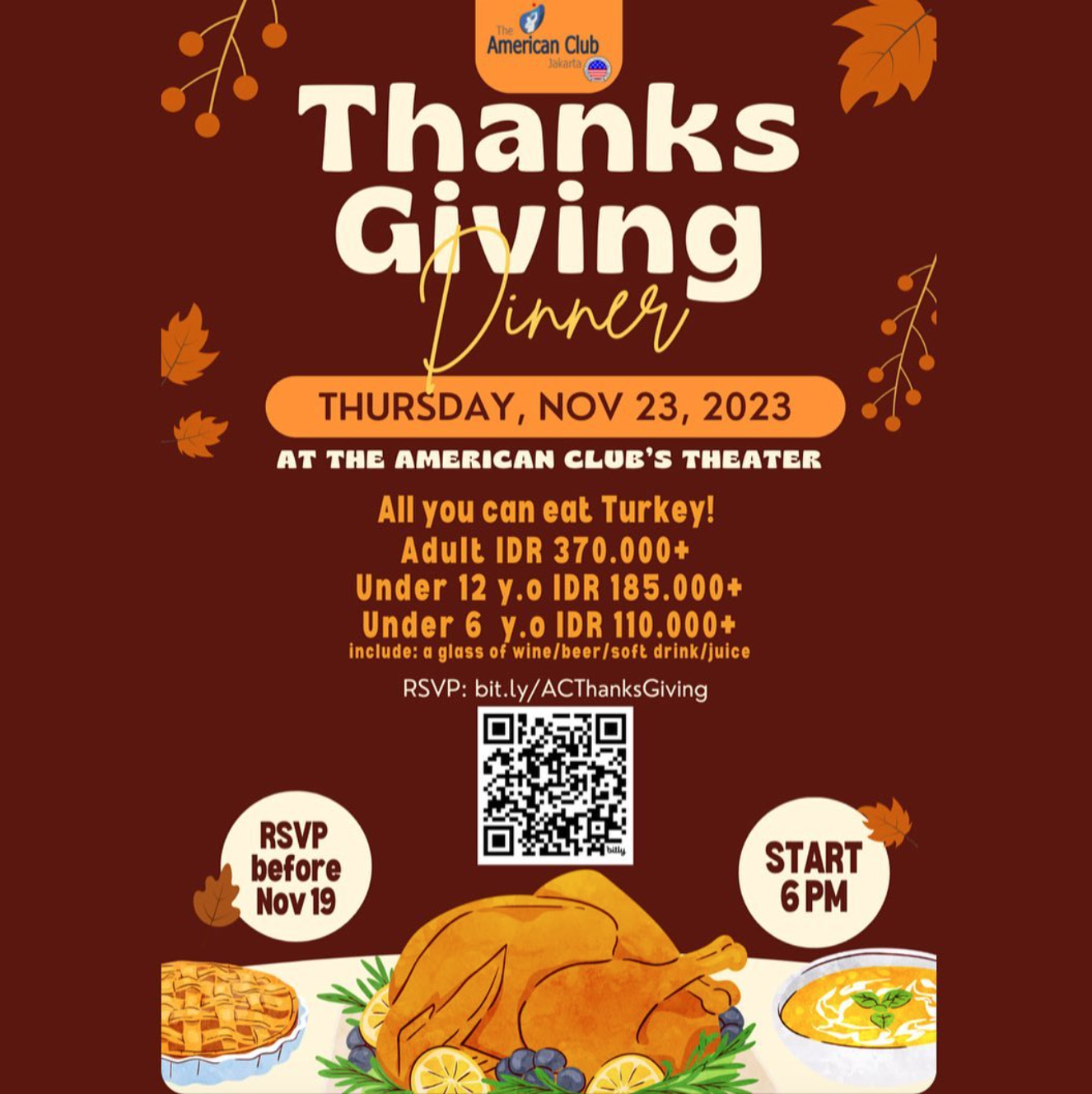 Gather 'round the table for a Thanksgiving feast filled with gratitude and delicious moments. Join The American Club Jakarta for a feast of gratitude and joy.
Register click: bit.ly/ACThanksGiving
Don't miss out on this wonderful opportunity to share the spirit of gratitude with friends and family. We look forward to having you join us for a Thanksgiving feast to remember!