Nothing beats a juicy, nicely charred piece of grilled New York Strip steak or tenderloin; and even better if it doesn't need to cost your arms and legs. With so many western restaurants popping up in Jakarta, you can probably find a few decent steaks here and there. But where would you go for that one amazing piece of steak?
Here is the list of our recommendations for where can you get the best steaks in Jakarta!
TEMPAT MAKAN STEAK TER-ENAK DI JAKARTA
Sea Grain Restaurant & Bar at DoubleTree by Hilton Jakarta - Diponegoro $$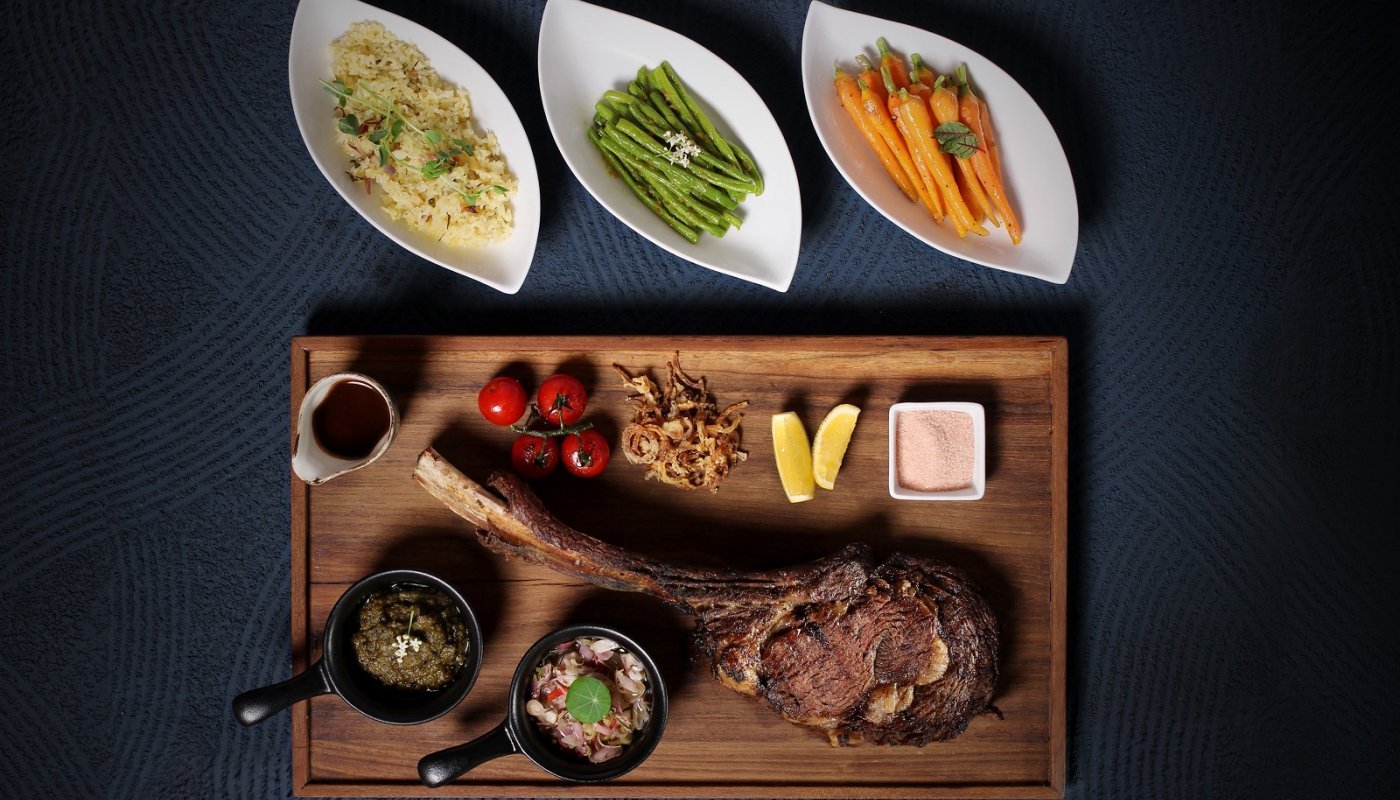 With new food and beverage offerings, the Sea Grain Restaurant & Bar now presents a  luscious indulgence of western cuisines infused with a touch of local flavors, offering unique,  innovative fusion dishes. Perennial favourites like the 1.5kg premium Australian Wagyu Tomahawk steak makes a comeback. 
DoubleTree by Hilton Jakarta – Diponegoro
Jl. Pegangsaan Timur No. 17, Cikini - Menteng, Jakarta Pusat, 10310, Indonesia
Phone: +6221  2985 7000, +62 811 1917 4606.
VIEW Steak Bar at Farmont Jakarta ($$$)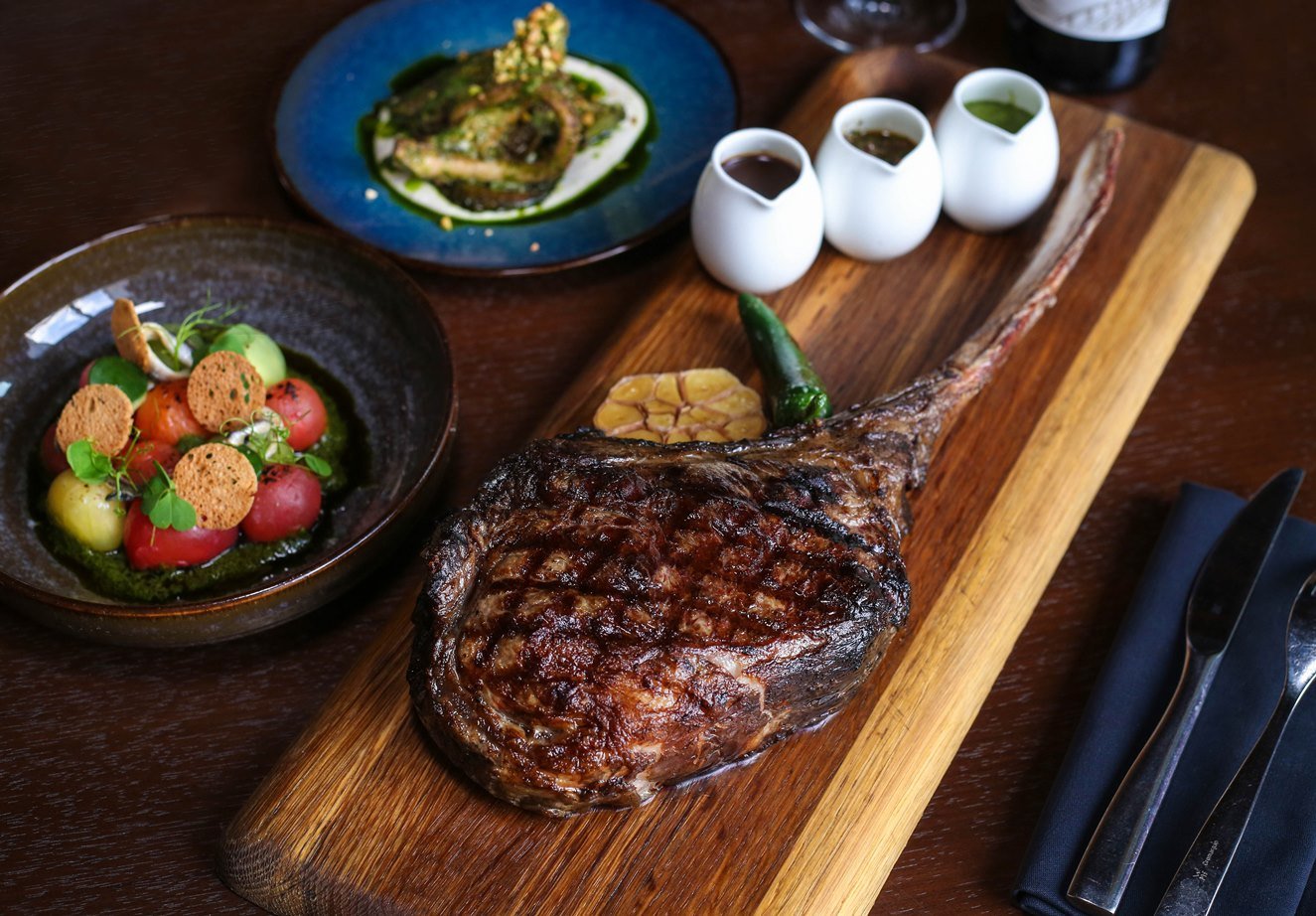 One of the best Jakarta restaurants that elevates the ideals of a sought-after dining experience featuring captivating views and delightful gastronomic offerings.
Nestled on the 22nd floor with a magnificent view of the city, VIEW serves exquisite selections of great premium steaks to share, along with an array of wines, crafted beer, and sophisticated cocktails that you could enjoy in the elegant casualness and trendy vibe of a bar.
Whether you're in for dinner, or simply enjoying cocktails and crafted beers along with some Bar Bites at the bar, we got you feeling good at VIEW Steak Bar.
Fairmont Jakarta
Jl. Asia Afrika No.8 , Gelora Bung Karno, Jakarta 10270
Phone: +62 (21) 2970 3333, +62815-9159-247
AGED+BUTCHERED $$$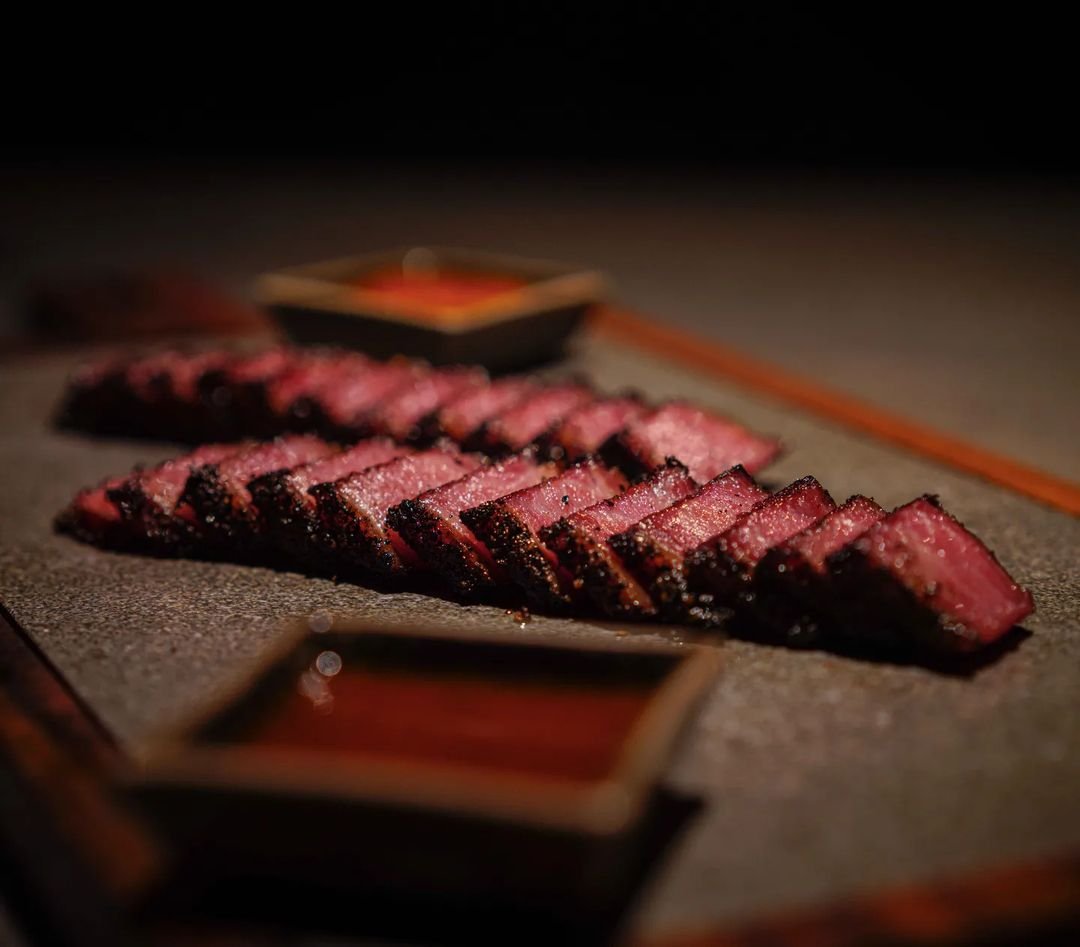 As an Avant-Garde Japanese Steakhouse, AGED+BUTCHERED serves meticulously curated 'dry aged" and "premium" cuts over charcoal-fired yakiniku grills. AGED+BUTCHERED is the carnivorous vision of the proprietor Chef Andri, who creates an exclusive, festive, and interactive atmosphere. They are a cut above other steakhouses with our distinct approach to classic steakhouse which makes for a multi-sensory experience. They source multi-cut from the in-house meat curating program and select cuts from the on-site dry aging room. While the chefs grill your order on your table, you and your party can cozy up in our refined stylish environment.
MD Place Mezzanine Level
Jl. Setia Budi Selatan No.7, Jakarta 12910, Indonesia
Phone: +6287772278325
Altitude Grill $$$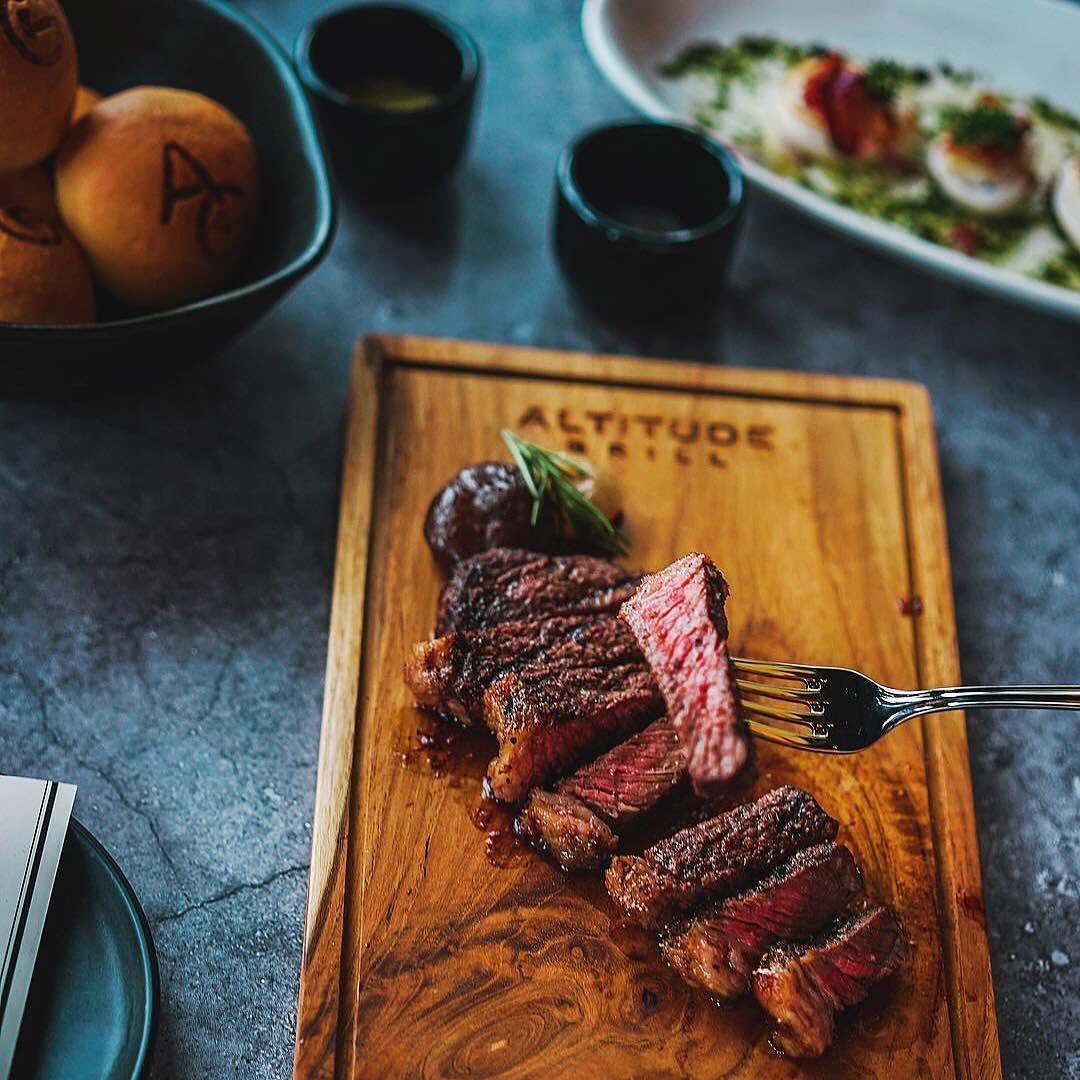 Grilling fine meats at one of Jakarta's tallest skyscrapers, Altitude Grill is a steakhouse not to be missed. Its dry-aged meats coupled with Japanese flair and cooking techniques bring a new age of taste to Jakarta's fine dining scene. Specialized in dry aging the meats over 29 days, Altitude Grill is a steakhouse that boasts a variety of tender, juicy cuts best paired with our wide array of accompaniments ranging from traditional side dishes, all the way to your most curious fusion concoctions.
The Plaza 46th Floor
Jl. MH. Thamrin No. 28-30, Jakarta 10350, Indonesia
Phone: +62 21 2992 2448, +62 819 9677 4646
 
B.A.T.S. at Shangri-La Jakarta $$$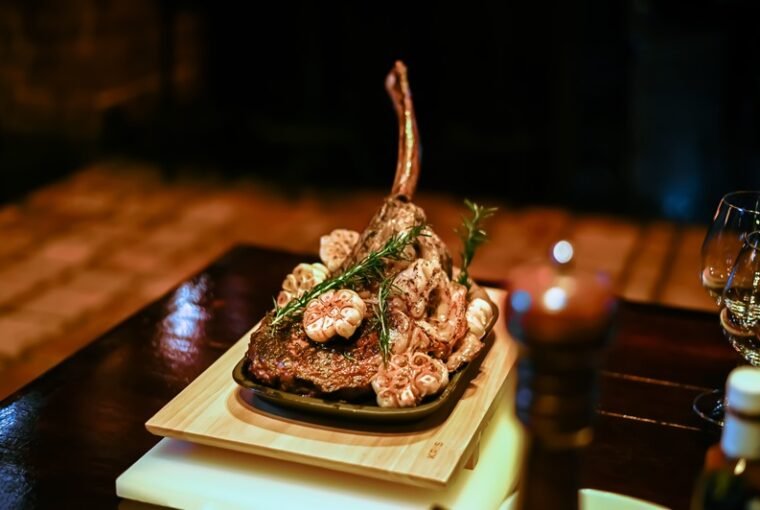 B.A.T.S. is inspired by America's favorite dishes, presenting a selected menu that comes in a large proportion. With 'Bigger and Better Menu' as the highlight of the series, the culinary team will bring a gigantic dish such as Angus Tomahawk Steak (1.5 kg per portion) or US Prime Striploin MBS 5 (900 g per portion). The juicy, tender, and tasty cuts will come together along with, sauces, sides and condiments for your huge cravings.
Shangri-La Jakarta
Kota BNI JL. Jend. Sudirman Kav. 1, Jakarta 10220 Indonesia
Phone: (62 21) 2922 9999
Meatguy Steakhouse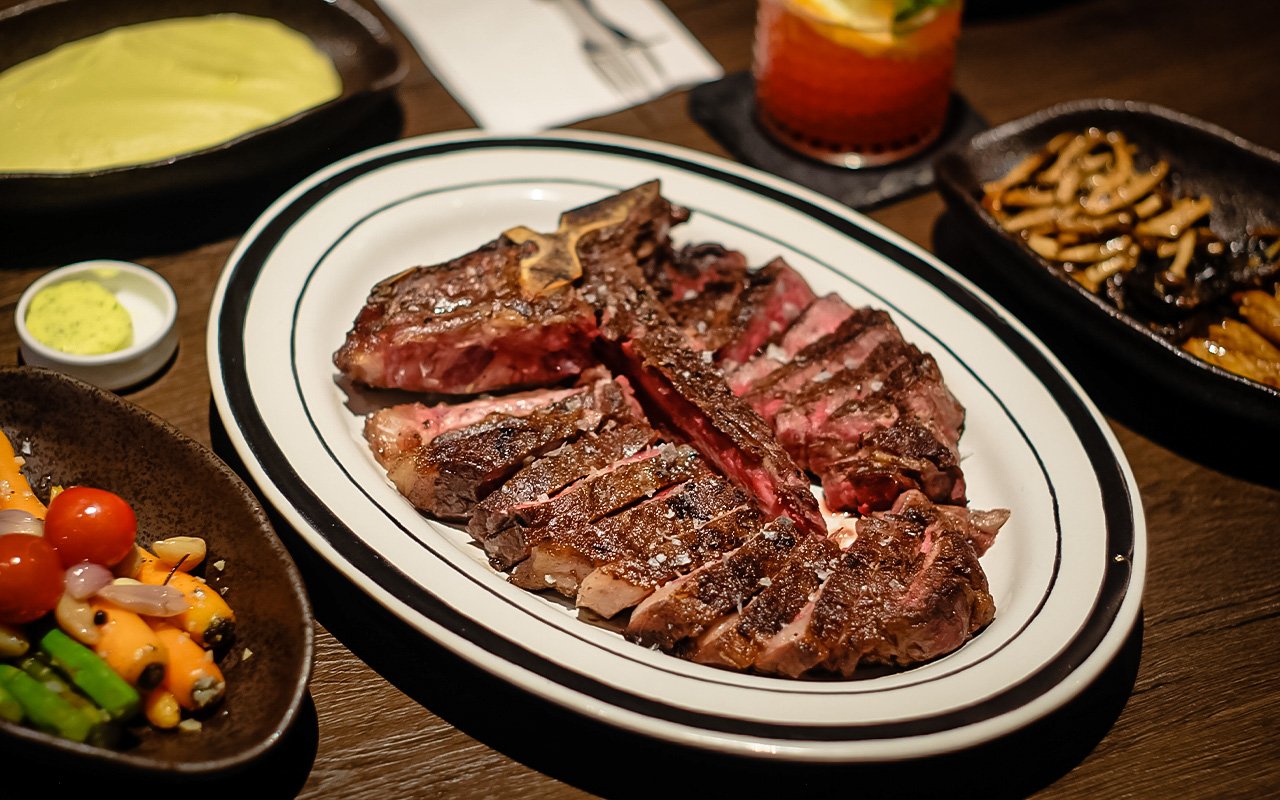 Meatguy Steakhouse was born upon Dimas Ramadhan Pangestu's biggest dream of following his long-lived passion, cooking. As you may have heard, Dimas The Meat Guy who is known as Dimsthemeatguy, the viral content creator on social media like Instagram and TikTok is a self-taught meat enthusiast who has been experimenting with meat since early 2014 and still continues to do so. Every time Dimas is around, his excitement and spirit about the meat exude. Thus, he loves to demonstrate how to cut and slice the meat in front of the guests and then entertain the guests by showering mainly educational meat knowledge on how to treat meat through an interactive demonstration.
Jl. Maleo Raya Blok JA1 No. 1 (Bintaro Sektor 9), Bintaro, Tangerang Selatan, Banten 15229
Open: 11:00 AM - 09:00 PM
Phone: +6221 5010 2860, +62 812 5007 0094
Instagram: @meatguysteakhouse
B'Steak Grill & Pancake $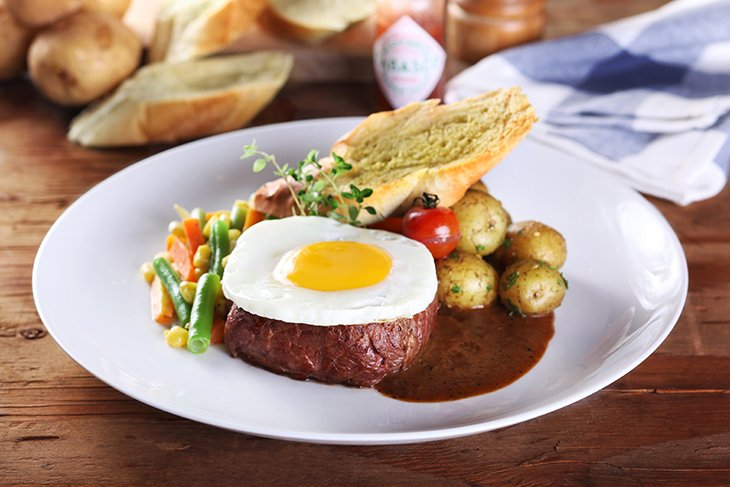 From the grill, B'steak offers a premium meat selection from Australian Wagyu, Australian Prime Steer Beef, and certified USA Black Angus Beef, with most under the IDR 200k mark. A real bargain! Other than slabs of meat, they also have premium sausages such as the Giant Cheese Bockwurst sausages, Grilled Chicken Thuringer, and other chicken dishes, and our favorite is the melt-in-your-mouth Swiss Mushroom Chicken.
Greenville AS No. 32, Jakarta Barat | Phone: +62 21 560 39 68
Ruko Golden 8 blok F No 3, Jln Ki Hajar Dewantara-Gading serpong | Phone: +62 21 294 190 75
Muara Karang Raya No.42, Pluit Penjaringan | Phone : +62 21 660 30 45
Bistecca $$$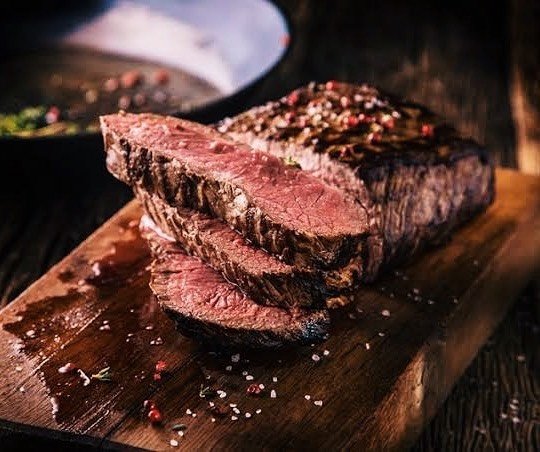 Bistecca is a pedigreed Italian-American Steakhouse and classic Martini Bar by The Union Group and Chef Luca Pezzera An iconic establishment inspired by great New York steakhouses and classic Florence ristoranti, the restaurant serves spectacular cuts of charcoal-grilled prime meats and an unmistakably classy ambiance like no other.
18 Parc Place Tower C, GF. Jl. Jend. Sudirman Kav 52-53. Jakarta 12190
Phone: +6221 5151 660
C'S Steak and Seafood Restaurant at Grand Hyatt Jakarta $$$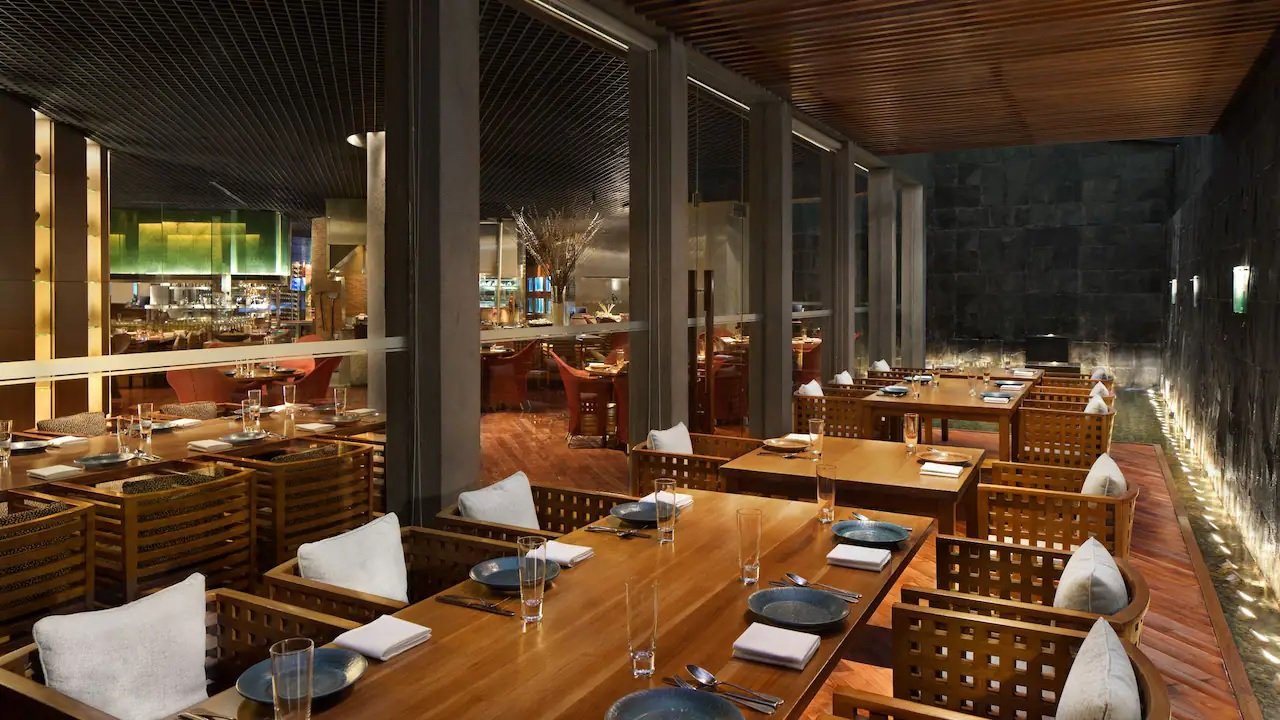 Set in a sophisticated yet relaxed ambiance, C's presents the best of the Western grill, using the freshest choices of meat and seafood. This restaurant serves the freshest selection of seafood and the finest choice of Australian and US Prime Beef. C's is a collage of sights, sounds and smells that will guarantee an unforgettable experience.
Grand Hyatt Jakarta
Jalan M. H. Thamrin Kav. 28-30 Jakarta 10350
Tel: +62 21 2992 1234
Cutt & Grill $$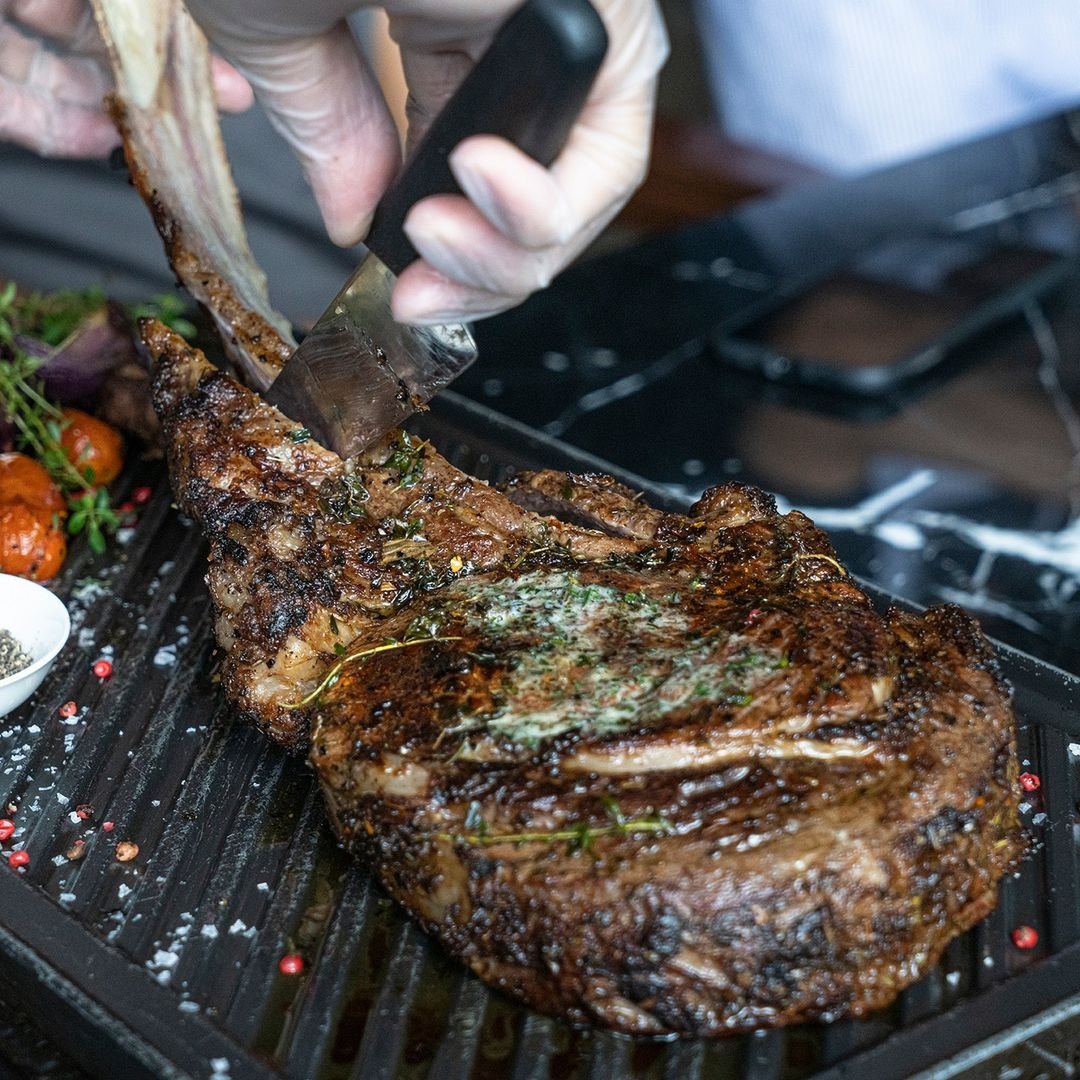 Cutt & Grill presents a delightful grilling experience where they always ensure only the finest quality is touching their authentic grill. They assuredly embrace you with their grill culinary, humble yet delectable cuisine. Each meat comes up with the freshest ingredients. 
Jl. Suryo No.34, Kby. Baru, Jakarta Selatan
Phone: (+6221) 27085555, +628111138368
Justus Steakhouse $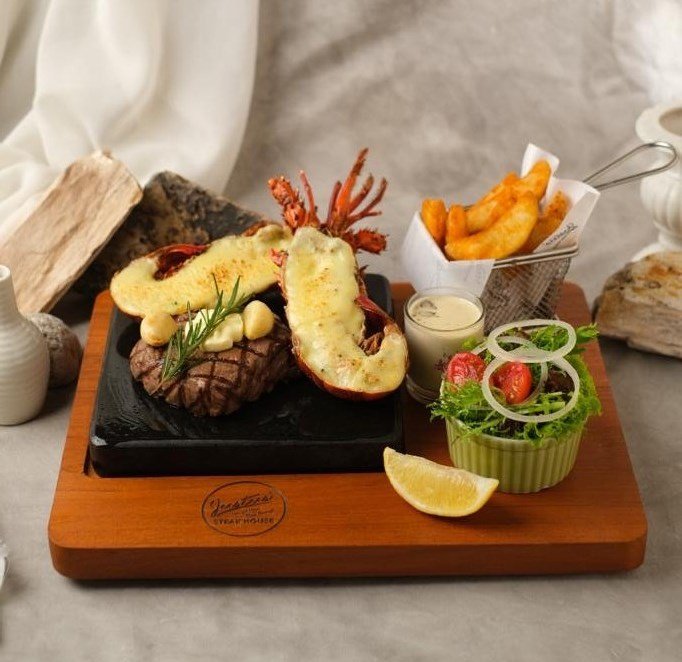 From Bandung to Jakarta, Justus Steakhouse offers premium quality steaks without breaking the bank. Enjoy the 2-story semi-open-air restaurant with a modern tropical ambiance that is perfect for family and friends.  There are more than 15 choices of premium-class steaks that you can get. Some of them are Norwegian Salmon Steak 200gr, Aussie Lamb Chop 250gr, US Black Angus Sirloin Steak 200gr, Stroganoff Wagyu MB5+, Back Ribs Wagyu MB5+ 500gr, and Tenderloin Wagyu MB5+ 200gr.
Jl. Cipete Raya No. 3, Jakarta Selatan
Phone: +628112430103
 
Meatsmith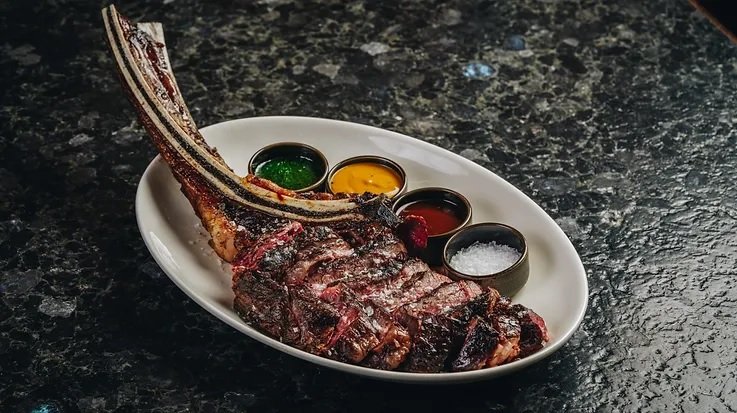 Rising in the popular Gunawarman area in South Jakarta, Meatsmith Jakarta is an oasis for meat lovers, this full metal smokehouse is set to delight Jakarta patrons' palates and fulfill their craving for exquisite meats. Meatsmith Jakarta offers perfectly exquisitely marbled steaks, tender brisket, and ribs smoked for up to 14 hours. You just can't miss the specially curated dishes such as the 14-hour smoked brisket with date puree, tahini dressing, and watercress salad; 12-hour smoked beef short rib served with corn puree and sauteed corn topped with parsley salad and pickled red onion; and cold smoked grilled lobster served with smoked potato puree, crispy potato chips, and agro dolce.
Jl. Gunawarman No.17, Kel. Selong, Kebayoran Baru, Jakarta 12110
Phone: +62 811-9760-2000
Instagram: @meatsmith.id
https://www.meatsmith.co.id/
 
Per Grams Crafted Grill & Smoke $$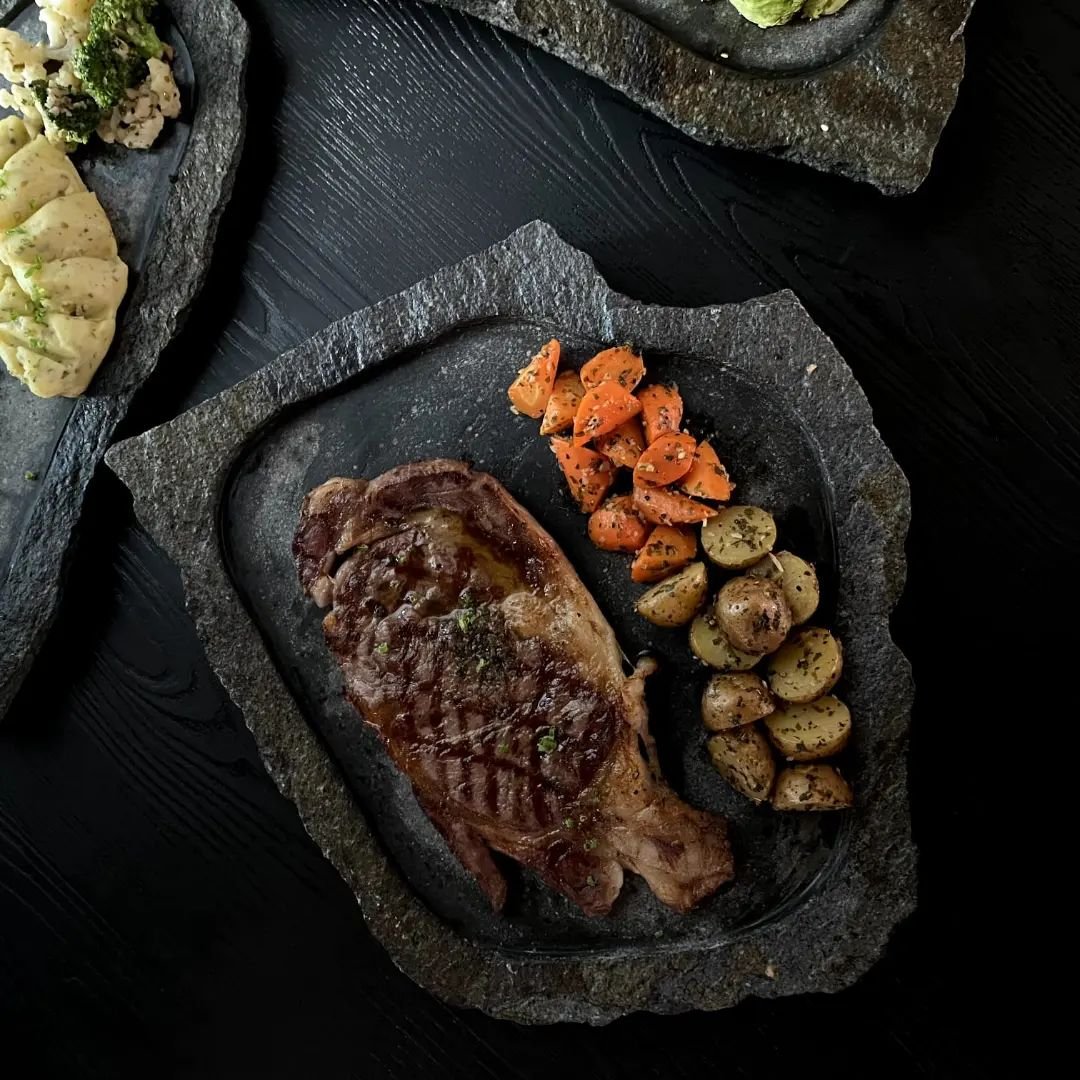 /GRAMS Crafted Grill & Smoke which pronounced Per GRAMS, is a steakhouse that originated in Jakarta that promotes Asian Fusion Flavor. They provide only the best culinary experience through the meals with the best set of products of high standards. With the idea of crafted and experience, Per GRAMS allows the customers to craft their steak with a variety of flavor and sauces prepared to satisfy.
Jl. Senopati No. 46 (Level 2), Senopati, Kebayoran Baru, Jakarta Selatan
Phone: +6281283031099
Ruth's Chris Steak House $$$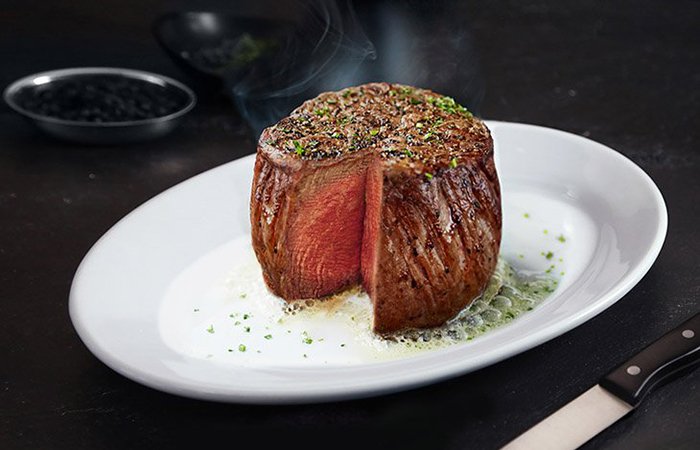 Ask people in the United States where to go for succulent, sizzling, mouth-watering steaks and they would say Ruth's Chris Steak House. Since 1965, founder Ruth Fertel's original vision for a neighborhood steakhouse in New Orleans has extended well beyond its shores. In Jakarta, Ruth opened in early 2016 to serve the finest custom-aged U.S. Prime beef which is famous for its exceptional meat quality and excellent marbling.  Ruth's Chris takes pride in proprietary cooking methods, for example, the trademarked 982-degree Celsius oven that the founder, Ruth Fertel, helped to develop50 years ago. Each steak is served on a plate heated to 260-degree Celsius to ensure the steak stays "sizzling" hot. To fully savor the quality of its steak, no sauce is added.
Somerset Residence Lobby Level 
Jalan Prof. Dr. Satrio Kav. 3-5 Kuningan, Jakarta Selatan
Phone: +62215221 178
SIR LOIN $$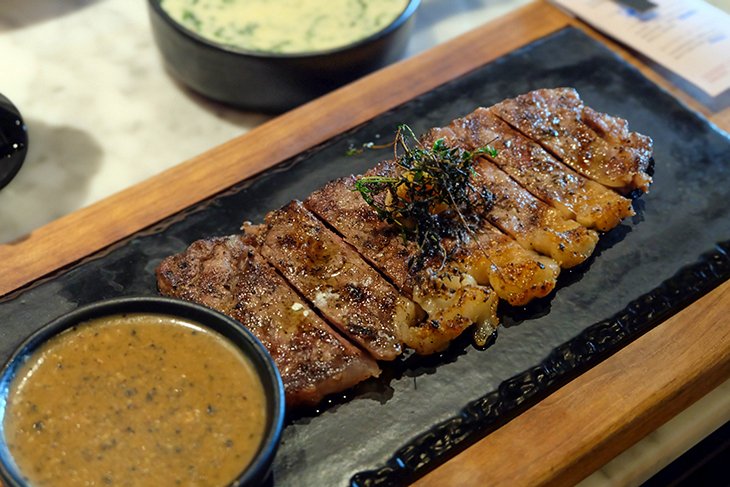 What makes SIR LOIN unique is their signature steaks are aged with special ingredients to enhance the flavor during the aging process. Starting with their shared steak menu which is perfect for groups of 4 people or more; includes 200 days of dry-aged truffle butter-aged Tomahawk MB7+ originated from Blackmore Farm Australia, Australian Black Angus Porterhouse originated from Cape Grim Farm, Australia, and many others on their menu list. All are available for sharing with a choice of side dish and sauce, finished in sizzling butter.
Jl. Bumi no. 20 Kebayoran Baru, Jakarta Selatan
Phone: +62 81210683471
Tokyo Skipjack $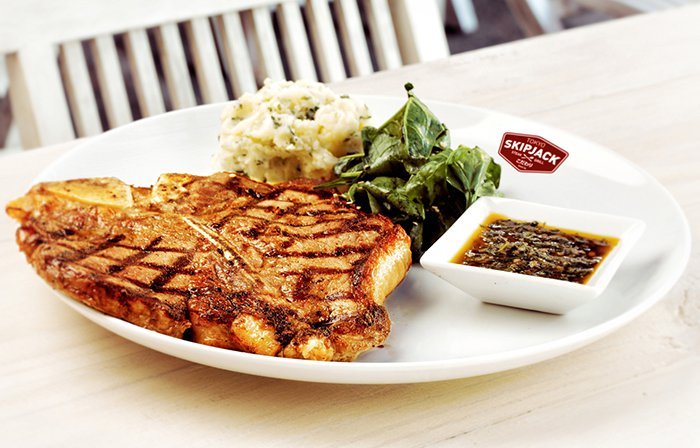 Tokyo Skipjack offers a 'street food' style ambiance as it occupies the first floor of the building in one of the busiest streets in the Blok M area. Serving only imported New Zealand and US Rib Eye, Tenderloin, and Sirloin cuts, Tokyo Skipjack grills their meat to perfection and pairs them with delicious Japanese-inspired sides and sauces such as Japanese Chimichurri and Wasabi Butter. The spinach is also too good!
Jl. Bulungan No.20, Jakarta Selatan 12130
Phone: +6281289222224
Urban Wagyu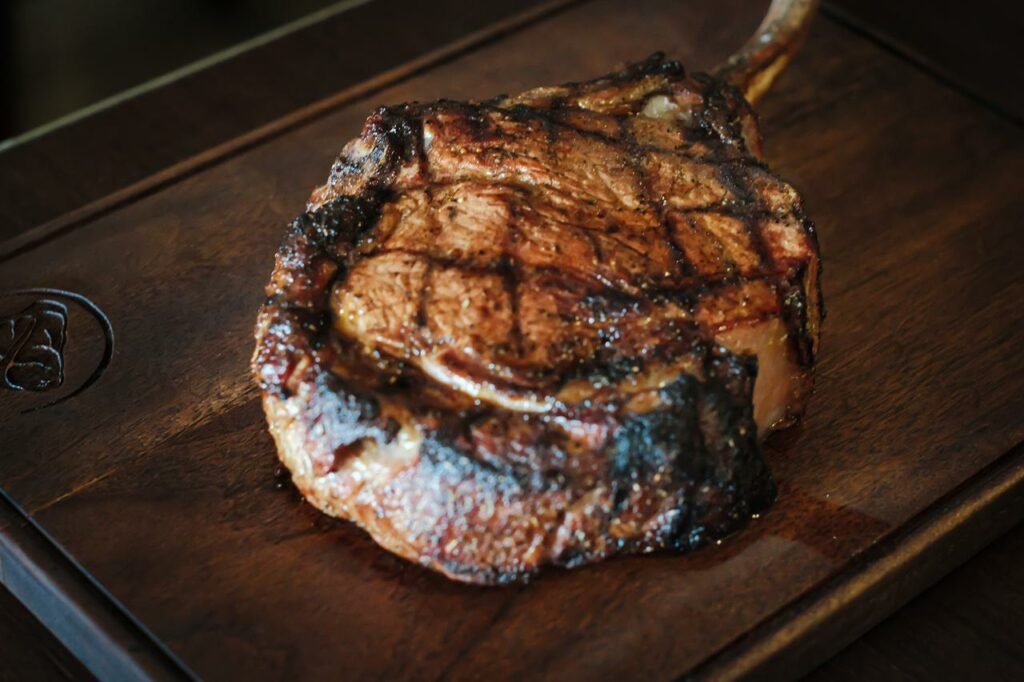 Urban Wagyu is not only famous for the sharing type of steak, but the stand-alone steak dishes for one are also mandatory to try. The Urban Wagyu Signature Wagyu serves primary cuts of true blood wagyu beef that surely melts in your mouth. For the Signature Wagyu Striploin dons with a classic mashed potato, greenies, sliced cherry tomatoes, and a fine mini cup of mushroom sauce. As they're bringing the dish to the table, the MBS 7-8+ meat is still sizzling, seasoned, and cooked to perfection, and showing no sign of extraneous fat.
Pondok Indah Mall 3
Jl. Kartika Utama No.1, Kebayoran Lama. Jakarta Selatan, DKI Jakarta, 12310
Phone: +62818 9191 66
Instagram: @urbanwagyu
https://www.urbanwagyu.com/
Wolfgang's Steakhouse $$$

Hailing all the way from New York City, Wolfgang's Steakhouse Jakarta prepares to feast on some delicious dry-aged steaks in Jakarta. The Wolfgang's Steakhouse restaurant in Indonesia is different from the Wolfgang's Steakhouse in other Asian countries. This restaurant is the only location that has its own rooftop bar.
Elysee, Unit 06-01,
Jl. Jenderal Sudirman, Kav 52-53, SCBD Lot 21, Jakarta Selatan 12190
Phone: +6221 5011 955 or +62 811150 955
https://www.wolfgangssteakhouse.id/