The number of bars and nightspots in Jakarta featuring pool tables is quite large, eat and drink and hangout with friends seems to be a routine for those who seek for entertainment after working hours. Here are some bars with pool tables in Jakarta you should check out:
Cue Up and Drink Down: Jakarta's Best Bars with Pool Tables
Eastern Promise in Kemang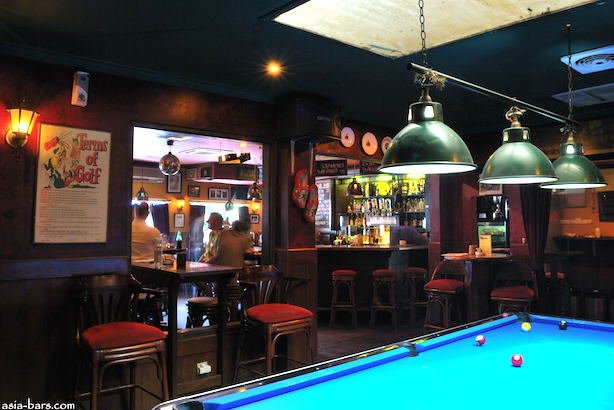 Located amidst the bright lights of Kemang, Jakarta's youthful urban neighborhood, Eastern Promise is a traditional English-style pub that has maintained an established reputation as a prime destination for dining and nightlife denizens for many years. One of the oldest pubs in the city, Eastern Promise is a celebration of community, lots of beer, great food, world sports and local and expat live music performances.
The menu offers a great selection of alcoholic and non-alcoholic beverages and a tasteful range of British Indian dishes as well as all-time pub favorites. The venue offers a cordial ambiance and features a restaurant, a bar, a sport & function room where you can find the pool table and play, and an alfresco drinking area, making it ideal for a range of purposes, from relaxing with colleagues after work to organizing personal events.
Jalan Kemang Raya no.5
Jakarta Selatan
(021) 71790151
Star Kemang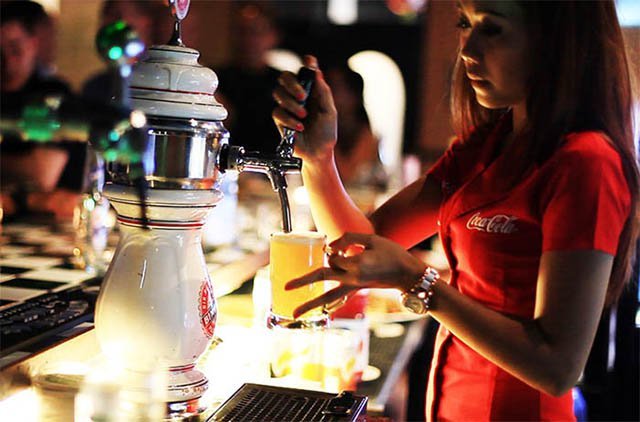 Star Kemang, The Deli population comprises of a healthy mix of local & foreign guests that enjoy the laid back atmosphere and their Live Music acts on Wednesday to Friday. Also popular for  Indonesian, Tex-Mex, American, Indian and Asian comfort food. Get freshly baked breads, and fresh Chapati's and Naan breads baked fresh from their Tandoor oven. Tasty and affordable.
Address: Jl. Kemang Raya No.10, RW.2, Bangka, Mampang Prapatan, South Jakarta City, Jakarta 12730, Indonesia
Phone: +62 21 22717700
Dungeon Pool Lounge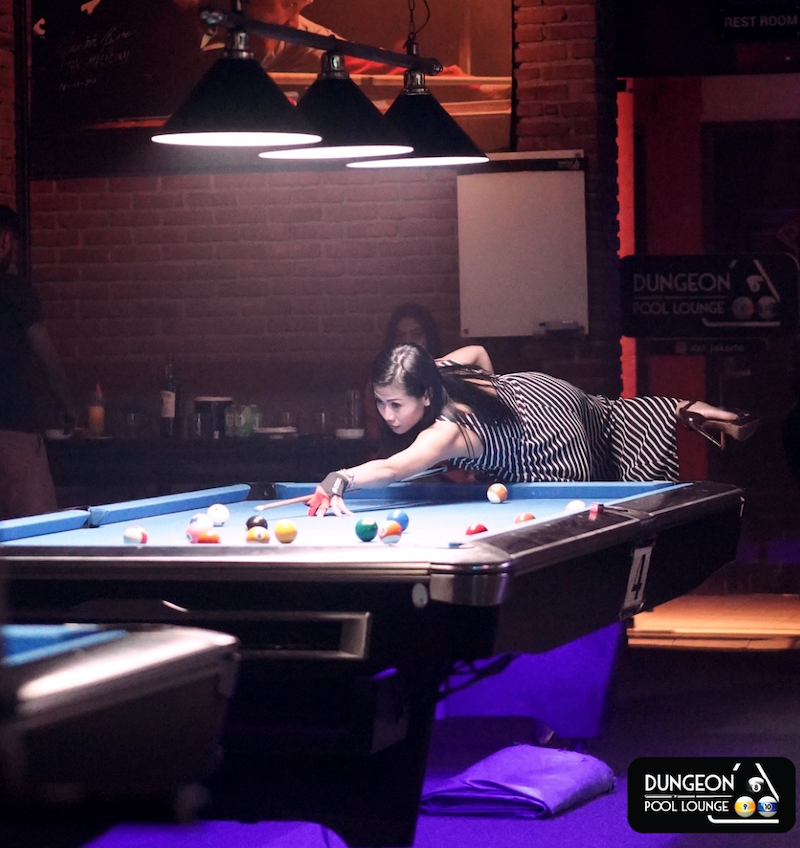 Dungeon Pool Lounge Kemang is a venue located in the Kemang area of Jakarta, Indonesia. It is a pool lounge and bar that offers a unique atmosphere with its dungeon-themed decor, including stone walls and dim lighting. The venue features many pools, a bar serving cocktails and light bites, and a stage for live music performances. It is a popular spot for both locals and tourists looking to enjoy a night out with friends or colleagues.
Address: Jl. Kemang Raya No.78 B, RT.4/RW.2, Bangka, Kec. Mampang Prpt., Kota Jakarta Selatan, Daerah Khusus Ibukota Jakarta 12730, Indonesia Phone: +62 21 7192673
https://www.instagram.com/dpl_jakarta/?hl=en
De Hooi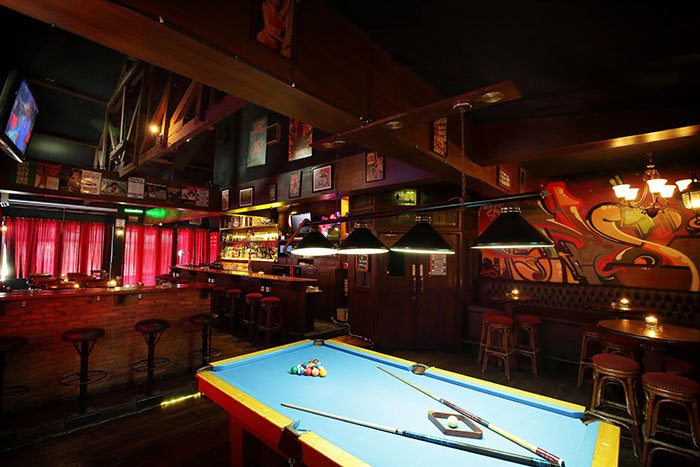 De Hooi is South Jakarta's favorite pub since 200 for more than 10 years that is very popular with both expats and locals,  featuring live music five nights a week plus excellent pub grub. Also home to Jakarta's most famous Pub Quiz, every Wednesday at 8pm.
Plaza II Pondok Indah, Jl. Metro Duta Raya Blok B4 No. 31, Pondok Pinang South Jakarta
Phone: +6221-7500-742
http://dehooi.com
https://www.instagram.com/dehooikeren/?hl=en
Satu Lagi Bar at Hotel Kristal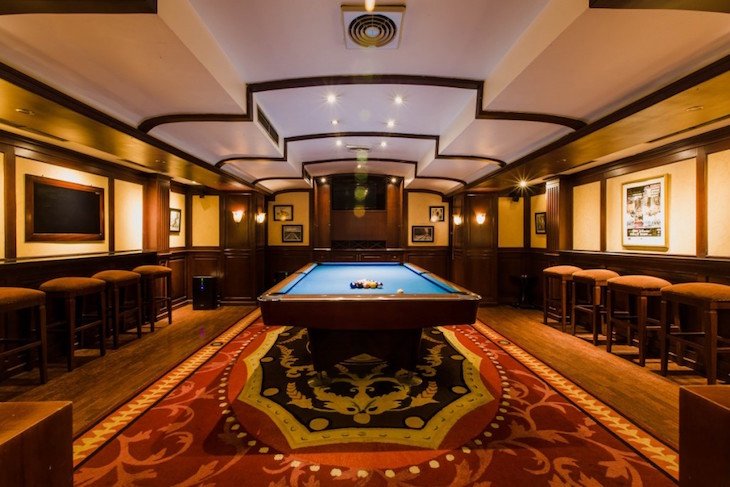 Located in the ground floor of four-star Hotel Kristal, Satu Lagi prides itself as an Irish bar and it is no wonder why it has a loyal stream of followers. Wooden panels, solid furniture and bar-wise pop art décor such as Harley-Davidson custom plates gives it a masculine and relaxed feel. A single and well-maintained pool table is placed alongside a few dining tables near the entrance for patrons who want to dine and chill out.
Women can often be seen practicing at the pool table as the bar is proud to have its own women's pool league, who had recently won a distinguished tournament. Several flat screen televisions broadcasting sport channels are installed in the bar, providing the customers good glimpses of shots and scores. A small outdoor seating area is also available, and is usually used to host small events or celebrations.
Hotel Kristal Jl Terogong Raya
CIlandak Barat Jakarta 12430
Phone: 021 750705
Brewekz at The Breeze BSD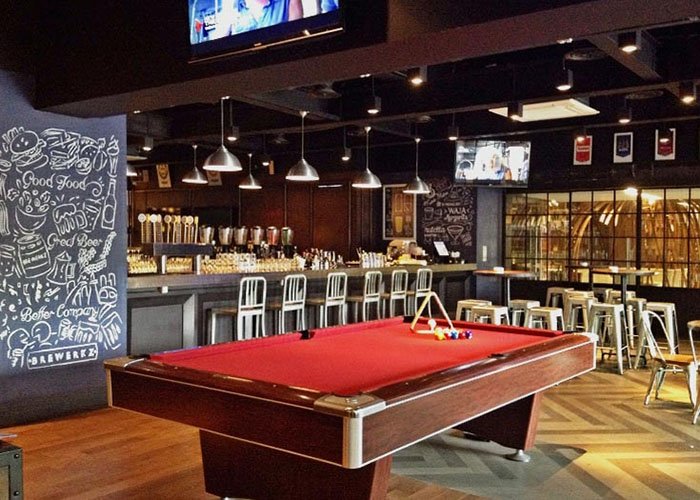 Bewerkz is an internationally respected operator of restaurants and microbreweries, is one of the region's largest craft brewers. Also specializing in classic, handmade and fresh American-styled food, served in generous portions. Their bar/restaurant in The Breeze, BSD is very spacious and has a pool bar, perfect for an all-nighter!
www.brewerkz.com
The Breeze, Jl. Grand Boulevard BSD, Green Office Park BSD City, Serpong, Tangerang
Hours: 10am-10pm
MAD DOGS Bar & Grill at Cilandak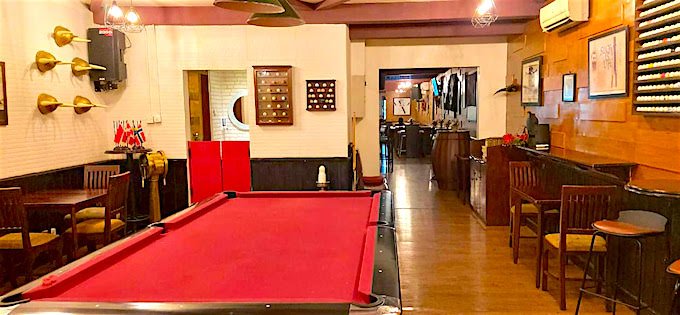 Popular place for expats after work hangout., serving good western food.
MAD DOGS Bar & Grill is a bar and restaurant located in the Cilandak area of Jakarta, Indonesia. The venue offers a casual and relaxed atmosphere, with outdoor seating available and a spacious indoor area. The menu features a variety of grilled meats and burgers, as well as a selection of cocktails and beers. Live music performances and sports events are also regularly held at the venue, making it a popular spot for locals and expats looking for a fun night out. The friendly and attentive staff and reasonable prices add to the appeal of MAD DOGS Bar & Grill.
Address: Cilandak Commercial Estate, Jl. Raya Cilandak Kko No.13, RT.13/RW.5, Cilandak Tim., Kec. Ps. Minggu, Kota Jakarta Selatan, Daerah Khusus Ibukota Jakarta 12560Hours:
Closed ⋅ Opens 11AM
Phone: (021) 7890071
Q Billiard at Senayan City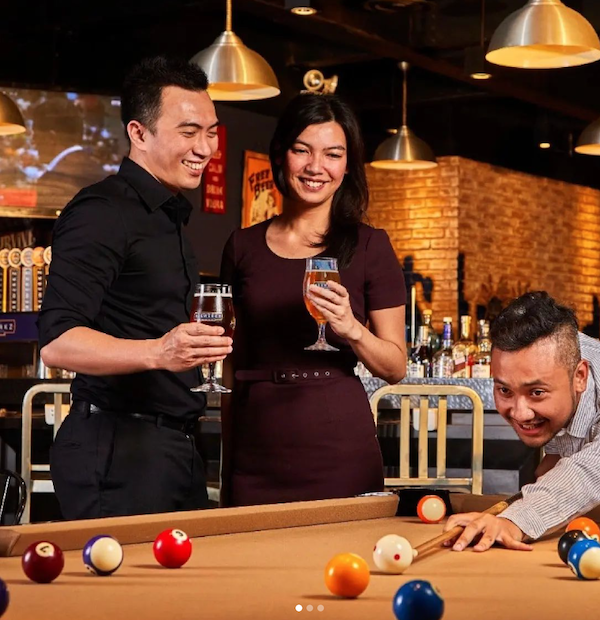 Q Billiard is a billiard lounge located in Senayan City, a shopping mall in the Senayan area of Jakarta, Indonesia. The venue features a spacious area with a variety of billiard tables, as well as a bar serving drinks and snacks. It is a popular spot for both casual and serious billiard players, as well as groups of friends looking for a fun activity to enjoy together. The location within the shopping mall makes it convenient for visitors to combine billiards with shopping or other entertainment options at Senayan City. The lounge has a modern and stylish decor and a relaxed atmosphere, making it a comfortable and enjoyable place to spend time.
Address: Senayan City Crystal Lagoon B2,Jl. Asia Afrika No. 19, Jakarta, RT.1/RW.3, Gelora, Kecamatan Tanah Abang, Kota Jakarta Pusat, Daerah Khusus Ibukota Jakarta 10270, Indonesia Phone: +62 21 72781602
https://www.instagram.com/qbilliardjkt/?hl=en
Afterhour Billiard & Lounge PIK

Afterhour Billiard & Lounge PIK is a popular venue located in the Pantai Indah Kapuk area of Jakarta, Indonesia. As the name suggests, it is a billiard lounge that stays open late, catering to night owls looking for a place to unwind after hours. The venue features a variety of billiard tables, as well as a bar serving drinks and light bites. It is a popular spot for both casual billiard players and serious enthusiasts, and the lively atmosphere makes it a great place to socialize and meet new people.
Address: Pasar Pantai Indah Kapuk, Kav. K 2, Unit FD, Jl. Pantai Indah Utara 2, RW.7, Kapuk Muara, Kec. Penjaringan, Jkt Utara, Daerah Khusus Ibukota Jakarta 14460, Indonesia Phone: +62 21 30051613 - https://www.instagram.com/afterhour_pik/?hl=en