Now at Four Seasons Hotel Jakarta as General Manager, Simon is building further on a foundation of excellence. In this exclusive interview, Simon speaks about his new position, the prominent Four Seasons Hotel Jakarta, and his business strategy for the hotel
Having recently transferred from Singapore to Jakarta, Simon Barnett brings a wealth of international experience to his new role as General Manager of Four Seasons Hotel Jakarta. A veteran hotelier with 30 years in the industry, including over a decade with Four Seasons, Simon embodies a rare combination of operational and sales and marketing experience. Starting out in the front office of a five-star hotel in Brisbane, Australia, he ventured into various departments, including concierge and reservations before discovering a strong affinity with sales.
In 2011, Simon joined Four Seasons Hotel Sydney as Director of Catering and Conference Services, rapidly earning a promotion to Director of Marketing. It was around this time that he felt an increasing urge to return to operations and to take on a role that would encompass the Hotel in its entirety. His transition to Hotel Manager in Sydney was followed by a move to Four Seasons Hotel Singapore where he served simultaneously as Hotel Manager and Director of Marketing.
Now at Four Seasons Hotel Jakarta as General Manager, Simon is building further on a foundation of excellence. In this exclusive interview, Simon speaks about his new position, the prominent Four Seasons Hotel Jakarta, and his business strategy for the hotel.
Tell us about yourself – what inspired you to work in the hospitality industry?
It was kind of more by accident. I was studying at the university and I wanted to earn some additional money. I started working at the hotel as a porter, delivering luggage. I was in Brisbane at that time, I hadn't traveled much myself internationally, and there was really the first time I saw and met people from different cultures and countries.
It just interested me, the more I spoke with them the more interested I got and realized that it's just a fantastic industry to understand people better.
What would you say about your daily routine as General Manager?
The nice thing about being in a hotel is it is sometimes difficult to have a daily routine. You know, the great part is meeting different guests and speaking to different staff members. It's always different because people have different moods they have good days or bad days, you just could have managed that so that they have a good experience. I think the thing that resonates best with particular guests is listening. You know you can get amazing stories from guests if you listen and ask a few questions about their family and culture, I find that the best part of my day. People are very willing to tell you a lot if you show genuine interest, but I try to have a routine about what I check in the morning, the reports that we look at, the daily briefings, and the communications so there's an element that we do at the same time every day to get the consistency to our team but yes no days is the same.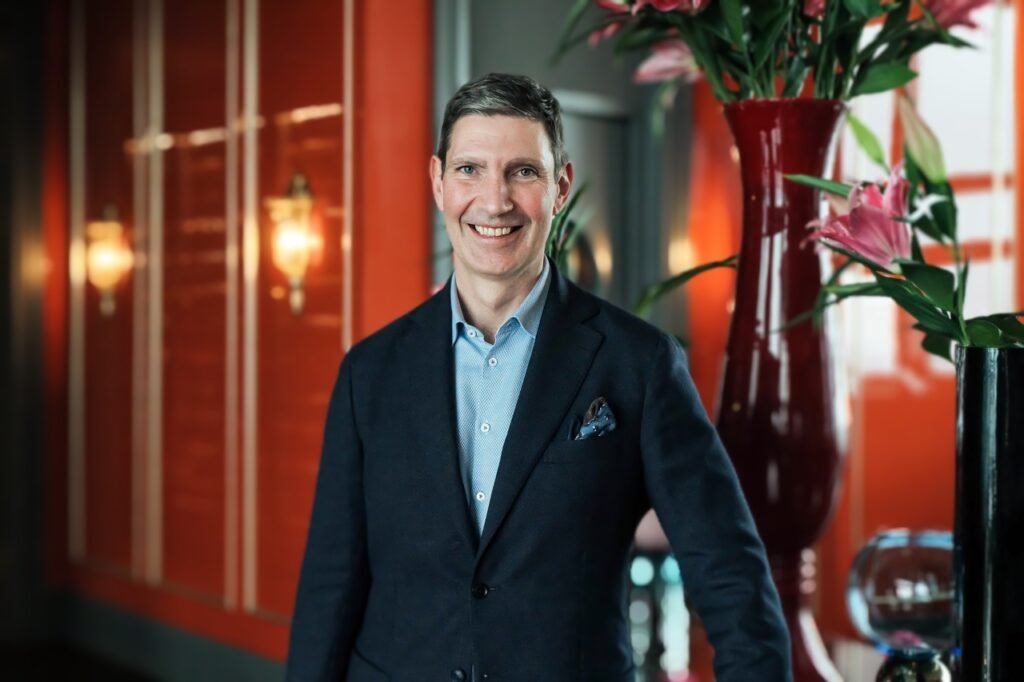 Tell us more about the prominent Four Seasons Hotel Jakarta, specifically the unique points of the hotel?
I've been here for six months. When I arrived it was really stunning to me how beautiful and thoughtful the design of the hotel is. Every area of the hotel wherever you go really reflects a beautiful art and design. It's sort of celebrating the journey of Indonesia from eras like the Batavia era and the colonial era. Every corner of the hotel tells a story.
For the location, we are very lucky, we got SCBD on an outdoor step, really great access to the hotel, Kuningan, Gatot Subroto, and Senopati area where all the fantastic restaurants and bars there. We also have a number of amazing restaurants and bars, we are very lucky to be here. One of them is Alto Restaurant and Bar that offers spectacular panoramic views from the restaurant. It's really lovely to come up here after work and have a look at the city.
How has Four Seasons Hotel Jakarta dealt with the pandemic?
Luckily, we've been the part of the Global Initiative Four Seasons had initiated with Johns Hopkins Medicine which really identify that we had to make sure the guests and our staff felt safe. So we worked with them very first and are continuing to do that now to ensure that safety and the health concerns. One of the most major factors in people wanting to soon travel is believing and knowing that they are in a safe environment so we worked really hard on that.
The one thing I have to say is our staff themselves have been really incredibly diligent about their own personal safety and care.
How do you and your team adapt to the situation to keep the business on track?
We're probably a little bit more strict than even the local regulations in regards to the physical distancing, ushering people going to the lunch room, encouraging quiet peers to be eating at their desks not mingling with the inter-departments.
What we did see with the restriction of repatriation or quarantine that we really soared a huge change in domestic business being the primary business source. So with that, things like making sure that we increased our offering on our breakfast, allowing delivery to the room, providing cutleries because people were felt more assured by dining in the room than in the restaurant, yeah the thing that we realized the leisure facilities like the pool was very important for people. Most recently, we have opened up the kids' club on the weekends to make sure the parents need a little bit of downtime, so the children can enjoy themselves.
What do you think is the biggest challenge for Four Seasons Hotel Jakarta today?
I see the challenge as an opportunity. The challenge is that we haven't had the international business and as an example, we have a great wealth of Four Seasons chefs all around the world. And we are normally allowed to bring them in on a regular basis to showcase some of their talents so the people here in Jakarta. That's not possible for a couple of years, so those challenges became a huge opportunity for us as we look to put additional programs to help engage guests and excite them to come to the hotel. Jakarta is such a dynamic city, things happening in our restaurants will provide excitement and creative ideas to draw people in.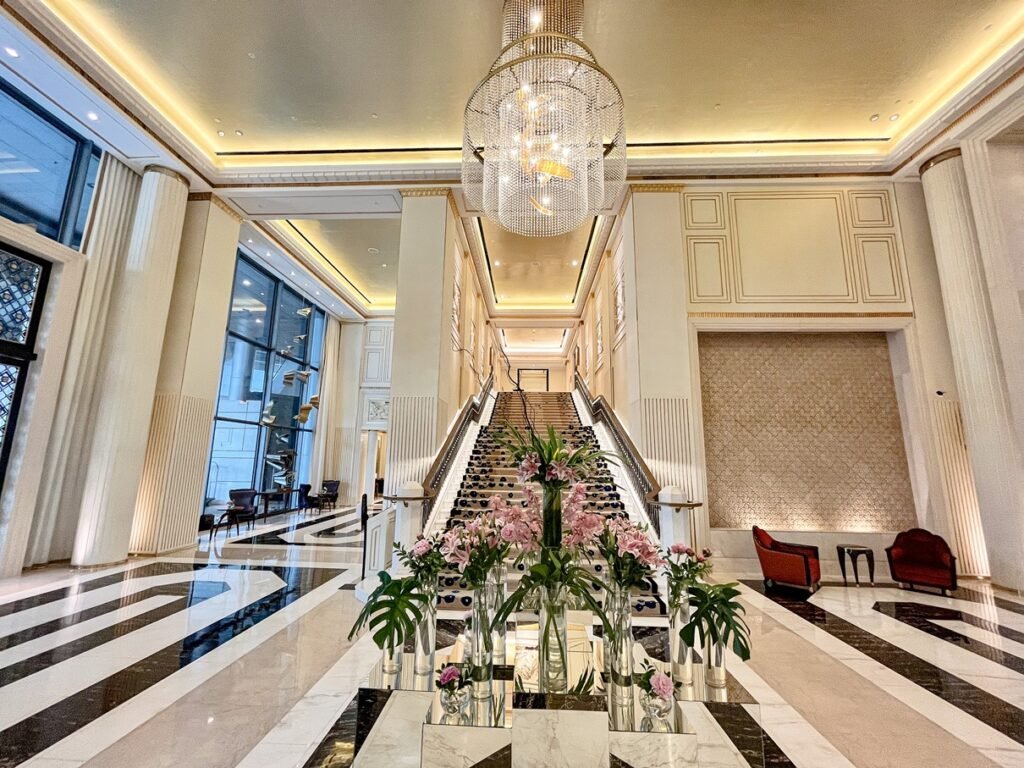 For the last 30 years, you have worked in the hospitality industry, what makes you enjoy working in the industry?
It's a great question. It has to come back to the people. This is not unlike many other industries or companies that when you think about it, spending such a large amount of time with each other. The hotel opens 24 hours a day, 7 days a week, and some of us always have to be there, to manage, so that we become like a family and we know we have to support each other to make sure that we give the best to our guests.
Can you describe in 3 words about your leadership style?
The one thing that I learned very early was being humble knowing you're able to learn. So humble the first one. Honest, I think integrity and honesty are the most important. And the other one is hungry, not because I always want to eat food, but more like hungry to compete, hungry to learn, hungry to do things better, and hungry to absorb knowledge. So humble, honey, and hungry, those 3 H's, let's go with it.
How do you balance your professional and personal life?
This is such an interesting question, about balance. I think if you really love what you do and create fun moments in the hotel professionally then that balance in regards to what you need to do when you are not at work, isn't it so great? So I don't need to go meditate for the 2 days or a day when I'm off each week because I'm actually really enjoying what I do here. But of course, my wife and I love spending time together, we are still exploring Jakarta, and we managed to bring out our little dog "Kanga".
What do you like to do during your free time? Any hobbies?
I try to run very regularly, I love that. Also CrossFit, I still practice and still do it in the Kemang area. Really love it. The big part of why I enjoy it is the community. When you are in a new country, it is really nice to find an activity that locals do as well, so you get to meet new people who share the same activity that way.
You've traveled around the world; what is your most favorite destination?
It's interesting I've been so lucky working in hospitality to visiting many countries and many cities. And the one place that always comes back to me is what I remember is the people, you know. The example that I think probably the first I went to South America was Sao Paolo in Brazil. A very busy city, very manic, but the people to me were so beautiful and kind. And for that, I remember that was such a remarkable experience.
I have to say I'm originally from Melbourne, my family is there. So it's pretty close to my heart as well.
Finally, what do you want to see in Four Seasons Hotel Jakarta in 5 years?
I'd like to see it similar to what it is now, an icon of the city, something that people resonate with quality and also about people that working here that really care about their experience. Of course, I think the team here doing such a wonderful job, you know that is the momentum we need to keep, knowing that we need to be creative and innovative about what we can offer to the guests. I think we can keep looking for trends from other Four Seasons and other parts of the world on how we can bring the new excitements to Jakarta so guests can experience it here at Four Seasons Hotel Jakarta.