Looking to escape the bustling city life of Jakarta? You're in luck! Here are more than 10 exciting getaway ideas that are just a short trip away, offering a perfect opportunity to unwind, explore, and create lasting memories.
Jakarta Getaway or Day Trip Ideas for a Memorable Short Trip
1.Thousand Islands (Kepulauan Seribu)
Thousand Islands (Kepulauan Seribu): Embark on an island-hopping adventure and indulge in the tropical paradise of the Thousand Islands. Relax on white sandy beaches, snorkel in crystal-clear waters, and enjoy water sports like kayaking and jet skiing.
2. Bogor Botanical Gardens
Bogor Botanical Gardens: Take a refreshing trip to the Bogor Botanical Gardens and immerse yourself in the beauty of its lush greenery, exotic plants, and peaceful atmosphere.
3. Puncak
Puncak: Experience the cool mountain air of Puncak and soak in breathtaking views of tea plantations and rolling hills. Enjoy a cup of freshly brewed tea and explore charming roadside stalls offering local snacks and souvenirs.
4. Bandung
Bandung: Escape to Bandung, known for its cool climate, stunning landscapes, and vibrant shopping scene. Explore factory outlets, visit Tangkuban Perahu volcano, and indulge in mouthwatering local cuisine.
5. Pelabuhan Ratu
Pelabuhan Ratu: Head to Pelabuhan Ratu for a thrilling water adventure. Try surfing or bodyboarding at Cimaja Beach or simply relax on its pristine sandy shores.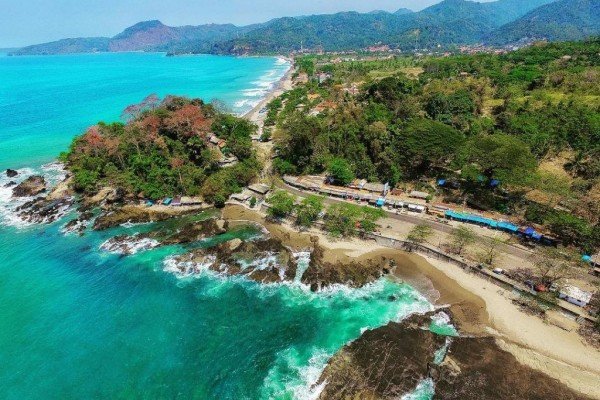 Photo credit IDNtimes
6. Cirebon
Cirebon: Discover the cultural heritage of Cirebon by visiting the Keraton Kasepuhan, exploring traditional markets, and enjoying captivating Wayang Kulit performances.
7. Taman Safari Prigen
Taman Safari Prigen: Get up close and personal with wildlife at Taman Safari Prigen. Take a safari tour, watch animal shows, and interact with friendly animals in a natural setting.
8. Puncak Pass Waterfall
Visit the picturesque Puncak Pass Waterfall, a hidden gem amidst lush greenery. Take a refreshing dip or simply enjoy the tranquil surroundings.
9. Anyer 
Anyer Beach: Enjoy a beach getaway at Anyer, where you can relax on sandy shores, take a dip in the sea, and savor fresh seafood delicacies.
10. Carita Beach
Carita Beach: Escape to Carita Beach for a peaceful retreat. Take long walks along the shoreline, witness stunning sunsets, and explore nearby attractions like Krakatoa volcano.
11. Mount Salak
Mount Salak: Embark on a hiking adventure to Mount Salak and immerse yourself in nature's beauty. Enjoy panoramic views, spot unique flora and fauna, and conquer the summit for a sense of achievement.
12. Tidung Island
Tidung Island: Escape to Tidung Island and enjoy its pristine beaches, vibrant coral reefs, and opportunities for snorkeling and diving.