Are you feeling drained by life in Jakarta? Do you feel suffocated by the concrete jungle and long to rejuvenate yourself in nature but don't want to spend the money and time on a flight to Bali or Lombok? Luckily for us, there's a cheap, easily accessible but often overlooked island escape right within the Jakarta regency-Pulau Seribu, or Thousand Islands! A Day Trip to Thousand Islands. Though you may have heard of Pulau Seribu and deemed it not worth your time and effort, it's actually a great option for a short trip, not very touristy, and cheap and easy if you have the right information. A return to nature that recharges mind, body, and soul need not cost a week's worth of time and money- one day and an estimated 3 – 400,000 RP (including food, transport, and a little extra for any other costs) are all you need to enjoy Pulau Seribu the local way.
1. Get to the Harbor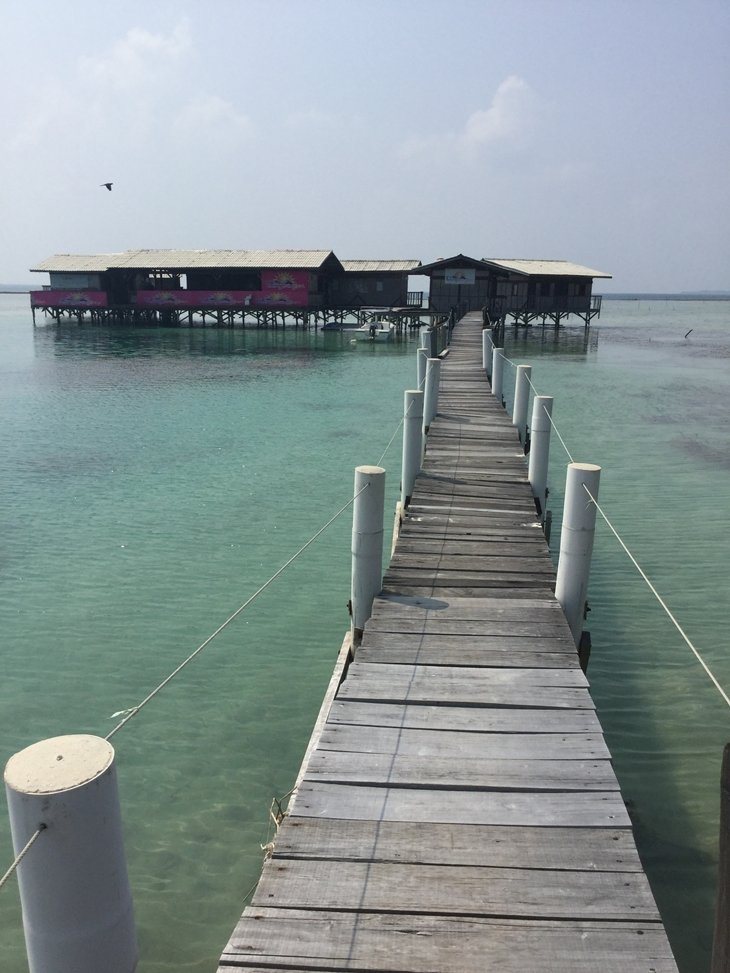 There are two harbors in Jakarta that have boats going to PulauSeribu- Ancol Marina is the nice harbor that you may have gone to for dinner and a stroll or to check out the water park. However, I've found that for Thousand Island trips it's best to go to Kali Adem harbor, in MuaraAngke, North Jakarta. This harbor is primarily used by local fisherman (as you'll immediately be able to tell from the smell). The boats leaving from here are cheaper, and you'll be able to catch the local ferry as well.
2. Choose your boat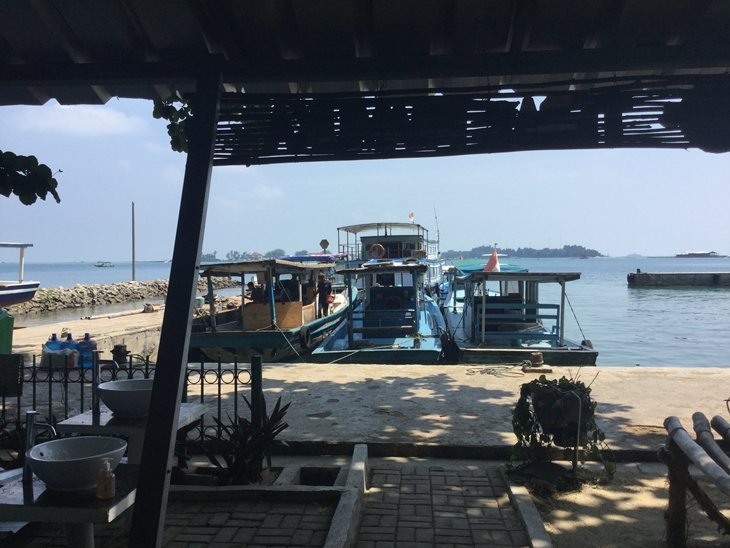 The public ferry from Kali Adem leaves at 8 and 9 AM, and costs 40,000 RP. The other option is to take a speedboat which cost us 200,000 RP round trip (you may be able to get it for less depending on your bartering skills and how "bule" you look). The ferry can be a great "experience," if you're open to that. Try to get on a little early in order to get a spot next to a wall- you'll still be sitting on the floor, but at least you'll have a backrest to snooze on. The ferry deck (not air conditioned, but shaded and with windows) will soon be packed full with locals, sitting, eating, chatting, sharing snacks, sleeping (a lot of sleeping) and idly strumming guitars. It's a nice communal vibe, and can get you in a good frame of mind to enjoy your Thousand Islands getaway. However, if you value comfort, privacy, and speed more than experience and cost, get the speedboat. It's actually surprisingly comfortable and pleasant.
3. Choose your Island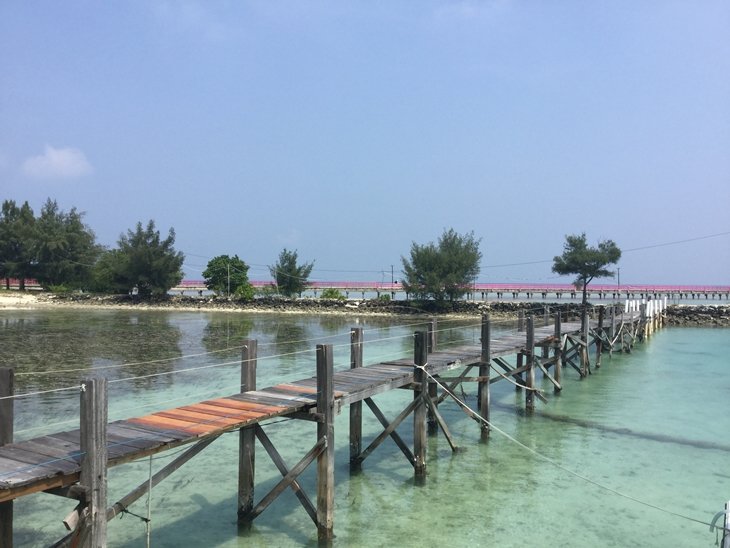 No matter which boat you take, if you know which island you'd like to go to, be sure to tell the crew- they won't stop somewhere unless they know someone is getting on or off. On our first trip, we planned to go to PulauPari, but didn't tell anyone, assuming the ferry would stop at every major island and the names would be loudly announced to the passengers. This was not the case, and we did not realize it until long after we'd passed our desired destination.
But no worries. Your Pulau Seribu day trip is a great chance to let your feelings and the "vibes" show you the way. It's the kind of luxury most of us don't get in our intense lives in Jakarta, so really let things flow! My recommendation is: just get out when you feel you've had enough of the boat. As a general rule, the farther you get from Jakarta, the cleaner the air and water will be. However, the more time you spend on the boat, the less you'll have on the island. Because of this, the speedboat is the best choice if you know you're going to one of the farther reaches.
On our first expedition, we got out at Pulau Pramuka, or "Boy Scout Island." This island is home to the administrative headquarters of Thousand Islands, but is not a big tourist spot. On our next trip, we took the speedboat to "Pulau Tidung," which is a bit more commonly visited. Neither, however, had many tourists at all, giving the trip an authentic and peaceful feel.
4. Explore Your Island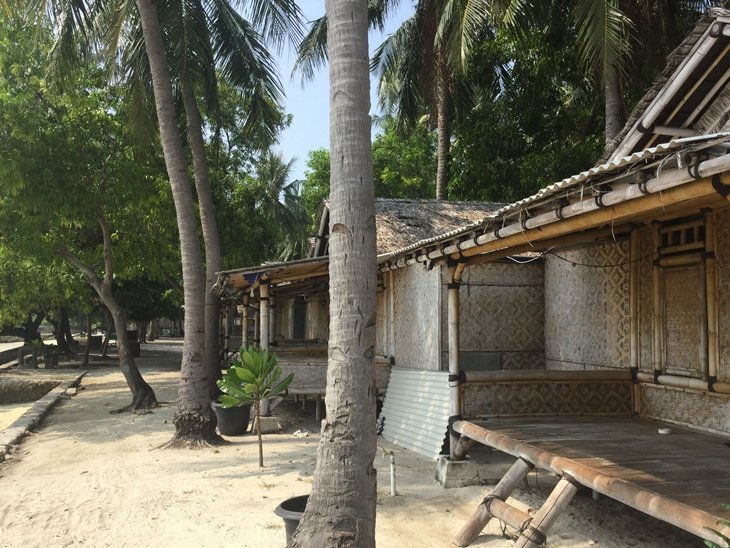 Now that you've chosen an island and disembarked from your boat, it's time to explore! There are sure to be beaches, swimming spots, a local village, and some nature to hike. Depending on the island, you may be greeted at your arrival by an onslaught of motorbike and taxi touts, or you may be surrounded by shocking nonchalance. Either way, the first thing to do is buy your ticket back if you haven't already. There will usually be a seller sitting out with a list of names somewhere nearby. They'll also let you know when the boat is leaving so you know how much time you have before you get stranded on the island.
After getting a ticket, my usual procedure is to head in the general direction of the main beach (it may already be right in front of you) and stop on the way at a warung for a late breakfast/early lunch and coffee to get the head straight. Be wary of the swarms of flies- they like to come for your food around lunchtime, so try to eat somewhere inside if possible. If it's not (as is likely), just try to eat quickly with one hand while shooing the flies away with the other. Calmly repeat the mantra: "it's all part of the experience."
After your meal and some time spent observing the sleepy local island culture (the cats are generally the most active inhabitants), head to a beach and dip in the crystal clear waters before relaxing in the shade. If you're concerned about safety, ask a local about the best swimming areas (though they're probably pretty obvious). Be careful about where you step, especially if barefoot.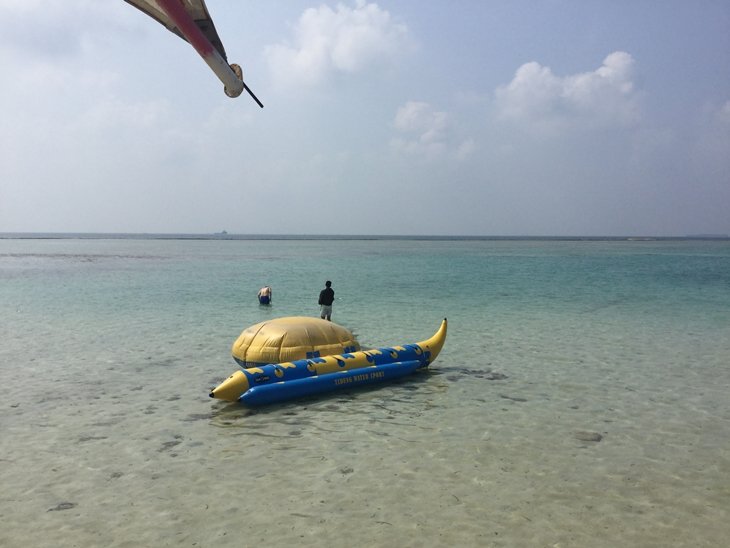 Once you're done on the beach, the villages are great to check out as well. Many of the residents are actually upper-middle-class locals from Jakarta who moved out to the islands. As such, the villages are generally quite well-developed, clean, and easy to walk around, while the prices are still much lower than in Jakarta city. There is likely some construction going on as well, though. One of my best Thousand Island moments was spent sitting on a porch-style swing, surrounded by plants and trees, drinking 4,000 RP coffee and listening to the sounds of birds and the gentle waves.
Nature and camping areas are also found on the islands, and you can usually find some good trails to hike and explore. Every island also has its own special and unique elements- Pulau Pramuka has several parks to walk through and a nice village, whereas Pulau Tidung has a (very) long pink bridge connecting two islands. There's also a spot early on this bridge that one can jump from in order to ensure a good love life, or something like that. Keeping an eye out for and appreciating these unique elements is an essential part of the Thousand Island day trip experience.
Warning:
During your Thousand Island day trip, you're sure to notice that omnipresent issue that's recently experienced such a surge as a trending topic: trash. Especially on the beaches, but around any camping or picnic areas as well, you're sure to find a fair amount of waste- plastic and otherwise. The main beaches are usually pretty clear, and I never saw anything in the water, but be aware that it will be around. Perhaps some organized clean-up activities are in order; it's a good justification for a group day-trip, too!
5. Going Home
By the time 1 o'clock rolls around, you'll be feeling fairly satisfied. You'll have experienced a good chunk of what your chosen island has to offer, but without feeling like you've exhausted every last drop. This is good, because most of the speedboats head back to Jakarta around 2 or 3 PM. You might be feeling you want to stay later, and that's great- this trip is all about following your feelings, and each island boasts a lot of reasonably priced guesthouses. If you choose to stick to the day trip plan, however, head to the harbor area, and chill while you wait for your boat to begin boarding. The speedboat is generally the only option to get back, but if you stay overnight, you can take the ferry the next morning. It usually stops by the islands around 10 AM.
The speedboat journey will take around an hour or so, depending on what island you ended up on, and will take you back to Marina Ancol (the upscale harbor area). Once you get back, around three-thirty or four in the afternoon, feel free to stroll, eat, and spend some more time admiring the ocean view. If you're getting home by bus or taxi, there's a free tour bus you can take from the harbor to the Jakarta Old Town area, with stops at various tourist attractions. If you haven't seen the main sights of Jakarta yet, it's a great way to round out your day!
And you're back! Relax, reflect, and feel satisfied in the knowledge that you've successfully rejuvenated your body and soul in a day trip that, if all went as planned, cost you less than 400,000 RP altogether. If my girlfriend allowed it, I'd be going every weekend! I can't get enough of the authentic Thousand Islands tourism experience, and all the unexplored pleasures the islands have to offer.
A DAY TRIP TO THOUSAND ISLANDS – HOW TO ENJOY PULAU SERIBU THE LOCAL WAY by Kyle Dougherty