Where to enjoy live music in Jakarta? Jakarta offers countless exciting and vibrant local music scenes to choose from. Here are some of the best live music venues you should check out around Jakarta city. (p.s. we suggest you call first before you go) and you also check our Jakarta nightlife guide and upcoming Jakarta music events here 
20+ Best Places to Enjoy Live Music in Jakarta 2023
B.A.T.S. at Shangri-la Hotel $$$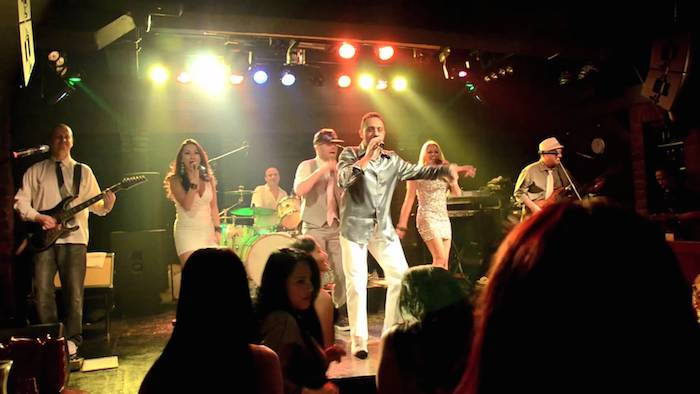 With a relaxed atmosphere and lively international band playing every night from Monday to Saturday, B.A.T.S is considered as one of Jakarta's most popular bar, especially among expatriates. Stepping into this bar and restaurant feels like going into a New York underground bar in the heart of Jakarta, with its exposed brick and wood paneling design. For grubs, go for their oversized portions of linguini, Caesar salads, pizzas, and steaks.
Shangri-La Hotel, Jakarta, Kota BNI, Jl. Jend. Sudirman Kav. 1
Phone +6221-29399562 - www.shangri-la.com/jakarta
www.platinumclubjakarta.com
The H Club $$$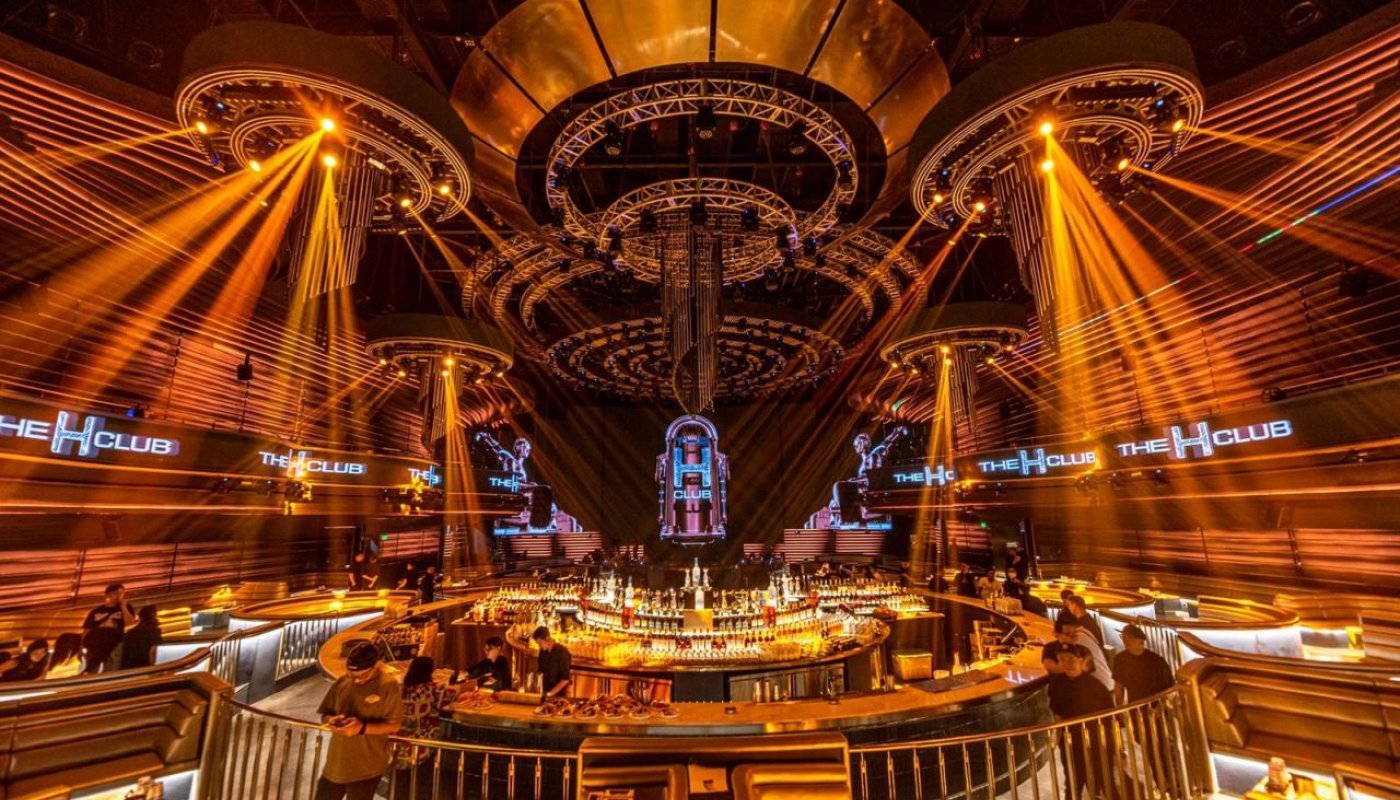 The H Club, the biggest nightclub in Jakarta and Asia has already become the talk of the town. this nightclub offers phenomenal experiences with sophisticated technology and tremendous sounds. With a capacity of thousands of people (about 2,000 people), The H Club is known for DJs and national and international entertainers that are ready to entertain every visitor.
Jl. Jendral Sudirman Kav 52-53 SCBD Lot 19, Jakarta Selatan
Phone: +6281119167168
Instagram
LEON Goldstein $$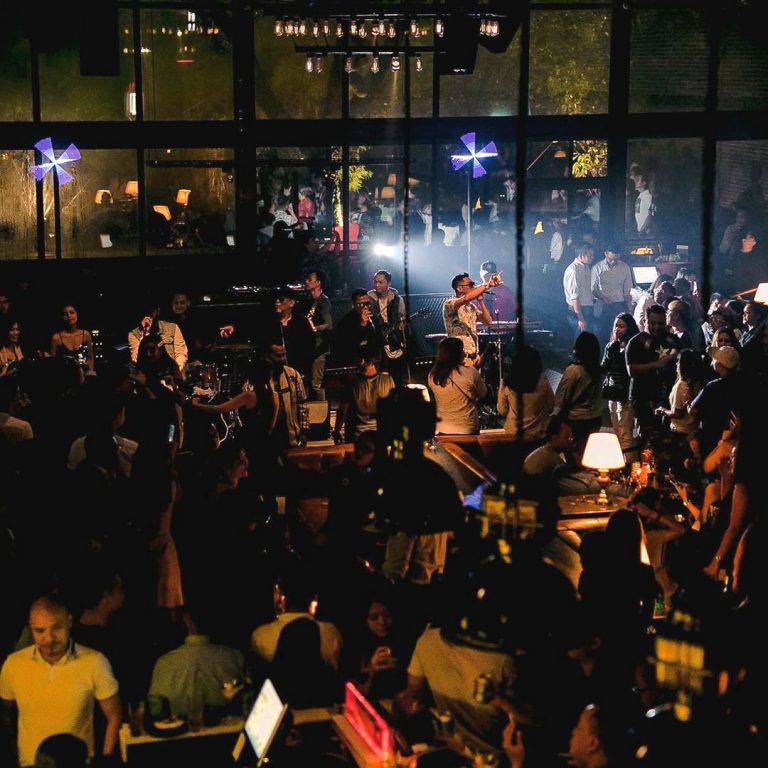 Leon offers pleasure seekers a sophisticated and relaxed inner-city drinking and dining experience. Explore a vintage meets modern ambiance and catch the rhythm with Leon's selection of fine music. You can also indulge in its delicate cocktails and unique twist on classics.
Jl. Wijaya I No.25, Petogogan, Kebayoran Baru, Jakarta Selatan
P: (+6221) 7221188
IG: leon_jakarta
Home by Moonshine $$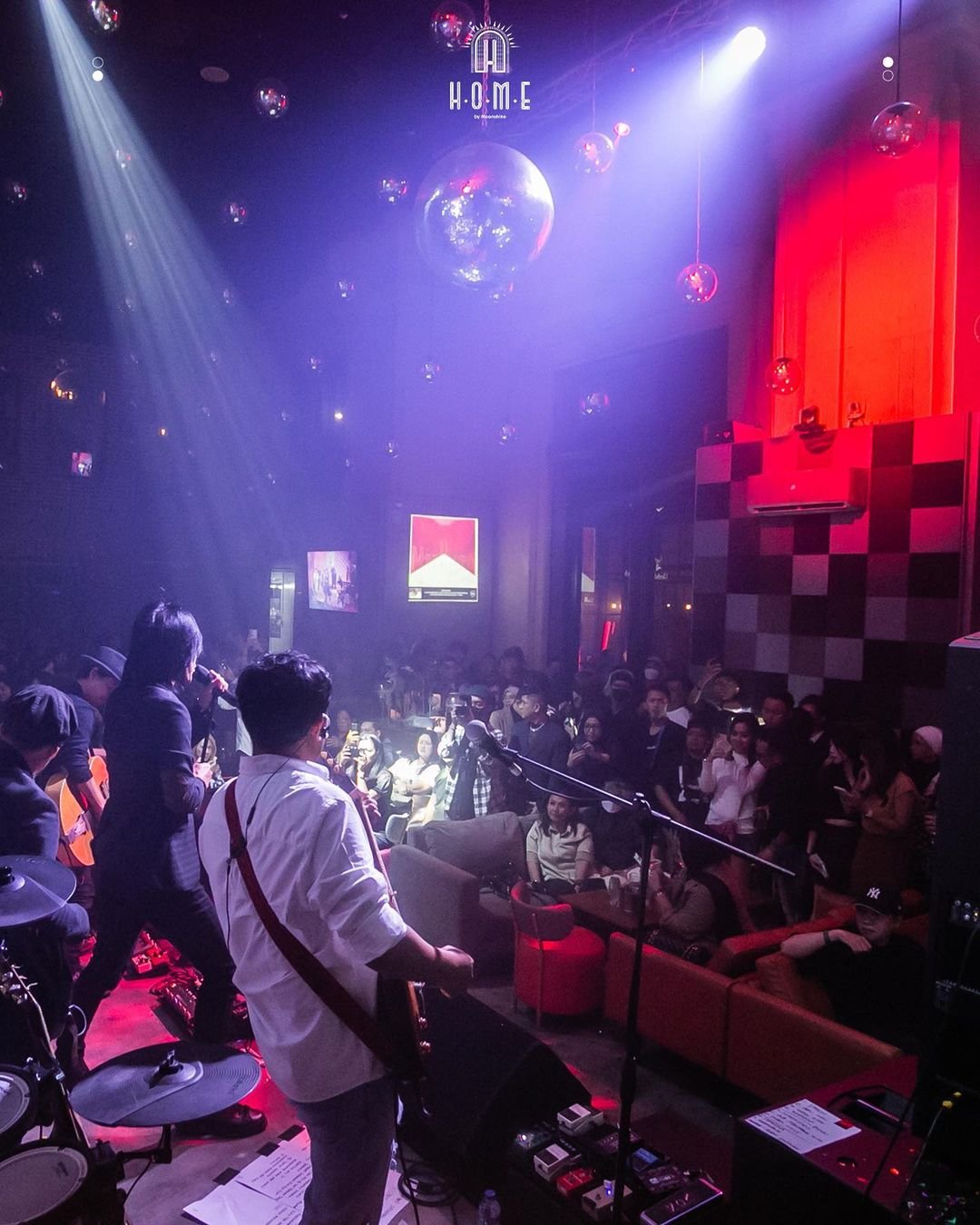 Home by Moonshine will make you feel at home as they provide live music performances and bands. Gather your friends and sing along to create the best fabulous moment with their special line-ups.
Ground Floor – South Tower Sampoerna Strategic Square, Sudirman, Jakarta
Phone: +62 811-8286-691
Instagram
Lucy In The Sky $$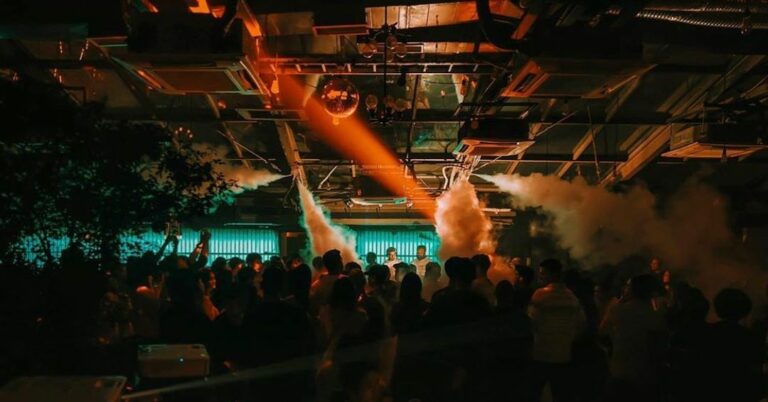 Photo credit by Instagram @lucyintheskyjakarta
Lucy In The Sky immediately set the trend for rooftop bars and restaurants in Jakarta and is still a hot spot until today. They also set an emotional and aspirational notion that captures the heart & experience of the guests. Expect fun vibes, irresistible dancy, sing-along tunes all night long, and especially the amazing crowds.
Fairgrounds Building, Jl. Jend. Sudirman kav 52-53 No.Lot 22, Jakarta
Phone: +6281319867542
Rooftop Floor, Senayan Park, Jl. Gerbang Pemuda No.3, Jakarta 10270, Indonesia
Phone: +6281288985253
Jl. Cikini Raya No. 22, Cikini
Phone: +6281213000557
MR. FOX $$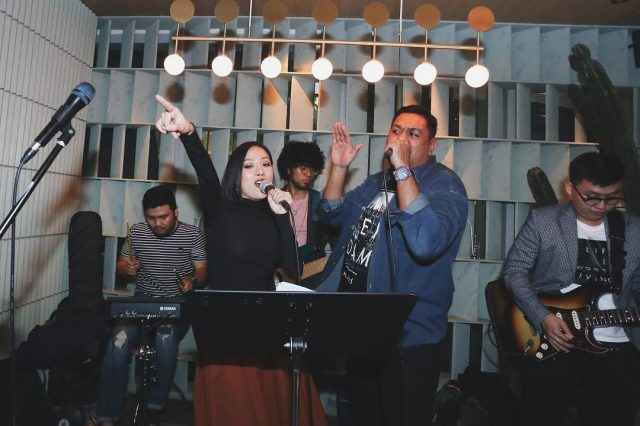 Meet Mr. Fox, the charming, witty and alluring character with an eye for all things unique. Located at the heart of SCBD Jakarta, Mr. Fox's home is warm yet eclectic. He greets guests with amazing recipes of his delicious food-fare and ethereal cocktail concoctions at his humble home.
The Energy Building Ground Floor, Jl. Jend. Sudirman Kav. 52-53, SCBD, Jakarta Selatan 12190
Phone: (021) 529 61999
Web: https://www.ismaya.com/eat-drink/mr-fox
Botanica Dining Jakarta $$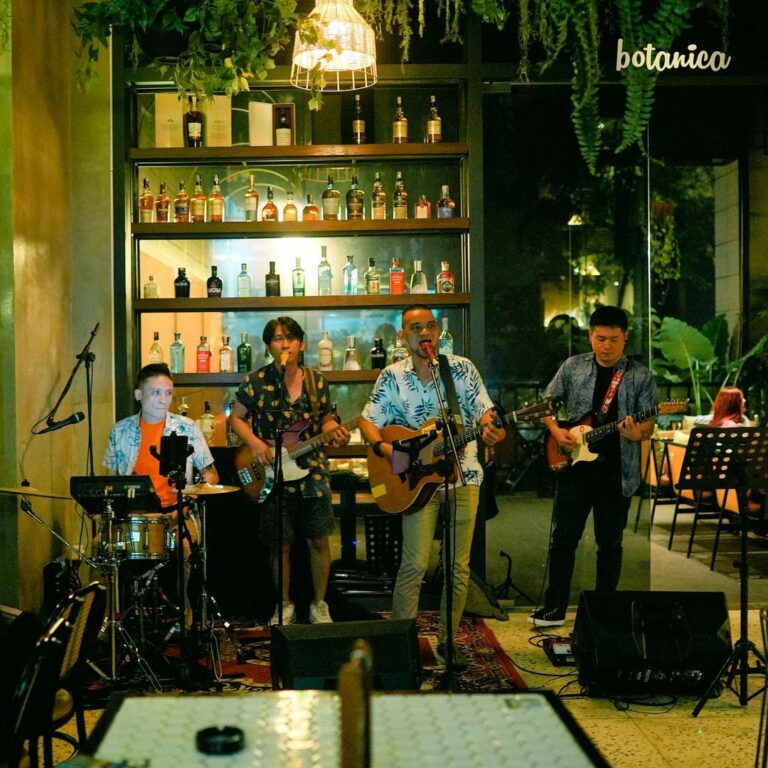 Photo credit by Instagram @botanicadining.jkt
Botanica Dining Jakarta is nestled in ASHTA District 8 with a little stage set up in the corner where you might see a live band. Light up your night with Botanica Dining Jakarta's nightlife session. As the night sways, get ready to have some fun with the live music performances.
ASHTA District 8, Lantai Ground
Jl. Jenderal Sudirman Kav. 52 - 53, SCBD, Kebayoran Baru, Jakarta Selatan
Phone: +6282113112220
The Back Room at Pullman Jakarta Indonesia $$$

The Back Room at Pullman Jakarta Indonesia is the modern and elegant reincarnation of a traditional colonial club in Jakarta. Smoked-teak panels and plush contemporary armchairs set the scene for refined drinks and light bites in a friendly laid-back setting. There are also handcrafted cocktails, an extensive list of whiskies from around the world, cigars, and a gourmet food menu. The live band is available every Tuesday and Friday from 08:00 pm to 11:00 pm.
Pullman Jakarta Thamrin
Jalan M.H. Thamrin Kav. 59, 10350 Jakarta Pusat, Indonesia
Phone: +6221 3192 1111
Cascade Lounge, Hotel Mulia Jakarta $$$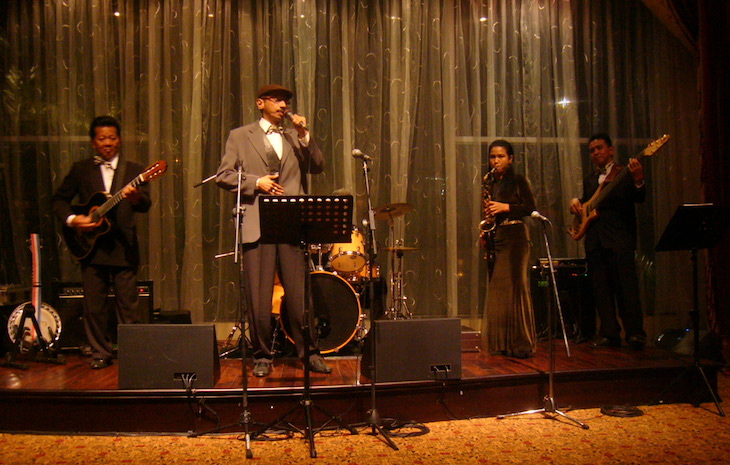 Sink into one of Cascade Lounge's luxurious over-sized armchairs or plush sofas, and chill out with a live band performance, featuring classical music mini orchestra and top 40's songs from the Cascade Lounge resident band.
Hotel Mulia Senayan, Jakarta
Jl. Asia Afrika, Senayan, DKI Jakarta 10270, Indonesia
Phone: +62 21 5747777
https://www.themulia.com/cascade-lounge-jakarta/
The Writers Bar at Raffles Hotel Jakarta $$$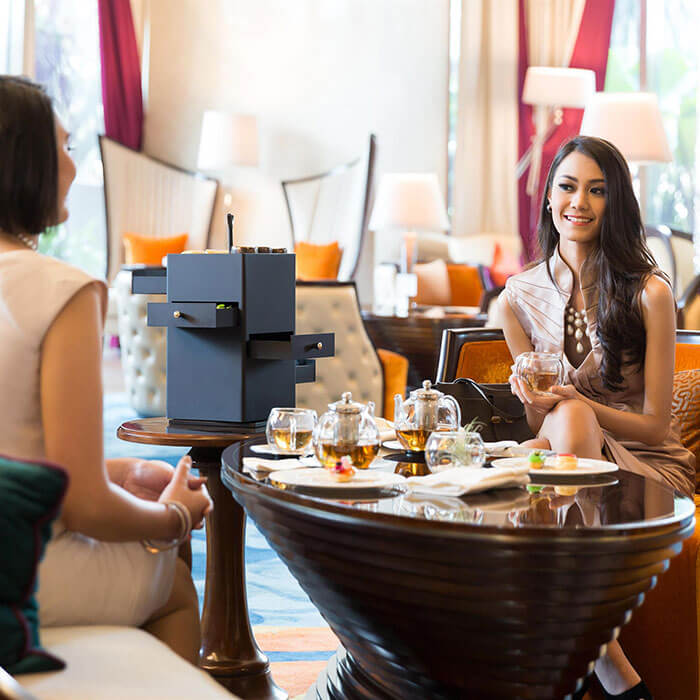 A revered institution at Raffles Singapore, The Writers Bar is reinterpreted in Jakarta as an oasis of art, Indonesian history, literature and artifacts in this modern metropolis. Enjoy your mid-afternoon repast with a treasure trove of pastries and savories, best enjoyed with our bespoke tea and coffee blends. In the evenings, live music and relaxed conversations set the tone for elegant tapas and cocktails. Ask about the Jakarta Sling.
Raffles Jakarta Ciputra Word 1
Jl. Professor Doktor Satrio No.3-5, Karet Kuningan, Jakarta Selatan 12940
P: (021) 29880888
www.raffles.com
Fountain Lounge at Grand Hyatt Jakarta $$$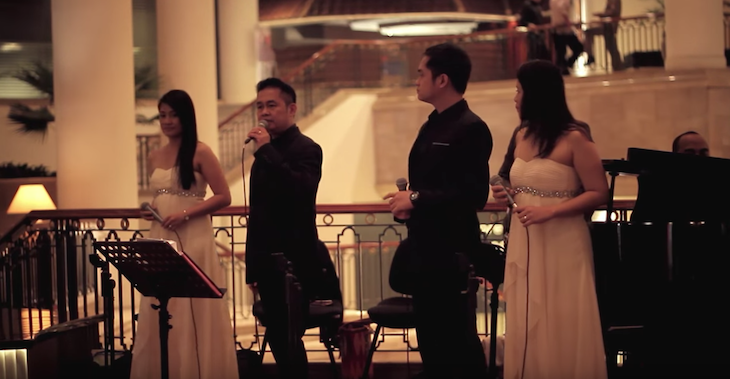 Fountain Lounge continues to be recognised for its prominent location and commanding view of the famous landmark, the Welcome Monument or Tugu Selamat Datang that features a spectacular water fountain, but also a wide sweeping view of the hotel's grand lobby with a cascading atrium waterfall set as the backdrop. Enjoy the live music every Weekdays from 8:00 PM to midnight and Weekends from 8:30 PM – 12:30 AM.
Grand Hyatt Jakarta
Jl. M.H. Thamrin No.Kav 28-30, RT.9/RW.5, Gondangdia, Menteng, Jakarta10350
Phone: (+6221) 2992 1428
jakarta.grand.hyatt.com/en/hotel/dining/FountainLounge
Fabster Stage Kemang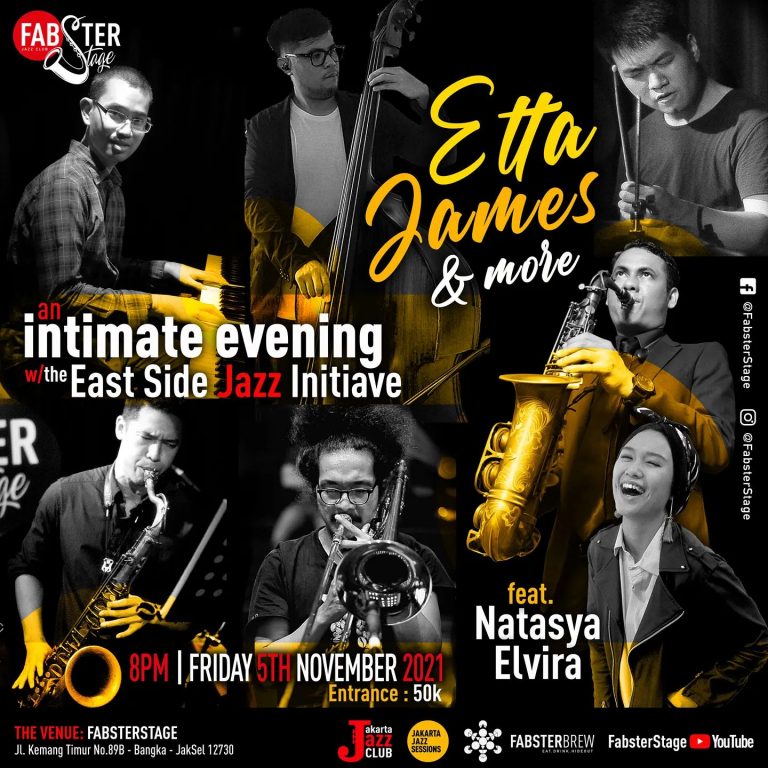 Live Jazz performances in a Cozy & Homy Lounge with a Veranda. A New Jazz Stage in Jakarta City.
Jl. Kemang Timur No.89B, RT.1/RW.3, Kemang, Bangka, Kec. Mampang Prpt. Jakarta, Indonesia 12730 . 
Phone: +62 878-6484-8488
Paulaner Brauhaus at Hotel Indonesia Kempinski Jakarta $$$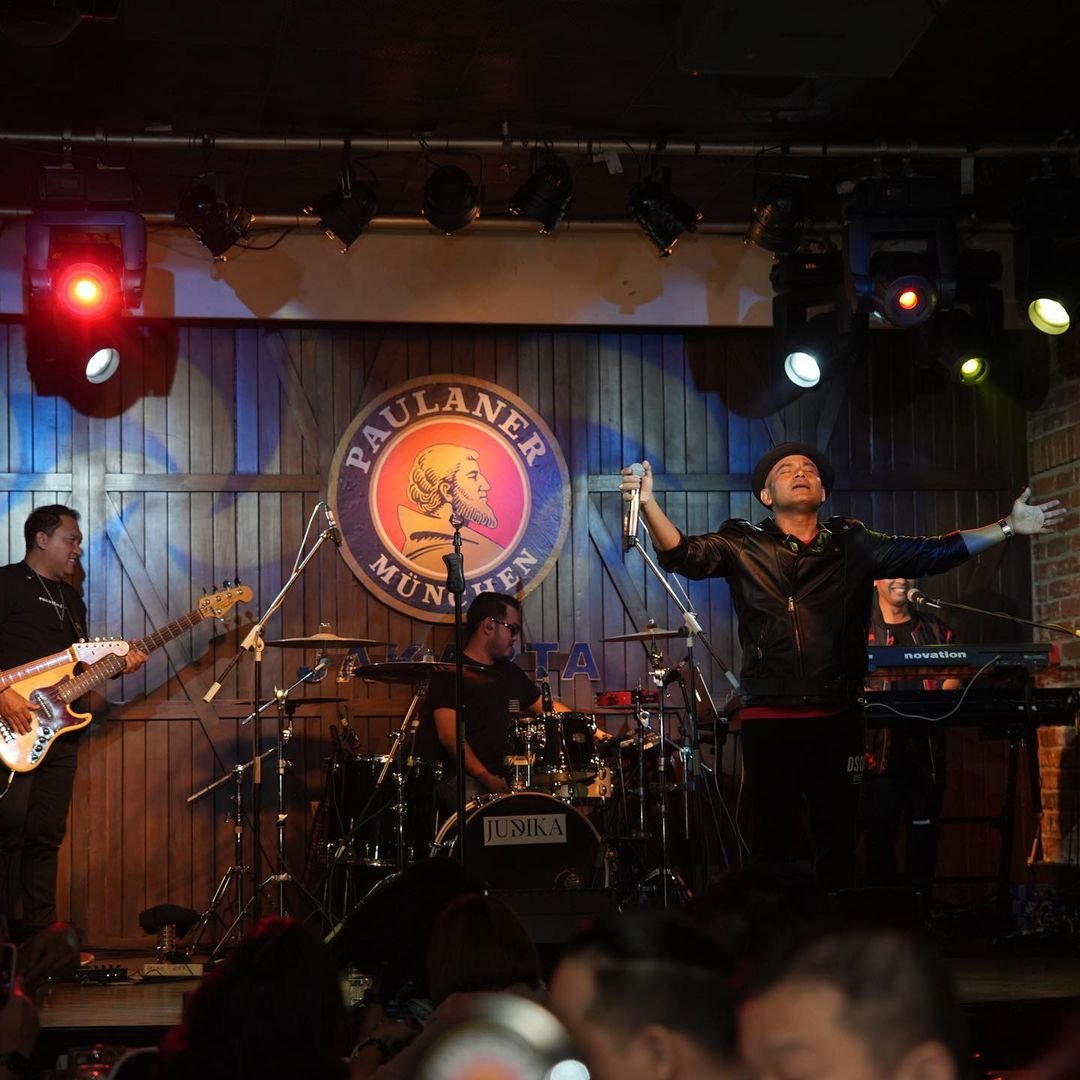 The only microbrewery restaurant in the country, Paulaner Bräuhaus Jakarta is a 400-seat establishment that serves traditional Bavarian food and its famed German beer, which is made only with authentic imported ingredients. The Bräuhaus offers a lounge with city views and nightly live music performances.
East Mall Grand Indonesia Lantai 2, Jalan M.H. Thamrin No. 1, Jakarta Pusat, DKI Jakarta 10310
Phone: (021) 23583871
Hours: Open daily 11:30 am – 1:00 am
www.kempinski.com/en/jakarta/hotel-indonesia/dining/paulaner-brauhaus
MINQ Bar & Lounge $$
 Photo credit by Instagram @minq_jakarta
MINQ Bar & Lounge offers its guests everything from evening chats over cocktails to energetic late nights dancing to classic tunes. With sharp clean lines, dim lighting, and puffy sofas, MINQ Bar & Lounge's open space interior is minimalist with a generous splash of oriental touches. Sophisticated yet playful, MINQ Bar & Lounge is the ultimate after-hours hangout spot for the modern metropolitan dweller.
Jl. Suryo No. 36, Senopati, Jakarta 12180
Phone: +62 21 7250 258, +628119463636
FLYNN Dine & Bar Jakarta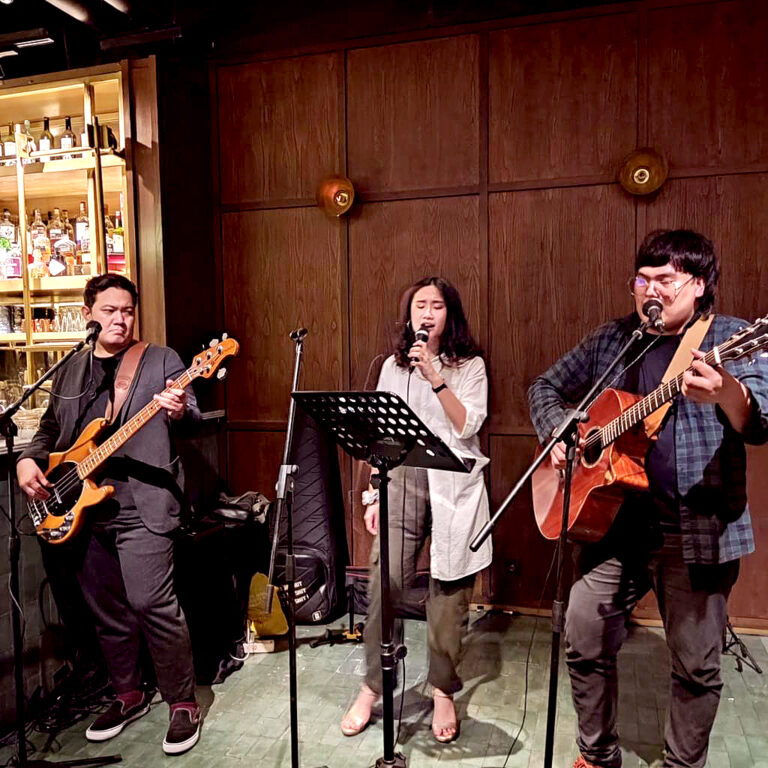 Photo credit by Instagram @flynnjakarta
Get ready for a Soulful Session at FLYNN Dine & Bar Jakarta. Usually starts at 8 pm every Friday and Saturday, and enjoy a live jazzy tune and get right into a fun night on the weekends.
Menara Rajawali, Mega Kuningan
Jl. Dr. Ide Anak Agung Gde Agung, Kuningan, Jakarta Selatan
Phone: +628179118688
Amigos Tex-Mex Restaurant Kemang $$

One of the most established institutions in Jakarta, Amigos opened its doors in 1979. This Tex-Mex eatery has a loyal fan base and is famous for the margaritas, fresh salsa, and tasty, finger-licking, homemade recipes. Amigos has live band performances 5 nights a week and is well known for their Latin Night on Friday nights where salsa lovers come to dance the night away.
Kemang Club Villas, Jl. Kemang Selatan I, Mampang Prapatan, Jakarta Selatan
Phone: +6221-7192584
Nara Bar & Lounge $$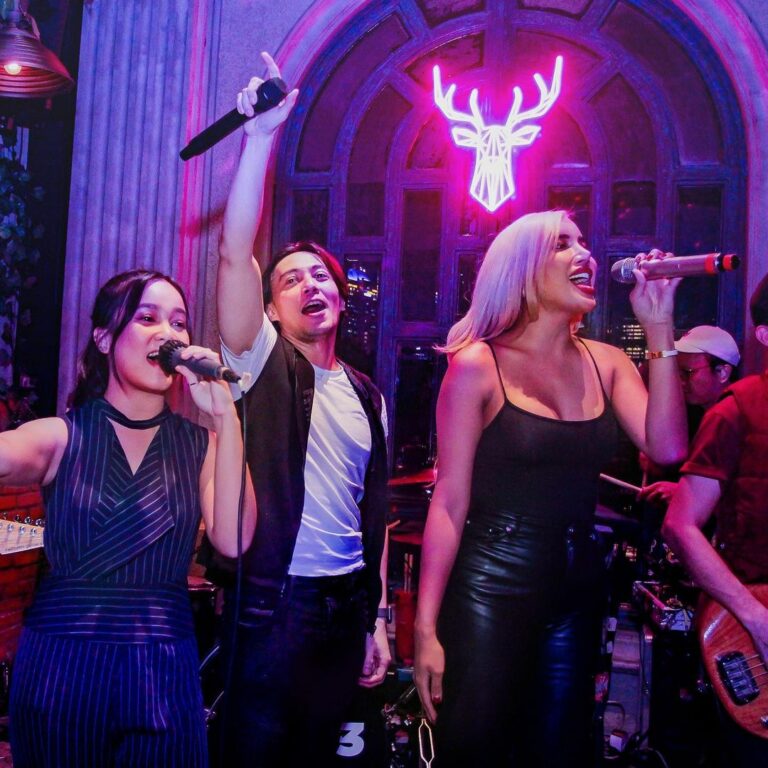 Photo credit by Instagram @narajkt
Promising more action than you can handle, Nara Bar & Lounge is here to ruffle your day and dominate your night - offering a new round of elevated moments for denizens in this megalopolis who are seeking more than the usual to their dining and drinking experience.
Jl. Senopati No 86. Jakarta Selatan
Phone: +62 812-9960-7722
W Superclub Mal Artha Gading $$
W Superclub Mal Artha Gading showcases a line-up of leading national and international entertainers to entertain visitors, from live bands to DJ performances, you will get here. However, the privileges don't stop there, every visitor will be pampered with the best hospitality to feel special.
Mall Artha Gading
Jl. Artha Gading Sel. No.1, Jakarta 14240
Phone: +62811-1906-7167
Instagram
Pantja $$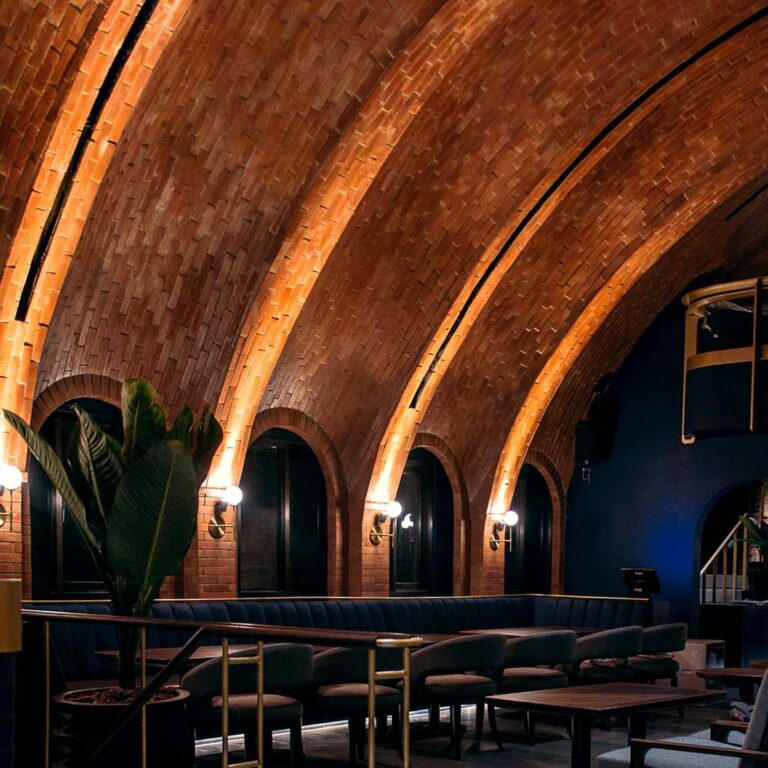 Photo credit by Instagram @pantja.id
Pantja is a cocktail bar and restaurant situated in a strategic location next to Jakarta's Business District. The restaurant on the first floor focuses on fire and grain: wood fire grill serving delicious steaks, and freshly made pasta every day. Meanwhile, on the second floor, it's more relaxed and lively, thanks to the magnificent bar setting and DJ or live band performance.
Jl. Senopati No.37, Jakarta Selatan, 12190
Phone: +6221 5213010, +628111273010
Eastern Promise $$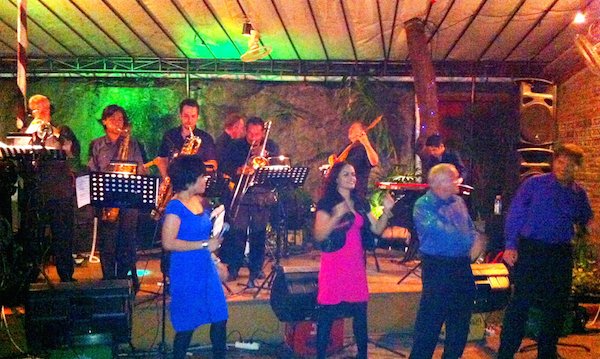 Eastern Promise is one of the hangouts for expatriates and Indonesians alike. The atmospheric front bar has a darts corner and 9ft billiards table, free WI-FI internet connection, the daily Guardian Newspaper and Sunday Times. The restaurant offers British/Indian curries, homemade meat pies, and full breakfasts. The beer garden in the back is one of the few enjoyable outside terraces in Jakarta, where renowned Indonesian and Expatriate Jazz (every Wednesday) and Rock bands (every Friday and Saturday) perform.
Address Jl. Kemang Raya no. 5, South Jakarta, Indonesia
Phone +6221-71790151
Website http://www.easternpromise-jakarta.com
De Hooi $$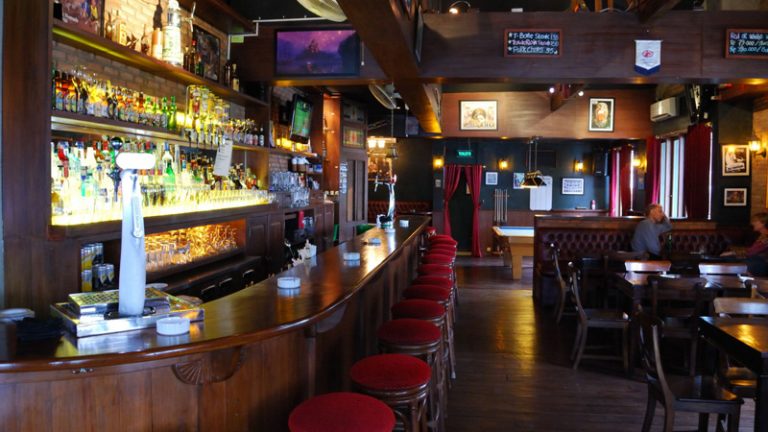 De Hooi is South Jakarta's favorite pub since 2007. Popular with both expats and locals, featuring live music five nights a week. Plus excellent pub grub. Also home to Jakarta's most famous Pub Quiz, every Wednesday at 8 pm. De Hooi may not be the most classy pub but it's definitely the most fun!
Address Jln. Metro Duta Raya Blok B4 No.31, Plaza 2, Pondok Indah, South Jakarta, Indonesia
Phone (021) 7500742
Website http://www.dehooi.com
Robot & Co. $$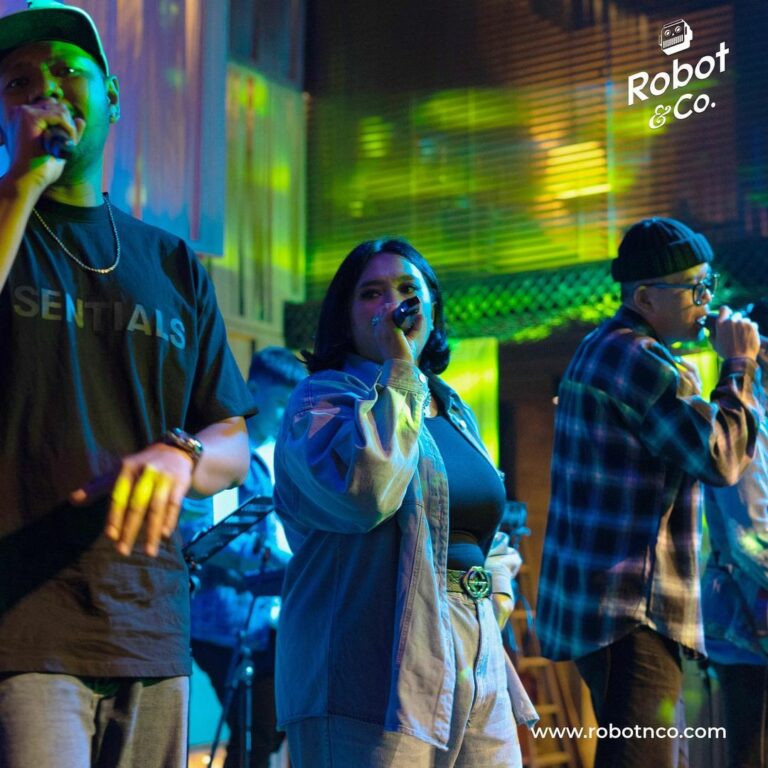 Photo credit by Instagram @robotandco_id
Robot & Co. of course, the place is also known for its unique, slightly quirky yet classy cocktails. As the night swing away with chilling soulful vibes, Robot & Co welcomes you with a mixture of unexplained cozy feelings and aesthetic ambiance with all the fluorescent playful yet quirky lights straight on the wall.
Pacific Place Mall G 48-51
Jl. Jenderal Sudirman SCBD, Kebayoran Baru, South Jakarta City, Jakarta 12190
Phone: +62 811-8193-322
Roosevelt $$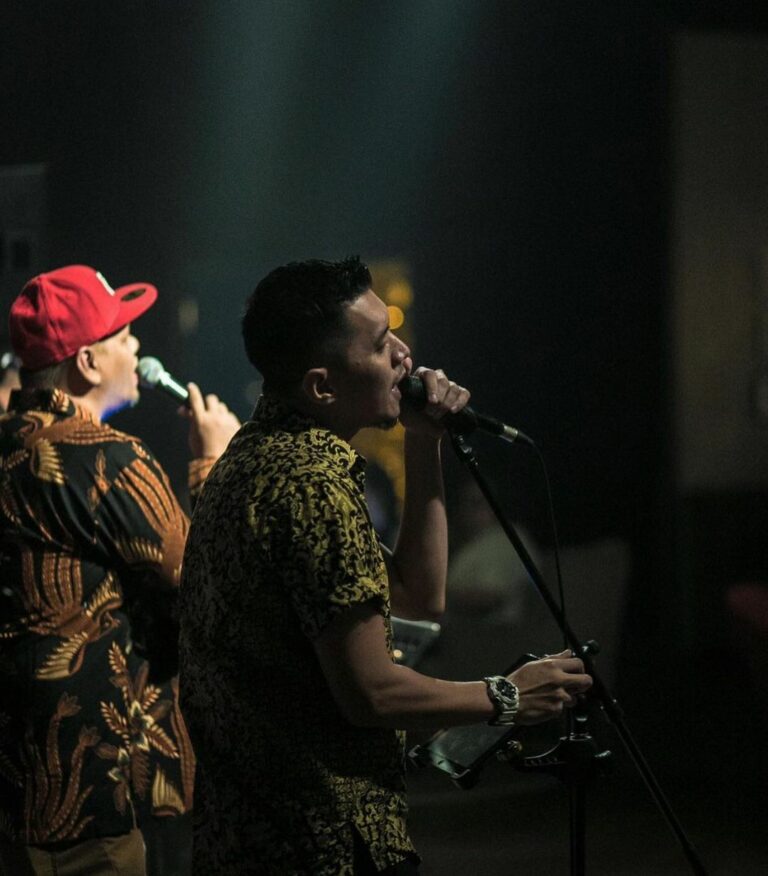 Photo credit by Instagram @roosevelt_jakarta
Situated on the top floor of Goodrich Suites hotel, Roosevelt offers urban dwellers a fresh perspective of the capital city. With ample natural lighting basking on sharp clean angles over the eclectic colorful interior, Roosevelt is the balance between work and play. The lineup of signature cocktails as mainstays on the menu cements Roosevelt on the Jakarta guidebook for years to come.
Goodrich Suites - 8th Floor
Jl. Pangeran Antasari No. 60, Jakarta Selatan 12150
Phone: +62811 8466 068, +6221 2793 7122
Social House $$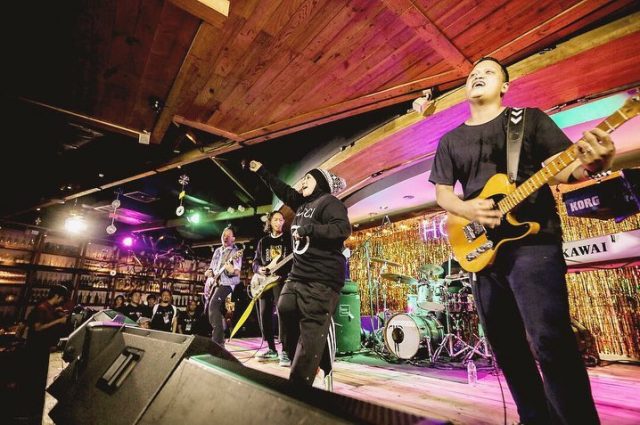 SOCIAL HOUSE, where the exciting concept of restaurant, bar and wine post could be enjoyed all in one place. Surrounded by stunning views and warm alluring design, SOCIAL HOUSE provides a delightful dining experience. You will embark on a journey that enlivens your senses. It is where you can have a casual conversation while enjoying a terrace-like ambiance that makes you feel at ease. Take a stroll with our crafty sommelier and immerse yourself in our wine post, where you can handpick a fine selection of over 300 wine labels. Don't forget to check out their social media for the newest event such as live music.
Grand Indonesia East Mall Lt. 1, Jl. M.H. Thamrin No.1, RT.1/RW.5, Menteng, Jakarta Pusat 10310
Phone: (021) 23581818
Web: https://www.ismaya.com/eat-drink/social-house
Moonshine - Dine & Lounge $$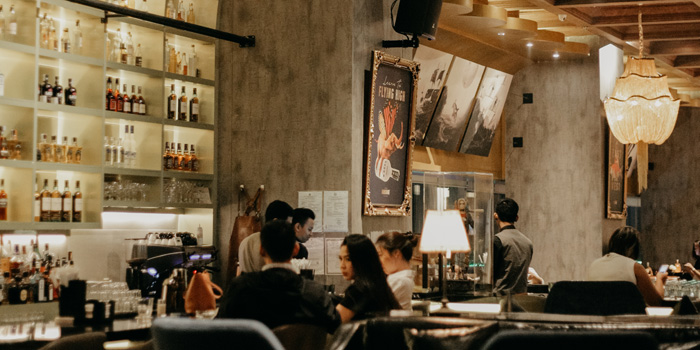 In Moonshine, people will have enormous experiences of a place where people can have a serenity morning to start their day, to revive their mind by noon, and to dive into the tranquility at night. Where culture meets modern culinary artistry, with multi-sensory delight to ignite their senses on a bold journey of east and west flavor of a twisted cosmopolitan cuisine with a touch of Indonesian flair.
Noble House 8th floor.Jl. Dr.Ide Anak Agung Gde Agung Kav. E 4.2, Kuningan, Jakarta Selatan
P: +62811-9222-690
IG: moonshine.jkt
Ecology $$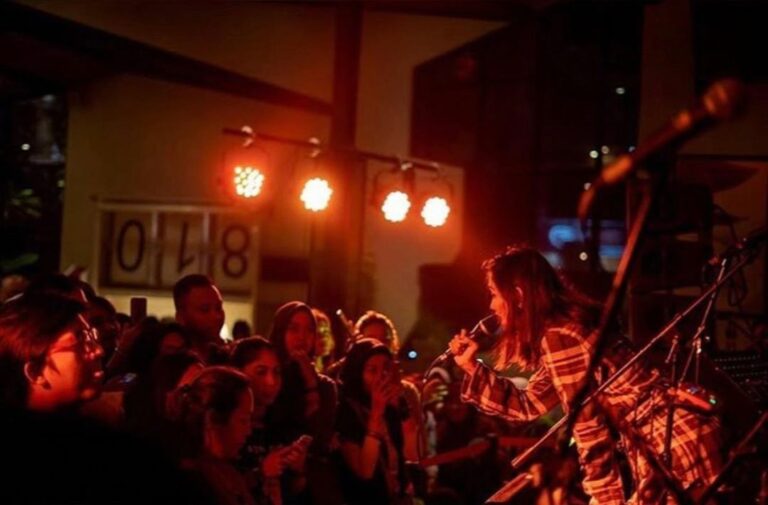 Ecology is one of our favorite places to enjoy live music in Jakarta as the restaurant has schedules for live music on some days. Ecology is also a very cozy place to enjoy such music with its greenery touch on the interior.
Jl. Kemang Raya No. 6, Mampang Prapatan, Jakarta Selatan 12730
Phone: (+6221) 7191032, +6281317552221
Tiga Puluh Music Bar + Lounge $$$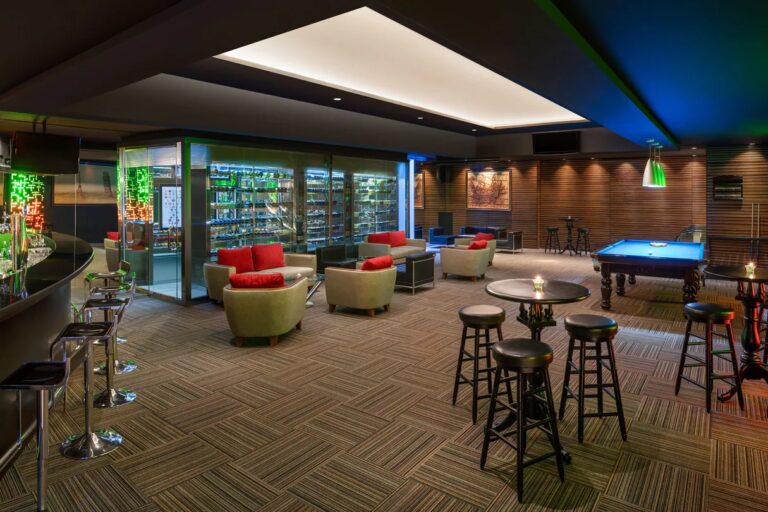 Experience one of the most vibrant bars in Jakarta. Enjoy signature cocktails and appetizers in this stylish, laid-back lounge with a wine bar, pool table, and trendy music from local and international artists.
Lower Ground, Le Meridien Jakarta
Jalan Jenderal Sudirman Kav. 18-20 Jakarta 10220
Phone: +62 21 251 3131
DION ($$)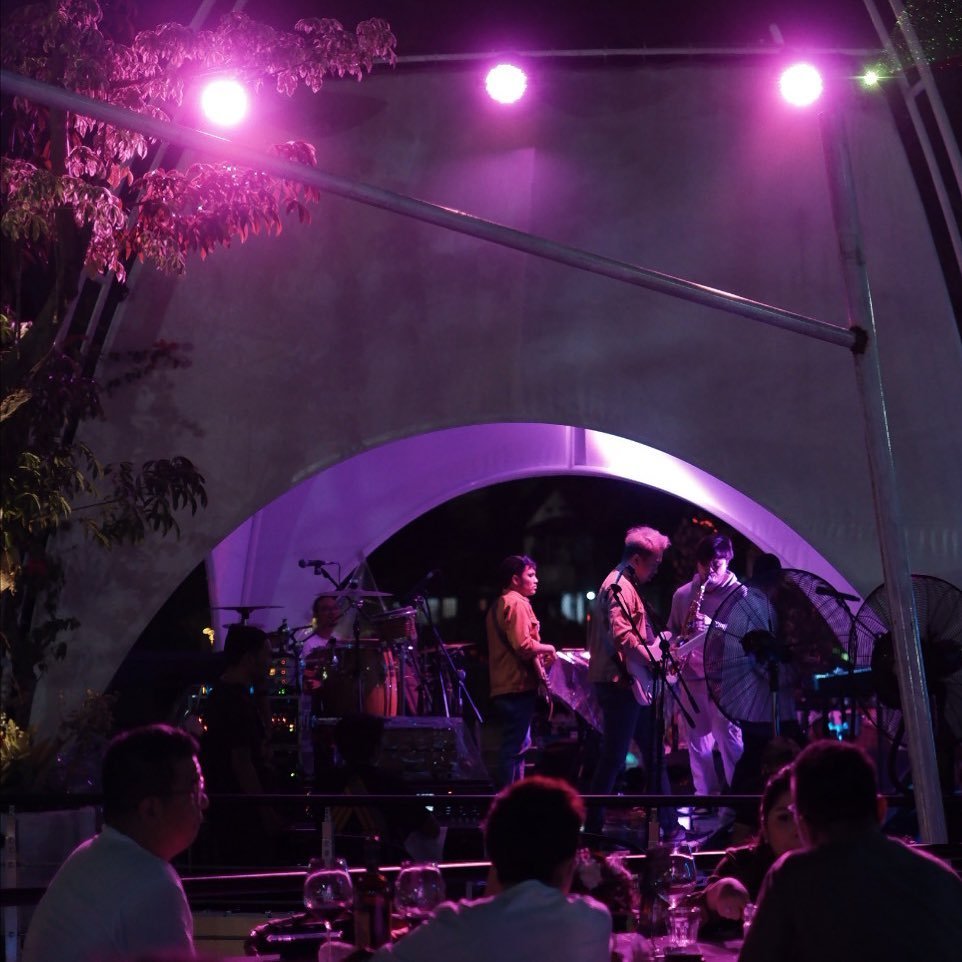 Set inside Senayan Park compound, get your groove as guests dance and sing along under the stars with live music at DION Jakarta. Enjoy the entertainment in an outdoor atmosphere with live music and DJs.
Senayan Park Mall
Jl. Gerbang Pemuda No. 3, Senayan, Jakarta Selatan
Phone: +62878-1000-9119
AMALFI Ristorante Italiano & Bar ($$)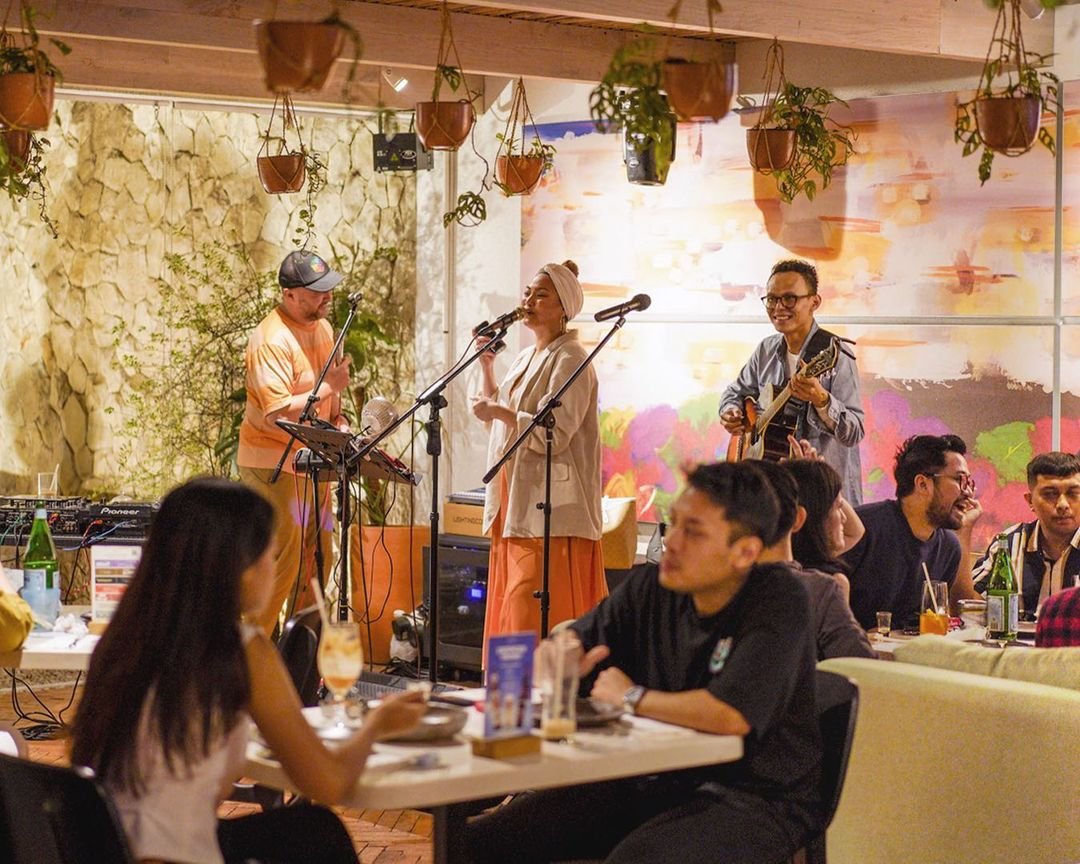 AMALFI Ristorante Italiano & Bar is where you will be celebrating with some delicious authentic Italian cuisine. Enliven your night over great Italian dishes paired with wines and of course, live music.
Jalan Hang Tuah Raya No. 33 Jakarta Selatan 12120
Phone: +6221 2709 3337, +62 8111 433 833
www.amalfi.id
The Neighbourhood $$

Located in the beating heart of Wijaya, this new face of Tan Group evokes a sense of solace and leisure. With its hospitality, lively choices of cocktails and dishes that deliver on style and flavor with both bespoke plates and comfort indulgence, The Neighbourhood offers you the lively choices of good sips and dishes that deliver on style and flavour with comfort indulgence.
Jl. Cipaku I No.85 1 4, Petogogan, Kebayoran Baru, Jakarta Selatan
P: +62 822-9980-9828
Instagram: @neighbourhood.jkt