The Senopati-Gunawarman-Wolter Monginsidi triangle in the upscale neighborhood of Kebayoran Baru has made it as Jakarta's trendiest area with the most numbers of new and exciting dining and drinking spots coming up every other month. We list some of the must-visit places to check out in the area, either for dining, drinking, and anything in between.
DINING & DRINKING
1. Turkuaz $$$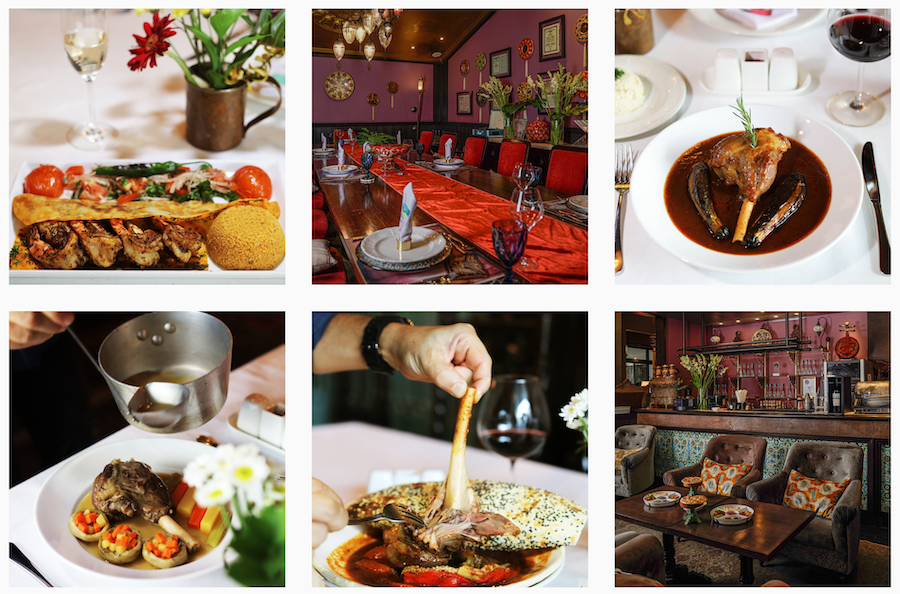 Turkuaz, one of the most authentic Turkish restaurant, was named after a Mediterranean oceanic blue color, which is also reflected in their beautiful interior that is adorned with trinkets and decorations directly flown from Turkey.
Chef Sezai Zorlu is one of the most experienced Turkish chefs in town, and with this restaurant of his, he brings in what he knows best, ottoman cuisine prepared with Ingredients are specially imported from Turkey and the Middle East. After a hearty meal, which is all prepared by hand, and many with wood-fire oven, round-off the meal with a selection of sweet Turkish desserts as the must-try is the popular Baklava, baked layers of filo pastry with butter and pistachio sweetened with original homemade syrup and Rice Pudding.
Best for: lovers of culinary adventures, exotic night out with your best friend or lover.
Jalan Gunawarman No. 32 Kebayoran Baru, Jakarta Selatan
Phone: 021 7279 5846 or 021 7279 5853
http://turkuazrst.com/
Opening hours:
Sundays to Thursdays : 11.30am – 10.00pm
Fridays and Saturdays : 11.30am – 11.30pm
Eve of Public Holiday : 11.30am – 11.30pm
2. Le Quartier $$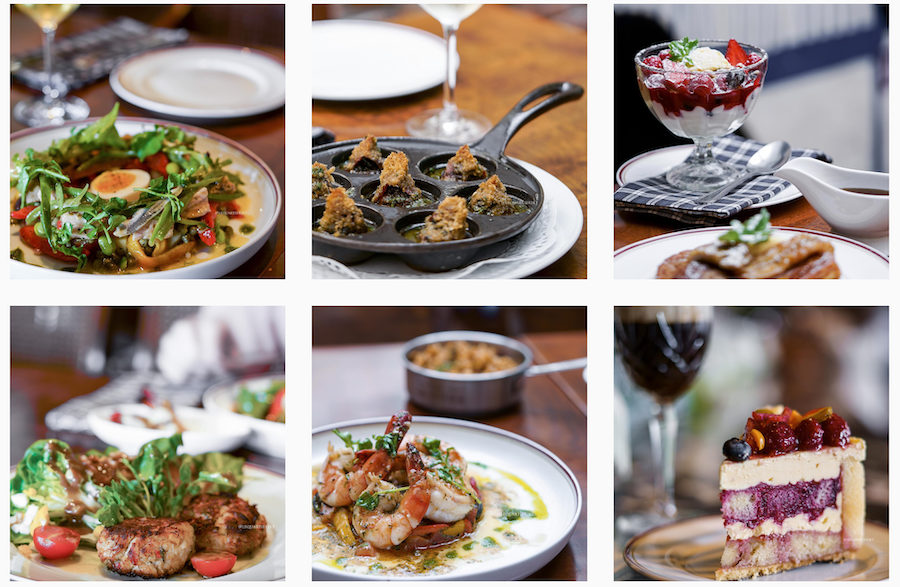 Transport yourself to the vibrant atmosphere of Paris and savor a slice of "la belle vie" amidst the hustle and bustle of Jakarta! You will find the more rustic and hearty sides of French food, with croques, soups, and charcuteries. If you come with a fussy eater, they also have staple 'Jakarta cafe' foods like pasta and pizza.
Best for: French food, casual fine dining
Jl. Gunawarman No. 34 (Senopati) Kebayoran Baru | South Jakarta
Phone: +6221 72788001
www.lequartier.co.id
3. Sofia at The Gunawarman $$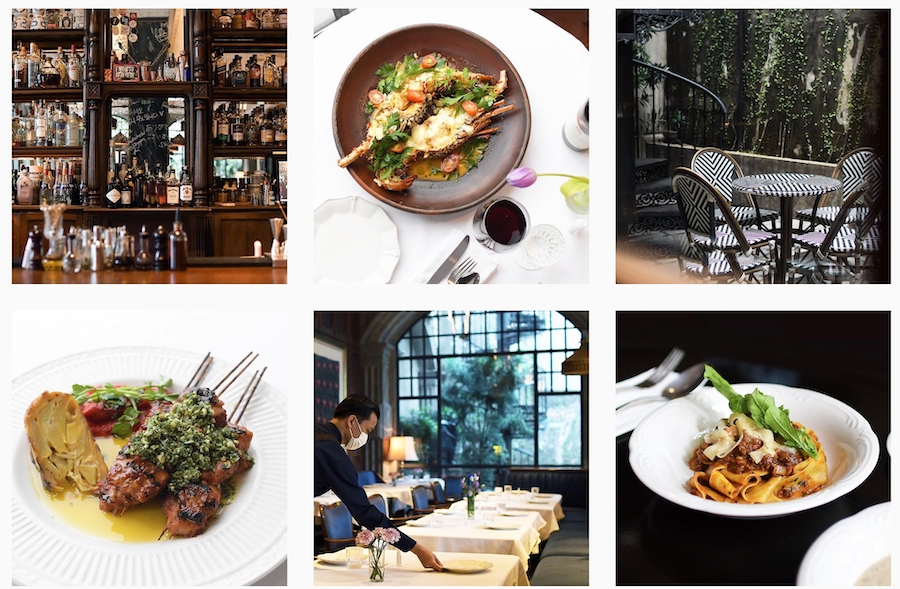 This place boasts a 21st-century neo-classical inspired design with high ceilings, liberal use of wood and leather furniture, mixed with modern pattern and definitely an unmistakable luxurious air. Expect to sit next to who's who in Jakarta, from celebrities, socialites to politicians when you dine here. But don't get fooled too quickly, despite the Maserati and Ferraris parked upfront, the menu is casual and the portions are hearty.
Best for: Casual brunch with friends, and a lot of Instagram OOTD shots!
Jl. Gunawarman No. 3, Daerah Khusus Ibukota Jakarta 12110
www.thegunawarman.com
Phone: 021 22770007
4. MR. FOX $$
Meet Mr. Fox, the charming, witty and alluring character with an eye for all things unique. Located at the heart of SCBD Jakarta and Tunjungan Plaza 5 Surabaya, Mr. Fox's homes are warm yet eclectic. He greets guests with amazing recipes of his delicious food-fare and ethereal cocktail concoctions at his humble home.
Mr. Fox works with the talented rising star Chef Vebrina Hadi to produce delightful dishes that encompass a wide range of flavors. From healthy breakfast selections to adventurous dinner, Mr. Fox encourages you to explore the menu to discover what you adore.
As he welcomes you to his home, Mr. Fox would like nothing more than to have his guests wander on a culinary journey with him. All the details are put together with great care to make you feel at home at the House of Fox. Because if one thing stays true, is that only Mr. Fox loves you.
The Energy Building Ground Floor, Jl. Jend. Sudirman Kav. 52-53, SCBD, Jakarta Selatan 12190
Phone (021) 529 61999
Web https://www.ismaya.com/eat-drink/mr-fox
5. Namaaz Dining $$$$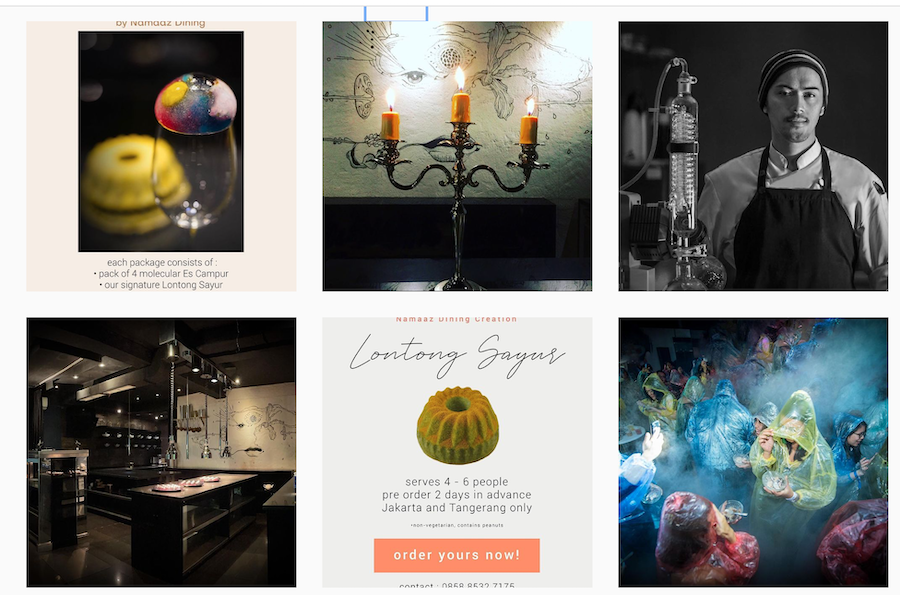 For a more playful and adventurous selection of fine dining with your significant other; head to Namaaz is the first molecular gastronomy restaurant in Indonesia which serves Indonesian food as its signature dishes. Each night, Tuesday to Saturday, you can experience their set of 17-course creations, which changes every "season" and each season lasts for 6 – 8 months. They only serve 4 tables (8 guests) every night, so privacy and serene ambiance is guaranteed here. Reserve your seat through their official website only.
Best for: Once in a blue moon dining experience
Jl. Gunawarman No.42 Kebayoran Baru
Phone 021 – 33061000
E-mail [email protected]
namaazdining.com
6. NARA Restaurant & Lounge $$$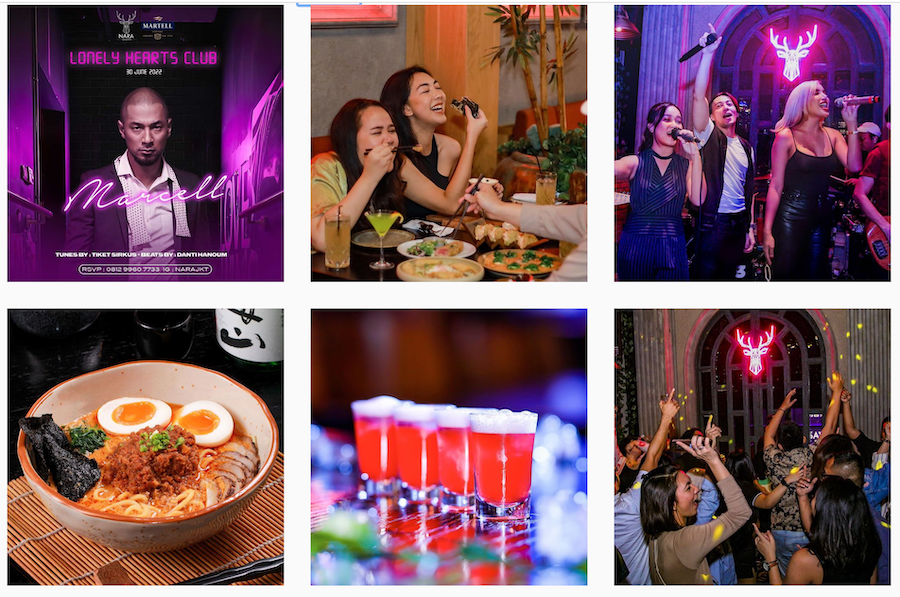 Your new favorite spot in the Senopati area is here. Surprise yourself with Nara's scrumptious menu selection inspired by Japanese cuisine with a twist of Western and Asian flavor. Try the mouthwatering Cuthoro Tacos exploding with a savory and spicy flavor. Also, the to-die-for Aburi Wagyu Pizza is something you cannot miss. Complemented its dishes, Nara also comes with a stylish setting and elegantly colorful.
Jl. Senopati No.86, Selong, Kebayoran Baru, Jakarta Selatan
Phone: 0812-9960-7722
IG: narajkt
7. Pantja $$$

Pantja is a cocktail bar and restaurant situated in a strategic location next to Jakarta's Business District. The restaurant on the first floor focuses on fire and grain: wood fire grill serving delicious steaks, and freshly made pasta every day. Meanwhile, on the second floor, it's more relaxed and lively, thanks to the magnificent bar setting and DJ or live band performance.
Jl. Senopati No.37, Jakarta Selatan, 12190
Phone: +6221 5213010, +628111273010
https://www.instagram.com/pantja.id/
CASUAL RESTAURANTS
8. The Holy Crab $$

Looking for a place where you can just be yourself and have unlimited seafood fun, where you can smash, pick, prod and play with your food? At the Holy Crab, you are encouraged to leave your table manners at the door; there is no spoon, forks, or even plates provided. It's you vs the food, a much-loved southern American tradition of eating Seafood, the Louisiana Boil style. Spicy cajun sauce, mouth watering crustaceans, sweet corn and cold beers- roll up your sleeves, put on your bib and let's get cracking!
Best for: seafood party with your closest friends/family
Jalan Gunawarman no.55 (Senopati) Jakarta, Indonesia
Phone: (021) 29236155
Email: [email protected]
www.theholycrab.co.id
Everyday 5:00 pm – 10:00 pmwh
9. Hurricane's Grill $$$

A franchise from Sydney – Australia, Hurricane's Grill is famous for its succulent ribs and steak. The main menu features flame grilled steak, 100% beef burgers, their famed pork ribs, and seafood.
Best for: meat lovers party, pork ribs.
Location: Gunawarman No. 20, Kebayoran Baru.
Phone: +6221 2751 3388
Facebook: hurricanesgrillID
http://www.hurricanesgrill.co.id/
10. Gioi $$

A restaurant in Senopati that takes the label 'farm to table' very seriously. Serving mostly a fusion of Southeast Asian and Indonesian flavours, GIOI sources their vegetables from their own farm. We also love what they've done classic Indonesian dishes, such as their signature Salmon Lodeh (a traditional Indonesian coconut milk soup with pan-fried salmon) and the Roast Duck Curry – Homemade Thai curry, juicy and tender Sous Vide Duck breast, served with locally-sourced carrot, green tomato, and eggplant. Must try!
Best for: Great dinner with friends over Asian food. 
Jl. Senopati no. 88, Selong, South Jakarta
Phone: 021-7211468 / 021-7211480
Email: [email protected]
Instagram: gioijakarta
JAPANESE FOOD & SAKE BAR
11. Sushi Hiro $

A popular sushi place that started from Kelapa Gading, is finally in South Jakarta. A place where you can taste the savor of finest authentic sushi surrounded with classic and homey Japan ambiance. Serving classic sushi, sashimi and fusion sushi, and other Japanese favorites. It also serves omakase.
Best for: Sushi & sashimi
Jalan Suryo no.24, RT.10/RW.3, Rw., Kebayoran Baru, Jakarta Selatan
Phone: +62 21 72800108
IG: sushihiro_id
12. SAKE+ $$$

Sake+, a unique restaurant concept featuring Japanese cuisine and the most complete sake range in Indonesia. Sake+ specializes in sushi, robatayaki, yakitori and chef's omakase, a multi-course tasting menu prepared by the chef. The open kitchen bar area diners closer to the action inviting guests to watch their selected dishes being prepared using high-quality ingredients sourced fresh daily from around the world.
Best for: Sake fans, izakaya lunch/dinner
Jalan Senopati no 54, Jakarta, Indonesia
P. (021) 7250002
sakeplus.com
13. Okuzono Dining $$

A new authentic Japanese restaurant with an authentic yet modern Japanese feel. They serve premium fresh seafood all the way from the renowned Tsukiji market, grilled on open fire grill, served as sushi or sashimi, as well as other classic Japanese fares.
Best for: robatayaki, sushi, sashimi & omakase
Jl Suryo No 1, South Jakarta
Facebook: @okuzono.id
Phone: (021) 27933565
14. Momo Paradise Indonesia

Authentic Shabu-shabu & Sukiyaki. 
The first Mo-Mo-Paradise was opened in Kabukicho, Shinjuku, Tokyo in September 1993.
For reservation & delivery order https://mo-mo-paradise.id