Rosso, the Italian restaurant at Shangri-La Jakarta invites guests to rediscover truly authentic Italian cuisine. The newly appointed Chef Giuseppe Di Silvestro as Italian Chef of Shangri-La Jakarta will serve loyal patrons an authentic South Italian experience from the Adriatic Sea. He will bring a variety of contemporary and heritage dishes of colorful, refreshing, and vibrant textures from Abruzzo and its surroundings to the table. He recently launched his brand new menu philosophy, which sees him showcasing an entirely new menu of dishes that pay homage to his Southern Italian roots.
With a lot of experience and notable accolades for his ingenious cooking skills, an Italian native of Pescara started his culinary career in a variety of restaurants in his hometown. He has since traversed the world to showcase his gastronomic creativity by directing teams in London, Abu Dhabi, Melbourne, Shenzhen, and Aix-en-Provence before settling in Jakarta.
We recently sat down with Chef Giuseppe Di Silvestro to learn more about his work, his experience, Southern Italian food, and what sets Rosso apart from other Italian restaurants in Jakarta.
How did it all start? Share your culinary journey with us.
Well, the very real started something a little bit funny, because I was a little bit the necessary to start to learn to cook. Because I remember, when I was very, very young, I was kid, my mother was very busy being a teacher. And she got a position very far away from my city. She was working as a teacher very far away from my city. And she came back for lunch very, very late. I started to feel angry. Yeah, it was every time it was coming back like 3 pm. And of course, I was complaining because I was angry every time and complained to my mom. And my mom, of course, she could not quit the job. But she said, "Well, maybe I have to start to teach you to start to cook the basics." So I started actually to learn how to feed myself or to be more independent when I was really young. But actually, I found it extremely fun to cook. I started to improve myself to make some surprises for my mother after a while to impress her, you know, when she was coming back, like, "look what it cooked for you." She was very impressed even with the quality of the food. But even for another factor, I left the kitchen was a complete disaster.
Of course, it's just for basic food, just like how to boil pasta, my mother, she was making the sauces so just that slowly started to make filet mignon. So that's actually my first sight of cooking in general. After that, in Italy, we are very like in Indonesia, we are very strong in cooking. So it's a very important part of our tradition, and especially inside families. So I started to spend lots of time with my grandmother. Both of them, they were very good cooks, house cooks, not professional cooks. And they started to learn how to make handmade pasta, fresh pasta. This one we can say is the really first time and after I was more interested to start cooking professionally, even for this one was more for enjoyment and to get a little bit of extra money during my university time. I didn't want to rely too much on my family. I started during the weekend to join a local restaurant in my city.
In the meantime, I made lots of experience inside the local restaurants to get a little bit of extra money. And especially because I found that working inside the kitchen was an extremely fun new way to pass my time because at the start was a little bit more offbeat and a profession because I was planning to do something completely different to my life. After a few months, I was considering getting some experience inside the kitchen. I made the ticket and then moved to London. And I started to work with a very famous acclaimed chef in London called Jeremy Lee. That was my formal cooking school pretty much. I spent two years with him. And I learned really in a very practical way how to cook and his cooking was kind of cold British model. So it's a little bit mixed with traditional British, Italian, Spanish and French all together so kinda European. And after that, being part of the brigade, when I started to acquire more experience working for two years for a chef like him was a very big gusset on your CV. I started to apply for a different position outside of the restaurant and started to have my first position as the chef so the chief of the kitchen, still in London, and I spent five years in London. After that, I decided to move outside of Europe and start to go to the Emirates, China. Australia, the United States, and cruise ships, because something I really appreciate in my job is travel a lot, because I really like to travel and actually another reason why I decided to be a chef, because it's a job which is allowing you to travel a lot to see different people and different cultures. For example, now I'm very happy to be here in Indonesia because I can see something different. Different people are different sceneries and different cities. It's something which is really making yourself richer, you know, giving lots of extra exciting go in your life. Honestly, now I start to be kind of older because they start to be 50. I start to feel a little bit tired to go around, so I think not very, very soon. But maybe in the next future, maybe I'm planning to come back home having so many experiences. To be honest, I'm planning to open a cooking school for foreigners in my city. Yes, because my region is beautiful, start to improve a lot in terms of tourism. And they think I would like to actually give this kind of service to tourists coming to my region to teach them how to cook traditional foods from my region.
Who or what has inspired your career and what is the most helpful advice you have received?
The first thing is, like, take the funny side of the job you're doing. That says more from a professional side or from my Chef Jeremy Lee, from another person, which I never had the luck to meet personally, which is called the late Anthony Bourdain. It was because he died a couple of years ago. And it was a little bit my inspiration from his books. And in both of them actually, they gave a message, trying to find the exciting, the funny, and the happy side of the work inside the kitchen. It is very, very important because I really think this job, now looks a little bit glamorous, because many celebrity chefs on the television and blah, blah, blah, but at the end of the day is a very hard job with unsociable hours, you have to carry on with stress, can be dangerous because you have boiling oil, boiling water, plates, heavy loads. So it's a heavy job. So if you're not finding the fun new way, and the amusing way to carry on with this job, I think you're pretty much a failure. Because it we're going to reflect on the final product you're giving to your customers. 
So happiness, I think, to be happy inside the kitchen is the most important thing is what I'm trying to actually give even to my staff. Try to be happy. If you have problems, try to fix it so we can fix it together. Don't come inside the kitchen with a grudge. Sometimes it happens maybe because if you're having some problems from your external life, but come here, just have fun with what you're doing. Because in this way, the time we're going to pass very fast. Customers, they are going to be happy, and you are going to be happy because your efforts going to be rewarded by them. And yes, so that's the most important.
You are from Southern Italy, can you tell us how the culinary landscape there?
Well, my city is a little bit strange, because even if it's based exactly facing the sea is a port side sea. But it's a very new city. It grew up after World War II. So we had lots of immigrated people from the central part of the country, with lots of mountains. So even if culturally my city is very stronger on cooking fish, because even the same name of my city, Pescara, which can be translated as something like the city of the fish of the fisherman, so on the side of that, too, we have a very strong cooking coming from the interior of the country. So very strong meat resources. I think my background from my city is extremely interesting because it's not really focused just on one kind of food. It is covering a little bit of everything. Yeah, we are thriving as a region where we have very good chefs, even in terms of, for example, a Michelin-star restaurant. One of them is owned by Niko Romito, which is one of the best adore this coming from my region. We are improving in terms of tourism, especially for tourists who are coming to my region not to see many different historical cities, because compared to Florence to Venice, we have not so interesting, but mainly they're coming to eat food.
How do you incorporate your culinary heritage and experience into your dishes in Rosso?
That is a very important question. Because even if I had a very long experience outside being exposed to so many different influences, so many different products, so many different ways to cook like in China, Emirates, United States, but steel, I prefer to keep a very strong background from the place I'm coming from. And I really wanted to give this kind of outlook to this restaurant. Customers, they can find a little slice of my region. So when they're sitting down, they can actually eat on the table, exactly what they're expecting to eat in my region. So it's a little bit for them a kind of culinary journey. So they can travel to my city or to my region, not even taking a flight. That's very important for me to give this kind of experience at the moment.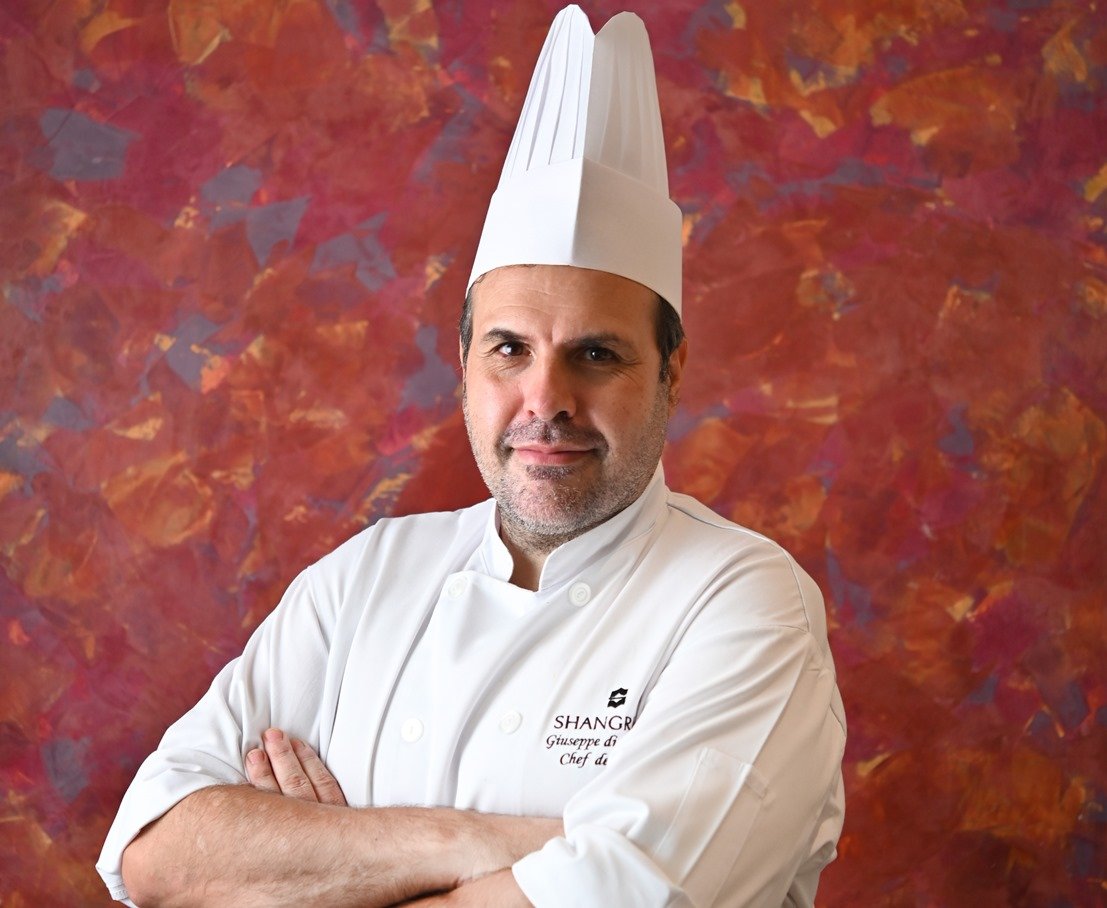 You have worked in London, Abu Dhabi, United States, and many others. What are your most unforgettable memories?
When I moved to London, actually, I had an extremely humble start, because I moved to London with very little money. So at the start was very, very tough. And especially when you're working for very important chef, considering you're learning a lot, you're kind of underpaid, because it's like, I give you something in terms of your exposure, but you have to give me your time and your commitment. And so this kind of job in terms of working hours and money is not the best job you can find. So the very start in London was very difficult for me because of very little money. And it was a very nice, beautiful period because I started to learn to see a completely different environment. Because another thing about my personal experience is, until the age was 27 to 28, I never moved from my city. So to live in a big city like London with so many different cultures. And for me, it was something extremely exciting to actually share our kitchen with people coming from all around the world.
Another one, If I had to make a single episode, there was like, it's a very funny episode, then when I used to work in the Emirates, the owner of my restaurant is a very important sheik, so like, belonging to the royal family of Emirates, and having lots of properties. One day, he asked me to cook some food for him in his personal mansion. And the sheik said that we're going to have a guest that was like, okay, that's they have to cook for two people, of course, lots of stress because it was an extremely important person that obviously if I was saying that this person got to be from flight companies, football teams.
So I cooked for this couple and I didn't know who was the other guest and at the end of the dinner, they called me out from the kitchen saying, Okay, thank you. And I just noticed the other guest that was an extremely important actress from Hollywood. My expression was a little surprised. It was very funny because even the sheik told me to stay calm down.
What according to you does it take to become a successful chef?
Still commitment, commitment, and you need to love your job, you need to love your job. There are many office jobs, there are many people working inside the offices. So working eight to five, nine to five, okay, I did my duty, I can go home, when you work in a kitchen is a little bit more a total experience. Sometimes you have to work longer, sometimes you have to work in very unsociable hours, sometimes, you have to work when other people are enjoying during Christmas time, New Year's Eve. So if you don't have commitment, if you don't have passion, I don't think you will. Because the final result that you're going to give to the customer, we're going to be compromised in some points. 
Please give us three words that describe your cooking style the best?
The first one is still, or maybe I'm risking being a little bit boring, but for me, what's very, very important is happiness. Yeah, happiness is very, very important. The second is more technical, it is color. When I'm cooking my food, I'm stressing a lot about the color, and the brightness of the food. I don't like dark colors. So sometimes yes, I don't like dark colors. I can say that. You know when maybe the food is overcooked, it doesn't look exact. Brownish, or dark green all this kind of stuff. I said to the guys don't send it to make a new I want to see things like colorful dishes on the plate. On top of that is the texture. It is very, very important when you're biting the food to have exactly the texture you're expecting. So if a piece of meat should be softer, has to be soft first not tough. If the pasta you're expecting is al dente, it should be not overcooked. For me it's very, very important to so the first thing is to eat with your eyes. And after the second to eat actually with your mouth, checking, you know, the texture.  
What advice would you give to a young aspiring chef?
To ask yourself if that's really what you want to do in your life is very, very important. In Italy, we are having a little bit of this kind of problem coming from a completely different background. I noticed I had to train lots of people, young people coming from culinary school, so maybe they choose this kind of path because maybe they were trying to fulfill the expectations of the family, maybe the family having a restaurant or bar saying okay, maybe. Ask yourself, if you really want to do this kind of job. It's important. Well, if you really like to do your job, being committed is not very difficult, because if you'd like to do something, of course, you're committed. And it's not, it is really a sacrifice to do.
Since you've been living in Jakarta, have you tried any of the local dishes? Any favorites?
Lots of food. Believe me or not, I moved to Indonesia even because I like a lot of Indonesian food. Generally all Southeast Asian food because I think your food is very refreshing. I really like these kinds of spices like galangal, lemongrass, lime leaves, lime, and coconut milk, when I have these kinds of ingredients inside the food on my plate I feel like so these kinds of ingredients mainly you can find in your cooking of Vietnamese, Malaysian, Thailand and that actually was a reason why I moved to Indonesia and of course, I know your food because I'm eating your food that day by day on the staff canteen, and even when I'm off, I'm going around the just to try local restaurants I'm not very keen to try other Western restaurants outside. 
So beef rendang is the first, you give me beef rendaing and I'll be happy. Gado gado, the tempe all the chicken skewers (satay) especially the peanut sauce, nasi goreng. Yeah, that's strange because it's a little bit like in Italy, except for very few places. We don't have a standardized recipe. Everybody does a little bit differently. 
For some points, I think Indonesian cooking is very similar to Italian in terms of the commitment of the people to cook food, I can see it's something very important, very pivotal for your culture, you cannot find the same. For example, in UK, the United States actually found something similar even in the Emirates in India and Malaysia. Food is an extremely important part of our life. So for this point, actually, we are very, very similar, even if our taste is very different. The way the family is involved in a very big dinner sometimes is very, very similar to Italy. 
 
So finally, the last question is, what's next for Rosso?
We opened a few weeks ago, so everything is really ongoing. The first thing actually, we had a very successful Christmas dinner and even for New Year, then the brunch was fully booked pretty. We had very good feedback. So the next one, we're preparing for Valentine's Day, we're going organize another dedicated menu for the couples who want to join the restaurant. On top of that, I'm planning to do some special events. One, we're going to be wine pairing with my food, so to make a tasting menu with all the different wines. And another project is to make them the night accordingly to a different region, maybe starting from my region. Now we have bought some new machinery to make other handmade pasta. So we are planning to make even different kinds of different choices of pasta, so we can improve our menu very, very soon. And so there are many upcoming things going on.