The H Club, the biggest nightclub in Jakarta and Asia officially opens in the heart of SCBD. Already becoming the talk of the town, this nightclub offers phenomenal experiences with sophisticated technology and tremendous sounds. 
With a capacity of thousands of people (about 2,000 people), The H Club is known for DJs and national and international entertainers that are ready to entertain every visitor. On the other hand, every visitor will be indulged in the most incredible hospitality to make them unique. No wonder The H Club is nominated as the most distinguished nightclub in Asia. 
"We are proud and can't wait for the grand opening of The H Club. We want to give unique and memorable experiences for the visitors, yet give them world-class entertainment with international standards," said Ivan Tanjaya, the co-founder of The H Club.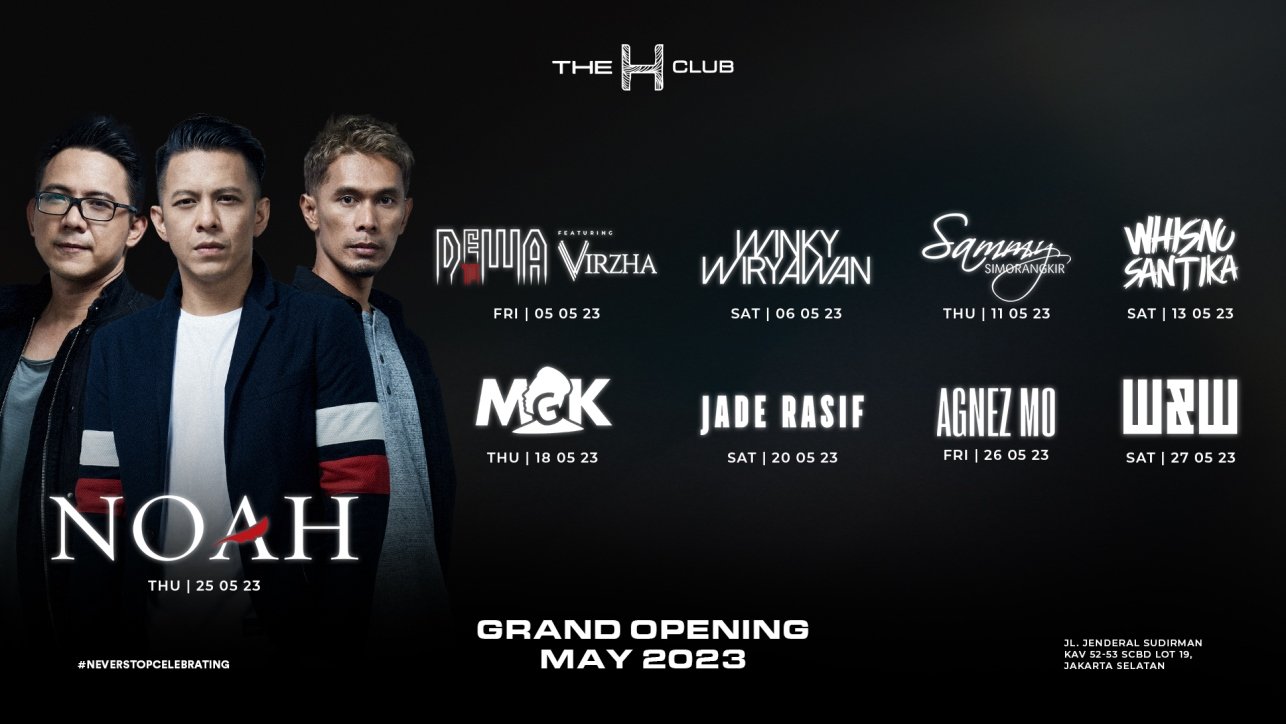 As part of HW Group, the H Club succeeds in getting people's awareness by their enormous exterior that is pleasant to be seen. No wonder the building, with an area of more than 7000m2 in SCBD, Jakarta, promptly becomes a magnet for every person who passes by. Still, the beauty of The H Club has not stopped yet, and inside, there is a classy interior with sophisticated technology ready to bring unforgettable entertainment for visitors.
The world-class stage is specially framed for The H Club. With an elegant ambiance, the stage is packed with modern lighting and sophisticated high-quality sound that can bring a spectacular, unforgettable performance. Every visitor will experience outstanding entertainment in The H Club, where lavishness and customer satisfaction are the priorities. Enjoy the gimmicks to make your night unforgettable such as spiraling lighting as the centerpiece above the dance floor, an extensive bar, neon dancers, and many more.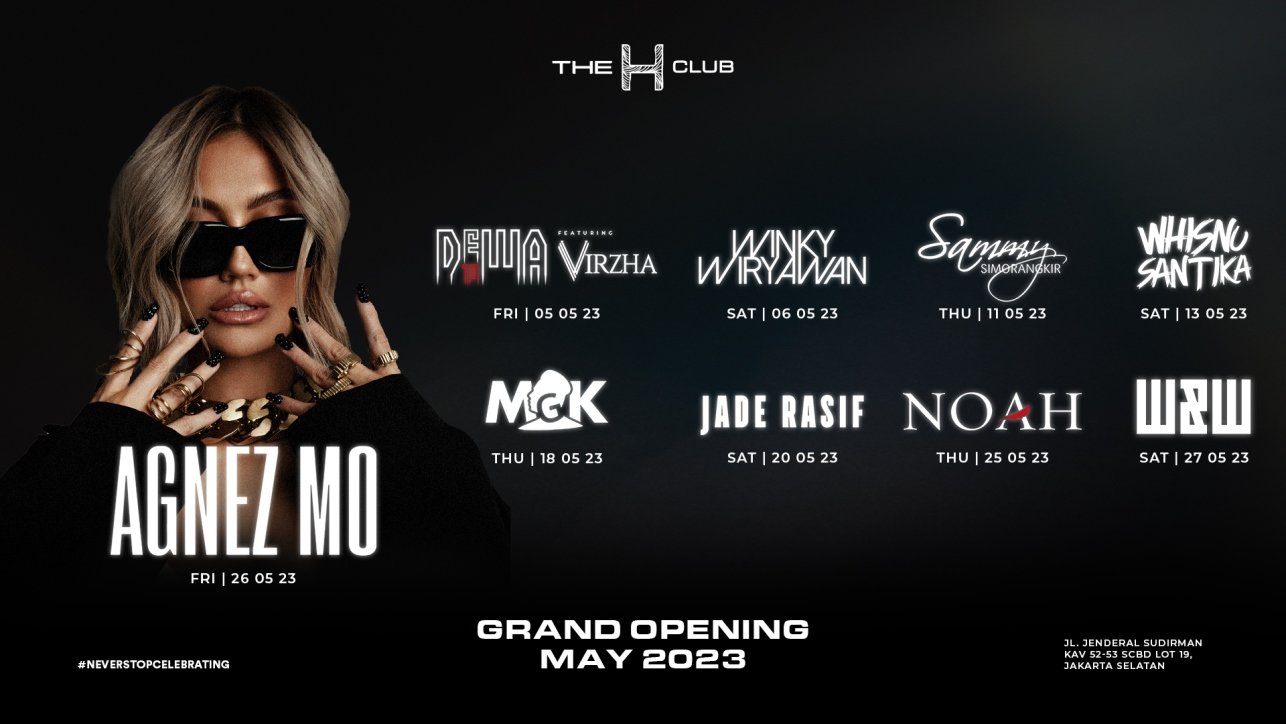 To further enliven The H Club's grand opening period, HWG Event, an Indonesian music promoter, will bring a number of the most famed domestic and foreign musicians to The H Club SCBD. Agnez Mo, Noah, Mario G Klau, Dewa 19, and Sammy Simorangkir will be a line of musicians who will enliven the atmosphere of this newly opened nightclub.
Not to forget,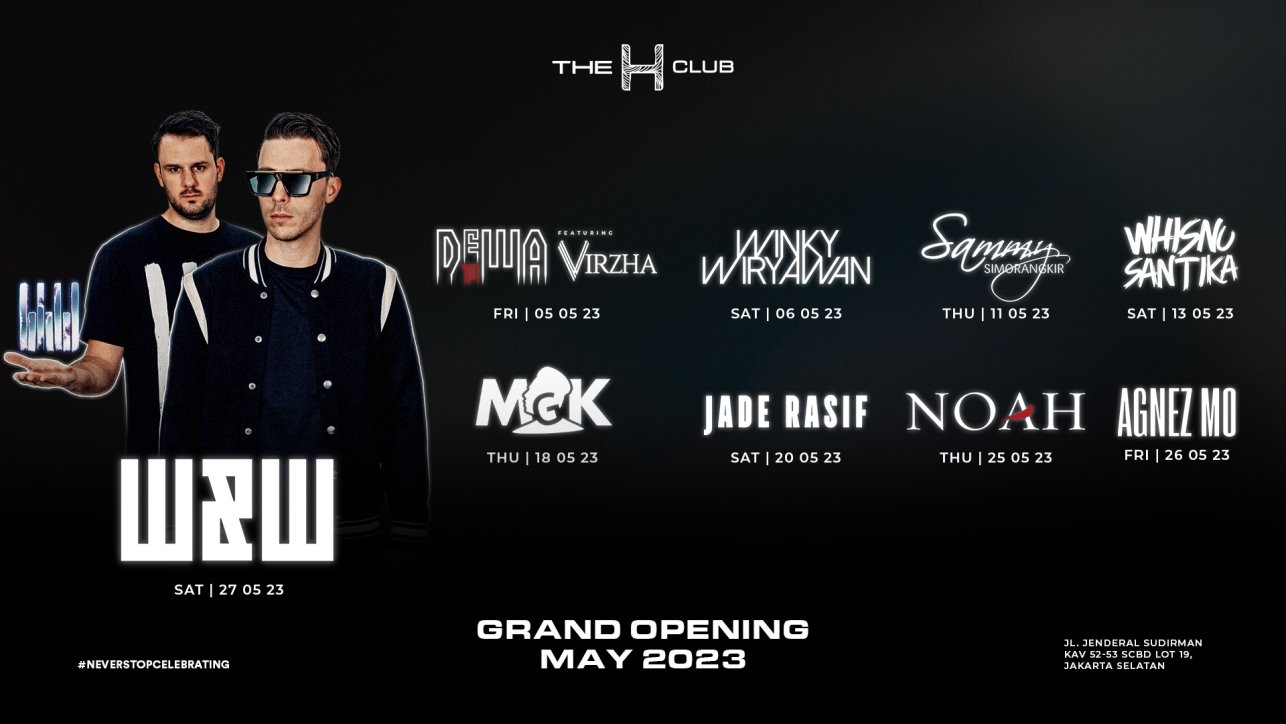 from the Netherlands with energetic and intense dance and trance music will also perform here. They have performed at various world-renowned music festivals, such as Tomorrowland, Ultra Music Festival, and Electric Daisy Carnival, with several well-known works such as "Bigfoot", "Rave After Rave", and "The Code".
The H Club SCBD has a fairly tight performance schedule, starting with Dewa 19 on May 5, Winky Wiryawan on May 6 last week, and then Sammy Simorangkir on May 11, Whisnu Santika on May 13, Mario G Klau on May 18, Jade Rasif on May 20, Noah on May 25, and Agnez Mo and W&W on May 26 and 27.
For information and further reservation, please contact RSVP di +62 811-1916-7168 or on Instagram.
The H Club
Jl. Jendral Sudirman Kav 52-53 SCBD Lot 19, Jakarta Selatan
Phone: +62 811-1916-7168
Instagram