Visiting natural spots become a trend lately as travelers prefer outdoor areas for their trips. With lush green scenery and fresh air, the trip could be a healthy experience as well. For Jakarta residents, here are some of the top natural spots for you to visit.
1. Taman Wisata Alam Mangrove, Pantai Indah Kapuk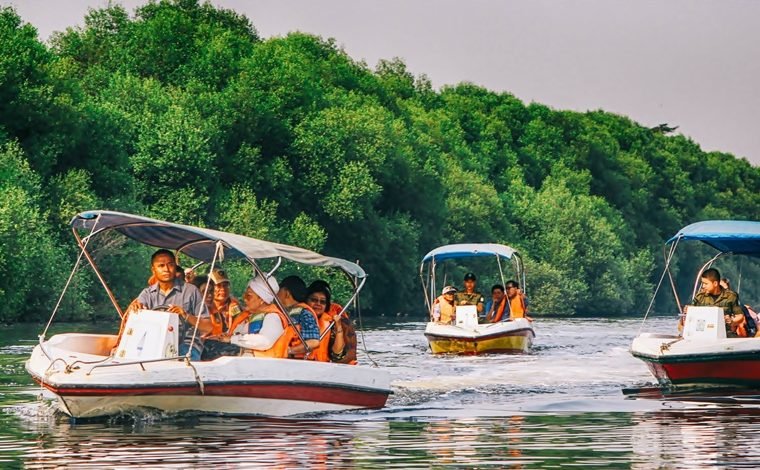 Taman Wisata Alam Mangroove or Taman Wisata Alam Angke Kapuk is part of the Angke Kapuk forest area which was determined based on the Decree of the Governor-General of the Dutch East Indies Number 24 dated June 1, 1939 with an area of 99.82 hectares. You can meet the wading birds here, one of the protected bird species in Indonesia. Apart from being a tourist spot, this forest is also an effort to preserve the function of mangroves as a support system for human life.
Jl. Garden House, Kamal Muara, Penjaringan, Jakarta Utara
P: (+6221) 29033066
Website
2. Taman Mini Indonesia Indah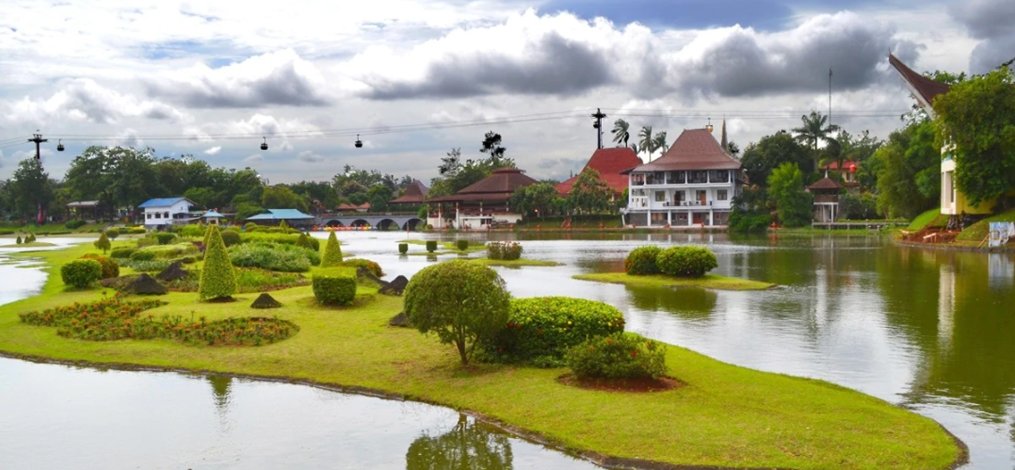 Taman Mini "Indonesia Indah" (TMII) or "Beautiful Indonesia" Miniature Park is a culture-based recreational area located in East Jakarta, Indonesia. The park is a synopsis of Indonesian culture, with virtually all aspects of daily life in Indonesia's provinces encapsulated in separate pavilions with the collections of rumah adat as the example of Indonesian vernacular architecture, clothing, dances, and traditions are all depicted impeccably. Apart from that, there is a lake with a miniature of the archipelago in the middle of it, cable cars, museums, Keong Emas Imax cinema, a theater called the Theater Tanah Airku, and other recreational facilities, including gardens, parks, and bird park, which make TMII one of the most popular tourist destinations in the city.
Location: Jakarta Timur
IG: tamanmini.indonesia
Website
3. Ragunan Zoo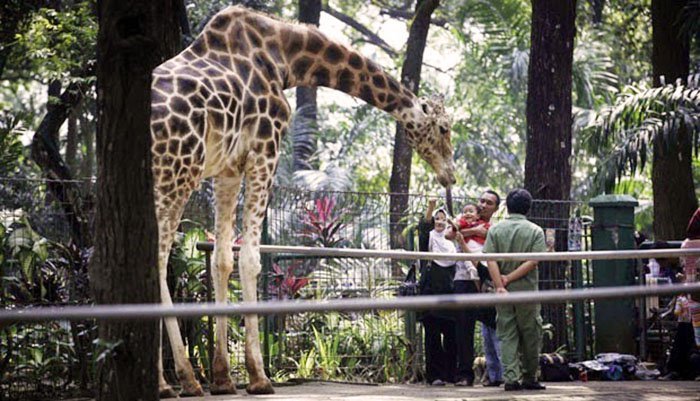 Ragunan Zoo is a 147 hectares park and home for 2.000 specimens and is covered more than 50.000 trees. The lands are designed and always developed to be a leading modern zoo in Jakarta city.  Laid out in a lush tropical setting, rare animals such as crocodile, gorilla, orangutan, tapir, anoa, Sumatran tiger, the babirusa, and peacocks are given ample room. This oldest zoo in Indonesia is located is easily accessible through the Jakarta Outer Ring Road and TransJakarta. Special attractions for the children include a Children's Zoo, playground, and rides, along with the events of pony cart and boat rides on Ragunan lake.
Jl. Harsono RM No.1, Ragunan, Jakarta Selatan
IG: ragunanzoo
Website
4. Betawi Cultural Village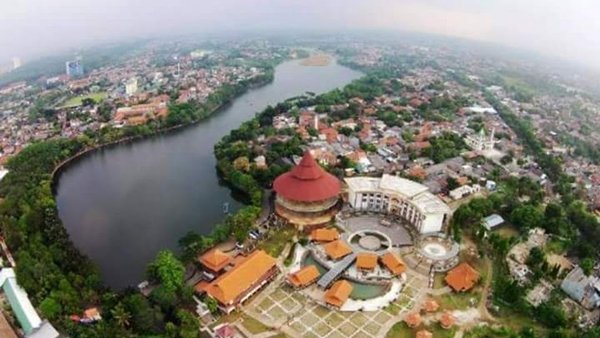 Betawi Cultural Village is an area in South Jakarta that showcases Betawi culture: arts, architecture, customs, traditions, literature, folklores, clothing, culinary, and others. It is an area of ​​about 289 hectares, adjacent to Jl. Mochammad Kahfi II and Jl. Desa Putra (Jl. H. Pangkat) to the North; Jl. Desa Putra (Jl. H. Pangkat), Jl. Pratama (East Mangga Bolong), Jl. Lapangan Merah (Red Square) to the East; close to the border of DKI Jakarta Province and Depok City to the South; and Jl. Mochammad Kahfi II to the West. Developed as a "Cultural, Water, and Agro Tourism" area, the Betawi Culture Village has a beautiful and attractive natural environment that is rare in the hustle and bustle of Jakarta. It boasts two natural lakes, Setu Babakan and Setu Mangga Bolong, which are surrounded by the green and shady fruit trees native to the Betawi areas, such as harps, starfruits, rambutans, sapodillas, melinjos, papayas, bananas, guavas, jackfruits, and namnams. These trees grow on the people's front yards, or next to and among the houses. The lakes and trees are among tourists' major attractions for both local and international.
Jl. Moch Kahfi II, Srengseng Sawah, Jagakarsa, Jakarta Selatan
P: (+6221) 78893258
Website
5. Gunung Mas Tea Plantation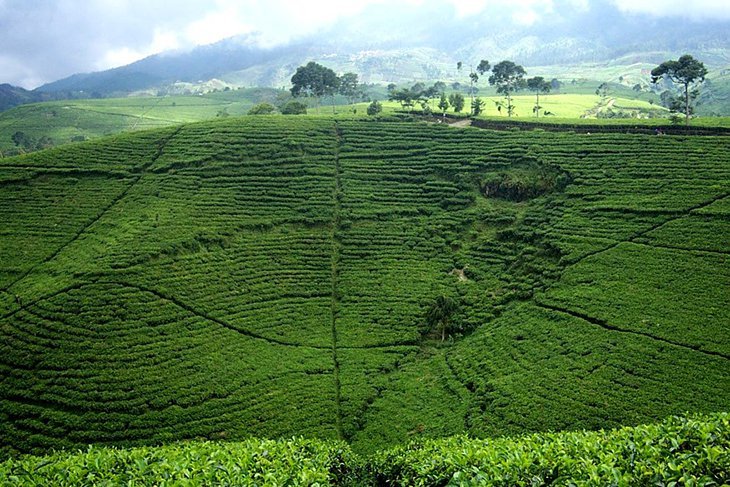 Gunung Mas Tea Plantation is one of the largest tea plantations in West Java and the popular spot for tourists from Jakarta, Bogor, Depok, and surroundings. The area offers cool and refreshing air with temperatures around 18°-22° and a height of between 80°-120° m above sea level. The most favorite activities to do here is tea walking while enjoying the aesthetic scenery of tea plantation hills. You can also witness the traditional process of picking tea leaves, guided by a local guide. Horse riding and paragliding are also some of the activity options you can do here.
Jl. Siliwangi, Gunung Mas Puncak, Tugu Selatan, Cisarua, Bogor
6. Tanjungsari Deer Tourism Park Cariu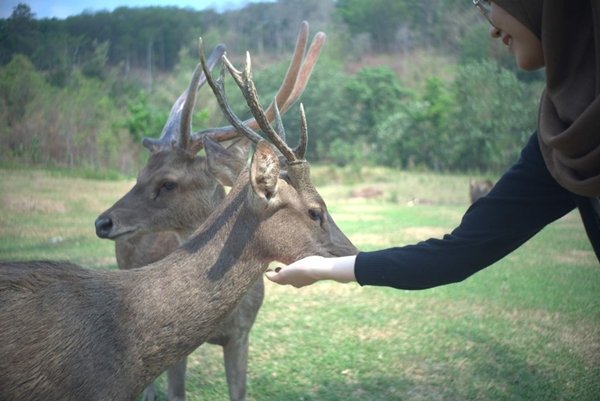 Besides being able to see dozens of deer, visitors can also interact directly with them, one of which is feeding them. Accompanied by beautiful scenery and clean air, this tourist spot is a very pleasant place to visit with your family.
Location: Buanajaya, Tanjungsari, Bogor
P: +62813-8389-2251
7. Bogor Botanical Garden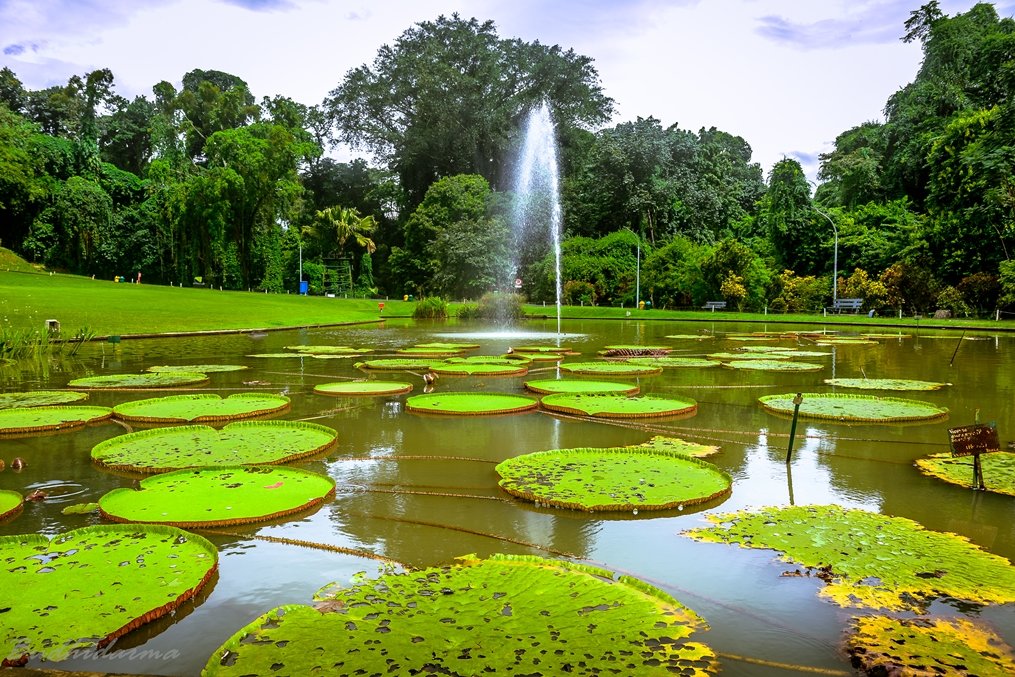 Initially, this garden would only be used as an experimental garden for plantation crops to be introduced in the Dutch East Indies. However, in its development, the establishment of the Bogor Botanical Gardens can be said to have started the development of science in Indonesia and as a forum for scientists, especially the botanical field in Indonesia, in an organized manner from 1880-1905. The area covers 87 hectares (210 acres) land and contains 13,983 different kinds of trees and plants of various origin. Visitors usually wandering around the garden while learning about plants and trees there. As well as having a picnic in some of the open areas.
Jl. Ir. H. Juanda No.13, Paledang, Bogor
8. Situ Gunung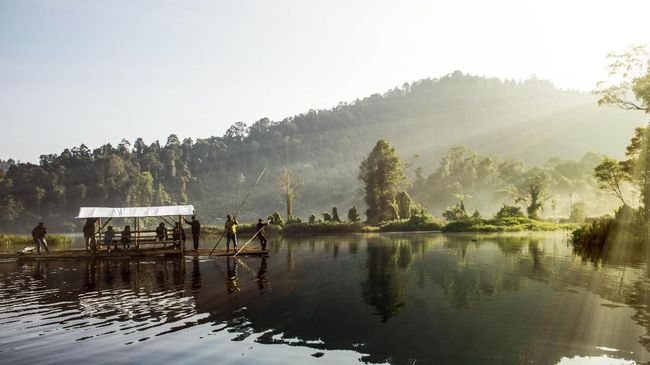 Photo: Dok. CNN
Situ Gunung is a lake with the longest forest suspension bridge in Southeast Asia. The lake is surrounded by pine trees which are part of the slopes of Mount Gede Pangrango. There are several activities you can do here, from picnics, sunset or sunrise hunting, to going around the lake using a rowboat. In addition, there are fishing, glamping, and trekking areas to the waterfalls near the lake.
Location: Sukamanis, Kadudampit, Sukabumi
9. Gunung Pancar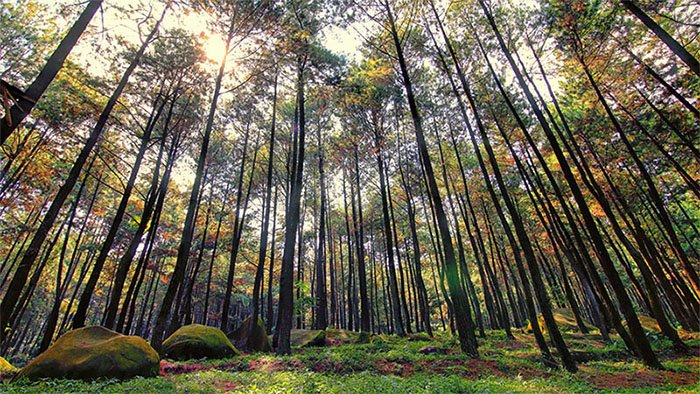 One of the 'hippest' camping grounds among Jakarta and Bandung youngsters, Gunung Pancar camping ground offers both regular camping areas and glamping facilities. A minimum of 4 people booking is necessary to rent a tent, with affordable prices which include tent, electricity, bed, and BBQ grill.
Kampung Ciburial, Desa Karang Tengah, Babakan Madang, Bogor
P: +6281213446514
[email protected]
Website
10. Leuwi Hejo Waterfall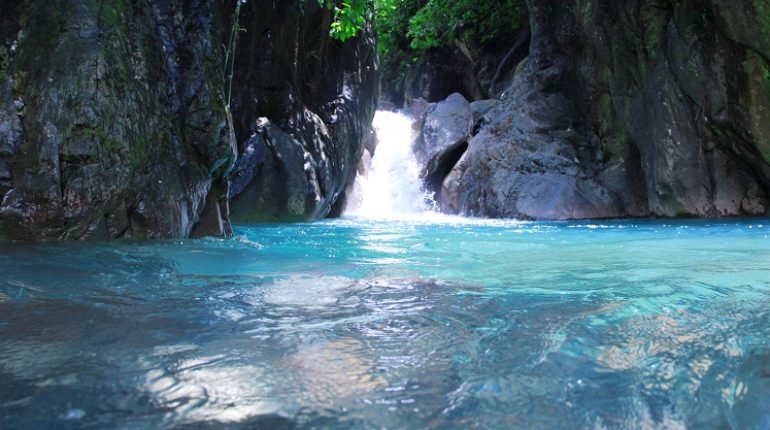 Leuwi Hejo Waterfall has an incredible wealth of nature. There may be many "hidden waterfall paradises" untouched by travelers including  Leuwi Hejo. The location is in the Sentul area, not too far Jakarta. You can witness the picturesque waterfall by a boulder-studded river, which can be reached by a rugged path in a lush natural locale.
Location: Cibadak, Sukamakmur, Bogor
11. Hutan Kota GBK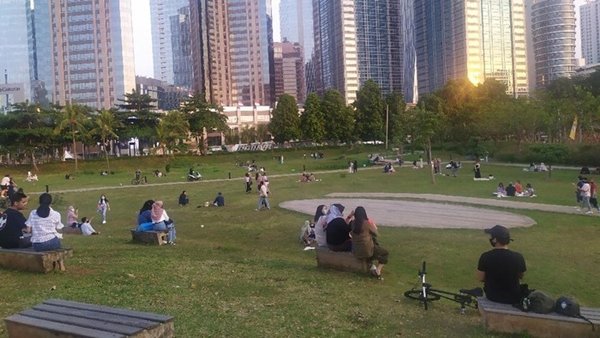 Photo: DetikNews
This 4-hectare area has now been designated as a green open space, the lungs of the city, as well as a conservation area. GBK City Forest development coincides with the renovation of a number of areas in GBK, which now feels more modern and orderly.
Location: Gelora Bung Karno Sports Complex, Gelora, Tanah Abang, Jakarta Pusat
12. Scientia Square Park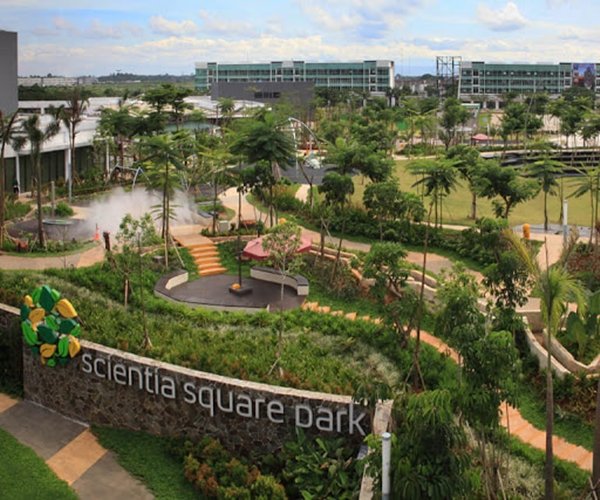 Scientia Square Park is a 7,500 square meter privately managed open space with many facilities like a skatepark, inline skate, wall climbing, street work out, baby-strolling, Koi pond & Koi farm, bicycle, kids' playground, paddy field, and amphitheater. In this park, you can also join the occasional activities like taichi and yoga classes. To enter the park, you only need to pay Rp. 40,000 for weekdays, or Rp. 70,000 on weekends.
Jl. Scientia Boulevard Gading Serpong, Tangerang
P: +6221 2917 1268
scientiasquarepark.com