Exploring museums in a city, is a great way to learn and appreciate a nation's wealth of history and culture. In Jakarta, some museums are better preserved than the others, but we still encourage you to visit these museums for a relaxing walk and an enriching experience:
1. Museum Fatahillah (Jakarta History Museum)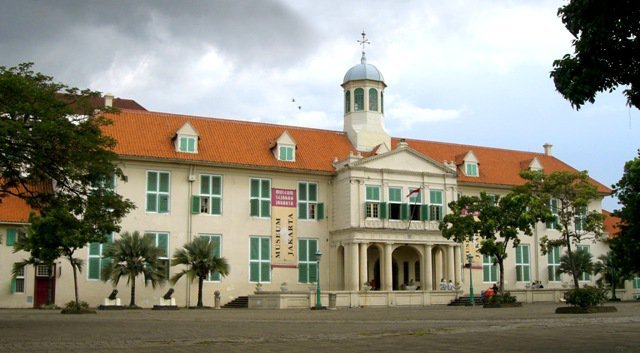 Also known as Jakarta History Museum (Museum Sejarah Jakarta). the building was a city hall during Dutch Colonial Era. Step inside the museum to check out some historical items or admire the architecture, standing by its large window will get you a pictures idea of what it's like back then.
Located in the Old Town (known as Kota) of Jakarta, Indonesia. The building was built in 1710 as the Stadhuis (city hall) of Batavia. Jakarta History Museum, opened in 1974, displays objects from the prehistory period of the city region, the founding of Jayakarta in 1527, and through the Dutch colonization period from the 16th century until Indonesia's Independence in 1948. The museum is located in south side of Fatahillah Square (former Batavia city square) near Wayang Museum and Fine Art and Ceramic Museum.
The collection includes objects from the Dutch East Indies Company, historic maps, paintings, ceramics, furniture, and archeological objects from the prehistoric era such as ancient inscriptions and sword. Here also contains the richest collection of Betawi style furniture from the 17th to the 19th century.
Jalan Taman Fatahillah No.1, Tamansari, 11110, Indonesia
Phone: +62 21 6929101
Hours: Tuesday-Sunday, 9am-3pm
2. Bank Mandiri Museum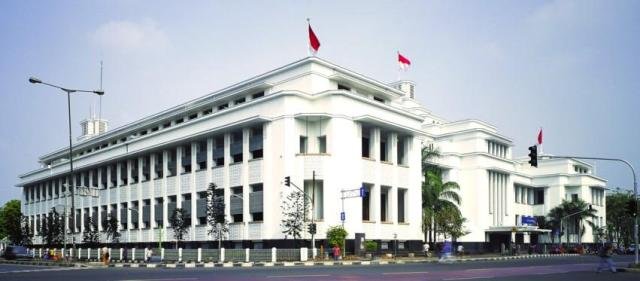 This property is easy to spot, just opposite the Jakarta Kota busway station and Jakarta Kota Train Station. It showcases collection of Bank Mandiri; a prominent government-bank which is the result of merger of several banks back from Asian economic crisis. The collection including bank layout with several original furniture, banking appliances, and other bank-related item.
The museum collection consists of a variety of collections related to banking activities "old days" and its development, ranging from the collection owned banks operating supplies, securities, currencies ancient (numismatic), brandkast, and others.
Collection of operational equipment bank "old days" unique, among others coffers, money counting machine mechanic, calculators, accounting machines, printing machines, press tools bundle, seal press, safe deposit boxes and a variety of securities such as deposit slips, deposit sertikat , checks, bonds, and stocks. In addition, building ornaments, museum interiors and the furniture is still original as when it was founded.
Jalan Asemka-Petongkangan,Pasar Pagi, West Jakarta
Phone: +62 21 6902000
Hours: Tuesday-Sunday, 8am-4pm
3. Museum Bank Indonesia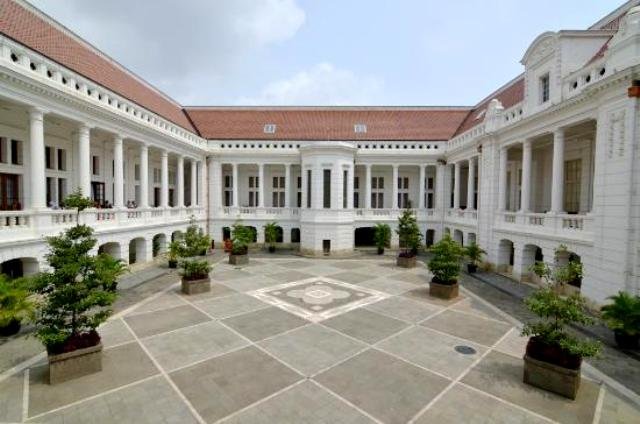 The museum is just north of Museum Bank Mandiri. Sporting almost identical layout as the former, this museum showcases the journey of Indonesia's national bank (and the only bank to regulate money circulation in Indonesia) from the back days up to now. Officially opened in July 2009, this museum also offer some interactive zone as well as a theater showing short documentary.
The museum presents information of Bank Indonesia's role in the nation's history that began before the arrival of the west of the archipelago until the formation of Bank Indonesia in 1953 and Bank Indonesia's policies, including also the background and impact of Bank Indonesia's policy for the community until 2005. The presentation is packaged in such a way to take advantage of modern technology and multi-media, such as electronic displays, static panels, plasma televisions, and so creating a diorama of visitors to enjoy the comfort of Bank Indonesia Museum. There are also facts and collection of historical objects in the period before the establishment of Bank Indonesia, as at the time of the kingdoms of the archipelago, which include money numismatic collection also attractively displayed.
Jalan Pintu Besar Utara No.4, Kota, West Jakarta
Hours: Tuesday-Sunday, 8am-3.30 pm
4. National Monument (MONAS)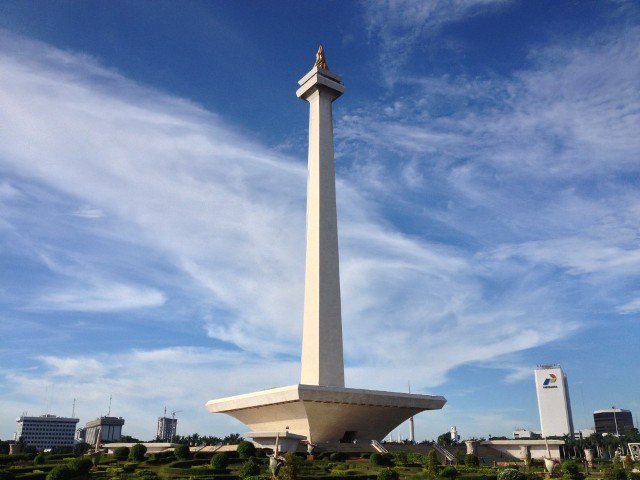 A symbol of Jakarta, the tower also acts as a museum. It's divided into 3 main parts; the top is an observation tower; the mezzanine has a large podium overlooking all over Monas Square. Inside, there is a replica of National flag and a room where one can listen to the proclamation text being spoken by Indonesia's first president, Soekarno. In the basement, there are 30s dioramas depicting Indonesia's history.
A lift on the southern side carries visitors to the viewing platform at a height of 115 metres above ground level. The capacity of the elevator is about 11 people. The top platform can accommodate about 50 people. There is also a staircase for use in emergencies. The total height of the monument is 132 metres. The distance from the viewing platform to the tip of the flame is 17 metres.
Medan Merdeka, Jakarta Pusat, Indonesia
Phone: +62 21 3822255
Monday-Sunday, 7am-12pm
5. National Museum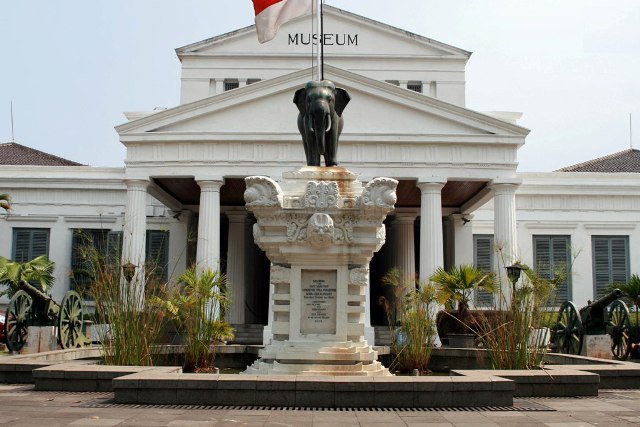 The museum is located just opposite MONAS. It has large collection of artifacts, sculptures, and ceramics. The new wing also exhibit several painting collections.
The museum has a collection of 61,600 prehistoric and anthropological artifacts, and 5,000 archaeological artifacts from all over Indonesia and Asia. The museum collections is among the richest, the most complete, and the best of its kind in Indonesia and one of the finest in Southeast Asia.
The National Museum of Indonesia has the richest and the largest collection of Hindu-Buddhist art of ancient Indonesia. The Hindu-Buddhist sculptures, relics and inscriptions was collected from Java, Bali, Sumatra, and Borneo, all are in display in the lobby, the central hall and the central atrium of the museum. The Buddha statues from Borobudur in various mudras are displayed in the lobby. The centerpiece collection also the largest artifact of the museum is the statue of Adityavarman depicted as Bhairava. This statue is more than 4 meters tall and discovered from Rambahan, Padangroco, West Sumatra.
Jl. Medan Merdeka Barat No.12, Gambir, Jakarta Pusat 10110
Phone: +62 21 3868172
Hours: Tuesday-Sunday, 8.00am-4.00 pm
6. Museum of Fine Arts & Ceramics (Museum Seni Rupa & Keramik)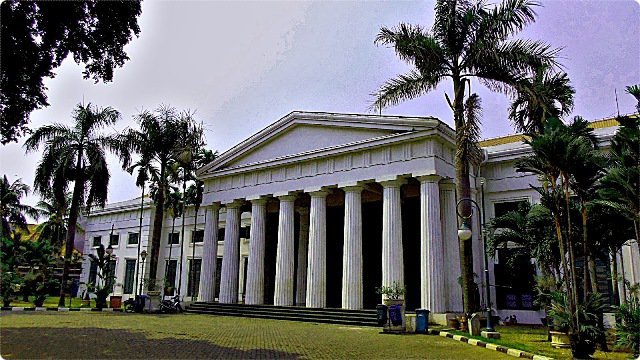 As the name suggest, the museum is a home to several work of arts; from paintings, ceramic objects, sculptures, and other art installations. Housed in the former court of justice, one can also admire its architecture with a garden in the middle.
The museum displays the traditional handicraft of Indonesia. The museum also displays paintings by Indonesian painters such as the romanticist painter Raden Saleh and expressionist painter Affandi. The paintings are organized by important period in Indonesian fine arts history.
A ceramic workshop is open for visitor who wants to try to make pottery craft (at an additional cost).
Jalan Pos Kota No. 2 Jakarta Barat
Phone: 021-6907062
Hours: Tuesday-Sunday, 8.00am-3.00 pm
7. Puppet Museum (Museum Wayang)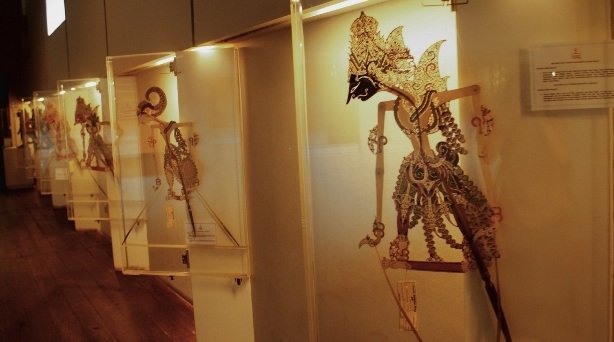 Wayang is a traditional puppet of people in Southeast Asia. Specific to Indonesia, there are 2 prominent type of wayang that are played among Java society; Wayang kulit (shadow puppet made of calf skin) and Wayang golek (wooden puppet). Admire the many type of puppet in this museum, not only from Indonesia, but also from around the world.
The idea of building Wayang Museum started when H. Ali Sadikin, the governor of DKI Jakarta, attended the second wayang museum week in 1974. With the support of the committee of the wayang museum week, wayang lovers, and the governor of DKI Jakarta, the Wayang Museum was then established.
Jl. Pintu Besar Utara No.27, Pinangsia, West Jakarta
Phone: +62 21 6929560
Hours: Tuesday-Sunday, 8.00 am-5.00 pm
8. Kite Museum (Museum Layang-Layang)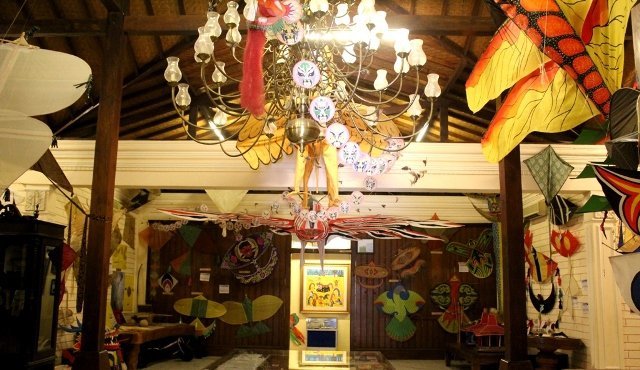 Is the only museum of its kind ever set up in Indonesia, which has been open to the public since March 21, 2003. Inside, one can find over than 350 kites from different parts of this country, as well as other countries. There are some rare collections includes the smallest kite, whole-leaf kites and decades-old, yet well preserved ones. Its founder, art patron Endang W. Puspoyo, also known as a beautician, has been active in the kite-loving community since 1989. At first, the kites were his collection. But now, he even had a kite workshop there.
This museum is open for anyone who eager to have knowledge about kites. You can even make your own kite and designed them to take home as a souvenir. It is quite fun to bring your children also. This is the best way to preserve the children's games which are already nearly extinct.
Jl. H. Kamang No.38, Cilandak, Pondok Labu, Jakarta Selatan 12450, Indonesia
Phone: +62 21 7658075
Hours: Monday-Saturday, 9.00 am-5.00 pm
9. Jakarta Textile Museum (Museum Tekstil)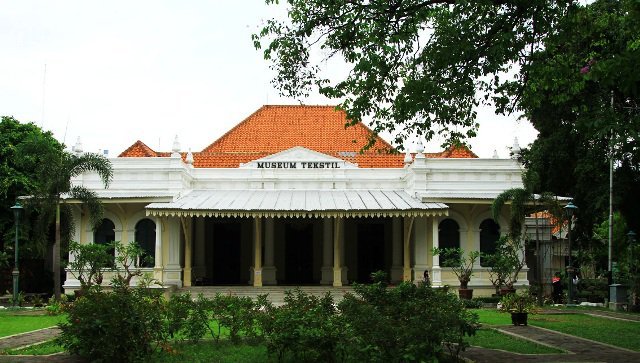 Jakarta Textile Museum is a cultural educational institution, has a mission to conserve traditional textile. Textile has always been an important part of life in Indonesia as a component of dress and as a ritual and ceremonial objects. They constitute a very rich aspect of Indonesian culture and a testament of the degree of technological expertise and artistic skill attained by their maker. They also provide a window into local histories.
The Textile Museum hosts 2350 pieces and include 86 batiks, 819 weavings, 425 mixed collection, 70 tools, and 150 contemporary textiles.
Jalan Aipda. KS. Tubun No.2-4, Tanah Abang, Petamburan, Jakarta Pusat
Phone:+62 21 5606613
Hours: Tuesday-Sunday, 9.00 am-3.00 pm
Website: museumtekstiljakarta.com
10. Maritime Museum (Museum Bahari)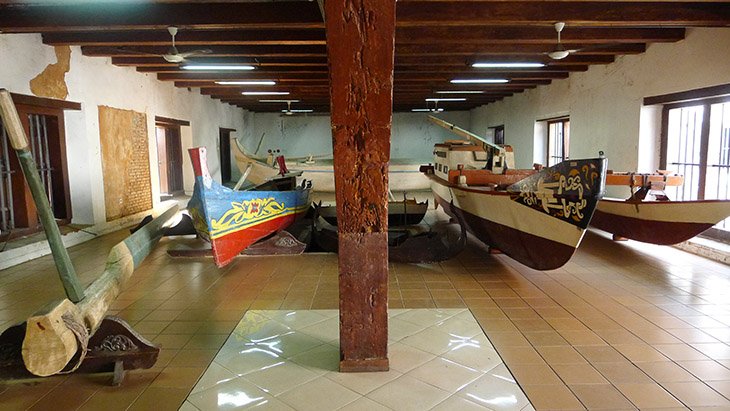 Located in the old Sunda Kelapa harbor area, this museum displays models of fishing boats and other maritime objects from different parts of Indonesia. The museum also exhibits the celebrated Pinisi schooners of the Bugis people of South Sulawesi, which at present make up one of the last sea-going sailing fleets in the world. The Maritime Museum was installed in former Dutch East India Company warehouses, that were formerly used to store spices e.g. nutmeg and pepper. Also coffee, tea and cloth were stored here before being shipped to various ports of Asia and Europe.
Jl. Pasar Ikan 1, Sunda Kelapa, Jakarta 14440, Indonesia
Hours: Tuesday-Sunday, 9am-3pm
Phone: 021-669-3406, 021-669-2476