As the capital city of Indonesia, Jakarta is filled by massive apartments, residences, shopping centers, and office buildings. For those of us living in Jakarta, it would be a relief to find parks to sit and relax and soothe your mind from this busy city that never sleeps. So, here are some of Jakarta's and Tangerang's best parks that we recommend for you:
1. Tabebuya Park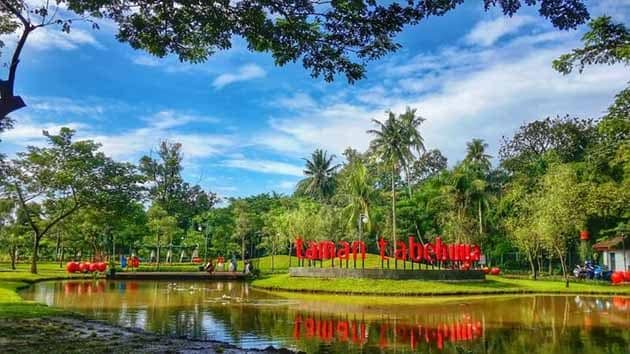 Tabebuya Park has an area of 9,626 square meters and was inaugurated in 2011. The location of Tabebuya Park itself is located at Jl. Moh Kafi No.1, Ciganjur, Jagakarsa, South Jakarta. Besides having a pedestrian that is wide enough for sports activities, Taman Tabebuya also has a gazebo to sit relaxed and take shelter. It is named Taman Tabebuya because it matches the plant or tree planted in this place, Tabebuya tree, originating from Brazil. The uniqueness of the Tabebuya tree is the flowers are pink like cherry blossoms that bloom at certain times, usually in the middle to the end of the rainy season.
2. Suropati Park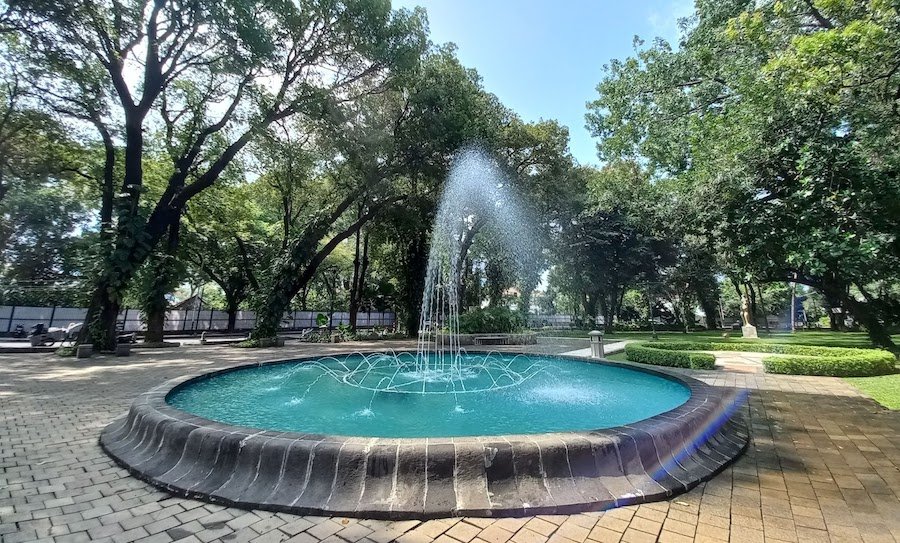 Lying in the upscale Menteng residential area, this park might be the oldest park in the city and the most relaxing place in Central Jakarta. Like other parks, in Suropati Park you can enjoy the scenery that has plenty of shady trees. It inherited its name from Suropati, a Balinese slave who rebelled and escaped from his Dutch master in 1684. A series of statues representing each of the original six members of the Association of Southeast Asian Nations (ASEAN) sits against the backdrop of greenery. These statues symbolize friendship, peace, harmony, and fraternity. This park also has a paved path which is used for jogging track.
But there is something special that this park offers you. On weekends, you can join some of the activities that are held in Suropati parks, like free yoga class, aerobic class, and violin practice Other that that, Suropati Park is a famous place for watch and listen to music performances from local musicians with various genre, without needing to pay anything, although tips are a good way to express your appreciation. Street artists also sell their work along the side of the park.
Taman Suropati Street No. 7 Menteng, Central Jakarta
3. Lapangan Banteng Park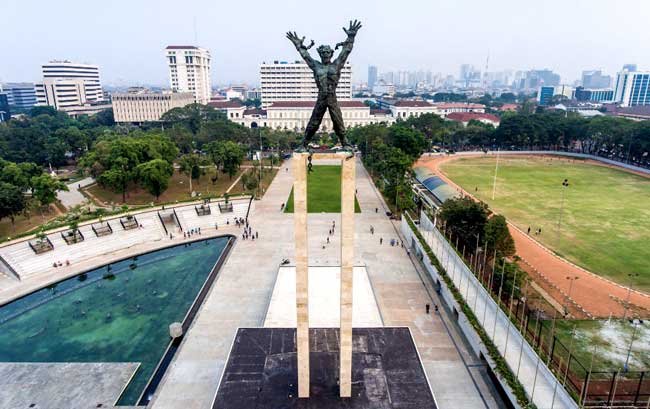 Lapangan Banteng is a historic square located in a historic area formerly known as Weltevreden, today Sawah Besar subdistrict, Central Jakarta, Indonesia. Lapangan Banteng Park is located in the area. There are also streets named Jalan Lapangan Banteng Utara, Selatan, Barat and Timur, surrounding the square. This park also has a track for runners and cyclists. 
Lapangan Banteng, Pasar Baru, Central Jakarta City
4. Mangrove Forest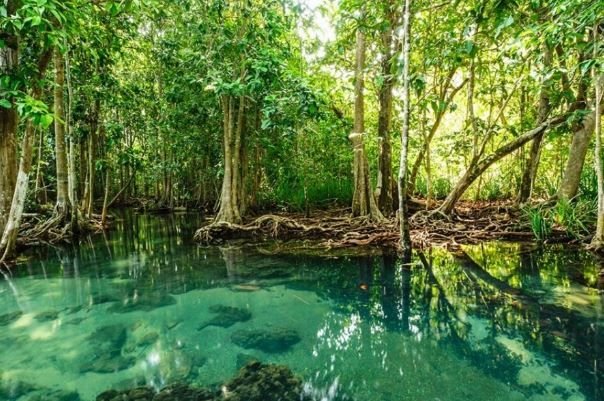 Mangrove Forest is located in Taman Wisata Alam Angke Kapuk, Pantai Indah Kapuk, North Jakarta. This nature park offers a relaxing and welcome respite from the sights of a city. Mangrove Forest is under the Center for Development of Ecotourism, and is well suited for outdoor activities. For example, you can explore the forest over the river using canoe or wooden boats and help conservation by planting mangroves.
This nature park also provides two types of cottages for you, in case you want to stay there a little bit longer. They are Rumah Kemping and Pondok Alam. Rumah Kemping costs between Rp. 200.000 to Rp. 300.000, and Pondok Alam costs about Rp. 400.000.
Mangrove Forest is open from Monday until Sunday, start from 8.00 a.m until 7.00 p.m. For only Rp.10.000 you can see a whole new side of Jakarta.
Kapuk Muara, Pantai Indah Kapuk, North-Jakarta
5. Menteng Park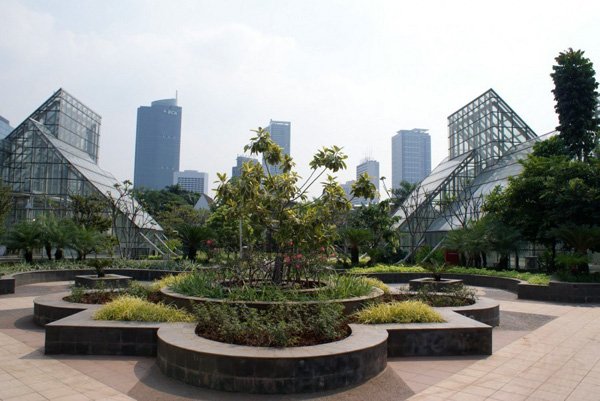 Menteng Park is another park is located in Central Jakarta. Menteng Park is easily to find, because in the middle of this park, there are several glass-houses that make an icon of this city park.
Menteng Park is also known as a culinary centre. You will find food sellers right next to the park. Besides a jogging track and a playground for children, this park also accommodates a basketball field.
You can also find Jakarta Book Hive spot in this park. Reading in the park can be one of your recreational option. 
Jalan HOS. Cokroaminoto, Menteng, Kota Jakarta Pusat, DKI Jakarta 10310, Indonesia
6. Monas Park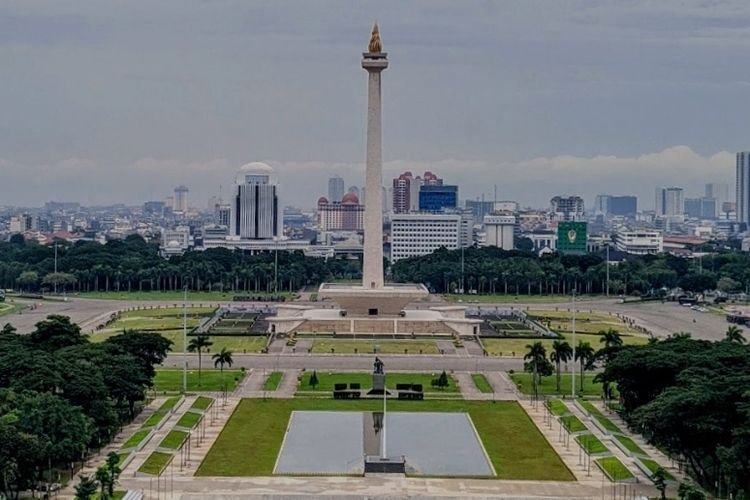 Photo credit Kompas 
Tthe park surrounding the symbolic Monas should not be missed by anyone visiting the National Monument complex. With a total area of 197 acres, makes is one of the biggest city park in Asia. There are lots of big trees, with benches under it to relax and, nice pathways to walk on. You could also see the cultivation of spotted dears that were originated from Istana Bogor, at the park. At night, the park gives a 'dancing fountain' performance for free, where the water fountain moves and sways to the beat of the pop music played to the audience. A wonderful experience every Jakartans should check out at least once!
The National Monument (Monas)
Jl. Medan Merdeka, Central Jakarta
7. Langsat Park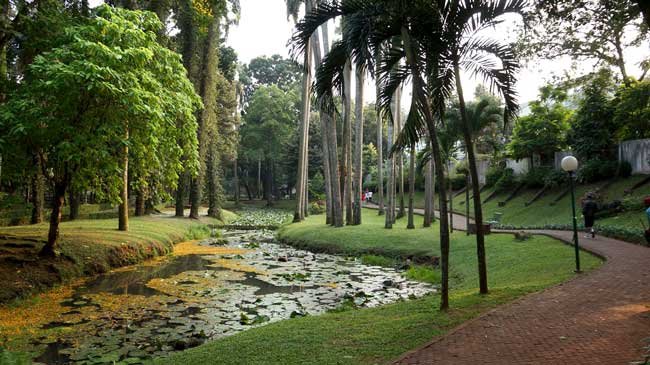 Over the years, Taman Langsat, or offically named the Langsat Senion Citizen Park, has undergone quite the facelift. This park used to look scary, with unattended puddle of muds and overgrown trees and grasses, but now, the park has been gaining popularity as a park for sport activities. It has a functioning jogging track, reflexology rock path, park benches, and some new ponds and open plaza area.
Jl. Langsat No.1, Kebayoran Baru, South Jakarta
8. Potret Park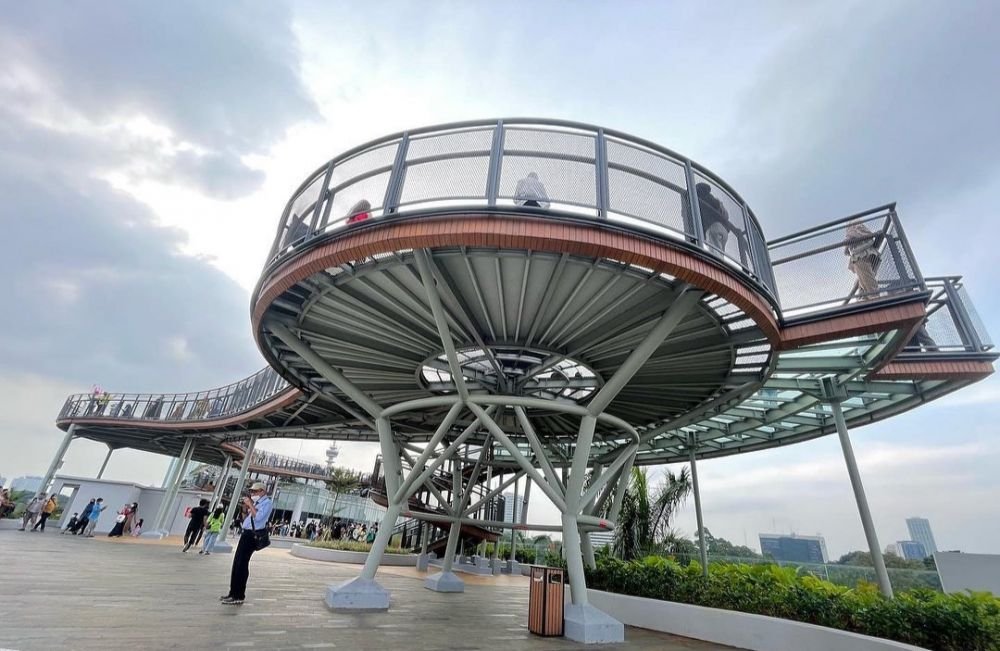 Photo credit IDNTIMES
Since the inauguration of this park in early 2015, Taman Potret, which stands on an area of five hectares, is always crowded with visitors. If you want to visit this park, you don't have to worry about access to the place. Taman Potret is located in an urban area, so everyone can easily access the location. 
There are various replicas on display in this park; such as a statue of a dancing woman, a replica of the Pinisi ship, and the inscription I Love TNG which can also be read as I Love Tangerang. The neat arrangement and various well-maintained plants are the main attractions of this park. For those of you who want to relax in an open green space, it never hurts to spend time here as it is also a perfect spot to soak up the sun and breathe some fresh clear air. You can also have a snack in the Taman Potret Snack Market area which serves a variety of foods.
Cikokol Tangerang City, Tangerang
9. Scientia Square Park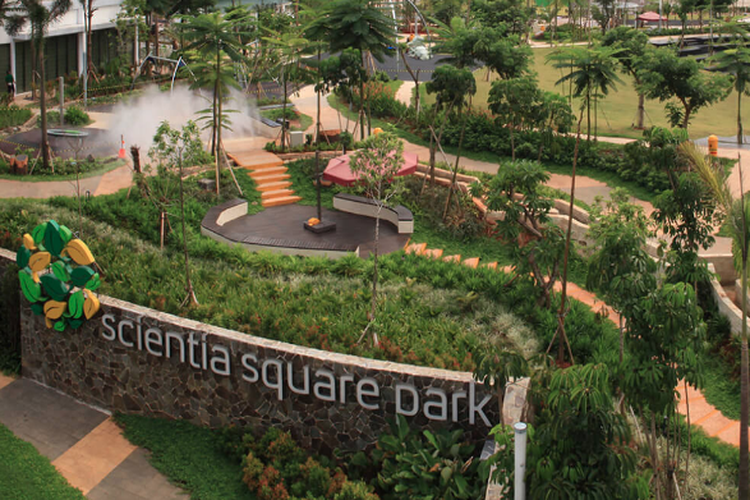 Photo credit Kompas.com
Scientia Square Park (SQP) is a 7,500 square meter privately managed open space with many facilities like skatepark, in line skate, wall climbing, street work out, baby-strolling, Koi pond & Koi farm, bicycle, kids' playground, paddy field and amphitheater. In this park, you can also join the occasional activities like taichi and yoga classes.
To enter the park, you only need to pay Rp. 40,000 for weekdays, or Rp. 70,000 on weekends.
Phone: +6221 2917 1268
Jl. Scientia Boulevard Gading Serpong, Tangerang. 15810
General Operational Hours : 05:00 – 21:00
10. Tebet Honda Park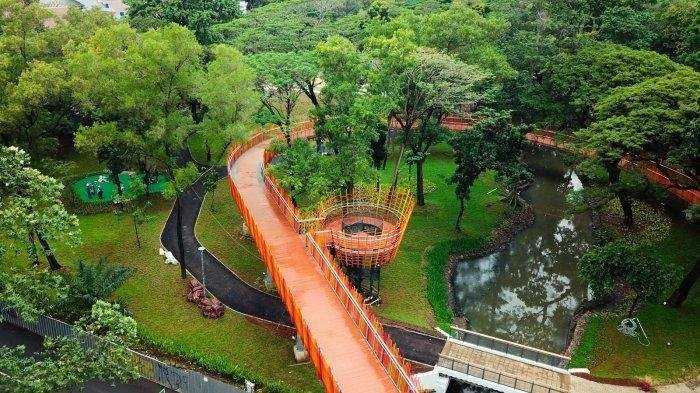 Photo credit TribunNews 
Tebet Honda Park was formerly known as Tebet Park, which was abandoned for a long time, until in 2010, PT Honda Prospect Motor decided to collaborate with the Jakarta administration to convert and rejuvenate this 2.6-hectare park, and then re-named it Tebet Honda Park. This spacious park, with more than a thousand trees, has a jogging track, children's playground, a mini soccer field, and modern bridges. Also, the unique thing about this park is that you can treat yourself to a foot massage by walking on the pebble stone path.
East of Jl. Tebet Barat and west of Jl. Tebet Timur – South Jakarta
*Opening hours may differ due to the government's restrictions and rules