There are a lot of options to escape from the concrete jungle that is Jakarta and to find lush greenery and clean unpolluted air. Within just a few hours by car, you can find plenty of areas, predominantly in West Java, to be an option for a refreshing weekend getaway with your family. But instead of staying the night in the conventional hotel, why not camping? That way, you can be right in the middle of nature, have more exciting experiences, and can do more outdoor activities.
If you don't feel like purchasing or hauling a camping set, we recommend trying 'glamping' or glamorous camping; where you will get all the fun excitements of staying outdoors, but without all the fuss of regular camping. You don't even need to cook, make a tent, or even make your own bed! Here is a list of 'glamping' grounds you can try to do around Jakarta.
Top Glamping Sites around Jakarta
Bravo! Adventure Sukabumi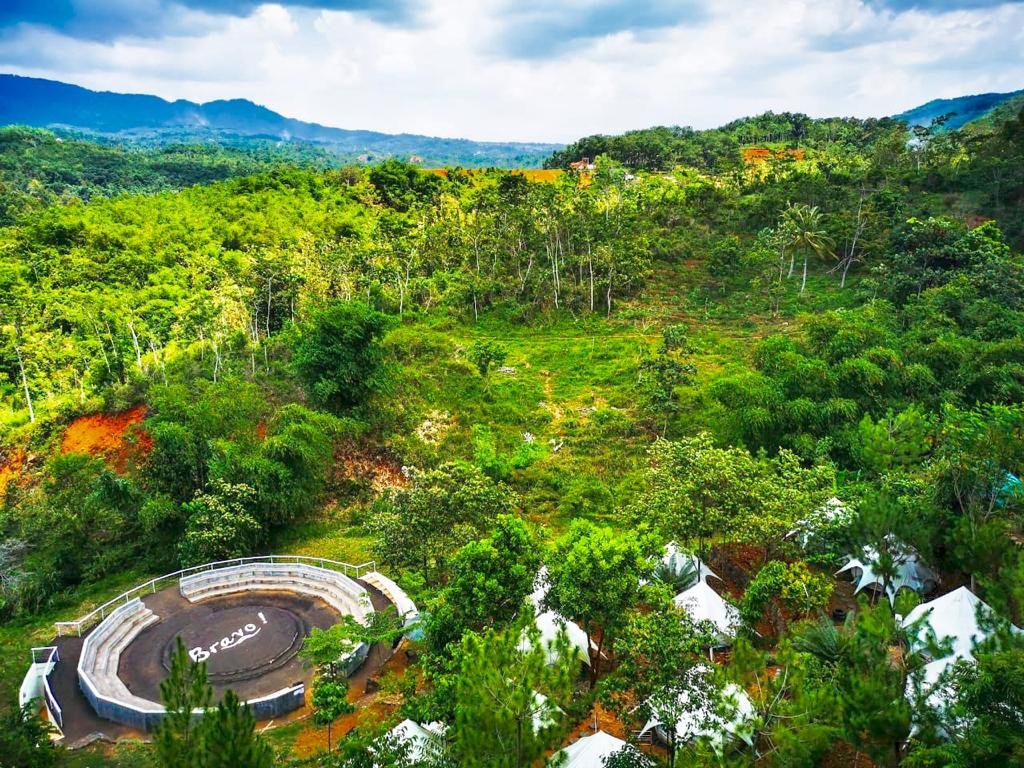 Bravo! Adventure offers a glamping-style stay package that pampers guests with soft mattresses, cool air, and warm blankets. The dome tent is set so that 4 people can stay (maximum) with facilities such as a hotel room with air conditioning, twin share beds (spring beds), blankets & pillows, towels, coffee maker with tea/coffee, sugar and mineral water, plug-n- play consoles, sitting toilet & hot shower, dinner with international menu & breakfast for two persons and coffee break (coffee, tea & snacks).
Sungai Citarik, Jl. Bantar Selang, Cikidang, Sukabumi, Jawa Barat 43367, Indonesia
Phone: +6281280208020
Instagram
Website
Glamping Gunung Pancar by The Carpenter Outdoor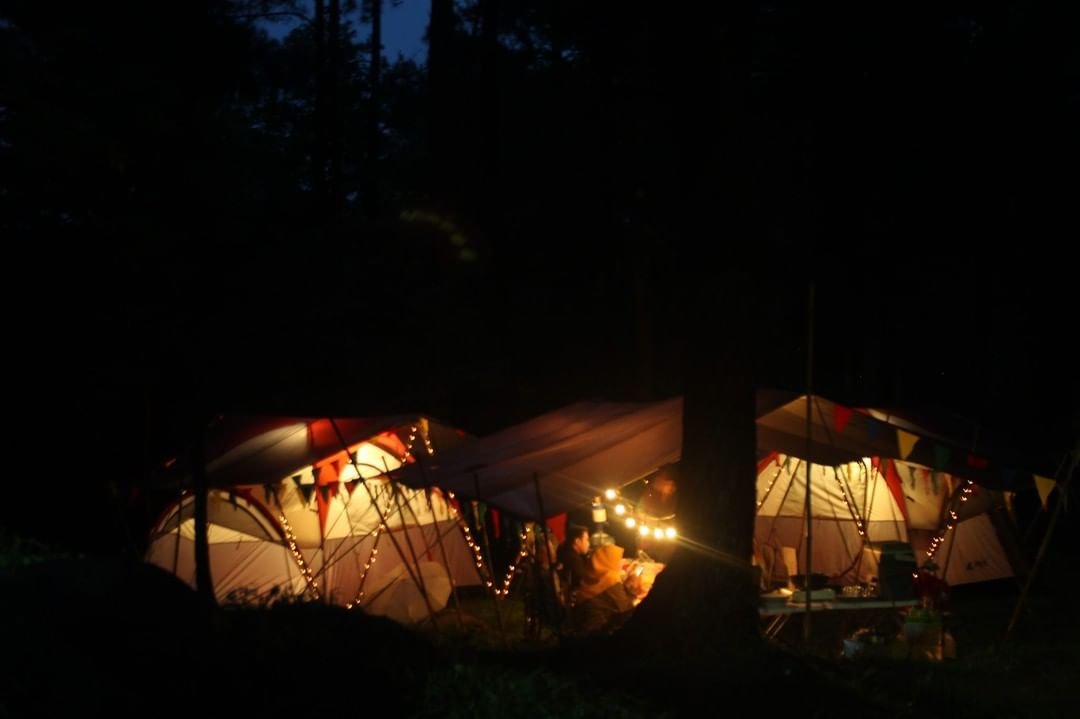 The official Gunung Pancar glamping facility is operated by The Carpenter Outdoor. Tourists or guests who stay here will be invited to experience glamping surrounded by the pine forest and enjoy nature with a new atmosphere. There are several interesting things that you can get when you stay at the glamping site, including making a bonfire, enjoying waterfalls, and playing Glamping Fun.
Taman Wisata Alam Gunung Pancar
Kp Ciburial, Desa Karang Tengah, Kec Babakan Madang, Bogor, Jawa Barat 16810
Phone: +6281399859919
Instagram
Website
Nebula Glamping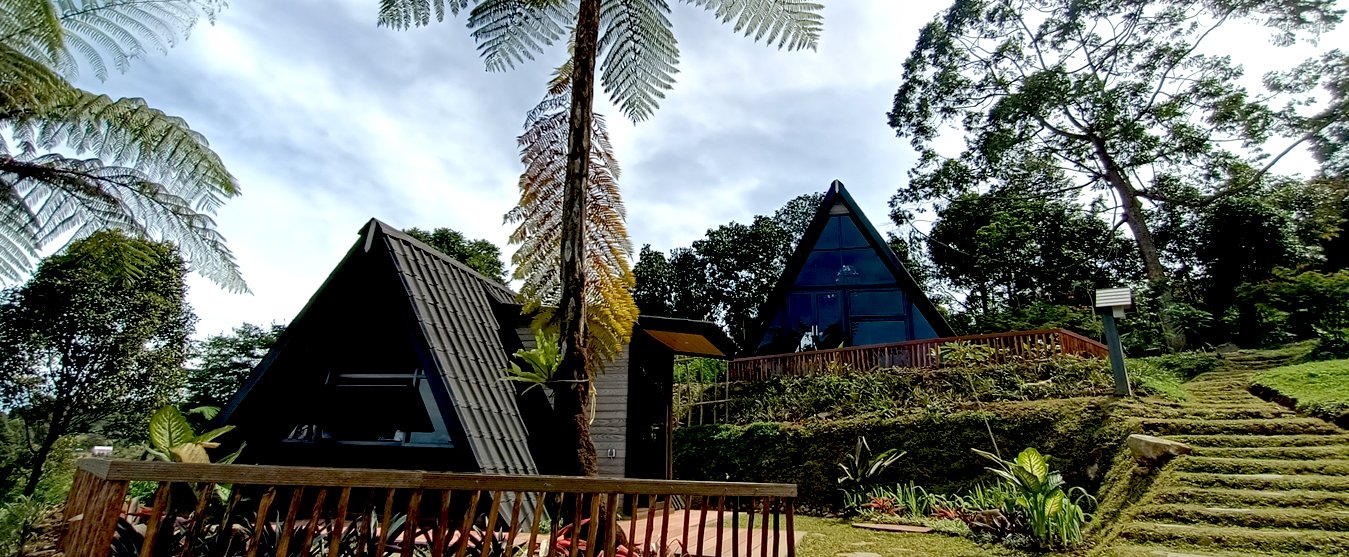 Set on a lush hillside with views of a valley and the surrounding mountains, this eco-friendly glamping site is located on the border of Megamendung and Bojong Koneng Village, Babakan Madang District, Bogor Regency, West Java. The uniqueness of Nebula Glamping compared to other glamping sites in West Java and in Indonesia is the use of walls and floors from processed plastic waste which is recycled into quality and artistic products. Therefore, staying at the Nebula Glamping, means that you are participating in the utilization of waste and playing a role in preserving the environment.
Jl. Prabowo - Cisadon, Bojong Koneng, Kec. Babakan Madang, Bogor, Jawa Barat 16810
Phone: +628118865454
Instagram
Website
Tanakita Camping Ground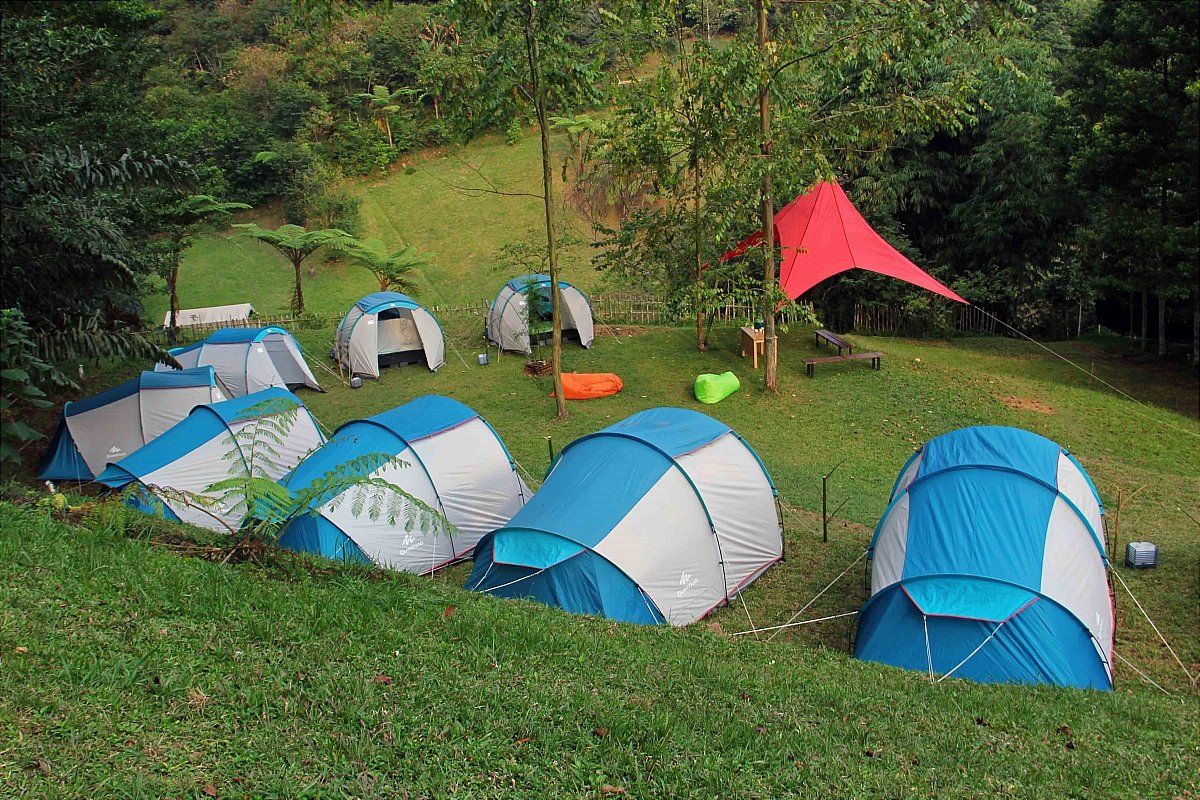 Tanakita Camping Ground is a beautiful and comfortable camping place to start exploring the forests, villages, and gardens around the camp. Enjoy the tranquility of nature in the Camp National Park forest which occupies a plot of land directly adjacent to Mount Gede Pangrango National Park for those of you who like to be in nature and without forgetting the luxury of being at home. They provide comfortable tents, clean toilets, and bathrooms as well as appetizing dishes prepared by their handy kitchen team.
Jl.Kadudampit Km.09, Desa Gede Pangrango, Sukabumi, Jawa Barat 43153
Phone: +62 811941 7845, +62 878 2063 1452  
Instagram
Website
The Forrester Glamping Co Bogor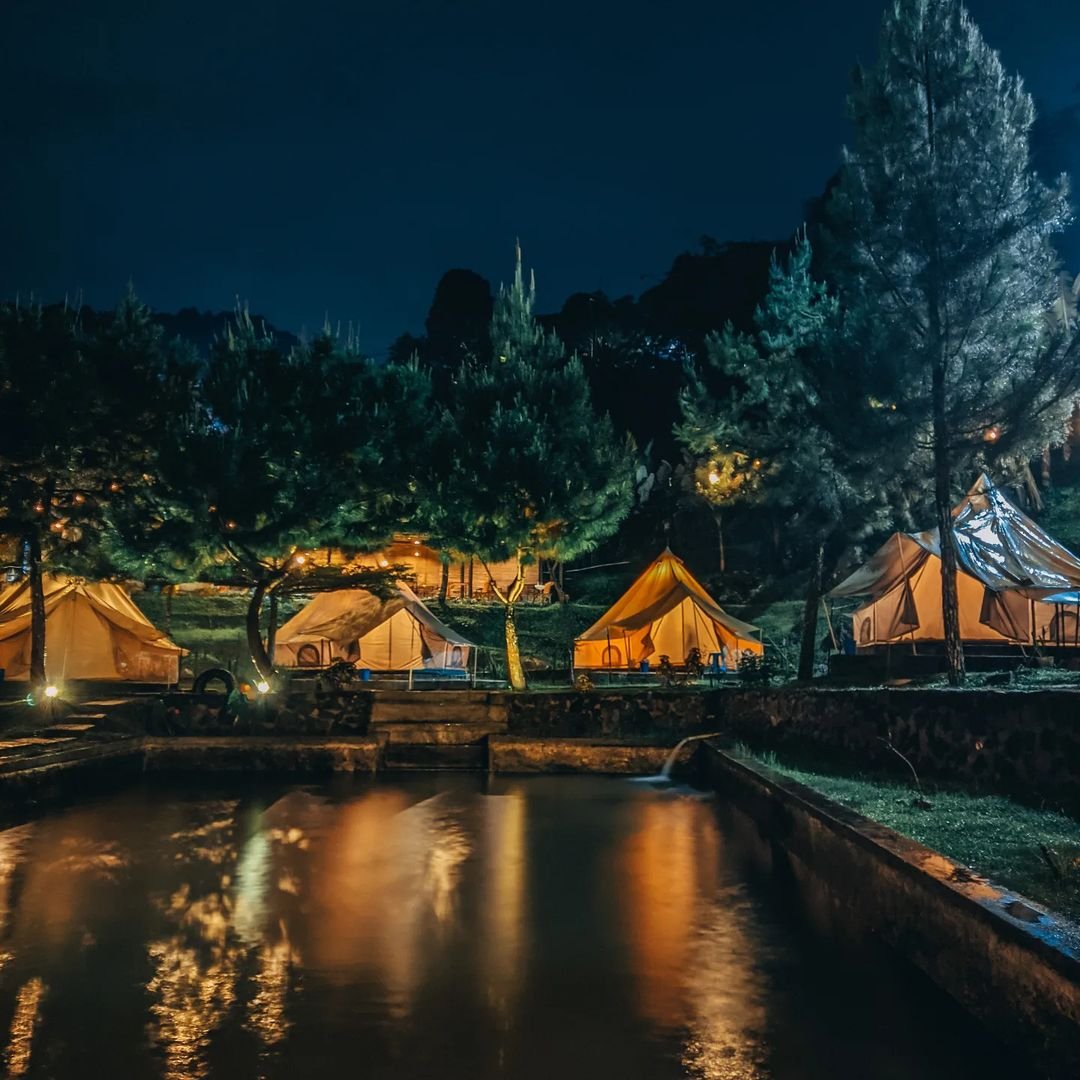 This glamping site is located in the Megamendung area, Bogor, West Java. The highlights of staying here are the bell tent design, a contemporary glamping tent that is happening in the US, Japan and the UK. Glampers can also enjoy the BBQ dinner, hot water, bonfire activity, and being able to play at the three waterfalls close to the site. If you like nature activities, this place is the right choice.
Megamendung, Bogor Regency, West Java 16770, Indonesia
Phone: +62813-1400-1358, +62822-4999-3339
Instagram
The Highland Park Resort Bogor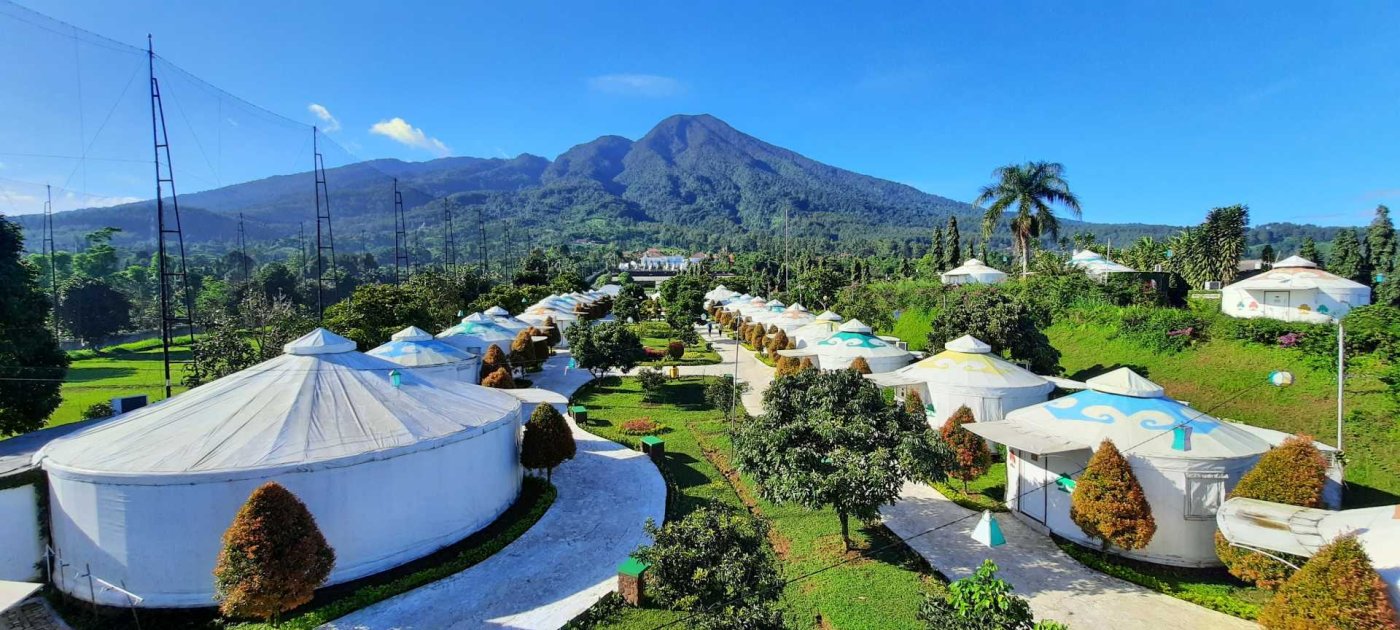 Located at the foot of Mount Salak, which includes Halimun National Park, this area is known for its challenging hiking trails and nearby locations where climbers can see the stars in plain view and the brightness of Jakarta from a distance. The Highland Park Resort comes with a resort concept with a nuance of a combination of Western and Eastern cultures, where you can experience living in Mongolian and Indian (Apache) tents with the Glamorous-Camping concept that gives you the chance to relax, breathe fresh air in beautiful nature and unwind from the urban hustle and bustle.
Jl. Ciapus, Curug Nangka, Kp.Sinarwangi, Sukajadi, Bogor, 16610 Jawa Barat – Indonesia
Phone: +62 251 848 5 777
Website