As the only halal Claypot restaurant in Bandung, Cici Claypot is already a renowned name for many foodies. Its distinctive and flavorful taste can be enjoyed by all people. It becomes the main forte that keeps people coming back for more. Curious what are the secret ingredients to their success story? We talked with Shasya Pashatama, owner of Cici Claypot to go deeper into what it is like to follow a dream, start a business, and master a craft.
Q : Before we start, may you introduce yourself first?
A : My full name is Sasha Pasha Tama, on social media, people know me as @pashatama. I have a college background and graduated in Japanese literature, so it's kind of disconnected from where I stand right now. Since 2010-2018ish I used to write about food on my personal blog called surgamakan.com (which is dusty now because I rarely update it). Then about 6 years ago, after resigning from a job in the private sector, I had time to open an online catering for home cooking. Well long story short, I've finally opened Cici Claypot in 2019 to this day.
Q: In a short period of time, Cici Claypot is already well known. Can you tell me when you first opened Cici Claypot?
A : When we first opened, we sold it at a small kiosk on Jalan Sulanjana. we were only open at night because we share the place with other people's business. So our opening hours only took 4 hours from 6 pm to 10 pm.
Q: Oh, why?
A : To be honest, when I first opened it, I wasn't too sure whether anyone would be interested in our product or not. So when a friend offered us an invitation to rent a place, Immediately took it because it was quite affordable. It turned out to be unexpected, thank God, it exploded. Then because the place was small and only opened for 4 hours, it made more people interested, in fact, there was often a waiting list.
Q: It actually became a gimmick, right? Then why did you think of opening a Claypot business in Bandung?
A: I personally really like the food in the claypot. A few months before opening, I happened to be in Hong Kong, and one of the memorable foods while there was the claypot. So when a friend offered me a place of business. I immediately thought of making Claypot because in Bandung at that time no one was selling it. So we can say we are The First Claypot in Bandung.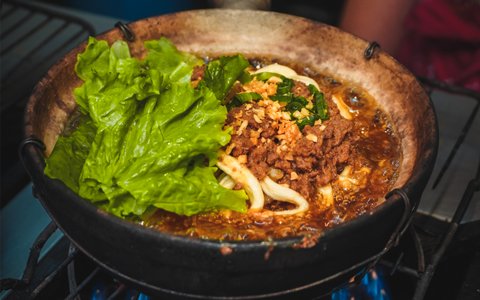 Q: So what adjustments were made to the menu? Considering that Claypot on the outside maybe is not delicate for Indonesian tastes and mostly contains pork inside?
A: Actually, the Claypot that we sell is just adapting the cooking method. I want everyone can taste my food so I made it no pork, no lard and no alcohol at all. All the ingredients are local.
Q: So interesting. So where do you get your inspiration from for the menu itself?
A: Most of them are dumbfounded, hahaha. Yes, we think about whether this dish can be cooked in claypot or not, if we can, we try it. Like our mainstay menu, Mie Kriuk Siram. This menu appeared even the day before we opened so it's not in the first menu photo. We think about it, keep trying to make it, give it a try to friends, they like it, then we sell it. There are also some menus that come from our grandma. Like the Beancurd Chicken Soup menu, when we were sick, grandma used to make it for us. So because I remember the menu and it can be cooked in claypot, voila, this menu is available here.
Q: How about seeing the claypot business in Bandung yourself?
A: I think the market is really big because when we opened it for the first time, no one was selling claypots yet and it seems that until today, no one has the characteristics of the menu like me. Another thing that makes us happy is that basically this menu was created not halal and now everyone can eat it. For example, one of our menus, Chicken Sayur Asin or usually called Bakut. The original recipe contains pork, so here we are making this menu halal. Finally, everyone can eat, it's nice. Moreover, in Indonesia, the market for halal food is very large too.
Q: If I'm not mistaken, currently Cici Claypot also has branches outside the city, right?
A: Yes, we have in Medan and Bali. Even in the two places mentioned earlier, the non-halal market is quite large. But we still sell a halal menu. Yes so everyone can try our food. It still tastes delicious though.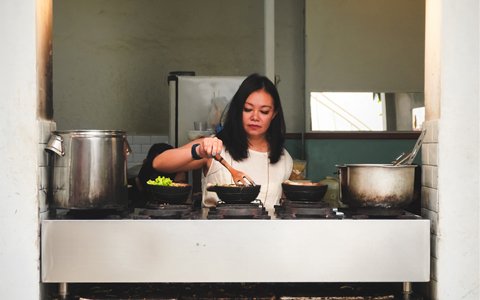 Q: Then how about the ups and downs of Cici Claypot's business?
A: It's the toughest during the pandemic, right? Moreover, at that time we had just moved to a new place on Jl. Trunojoyo. 3 months after moving, the pandemic has stopped everything. But the lesson is that we are motivated to keep thinking and innovating. An example is that our food is not suitable for packaging, so during a pandemic, we were looking for something so that it can be sent. Now we can even send it out of town.
Q: What did Cici Claypot do during the pandemic?
A: We collaborated a lot. We initially thought of opening a purchase order service once a week. But for fear of being bored with eating a lot of claypot dishes, we finally tried to collaborate with various friends who have culinary businesses as well. Starting with Khas Roti Selai, Pempek Mommie, Contrast Coffee, Imah Babaturan, to Kozi Coffee. So it's interesting that at one price, you can get two items. From there, we continue to be creative. So think about what else to innovate, from the menu to the service. Recently, we were finally able to make a breakfast menu after the pandemic.
Q: With a writer background before opening the business, does it have any effect on the business? Is there anything that makes it easier?
A: It's really easy in terms of promotion, of course. Because after 10 years of writing food, people have the mindset that if you want to know about good food in various places, just ask Sasha. So it's okay, maybe 30% of people already believe that my product must be delicious. During the 3 years we were open, we had never paid money to pay for advertising. Thank God, friendship is very helpful. Many friends, who used to also write food, came and posted about Cici Claypot, so more and more people know from there.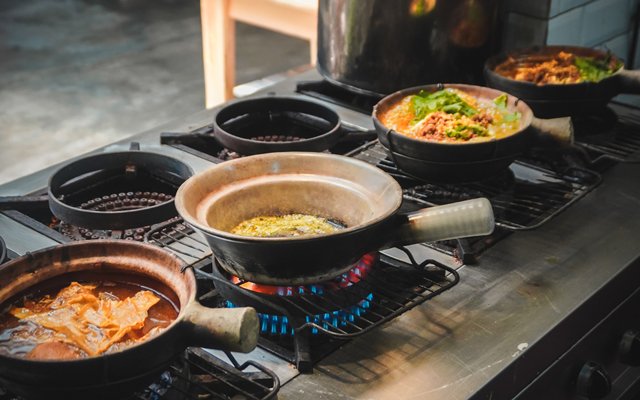 Q: What is your next target?
A: We just want to continue to innovate and always evaluate if something is lacking. Because after I started this food business, how delicious our food is, we have to keep innovating so that customers don't get bored. Then I am not the type of person who wants to expand big and keep opening it everywhere. It's good to focus like this so that the business will continue to exist for another 10-15 years or even more. The point is to stay happy as well.
Q: Okay, thanks for the interview. More success to Cici Claypot.
A: Our pleasures.