It's that time of the year for the 'buka bersama' gatherings after work, with colleagues, family, or your high school friends. We have picked some of the best buffets in Jakarta for an unlimited iftar feast. Stick around as we will keep updating from time to time.
5-Star Hotels
AYANA Midplaza Jakarta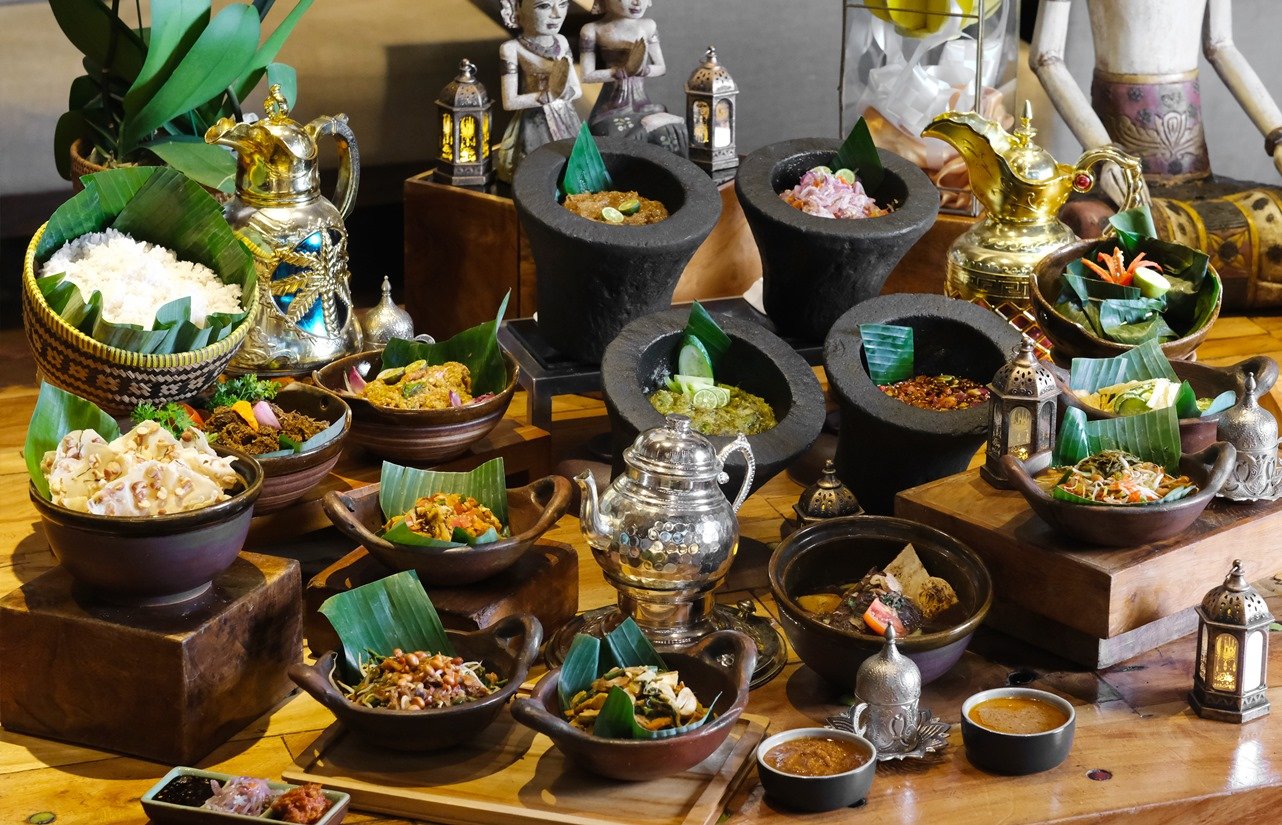 The hotel's famous buffet restaurant, Rasa, has an outstanding specialty daily Iftar menu to make breaking the fast feel more festive. Start with an assortment of Takjil delicacies to ease your way into the evening meal. To whet appetites further, diners can enjoy freshly prepared sweet and savory Indonesian hawker-style favorites from several live cooking stations, including a meat carving and Middle Eastern Shawarma kiosk with delicious condiments. Rasa's Pawon serves the best Javanese cuisines, such as Daging Serundeng Manis, Ayam Geprek, Tumis Asin Pete, Pindang Ikan, and many others. The 'Jelajah Rasa' breaking the fast buffet costs IDR 538.000++ per person from 17.30 – 21.30 with menus rotating daily. AYANA Midplaza Jakarta has fantastic dining offers for those looking for a regular seat at the Rasa restaurant's table.
Jl. Jenderal Sudirman Kav. 10-11, Jakarta 10220, Indonesia
Phone: (+6221) 251 0888
DoubleTree by Hilton Jakarta – Diponegoro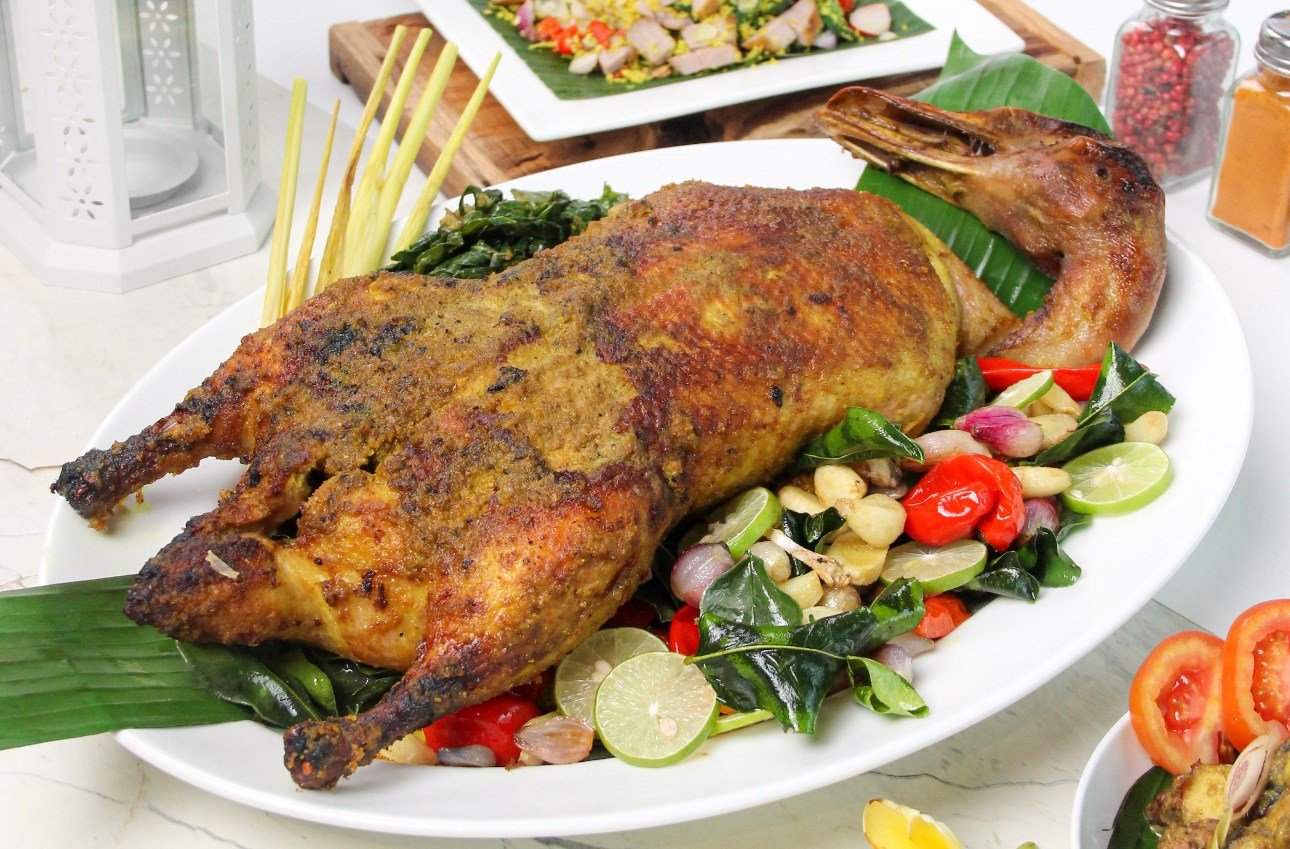 Have a unique Iftar session and discover the finest flavours of Nusantara at OPEN} Restaurant. Bringing some of the most talented chefs from four Hilton hotels in Indonesia – namely Conrad Bali, Hilton Bandung, DoubleTree by Hilton Jakarta – Diponegoro and DoubleTree by Hilton Surabaya – the restaurant showcases enticing local delicacies with authentic recipes. Savour lavish buffet spread across Jakarta, East Java, Bali and West Java with various selections of highlighted dishes personally prepared by each chef every week throughout Ramadan. Complete the meal with a wide range of traditional takjil and fresh cuts of Asian favourite fruits, Durian, available from 7 to 8 PM. With lively ambience extending to the refreshing lagoon swimming pool, the gourmet night is priced at IDR 568,000++ per person, available during the month of Ramadan.
Jl Pegangsaan Timur No.17, Jakarta, 10310, Indonesia
Phone: +62 21 29857000
Fairmont Jakarta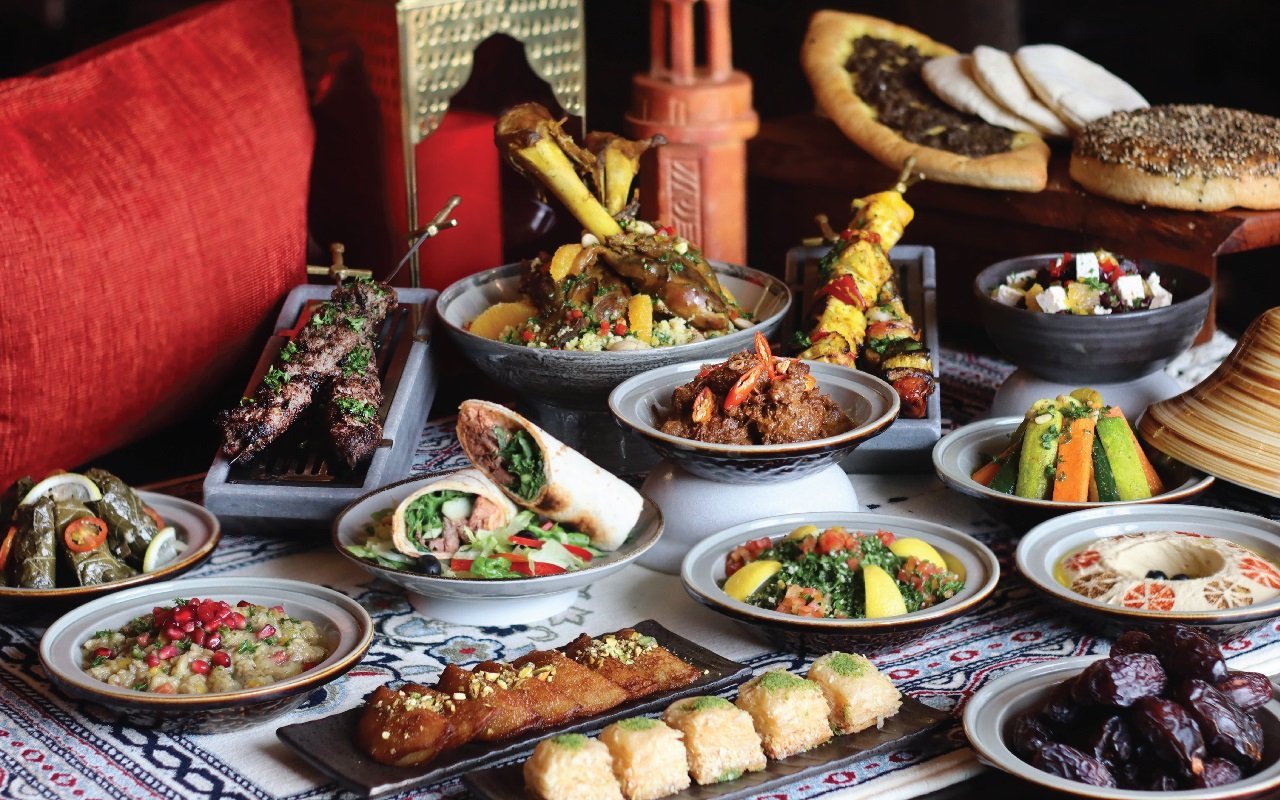 Authentic Indonesia meets Fairmont finesse would describe the offering at 1945 Restaurant.  This Ramadan, Indonesian culinary legend Sisca Soewitomo returns to 1945 Restaurant to work  alongside the restaurant's Sous Chef, Vicko Hadisatrya in presenting exclusive Ramadan buffet. Amongst the wonderful buffet spread and live cooking stations, Ibu Sisca will have her own "Nasi Campur" section, capturing the most flavorful dishes of the all-time favorite authentic  Indonesian delicacies. The buffet also features a carving station, grilled seafood, succulent satay, noodles and soups, cold salads,  fritters, and a wonderful dessert selection and takjil. The Iftar Buffet at 1945 Restaurant is available daily and priced from IDR 550,000++ per person.
Iftar is served within a transformed Arabian haven at Spectrum Restaurant. An inspired band playing classic hymns and a fantastic selection of Arabic and international dishes are set to impress guests. With a rotating menu of mouthwatering global cuisine each week, Spectrum will highlight unique flavors from different countries including Lebanon, Saudi Arabia, Morocco, and Egypt. The Iftar buffet is available daily from 6 pm to 10 pm and priced from IDR 528,000++ per person.
Jl. Asia Afrika No. 8, Jakarta Pusat, Indonesia 10270
Phone: + 62 21 2970 3333
Four Seasons Hotel Jakarta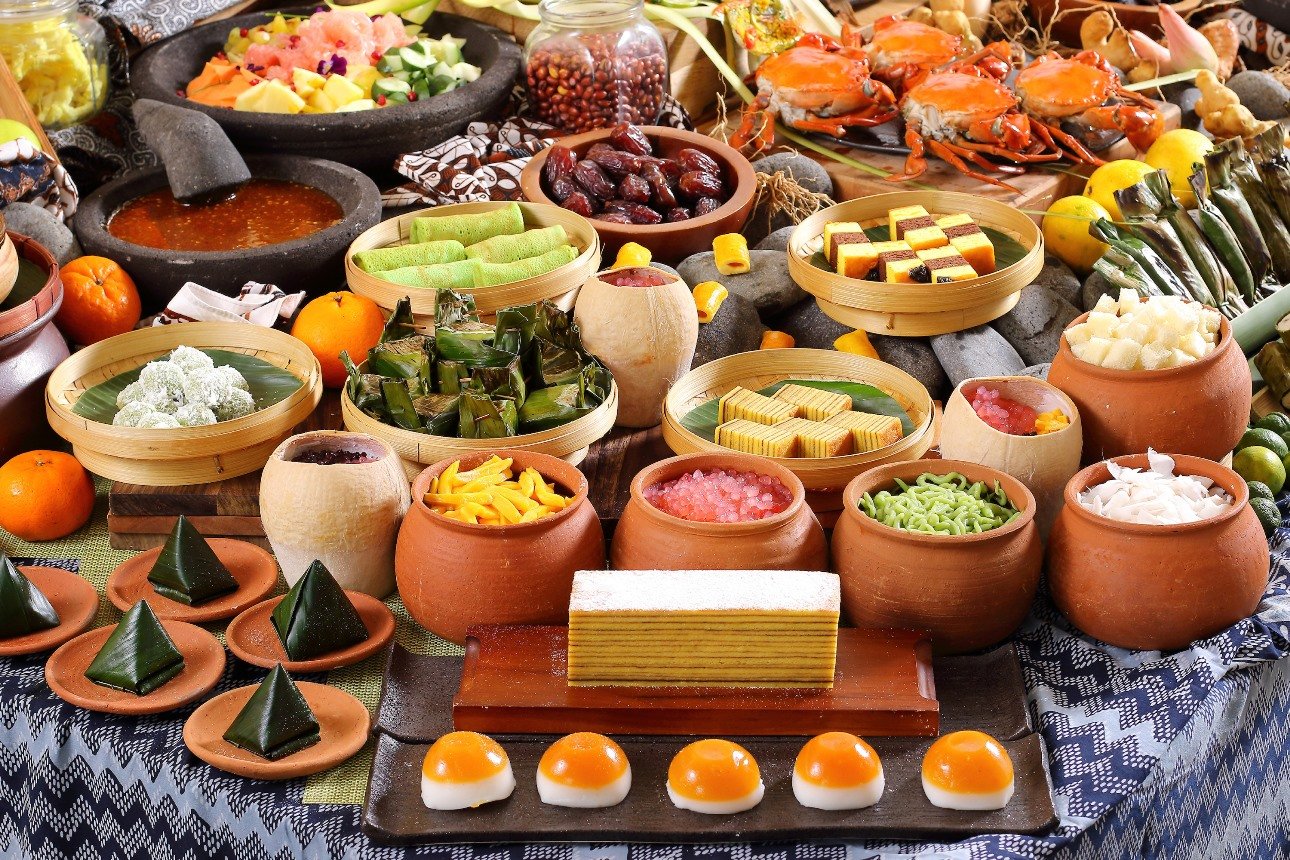 Guests are invited to break their fast with a superb Iftar buffet at Palm Court restaurant, decorated in resplendent blue and gold. Crafted by a trio of local talents, Chefs Tri Priyanto, Asep Hamdani and Darius Tjahja have created this Ramadan feast filled with beloved Indonesian flavours. Must-try specialties include Grilled Chicken with Lemongrass and limau, South Minang Style Braised Beef with Indonesian Spices and Herbs, and Pan Seared Turmeric Marinated Fish with Roro Jongrang Sauce. Watch Four Seasons chefs in action at the live-cooking counters, offering freshly made delights such as Lamb Shawarma, Mie Ayam with Meatballs, and Roti Cane. The dessert selection brings the night to a perfect sweet finish, with indulgences such as Es Dawet Ayu, Mini Pisang Ijo, and Mango Sago with Vanilla Gelato. Price at IDR 580,000 net per adult, IDR 290,000 net per child.
Jl. Jend. Gatot Subroto Kav. 18, Jakarta Selatan 
Phone: +62 21 2277 - 1888
Gran Melia Jakarta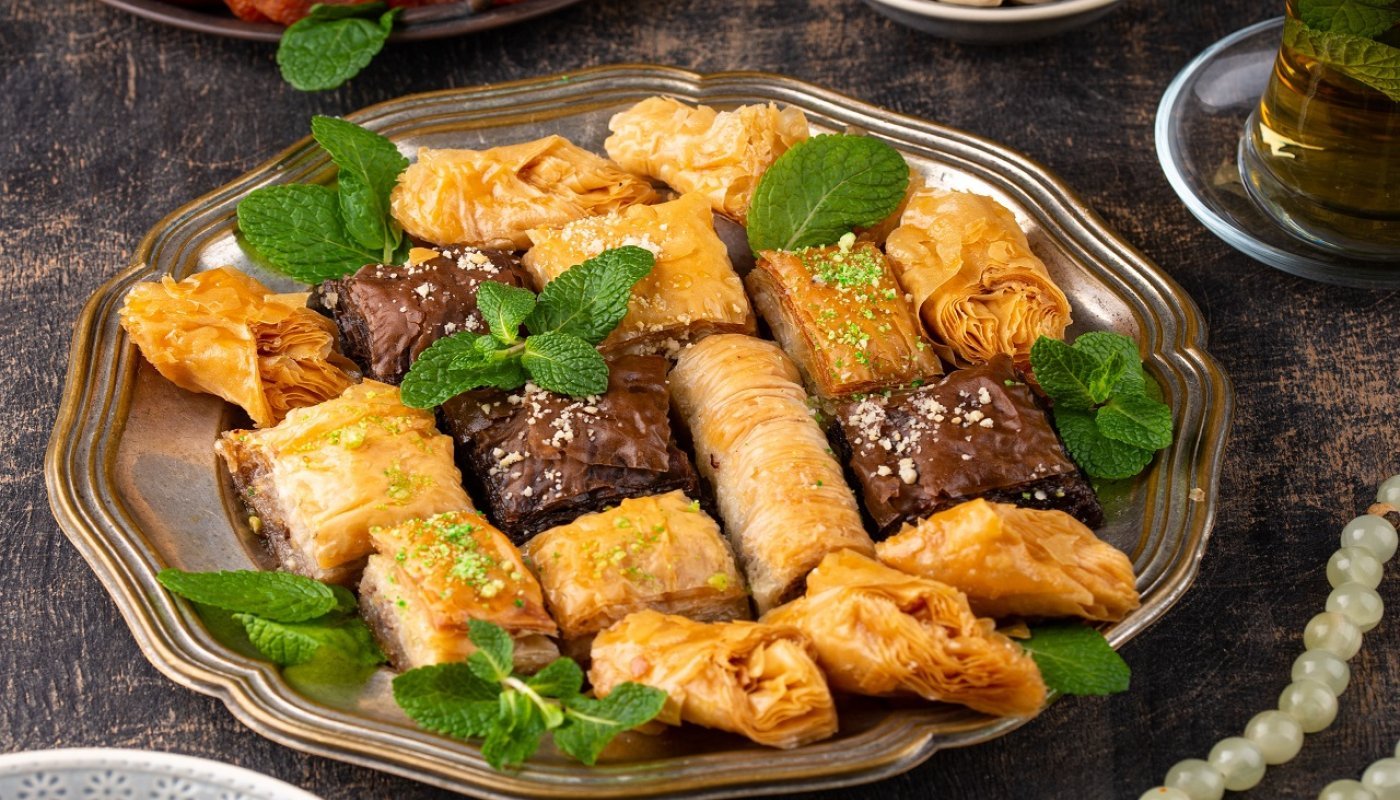 Café Gran Via, the all-day dining, offers a delicious theme iftar buffet featuring a lavish spread of mouth-watering Indonesian & Middle Eastern specialties as well as International favorite recipes with an assortment of traditional sweets and refreshing drinks. During the Holy Month, Café Gran Via will charm guests with its calm & relaxing atmosphere and the gentle melodies of Oud music. The ultimate iftar buffet is priced at IDR 499,000 ++ per person. A special offer of 20% off is available for MeliaRewards members, BCA, BNI or HSBC card holders and reservations through Chope. Terms and conditions apply.
Jl. H.R. Rasuna Said Kav. X-0 Kuningan, Jakarta 12950, Indonesia  
Phone: +62 21 526 8080 ext. 2213 
Grand Sahid Jaya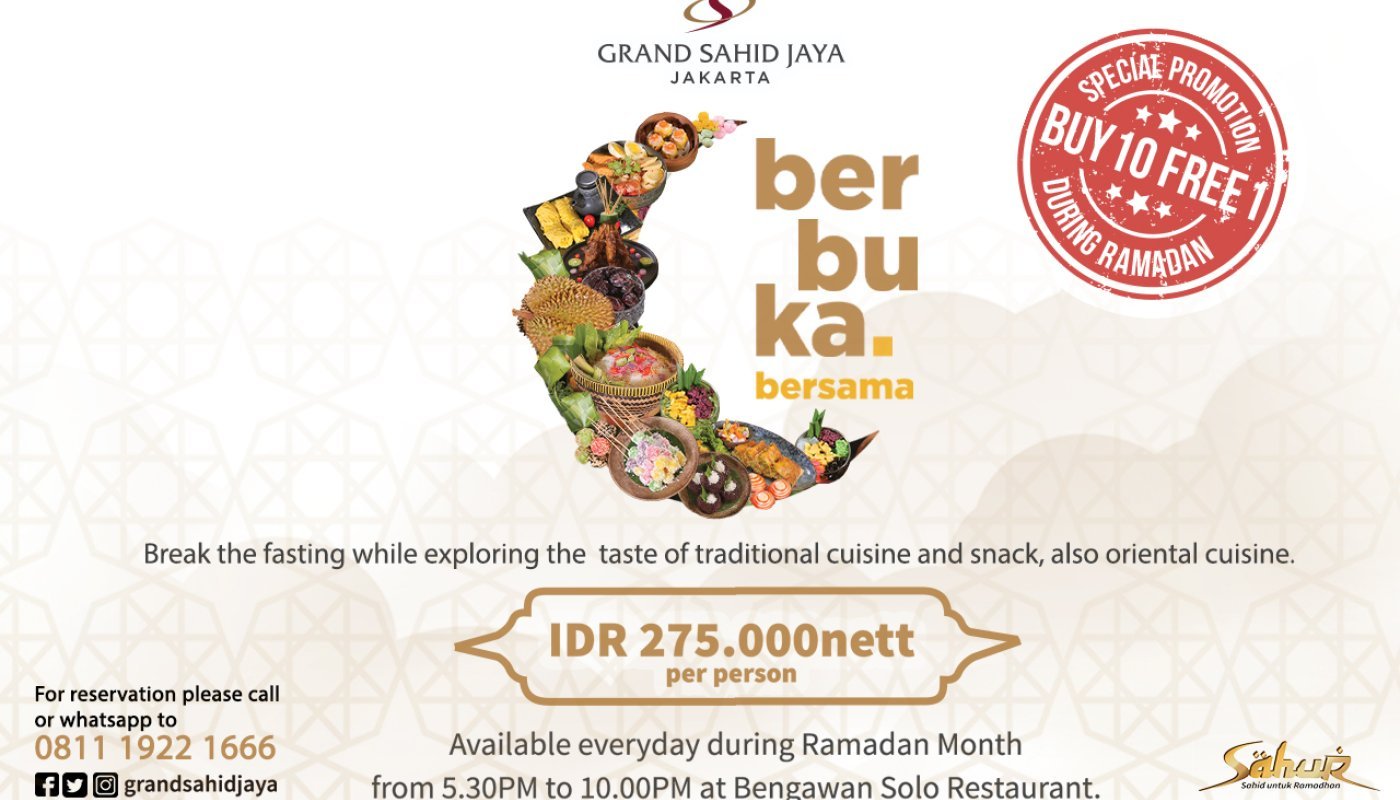 "Berbuka Bersama" presents the experience of breaking the fast in a month with 100 buffet dishes that shift every day consisting of a variety of Indonesian, Peranakan, and Cantonese specialties. These dishes can be relished indoors and outdoors, and some of the menu are even served fresh and live-cooked by Grand Sahid Jaya's top chefs for only at IDR 275,000 per person. Meanwhile, for customers who have not had the opportunity to get an Early Bird Booking promo, Grand Sahid Jaya offers a Pay-10-Get-1 promo.
Jl. Jenderal Sudirman No.Kav. 86, Karet Tengsin
Kecamatan Tanah Abang, Jakarta, Daerah Khusus Ibukota Jakarta 10220
Phone: +62813-8279-2878
Hotel Indonesia Kempinski Jakarta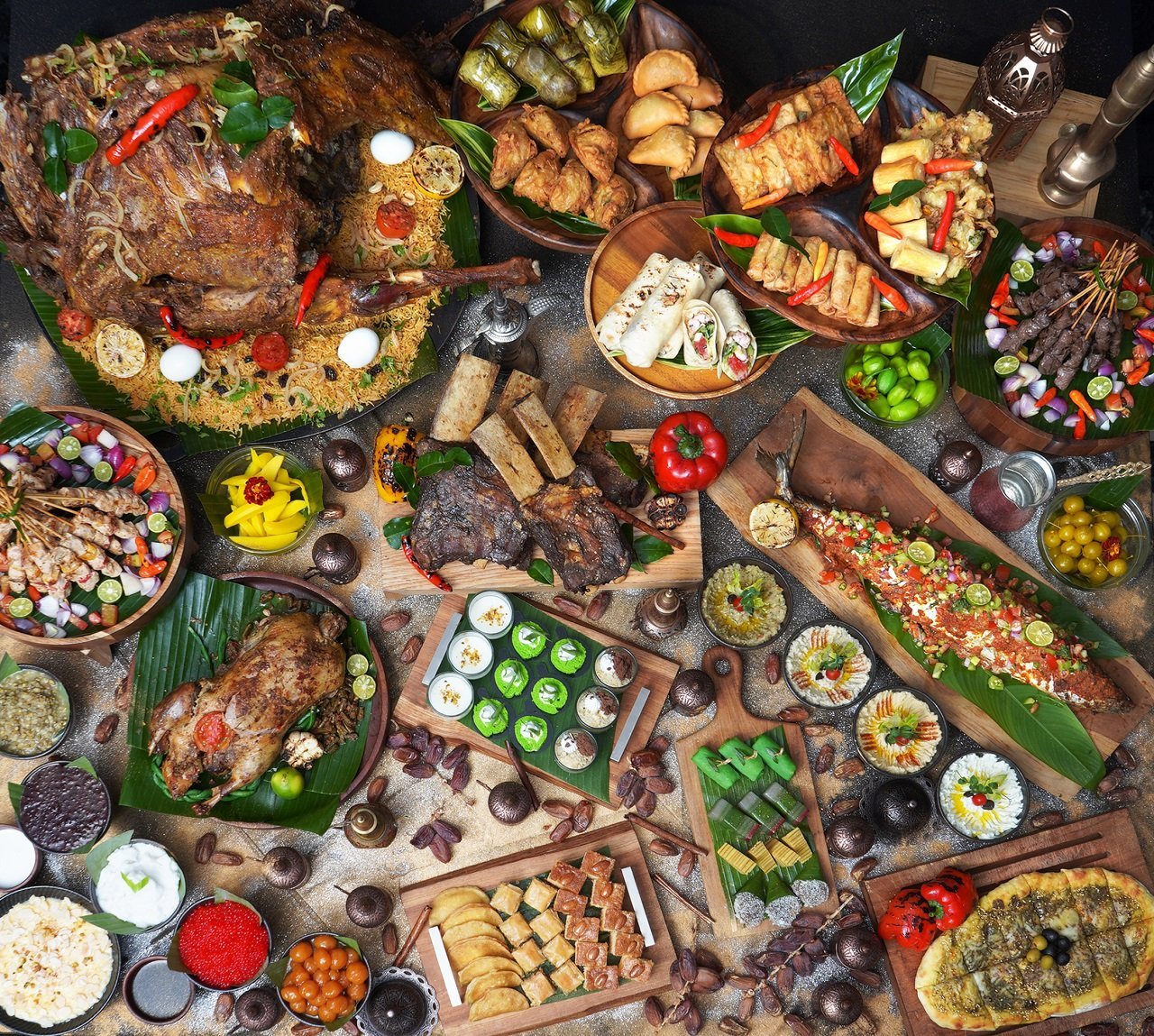 Enjoy a fruitful reunion with a feast of authentic Indonesian cuisine and international fare as you gather in gratitude this holy month at the Signatures Restaurant. Enjoy the lavish themed buffet spread showcasing Arabian and International flavours featuring with kambing guling, iga bakar rempah, shawarma, bebek betutu, baklava, nasi kebuli and a variety of nusantara satay and takjil, bringing you on a culinary journey this Ramadan. Located in the heart of the city of Jakarta, Signatures makes the ideal place for an unforgettable iftar.
Weekday Dinner IDR 510,000++
Weekend Dinner IDR 670,000++
Available from 23 April to 23 May 2023.
Jl. MH. Thamrin No. 1 Jakarta 10310, Indonesia
Phone: +62 21 2358 3800
InterContinental Jakarta Pondok Indah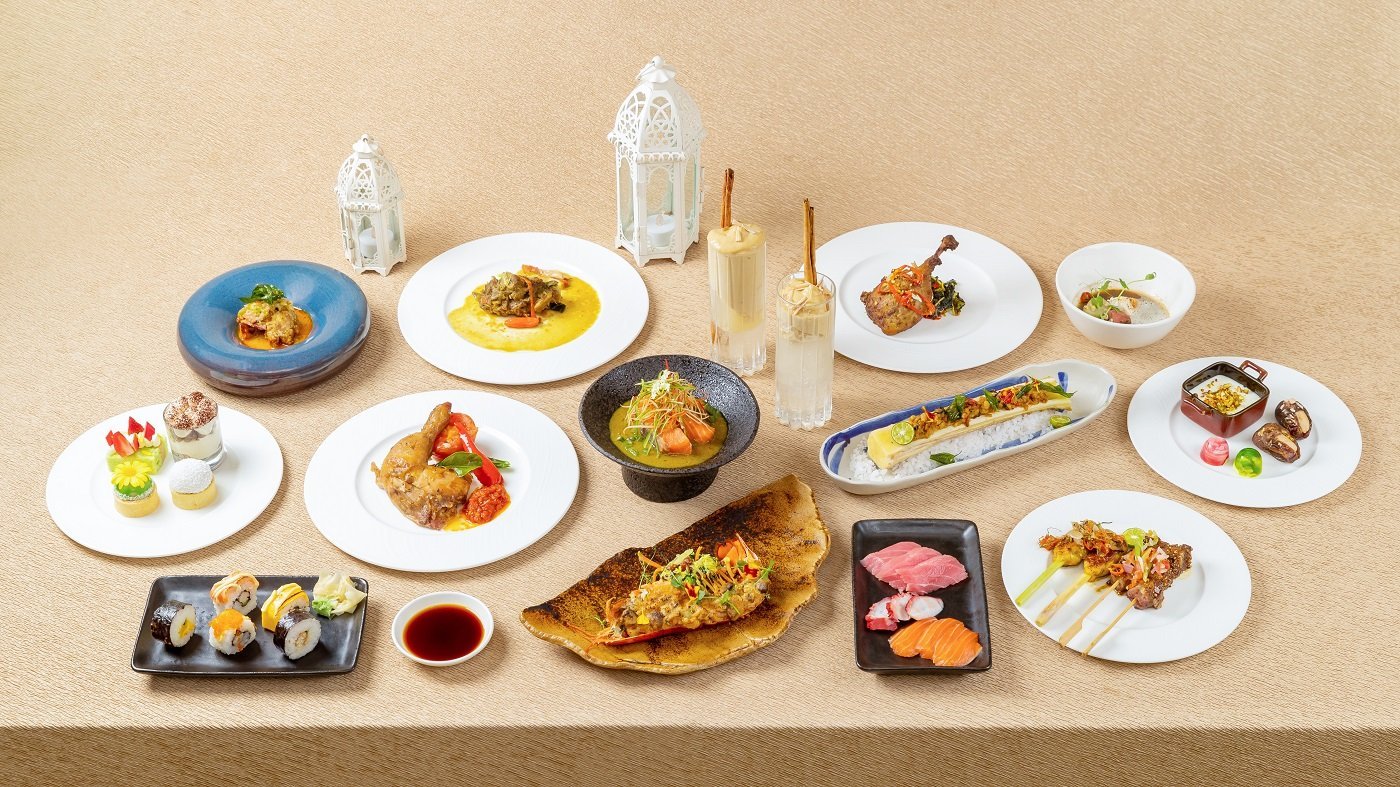 Every year, InterContinental Jakarta Pondok Indah invites a distinguished Guest Chef to add to their all-star culinary team. This year, the hotel has appointed Chef Norman Ismail to join their decorated culinary team.
Affable, charming, and undoubtedly skillful in the kitchen, Chef Norman is currently the host of popular cooking show as well as the author of at least two cookbooks on Indonesian cuisine. Think Crispy Soft Shell Crab served in Traditional Shrimp Bisque, Rawon Soup with Brisket Meat, and many more similarly innovative dishes that will be the talk of the town for many months to come. All of this deliciousness will feature in Sugar & Spice's special Iftar Buffet available from 22 March until 21 April (from IDR 698,000++ / person).
Jl. Metro Pondok Indah Kav. IV TA
Jakarta 12310, Indonesia
Phone: +62 21 3950 7355
JW Marriott Hotel Jakarta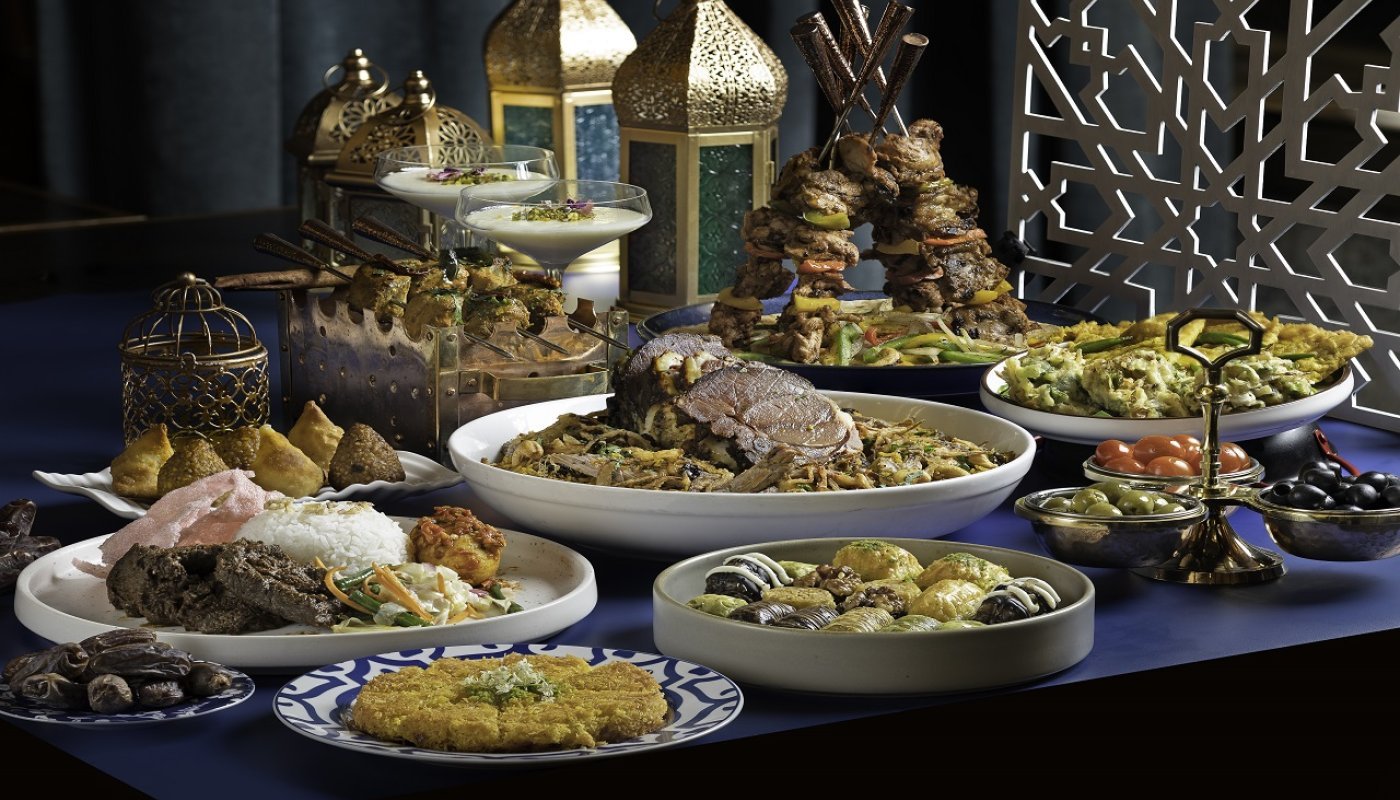 Throughout the Holy Month, guests can bring family and friends to Sailendra Restaurant to savor a decadent spread of iftar buffet, highlighting the much-loved Middle-Eastern and all-time Indonesian dishes, Live grilled stations, and free-flow drinks. With a wide selection of the finest dishes from Middle Eastern and Indonesian, such as Zaatar Manageesh, Chicken Khati Roll, Falafel, Dawood basha, Chicken Kebab, Harira, Rendang, Ayam Bakar Minang, Kentang Balado, Ikan Bakar Parape, Tabbouleh Fatouch, Humus, Babaganoush, Shawarma, Dates, Indonesian Fritters, Arabic sweets, and more; the thematic iftar buffet at Sailendra is available daily throughout the month of Ramadan at IDR 488,000++ per guest on Weeks 1 & 4, while the price starts at IDR 558,000++ per guest on Weeks 2 & 3.
Jalan DR.Ide Anak Agung Gde Agung Kav.E.1.1 no.1, Kawasan Mega Kuningan, Jakarta 12950 - Indonesia
Phone: +62 21-57988888
Mandarin Oriental, Jakarta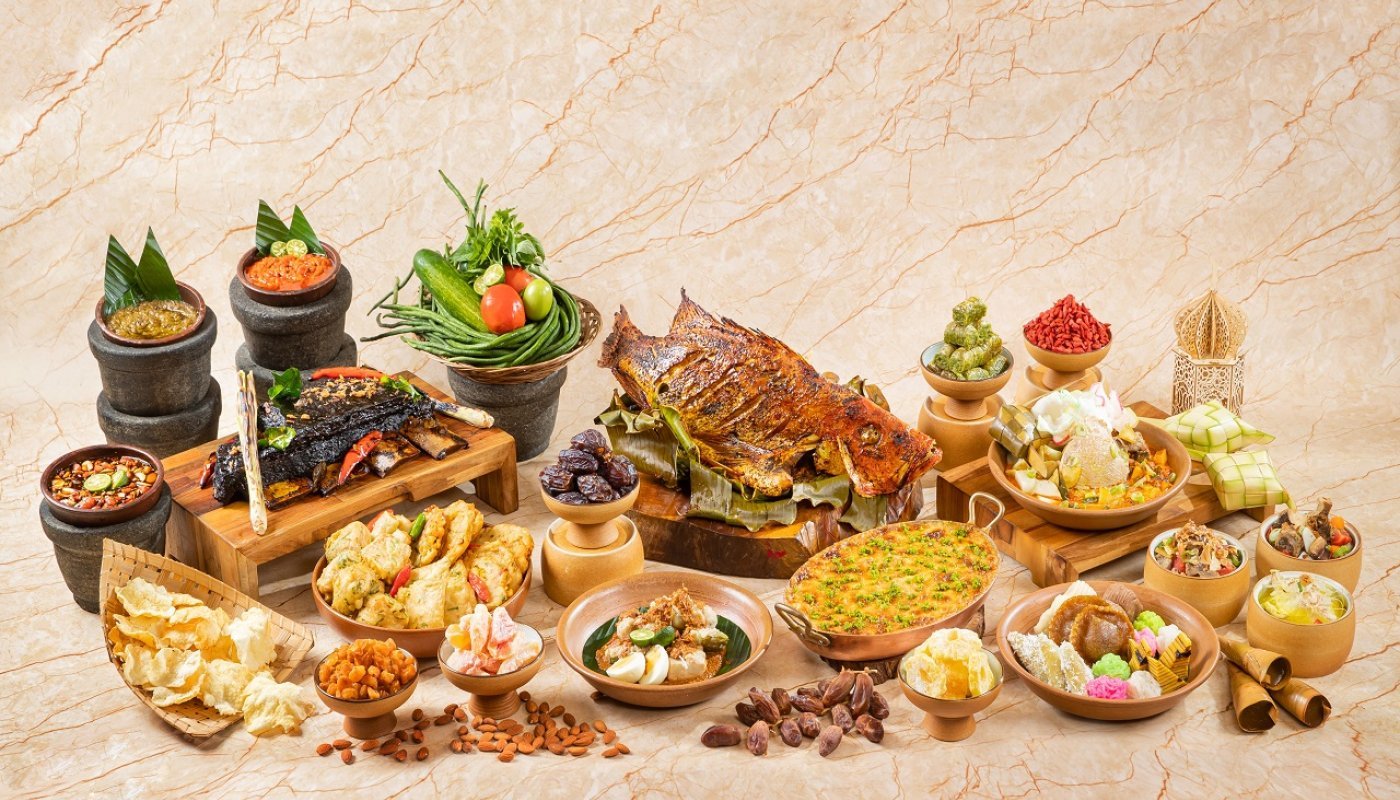 There's no better way to get connected than through sharing heartfelt dishes at the  Iftar Buffet at Cinnamon. Priced at IDR 588,000++ per person. Available from 22 March to 21  April, this culinary showcase allows you to explore different types of food and beverage offerings ranging from meat carving, ketupat sayur and grilled fish to a wide selection of sweets to break your Iftar. The kitchen team helmed by Chef Jefry Adytia is ready to quench your thirst and pamper your palate with their daily rotating curated menu. For more information and reservations, please contact Hello MO via WhatsApp +62 (21) 2993  8888 or email to [email protected].
Jalan M H Thamrin, PO Box 3392, Jakarta 10310, Indonesia
Phone: + 62 (21) 2993 8888
Park Hyatt Jakarta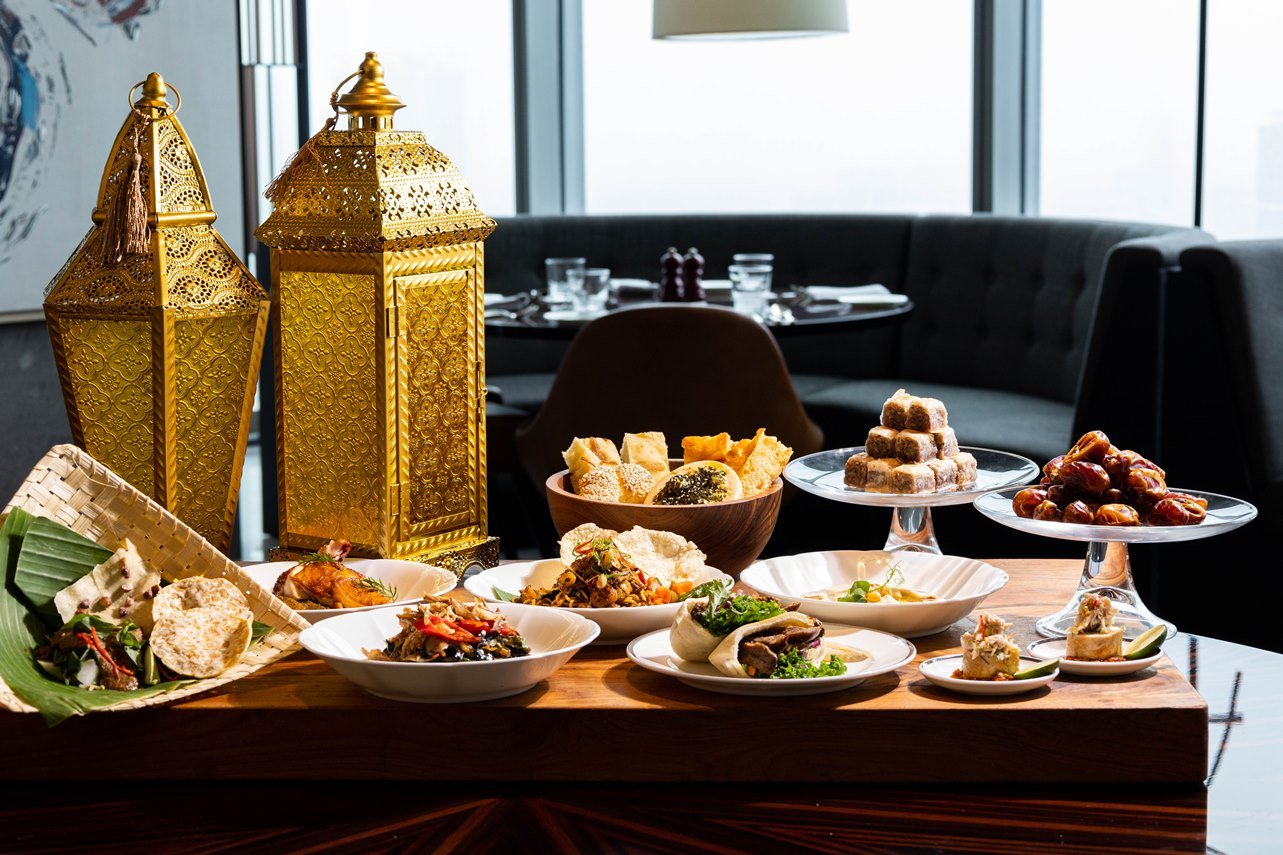 Celebrate the blessed month of Ramadan with a delightful Iftar buffet at the Dining Room. Curated by Chef de Cuisine Indrawan Ardy and the team, these East-meets West flavors await your discovery. Price: IDR 688,000++/person.
Jalan Kebon Sirih 17-19, Jakarta, Indonesia, 10340
Phone: +62 21 3111 1234
Pullman Ciawi Vimala Hills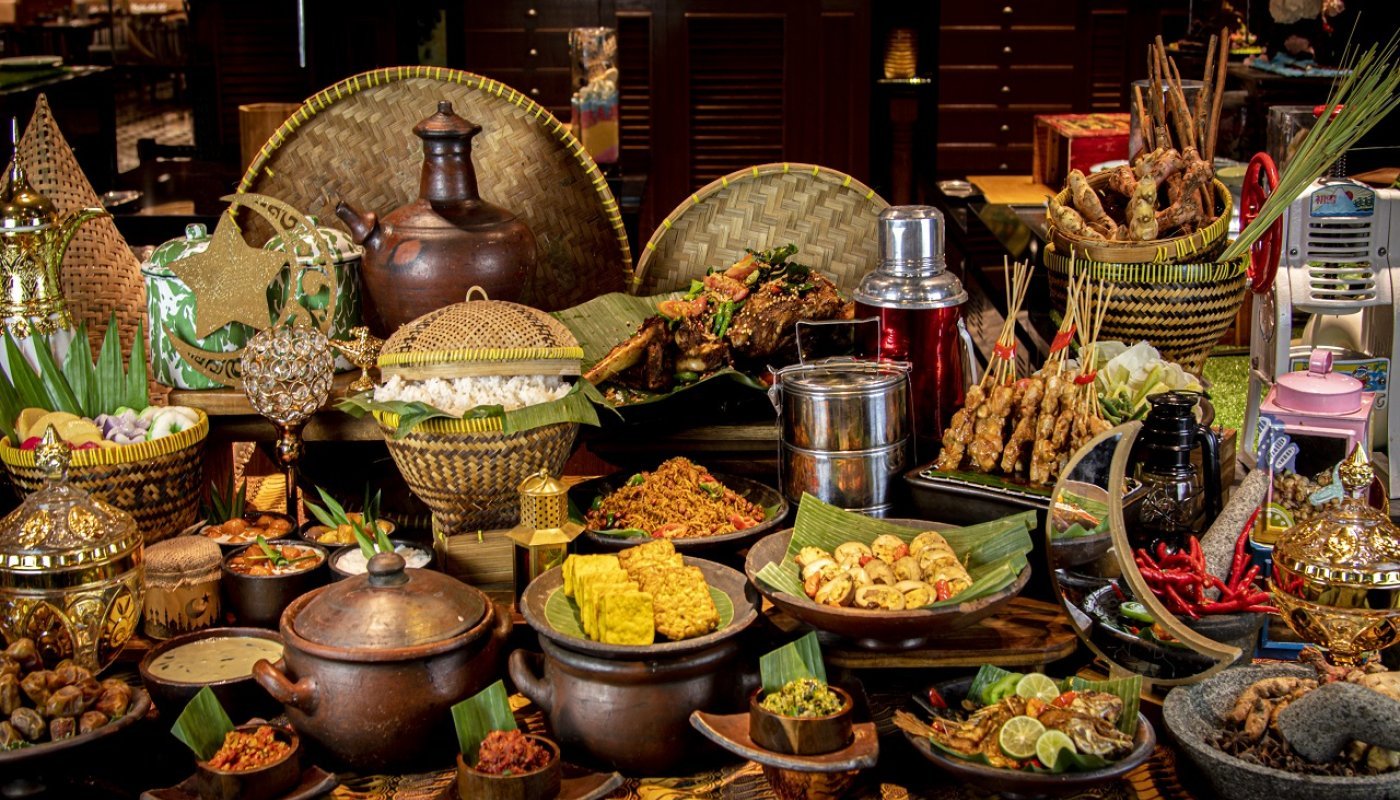 Pullman Ciawi Vimala Hills presents Iftar Buffet "Bogor Botram" at Damar Restaurant. Delve into the blessed and bountiful Iftar Buffet with a wide array of international dishes and classic & traditional Bogor delicacies available at Damar Restaurant.
Price (includes Takjil) are:
IDR 410,000 ++ / person adult
IDR 250,000 ++ / person child (6 – 10 years old)
Available 22 March – 21 April 2023 (17:30 – 21:00 WIB)
Jl. Raya Puncak, Gadog, Megamendung, 16770 Bogor, Indonesia
Phone: + 62 (251) 830 6888
Raffles Jakarta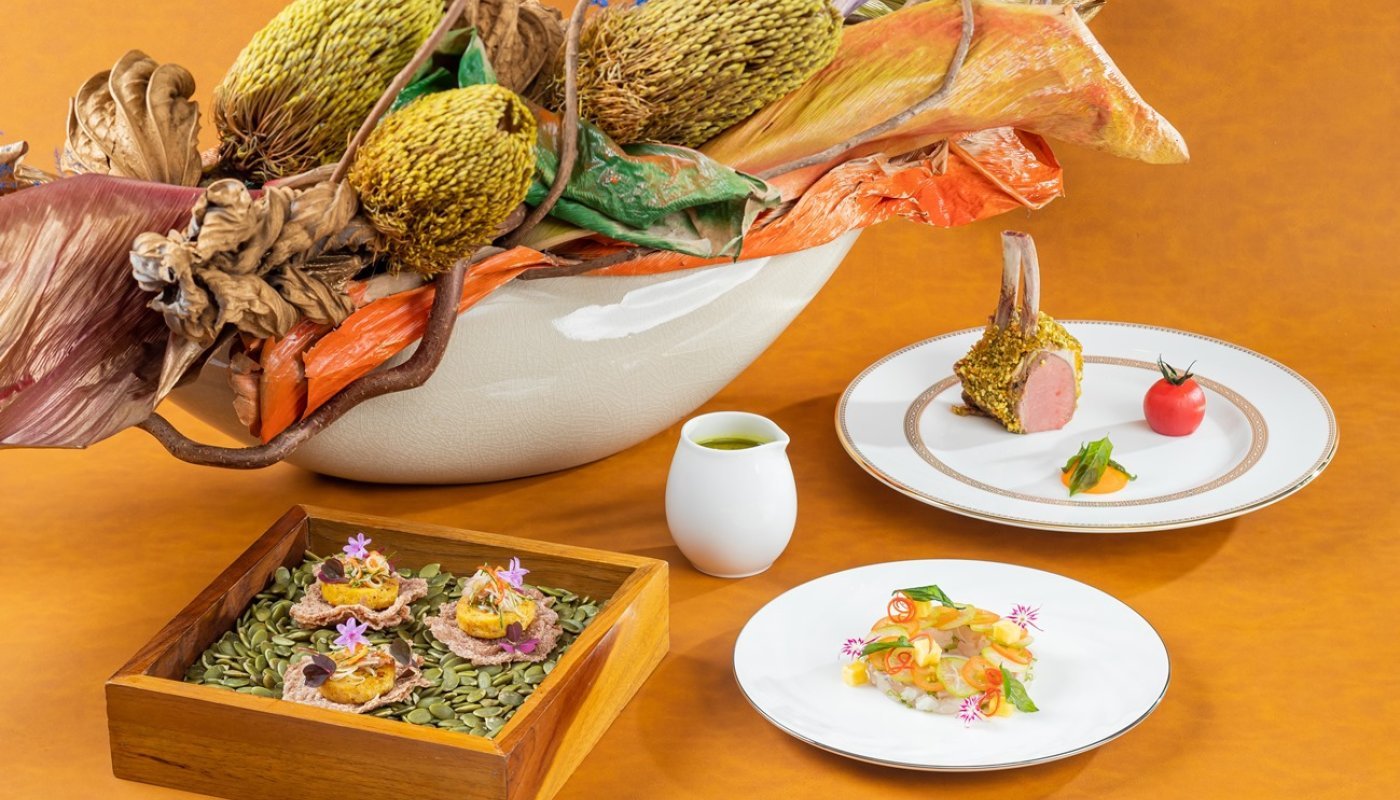 Share your blessings and gather with family and friends at Arts Cafe by Raffles for a classic Buka Puasa. Break your fast with Indonesian specialties and Chef Lukman's "Signature of Nusantara", showcases signature dishes such as Javanese Nasi Tumpeng, Empal Gentong, Rawon Surabaya and many more. Find live cooking stations, dedicated dessert and a la minute jajan pasar stalls as well as show kitchen featuring the highly-coveted Josper oven IDR 500,000++ per person, inclusive of free flow of chilled juices and tea.
Ciputra World 1 
Jl. Prof. Dr. Satrio Kav 3 – 5, Jakarta 12940, Indonesia
Phone: +62 21 29880888 
Shangri-La Jakarta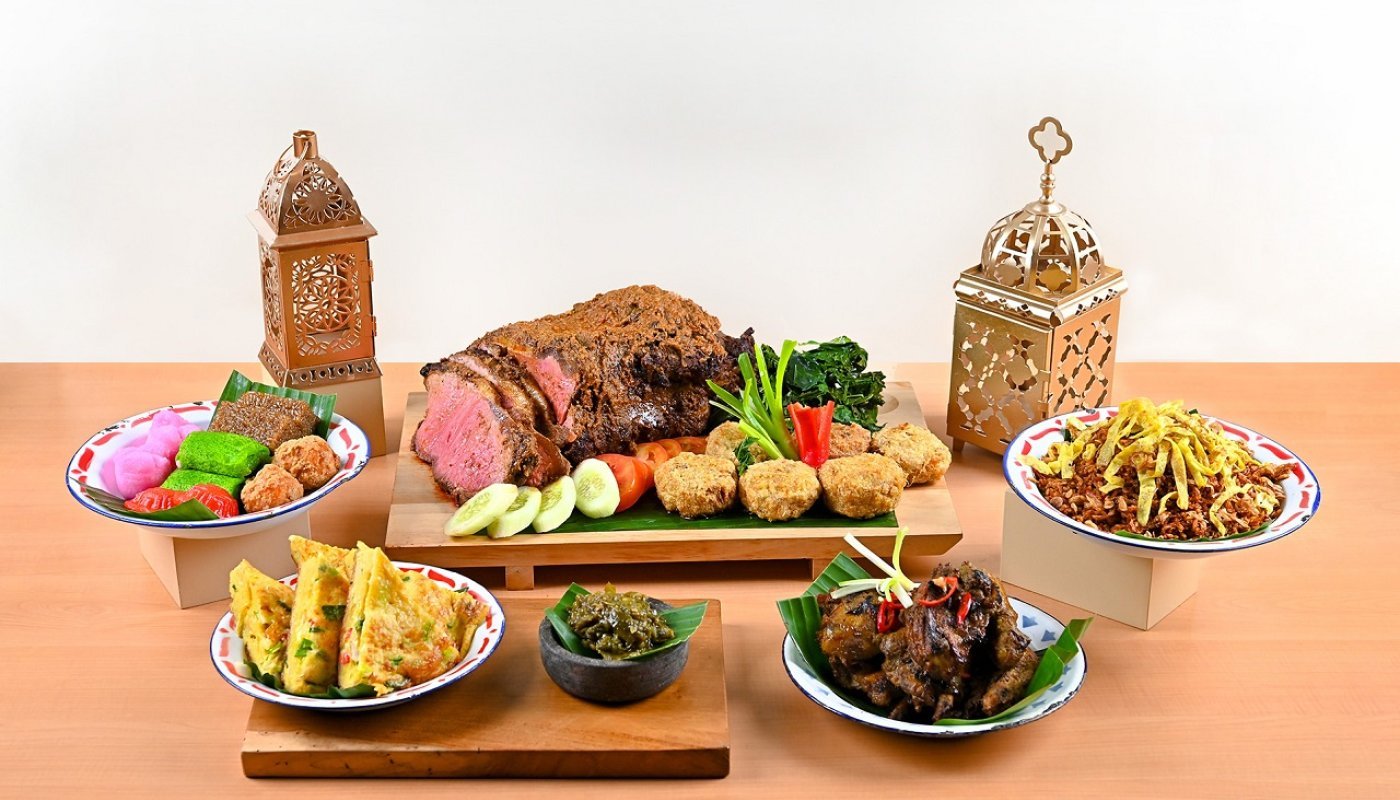 With the arrival of that blessed time of the year, a myriad of culinary wonders awaits at  SATOO. The restaurant will be offering a wide range of curated menus, blending local,  Asian, Western, and Eastern cuisine served with an original and contemporary twist of flavors. The menu will feature Arabic delights such as Moroccan Lamb Ouzie, whole  Hammour Fish with spicy Harra Sauce, and an Arabic Spiced Mixed Grill, as well as  Indonesian specialties like Buffalo Satay, Maranggi Satay, and Sumatran cuisine with modern twists such as Mie Aceh Wagyu, Tekwan Lobster, and Gulai Turkey, along with classical street food such as Kue Cubit, Kue Pukis, and many more. To complete the experience, guests can indulge in sweet desserts inspired by traditional and Middle  Eastern styles. 
Breakfast with a generous assortment of takjil favorites, featuring local and Middle Eastern flavors, at the SATOO Iftar buffet, available daily, starting from IDR 508,000++  per person.
Kota BNI. Jl. Jend. Sudirman Kav. 1, Jakarta 10220, Indonesia
Phone: +62 21 2922 9999
Sheraton Grand Jakarta Gandaria City Hotel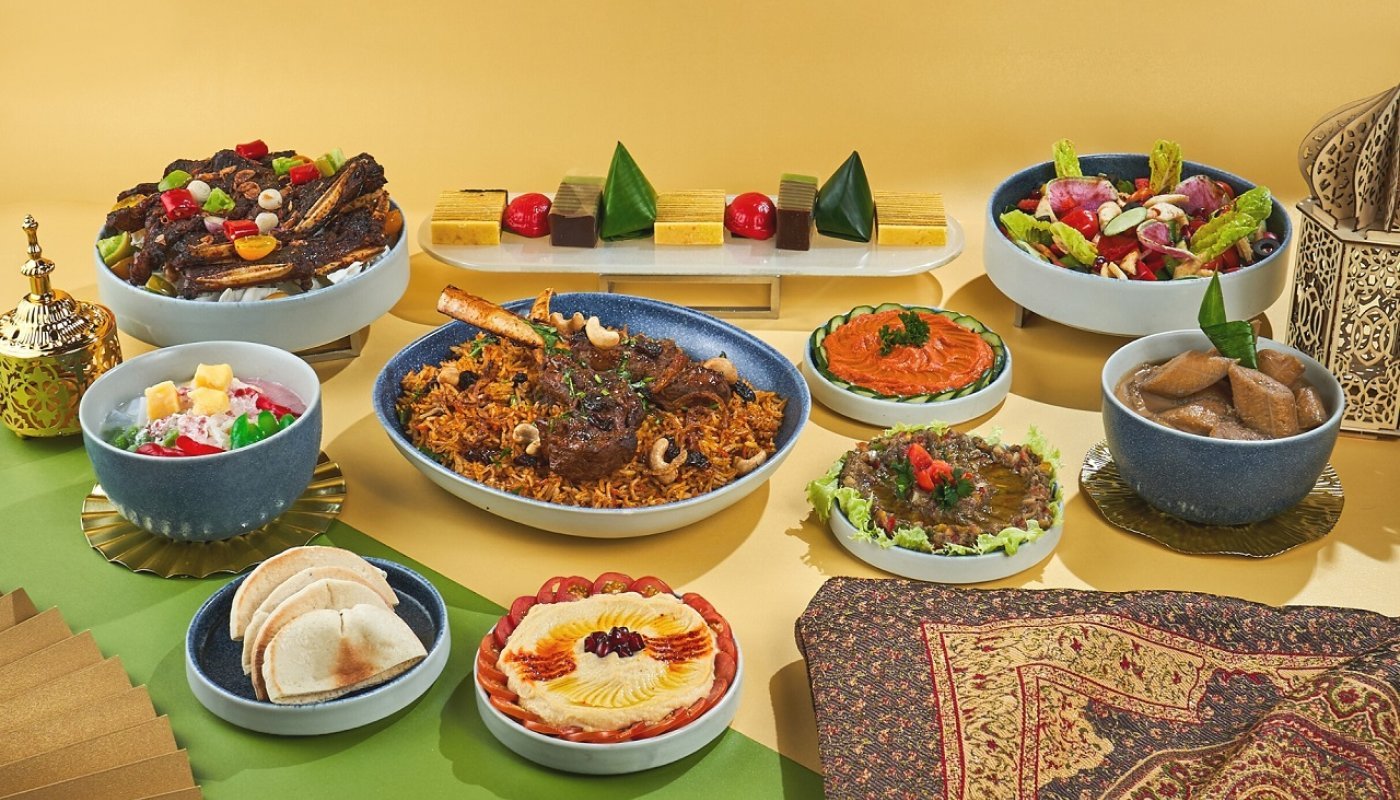 Award-winning all-day dining restaurant, Anigré Restaurant, will highlight bespoke authentic Indonesian culinary creations that will take guests on a delectable culinary journey throughout the  Ramadan Iftar feast, priced at at Rp558,000++ per person from March 23 to 31, 2023 and IDR  628,000++ per person from April 1-21, 2023. Ideal for breaking the fast together with families, friends, and business associates where everyone can enjoy a hearty Iftar buffet that includes traditional favorites from locals such as Kolak Pisang, Sop Buntut, Iga Bakar, Lamb Briyani, Es  Campur, and other international favorites. Take advantage of our exclusive offers – from 30% savings to a pay 1 for 2 offer with our bank partners. For further information and reservation, guests can contact us through call +6221 8063 0888 or WhatsApp at +6281 11095 983.
Jl. Sultan Iskandar Muda, Jakarta 12240, Indonesia
Phone: +62 21 8063 0888
St. Regis Jakarta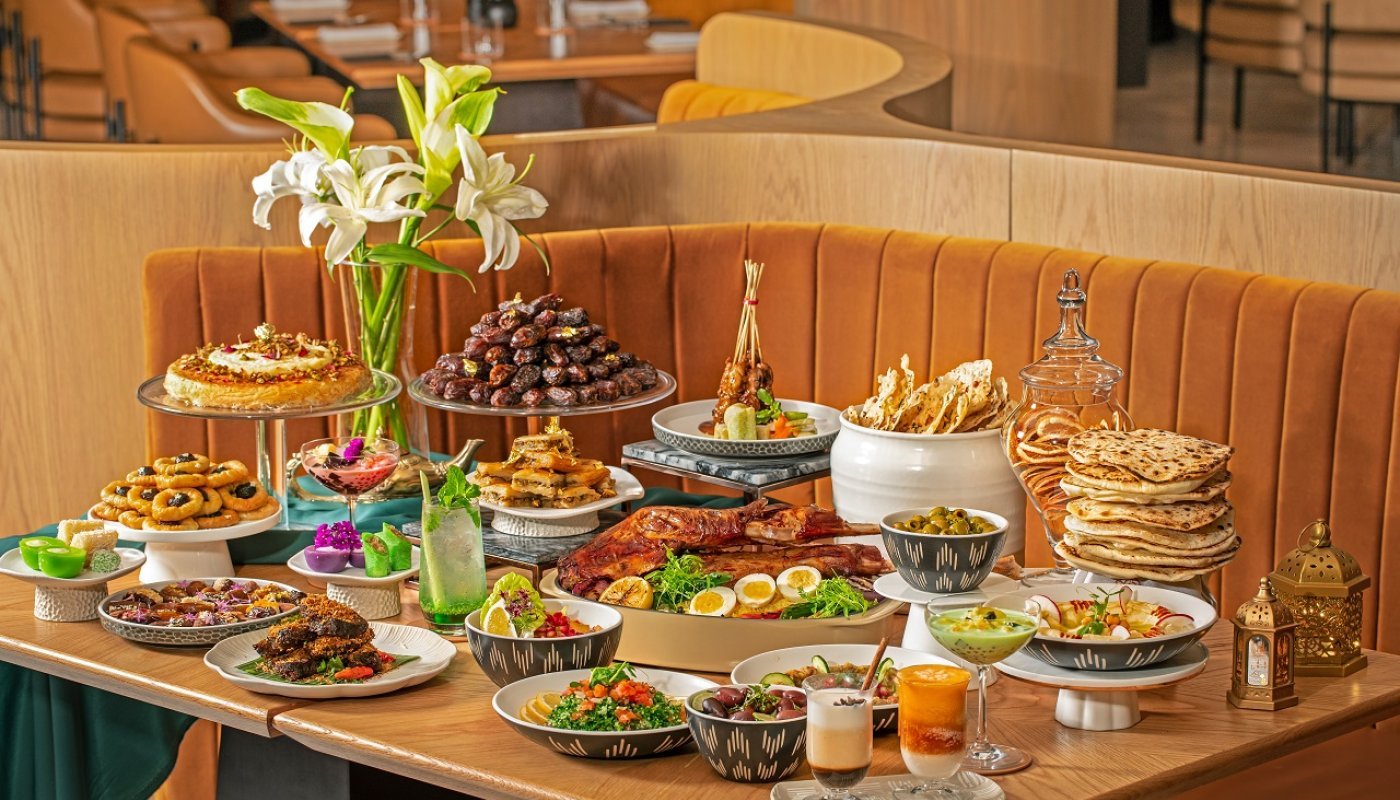 Celebrating the holy month of Ramadan, The St. Regis Jakarta presents a special Ramadan offering and experience. A breakfast feast at Bel Étage is curated for guests to enjoy an appetizing dining experience in the spirit of Ramadan. From traditional Indonesian ta'jil to local Indonesian, Western and Middle Eastern delicacies, iftar moments at Bel Étage are a culinary journey in itself.
The iftar menu consists of local cuisines such as Tongseng Tengkleng, Tender Short Ribs Rendang, Lawar, Soto Betawi as well as the famous Bel Étage homemade sambal. Elevating the iftar cuisine, Bel Étage serves a variety of Arabic-inspired dishes, from Whole Lamb Ouzi, Rice Chicken Biryani, Moroccan Tangine, Chicken Shish Tawook, Arabic Mix Kebab, Shawarma and many more. Continuing the night, guests are invited to an Arabian Night at The Cove to enjoy shisha and free-flow Arabic coffee and tea, accompanied by slow Arabian music.
Rajawali Place
Jalan HR Rasuna Said Kav. B/4, Setiabudi, Jakarta Selatan, Indonesia, 12910
Phone: +62 21-509 4 8888
Swissôtel Jakarta PIK Avenue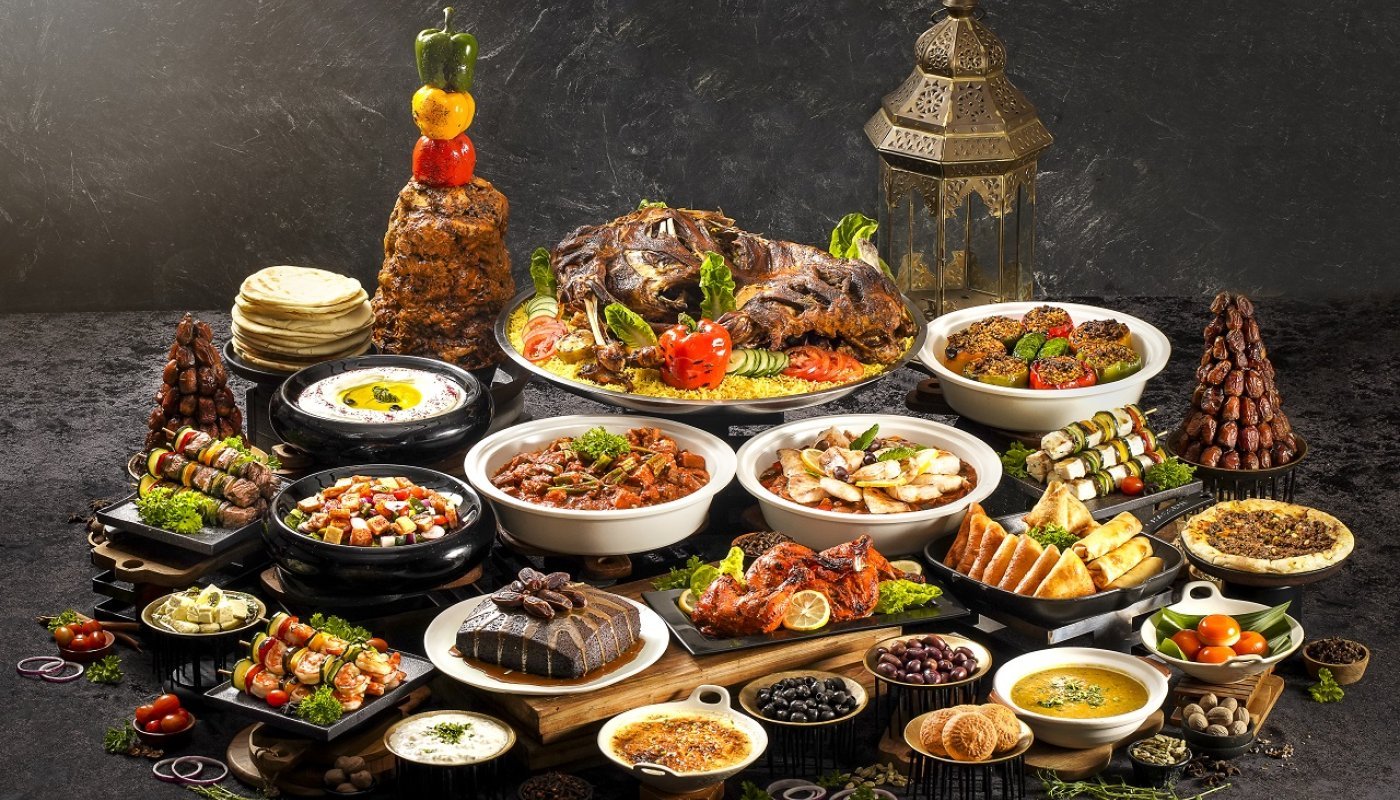 Swissôtel Indonesia PIK Avenue is excited to announce its collaboration with Swissôtel the Bosphorus for a sumptuous feast during Ramadan. In the spirit of this holy month, both hotels have put together an extravagant spread showcasing all that Turkish cuisine has to offer. The Ramadan buffet will be available at Summers At The Pool and The Chinese National starting from 22nd March – 21st April 2023 for IDR 328,000++ per person. 
Jalan Pantai Indah Kapuk, Kamal Muara Penjaringan, North Jakarta, 14470, Indonesia
Phone: +62 21 22571188
The Hermitage, a Tribute Portfolio Hotel, Jakarta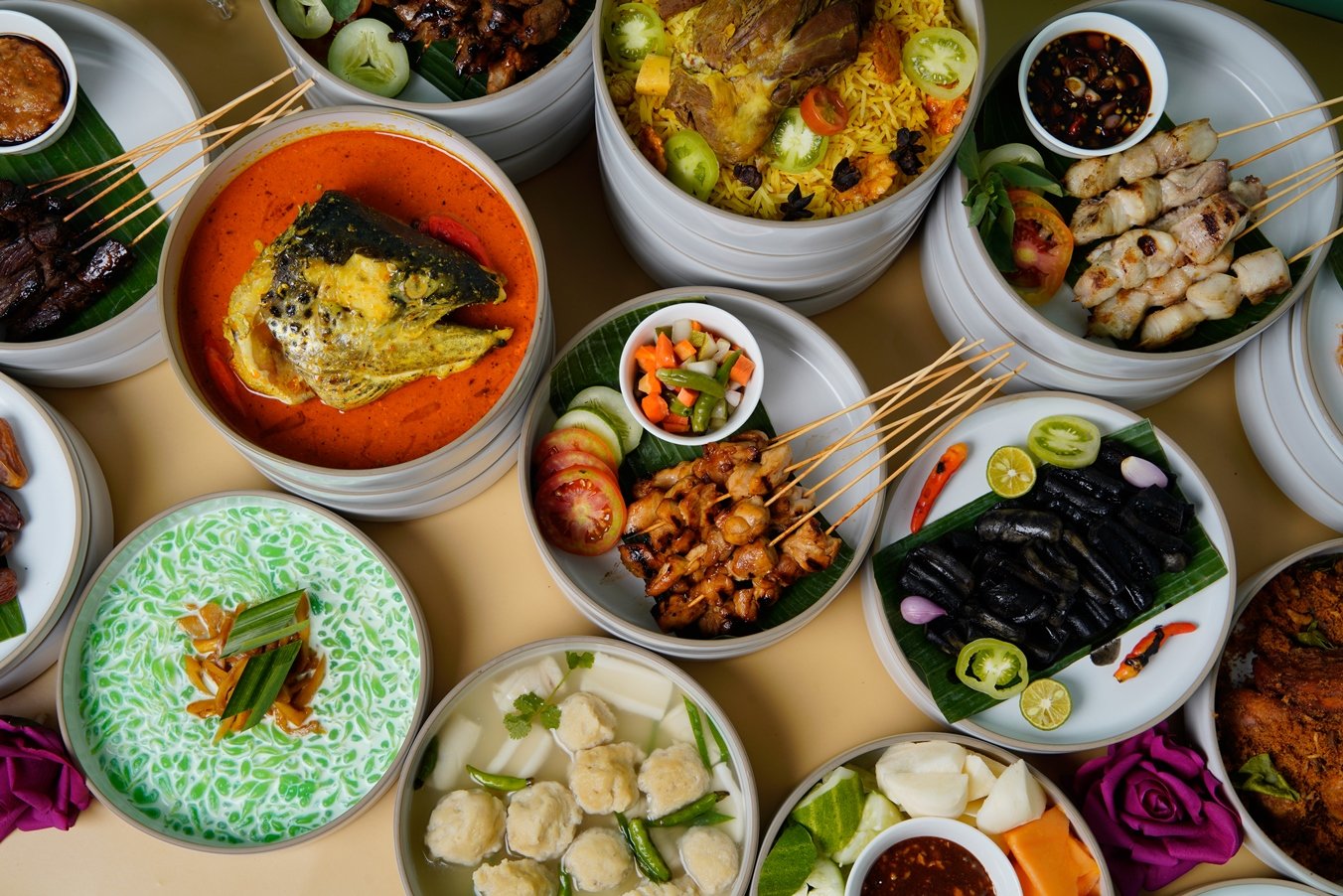 1928 Restaurant will bring various Peranakan dishes to the table for Iftar. Our Executive Chef, Ferdian Tobing, and Andien share the most favorite Peranakan menu, which is perfect for enjoying breaking the fast. Guests can savour a tantalising menu from the Takjil, Assorted Satai, Laksa Udang, Bakso Kepiting, Gulai Kepala Salmon, Assorted Peranakan Ice, and more. The Iftar Dinner is available at IDR 528,000++ per person, including unlimited iced tea, coffee, and water. Planning to serve larger needs for breaking the fast, rooftop from The Hermitage Jakarta is now presenting a menu with a selection of Middle Eastern food from Al Jazeerah Restaurant or Indonesian Padang specialities from Pagi Sore. This menu can be enjoyed starting from IDR 298,000++ per person.
Jl. Cilacap No.1, Menteng, Jakarta 10310, Indonesia
Phone: +62 319 26888
The Ritz-Carlton Jakarta, Mega Kuningan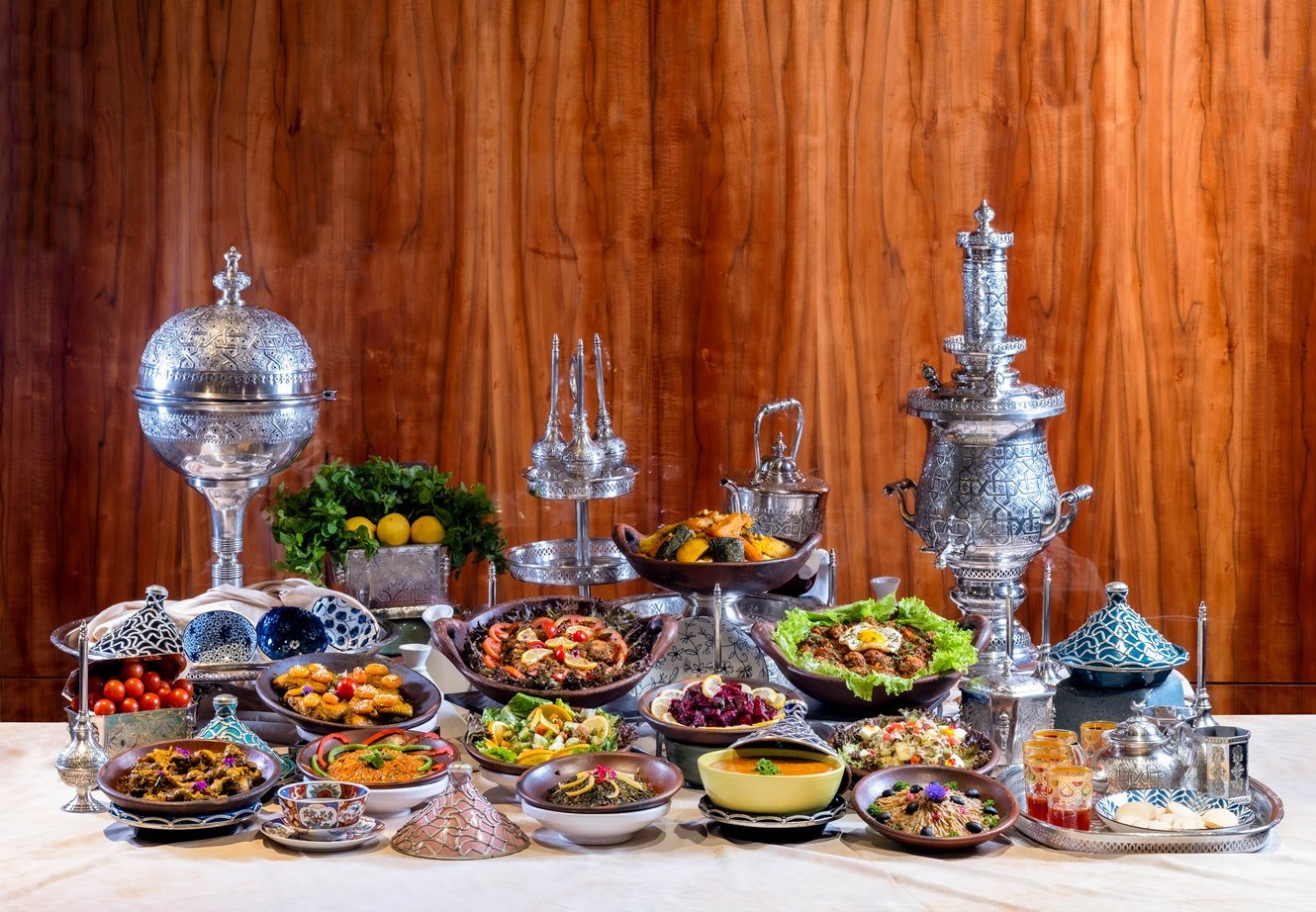 This year's Ramadan style in Asia Restaurant is classic yet contemporary – based on rich heritage of Asian and Mediterranean. Starting from 5.30 pm – 8 pm, their renowned all-day-dining buffet outlet Asia Restaurant is rolling out decadent spread of thematic 'Nusantara meets Kingdom of Morocco' buffet, where they will host two guest Chefs all the way from Morocco and each will present a menu and dining experience through the lens of their own cuisine and personal history. They will bring the "best of" Moroccan comfort dishes to the table, but also feature reimagined and reinterpreted creations for limited-time epicurean experiences to all. Available daily throughout the month of Ramadan at IDR 498,000++ per guest on week 1 & 4, whereas price starts at IDR 588,000++ per guest on week 2 & 3.
Jl. DR.Ide Anak Agung Gde Agung Kav.E.1.1  Mega Kuningan, Jakarta 12950 
Phone: +62 21 2551 884
The Ritz-Carlton Jakarta, Pacific Place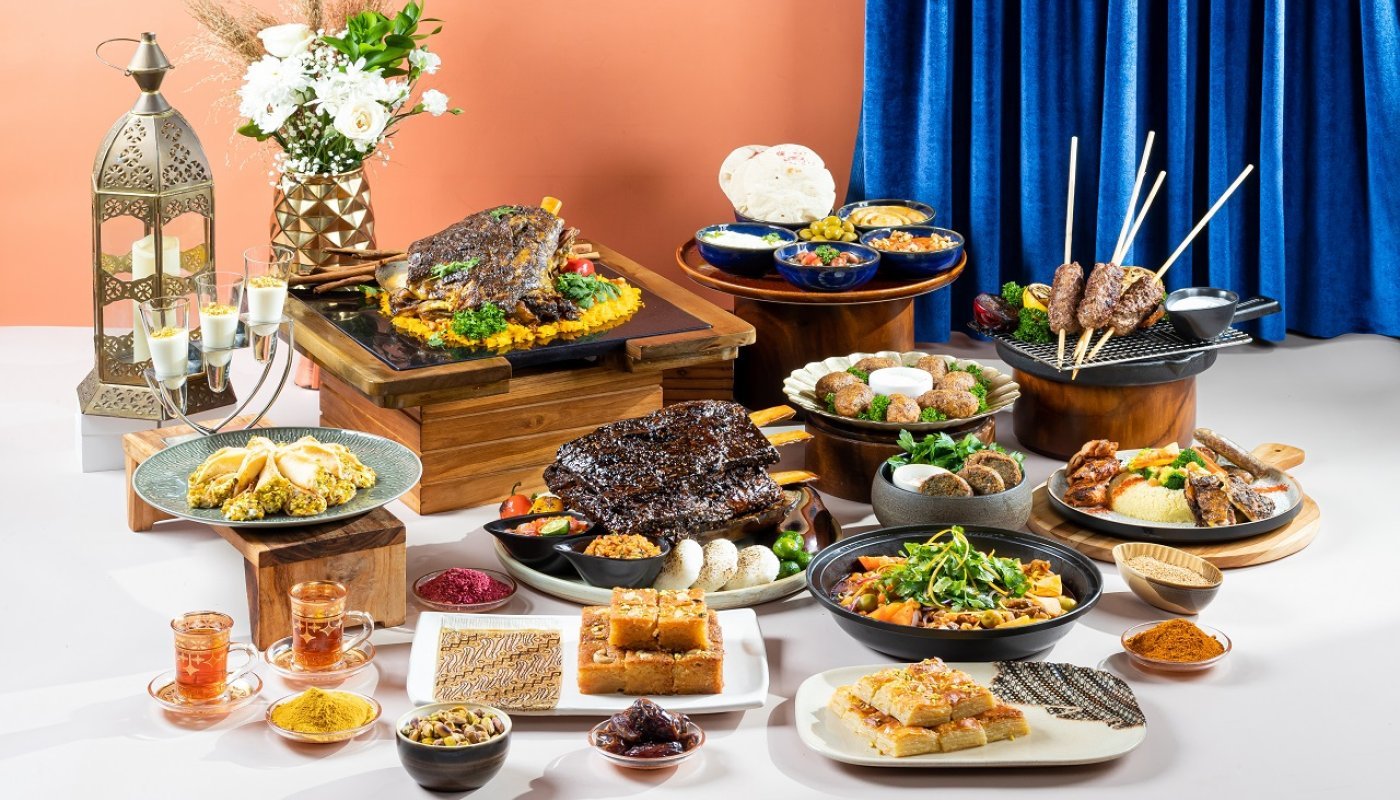 Authentic Egyptian cuisine will be brought exclusively to the Hotel by two passionate chefs from The Nile Ritz-Carlton, Cairo. The Executive Chef of The Ritz-Carlton Jakarta, Pacific Place, Willmer Colmenares and PA.SO.LA Culinary Team will also prepare a thematic Middle Eastern and Indonesian cuisine. Guests may break the fast with Short Ribs Maranggi, Nasi Liwet, Pepes Barramundi, as well as Pita Bread, Kibbeh and Falafel, Baklava, Mahalabia and Basbousa North African Chicken Tagine, Roasted Lamb shoulder with Saffron Rice, and sweet treats from Egypt.
The Iftar Buffet at PA.SO.LA Restaurant will be available for the whole month of Ramadan, starting at IDR 518,000++/persons. To begin the Iftar dining experience, each Guest will receive a selection of Tea, Coffee, and Ta'jil.
Sudirman Central Business District (SCBD)
Jl. Jend. Sudirman Kav. 52 – 53, Jakarta 12190
Phone : +62 21 2550 1888
The Sultan Hotel & Residence Jakarta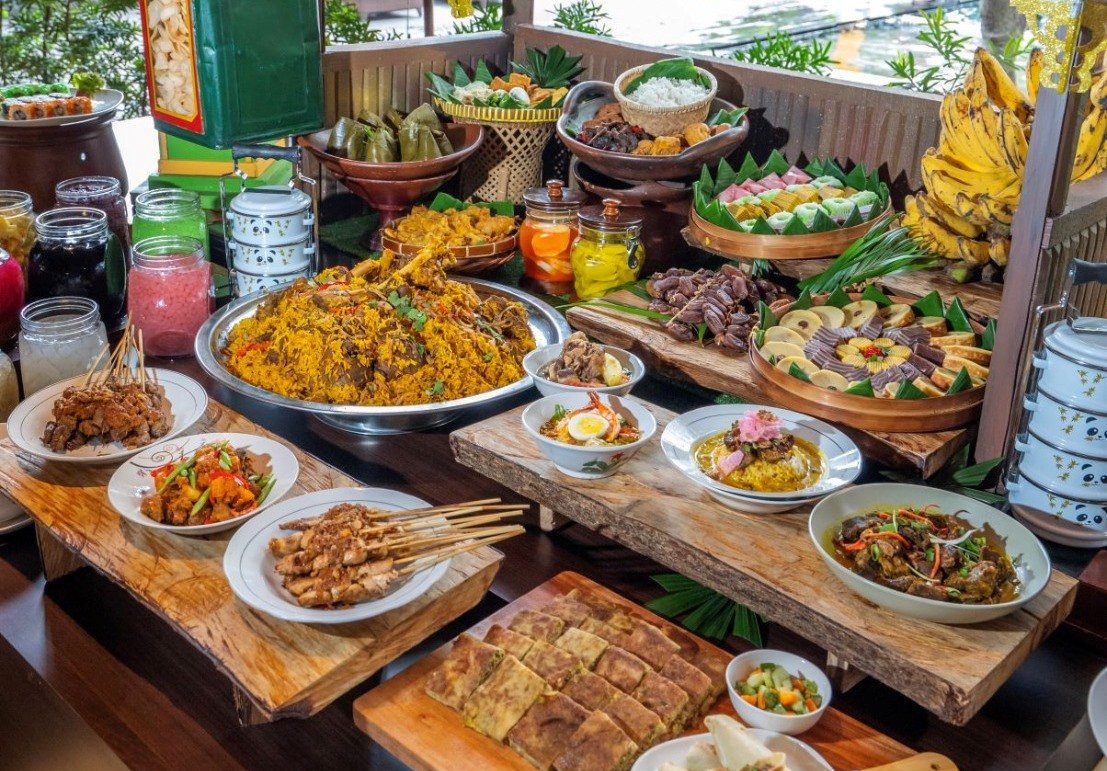 The Sultan Hotel & Residence Jakarta humbly presents your nostalgic childhood dishes & international most-favorite meals for break the fast in the serene and calm by-the-pool surroundings as they have "Kampoeng Ramadan" in Kudus Hall. From nasi kebuli, lamb & chicken kebab, assorted gorengan, nusantara satay, siomay, batagor, gulai tikungan "gultik" to the famous street stall sate taichan, bakso urat and martabak telur are available to spoil your taste bud. Do not forget to mention there are also jajanan pasar & es campur to complete your dinner as dessert. While from international selection, you will have Japanese teppanyaki & ramen, sushi-maki, Singaporean laksa and of course best-selling pizza & pasta from the well-known Pizzeria. This all-you-can-eat Iftar buffet is for only IDR 488.000 nett / person.
Jalan Gatot Subroto, Kebayoran Baru, Senayan, Jakarta, Indonesia, 10002
Phone: +62 21 5703600
Vertu Harmoni Jakarta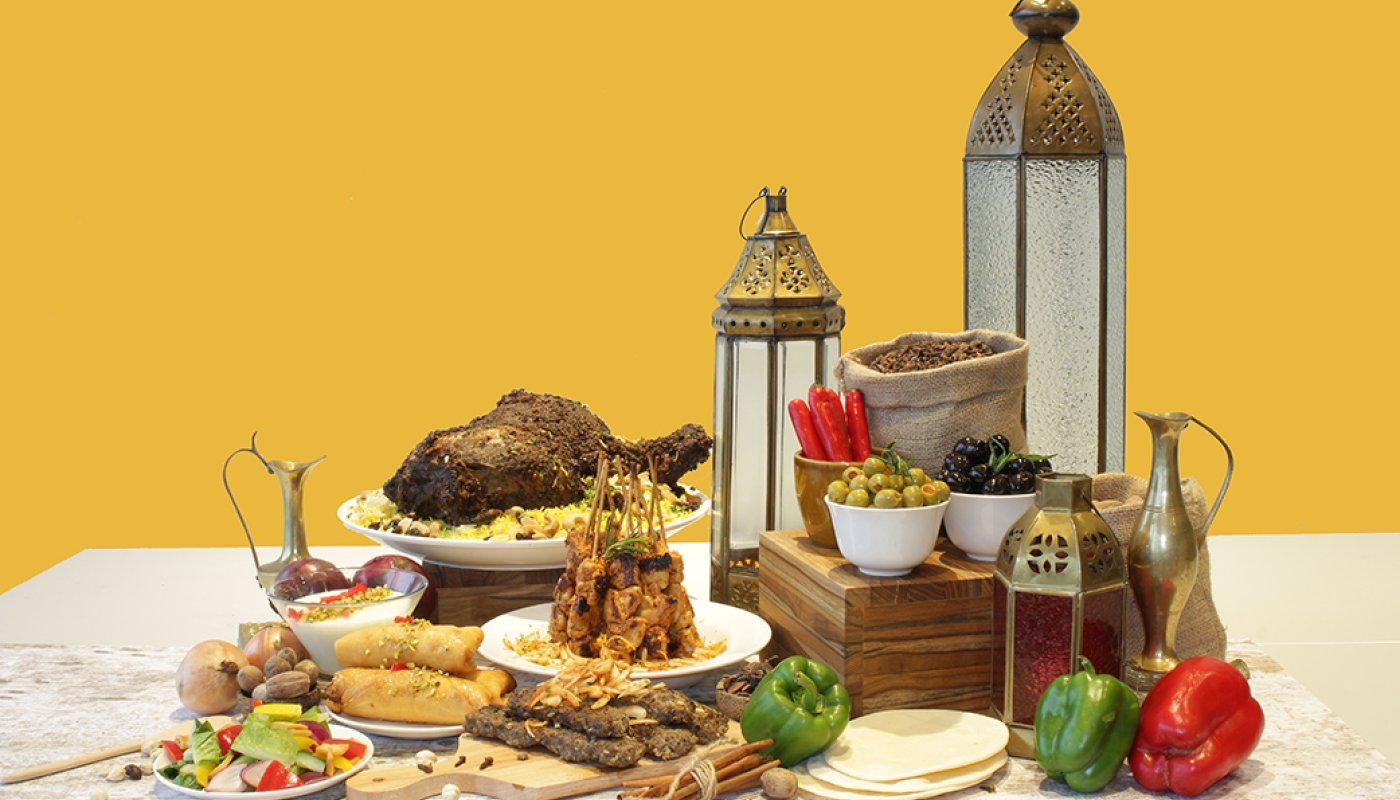 Vertu Harmoni Jakarta takes delight in inviting food enthusiasts to relish the best of the Middle East's festive favorites and cuisine through A Journey to the Middle East. From March 22 to April 23, the buffet will be available at Voyage Restaurant, and dinners will also be accompanied by live Arabian music performances drifting through the restaurant.
Available from 6 p.m. to 10 p.m. The Iftar buffet will feature a glorious spread of Middle Eastern specialties of crowd pleasers such as Arabic Mezze, Shawarma, Shish Touk, Kofta, Falafel, Baklava and Mohalabia, along with other international delicacies at interactive stations. The Iftar Buffet is priced at IDR 358,000 nett per adult.
Jl. Hayam Wuruk No. 6, Jakarta Pusat 10120 - Indonesia
Phone: +62 212 2035 000
4-Star Hotels
HARRIS Suites fX Sudirman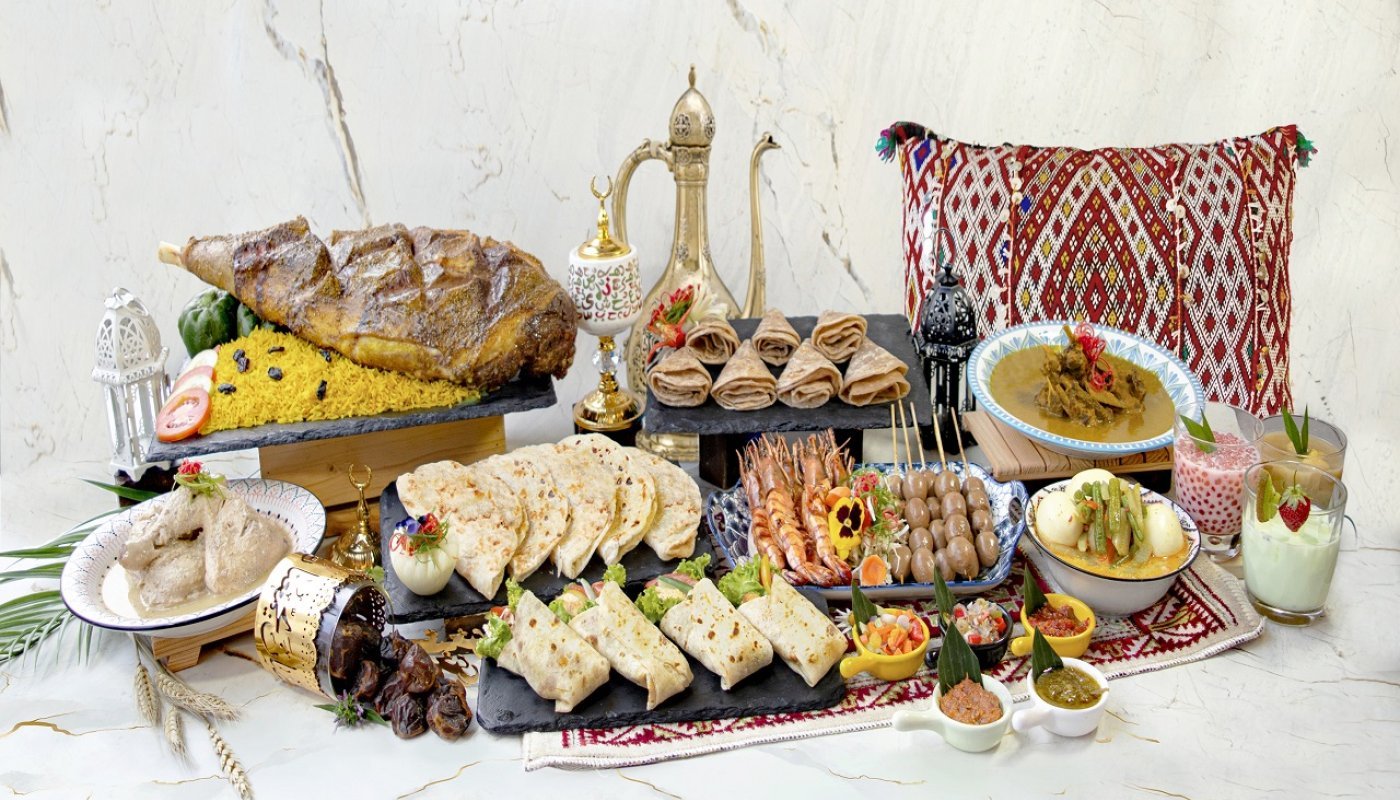 HARRIS Suites fX Sudirman presents IFTAR DELIGHT - Breakfasting Buffet which serves a variety of iftar menus accompanied by stunning New York city views. The price offered is IDR 200,000 net per person for the 1st and 4th weeks, IDR 250,000 for the 2nd & 3rd weeks. Starting from 17.30 to 20.30 during Ramadan 2023 at HARRIS Cafe F5 Floor HARRIS Suites fX Sudirman.
Jalan Jendral Sudirman Pintu Satu Senayan Jakarta 10270
Phone: +62 21 2555 4 333
HARRIS Suites Puri Mansion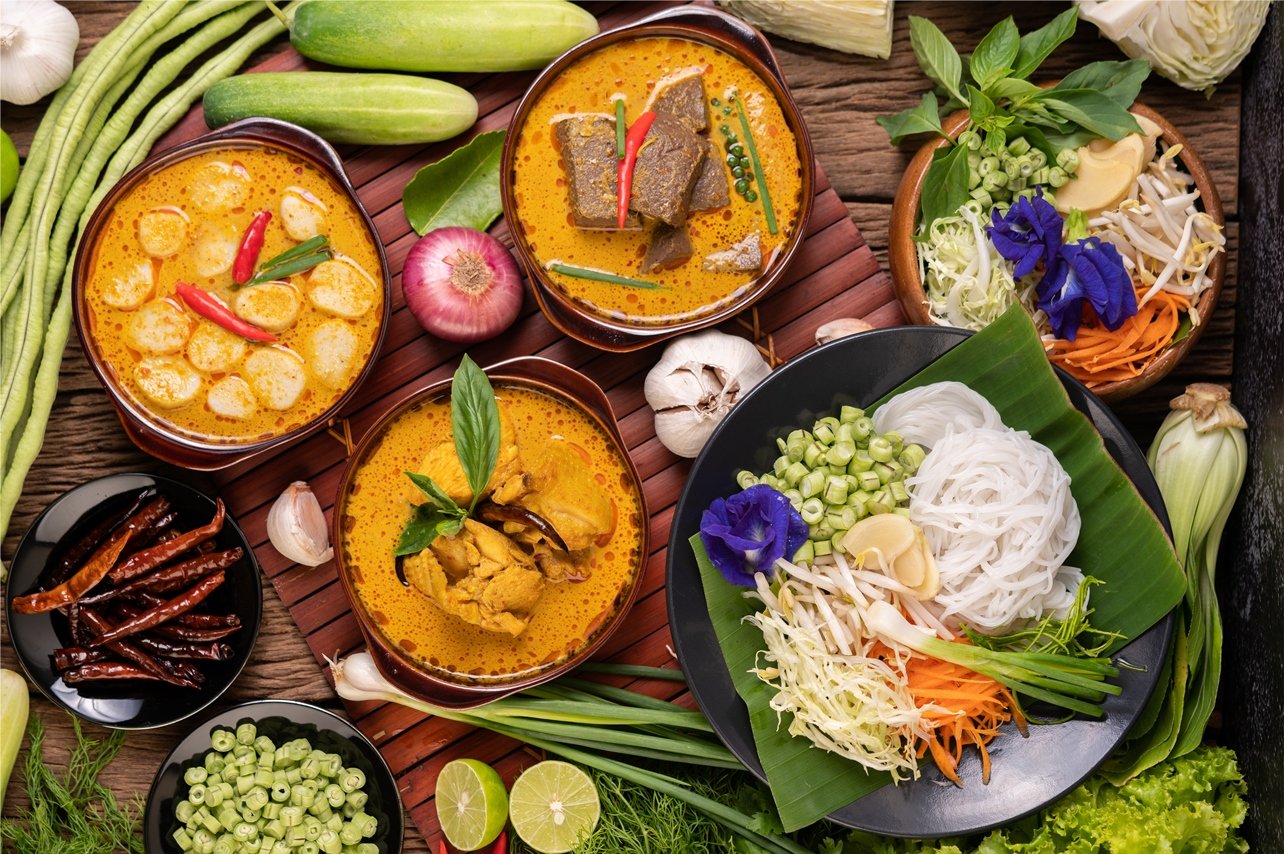 Enjoy your iftar time with your loved ones and a variety of authentic Indonesian dishes with a special theme  "BAZAR - CITA RASA NUSANTARA". HARRIS Suites Puri Mansion will serve a variety of different menu every day from Sabang to Marauke. Iftar at HARRIS Suites Puri Mansion is available at a price of IDR 110,000 Nett/Pax from 17.00-21.00 WIB every day.
Jl. Lingkar Luar Puri Mansion Estate Kembangan, Jakarta Barat 11610 - Indonesia
Phone: +62 21 5433 6060
Holiday Inn & Suites Jakarta Gajah Mada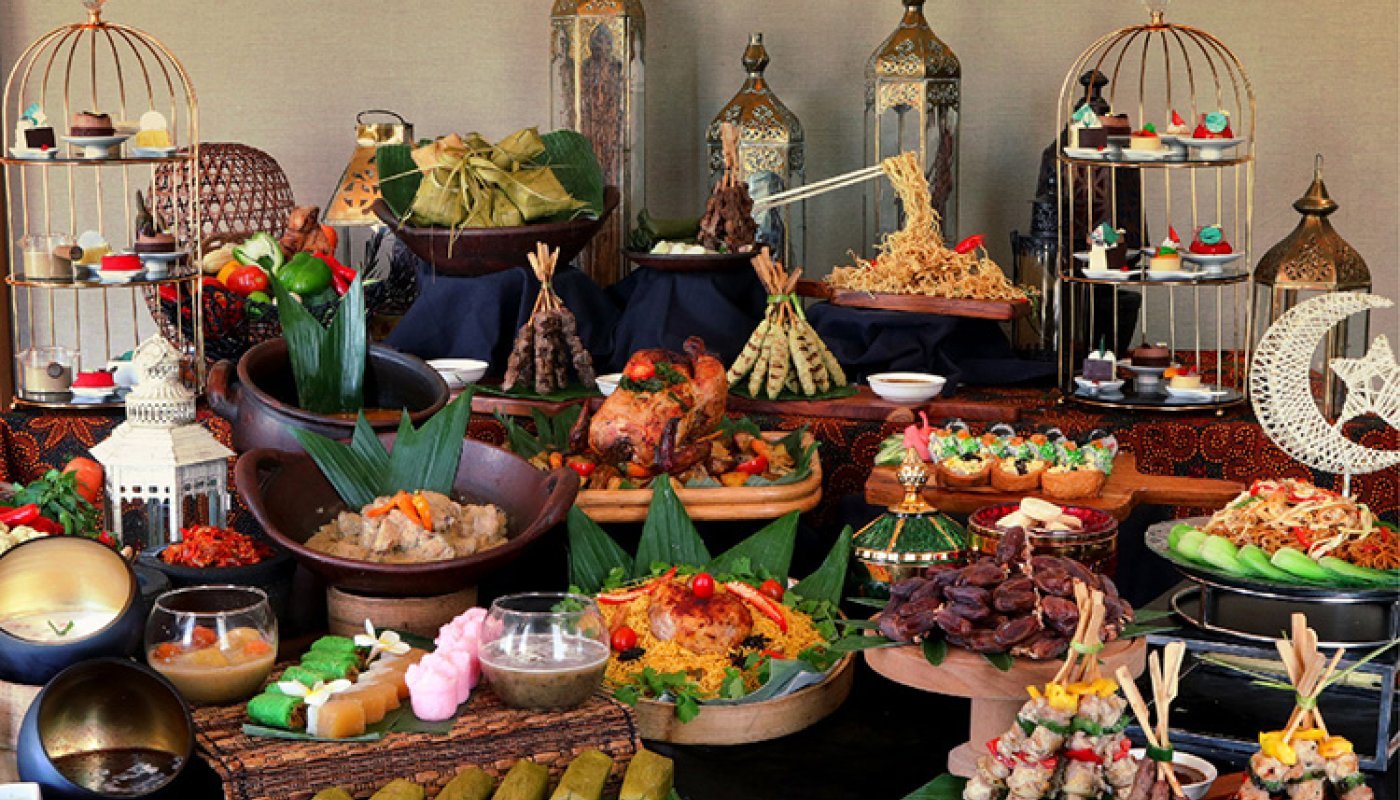 This year, Holiday Inn & Suites Jakarta Gajah Mada will enliven the awaited moment by serving a variety of Ramadan best choices from Indonesian, International and Middle Eastern dishes at Duta Café & Restaurant located at 3rd floor which can accommodate up to 200 guests. Best menu will be served such as Kebuli Rice, Roasted Chicken, Chicken Shashlik, Satay Pulut, Muhalabiah, Umm Ali, Panncotta Coffee, Lapis Legit, Pacar Cina, Sushi selections and other dishes Ramadan's specialities.
You can enjoy the delightful of Ramadhan cuisine by reserving the package only at IDR 298.000 nett/person and get a chance to win Tunjangan Hari Raya worth to IDR 10.000.000 that will be ruffled by the end of Ramadan, also don't miss the early bird promotion Buy 4 get 5 for booking period 6 – 20 March 2023.
Jl. Gajah Mada No.211, Glodok, Jakarta 11120
Phone: +6221-29776803
Mercure Jakarta Gatot Subroto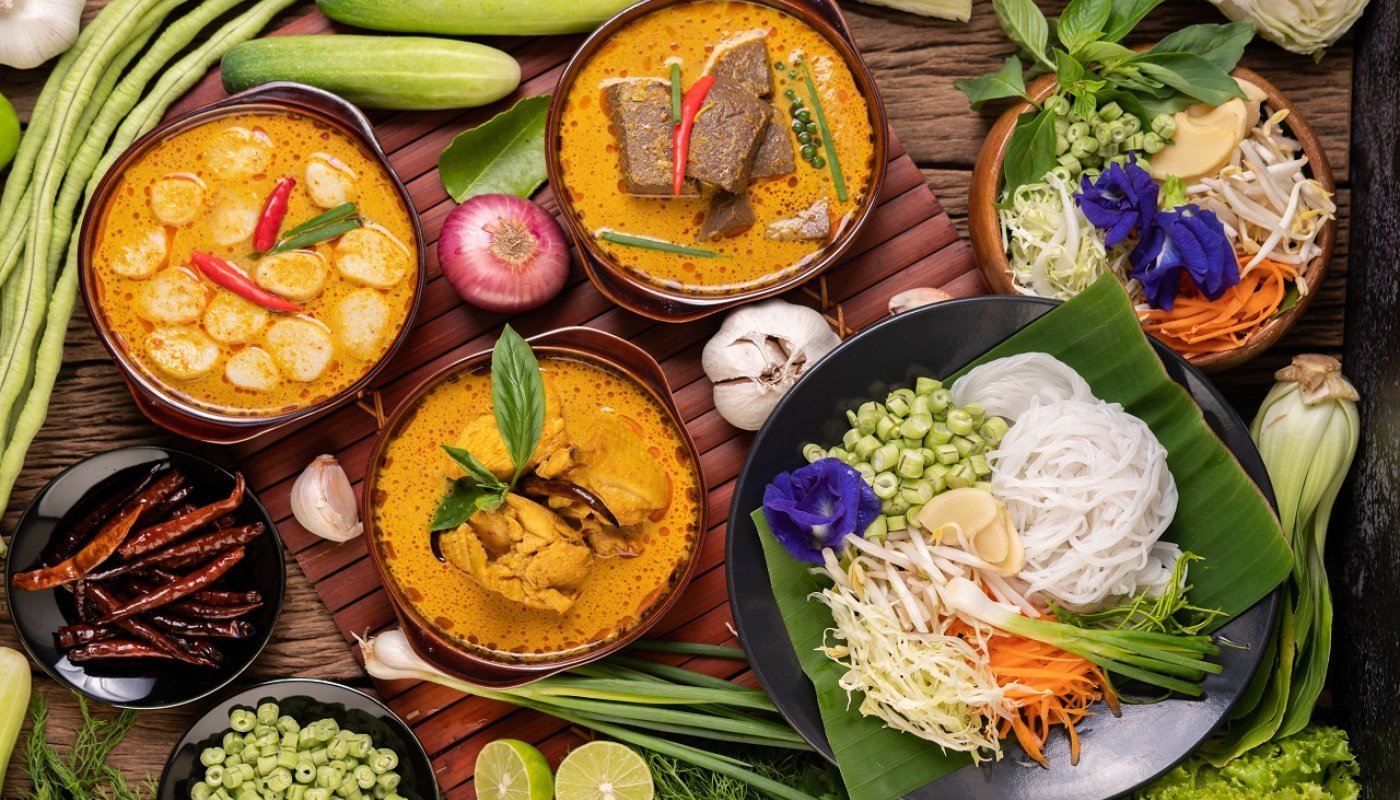 Welcoming the holy month of Ramadan, Mercure Jakarta Gatot Subroto invites food enthusiasts to embark on a culinary journey across the diverse and flavorful regions of Nusantara with the All-You-Can-Eat promo "Jelajah Rasa Nusantara". This All-you-can-eat buffet for breakfasting only takes you IDR 299,000,-nett/person. This cultural journey will take place during the Ramadhan month from 21st March to 20th April 2023 at Flora Restaurant, 5th Floor of Mercure Jakarta Gatot Subroto. Executive Chef of Flora Restaurant, Chef Faisal has curated an extensive menu that features traditional Nusantara cuisine infused with the middle east.
Jalan Gatot Subroto Kav. 1, Kuningan Barat, Jakarta Selatan 12790
Phone: +62 21 50825400
Novotel Jakarta Mangga Dua Square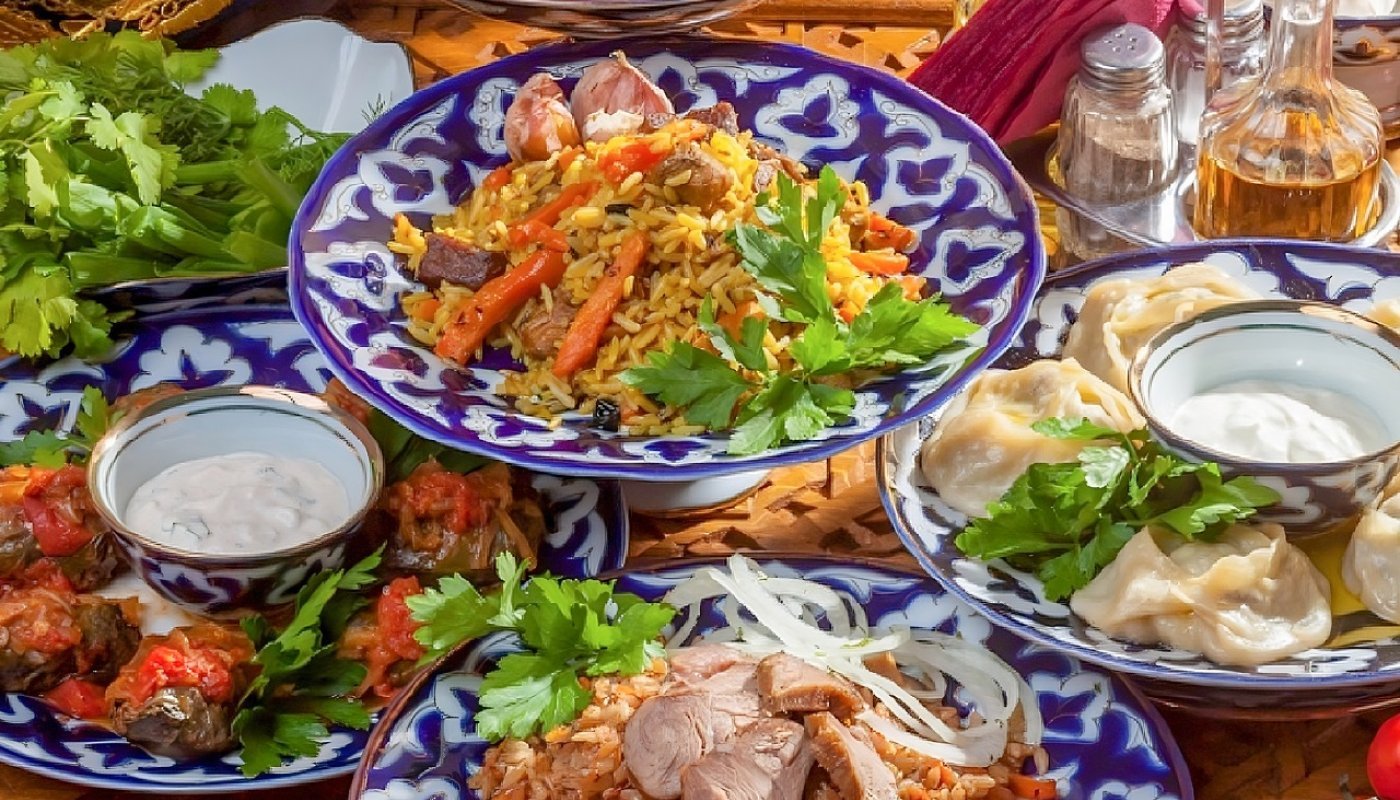 Novotel Jakarta Mangga Dua Square offers iftar package. After a long day of fasting, the all-you-can-eat iftar concept and a typical Peranakan meal included in the iftar package with the theme of PERANAKAN CULINARY are sure to whet your hunger. Savor the exquisite Peking duck, roasted goat, several noodle stands, dim sum, and lontong Medan that are offered especially to go with your iftar. More traditional Peranakan dishes are available for Rp. 200,000++/person.
Mangga Dua Square
Jl Gunung Sahari Raya No. 1 Jakarta 14420 – Indonesia
Phone: +62 (0) 21 6231 2800