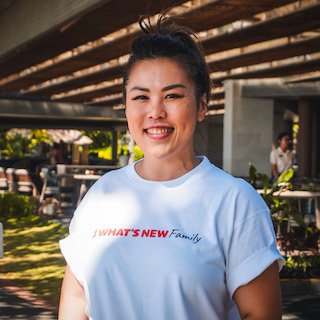 Deisy Wong Will
Founder & Owner
Deisy Wong Will was born in Singkawang and moved to Jakarta at the age of 8. Growing up in Jakarta, she had to help out at her parent's watch shop, which allowed her to learn about sales from a very young age. She works in couple jobs in marketing until she discover the missing gap information for expat and visitor to Jakarta in 2006, now the media has expanded to couple big cities indonesia. As the founder and owner of a venture, she passionately assists people in maximizing their experiences in Indonesia. Deisy embraces innovation and continuous learning, striving to stay ahead of the rest. With a love for socializing, meeting new people, and exploring through travel, her adventurous and outgoing nature shapes her approach to business and life.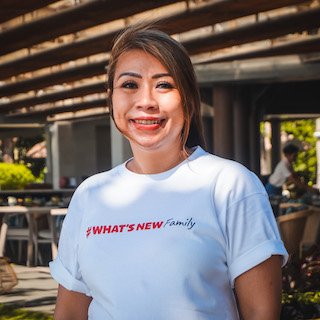 Indah Pratiwi
Managing Director
As the current Managing Director of What's New Indonesia, Indah Pratiwi joined the company as a Sales and Marketing Manager in 2017. With a lot of sales background from several companies and her spirited, easy-going personality in her bag, she continues running the legacy with her amazing team across Jakarta, Bali, Bandung, and Surabaya. A 'dreamcatcher' fueled by aspirational drive and an unyielding work ethic, Indah ardently pursues grand visions, mirroring her resolute resolve honed through a life acquainted with challenges. Along with her daily hustle, she enjoys learning how to lead the team and meeting with many important people. Beyond the boardroom, she reveals her enchanting devotion as an ardent Potterhead, finding solace in the wizarding world's allure and seeking inspiration from the magical realm.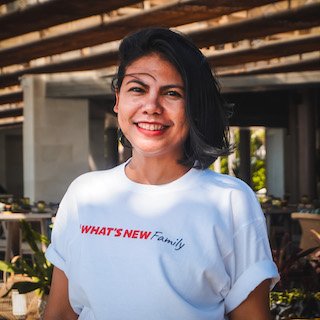 Juliana Siahaan
Assistant Sales & Marketing
Exploring diverse realms of education, from the symphony of a musical school to the corridors of law and trading, helps Juliana seamlessly adapt as she plys her trade at What's New Indonesia for almost two decades now. Her agile prowess encompasses administration, accounting, finance, and sales, while her magic touch ensures client submissions dazzle. With a penchant for networking, you'll spot her at events and hidden getaways, infusing her Batak, Sumatera Utara roots with Jakarta's vibrancy. Beyond the bustle, Juliana finds solace in movie marathons and TV dramas.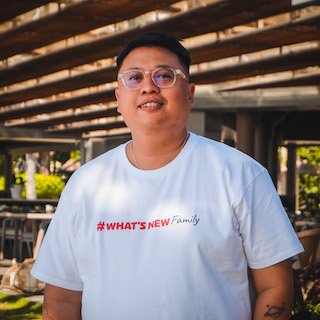 Gunawan Lie
What's New Bali Sales & Marketing Manager
Despite his childhood skepticism about the Sales profession, Gunawan Lie has naturally blossomed into a proficient Sales and Marketing officer with over a decade of diverse experience under his belt. After a couple of formative years spent in several companies, Gunawan's venture in the realm of media began in 2008, later finding his stride with What's New Jakarta circa 2016, then as the media's Bandung reps, before moving on to embrace Bali's allure until his current day. A relentless workaholic, holidays don't stand a chance against Gun's unwavering dedication. Resilience, passion, and a no-nonsense approach define him, yet beneath the surface beats a heart of gold, always eager to uplift teammates and colleagues in his inimitable way. Amid his tenacious aura lies a childlike sincerity and an unabashed love for cartoons—a delightful quirk that adds to his vibrant tapestry.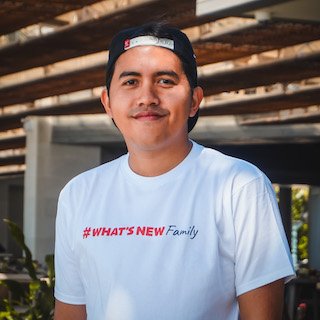 Aldito Virandi Tagor
What's New Bandung Content Manager
Despite having a Bataknese name, Aldito Virandi Tagor, or Tagor for short, was born and raised in Bandung. Having a strong film and television production background through education, he is no stranger to creating digital content through social media channels. While he loves playing indie video games and digging up historical stories as hobbies, he is now fully responsible for What's New Bandung content with his catchy and updated write-ups and social media content in a profound way.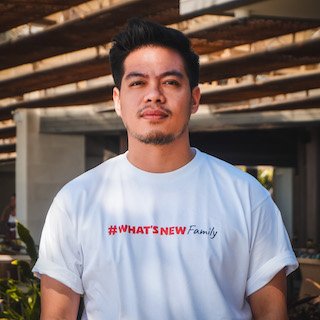 Hans Samuel
What's New Jakarta Content Editor & Social Media Specialist
Having a Visual Communication Design background, Hans Samuel is a dedicated creative person with years of experience as a graphic designer. This auto enthusiast and coffee lover has already honed his creative content skills in a fashion brand, an agency, and now, with What's New Indonesia, his role as a content creator for social media is pivotal for digital marketing tools. With a hunger to do more and a great drive to achieve better results, he hopes to continue to create content that will inspire and entertain.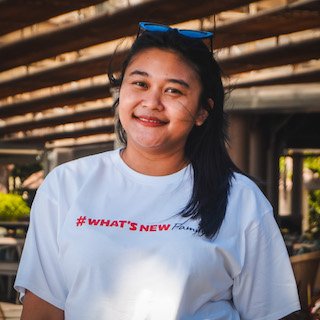 Amelia Ratri R.S
What's New Surabaya 
Born and raised in Magelang, Central Java, Amelia Ratri R.S is a radiant personality. Armed with a degree in Hospitality and Tourism from Ambarrukmo Yogyakarta Tourism College, she waltzed into the dazzling world of 5-star Yogyakarta hotels, igniting her career in style. Carrying on her 9 years endeavors as PR and Marcom in several international hotels and resorts in Jakarta and Yogyakarta area, Amel brought her immense experience to What's New Indonesia. Now, as the Surabaya branch representative, Amelia dons her marketing cape with finesse, sprinkling social media with her infectious charm, wit, and laughter. With a radar for trends sharper than a ninja's sword, Amel surfs the digital waves, keeping her cool in this era of ever-changing crazes. But wait, there's more to this—she's got her sights set on a master's degree, proving that while education is her numero uno, laughter is the secret sauce that adds that extra zing to her journey.

Stallone Tjia
What's New Jakarta Editor / Copywriter
A pop culture enthusiast and avid video game player, Stallone Tjia has worked as a writer for more than a decade. His obsession with food and beverage, hospitality, fashion, travel, and lifestyle industries brings a dynamic, up-to-date take to What's New Jakarta. Stallone prides himself on his ability to get along and blend in with people while tossing up a fun joke. To keep his daily life balanced, he can be found spending leisurely quality time alone or becoming a partygoer for a lively night out.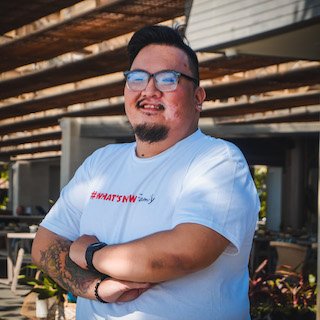 Billy Bagus
What's New Bali Editor / Copywriter
A seasoned wordsmith since 2012 with experience working in prominent travel, lifestyle, and media outlets around Bali, Billy Bagus now weaves his linguistic skill at What's New Bali. The plus-sized lad is also the bass-strumming crooner of an indie band that he formed with two friends back in 2005. With equal fervor, he dives into football fandom and gaming realms as well. Billy's culinary wanderlust and curiosity for the hospitality world power his prowess as a leisure reviewer. His versatile writing skill dances across cities in What's New Indonesia, covering Bali, Surabaya, and more whenever necessary. A deadline-driven dynamo, Billy always puts effort into making his commitment shine through in every word. Happily married since 2015, Billy is an avid believer in 'love is given, trust is earned' idiom, and he would go to great lengths to put sincerity up front in every relationship. 

Marcellino Prasdianto
What's New Bali Social Media Specialist
Meet the enigmatic Marcellino Prasdianto. Beneath his introverted exterior lies a vibrant young spirit, blending intelligence with a diligent work ethic. A social media virtuoso, Marcellino's journey in Bali has spanned freelancing and agency collaboration, leaving an indelible mark on some of the island's café, hostel, and restaurant scenes. Behind the camera lens, he crafts digital wonders for What's New Bali, but it's in opening up that he reveals an intuitive, kind-hearted persona. With a knack for critical thinking, Marcellino is the mastermind behind What's New Bali's captivating videos and photos. Off-duty, he's a Barcelona FC-cheering football aficionado, serenading life with self-made electronic beats, and navigating Bali's off-the-beaten paths and shortcuts with an explorer's zeal, all while savoring seafood and skipping rice (if he could).
Welcome to What's New Indonesia, your ultimate guide to exploring the big cities of Indonesia. Whether you are an expat, local, or tourist, we are here to help you discover the best things to do, places to stay and dine, and how to live life to the fullest.

 
Head Office:
GoWork Fatmawati Private Office #107
Jl. RS Fatmawati No 188 Blok A Cipete
Jakarta Selatan 12420
Hp. +62 813-8250-2771
Email : [email protected]
Don't see a place or outlet listed? 
See something needs updating? 
Want to get featured by us? 
Find us at Instagram too!
@WhatsNewJakarta @WhatsNewBali @WhatsNewBandung_  @WhatsNewSurabaya_@WhatsNewYogyakarta