Jakarta, the success of Franchise & License Expo Indonesia (FLEI) last June, motivated Panorama Media as the event organizer to conduct their second masterpiece event in November 2022 in order to boost the spirit of business doers especially in the franchise segment to think forward without a limit and discover new innovation to reach new opportunities. 
Franchise & License Expo Indonesia (FLEI XIX) 2022 will be held at the assembly hall of Jakarta Convention Center on 18-20 November 2022. Pursuing the theme of "limitless opportunities", the exhibitoon focuses on the issue of "one stop solution for business opportunity seekers". The exhibition will be open to public from 10 AM to 8 PM with Rp.55.000,- worth ticket. There will be over 350 franchises, licenses, retail supporters, and many other business opportunities. Potential franchisee are free to visit each booth to study the details of their business plan. The opening ceremony od FLEI XIX will be held on 18 November 2022 with symbolic inauguration. The exhibition will be kicked off with the presentation of franchise industry development in Indonesia and will be proceed with keynote speech session by the Ministry of Commerce that will talk about millennial trends in investing to business sectors.
This exhibiton is held based on the collaboration between Panorama Media with Kamar Dagang & Industri Indonesia (KADIN) and Perhimpunan Waralaba & Lisensi Indonesia (WALI). Also, all three ministries including The Ministry of Commerce, The Ministry of Cooperative and SMEs, and The Ministry of Tourism and Creative Economy directly support the 19th FLEI . The supports for FLEI XIX Exhibition are also welcomed positively by the Biro Perekonomian dan Keuangan Pemerintah Provinsi DKI Jakarta because of the mutual vision and missions which is the economy recovery program especially the UMKM doers.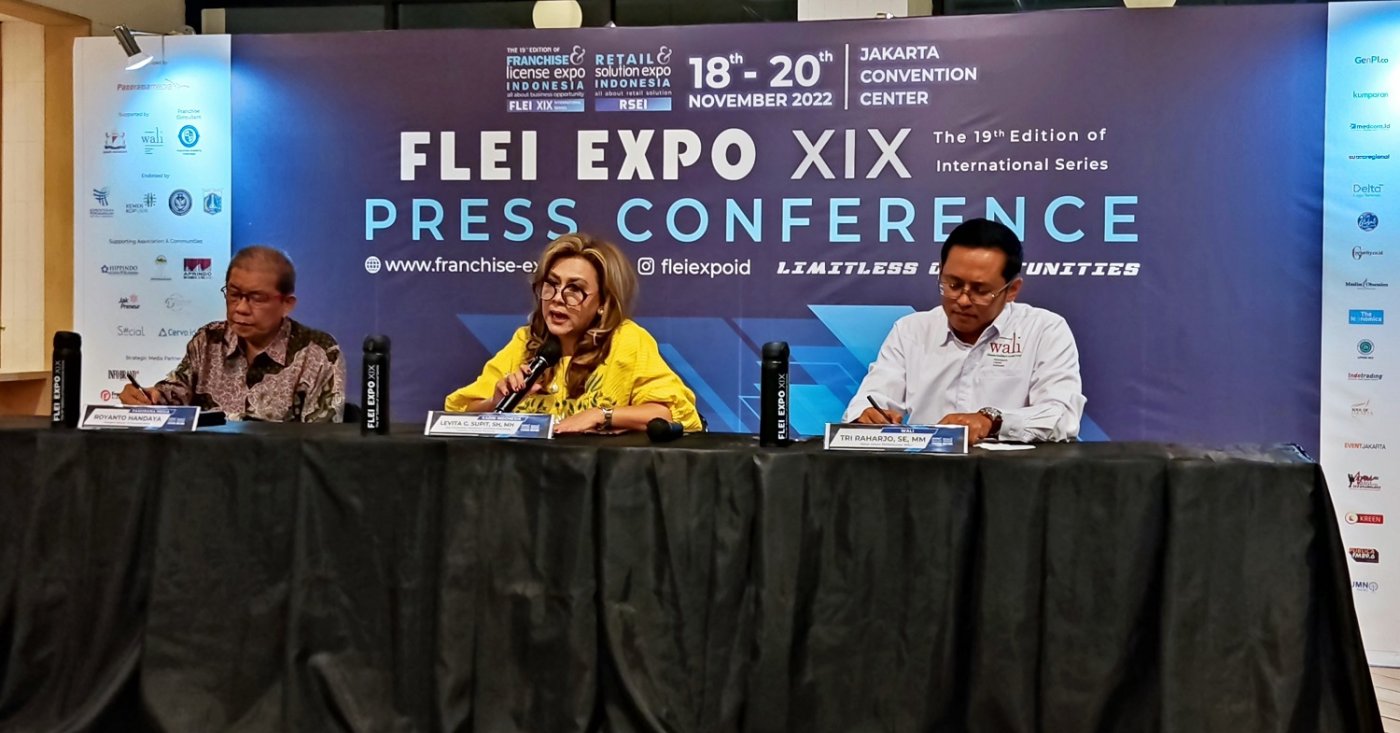 FLEI Consistency in Being the Platofrm for Business Doers
FLEI XIX Press Conference was held on 8 November 2022 in one of the prestigious malls in Jakarta. It was held in GoWork Plaza Indonesia which is a premium co-working space with minimalism concept following the latest working environment trend. This place was chosen because of its positive and cozy environment. Dozens of media was present during the event and it was concluded with a question and answer with the source person.
The President Director of Panorama Media, Royanto Handaya, expresses his optimism regarding the condition of our economy these days. Roy said "It is de facto that Indonesian people are not really affected by the recession issue in 2023. Instead of holding the consumptive cost in the secondary sectors which are lifestyle and entertainment, in reality people's animo exploded in the post pandemic phase. This thing is proven through how people excitedly fill some of the music festivals and various exhibition in DKI Jakarta"
How a lot of entertainment industry output is 'sold out' to the people, proves that the purchasing power and mobility of Indonesian people still show a positive reaction without being affected by economic issues that are hot topics these days. Tri Rahardjo, the head of Asosiasi Perhimpunan Waralaba dan Lisensi Indonesia (WALI), one of the source person, also emphasized "If the interest of the secondary sector is high, i am really optimistic about our event that is clearly a platform of primary needs ecosystem from clothing, food, and housing in which everything will be facilitated in the upcoming FLEI XIX. I'm sure that our event will be really interesting because people need the ability to manage their finances. It can be through franchising, investing, or developing various personal businesses with the varied resources that we offer at the event."
The IMF (International Monetary Fund), released the World Economic Outlook which projects that in 2023, Indonesia's GDP will have a 5% growth. This sure brings a breeze of fresh air in the middle of people's anxiety regarding the 2023 recession. It is indeed a fact that the global economy is in an uncertain place, but this doesn't have to completely affect Indonesia. Because, compared to other GDP top tier countries, Indonesia's economic growth is still better.
The reason behind the steadiness of Indonesia's economy is how we manage to maintain the household consumption rate. Other than that, the government is also consistent in doing sided fiscal policy to protect the lower middle class. With the household consumption keep going, the effect of economic slowdown and global recession will be minimum to Indonesia.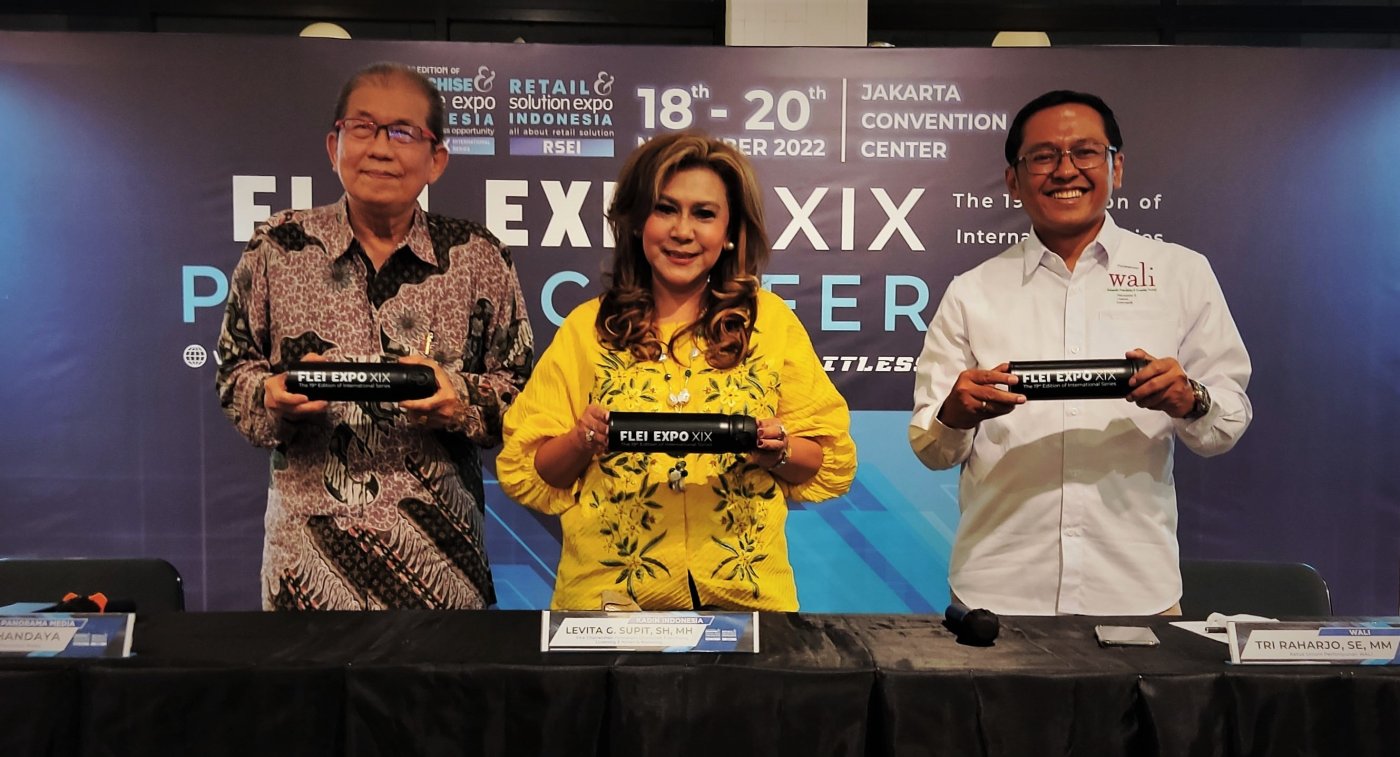 What's Special from FLEI XIX
Besides presenting various franchise brands and licenses, there is also a discussion program with local to international exports in the FLEI XIX - 2022 "International Series" exhibition. The event is hoped to motivate all the local future business doers to go international. "Coherent with the government's program in nurturing the spirit of entrepreneurship in the young generation and the government's effort to boost UMKM to evolve, this year we provide some programs with interesting themes regarding franchise business, licensing, and other business opportunities. We hope that this special program will add new knowledge and also give updates regarding franchise business to bloom new business doers in Indonesia." add Levita G. Supit, the Vice Chairwoman Permanent Committee Franchising, Licensing & Network Marketing of KADIN Indonesia.
In this edition, there is one more thing that is really special and presented exclusively for the first time, only at the FLEI XIX exhibition. It's not just a gimmick, the adding of the word "license" in "Franchise & License Expo Indonesia". But, FLEI really implement the real definition of licensing through product or knowledge that will be delivered in a program called Licensing Brand Indonesia, that will be held in the Licensing Pavilion and Private Meeting Room for Corporate Brands that are serious in boosting the sales and marketing of their product through this program. The Project Manager of FLEI XIX, Rulief Harjianto dares to confirm that "FLEI is the first and only business exhibition that will conduct Licensing in the real context comprehensively through education, dedicated pavilion, attractive showcase, brand collaboration, business matching corporate brand, and other sub-programs from this segment".
And last but not least, there will be our famous childhood superhero and cartoon characters that we used to see on TV and now they are what they call Hollywood movies and some of them are even box office. These superhero and cartoon characters will be presented in 2D visual & digital motion and also 3D action figures that will attract the visitors. Now, FLEI has confirmed the appearance of some representative from Entertainment Studio & Entertainment Company which is a home to world class characters such as: NBC Universal, Sanrio, Hasbro, Warner Bros Discovery Global Consumer Products (WBDGCP), Discovery Global Brands & Experiences part of Warner Bros, Pacific Licensing Studio, Dino Island by Provaliant Group, Pinkfong, Medialink, and other interesting Entertainment Studio that will be participated in the upcoming License Pavilion FLEI XIX.