For the first time, The Gaia Hotel Bandung will hold the Gaia Music Festival on 25 - 26 November 2022, at the Amphitheater of The Gaia Hotel Bandung.
Taking the title Jazz in The Valley for the inaugural edition of the Gaia Music Festival, Gaia, in collaboration with PT Jazz Gunung Indonesia, will invite a number of seasoned jazz musicians such as Andien Aisyah, Tompi, Barry Likumahuwa, Sri Hanuraga who will perform with Dira Sugandi, to the group carrying Gipsy Jazz just finished their tour to France, Sokhi. Do not want to be left behind, the group that won the Ami Awards nomination, 5Petani, will represent Bandung to accompany the country's seasoned jazz musicians.
Andien admits that she is very enthusiastic about being entrusted with appearing at the inaugural edition of the Gaia Music Festival. She promised to perform in a different format and concept than before. "At Jazz in The Valley, I will perform in a special format, especially for the Gaia Music Festival," said Andien, who will appear on the first day, November 25, with Barry Likumahuwa and Sokhi.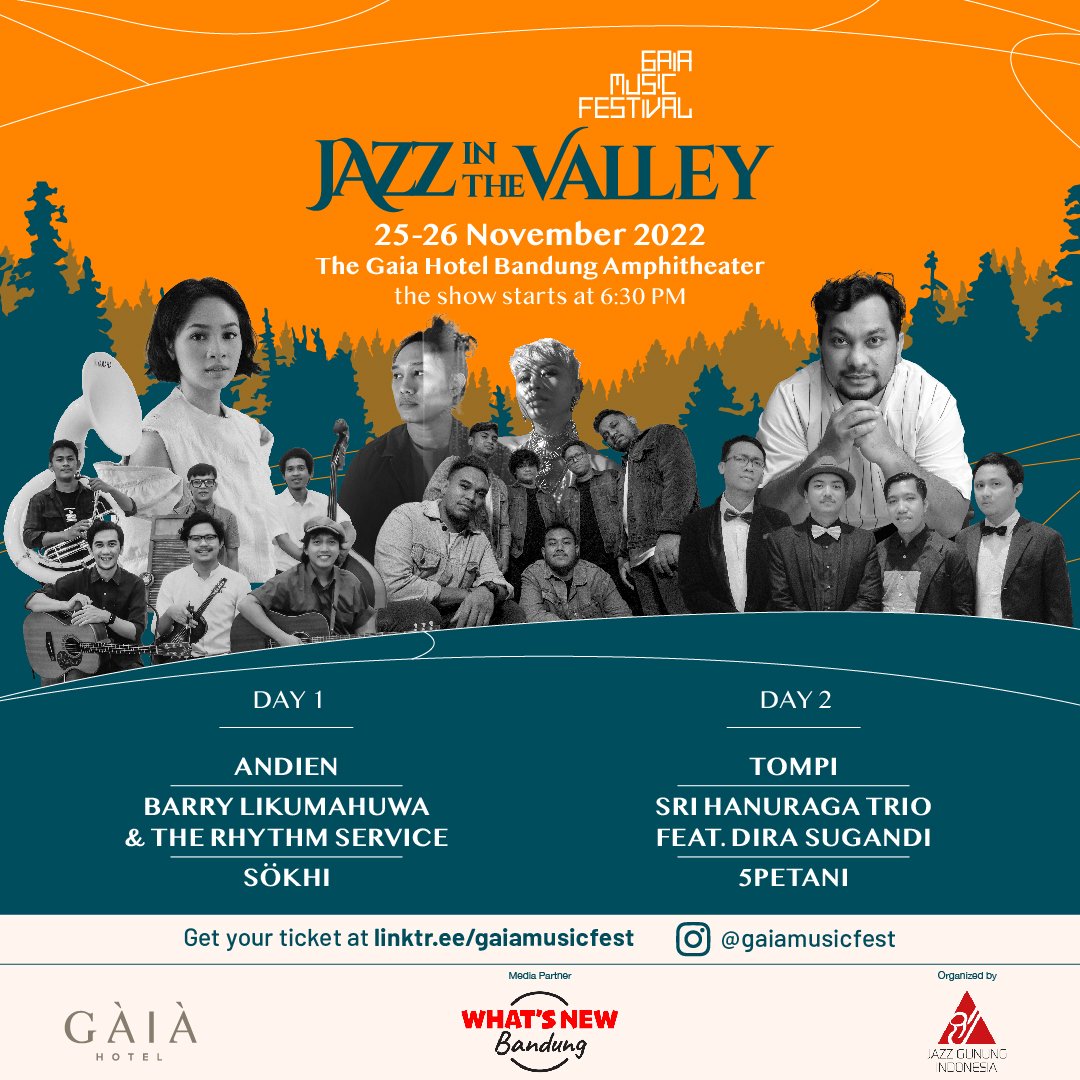 For the second day, November 26, Tompi, Sri Hanuraga Trio featuring Dira Sugandi and 5Petani will provide their harmony and happy energy in the amphitheater which actually functions as a stage for performances. With a limited number of spectators according to the capacity and comfort of the Gaia hotel facilities, it is hoped that an intimate and close atmosphere will be created between the audience and the performers.
"Jazz Gunung is delighted to have the opportunity to work with Gaia Hotel, bearing in mind that many of the performances we have performed have never landed in Bandung, we really hope that the Gaia Music Festival can become a new relationship for collaboration between musicians and performers," said Bagas Indyatmono as director of Jazz Gunung Indonesia.
While Novi Samodro as General Manager of The Gaia Hotel Bandung added, "We hope that this Gaia Music Festival can provide a comfortable and distinctive music viewing experience, almost no distance interaction between performers and audience with good quality performances."
The Gaia Hotel is trying to realize the experience of watching music and feeling like staying at the hotel by providing a bundle between tickets and rooms which can be found on the hotel's official website, thegaiabandung.com.
As for ticket reservations only, potential viewers can visit bookmyshow.com. Ticket prices can be obtained from IDR 350,000 per day.