The Westin Jakarta, part of Marriott International Inc. is renowned for its culinary excellence and is thrilled to announce an exclusive Alaska Seafood Dinner in collaboration with Celebrity Chef Vindex Tengker. This highly anticipated event will take place on May 30, 2023, at The Retreat Lounge, located within the elegant premises of The Westin Jakarta, from 6 PM till 9 PM.
Diners will have the extraordinary opportunity to indulge in an unforgettable culinary journey featuring a tantalizing selection of Alaska seafood dishes prepared by the acclaimed Chef Vindex Tengker, alongside the talented Westin Executive Chef, Daniel Kuser. Together, they will showcase their exceptional skills, expertise, and passion for gastronomy, promising an evening of pure delight for seafood aficionados.
Chef Vindex Tengker, widely recognized for his mastery of Indonesian cuisine and appearances on various culinary shows, will prepare three magnificent Alaskan dishes that beautifully blend Indonesian flavors with the natural bounty of Alaska. Guests can relish the Alaska Salmon Sock Eye Sumatran "Kuah Pindang," an aromatic Sour and Spicy Broth, followed by the exquisite Alaska Sable Fish on "Tinotuan" Risotto, accompanied by Tomato Sambal and delectable "Jambal" Bits. Lastly, the culinary journey will conclude with the mouthwatering Alaska Dungeness Crab "Rujak," accentuated with Tamarind Chili and Coconut Sauce Herb Cheese Croquettes and Grilled Vegetables.
Complementing Chef Vindex's creations, Chef Daniel Kuser will contribute his expertise with three exceptional dishes that exhibit a contemporary twist on Alaska seafood. Diners will have the pleasure of savoring Alaskan Dungeness Crab Gyoza, served with Bisque Foam and Kaffir Lime Crackers, followed by the delectable Alaskan Cod Miso accompanied by Daikon and Mushroom Dashi. To conclude the meal on a sweet note, a refreshing Salted Coconut Bavarois will be presented, perfectly paired with Vanilla Rice Crackers and Coconut Water Granite.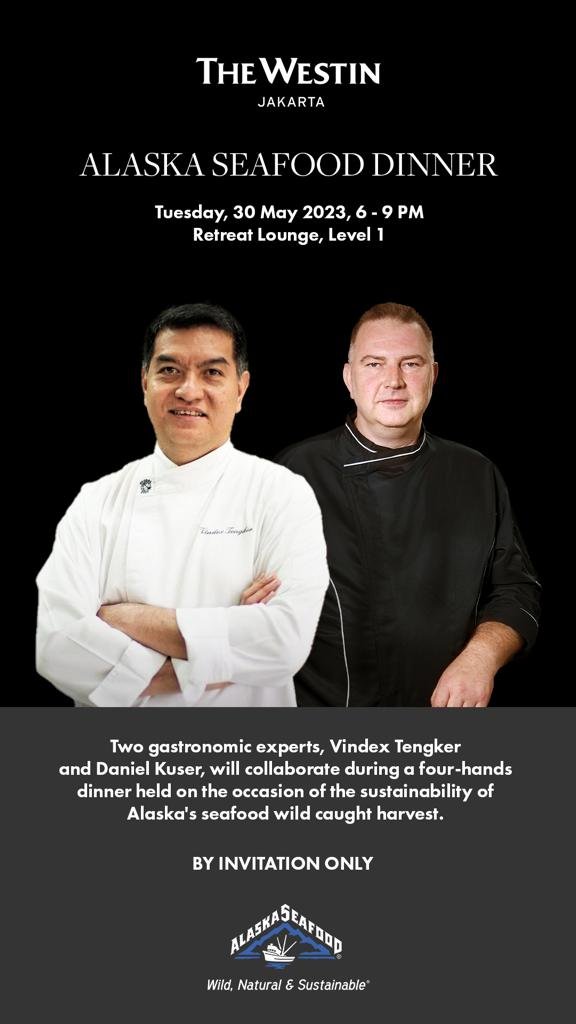 THE WESTIN JAKARTA
Jl. HR Rasuna Said Kav. C-22
Jakarta, Indonesia 12940
T +62 21 2788 7788