Bandung – While relaxing in a bathtub after a long, stressful day sounds like a dream, If you're going on holiday and staying at Swiss-Belresort Dago Heritage in a cozy room with a bathtub, take full advantage of the opportunity and enjoy your bath time to the fullest!
Bath bombs can add an explosion of fun to your bath time, pun intended! A tea sense bath can detoxify your skin, soothe irritated skin and help you relax. Enjoy a night away with our Stay & Sooth Package starts from IDR 1,238,000 net/room/night. Unwind in one of our bathtub experience, each complete with a bubble bath. Enjoy a cozy stay in our Deluxe room inclusive breakfast for 2 persons. Plus, receive a complimentary high tea upon on arrival, and calming Shooting Black Tea bath bomb. Sweeten the stay by high tea dining at The Plaza or Swiss-Kitchen Restaurant and enjoying an exclusive 15% discount on all food and beverage during your stay. This bundling package available until 20 December 2023.
You can add extra touch of serenity to your bath time soak with a blissful way to relieve stress. Wash away your worries with our Ocean Breeze color and calming Shooting Black Tea fragrance Bath Bomb made with sustainable ingredients and safe for Baby and Kids. Ease your body and mind while stimulating a range of healing benefits, from Softening and nourishing your skin to relieving muscle and joint pain for IDR 98,000 net/pc. So, head down to lobby floor, order our bath bomb and get a bath bomb for your next staycation at Swiss-Belresort Dago Heritage!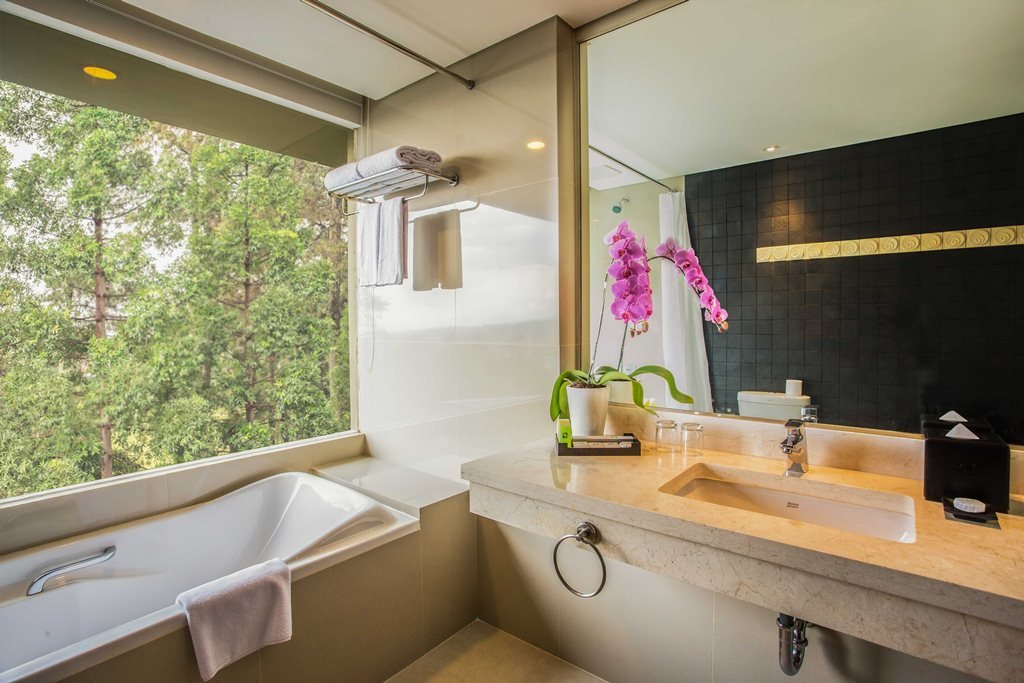 Swiss-Belresort Dago Heritage, a four star international chain hotel, the first Swiss-Belresort property in Java located in the Upper Dago area within the Dago Heritage Golf Course complex, which was built in 1917 and is one of the oldest golf courses in Indonesia. Swiss-Belresort Dago Heritage features 161 rooms with range of international standard facilities include a restaurant, lobby lounge and bar, meeting facilities, heated infinity pool completed with gym, kids club and spa massage facilities, wine corner and easy access to the Dago Heritage Golf Course.
For more information, contact +62-22 2045 9999, Whatsapp to +62-22 2045 9999/ WA on 08112331917 (Room Reservation) http://bit.ly/SRDA-RESVWA / 087779720035 (Swiss-Kitchen Restaurant) https://bit.ly/WA-SKSRDA email to [email protected] or follow Instagram : @swissbelresortdago also Facebook Fanpage : Swiss-Belresort Dago Heritage.