Gerri Primacitra is the General Manager of Swiss-Belresort Dago Heritage. With a 20-year career in hospitality that has taken him from upscale hotels, Gerri truly believes that the magic ingredient in leading a successful hotel boils down to the ability of a leader to surround themselves with a great team. Follow Gerri's path to becoming a hotelier and how his experience has enabled his success today by reading our exclusive interview below.
Q: How is your daily routine as General Manager of Swiss-Belresort Dago Heritage?
A: I wake up at the same time every day, usually at 4.30 am, and then arrive at the hotel around 7 continue with 30 minutes workout afterward get dressed, and prepare to the office to check all the schedule and related emails. I will have breakfast at Swiss-Kitchen at 8 and continue to walk through the hotel and start every day's Morning Briefing with all heads of department at 9. After that I will start the operations controls in the hotel until 18 then I leave the hotel around 19:30.
Q: Tell us more Swiss-Belresort Dago Heritage? Specifically the unique points of the resort.
A: Interestingly, besides the resort concept and our famous warm infinity pool also the view, Swiss-Belresort Dago Heritage is also equipped with meeting rooms for business needs and events. Thus, the composition between market leisure and corporate business is balanced. This hotel is able to attract both markets. So they complement each other, that's the unique selling point. It's not only a resort but it's a place you can do a meeting. In the future, I will try to see that we can simultaneously combine these two markets and add several facilities.
Q: What do you think are the challenges for the hotel today? 
A: In every journey, of course, there are pebbles that become challenges that must be faced. There are always challenges, especially when we deal with people who are more senior in my team, who are also more mature in experience than us. But when facing it, the most important thing is communication, how can we deliver good communication. I always tell my team, communicate everything then follow with professionalism.

The tourism and hospitality industry requires a professional attitude as well as high flexibility to achieve success, especially in the midst of the current changing times.

For me, employees are the biggest asset in a company. I always try to treat employees with empathy and passion because a company will never be successful alone, it takes a strong team collaboration to achieve that success. A happy employee means happy guests. A happy guest means good revenue. So, how can we balance one team and another and maintain communication and coordination in management and daily operations.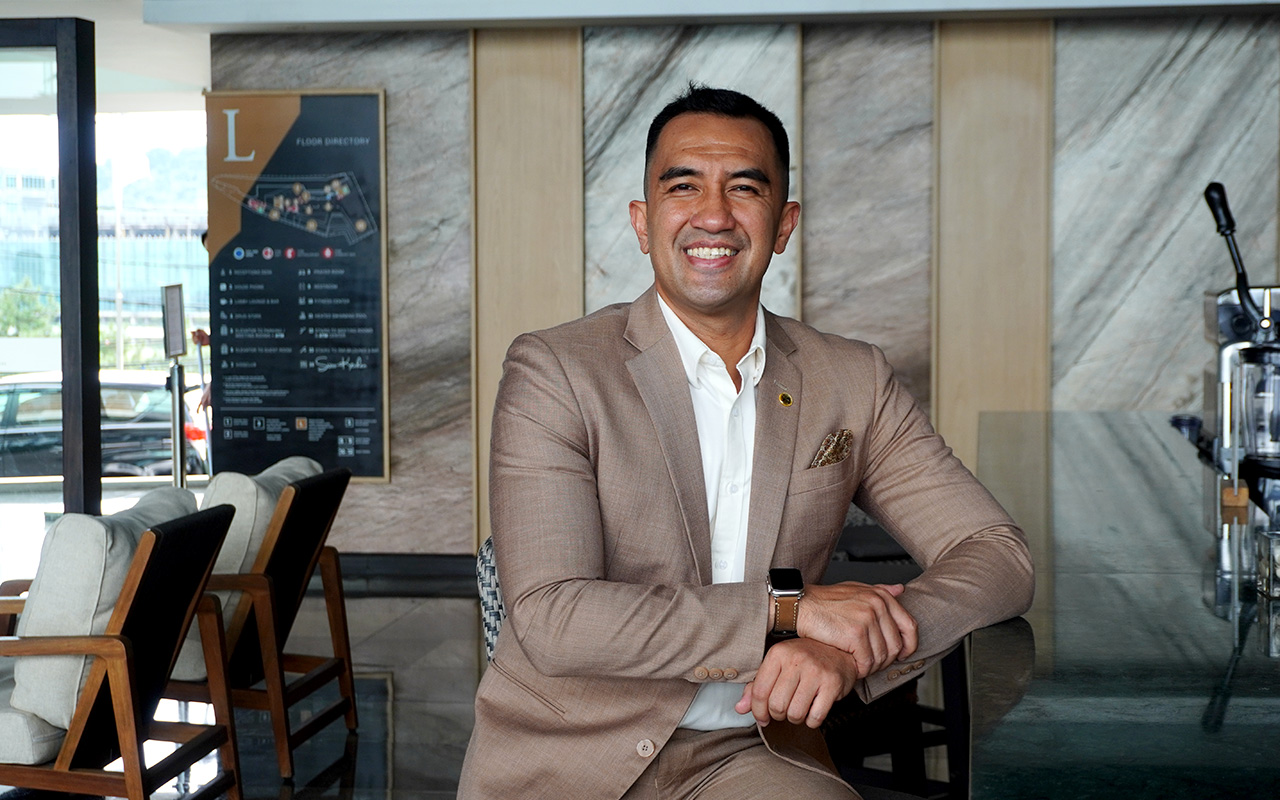 Q: Can you describe in 3 words about your leadership style?
A: Leading by example, Operational Excellent and Integrity 
Q: What advice can you give to young hoteliers trying to make a break in the industry?
A: Attitude is the important point. Besides attitude, integrity is also very important. Have high integrity regardless of position. For example, a waiter must have integrity on how to be a good waiter, and front office positions have integrity on how to be a good front office. Whatever the position, be the best!

The tourism and hospitality industry requires a professional attitude as well as high flexibility to achieve success, especially in the midst of the current changing times.
Q: What are some of the trends you see impacting the hospitality Industry?
A: After Covid-19 we see that experience tourism is on the rise. This trend is about having a once-in-a-lifetime experience or gaining an emotional connection with cultures and nature. As now travelers get tired or bored of cookie-cutter vacations in touristy hot spots, they begin looking for an authentic experience in their travel destination. This will be combined with a genuine hospitality that comes from the heart to create personal bonding.
Q: How do you balance your professional and personal life?
A: A good way of maintaining balance in life is to plan every move in life, whether professional or personal life.

We must prioritize one and the other in the right rhythm and ensure not to neglect the most important in our life is our health and family.
Q: What do you like to do during your free time? Any hobbies?
A: I love to travel and explore new places and culinary, spare time to play basketball and explore the mountains with motocross.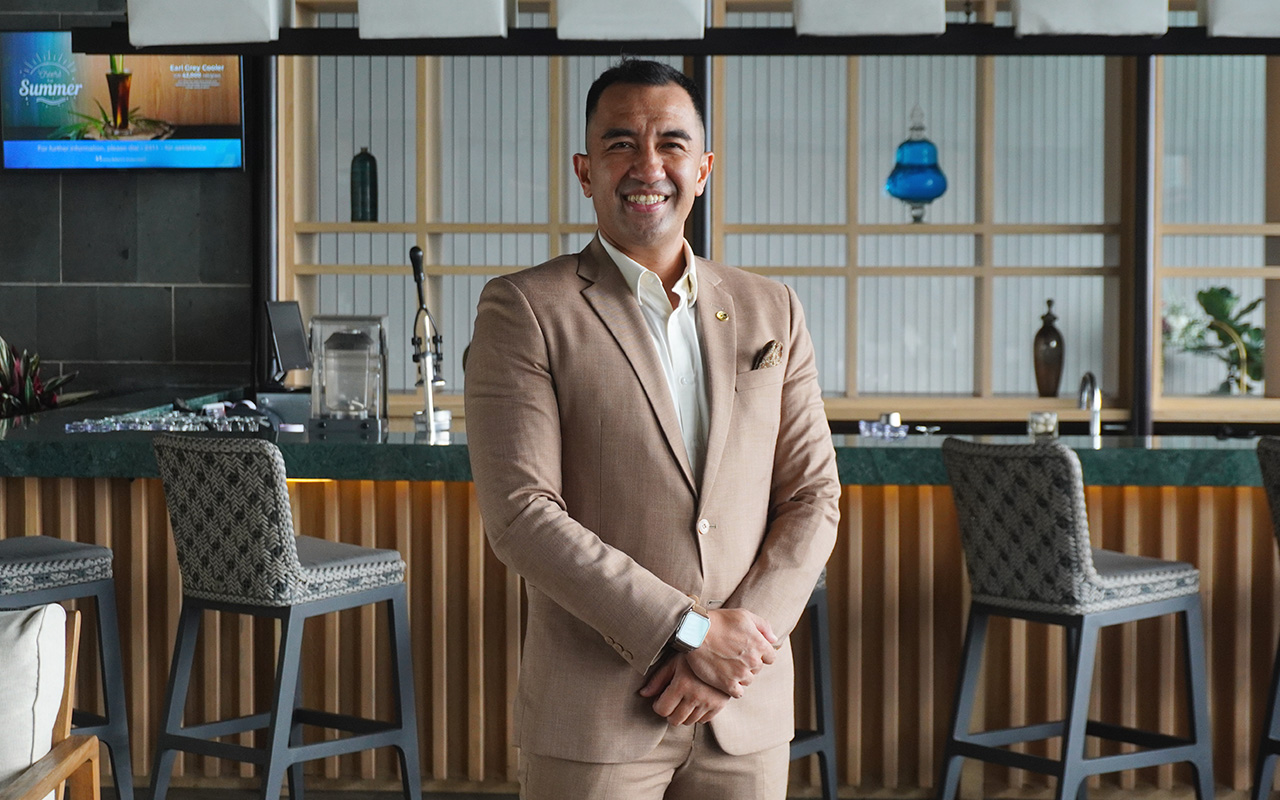 Q: What is your hope for the hospitality and tourism industries in Indonesia? 
A: Seeing Bandung as one of the tourist destinations in West Java also another tourism destination in Indonesia, in the future we will also make tour packages and golf course packages – for example that we are already done doing,  that are integrated with room prices. Maybe a romantic collaboration with SBI properties in Bali and so on. This is what we haven't explored, when we go to Swiss-Belresort Dago Heritage, there are vacation packages to choose from, you can go glamping above, or go to Lembang Fault or Tahura, these don't exist yet. I see that the leisure market will fill up on weekends and the corporate business market will fill up on weekdays. But do not rule out the possibility that corporate, 
and 
government leisure will also become market leisure, so they complement each other.
Q: What is your upcoming plan and strategy for Swiss-Belresort Dago Heritage?
A: Service quality is the main core concern at the moment, that is the essence of the hospitality industry. With excellent service quality, guests will be happy to return. Added supporting facilities to support market satisfaction. To support the quality of this service, as a hotelier, you should be able to hear, hear whatever guest needs are in accordance with applicable procedures and guest complaints for future improvements. So the main strategy is improving our service quality.
Swiss-Belresort Dago Heritage
Jl. Lapangan Golf Dago Atas No.78, Bandung
P: (022) 20459999
Instagram
Website