From June 9th to July 31st, The Trans Luxury Hotel offers a great opportunity to savor Italian delights directly from the magical hands of Chef Francesco Bettoli. Since the dishes are made by an Italian chef, the taste is unlike any ordinary Italian restaurant. With a wide range of choices, including popular Italian dishes like Pizza, Pasta, and Lasagna, The Trans Luxury Hotel provides a great experience at The 18th Restaurant and Lounge (18th floor), and at The Restaurant (3rd floor) where they also offer buffet.
What's New Bandung had the pleasure of speaking with Chef Francesco Bettoli about his culinary background, his tenure at The Trans Luxury Hotel and what's next in the near future.
Q: How did you start your career?
A: Since I was a young boy, I started to love food and loved to see my mom and dad cooking. My grandmother is an excellent cook. So, I started my career like this. I started to cook breakfast for myself. When I did my hotel graduation, during weekends I used to work in the most famous restaurant nearby. 
When I started, I always tried to change, especially at the beginning of my career, I tried to change every six months or a maximum of one year. Because I wanted to get as much knowledge as possible for myself. And then of course, in my career development. Especially, when you are young, you still have a lot of energy to do things. Sometimes, the young generation doesn't really want to compromise their comfort zone. It's not a problem because you have to identify your identity inside. I have good friends around the world, they are excellent doctors, for example, and they are in the intensive care unit. And they work on Christmas, New Year, Sunday, Monday, Tuesday, and Midnight at 1 o'clock. So, if you love something, you can get it. The only limitation is inside your brain. 
Q: So, your mom inspired you to cook?
A: Yes, my mom and my dad. Actually, I can tell you one thing that I never mentioned in other media. When I used to go to primary school, the primary school in Italy used to be from 8 to 5 in the afternoon. So, we had lunch in the school. I never ate lunch in school. I actually hid the food at the back of the table. Because otherwise, the teacher would point at me "Why are you not eating? You need to eat". But the food was not that good. And I always mention to people, if you want to have a real, pure comment about the food, bring the kids that are below 9 years old. They will tell you exactly what it is. If it's good or bad. And then the definition of your palate is between 10 years old and 16 or 17. After that, you started to have additional judgement. So, you need to get all the flavours, all the things right in time to know. When you close your eyes, you say "This is perfect", "This reminds me of my mom (or your grandfather or your grandmother)". So that kind of experience is getting to you and you have a memory of someone in your family that is bringing your culinary level on your tongue and flavours much higher.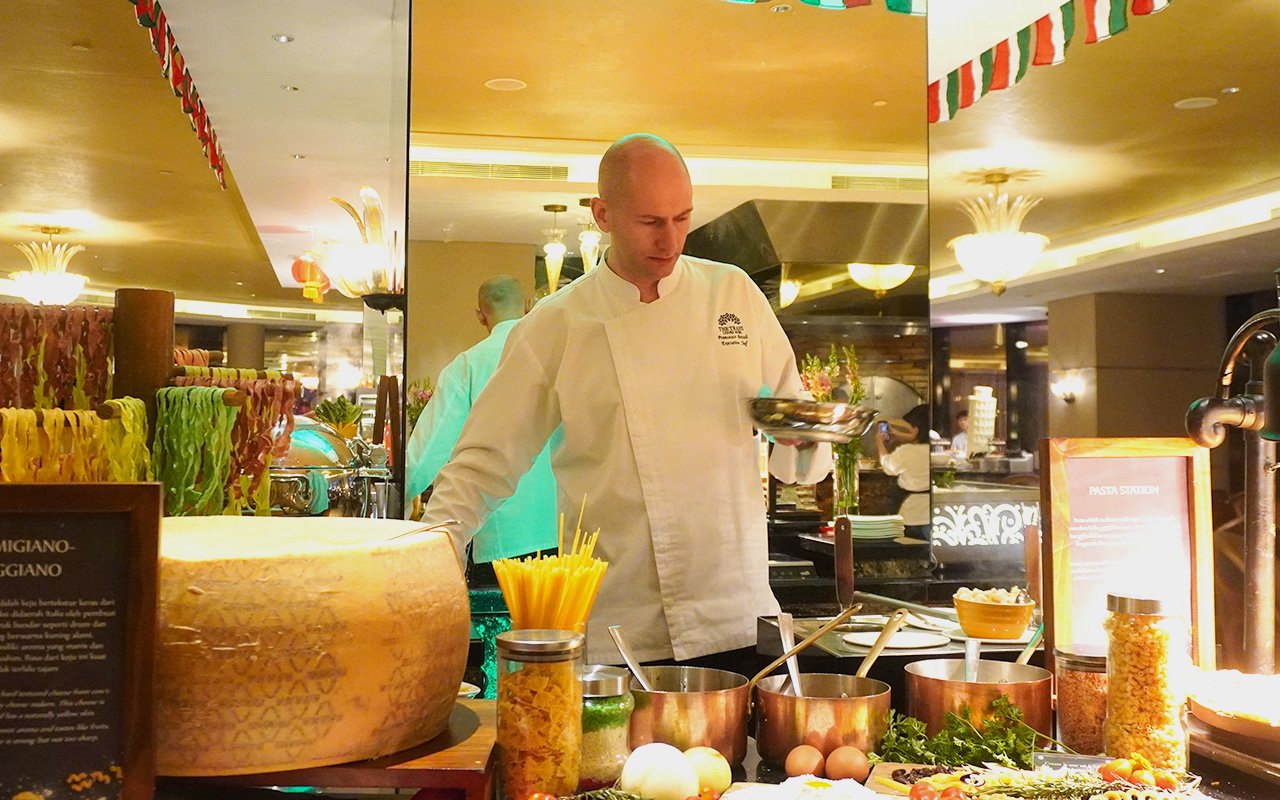 Q: You are from Udine, right?
A: Yes, Udine is a city very similar to Bandung. I mean, the landscape is similar. My region is Friuli Venezia Giulia. We have mountains, the sea, and my area is softly similar to Bandung for their height. But of course, Bandung has many more people. 
We use different types of meat as well. Mushrooms, all these kinds of things. Cure meat as well. Hams, Dry beef as well. We have many different types of flavours. As well as a region that is number one in Italy for wide wines. We have all of them. The right side of my region is going from my area, so Udine is in the middle. So, one of the items that we used from my region, here in the hotel is Illy Coffee which is from Trieste. It's the major city in the entire region. The coffee is from there because it used to be a very multicultural city. There are many different nationalities, it used to be the second biggest port after Venice, in the past. So, it brought up a lot of influence as well on the flavours in my area. Because we used to be under the Hungarish and Austrian empires in the past. So it's a lot of flavours that are quite strong on the food. For example, the promotion that we do on Taste of Italy, with the lamb, has a strong flavour. 
Q: From all that influence, how did you incorporate that into the Taste of Italy
A: What I wanted to share with all the guests and all the customers, is the experience, that this is authentic Italian. Knowing a little bit about the market, what the people look for in the market, here. So, for example, if you are coming to The 18th, and you want an Slow Cooked Osso Buco with Saffron Risotto & Lemon Zest, you get that Slow Cooked Osso Buco with Saffron Risotto & Lemon Zest that is made with slow-cooked braised beef, with a soft Risotto that is authentic Italian. Authentic Italian means like, as I say, there are some similarities between Indonesian and Italian. So, when you taste for example Nasi goreng, or Sate or Sop Buntut, you can identify the flavours. This is very similar to Italian, we like to maintain the food on a certain level that the major ingredients are preserved to cook to perfection. But, to maintain the flavors and all the aromas that can be brought out.
Q: You have been to many countries, right? What are your most unforgettable memories?
A: The unforgettable moment is the moment that you leave your own country. Because you need to transfer your soul somewhere else. So, I won't say that there is one country that I love most, all the different countries brought me different experiences at different times in my life. It's always unforgettable, all of them are unforgettable. Because I end up having wonderful experiences basically everywhere. Even with some very simple food. 
But you get all these kinds of memories that make the place very different. It's always any place you go, it's something that is a wonderful experience. As well as knowledge for the future.
Q: According to you, what does it take to become a successful chef?
A: My advice for all the young generations. You have to really set your brain on a different way of thinking in many ways. I explain to you very briefly, when you choose this type of life, you have to commit to a lot of sacrifices and a lot of hard times in your life. I'm not saying hard times as in people beating you up, but long hours, a lot of dealing with guests, dealing with the situation. So, you need to really come, you need to be financially good, you need to be creative, you need to have good taste, and you need to have a good way to manage your team. So, it's many things. 
You need to sacrifice some of your time in your life and you need to do that in a younger stage before it's too late. You need to move fast, especially now with the digital situation. It's always the next move. I can be here now, but it is always the next move that matters. Studying is really important, but the experience that you get on the road is much stronger. I'm not saying that studying is not needed. When you study for hotel school and you get all the knowledge for hotel school, then after the real life outside of what you've been told in the school, is probably 10% of the reality. Because you gotta start to face the real problem. Real life, not theoretical life. 
Q: Please give us three words to describe your cooking style
A: My cooking style is simple, fresh, and tasty. Simple, because I believe that the more you complicate yourself, the more you don't understand yourself. A famous person, probably you know, says "if you can't explain simply, then you don't understand well enough".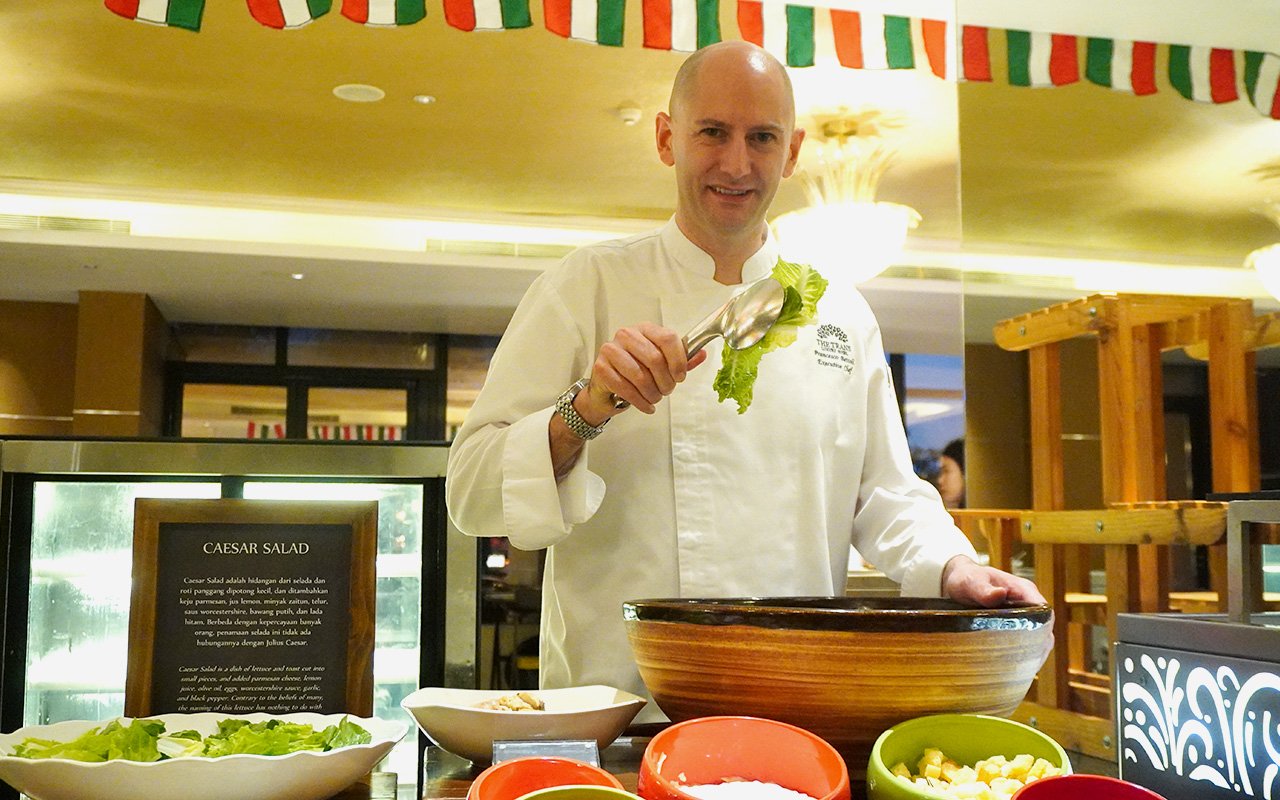 Q: So you've been in Bandung, have you tried any local dishes? And what are your favourites?
A: Yes. So, as I mentioned before. For me, the dish that surprised me was the dish that has a lot of flavour. And of course, I am a beginner, I can say I know a little bit of Nasi Goreng and stuff. For example here, what surprised me and amazes me is Sop Buntut. First of all, we also have an oxtail in Italy. But the kind of soup we have in Italy is way different. We can do a broth like you do, same process, but not that flavour on the spice. And even this like little lime, I don't know exactly what the name is, and squeeze this little lime on top for the soup and give this refreshment and it amazes me. That's it, I still need time to get out because I'm super busy. But I've been to some famous Bakso Stall.
Q: Have you already explored Bandung? What is your favorite thing about this city
A: Very green, very calm people. Always very calm, very settled. The genuine smile, not a fake smile, from your soul. Last Sunday, I was in another hotel just to see something and rode my scooter around. I love to get lost, like lost in translation and lost in the city. On Monday, around lunchtime and school was finishing, the kids were there and they looked at me and they smiled. Somebody took a photo, and then I kept going. It was very genuine, and I believe you need to be at peace and give peace to everyone. Even in the daily basics, because real life is a war.
Q: The last question is, what's next for The Trans Luxury Hotel?
A: Ok, well, we need to keep a little bit of a secret. But first of all, i want to mention, until the 31st of July, we're gonna have Taste of Italy which will be running on the 18th floor with three dishes Homemade Italian Lamb Ragú Tagliatelle, Slow Cooked Osso Buco with Saffron Risotto & Lemon Zest, and my grandmother's to Nonna Nelly's Espresso Panna Cotta. Available every day from 4 o'clock until 11 p.m. And at The Restaurant, we will have a Taste of Italy Culinary Journey, where you can have more variety that we start with Smoked Salmon and Cream Cheese Rolls, Homemade Pasta Station and Parmigiano Reggiano Wheel Cheese, Pizza selections, Italian Fritto Misto, Oven Baked Beef Lasagna and our Signature Tiramisu.
After that, my second new thing will be, we're gonna revise a little bit on the menu here. There's gonna be some changes. I'm analyzing now and trying to think of new items that they can put inside. See what the market wants. So for me, this is like a war map of Bandung. I see what these 2 months are like. Because 2 months is actually a short time for me for a promotion. I want to make it not too long, but probably the next promotion will be 3 months. For now, I think it is the first time that people need to get out as well in the city and for the people coming to visit from the covid situation. What we learned from this pandemic is a past, and now we need to make a move. And so the people need to start to get used to it, and the next move is also we're gonna start printing the menu back to paper and it will not be available anymore on QR. because it's more about the experience that you get. 
The Trans Luxury Hotel
Jl. Gatot Subroto No. 289, Bandung
P: (022) 87348888
Instagram
Website