The best way to celebrate Thanksgiving is to have a wonderful dinner or simply gather around with your family, friends, or loved ones. Here we give you the list of best places in Jakarta to have Thanksgiving feast and events with great deals.
DEALS - Hotel
JW Marriott Hotel Jakarta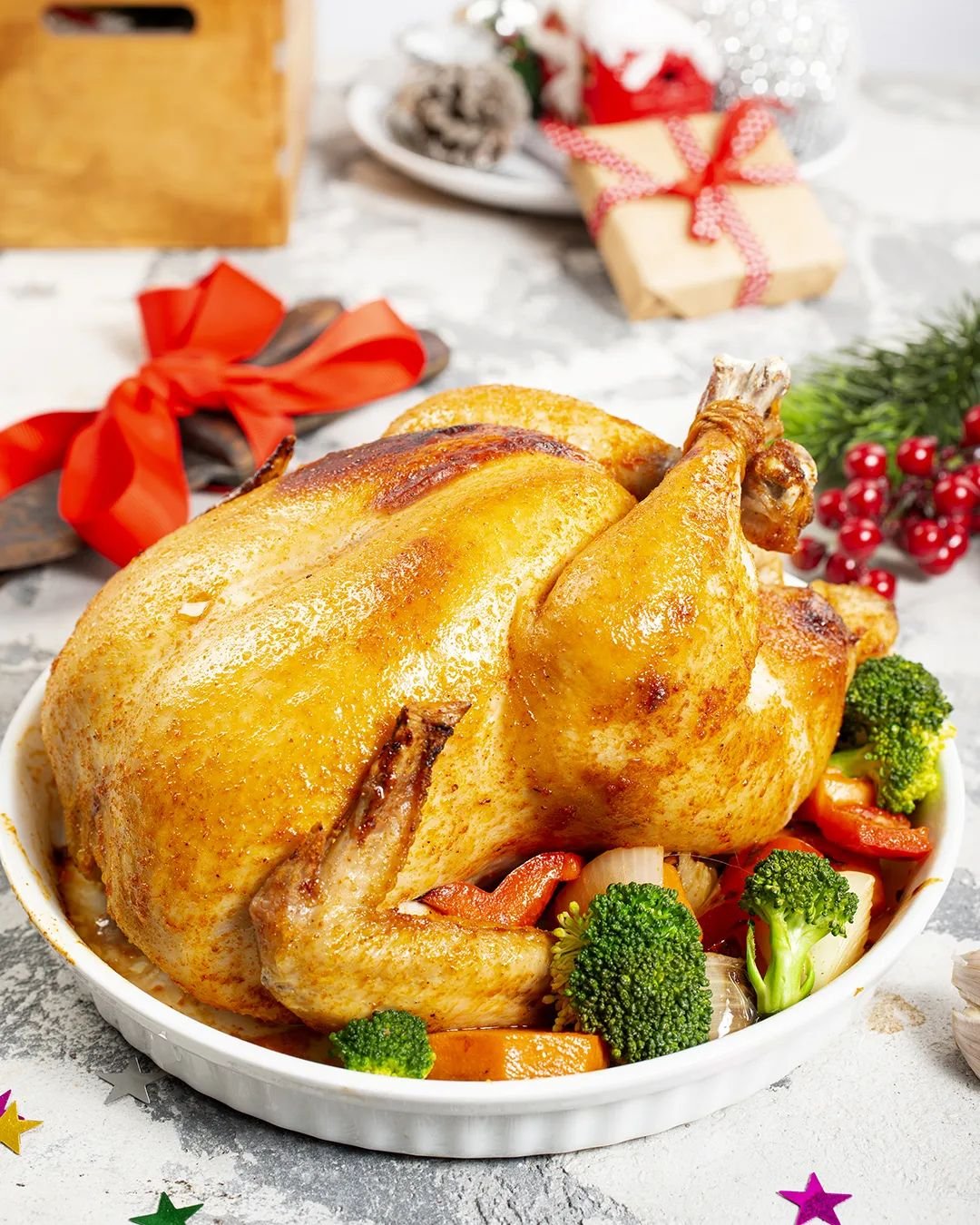 Come to Sailendra Restaurant during Thanksgiving Moments for the perfect feast that makes every single diner feeling thankful and blessed.
Come and join for a delectable Thanksgiving Lunch or Dinner from 24 to 27 November 2022 with your family and friends.
Reserve your table in advance! Call +6221 5798 8888 or WhatsApp +628118588075.
Jl. DR Ide Anak Agung Gde Agung Kav. E.1.2 No. 1 & 2, Mega Kuningan, Jakarta 12950, Indonesia
Phone: (62-21) 5798 8888, +628118588075
Pullman Jakarta Indonesia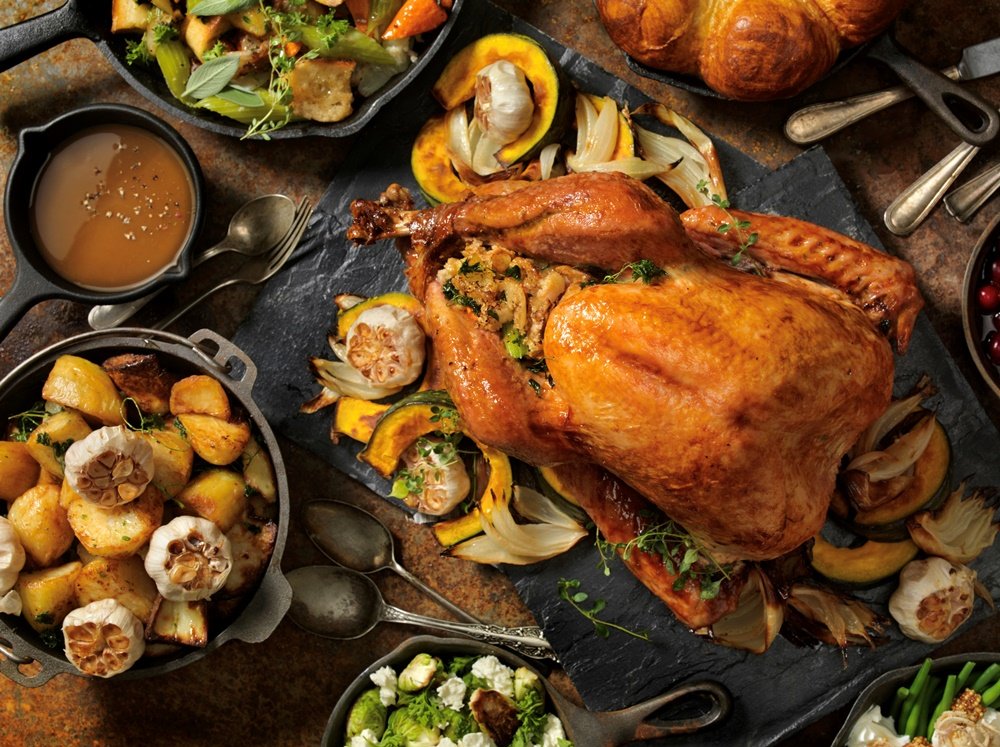 Planning a Thanksgiving feast for the family?
A delectable Thanksgiving brunch awaits at Sana Sini Restaurant Pullman Jakarta Indonesia. Featuring five stations of local and international cuisines and desserts, as well as a special whole roast turkey that is carefully roasted to perfection to assure the best quality and finest taste.
 
Sunday, November 27th, 2022
Thanksgiving Brunch IDR 520,000++ per person
And for those who looking for some elevated dining experience, you can also enjoy a free flow beer, wine and sparkling wine with IDR 910,000++ per person
 
For more information please contact Sana Sini Restaurant Pullman Jakarta Indonesia by Email on [email protected] or Whatsapp +62815-8532-4614.
Jl. M.H. Thamrin 59, Jakarta 10350
Phone: +62 21 3192 1111, +62815-8532-4614
Shangri-La Jakarta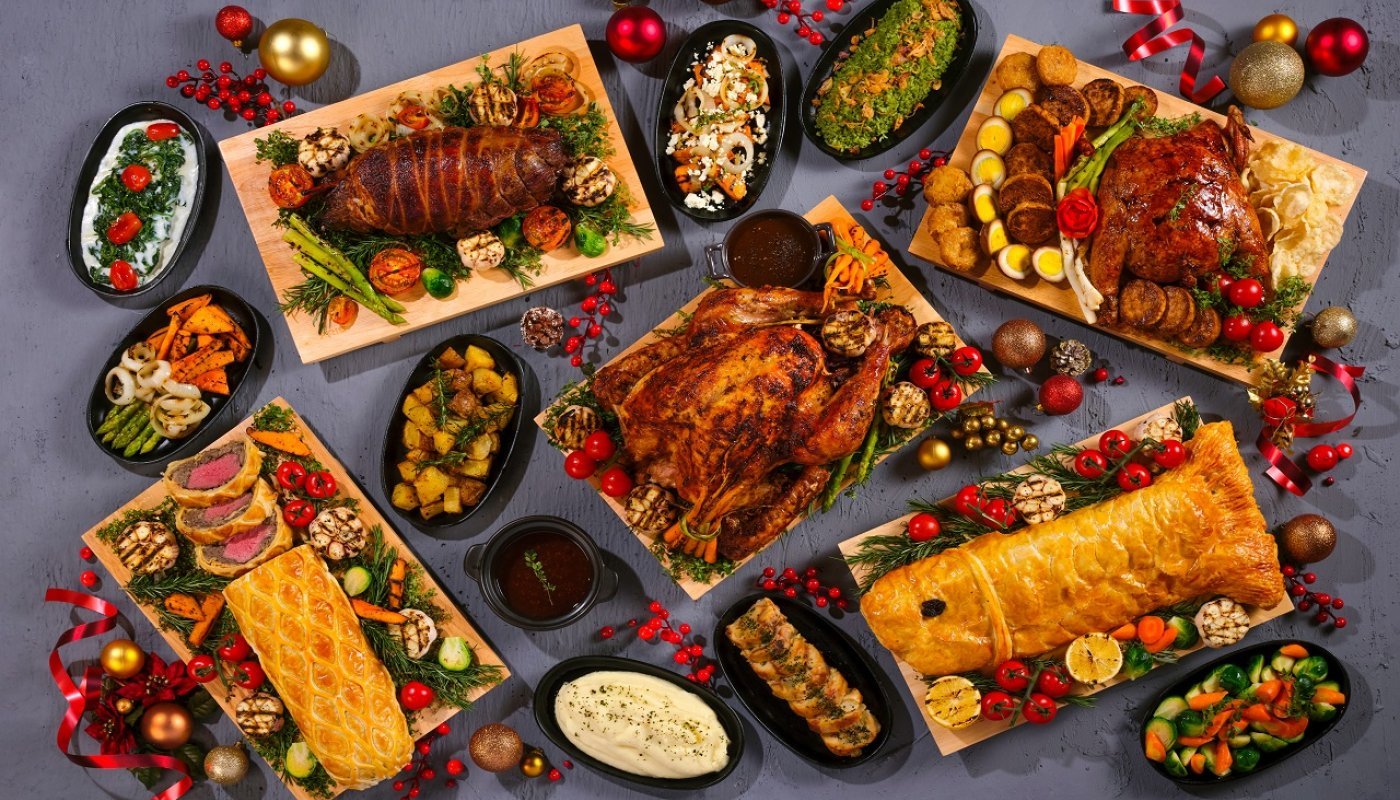 There will be sumptuous Thanksgiving dining spreads available at SATOO where diners can satisfy their appetites and indulge. Special cuisines, including Roasted Herb Norbest  Turkey, Slow-cooked Red Wine Braised Beef Brisket, BBQ Honey Roasted Ham,  Norwegian Salmon En Croute, and Australian Lamb Leg Pistachios Rolled will be served on 25 November 2022. The Thanksgiving Lunch starts at IDR 398,000++ per person and the Dinner Buffet is offered for IDR 699,000++ per person. 
Delivery 
Enjoy our enticing menu options, such as Whole Roasted Herbs Norbest Turkey, Traditional Classic Beef Wellington, Norwegian Salmon En Croute, Roasted Aust. Lamb  Leg Stuffed with Dried Fruit, and Signature Ayam Kodok, while celebrating special occasions with family and friends in the comfort of your home. All menu items are ready for takeaway or delivery and are available from 25 November 2022 to 1 January 2023 with prices starting at IDR 1,100,000+.
For more information and to make reservations, guests may call +6221 2922 9999, visit https://linktr.ee/shangrilajkt or access the website at http://www.shangri la.com/jakarta/.
Kota BNI. Jl. Jend. Sudirman Kav. 1, Jakarta 10220, Indonesia
http://www.shangri la.com/jakarta/
The Dharmawangsa Jakarta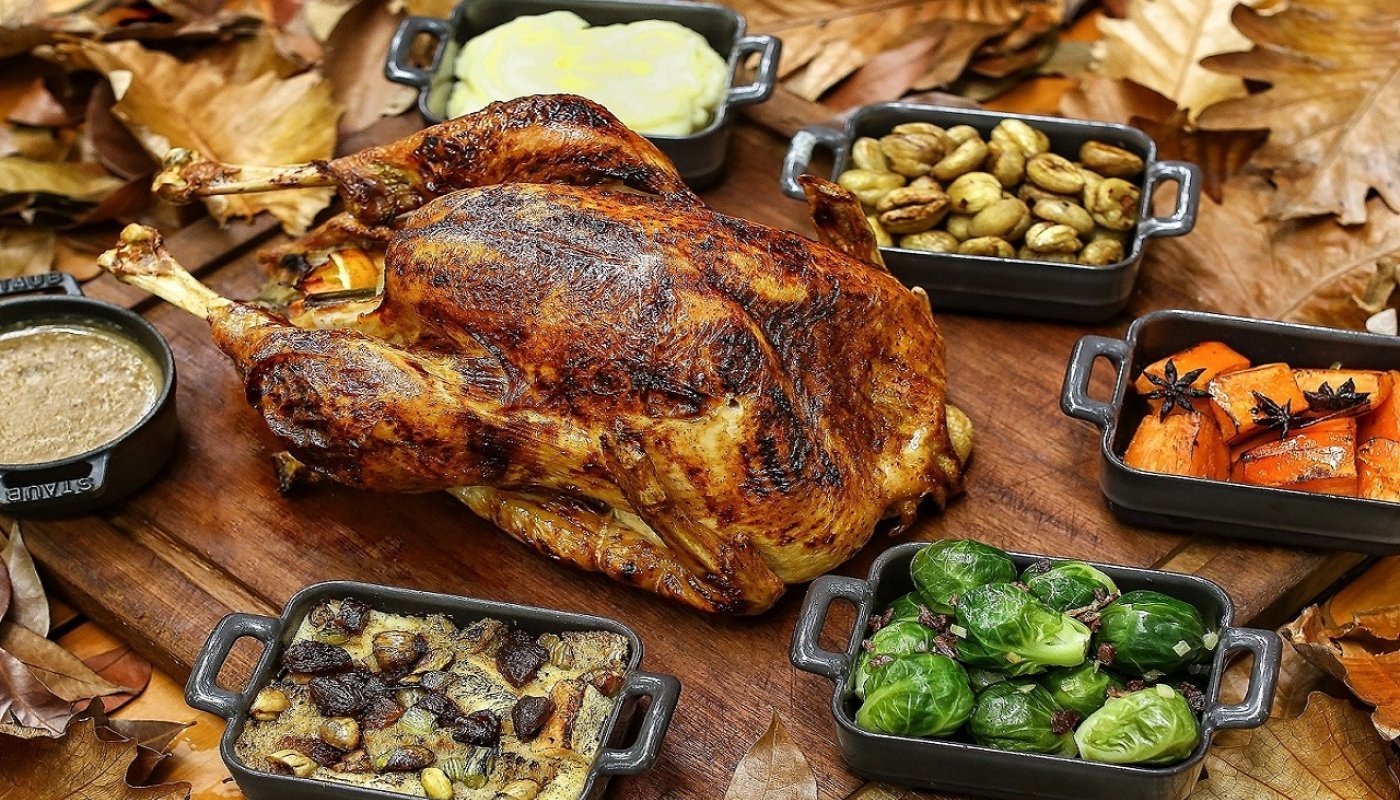 This holiday season, gather and celebrate Thanksgiving at The Dharmawangsa Jakarta with a  gourmet Thanksgiving Dinner Feast at Jakarta & The Courtyard or enjoy our specially-prepared  Turkey To-Go with friends and family in the comfort of home.  
Thanksgiving Dinner Feast at Jakarta & The Courtyard 
Friday, November 24th, 2022 at 06:00 p.m. – 10:00 p.m. 
Chef Emmanuel Julio will create a memorable feast including the traditional Thanksgiving turkey complete with delightful side dishes. Guests can also indulge in carving stations serving roasted Australian rib eye and honey-roasted beef ham; as well as savory specialties from spiced pumpkin soup, and macadamia-crusted chicken breast to an old-fashioned beef stew, finished with a decadent dessert buffet by Pastry Chef Imam Mugni such as pumpkin cheesecake trifle, rosemary corn cake with honey and brown butter frosting, and selections of home-style pies such as pecan, peach, and apple pie.  
Thanksgiving Dinner Feast starts at IDR 895,000++/adult and IDR 495,000++/kid. (4-11 years old). For reservations, please kindly contact F&B Reservation at +62 811-1025-999. 
Roasted Turkey To-Go  
Tuesday, November 1st – Monday, December 26th 2022  
Enjoy a classic Thanksgiving meal complete with all the trimmings in the comfort of your home,  prepared by Executive Chef Emmanuel Julio. This indulgent dinner serves 10-15 people and includes a 5 to 7 kg turkey made with apple and chestnut brioche stuffing, turkey gravy and cranberry relish; two savory sides of roasted garlic & herb potatoes and truffle mac & cheese;  hearty greens including maple-glazed brussel sprouts with beef bacon, honey-glazed pumpkin and  organic carrot, and sauteed baby beans; and freshly-baked brioche rolls and spiced pumpkin pie. 
Turkey To-Go is available at IDR 5,985,000++/set. 
For more information, please kindly contact F&B Reservation at +62 811-1025-999. 
The Dharmawangsa Jakarta 
Jl. Brawijaya Raya No. 26, Kebayoran Baru , Jakarta 12160 - Indonesia
The Ritz-Carlton Jakarta, Mega Kuningan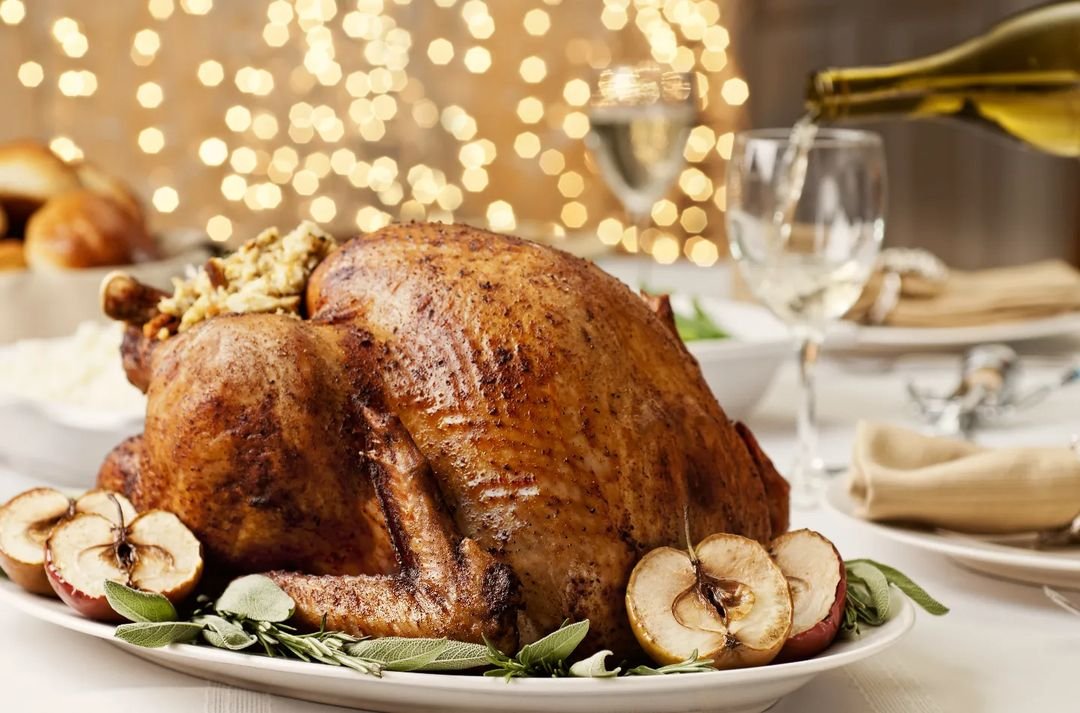 Make your way for a classic gourmet occasion at Asia Restaurant.
The culinary team will tempt you with a wonderful Thanksgiving buffet spread, featuring a turkey station, seafood, sushi, salmon en croute, herb-roasted lamb, and many more!
Not to mention, this special event will be accompanied by live entertainment.
Join at dinnertime, Thursday, 24 November 2022. Reserve in advance now and enjoy 50% off for limited seats only! WhatsApp at +62 811 1683 926.
Jl. DR. Ide Anak Agung Gde Agung Kav.E.1.1 no.1, Mega Kuningan, Jakarta, 12950 Indonesia
Phone: +62 21 2551 8888, +62 811 1683 926
DEALS - Restaurant
El Asador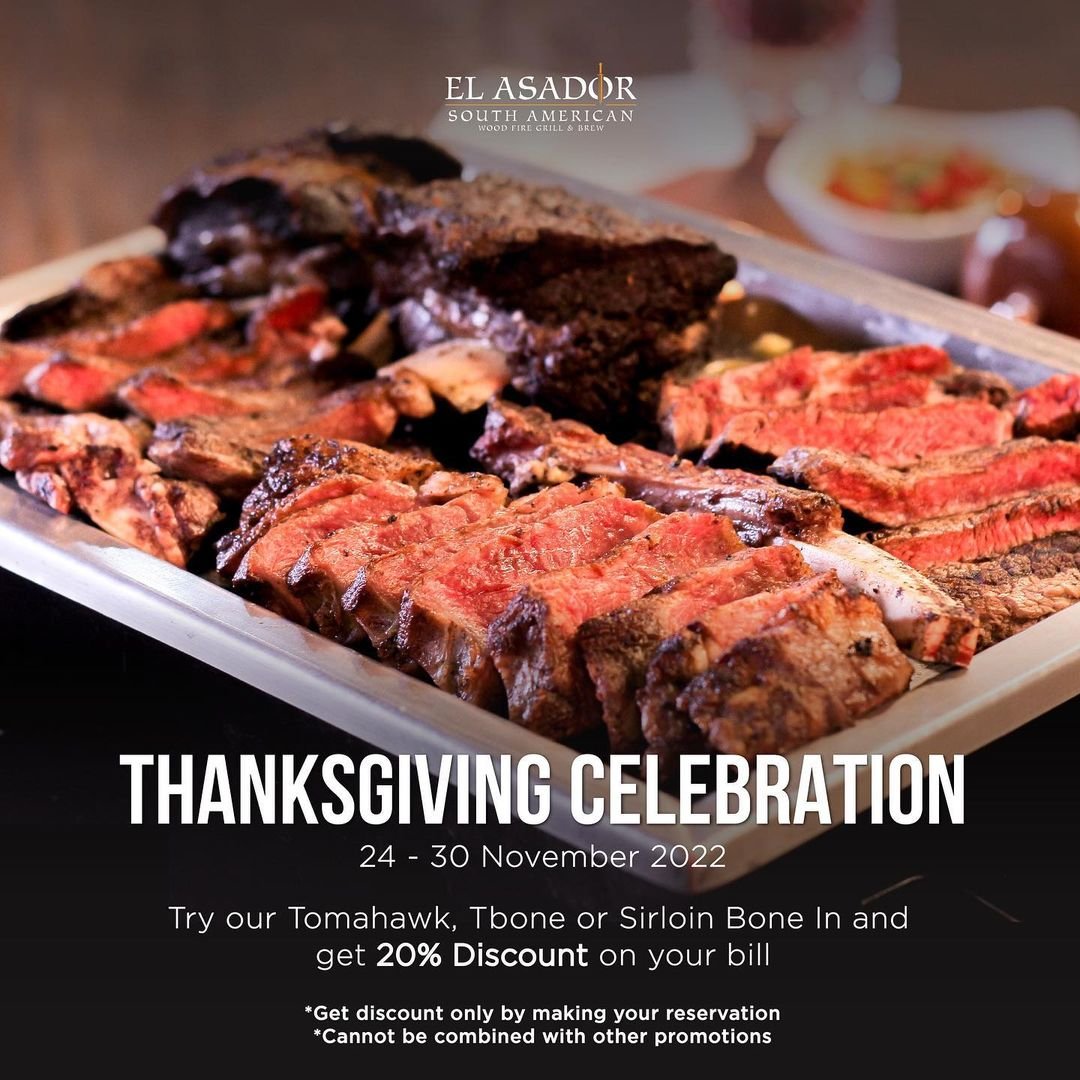 Thanksgiving Celebration at El Asador
Try El Asador's signature Tomahawk, Tbone or Sirloin Bone-In and get 20% Discount on your bill. Get discount only by making your reservation on 24 - 30 November 2022
More info & RSVP by WA 081295372070 or call 0217197269.
Kemang Point Building Ground Floor 
Jl. Kemang Raya No. 3, Jakarta 17230, Indonesia
Phone: +62217197269, +6281295372070 
Pantja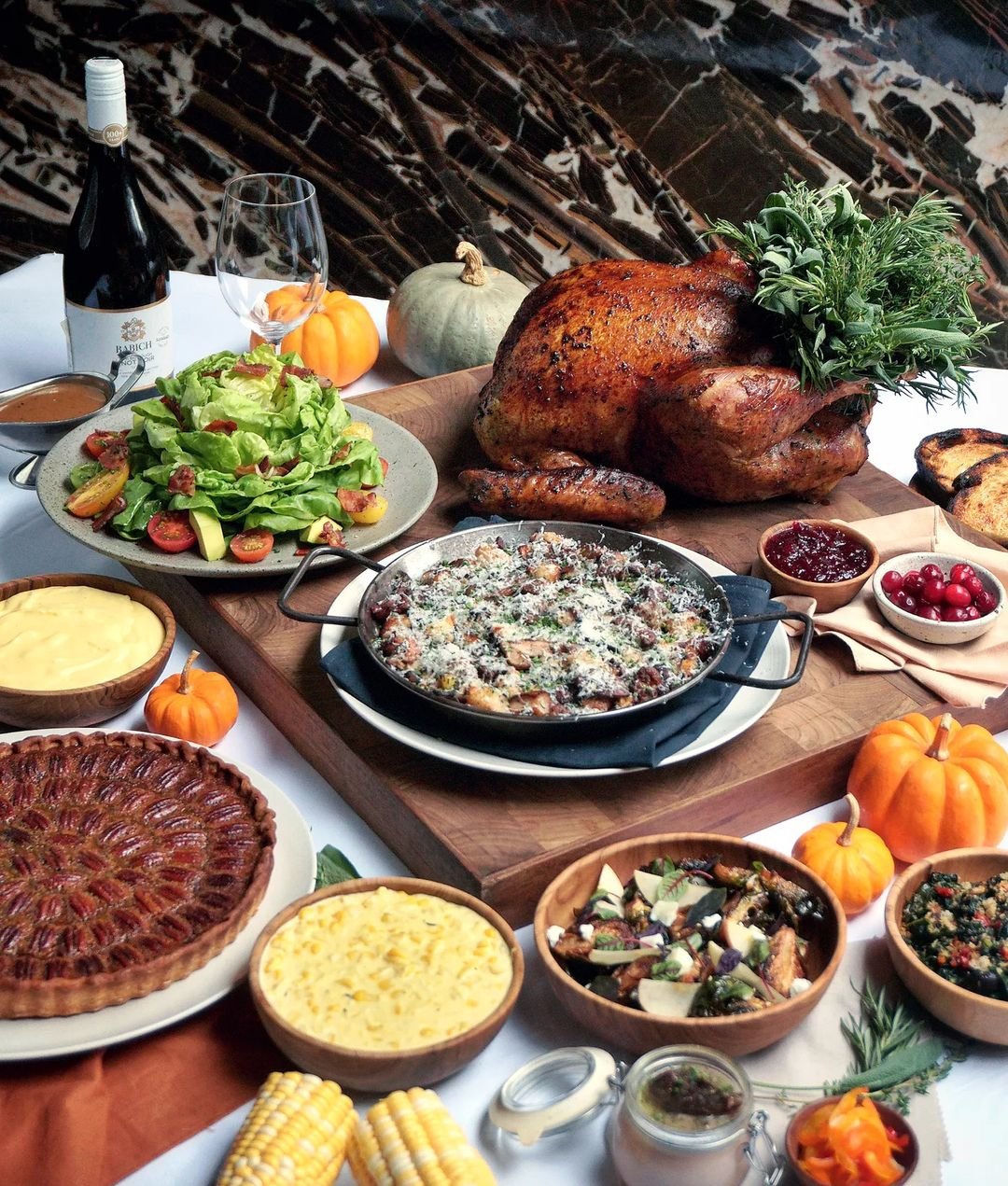 We are fast approaching the season to be thankful!
Celebrate Thanksgiving with the delicious wood-fired, slow-cooked rotisserie turkey set menu together with delicious Thanksgiving sides of chicken apple porcini stuffing, brussel sprouts, butter lettuce salad, chicken pate, pomme purée, cranberry sauce, and turkey dripping gravy. Round your meal off perfectly with your choices of Dough Lab Pecan Pie or Dough Lab Pumpkin Cheesecake.
Pre-order your turkey now - available until 27th November! 
Jl. Senopati No. 37, Senopati, Kebayoran Baru, Jakarta Selatan
Phone: +6221 5213010, +628111273010
Le Quartier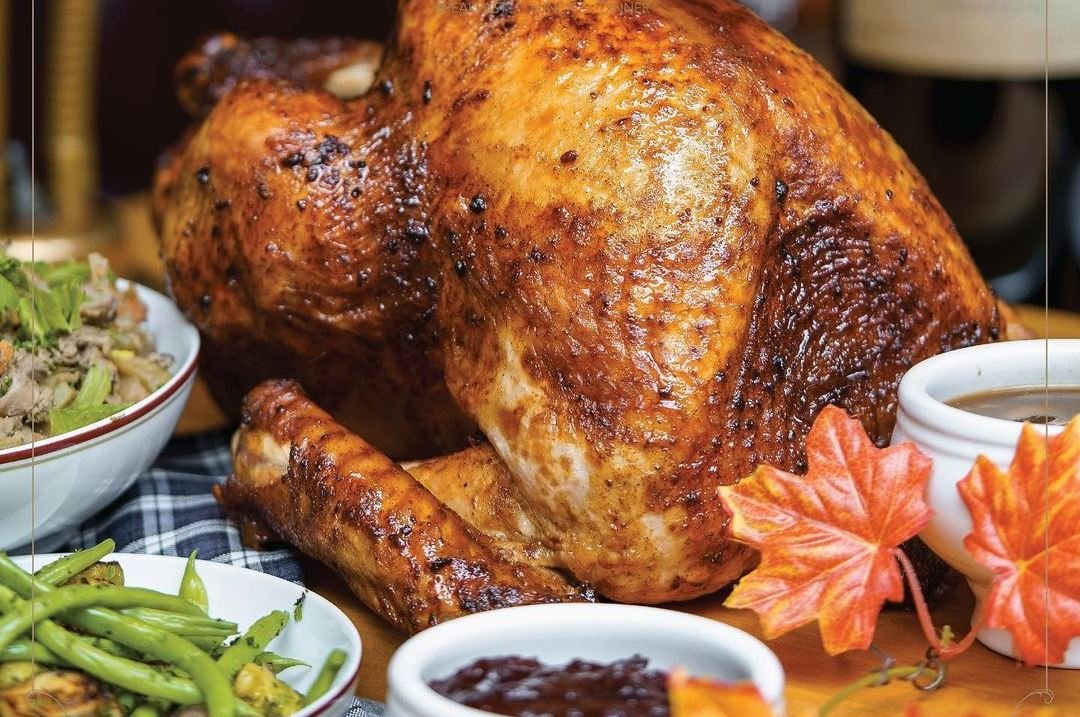 Thanksgiving at Le Quartier will be starting Thursday dinner, 24 November 2022. Savor the goodness of Roasted Turkey with Traditional Chestnut Stuffing, and Clafoutis of Northern Cherries.
Limited availability, reservations, and pre-orders are highly recommended.
Jl. Gunawarman No.34, Kebayoran Baru, Jakarta Selatan
Phone: +62-21-72788001, +62-21-72788003, +62852 81965356
Meatsmith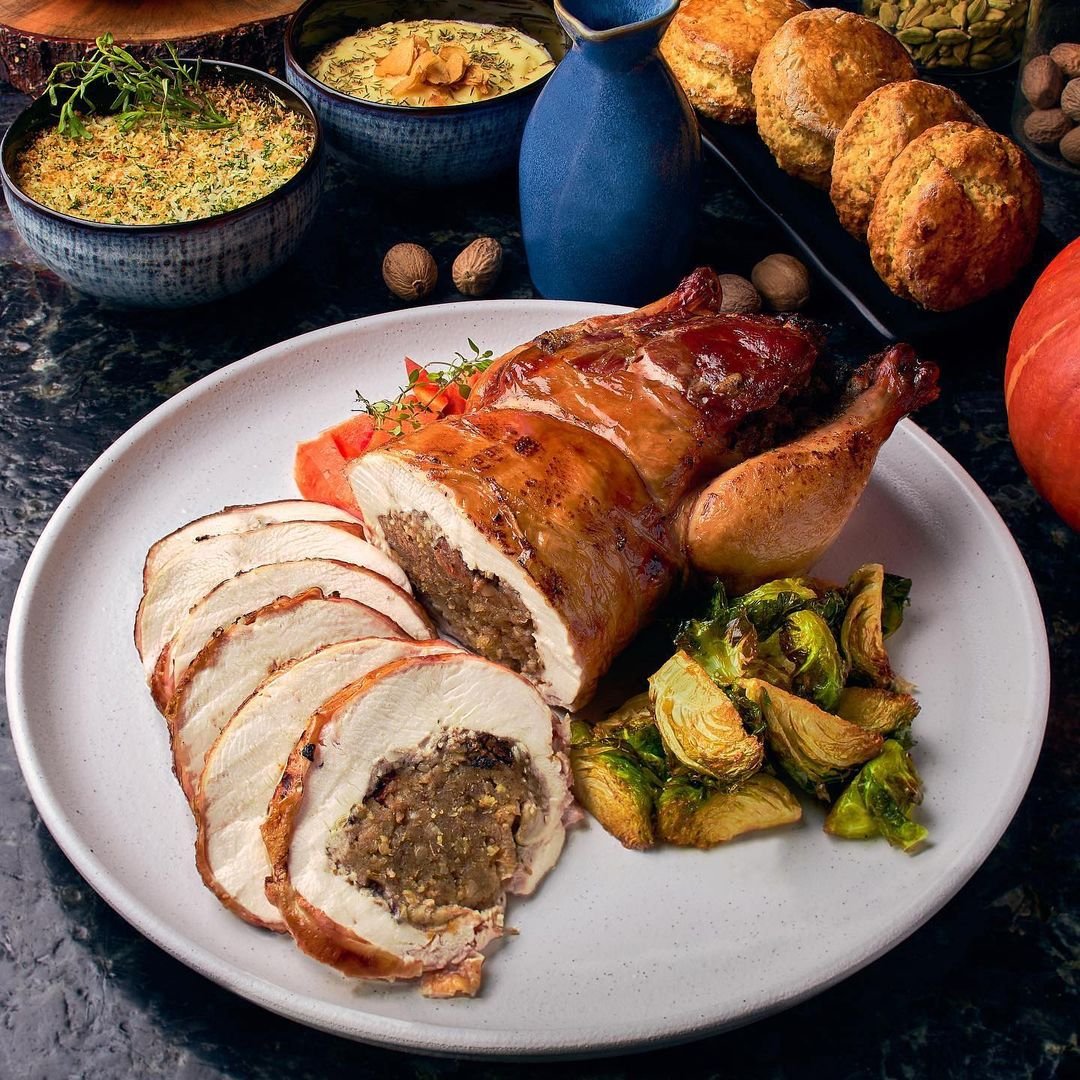 Celebrate Thanksgiving at Meatsmith! Featuring ROASTED DUCKEN Duck and Chicken Ballotine with Cornbread Stuffing.
Thursday 24th Nov
Special Lunch and Unlimited Dinner Feast at 5:30PM and 9:00PM
with Carving Station
Sunday 27th Nov
Sunday Brunch at 11:30AM
with Carving Station and Craft Beer Tasting
Space is limited so make sure to reserve your table via WA +62 811 9760 2000.
Jl. Gunawarman No.17, Kel. Selong, Kebayoran Baru, Jakarta 12110
Phone: +62 811-9760-2000
EVENTS
AmCham Thanksgiving Day Golf Tournament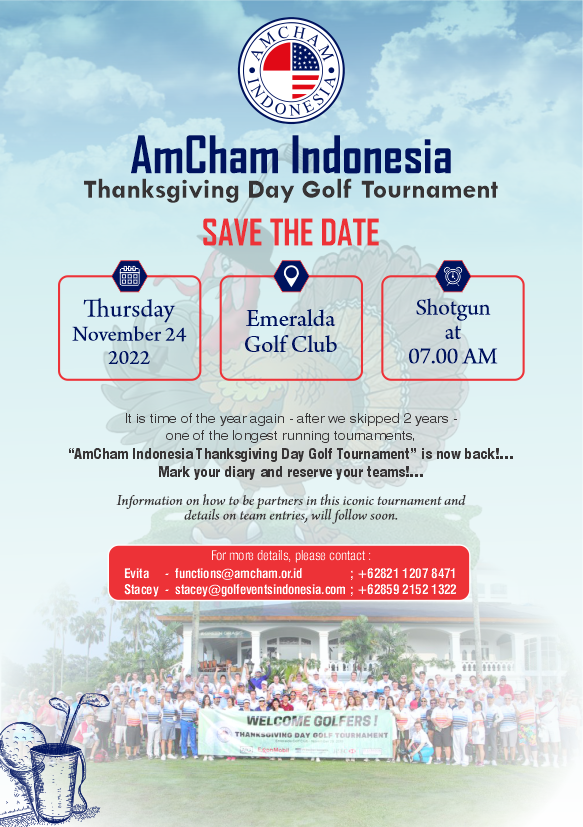 For many years before Covid, AmCham successfully held tournaments with more than 100 enthusiastic players and strong support from sponsors.
And now, they are preparing for November 24, 2022 Thanksgiving Day tournament and expect even more enthusiasm this year.
With this in mind, they invite your company to provide sponsorship in the form of cash, lucky draw prizes, and goody bag items.
Please click here to get the sponsorship package and form. 
Player registration is separate from sponsorship. The player registration form to be emailed to you soon.
For further information, please contact:
[email protected] or [email protected]
AmCham Thanksgiving Networking Evening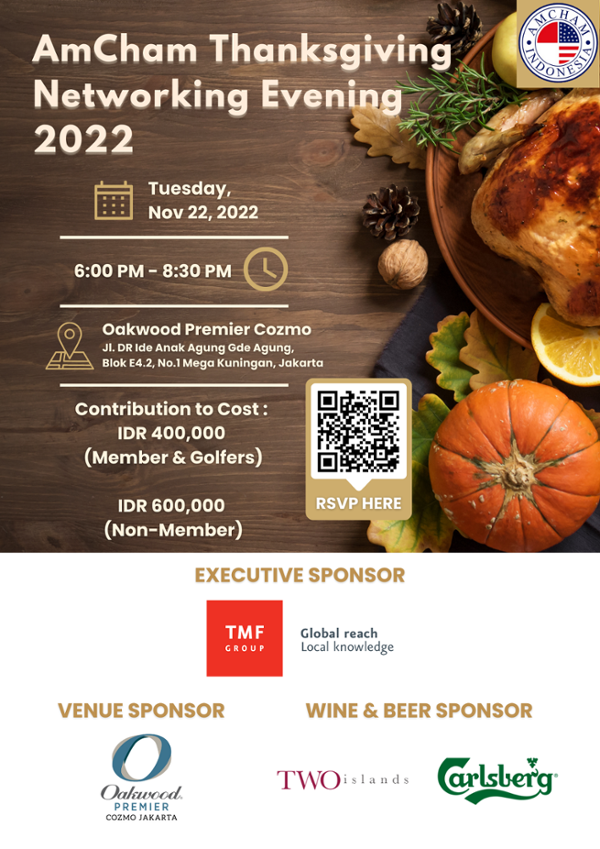 Please join this special evening of expanding your Jakarta network, making new connections, and meeting the candidates for the 2023 AmCham Board of Governors. 
All 2022 AmCham Thanksgiving Day Tournament golfers are also invited to meet with their teams to plan strategies in an informal setting. 
Everyone is invited to enjoy some traditional Thanksgiving turkey!
A selection of dishes, featuring turkey, and soft drinks, beer and wine will be served.
Let's celebrate Thanksgiving together!
CONTRIBUTION TO COST
AmCham Members & Golf Players
IDR 400.000,-
Non-Member
IDR 600.000,-
 
We accept payment by credit card and bank transfer via virtual account. Link for payment will be sent to you after you register for the event.
If you are having a problem with registration, please send email to [email protected]
 
Cancellation must be in writing via e-mail to [email protected] latest by noon on Monday, November 21, 2022.