Planning an escape from the hustle and bustle of the city and seeking a stunning sightseeing and fresh air experience in Lembang? Look no further than these recommended hotels near Lembang and its beautiful surroundings. Each hotel offers a unique charm and comfortable accommodations, making your getaway truly memorable. 
Best Hotels in Lembang and the Surrounding Area / Hotel Terbaik di Lembang dan Sekitarnya
1. Gaia Hotel Bandung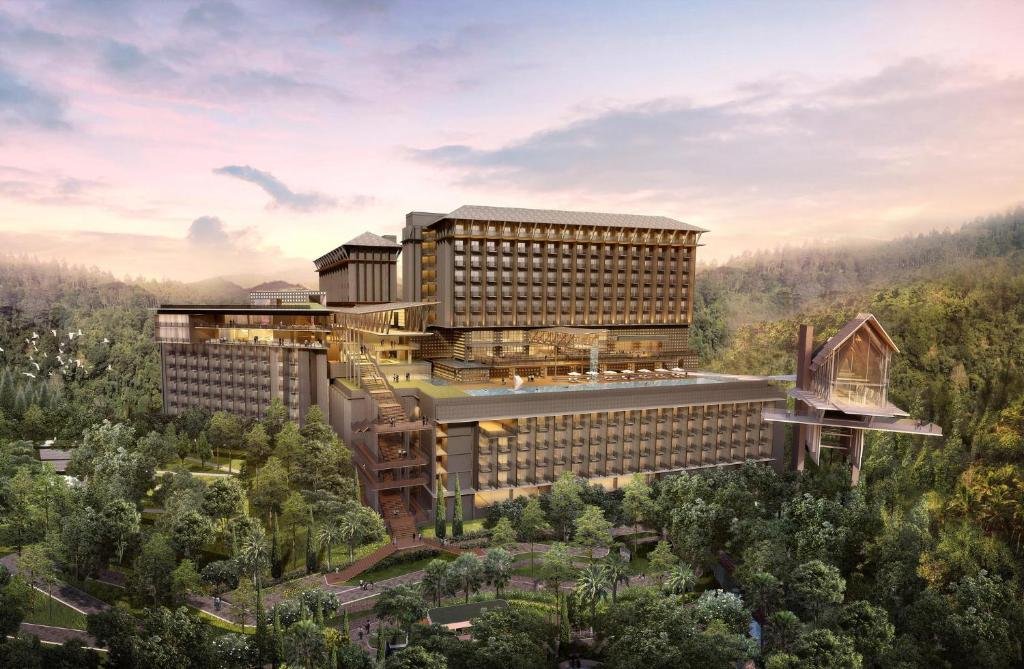 Gaia Hotel Bandung is truly a perfect choice to stay if you plan on exploring Lembang. It boasts great architecture, fancy interior design, and comfortable accommodations, and offers a beautiful view of the surrounding nature. The rooms are filled with natural light, providing comfort and functionality for both relaxation and work. Additionally, each room offers a variety of complimentary snacks, hot and cold beverages, as well as toilet amenities made from recycled or recyclable materials.
Gaia Hotel Bandung
Jl. Dr. Setiabudi No.430, Bandung
P: (022) 20280780
Instagram
Website
2. Grand Mercure Bandung Setiabudi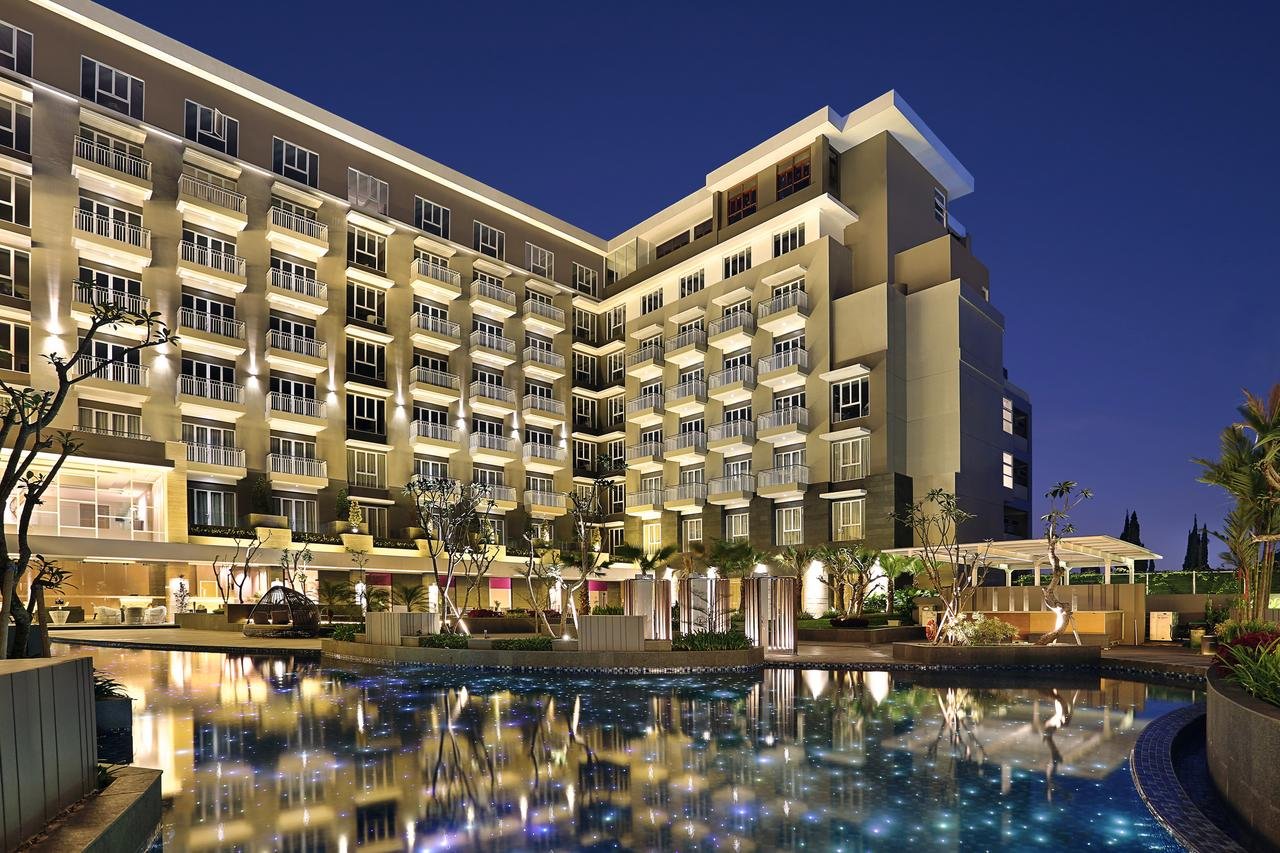 This 5-star hotel offers a seamless experience, complete with a wide range of offerings. In addition to its comfortable rooms, which showcase a harmonious blend of natural beauty and cultural heritage, guests can indulge in culinary delights at the refined Chinese eatery and enjoy a laid-back international restaurant featuring live cooking stations. Grand Mercure promises an unforgettable stay, catering to the discerning tastes of every guest.
Grand Mercure Bandung Setiabudi
Jl. Dr. Setiabudi No.269 - 275, Bandung
P: (022) 82000000
Instagram
Website
3. Novena Hotel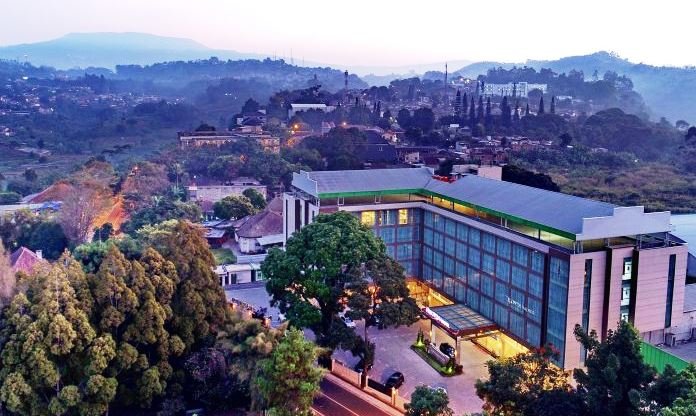 Conveniently located, Novena Hotel is an excellent choice for your next hotel stay. Offering a perfect balance of comfort and luxury at an affordable price, Novena provides well-appointed accommodations and a range of great facilities and amenities, including a restaurant, spa and massage services, a ballroom, a kid's club, and a refreshing outdoor swimming pool surrounded by palm trees. 
Novena Hotel
Jl. Dr. Setiabudi No.4, Bandung
P: (022) 82005585
Instagram
Website
4. Blackbird Hotel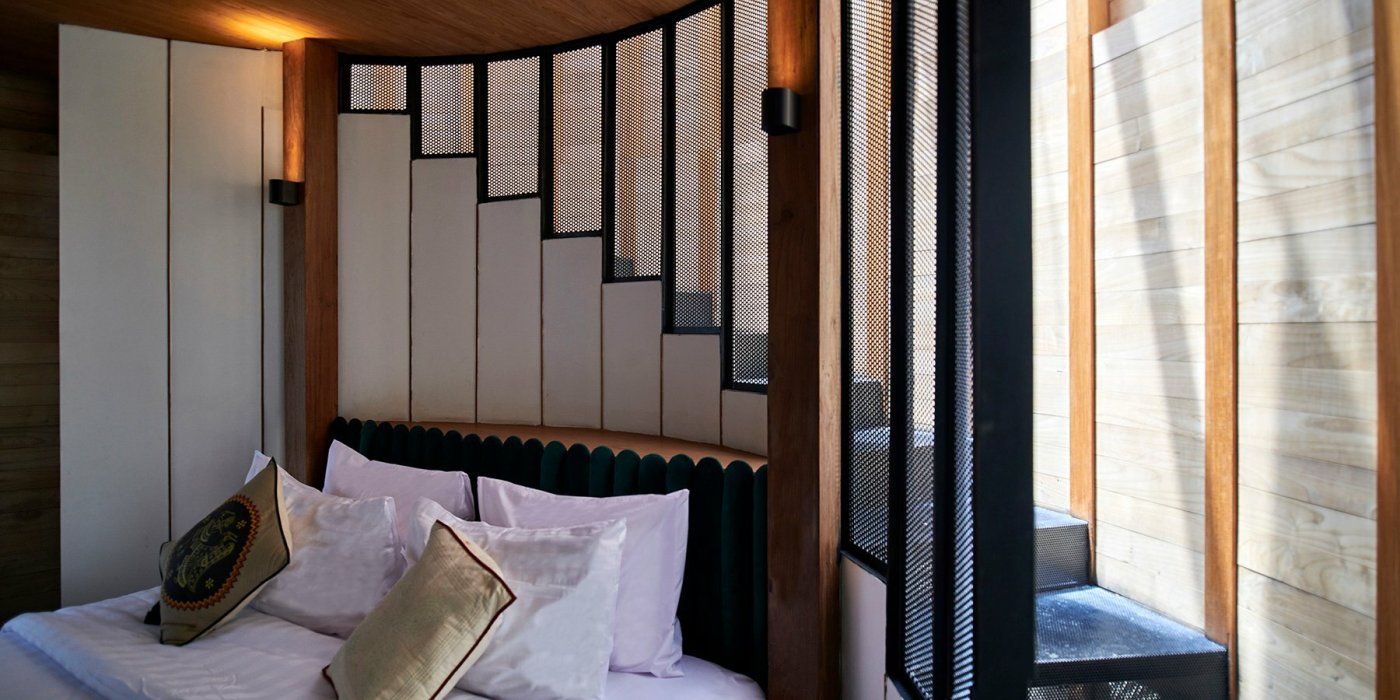 Blackbird Hotel is the perfect choice for those seeking a quiet and emotionally indulgent stay in a peaceful setting. With a diverse selection of up to seven types of rooms, ranging from cozy apartments to spacious residences, guests can find their ideal retreat. However, for a truly unique and unforgettable experience, the drum room awaits. Nestled within a captivating 'drum'-shaped building, this two-story room is a masterpiece of design, crafted entirely from warm wood materials, exuding a sense of natural elegance.
Blackbird Hotel
Jl. Terusan Sersan Bajuri No.9, Bandung
P: (022) 27611688
Instagram 
Website
Also Read:
---
---
5. SanGria Resort and Spa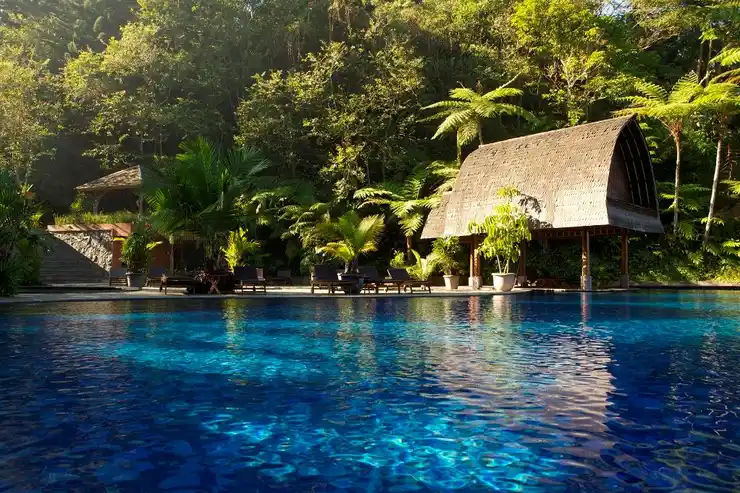 SanGria Resort and Spa offers a tranquil escape with subdued rooms featuring free Wi-Fi, TVs, and balconies overlooking the picturesque mountains. The resort also boasts a warm and polished restaurant offering breathtaking valley views, as well as an open-air eatery. Garden terraces, a spa, and a luxurious outdoor pool with a hot tub and boat-shaped cabana add to the relaxing experience. For wellness enthusiasts, yoga classes are also available.
SanGria Resort and Spa
Jl. Hortikultura No.88, Bandung
P: (022) 2788777
Website
6. Sandalwood Boutique Hotel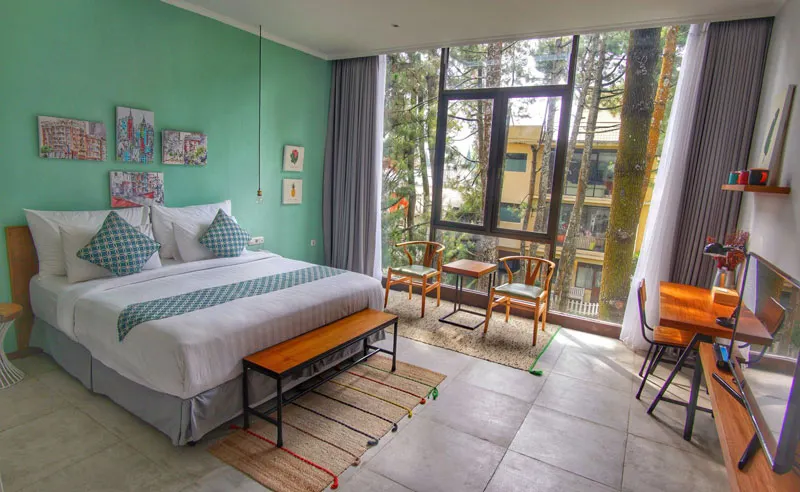 Set amidst lush gardens, Sandalwood Boutique Hotel is the perfect destination if you are seeking a homey place to stay. Offering up to four types of rooms, each boasting a unique interior design, Sandalwood ensures a memorable experience with comfortable and creatively furnished accommodations equipped with modern facilities and amenities, making you feel right at home.
Sandalwood Boutique Hotel
Jl. Seskoau No.1, Bandung
P: (022) 2786104
Instagram
Website
7. Gumilang Regency Hotel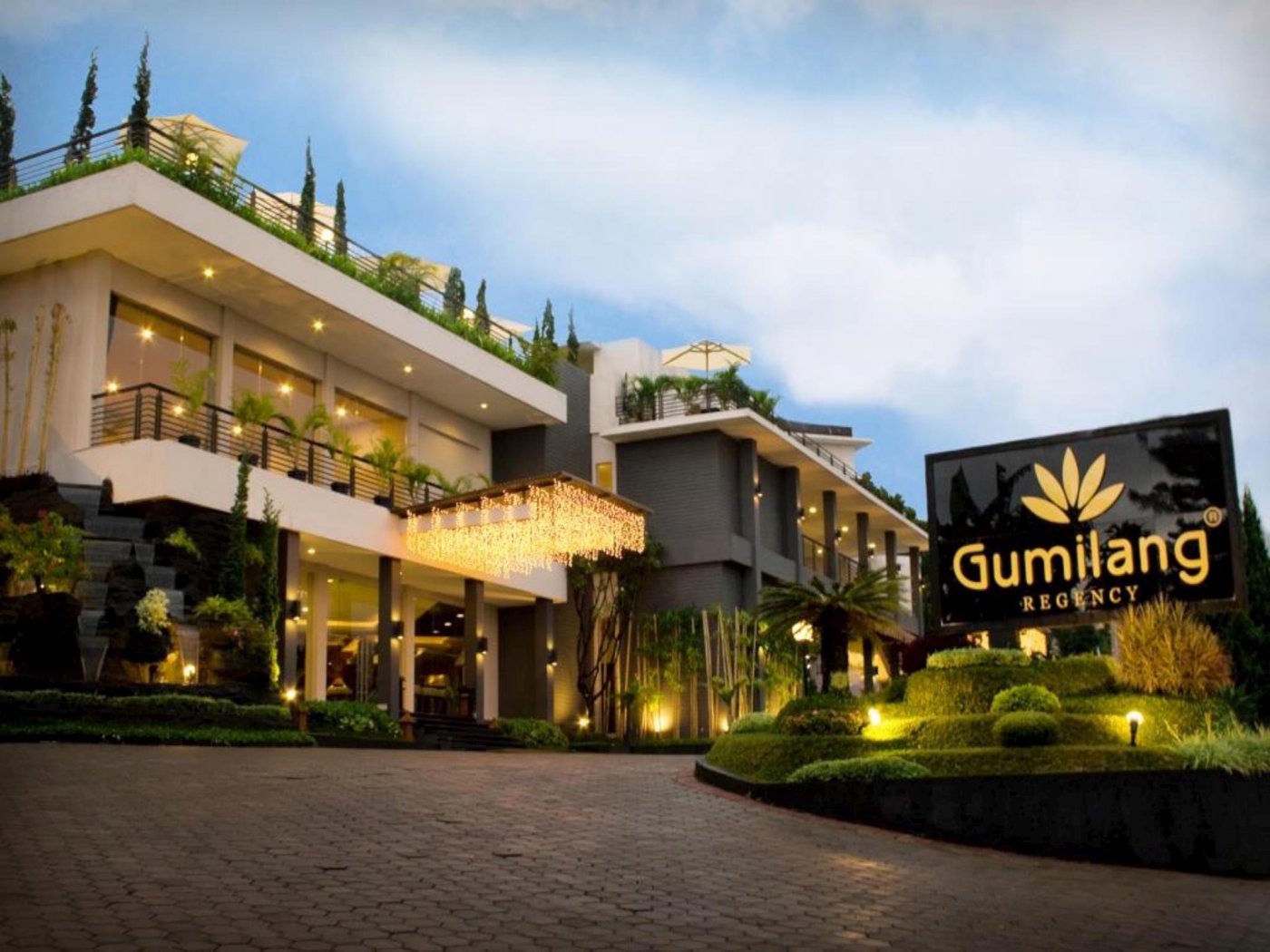 Gumilang Regency Hotel Bandung is a delightful blend of business and resort accommodations, featuring a modern minimalist design with a touch of Sundanese charm. Each room, though not overly spacious, is thoughtfully designed to provide a decent and comfortable stay. The hotel also offers a range of other amenities, including a Spa and massage center for relaxation, a Kid's corner, a Swimming pool for a refreshing dip, and a Fitness center.
Gumilang Regency Hotel
Jl. Dr. Setiabudi No.323-325, Bandung
P: (022) 2012618
Instagram
Website
8. Green Forest Resort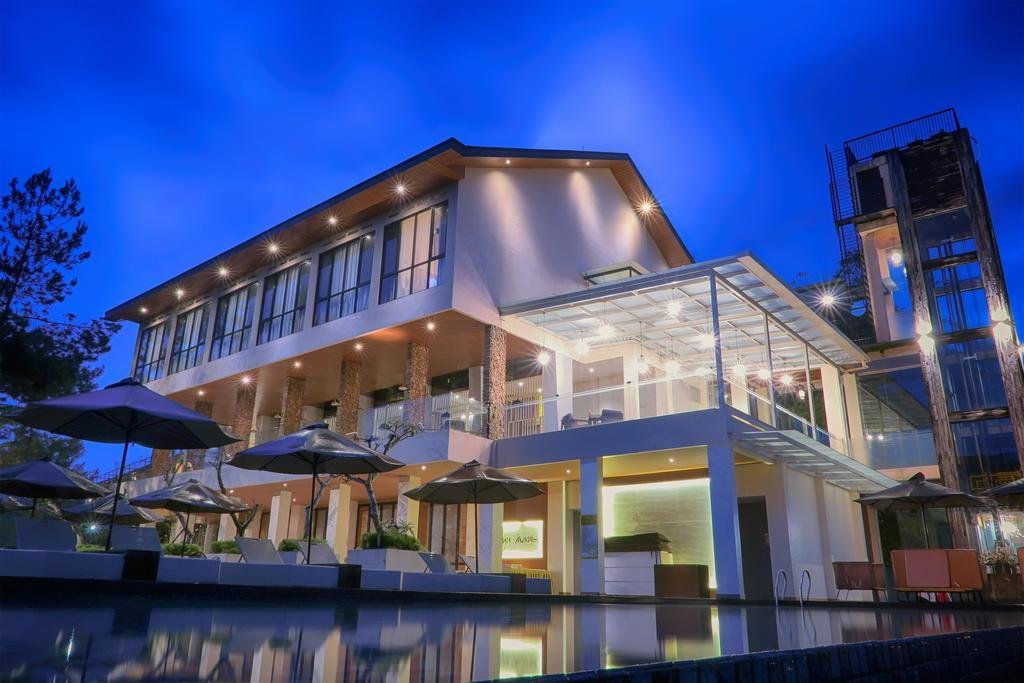 Green Forest Bandung is a resort destination surrounded by lush green foliage and tranquil nature. In addition to comfortable accommodations, this resort offers a wide array of entertaining activities, including archery, paintball matches, and zip-line gliding. Moreover, guests can enjoy the resort's swimming pool, barbecue facilities, and children's playground, providing ample opportunities for relaxation and fun for the entire family.
Green Forest Resort
Jl. Sersan Bajuri No.102, Bandung
P: (022) 87802745
Instagram
Website