A relaxing escape is a must, and what better way to achieve it than by indulging in some pool time at the top-notch and interesting hotel swimming pools in Bandung? Each pool offers a unique and enchanting experience, perfect for unwinding and creating lasting memories. Spoil yourself in these excellent hotel swimming pools!
The Top Relaxing Hotel Swimming Pools in Bandung

/ Kolam Renang Hotel Paling Menenangkan di Bandung
1. The Trans Luxury Hotel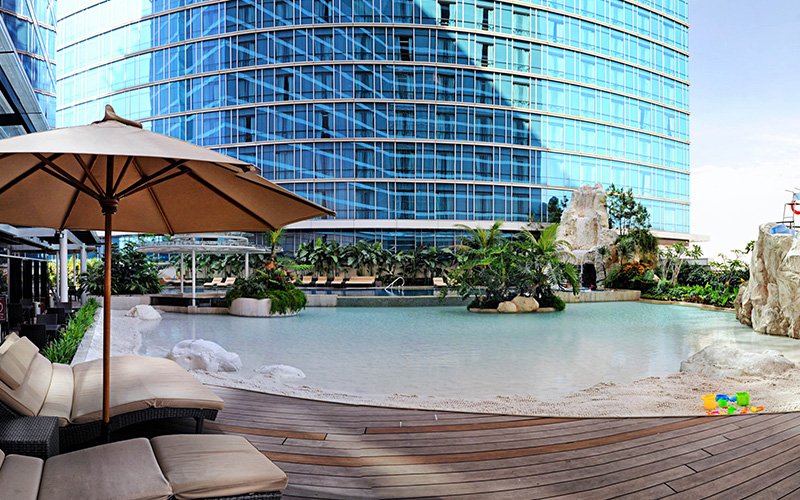 The Trans Luxury Hotel boasts a captivating beach-themed outdoor swimming pool that is nothing short of extraordinary. The white sand, specially imported from Australia, creates a truly immersive oasis. This enchanting pool offers a perfect blend of leisure and adventure, with a lap pool, a kids' pool complete with an exciting slide, and a relaxing jacuzzi. It is absolutely perfect for unwinding, basking in the sun-kissed ambiance, and letting your cares drift away.
The Trans Luxury Hotel 
Jl. Gatot Subroto No.289, Bandung
P: (022) 87348888
Instagram
Website
2. Hilton Bandung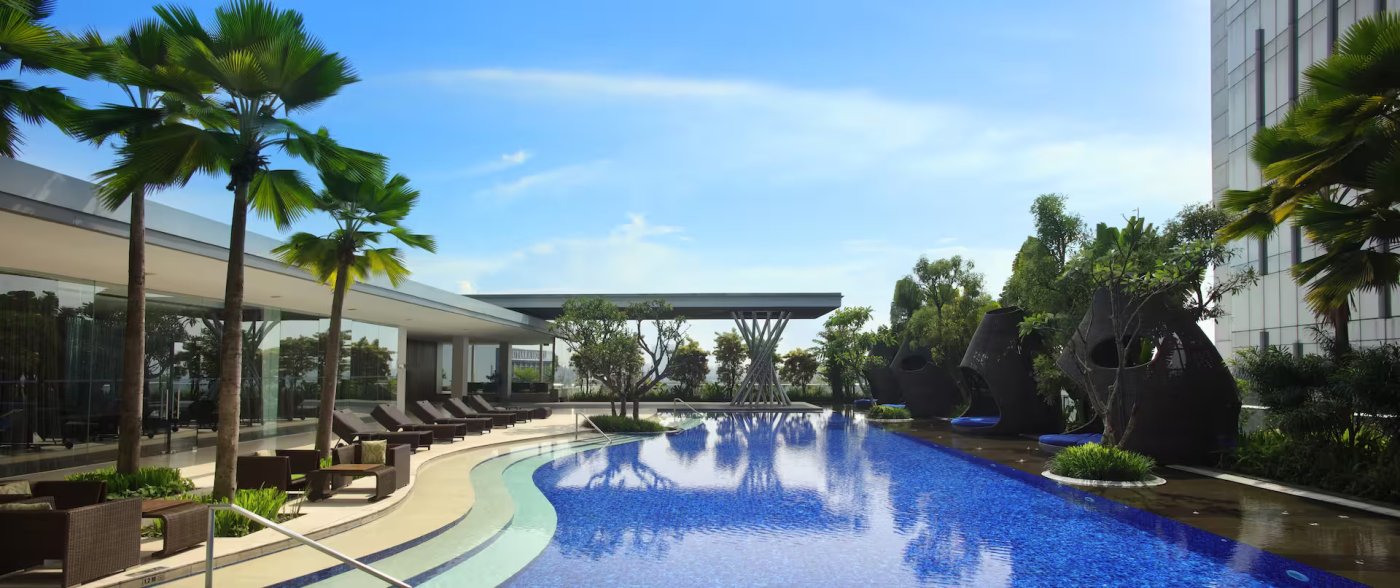 Seeking a tropical vibe for a nice staycation? Head to Hilton Bandung, where you'll be immersed in a delightful oasis of relaxation and fun. The swimming pool area is a true paradise with cabanas and palm trees lining the edge of the pool, evoking a sense of tranquil luxury. Whether you're looking to take a leisurely swim, splash around with the kids, or simply unwind with a poolside cocktail, Hilton Bandung's swimming pool caters to all your desires. 
Hilton Bandung
Jl. HOS. Cokroaminoto No.41-43, Bandung
P: (022) 86066888
Instagram
Website
3. Sheraton Bandung Hotel & Towers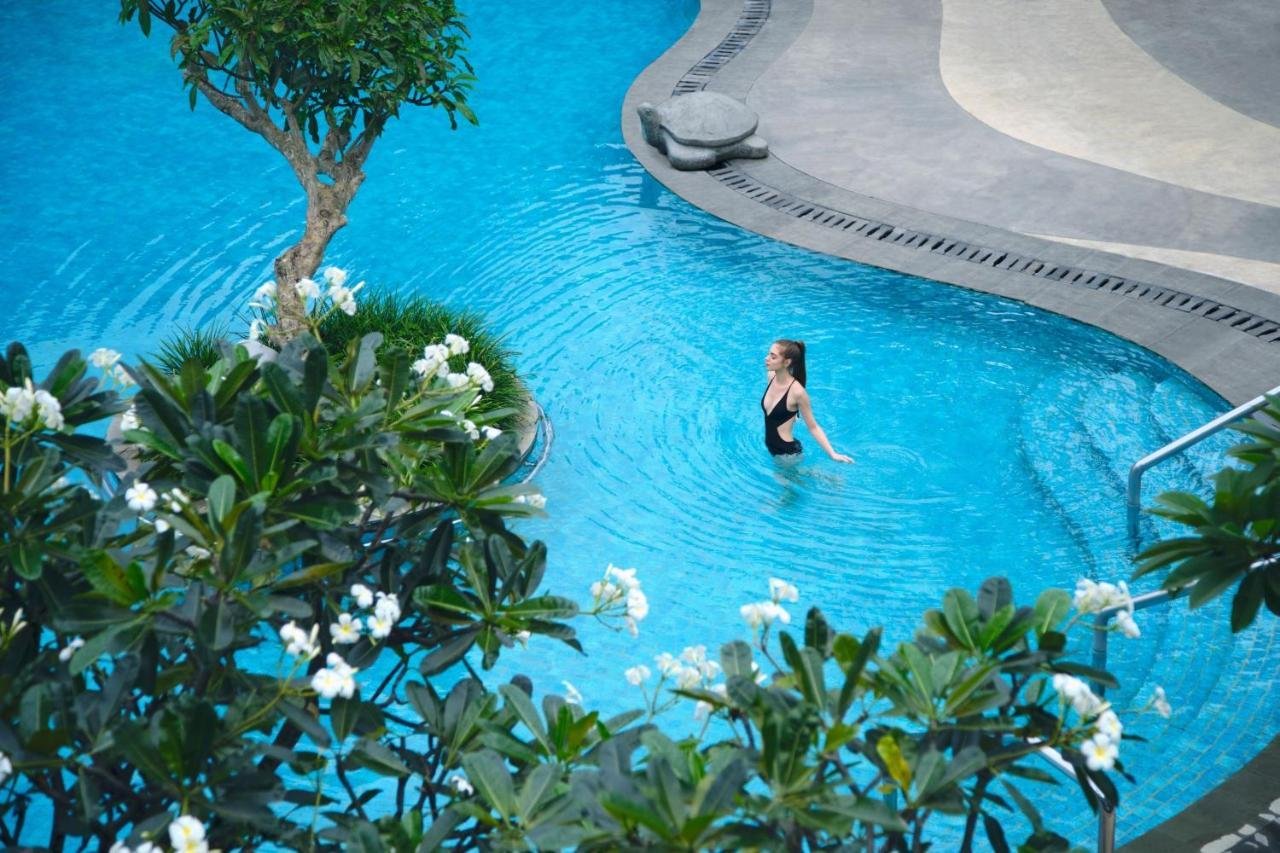 The Lagoon pool that Sheraton Bandung has to offer is truly a perfect embodiment of a tropical-style swimming pool. The addition of a mini island at the center of the pool adds an extra touch of charm and uniqueness, making it a fun and adventurous feature for both kids and adults. With the recent addition of a heated kids' pool, your loved ones can enjoy the delightful waters even during cooler weather, making it an all-season destination. 
Sheraton Bandung Hotel & Towers
Jl. Ir. H. Juanda No.390, Bandung
P: (022) 2500303
Instagram
Website
4. Swiss-Belhotel Dago Heritage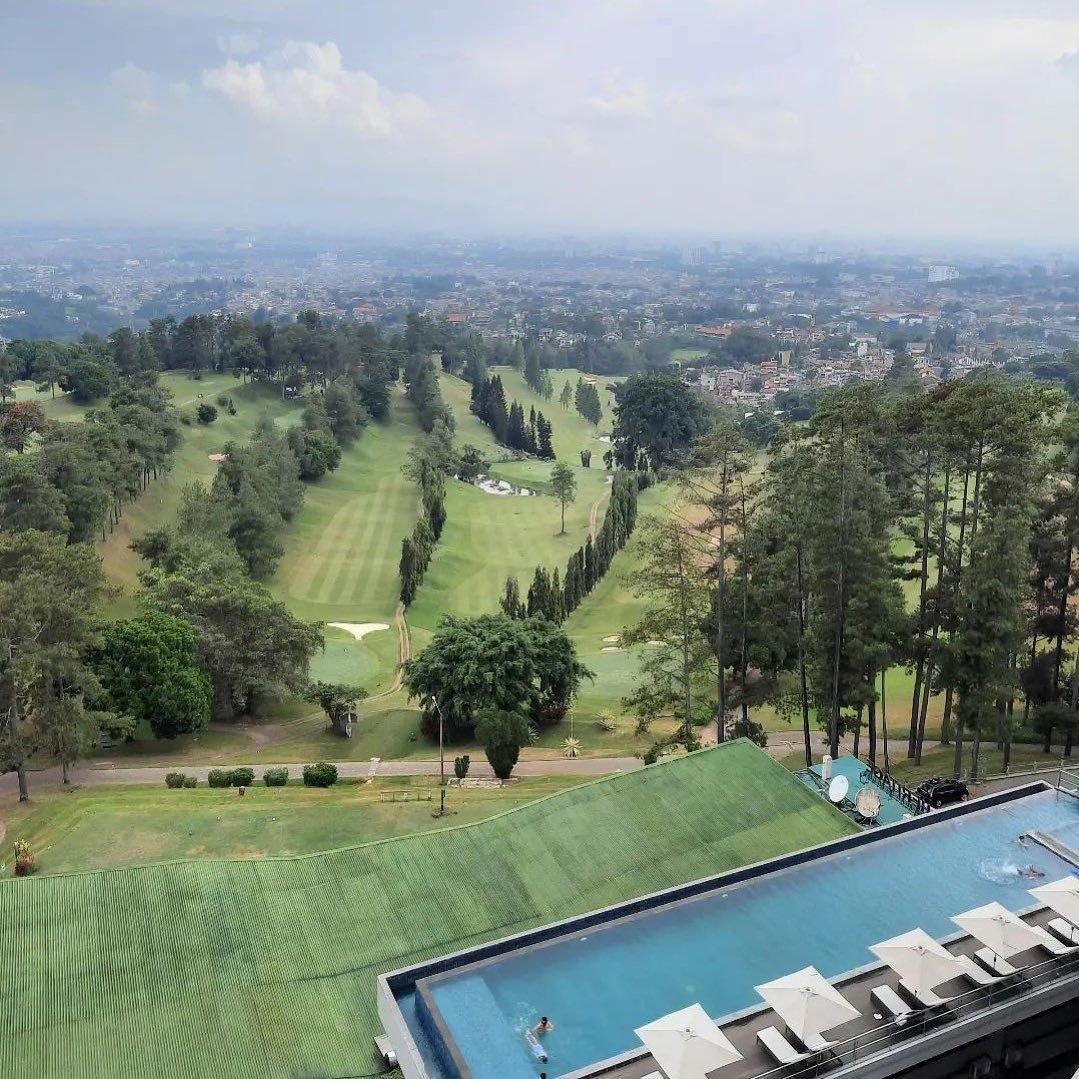 Swiss-Belhotel Dago Heritage truly has something exceptional to offer with its infinity pool. Whether you want to have a leisurely swim or simply soak in the breathtaking view of the city, this pool has got you covered. This infinity pool provides an unmatched panoramic perspective, allowing you to take in the city's beauty while floating in crystal-clear waters. The best part? This pool is heated, ensuring that you can enjoy a relaxing and comfortable swim regardless of the weather outside.
Swiss-Belhotel Dago Heritage
Jl. Lapangan Golf Dago Atas No.78, Bandung
P: (022) 20459999
Instagram
Website
Also Read:
---
---
5. Padma Bandung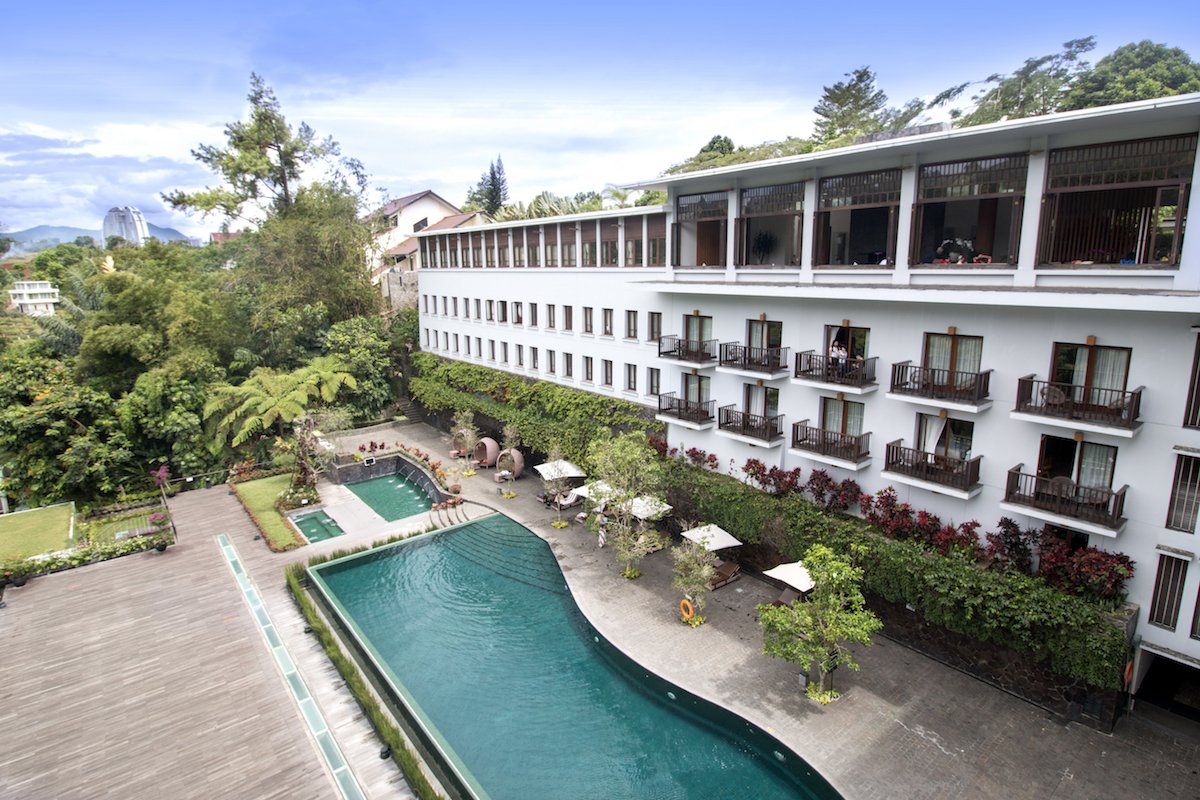 Padma Hotel's swimming pool, located on the 5th floor, offers something for everyone's needs. With a heated pool, kids' pool, and also a Jacuzzi, you can definitely enjoy a variety of experiences. The pool's best feature is undoubtedly the breathtaking hill view, creating a serene and picturesque setting. Whether you seek relaxation or family fun, this pool provides an unforgettable escape amid lush greenery and natural beauty.
Padma Bandung
Jl. Rancabentang No.56-58, Bandung
P: (022) 2030333
Instagram
Website
6. Grand Mercure Bandung Setiabudi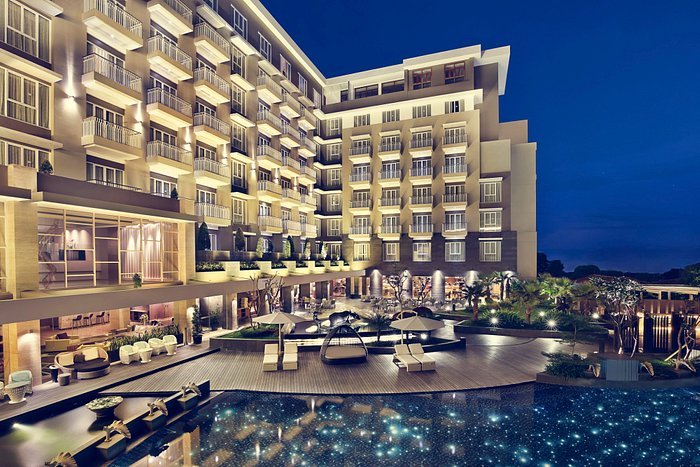 Indulge in a delightful splash in the warm waters of the tropical-style pool that Grand Mercure Bandung Setiabudi has to offer. A refreshing swim on a sunny day is perfect, but not only that, they have even more to offer! The pool features a "starlight" effect on the pool floor, adding a touch of magic to your evening and creating a mesmerizing ambiance where you can gaze at the stars while floating in the water.
Grand Mercure Bandung Setiabudi
Jl. Dr. Setiabudi No.269 - 275, Bandung
P: (022) 82000000
Instagram
Website
7. Mercure Bandung City Centre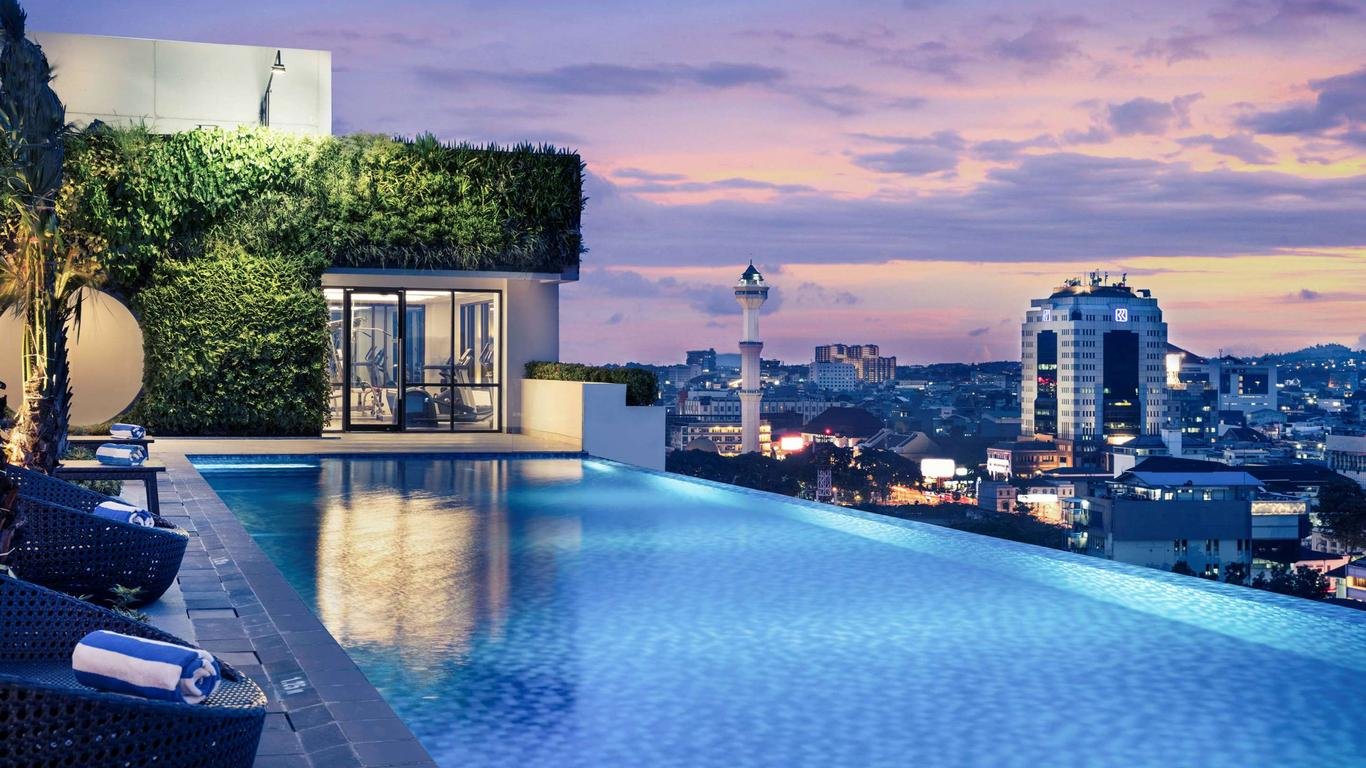 Mercure Bandung City Centre offers an exquisite infinity rooftop pool where the mesmerizing cityscape enhances the serene swimming experience. The elevated position provides breathtaking views, making each dip in the crystal-clear waters truly unforgettable. But the indulgence doesn't end there - you can take your pool experience to the next level with a floating breakfast, enjoying a delicious meal while peacefully floating in the pool.
Mercure Bandung City Centre
Jl. Lengkong Besar No.8, Bandung
P: (022) 30008000
Instagram
Website
8. The Papandayan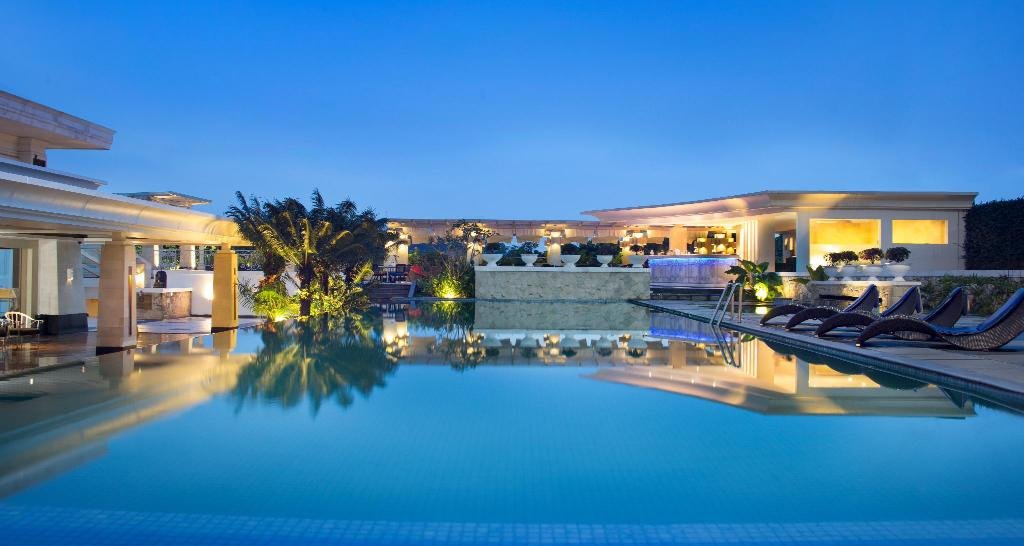 The Papandayan's pool is a true gem, offering a refreshing oasis with its clear-blue waters that beckon you to dive in. The tropical-style design adds to the allure, creating a perfect setting for relaxation and fun. But that's not all – this pool has even more to offer! The poolside bar is a delightful addition, allowing you to indulge in a unique experience. As you float in the water, you can savor handcrafted cocktails and delectable finger food, all while enjoying a mesmerizing skyline view. 
The Papandayan
Jl. Gatot Subroto No.83, Bandung
P: (022) 7310799
Instagram
Website
9. InterContinental Bandung Dago Pakar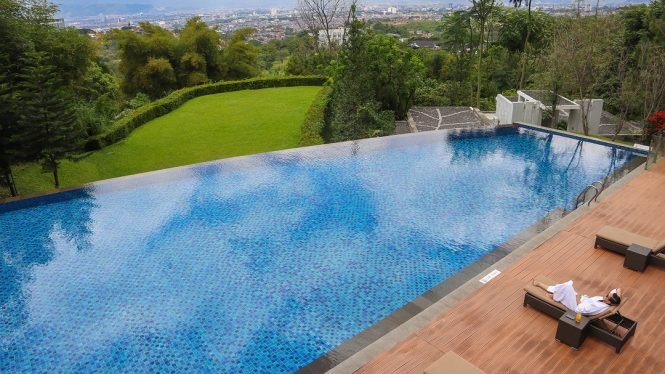 Planning an escape to InterContinental Bandung Dago Pakar promises a top-notch experience with its exquisite infinity pool. The pool's heated waters invite you to indulge in a delightful swim, even on cooler days, while the breathtaking view of nature surrounds you. The infinity pool's design gives the illusion of merging with the stunning landscape, offering a truly magical and immersive experience.
InterContinental Bandung Dago Pakar
Jalan Resor Dago Pakar Raya 2B, Bandung
P: (022) 87806688
Instagram
Website