Villa could be the best choice if you'd like to have a gathering or staycation with your whole family in Bandung. With so many villas in the city, we picked 10 of them with stylish and modern concepts, as well as equipped with complete facilities.
Villa Terbaik Di Bandung
1. Montrii House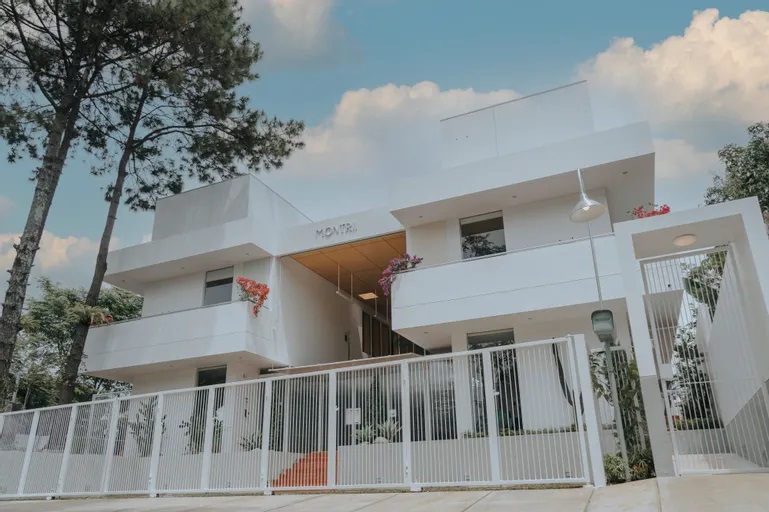 If you find an aesthetic and spacious villa in Bandung, this place can be your choice. Montii House is a mid-American century-style villa with a maximum capacity of 30 people. This villa actually is a 2 twin building with a mini function hall in between, so it looks like one big house. Besides a staycation place, Montrii House also can be used for mini-events such as gatherings or intimate weddings.
Jl. Pirus No.38, Setiabudi Regency, Bandung
P: 0812-8034-2425
Instagram
Website
2. d'Pakar Bandung Cottage
A beautiful cottage in the middle of the forest. With a view of trees and mountains, taking a staycation here will guarantee to make your relaxation perfect. The cottage itself has a modern ranch style with a loft and balcony in every cottage. For now, there are only 4 cottages available, so it is very limited. This cottage has the same area as the famous d'Pakar Bandung Cafe.
Jalan Dago Pakar Utara Sekejolang
P: 0851-0267-7787
Instagram
3. Kala Cabin
A staycation in the middle of a pine forest seems very interesting, right? Say no more because you can feel that ambiance at Kala Cabin. This is a cabin-style villa with a capacity of 6 people. Besides being surrounded by pine trees, Kala Cabin also has a pool where you can order a floating breakfast package. While at night you can spend quality time with friends in a bonfire area
Jl. Puspa Cemp. Timur I Jalur 1B No.03, Cihideung
Whatsapp
Instagram
4. Wallts House
Even though it only has an area of 4 meters, this villa feels so spacious inside. Wallts House carries a modern-minimalist design. Even though the area is quite small, you can find a comfortable private pool and mini backyard.
Jl. Kawaluyaan Indah Raya No.28, Buah Batu, Bandung
P: 0815-8489-8335
Instagram
5. Gluck Home
Gluck Home is a 400 m2 designer country style home with a hill view and greens over the area. You can watch the sunset from the dining room and enjoy your family time in the spacious living room. This home has a total of 5 bedrooms with fresh air and non-AC.
Dago Bengkok, Jl. Sukaresmi No.15 A, Ciumbuleuit, Bandung
P: +62878-2363-4668
Instagram 
Website
Also Read:
6. White Cliff House
White Cliff House is a modern villa with a minimalist tropical architectural style developed by the architectural bureau RDMA Designs. The name itself means literally, which is a white house built on a cliff. Because it is on the cliff, the structure and design of the building are adjusted to the contours of the land. That's why the building looks like having a 5 floors, but actually just 2 floors.
Setiabudhi Terrace C8A, Cipaku Indah, Ledeng, Bandung
P: +62812-3456-5710
Instagram
7. Daheim 290
Daheim 290 is a private house located exactly beside the Cikole Pine Forest. The 2 story house, freshly renovated in January 2017, tells a bit of the owners' story when they used to live here as kids. This 150 sqm villa comes with an eclectic concept and 4 season-themes in each bedroom. The spacious living room with a sofa bed, a TV above the fireplace, and a rocking chair in the corner will make you feel warm and cozy. A bright and fully equipped kitchen for standard cooking is available for you to use. The dining area has an access to the backside of the house where you can have a BBQ party. Meanwhile, the view of the forest and mountain can be enjoyed from the master bedroom.
Jl. Raya Tangkuban Parahu No.290, Cikole, Lembang, Bandung
P: +62812-2446-4285
Instagram
8. Barn Villa Lembang
The beautiful and unique villa has been sympathetically converted from an old cow barn to modern contemporary styling, cozy living, and green home. Located in the middle of a lot of tourist spots, such as Tangkuban Perahu Volcano, Dusun Bambu, Natural hot spring Maribaya, Floating Market, etc. The villa nestled in the countryside with a view of open fields beyond, this is the epitome of today's country retreat. This spacious villa in 560 sqm has 4 bedrooms, a full set kitchen with a dining table, a cozy living room, an outdoor patio, a swimming pool, and 5 carports.
Jl. Mesjid Nagrak No.9, Sukajaya, Lembang, Bandung
P: +62817-9922-922
Instagram
9. The Dan Villa 
Located in the Dago area, The Dan Villa offers a perfect getaway from the bustling city, allowing you to experience nature at its finest. Consisting of two floors with a total capacity of 10 people, every corner of the villa is designed to be aesthetically pleasing and comfortable. The Dan Villa also provides a 24-hour heated pool and jacuzzi, perfect for unwinding and spending quality time with friends and family
Jalan Pakar Timur, Bandung
Instagram
10. Gemala House
Feel a modern-minimalist with Scandinavian interior ambiance in the house. The house has three spaces each accommodating different requirements. These spaces are independent of one another and are scattered across the site creating a series of connected individual gardens, open to the surroundings. All the spaces are thus well lit and properly ventilated. The house is 168-meter sq built on 216-meter sq of land. It is designed to consist of two buildings connected with a small bridge surrounded by the flowers. It has 5 different bedrooms where each room has its own unique interior design.
Perumahan Bumi Sariwangi I Blok B No.1b
P: +62811-2195-599
Instagram