Bandung is never a boring city, even after the dark. The city keeps on bustling at night through its hip bars and beerhouses. Enjoy your long night in Bandung at our recommended bars and beerhouses.
1. Roots Resto & Lounge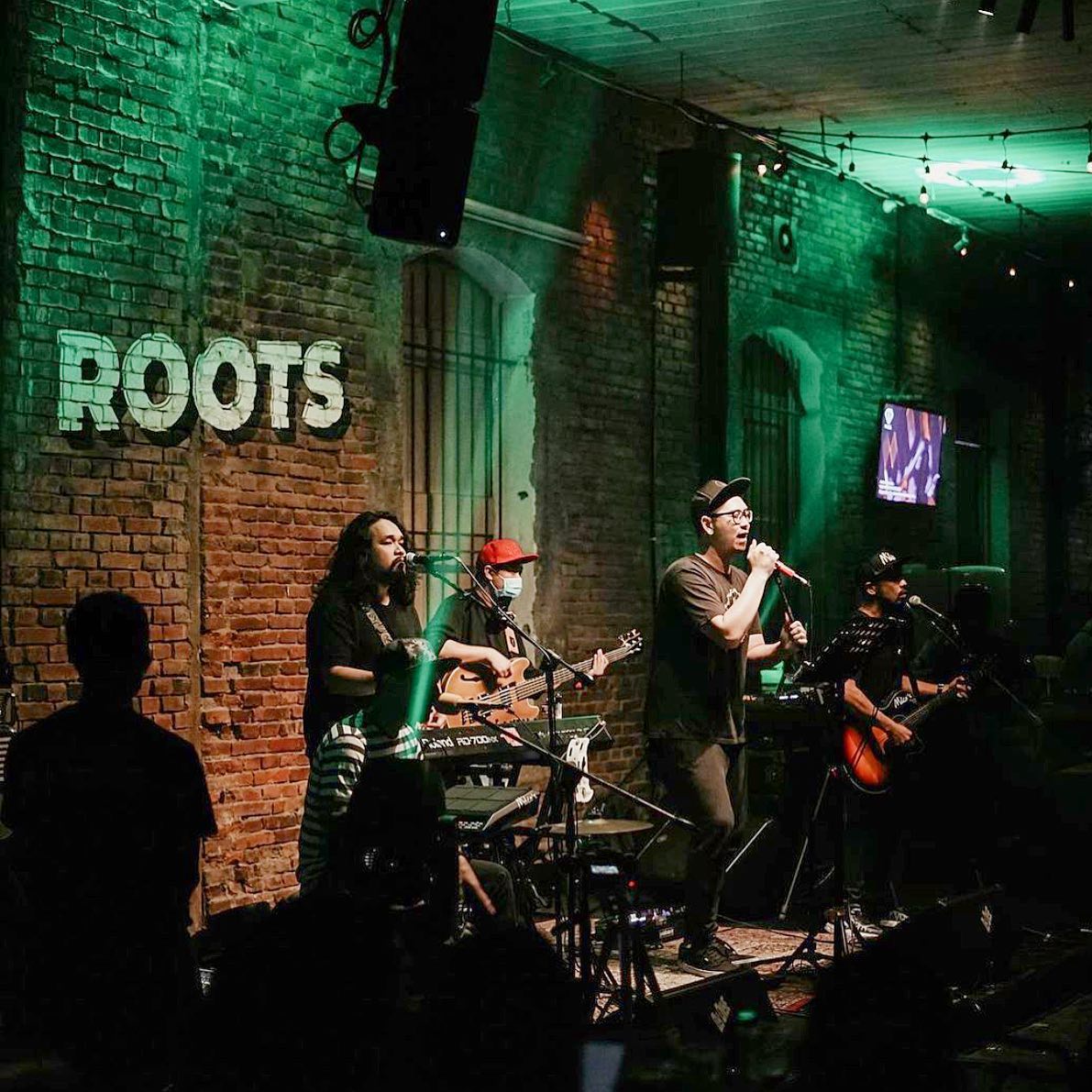 This bar has been quite loved by nightlife lovers in Bandung lately. Roots is unique because it occupies an old armory that has been transformed into a cozy restaurant & lounge concept bar. Roots offers a variety of delicious food and drink menus at affordable prices. The waiters here are also known for their hospitality. Live band or live DJ are also ready to entertain you who visit here.

Jl. Gudang Selatan No. 22, Bandung
Hours: 11am – 1am (Sun – Wed) | 11am – 2am (Thu – Sat)
P: (022) 20507882
Instagram
2. Tipsy Panda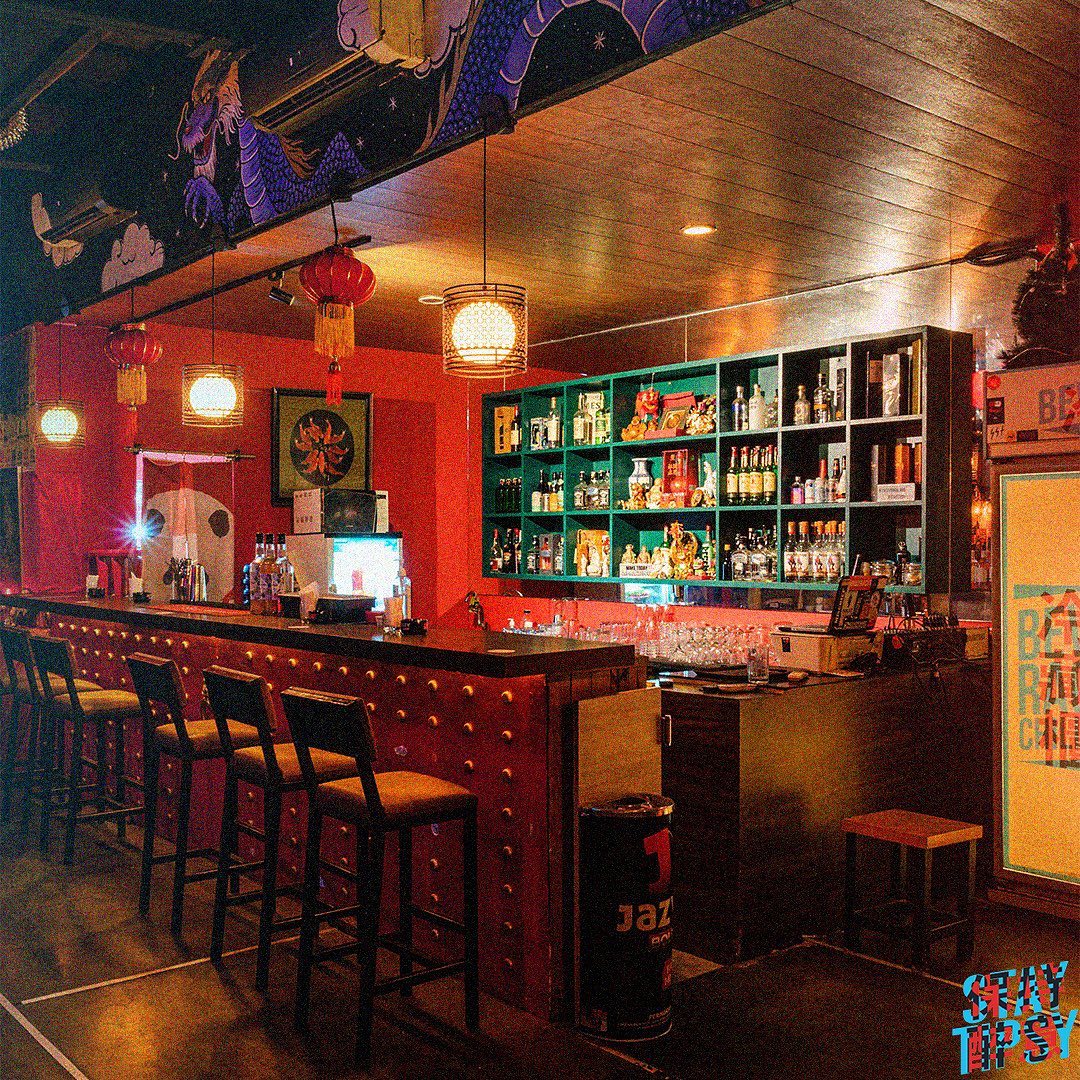 Tipsy Panda is a place known for its dimsum bar. It's only natural because, in addition to serving a variety of drinks, they also offer a variety of delicious dimsum and Asian specialties. Although the place is not too big, Tipsy Panda can provide a cool ambiance to all its visitors. Live music, mostly Britpop, is also available here every night.

Jl. Sumatra No. 20, Bandung
Hours: 5pm – 1am (Sun – Thu) | 5pm – 2am (Fri – Sat) |
P: 0896-2279-1771
Instagram
3. Troy's Cafe & Bar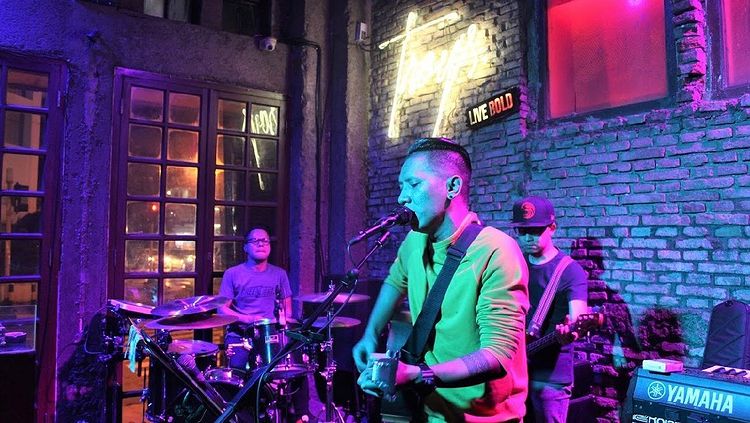 This is one of the recommendations for a trendy and hippest bar in the middle of Bandung. Troy's Bar is really a cool place for dining, drinking, and chilling. Although the place is not too spacious, the ambiance here is actually quite lively. Every night Troy's always presents live music with easy-listening songs.

Jl. Tamblong No. 34, Bandung
Hours: 3pm – 9pm
P: (022) 87789372
Instagram
4. Red District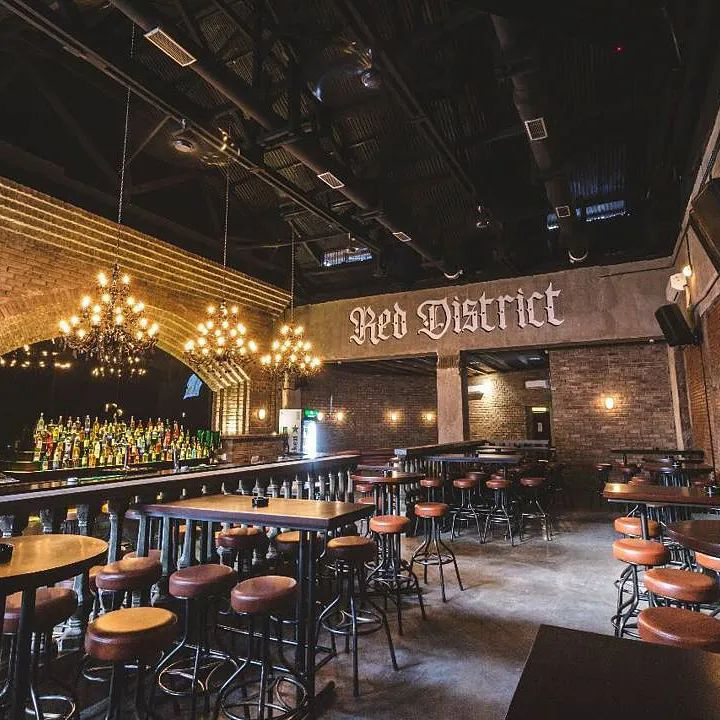 Located in the Braga street area, Red District is really a fun place to spend the night. Here you can enjoy a variety of drink and food menus at affordable prices. Besides that, you can also sing together because every night there is live music or a live DJ that will entertain you.

Jl. Braga No. 84, Bandung
Hours: 6pm – 2am (Sun – Wed) | 6pm – 2.30am (Thu – Fri) | 6pm – 3am (Sat)
Instagram
5. Tori Bar Bandung
This bar is really suitable for you fans of Japanese culture, especially Anime. You can feel this when you visit Tori Bar Bandung, the menu and ambiance here are closely related to various anime characters. The food offered is of course Japanese-style food such as Yakitori, Katsu Ramen, and Karaage. Every Monday Tori Bar also regularly holds movie nights featuring the latest Japanese anime.

Jl. Komp. Luxor No. 32, Andir, Bandung
Hours: 3pm – 2am
Instagram
6. BIIRU – not a shusibar
Although the place is not too big, BIRU has a quite cozy atmosphere. The interior design is made with Japanese-style so that it gives its own uniqueness. Here you can enjoy a variety of food, beer, and soju. Some of the beers here are also imported directly from Japan, so you can feel a bit of the Japanese feel here.

DIPAJUNCTION, Jl. Aria Jipang, Bandung
Hours: 4pm – 2am
P: 0812-2461-0422
Instagram
7. Ujenk Gemi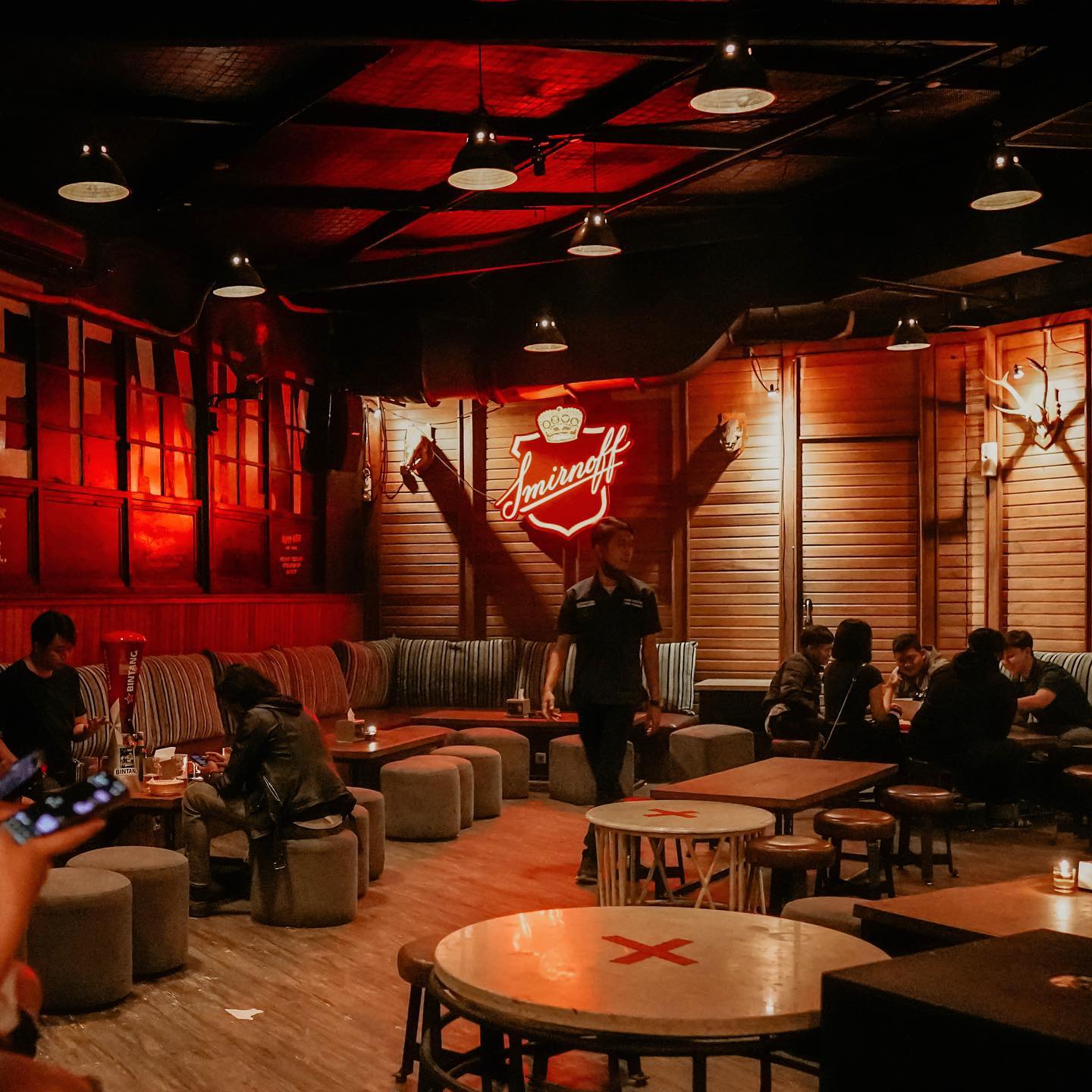 As one of the favorite bars in Bandung, Ujenk Gemi has a place with a suitable ambiance for hangouts. Every night they perform various live music with "oldies but goldies" music. The prices for drinks and food are quite affordable.

Jl. Pajajaran No. 26, Bandung
Hours: 5pm – 3am
P: (022) 20523542
Instagram
8. BEERCODE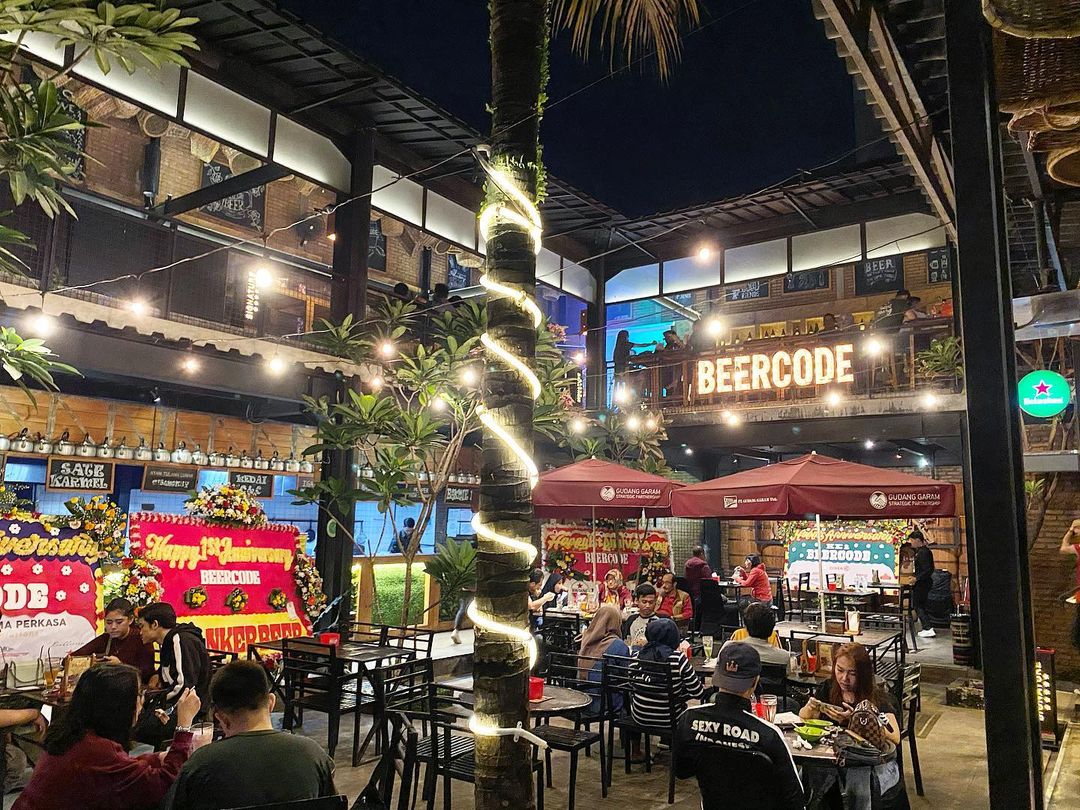 As the name implies, Beercode is the right place for those of you who want to find various beer brands. Beercode itself has a fairly large area, consisting of indoor, semi-outdoor, and outdoor areas in the form of a mini garden which is quite a favorite of visitors here. For live music, they often present 90s rock music.

Jl. Cisangkuy No. 64, Bandung
Hours: 5pm – 2am
P: 0817-118-998
Instagram
9. Chaplin's Cafe & Bar Bandung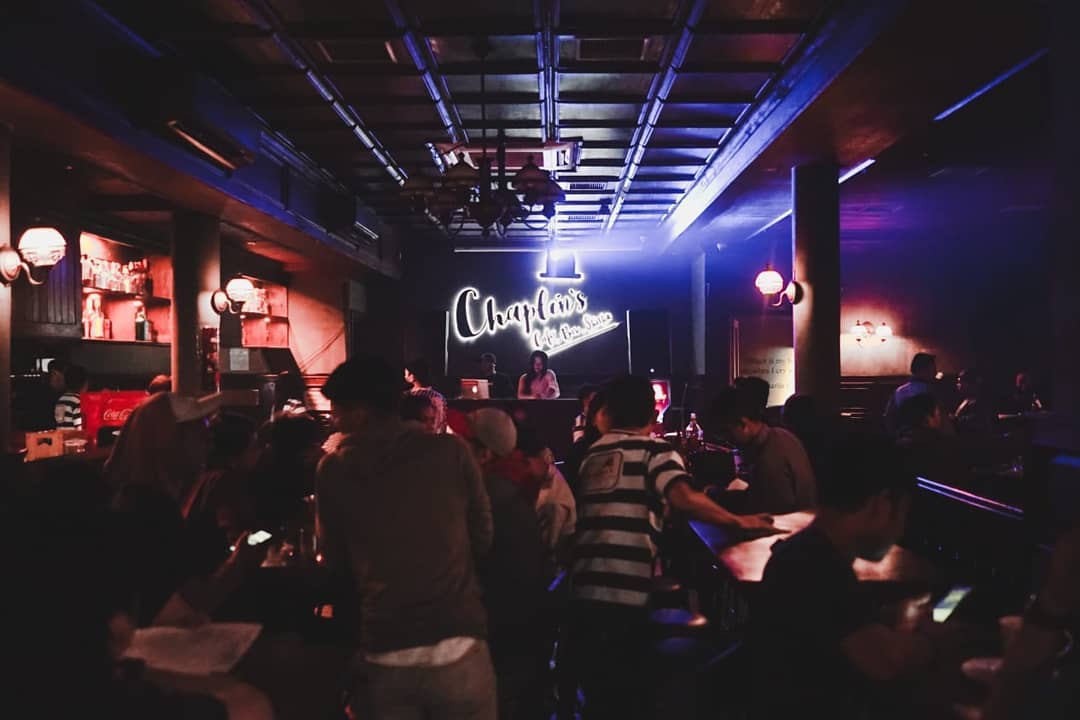 Having a strategic location makes Chaplin's Cafe & Bar easy to get to. They offer a variety of drinks and delicious food that you can enjoy while hanging out with friends. In addition to drinks, here they also offer shisha which is very popular with consumers. Every night they also feature live music or a live DJ.

Jl. Diponegoro No. 26, Bandung
Hours: 5pm – 4am
P: (022) 7273626
Instagram
10. Upstairs Bar Bandung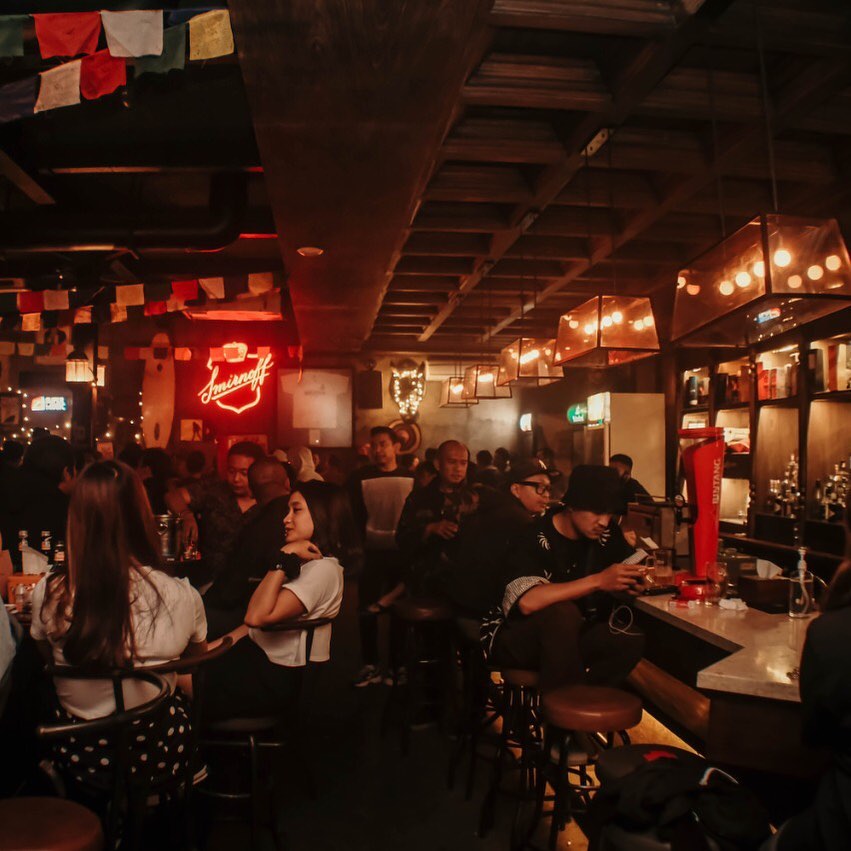 Here you can find high-spirited drinks at affordable prices. Also, the ambiance here is also comfortable to hang out. Almost every night Upstairs Bar Bandung holds live music that will make the atmosphere even lively.

Jl. Trunojoyo No.23, Bandung
Hours: 5pm – 9pm
P: 0821-2760-6623
Instagram
11. Vesper Sky Bar & Lounge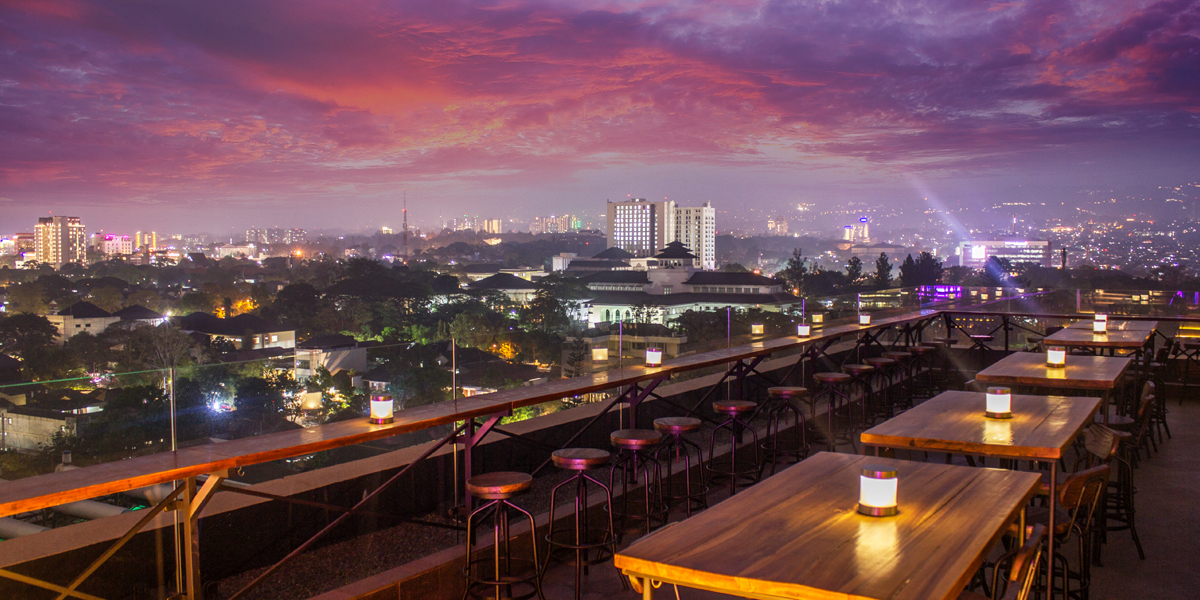 The atmospheric and panoramic, Vesper is a sky bar & lounge. It offers a cozy, light and airy venue for taking-in the Bandung night views. Vesper serving beers, wine, and cocktails complemented with tapas and grilled food, indulge an inviting setting for good music and food.
LLRE Martadinata St No.68, Citarum, Bandung Wetan, Bandung
Hours: 11 am – 11 pm (Sun-Thur) | 11 am – 1 am (Fri) | 11 am – 12 am (Sat)
Phone: (022) 86012888
12. Little Collins
Come to Little Collins for an all-day cocktail and tropical atmosphere in the middle of airy Bandung. It is decorated with tropical plants and wooden furniture for a maximum tropical feel. Other than cocktails, the place also serves a variety of beer, soju, and sake.
Jl. Sumatera No.5-7, Braga, Sumur Bandung, Bandung
Hours: 11 am – 2 am (Sun-Sat)
Phone: 0821-2010-0990
Instagram: littlecollins.bdg
13. Halfway Bar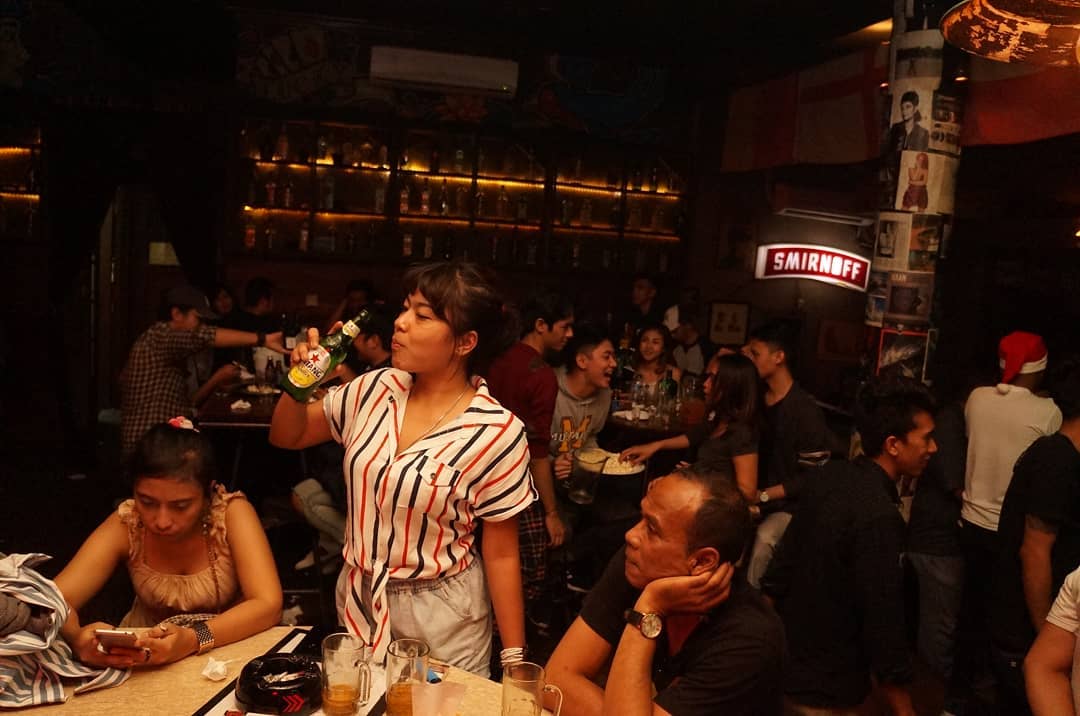 Spend your night away partying or simply enjoying the buzzing nightlife at Halfway Bar. The bar lets you have great drinks, ranging from cocktails and beers. As well as fun yet humble atmosphere. Halfway also holds many hip events, from music performances to DJ night.
Jl. Sulanjana No.32, Tamansari, Bandung Wetan, Bandung
Hours: 4 pm – 2.15 am
Phone: (022) 20521708
Instagram: barhalfway
Also read:
14. Wodka Kitchen & Bar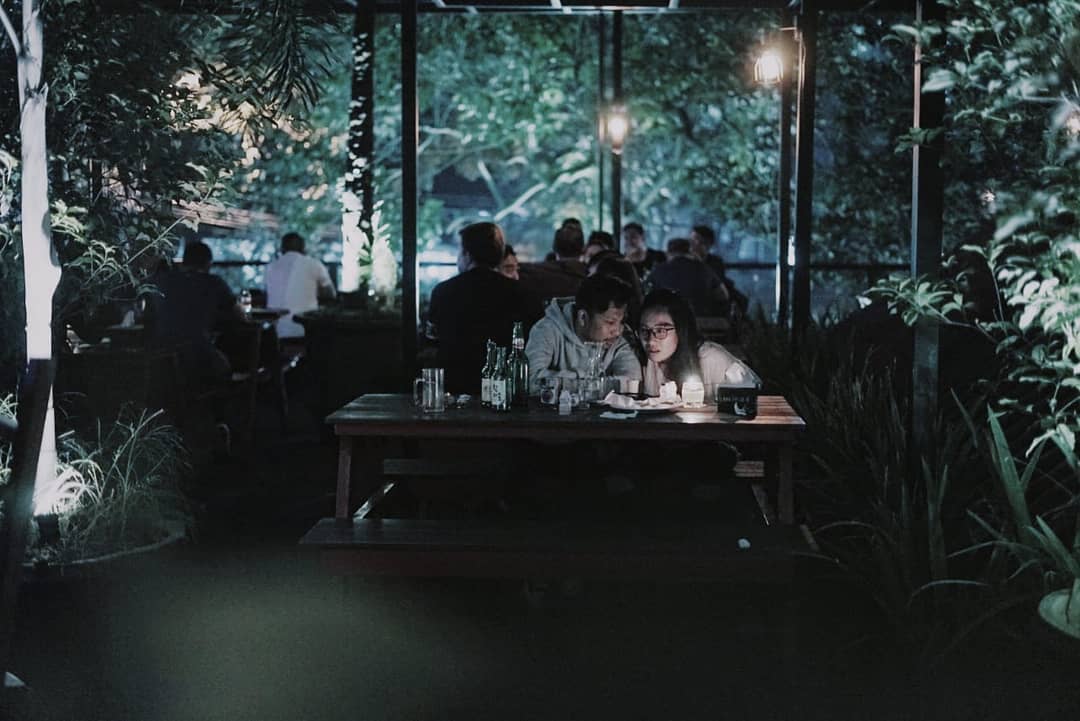 Youngsters in Bandung love this place as it offers not only a comfortable place to hang out at night. Wodka also serves many choices of drinks, ranging from its great signature cocktails to beers and soju. As well as delectable dishes all at affordable prices.
Jl. Dr. Otten No.1, Pasir Kaliki, Cicendo, Bandung
Hours: 5 pm – 2 am
Phone: (022) 20534735
Instagram: wodka_kitchenbar
15. Holywings
Holywings is an Asian beer house run under Aneka Bintang Gading. Corp. The place always tries to create a warm, yet comfortable ambiance with live music so the guess feels relaxed, enjoyed and away from the pandemonium of everyday life. Starting from Holywings at Kelapa Gading, the market demand is continuously strong. and as the result of enormous success, we try to reach more customer and open our outlet at Pantai Indah Kapuk, Makassar, Surabaya, and now Bandung.
Jl. Karangsari No.10, Pasteur, Bandung
Hours: 4.30 pm – 1.15 am
Phone: 0811-8951-168
Instagram: holywingsindonesia
16. Fourplay Cafe & Resto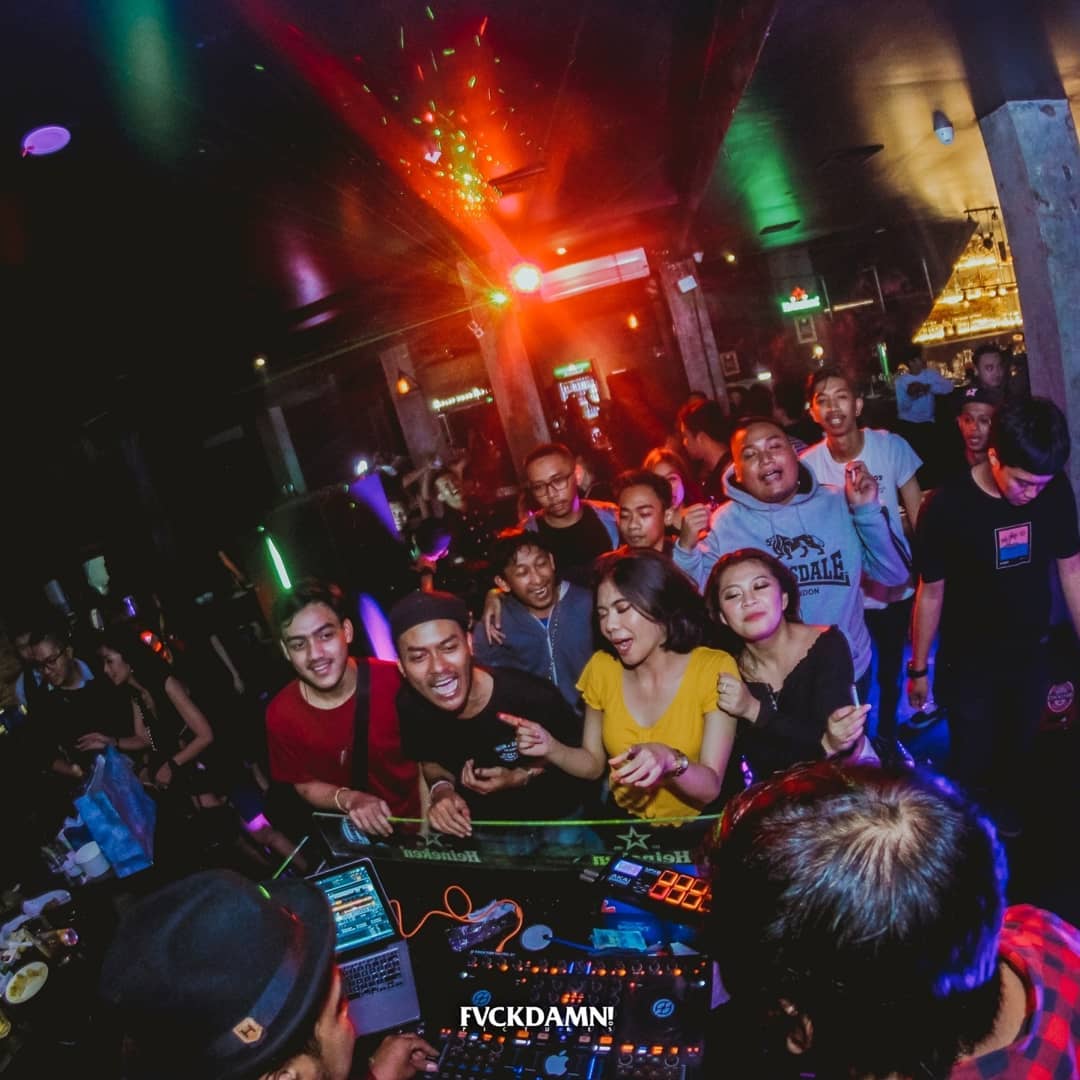 Another choice if you're looking for a rustic theme cafe and bar. Fourplay comes with an indoor and outdoor area, both decorated by a cozy atmosphere. It is also a favorable beerhouse as the place offers a good price for a packaged beer.
Jl. Cilaki No.65, Citarum, Bandung Wetan, Bandung
Hours: 3 pm – 3 am
Phone: 0859-2000-0202
Instagram: fourplay_bdg
17. Badung Cafe & Resto
Bandung offers almost every need for your enjoyable nightlife. It could be a really convenient place for you to have a glass of good wine. Yet, it is also a place where you're able to experience an exciting nightlife like a dance the night away. The place has an indoor and semi-outdoor area with a gazebo-style concept. As well as a touch of garden theme and a bit of modern vibe, cool enough for a party.
Jl. Dr. Cipto 3, Bandung
Hours: 11:00 am – 2:00 am (Sun-Sat)
Phone: +62224264876
Instagram