Semarang is the capital city and the largest city of Central Java, Indonesia. The city used to be the hub for international trading back in the 16th century. As well as a place where worldwide culture blended in, from Chinese, Indian, Arab, to European. With that historical record, Semarang is now known as a city with multicultural harmony and still one of the busiest business districts in the country. Visiting Semarang sure will give an exceptional experience for you. Here are some of the reasons why you should consider visiting Semarang, and what to do while you are there:
Explore the Old Town
Semarang has a rich history that is reflected in its Old Town area. This area is home to a variety of colonial-era buildings, including Dutch-style houses and Chinese shophouses. You can stroll around the streets and take in the historic architecture while learning about the city's past.
Semarang, Indonesia, also called the Venice of Java, is a city with an extensive canal network built during the Dutch colonial period. Today, the canals are a popular tourist attraction, featuring colorful houses and boats that can be explored via boat ride.
Visit Rainbow Village - Kampung Pelangi
Rainbow Village Semarang, also known as Kampung Pelangi, is a colorful and vibrant village located in the southern part of Semarang, Central Java, Indonesia. Rainbow Village Semarang is a unique and fun destination for tourists who come to take photos of the colorful houses, interact with the friendly locals, and learn about the village's history and culture. Visitors can also purchase souvenirs and sample local delicacies from the vendors in the village.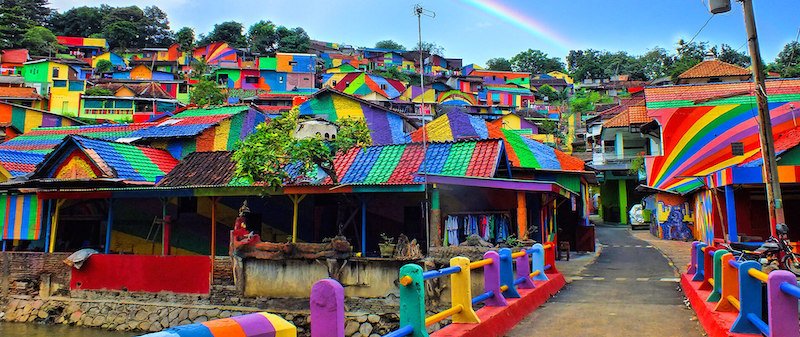 Photo credit https://mybestplace.com/en/article/kampung-pelangi-the-rainbow-village-in-indonesia
Experience the exotic journey at:
Taman Budaya Raden Saleh (Raden Saleh Cultural Park)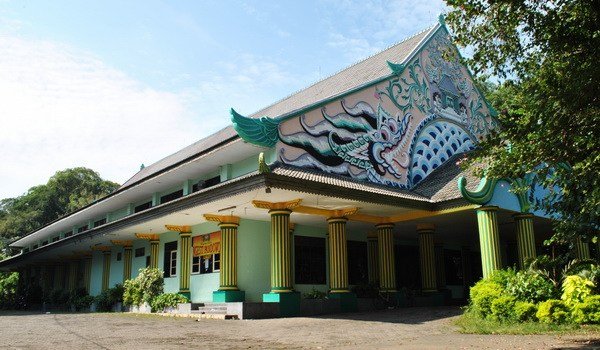 Located in the city center precisely on Jalan Sriwijaya no 29, making Raden Saleh Semarang Cultural Park easily accessible. In addition to its strategic location, this cultural park is surrounded by large trees to make it calm and shady. Entering the park, the Raden Saleh statue will greet us, as well as the vibrant mural and graffiti wall. Inside this park, go visit Ki Narto Sabdo art building with its charming Semarang ornaments. This artsy place is also often used for art performances. Next to the Ki Narto Sabdo building is a row of art galleries that sell various Semarang art crafts. Various paintings are also on display and sold in the gallery, complete with painting services at the place.
Address: Jl. Sriwijaya No.29, Tegalsari, Candisari, Semarang, Central Java
Gedong Songo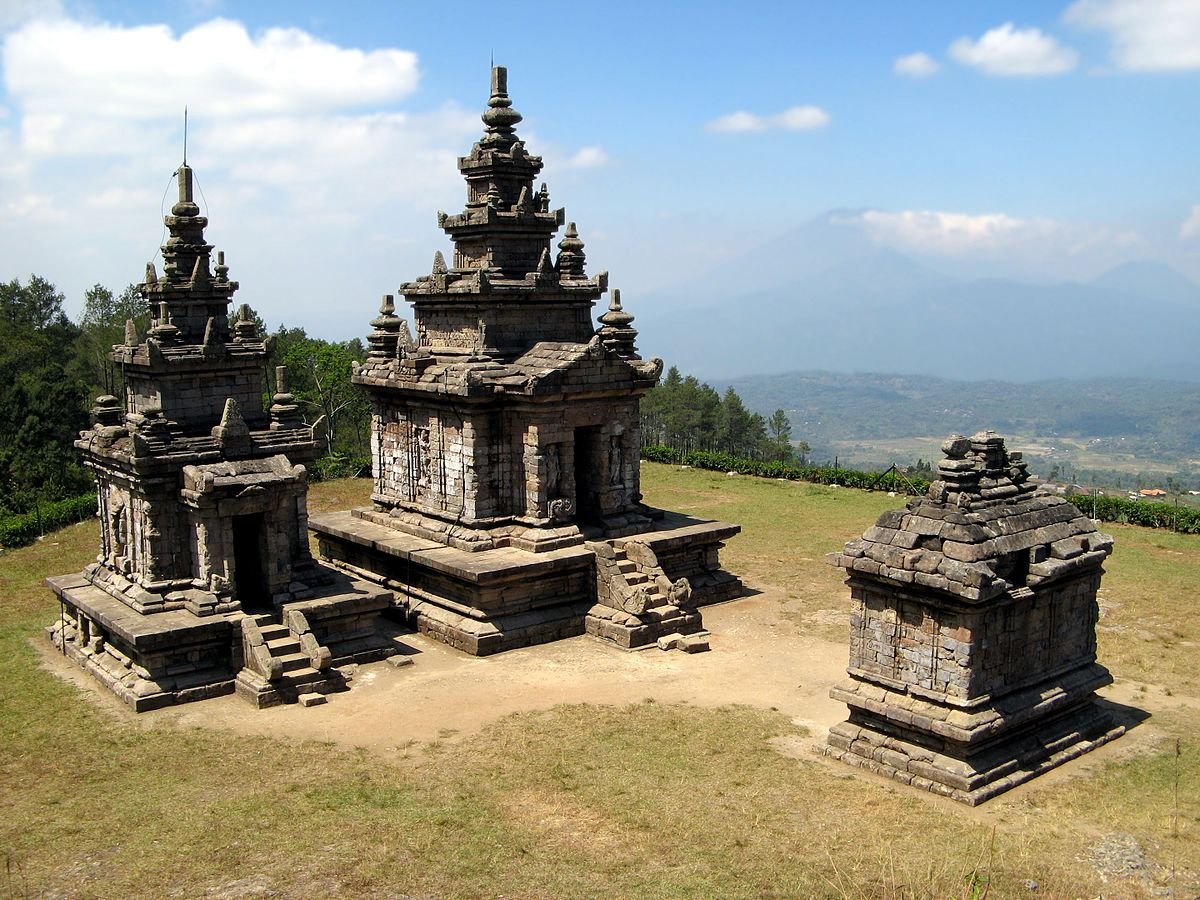 The site was originally built during the early period of the Medang Kingdom which controlled Central Java during the 8th and 9th centuries. Gedong Songo was erected out of volcanic stone and the two complexes represent the oldest Hindu structures in Java. The site also shows considerable influence from Indian Hindu temple architecture. The temples of Gedong Songo reflect a similar architectural structure to those on the Dieng Plateau, though they have less variation in form than them. At Temple 3, an entrance is outlined by a vestibule that is decorated by guardian figures. Temple III is a Shiva temple, paired with a facing Nandi shrine. The buildings have been considerably restored in recent decades.
Address: Krajan, Candi, Bandungan, Semarang, Central Java
Great Mosque of Central Java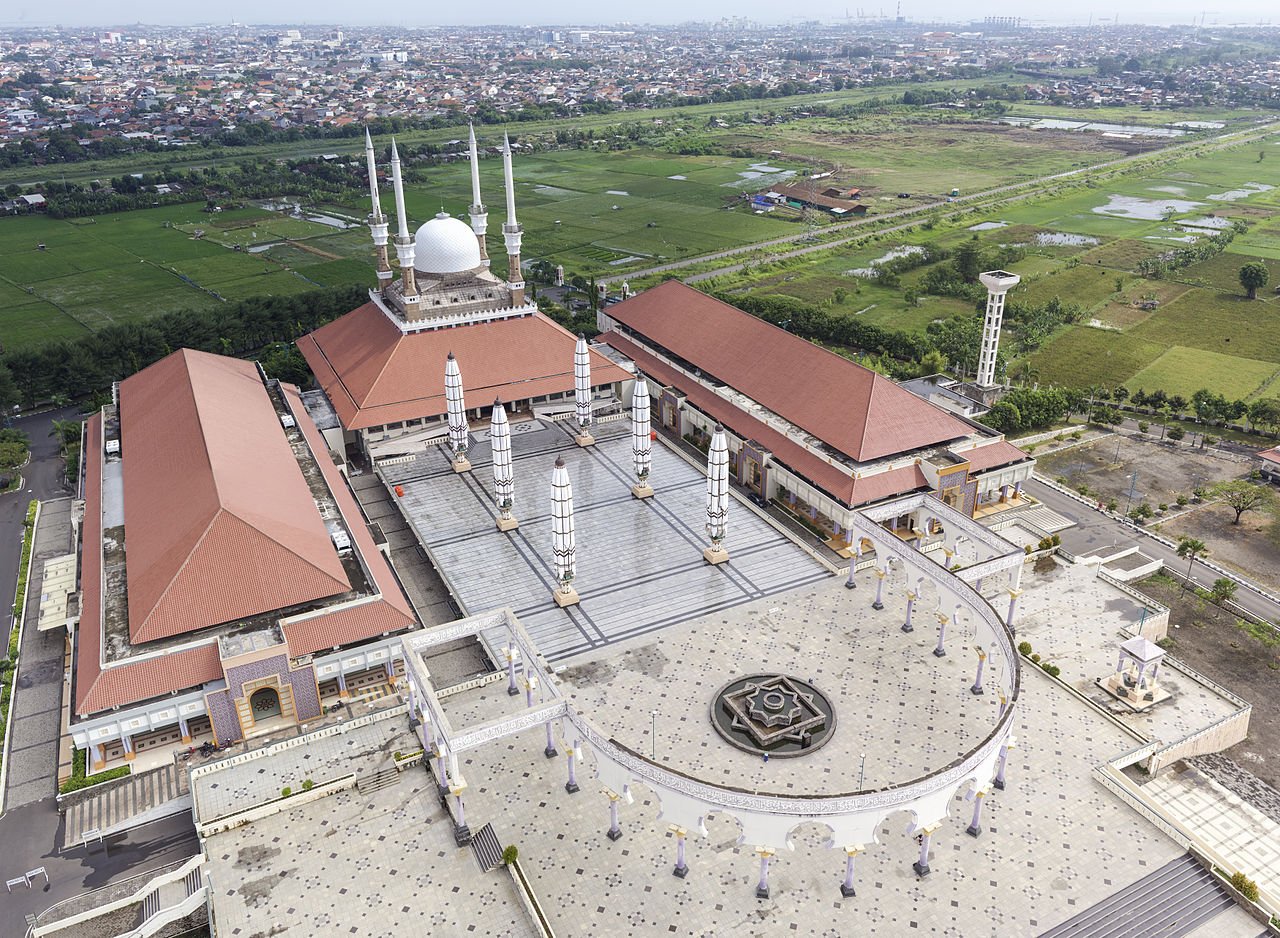 This is one of the most majestic mosques in Indonesia. Adapting architectural style from around the world, Javanese, Roman, Greek, this place appears very unique. The central roof resembles the roof of a "joglo", the traditional Javanese house. In the central courtyard are six large hydraulically operated umbrellas, inspired by the ones at Al-Masjid al-Nabawi in Medina. Beyond the arches is an inscription on a 3.2-meter (10 ft) tall, 7.8 ton stone from Mount Merapi, designed by Nyoman M. Alim.
Visit Masjid Raya Sheikh Zayed in Solo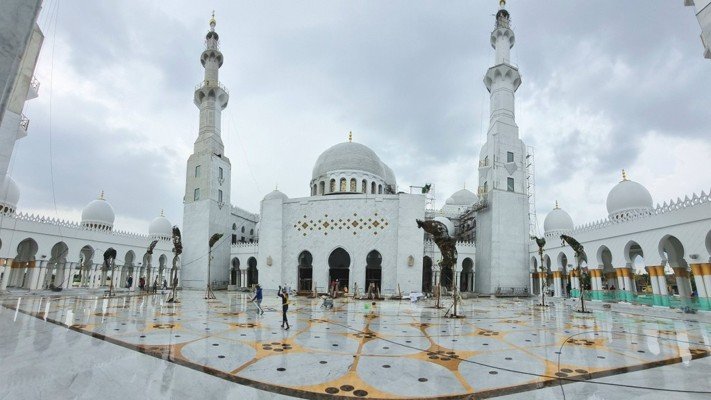 The Masjid Raya Sheikh Zayed in Solo, Central Java, which was inaugurated on November 14, 2022, has just opened to the public starting on Tuesday (February 28, 2023). The Masjid Raya Sheikh Zayed is a gift from the United Arab Emirates (UAE) to Indonesia, built as a replica of the Sheikh Zayed Grand Mosque in Abu Dhabi, UAE. The Operational Director of Masjid Raya Sheikh Zayed Solo, Munajat, said that the background for building this mosque is the friendship between the two heads of state.
Masjid Raya Sheikh Zayed is built on a three-hectare land located on Jl. A. Yani No. 128, Gilingan, Banjarsari District, Surakarta City, Central Java, Indonesia and can accommodate around 12,000 worshipers. The mosque building covers an area of 8,400 m² with a landscape area of 24,600 m², and is equipped with a parking lot of 3,500 m²."
Lawang Sewu
Lawang Sewu or Thousand Doors was built as the headquarters of the Dutch East Indies Railway Company. The name comes from its design, with numerous doors and arcs. The building also has about 600 large windows. In late 2013 the Semarang city government announced plans to eliminate the building's "spooky image" in order to attract more visitors. This was to encompass a reimagining of the site as a place for social and cultural activities, supported by renovations of the building. At the time, Lawang Sewu attracted an average of 1,000 visitors daily.
Address: Jl. Pemuda, Sekayu, Semarang Tengah, Semarang, Central Java
Batu Sam Poo Kong Temple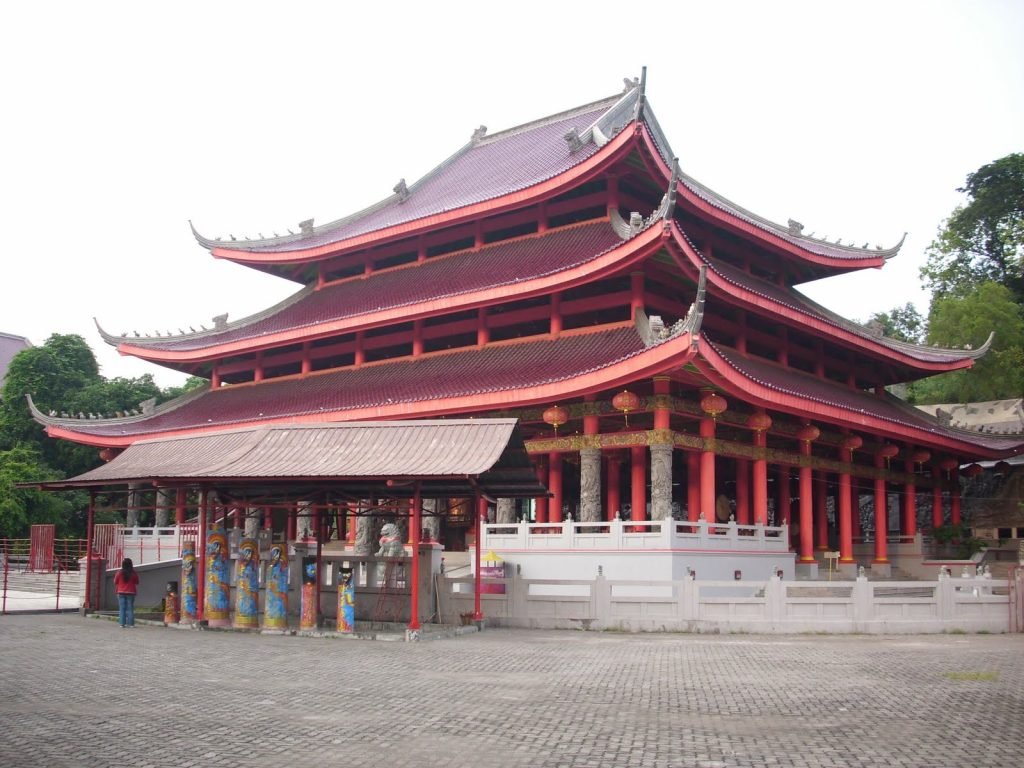 It is the oldest Chinese temple in Semarang, Central Java, Indonesia. Originally established by the Chinese Muslim explorer Zheng He (also known as Sanbao), it is now shared by Indonesians of multiple religious denominations, including Muslims and Buddhists, and ethnicities, including Chinese and Javanese. The Sam Poo Kong complex includes five temples in a mixed Chinese and Javanese architectural style. The temples are Sam Poo Kong (the oldest), Tho Tee Kong, Kyai Juru Mudi Temple, Kyai Jangkar Temple, and Kyai Cundrik Bumi Temple. The buildings are spread over 3.2 hectares (7.9 acres).
Address: Jl. Simongan No.129, Bongsari, Semarang Barat, Semarang, Central Java
Capture the scenic view at:
Karimunjawa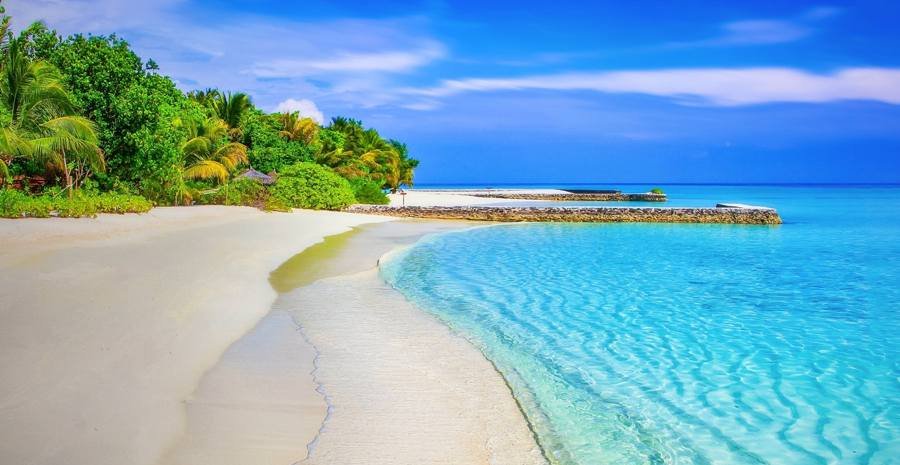 Photo credit https://javaparadiseresort.com/en/java-paradise-resort-nirvana-java-island-in-karimunjawa/
As Semarang is known as a multicultural city with busy trading activity, this city also has this hidden beauty at Karimunjawa. The place is famous for its exquisite panoramic views and preserved. Enjoy the mesmerizing white sand beaches spread over several points and the unique culture of the local community. Karimunjawa boasts of a massive collection of marine flora and fauna, ranging from tropical fish to the birds you can see flying above the archipelago. To get Karimunjawa, you can use travel agent services in Semarang.
Brown Canyon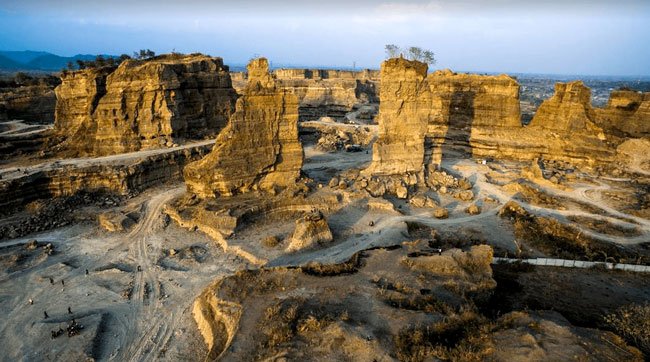 Brown Canyon is a former mining site in Meteseh, Tembalang, Semarang. This location is one of the popular tourist sites in Semarang and is considered to be similar to the Grand Canyon in the United States. This resemblance lies in the hills which turn into steep cliffs.
Address: Rowosari, Tembalang, Semarang City, Central Java
Umbul Sidomukti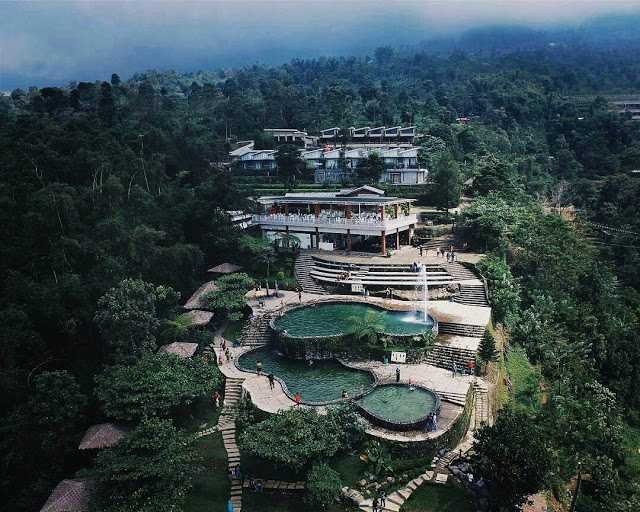 Umbul Sidomukti is a tourist area with several exciting spots inside. One you must visit is the Taman Renang Alam or Natural Swimming Park. Its unique shape is the main attraction of this place where you can also swim while overlooking the lush green view.
Address: Sidomukti, Bandungan, Jimbaran, Manggung, Jimbaran, Central Java
Get your adventurous moment at:
Genting Kendal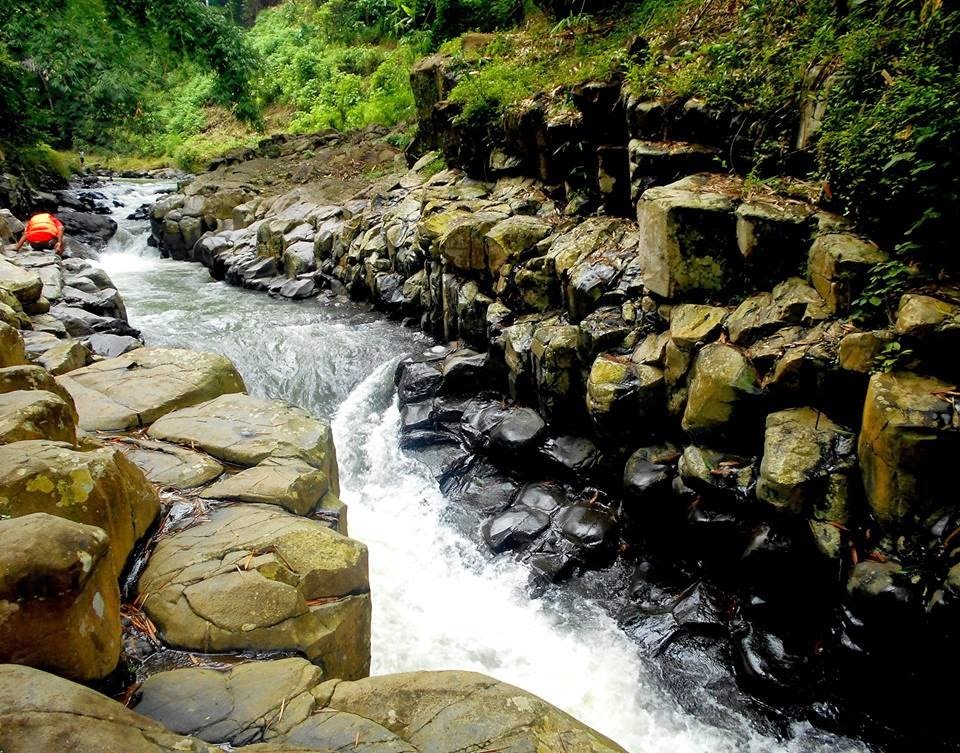 For those who like adrenaline, Tubing Genting offers river tubing, rafting using tires. You can cross along the river while enjoying a beautiful and natural view, as well as cliffs full of exotic rocks in Kedung Wali. The uniqueness of this cliff is the rocks that are shaped like a box with a rather rounded corner and neatly arranged like temple stones. This cliff stretches about 200 meters with the river flow for its own river tubing around 2 KM.
Address: Jl. Genting Baru No. 94 Singorojo Kendal, Kedungboto, Kendal, Central Java
Take a trip to the nearby mountains
If you are looking for a break from the city, you can take a trip to the nearby mountains. The city is located near the Ungaran and Merbabu mountains, which offer beautiful scenery and opportunities for hiking and outdoor activities.
 

Enjoy the local cuisine

Semarang is known for its delicious food, and there are plenty of local dishes to try while you are there. One of the most popular dishes is tahu gimbal, which is a fried tofu dish that is served with a peanut sauce. Other popular dishes include nasi ayam (chicken rice) and lumpia (spring rolls).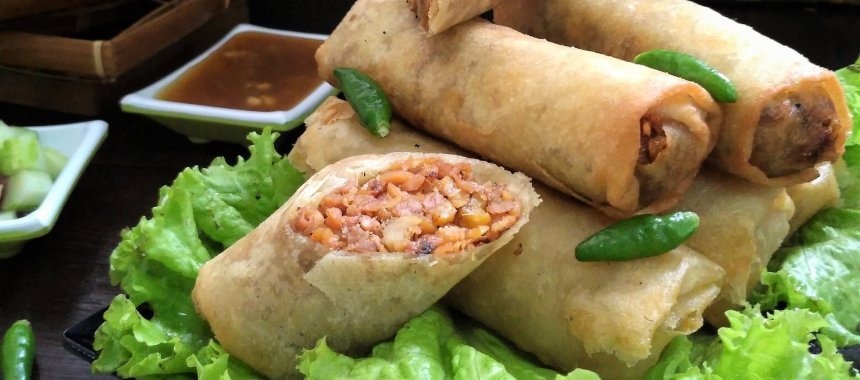 Where to eat?
1. Simpang Lima
It is a place where you can enjoy a variety of Indonesian and Javanese cuisine in food stalls. Offering very affordable prices, Simpang Lima is a hot place both for locals and tourist. Get your authentic culinary journey in this area.
2. Pasar Semawis
It is a place for hawker-style food and located in the China Town area. Opens only weekend nights, you can enjoy a variety of Semarang authentic cusine.
3. Lumpia Gang Lombok
As eating lumpia is a must, this place named as one of the best Lumpia places in Semarang.
Address: Jl. Gang Lombok No. 11, Purwodinatan, Semarang Tengah, Central Java
4. Joglo Agung Resto & Gallery
This traditional yet impressive concept restaurant combines food, galleries of antiques and unique things, and the beautiful mountain view. This place is best known for its ribs menu where you can enjoy the delicious Grilled Ribs, Iga Penyet, and Iga Tongseng.
Address: Jl. Lemah Abang Km. 3,6, Jimbaran, Bandungan, Semarang, Central Java
Getting To Semarang
You can get there with almost every transportation options, especially if you're already live in Indonesia.
By Plane
There are daily flights to Semarang available from many cities in Indonesia and the airport, Achmad Yani International Airport, is quite nearby from the city center. Semarang also connected to international destination Singapore by AirAsia, as well as Kuala Lumpur by Air Asia. Check domestic flights here
By Train
Cities that are connected to Semarang by train are Jakarta, Bandung, and Surabaya. You can choose the express train which takes around 6 hours from Jakarta. There are two main railway stations in Semarang, Stasiun Tawang, and Stasiun Poncol. If you're fancy for a panoramic view during your trip, using a train could be the best choices as you will be accompanied by Java Sea beautiful view.
By Bus
There are also bus companies with daily service for a trip from Jakarta to Semarang. You may choose between day time or overnight trip with these reputable bus companies, such as Rosalia Indah, Raya, Kramat Jati, Safari Dharma Raya. If you go by group, the company will also provide a special rate for charter or tourist bus. The trip may take up to 12 hours but still depends on the traffic condition.
By Boat
Jakarta – Semarang and vice-versa, Is mostly a traditionally via-railway traveled route along the northern coast road ("Pantura") or by plane. A trip by boat or sea vessel is uncommon due to its rare schedule and the length of the journey that takes too long compared with a train (approx 6 hours) and over-night bus (9 hours). However, cruise ships occasionally spend a day in port. The port has few facilities for passengers, but an informal market of street vendors often assembles outside the secure area. Most passengers take a one day tour to Borobudur. (Source)
Getting Around
The most convenient choice would be renting a car but you can also use another option including minibus or taxi. The minibusses here is called angkot which each angkot will take to different destinations. You can check the route on its top front of the car or ask the driver before you board. Meanwhile, if you're looking for a safer and more comfortable option, a taxi should be your choice.